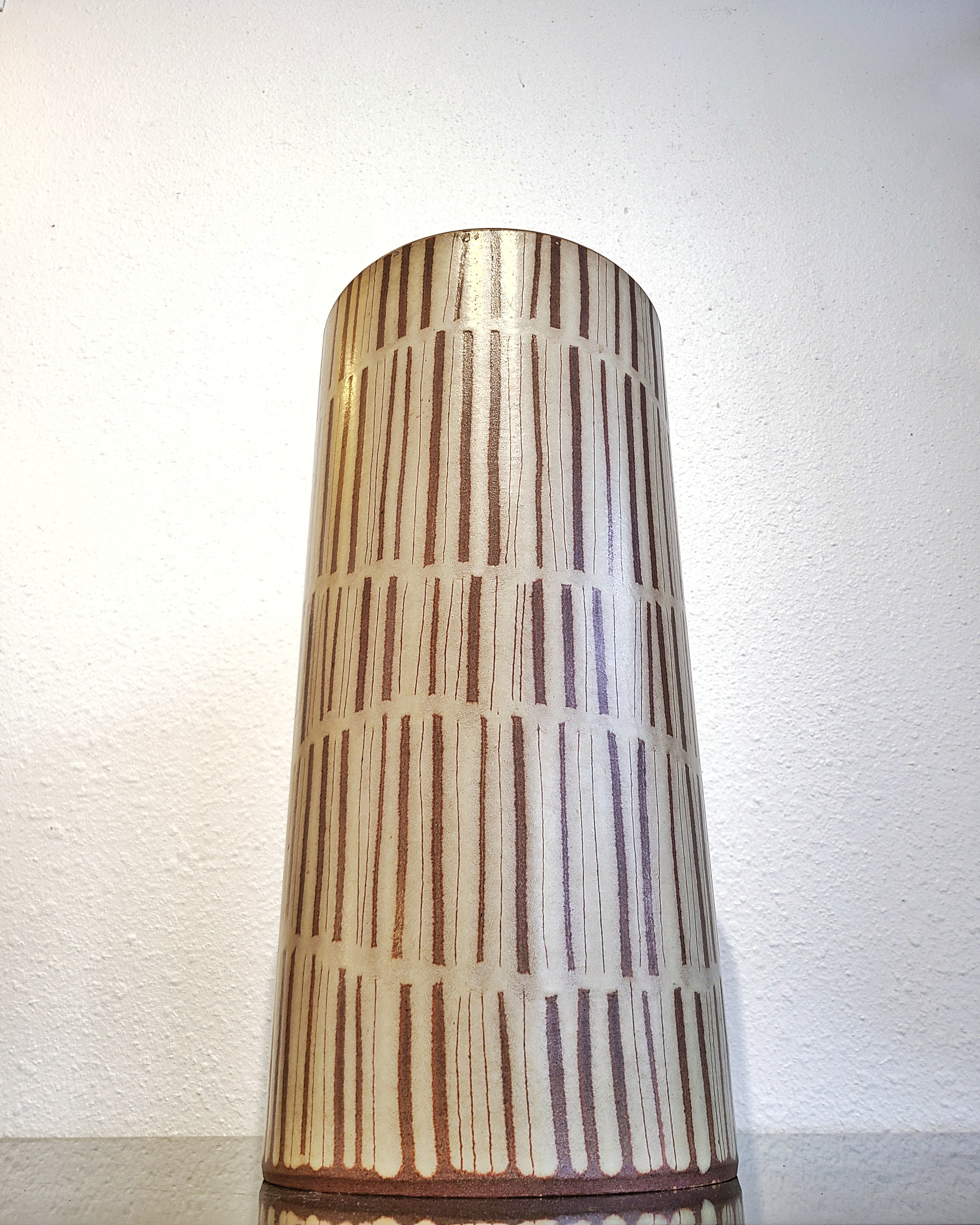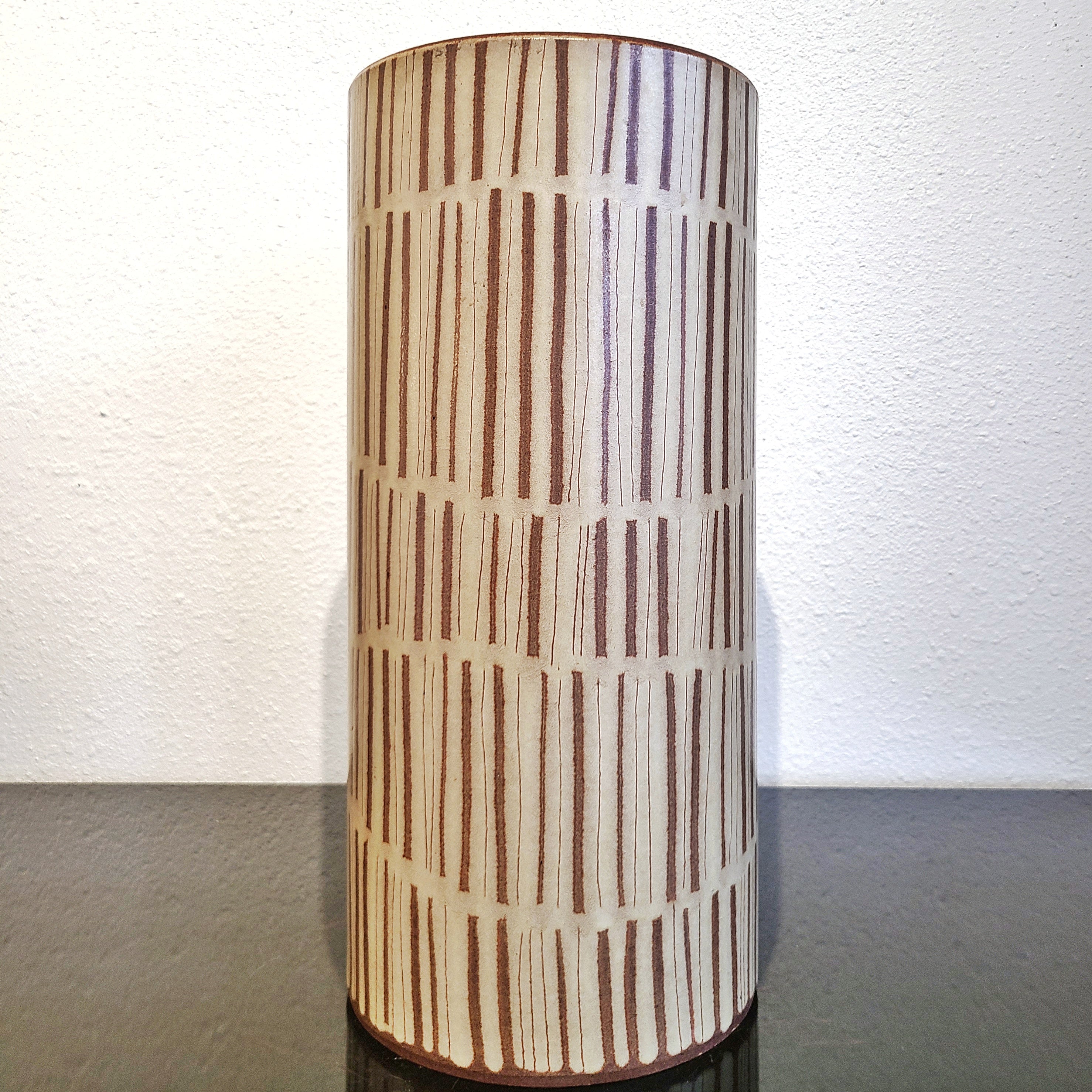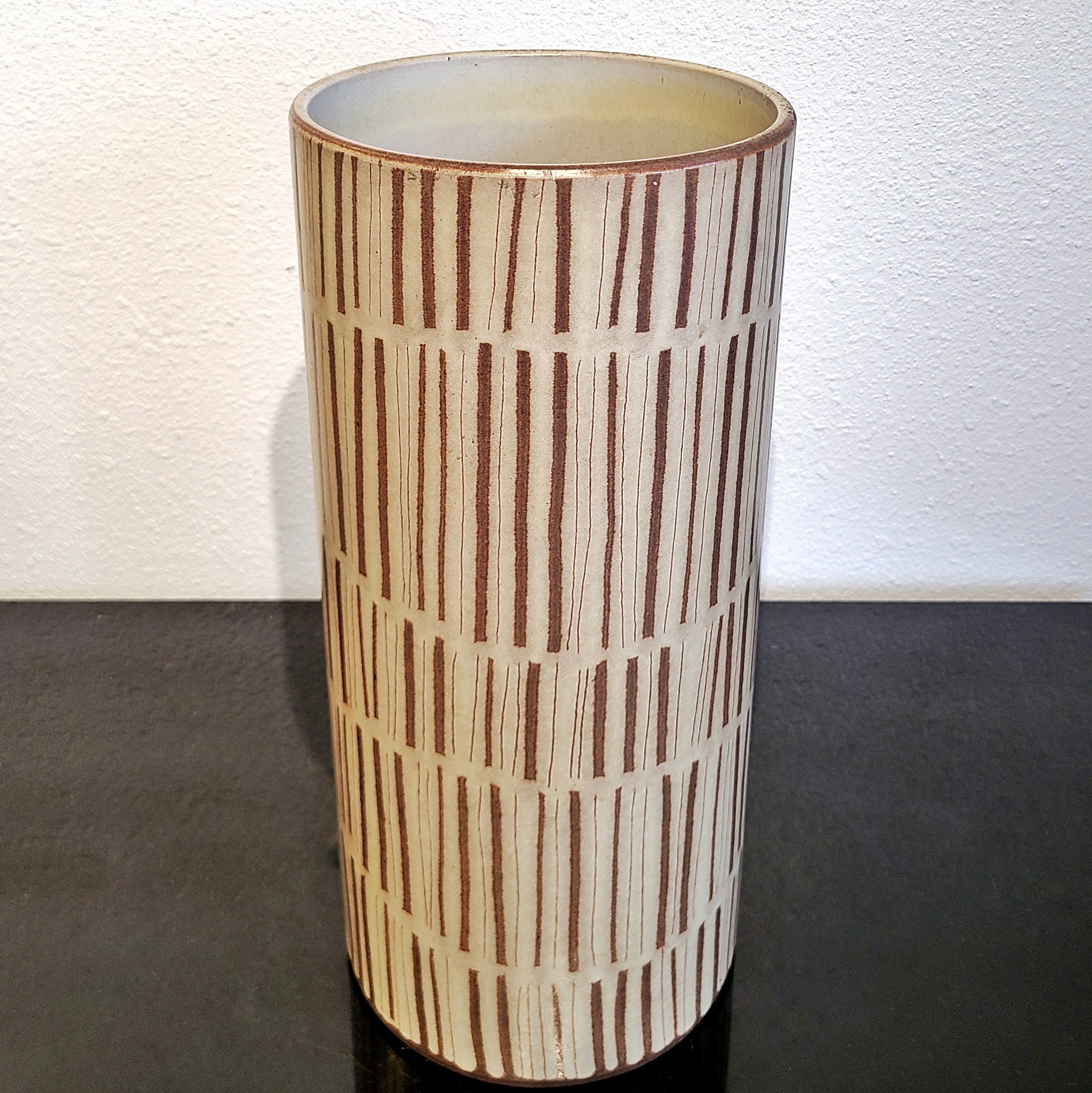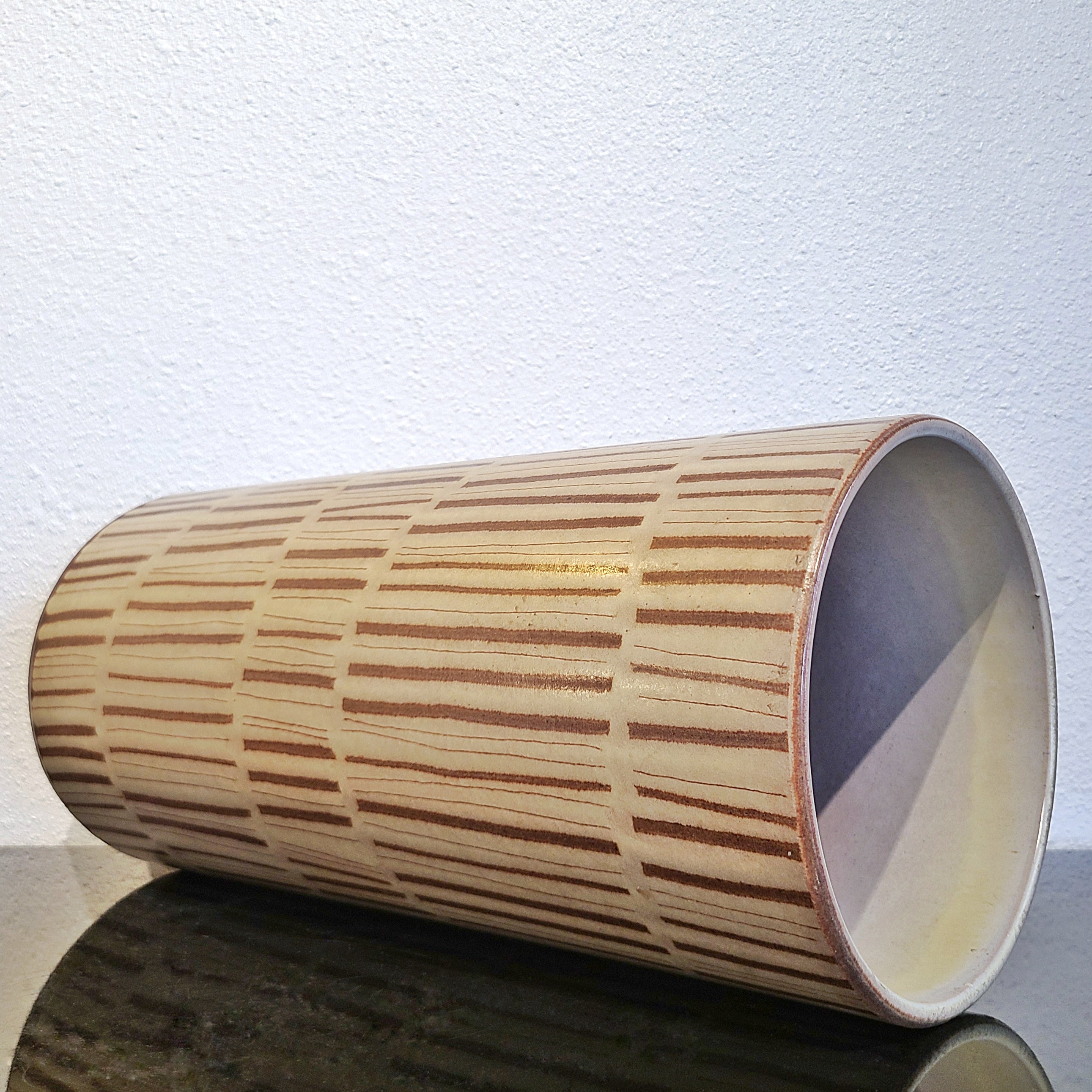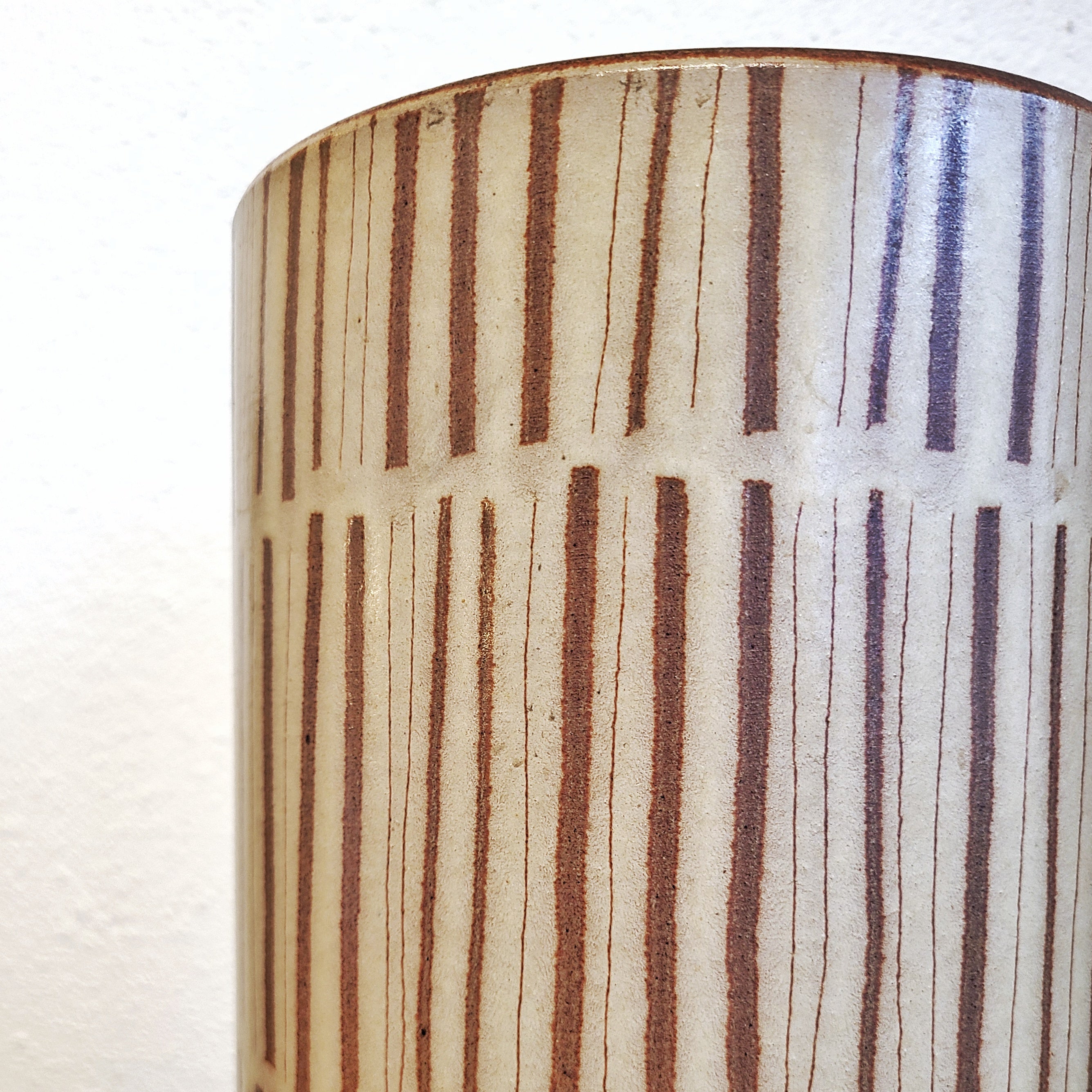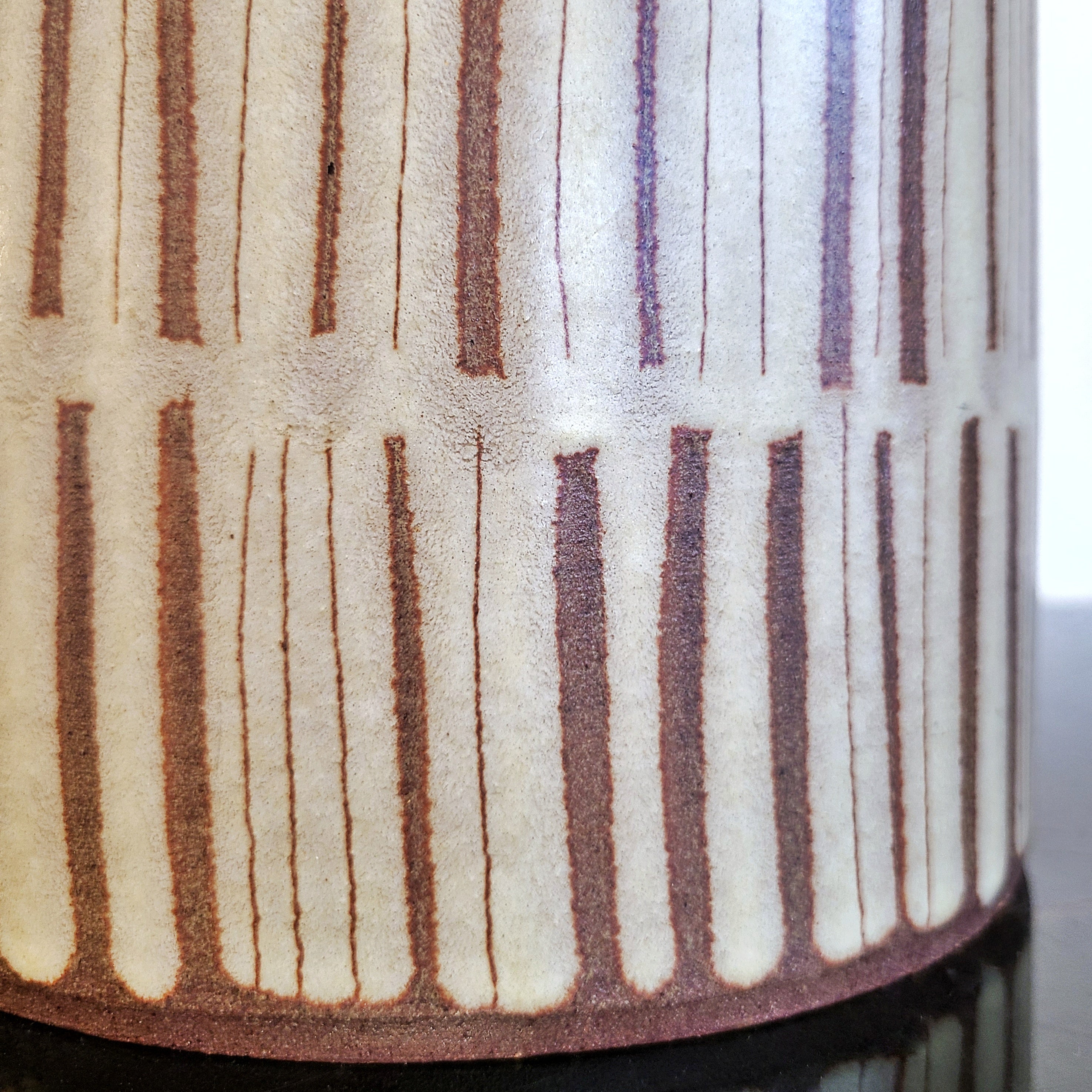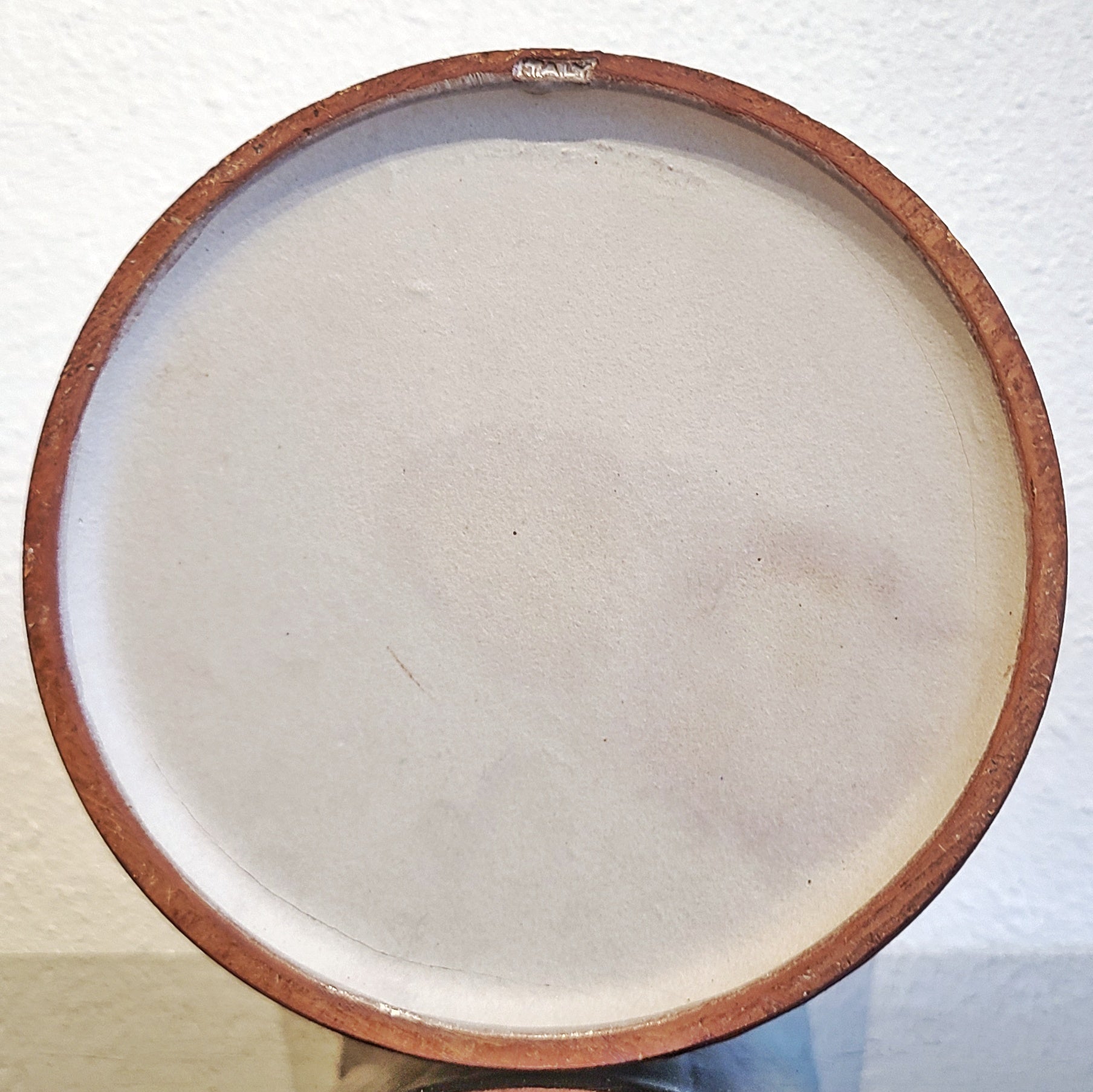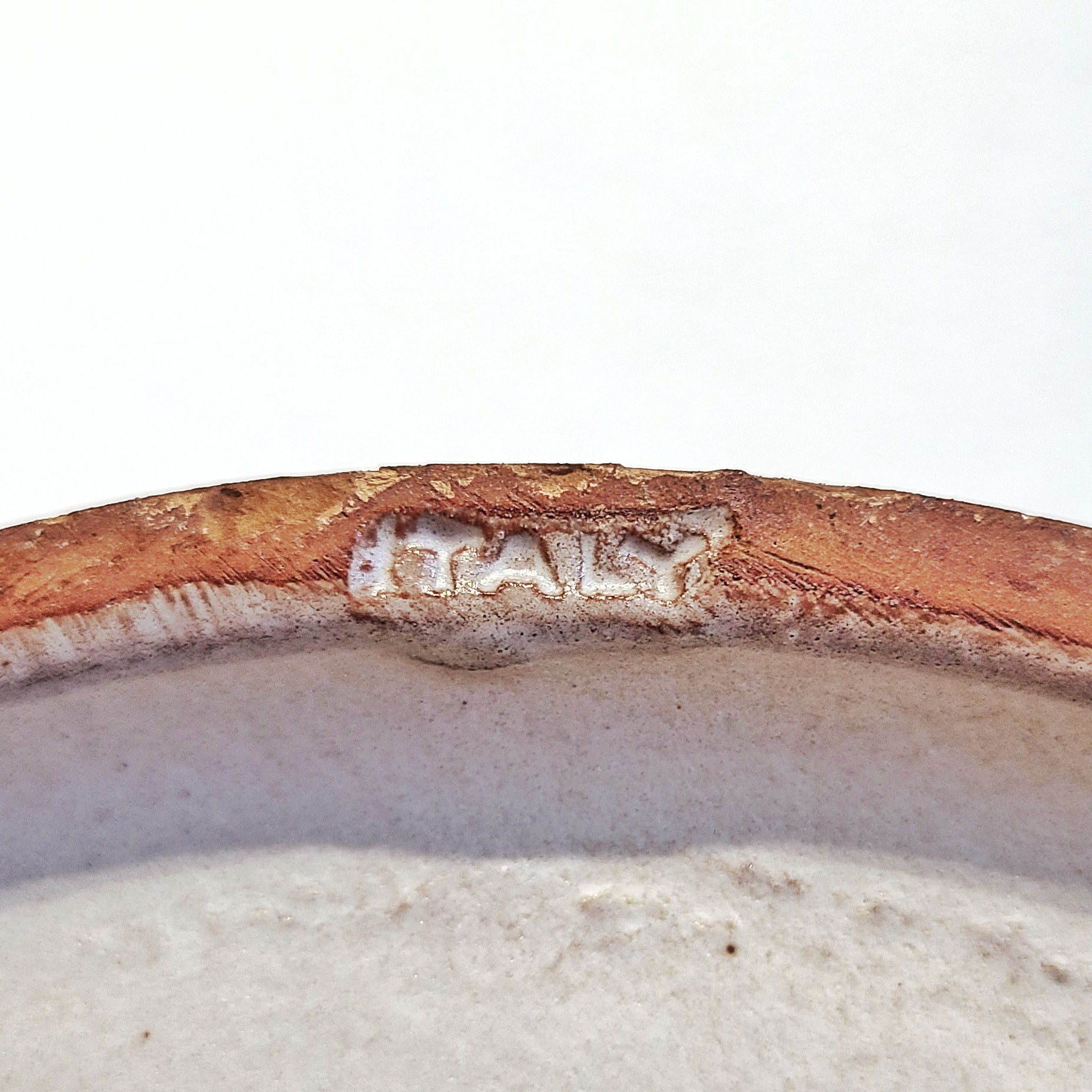 ALVINO BAGNI FLOOR VASE OR UMBRELLA STAND - ITALY
CONTACT US HERE ABOUT THIS ITEM.
A large, cylindrical floor vase or umbrella stand with a rhythmic spiral pattern made of brown verticals—of varying thicknesses, lengths, and degrees of curve—on a beige background. (. . .Evoking a roll of bamboo fencing?) Produced by master potter Alvino Bagni, probably in the '70s. "ITALY" stamped on the rim of the base.
---
ALVINO BAGNI (1919–2009) was born in 1919 in the quiet Tuscan hamlet of Lastra a Signa in the environs of Florence. His boyhood and adolescence were spent without his father, who, as a communist, had been exiled under Italian fascism. The young Bagni took an early interest in pottery, a regionally important industry. He studied the basics of drawing and clay modeling under the tutelage of local sculptor Torello Santini (1875–1946) and, with his referral, took a job in the workshop of Arnaldo Pugi's ceramics factory in nearby Ponte a Signa. Bagni had a brief stint at Bitossi Ceramiche in nearby Montelupo, where famed ceramist Aldo Londi (1911–2003) took him under his wing.
After the Second World War, Pugi helped Bagni finance the opening of a studio of his own in Lastra a Signa, BAGNI CERAMICHE. Several family members were employed there, including wife Gina. (She would continue to work alongside Bagni throughout his career.) An order for 3,500 elephant-head plates bearing the slogan "I like Ike," manufactured for export during the 1952 US presidential race, got things rolling for the studio. It proved to be a prophetic commission: a large majority of Bagni's work would be for the US market.
During the '50s and '60s, Bagni established and nurtured pivotal collaborations with Bitossi and the import companies Rosenthal Netter and Raymor, the latter being a dominant American firm. Such alliances allowed Bagni to open a larger, better-equipped factory where he surrounded himself with highly skilled artists—Enzo Borgini, M. Mannori, Remo Buti, and Michelangelo Santonocito, among them. Bagni produced a stunning variety of designs for Raymor, including some highly individualistic studio pieces. The latter perhaps represent the very best of his work—featuring stripes, geometric patterns, and bold lava-type glazes. Bagni was always experimenting, and he produced some truly radical glaze and color combinations. A case in point is the Sea Garden décor, an unusual mix of turquoise, blue, green, yellow, browns, and blacks. Bagni often incorporated rings or other small metal pieces within his ceramic designs.
By 1980, BAGNI CERAMICHE had nearly 100 employees and was internationally renowned for high-quality, artistic productions as well as its innovative methods. As the world increasingly opened up to global competition, however, the company found itself in financial straits. Married as it was to an "artisanal" approach, it struggled to withstand the downward pressure on prices. Despite Bagni's noble efforts to save his factory and employees, BAGNI CERAMICHE closed for good in 1990.
Bagni returned to pottery with Nuove Forme, a venture founded with son-in-law Gianfranco Ghiretti in Florence in 1993. A natural evolution of his older company, Nuove Forme continued to research and experiment with colors and processes. It found its niche producing limited runs of virtually unique objects for the most discerning buyers. Nuove Forme owns many of Bagni's historical designs and curates an enormous Bagni showroom—something of a museum of his work. Bagni retired for health reasons in 2001. He died in 2009 at age 90.
---
DETAILS
Maker – ALVINO BAGNI
Production Period/Year – 1970s
Designer – ALVINO BAGNI
Design Period/Year – 1970s
Origin – ITALY
Styles/Movements – ITALIAN; MID-CENTURY MODERN
Materials – CERAMIC
Colors – ALMOND, SIENNA
Condition – Excellent vintage condition. Minor wear consistent with age and use.
Dimensions – 7 ¾" DIAM. × 17" H