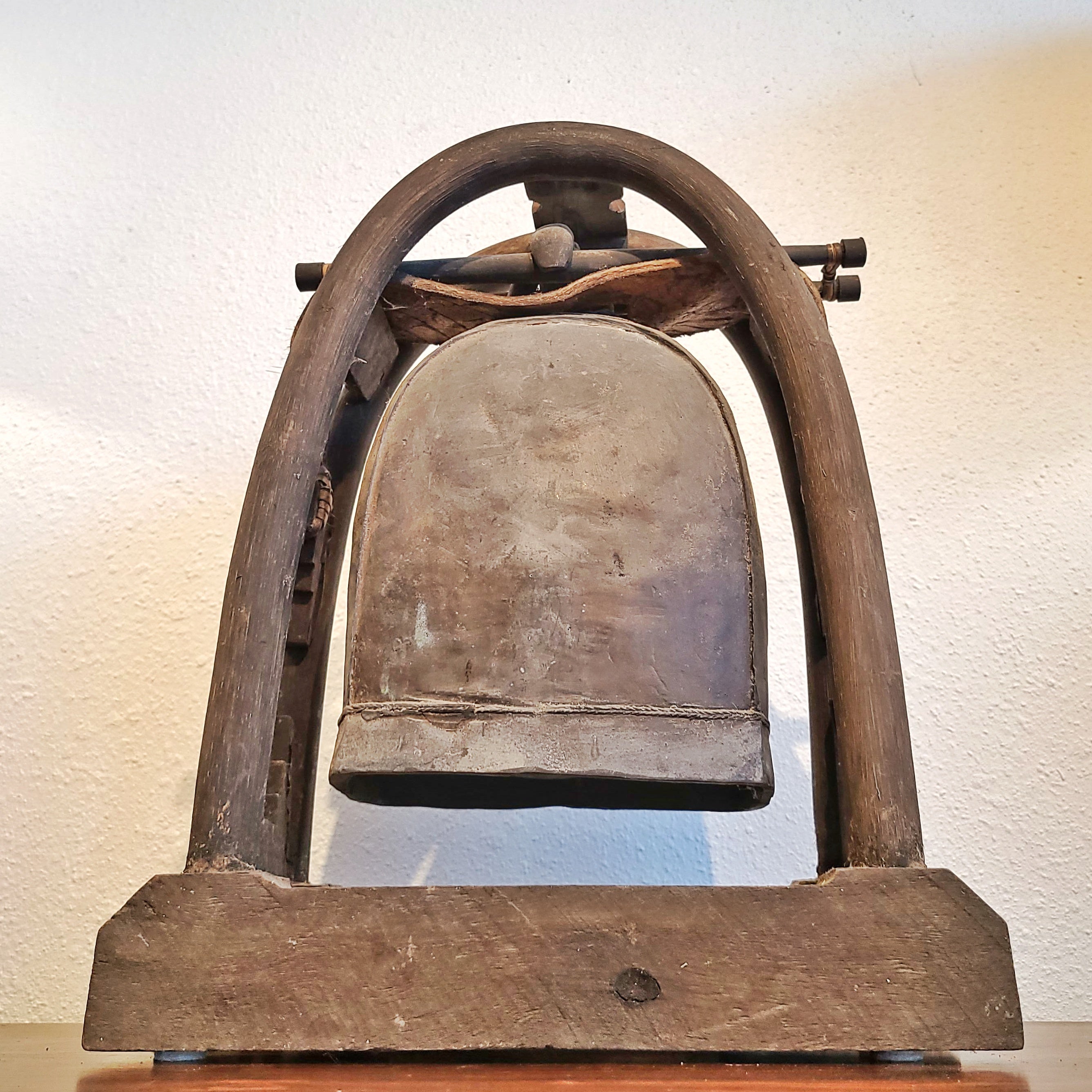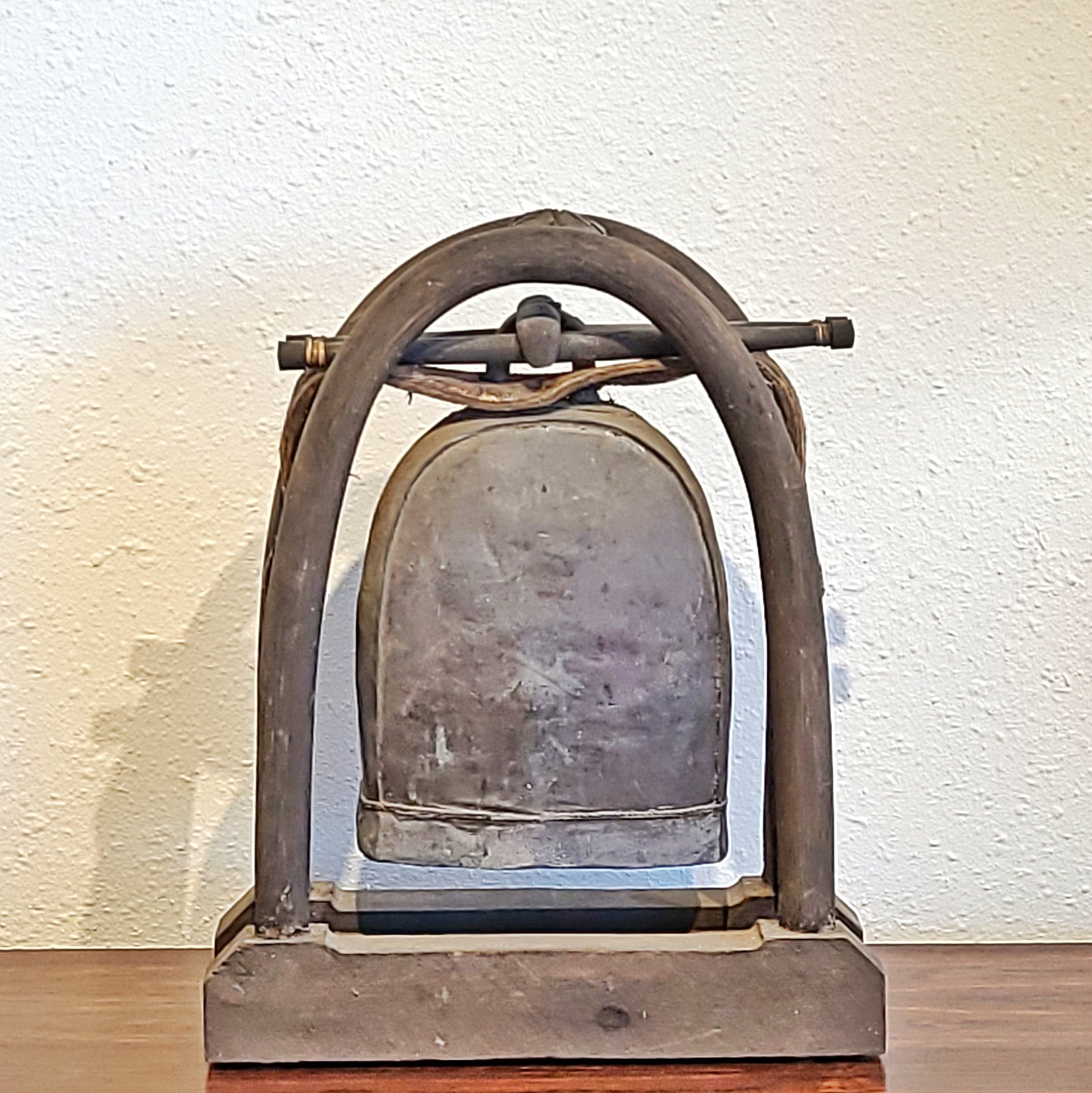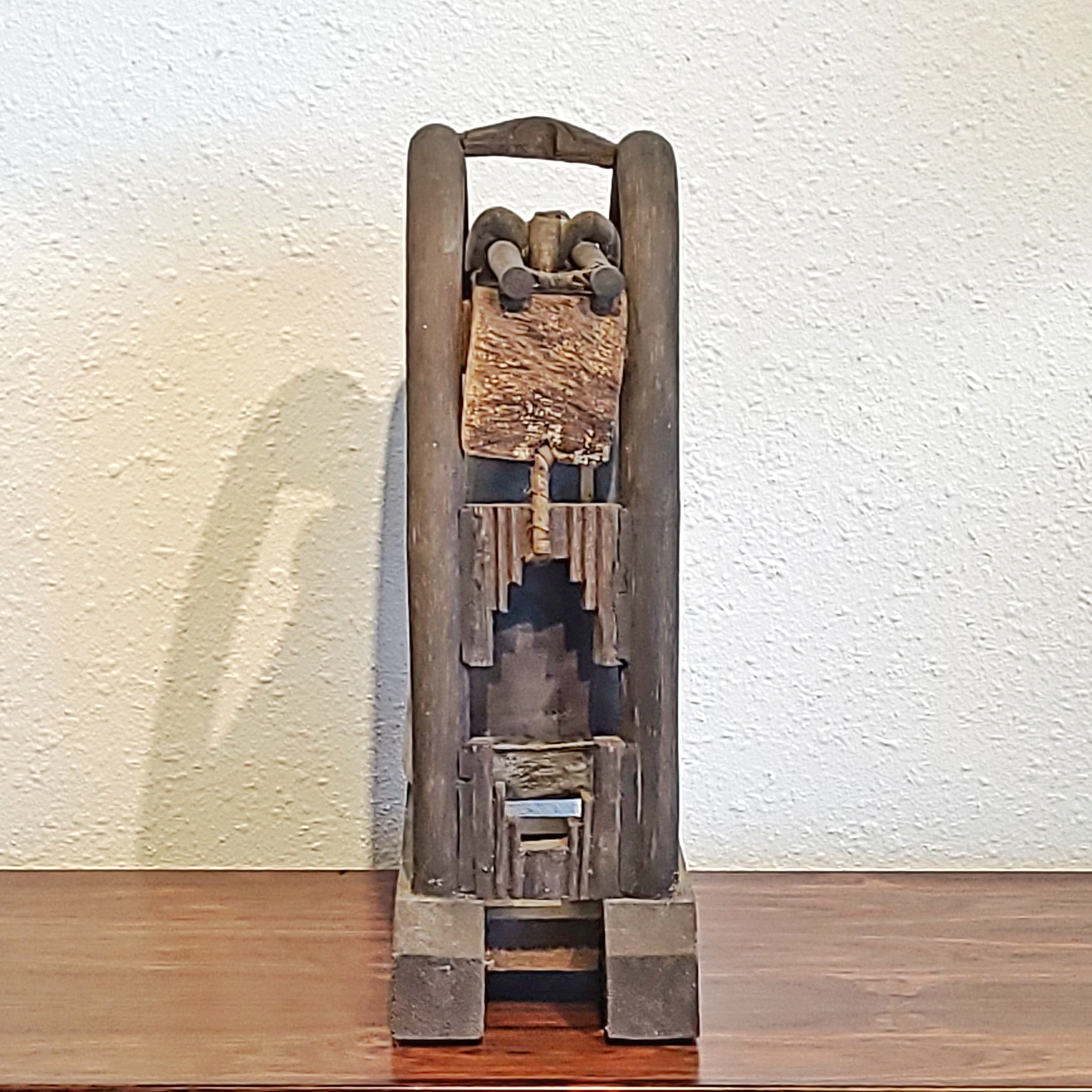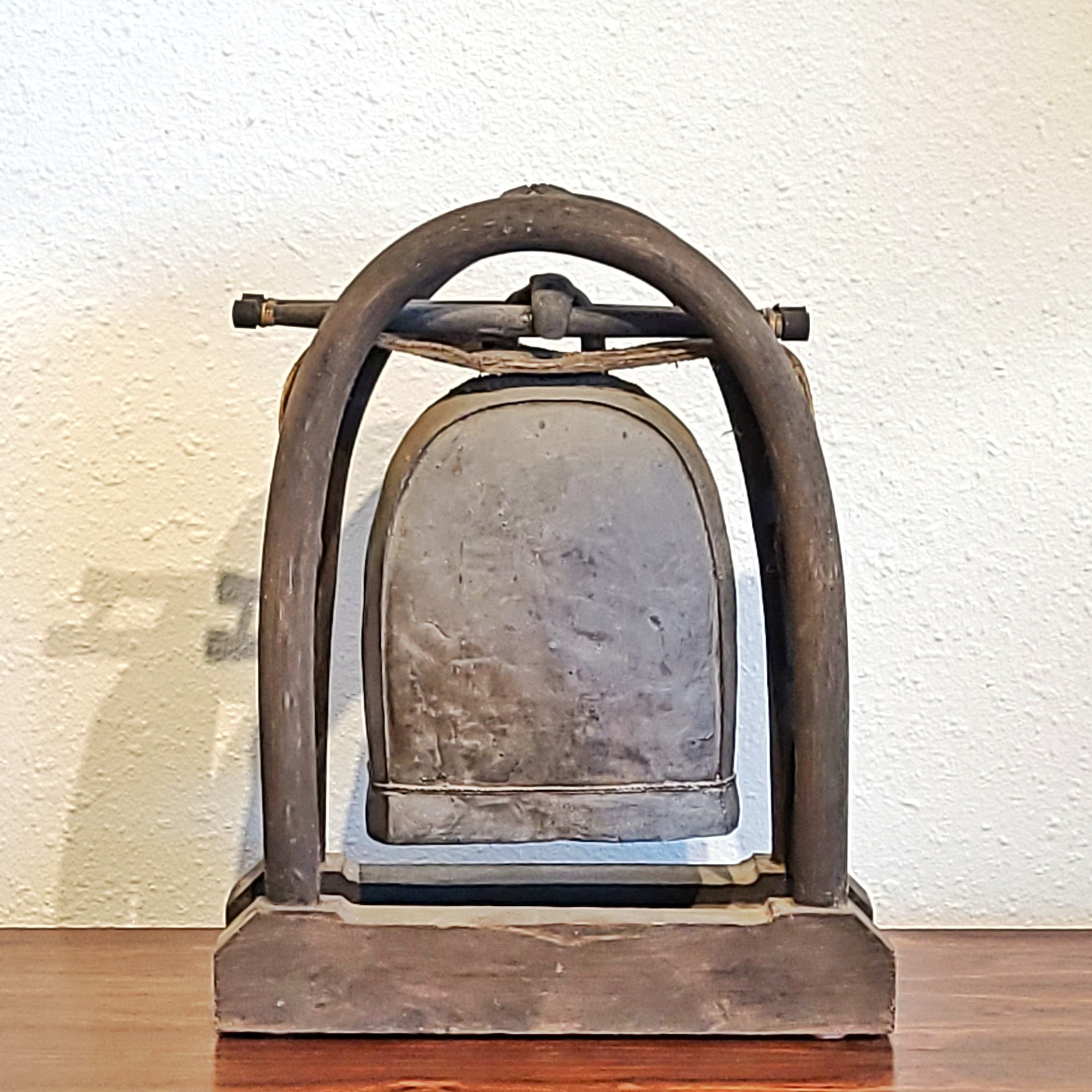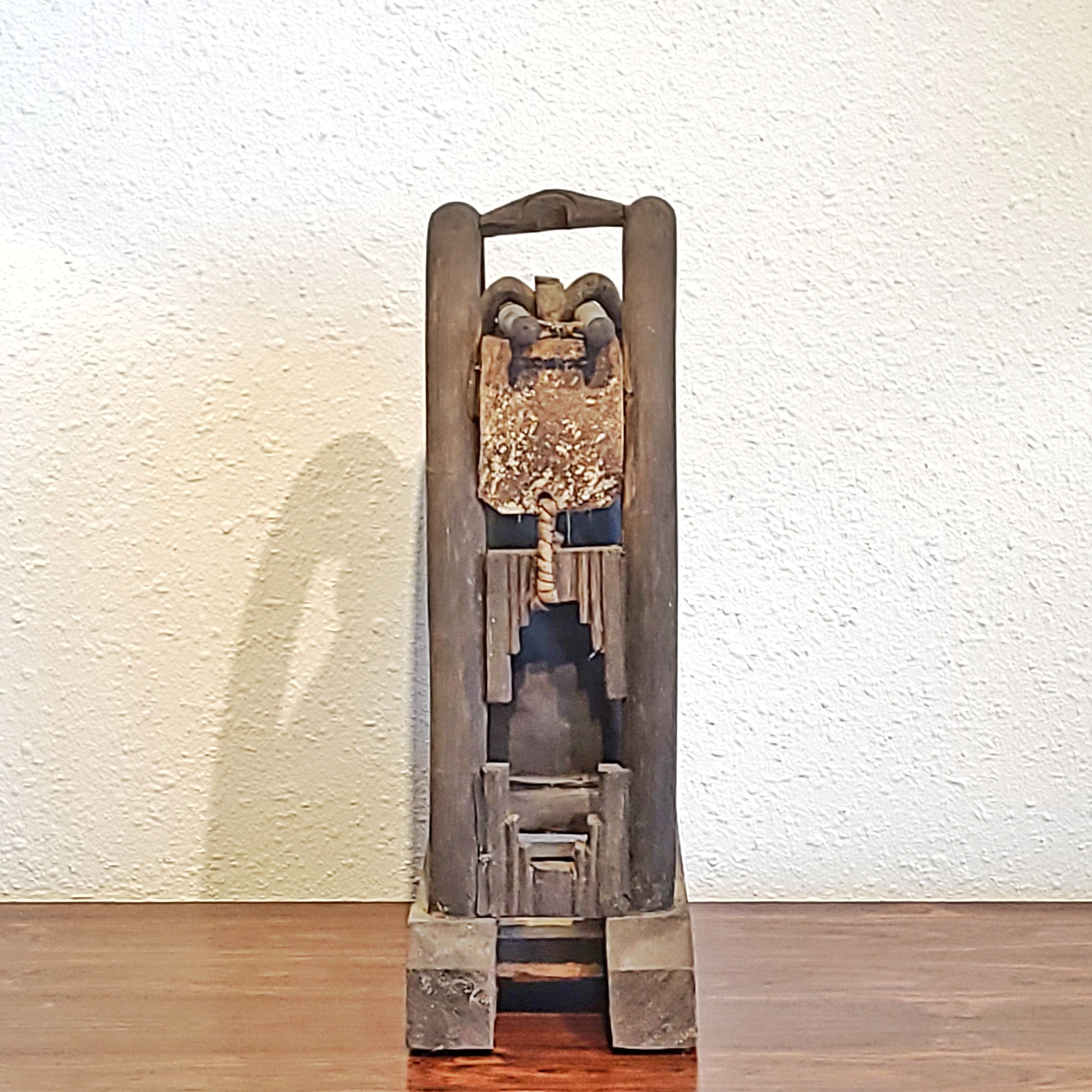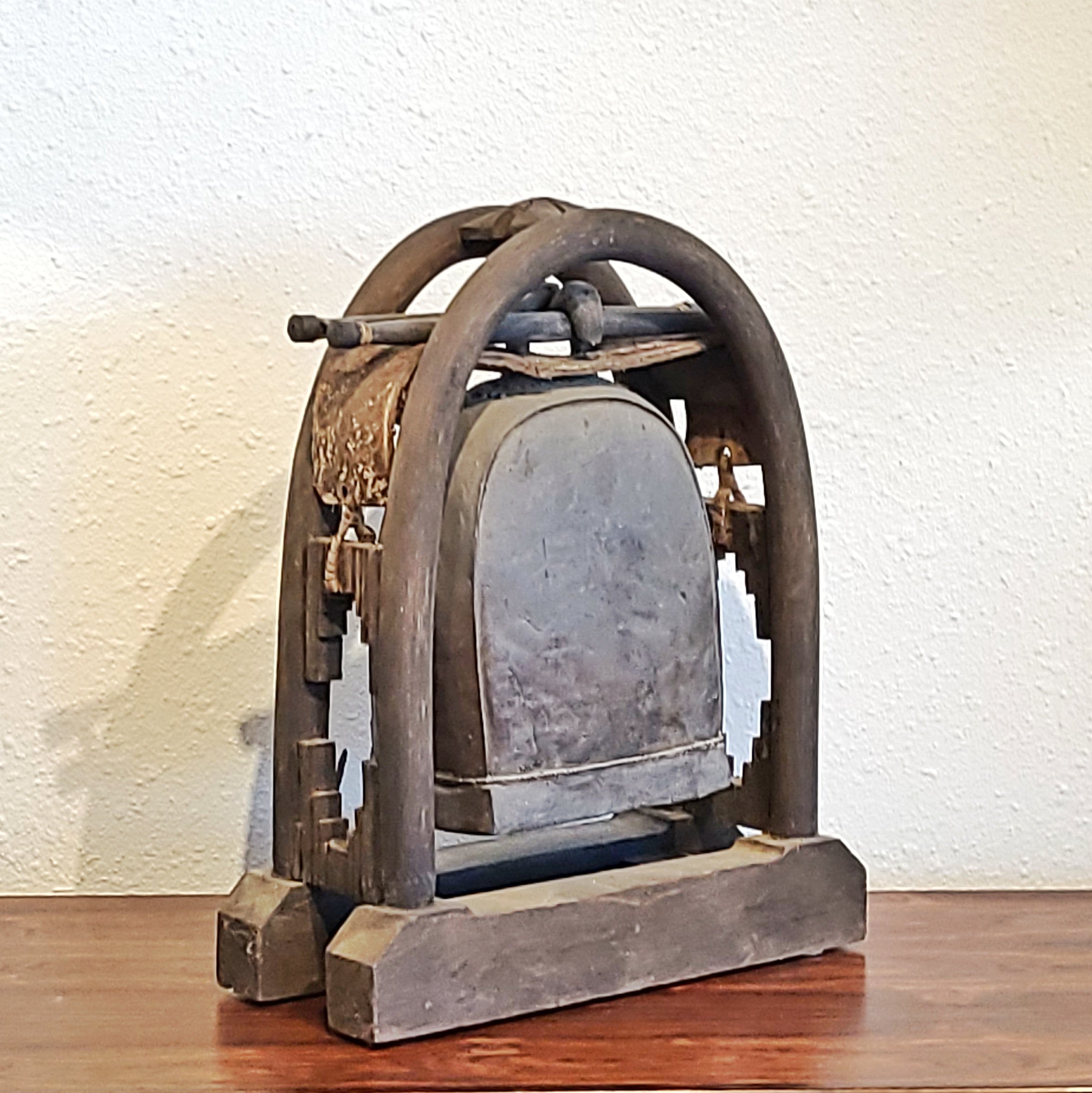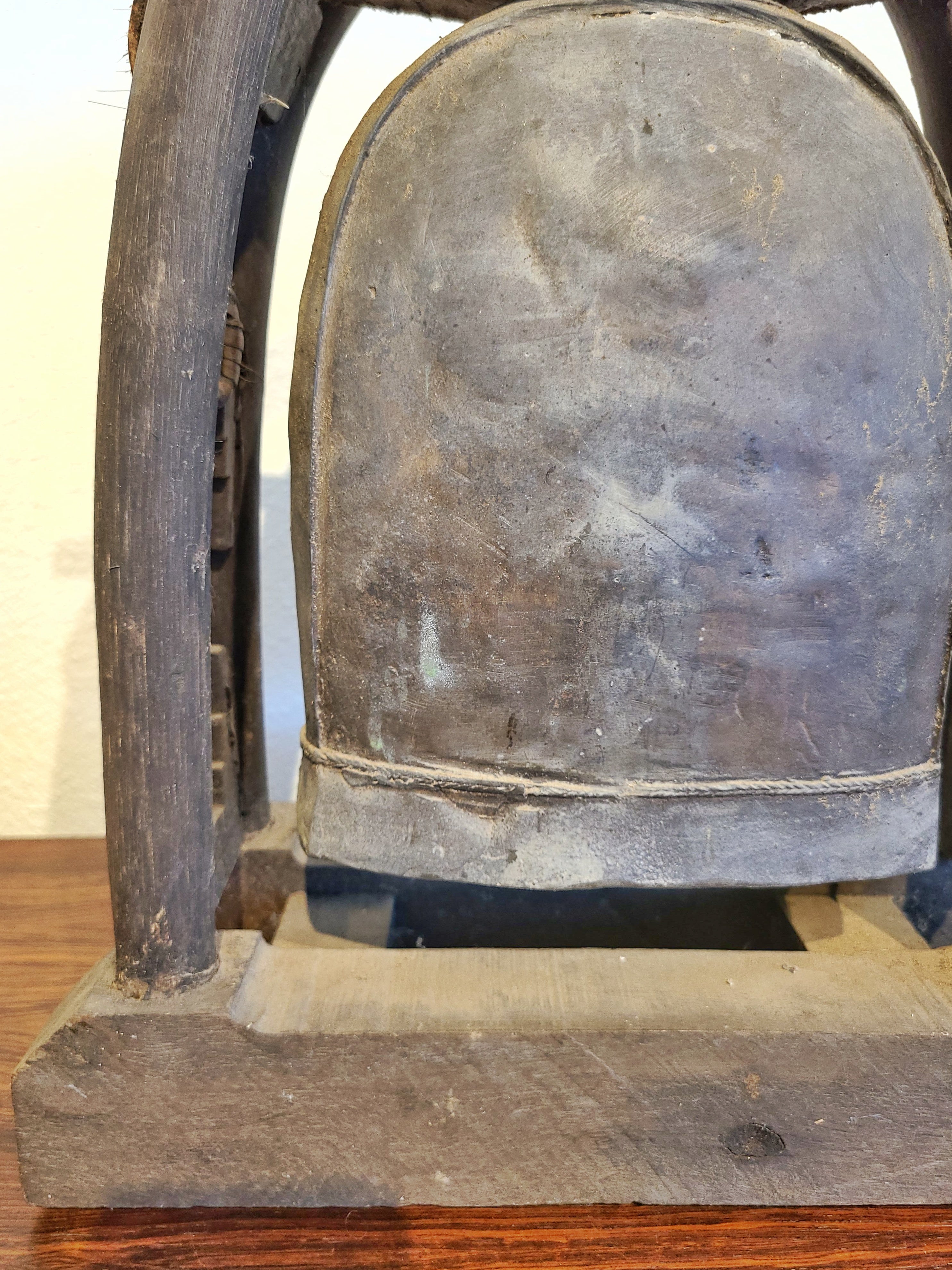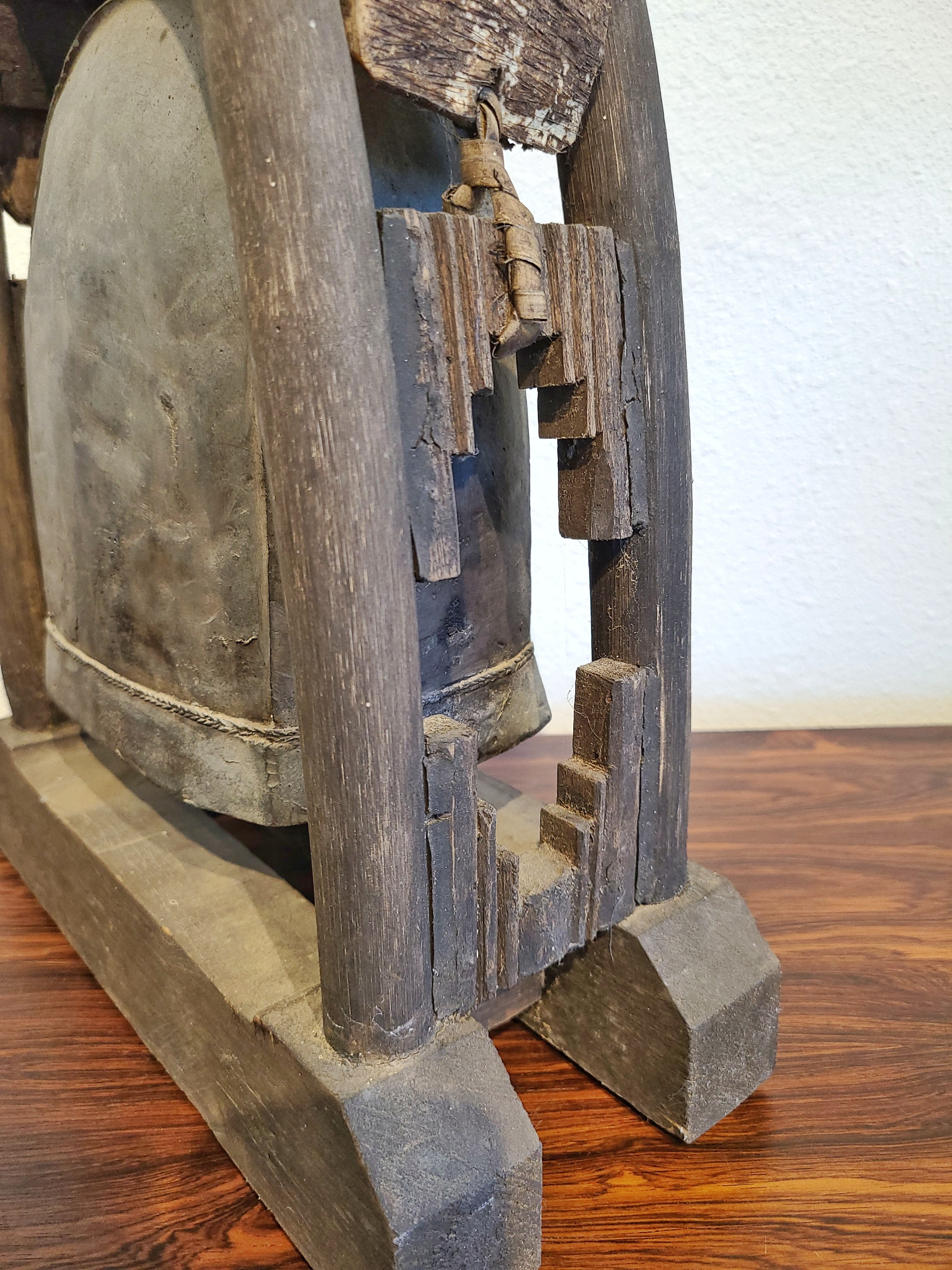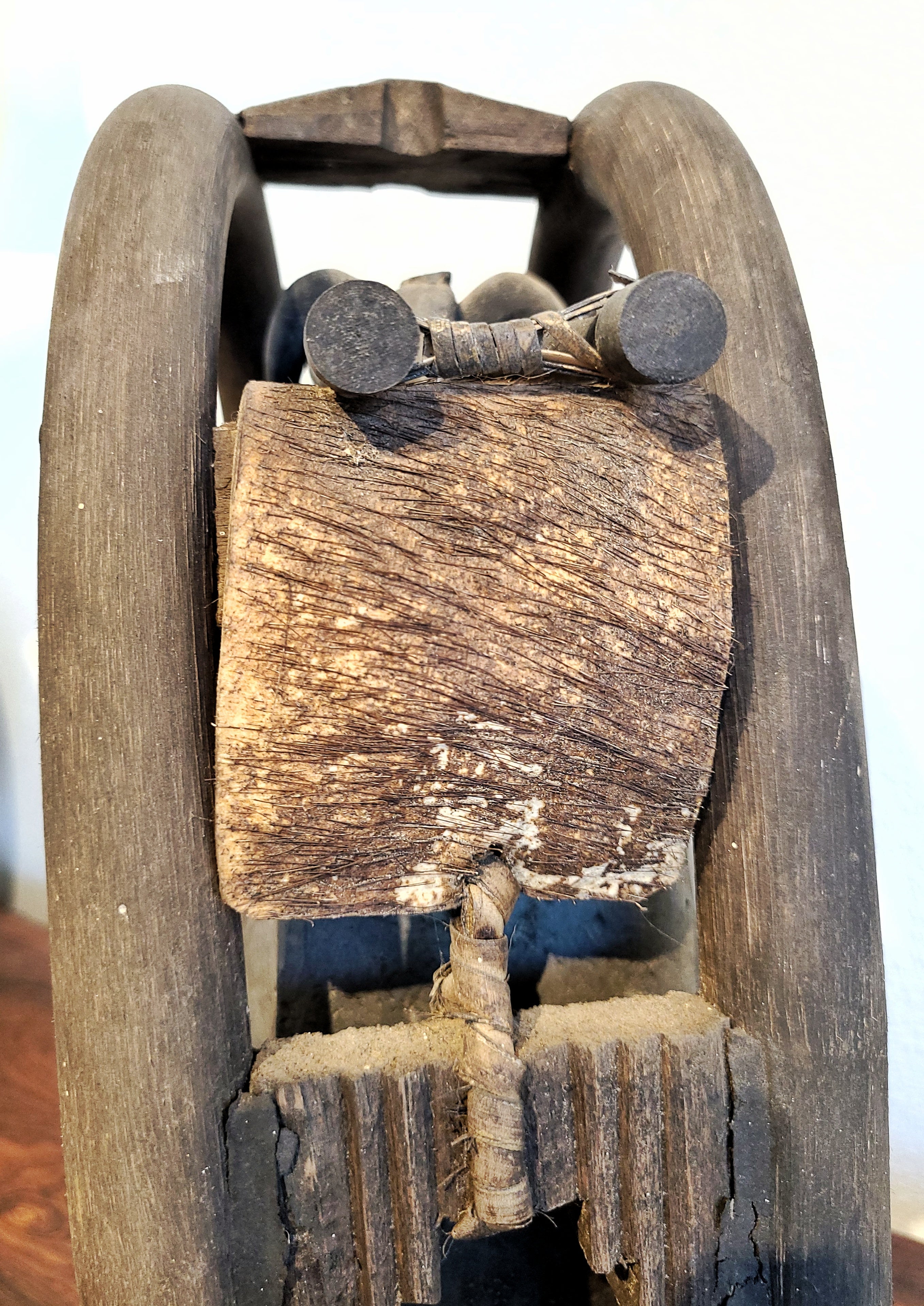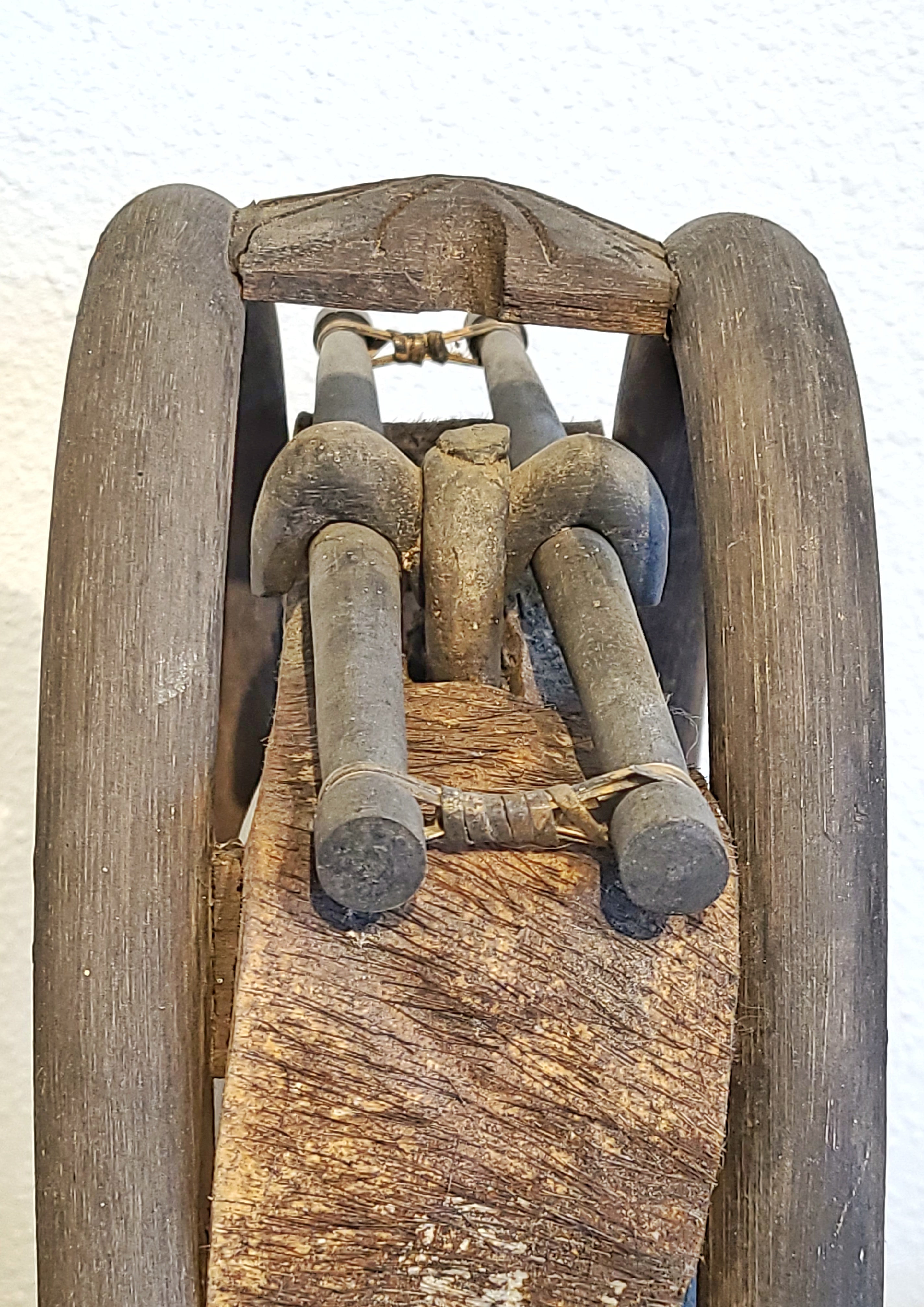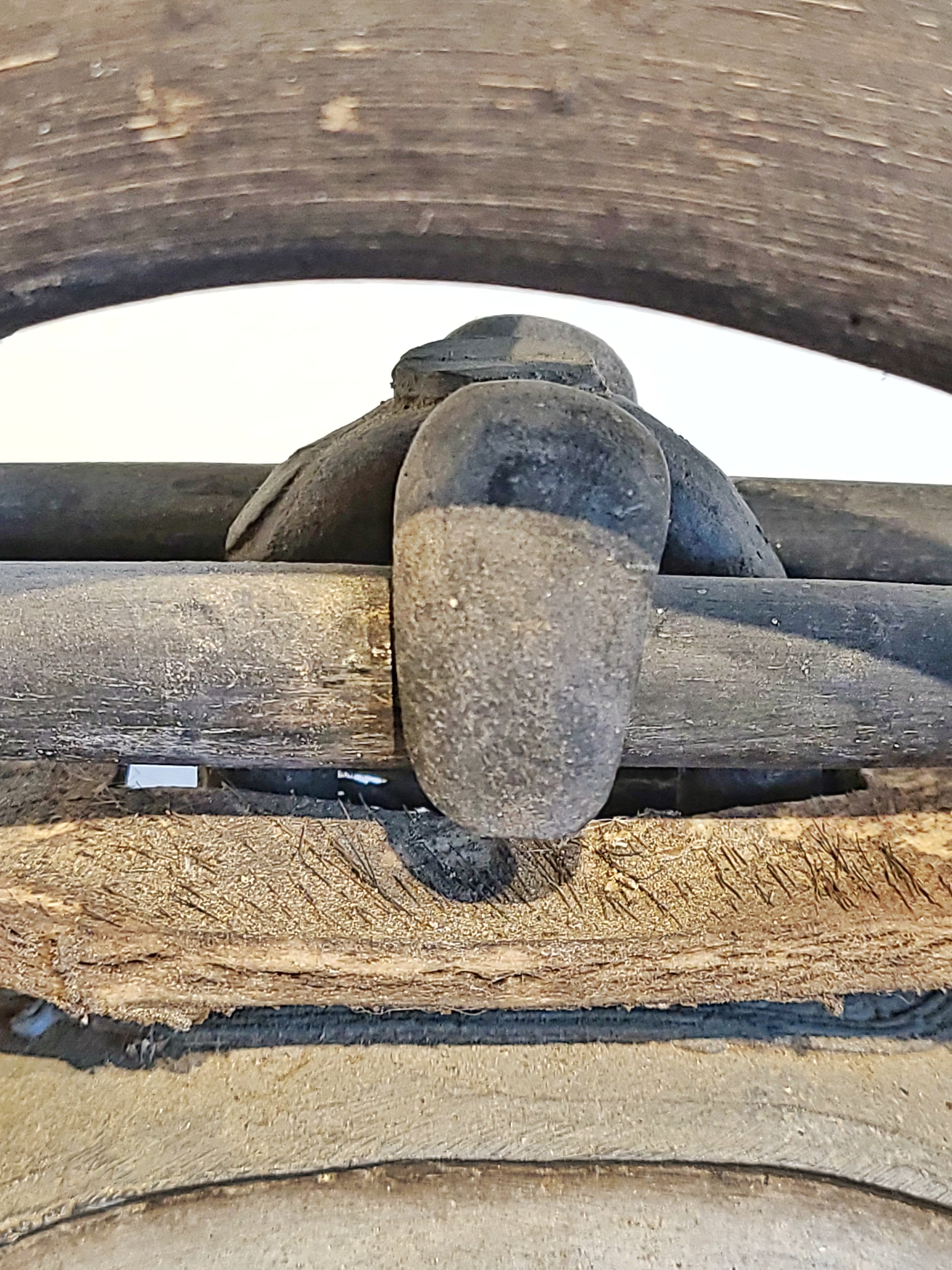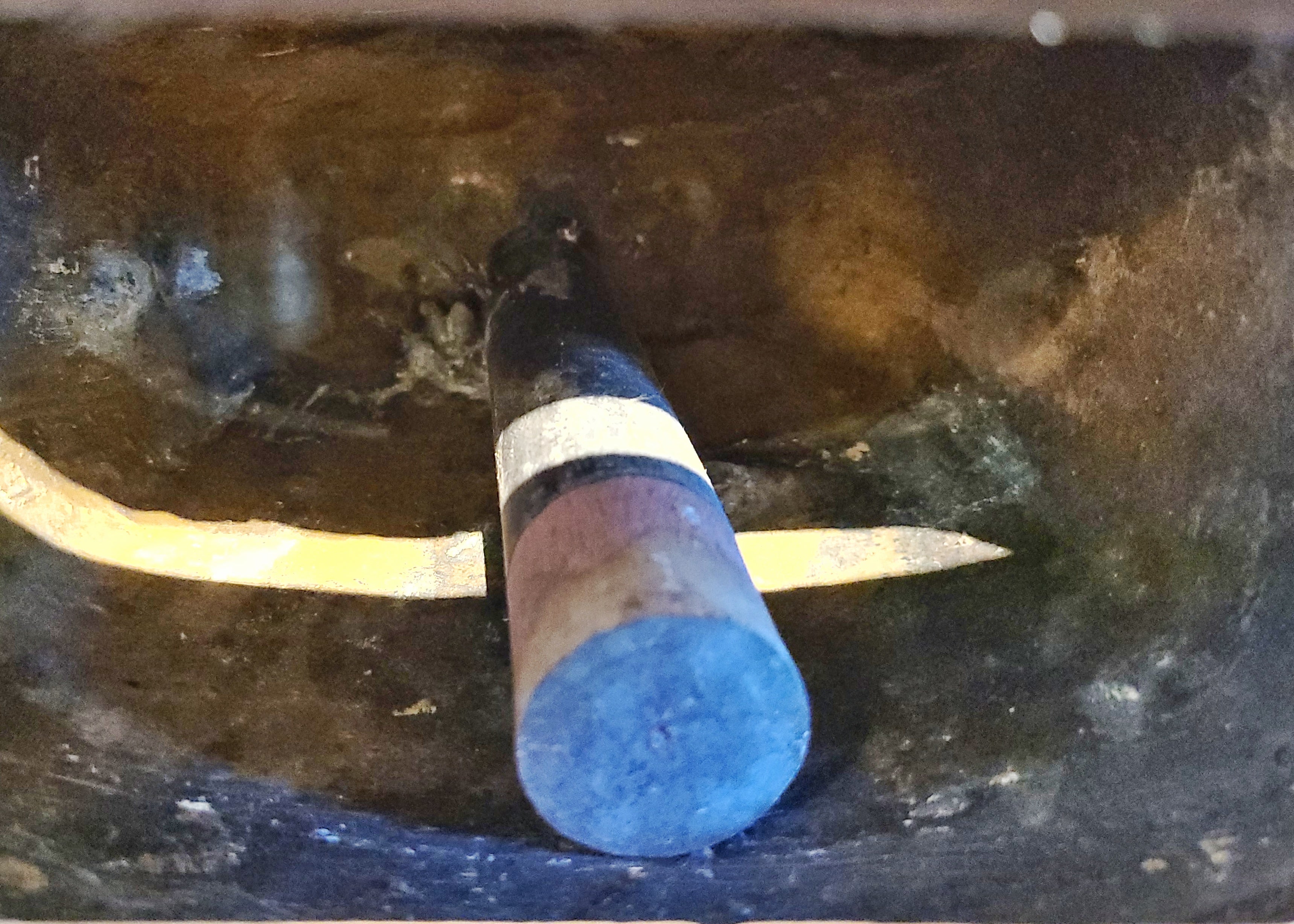 ANTIQUE KAREN HILL TRIBE (THAILAND) ELEPHANT BELL AND STAND
CONTACT US HERE ABOUT THIS ITEM.
A large antique cast bronze elephant bell from the Karen Hill Tribe of northern Thailand.  It retains its wooden dowel clapper and is displayed in a traditional bent rattan and wood stand and suspended by two dowels resting on a long piece of elephant hide secured with sinew.  The bell has a beautiful tone that rings out in D flat.  The Karen Tribe are the traditional elephant handlers of Thailand and their elephants are revered creatures. According to Karen folk lure, keeping such a bell that was used by an elephant in one's home will ensure good luck and prosperity for the family living there.  Dimensions: Bell 11 x 8 x 5; Stand 17.5 x 13.75 x 6
THE KAREN PEOPLE believe they came from a place they denote a "Thibi Kawbi" (Homeland of Flowers). Some feel that this is their representation of the lands of Tibet and the southern Gobi desert. However, during the 18th century, the Karen began to move southward, across the Salween River from Burma to the Thai Payap (old northern kingdom of Siam).  The Karen are a warm friendly people and expert elephant handlers from the days when they used the elephants to remove logs to clear forest space for their agriculture.  Over time, many have been converted to Buddhism or Christianity, but still hold onto elements of their traditional religion which combines animism, ancestor worship, and a deep relationship with the land.  While the Karen still practice slash-and-burn agriculture as other hill tribes do, they differ in that they live in permanent villages at lower elevations and have been aggressive in developing environmentally sustainable terraced rice fields.  They are the most environmentally conscious of the hill tribes – practicing crop rotation, thus preserving the forest. The Karen hill tribe is the only tribe that owns elephants.
Details
Dimensions

13.75ʺW × 6ʺD × 17.5ʺH
Styles

Asian Antique
Rustic
Folk Art

Period

Mid 19th Century
Place of Origin

Thailand
Item Type

Vintage, Antique or Pre-owned
Materials

Bronze
Hair on Hide
Rattan
Condition

Very Good Condition, Original Condition Unaltered, No Imperfections
Color

Brown
Condition Notes

Handmade Item of a Rustic Nature With Many Irregularities and a Rich Patina