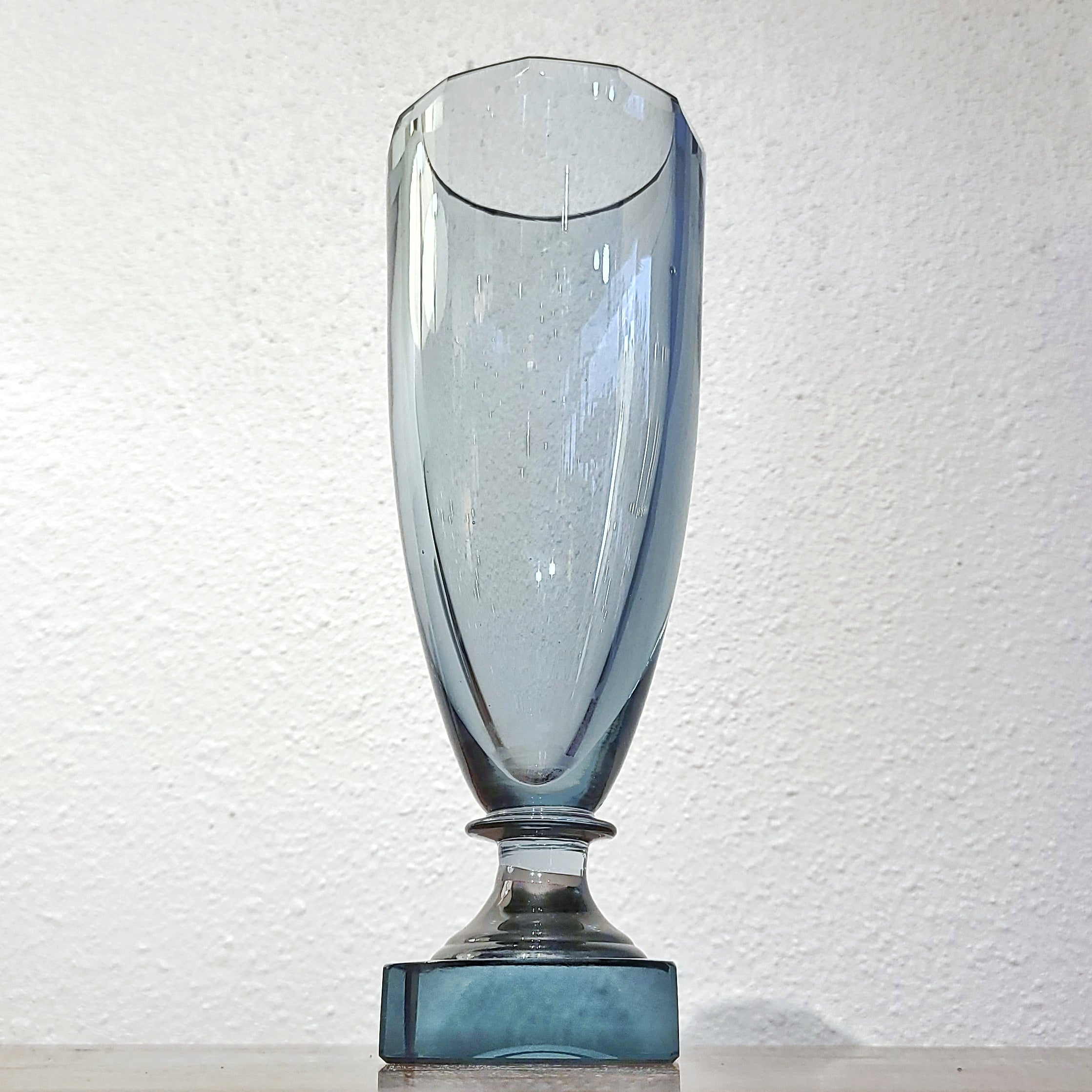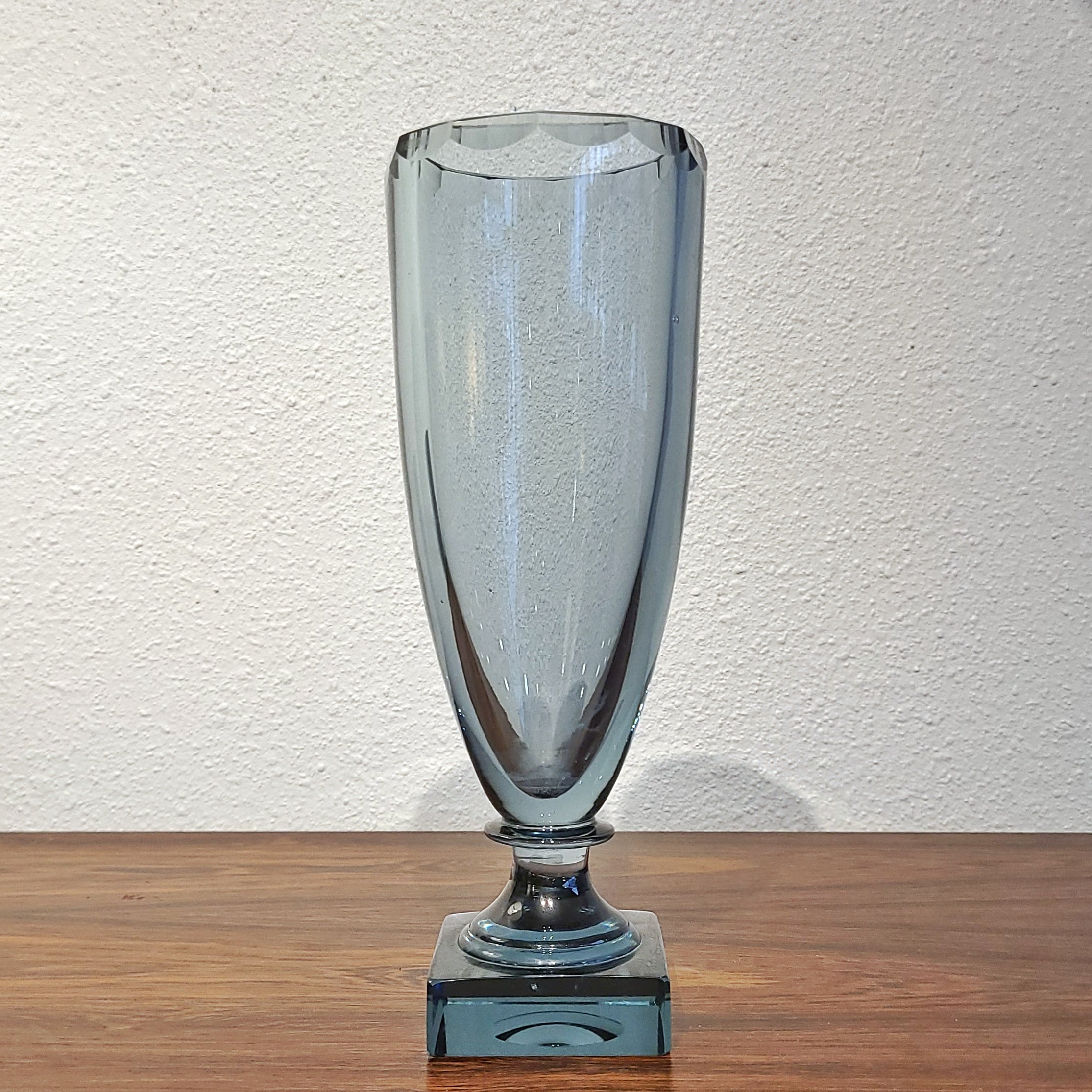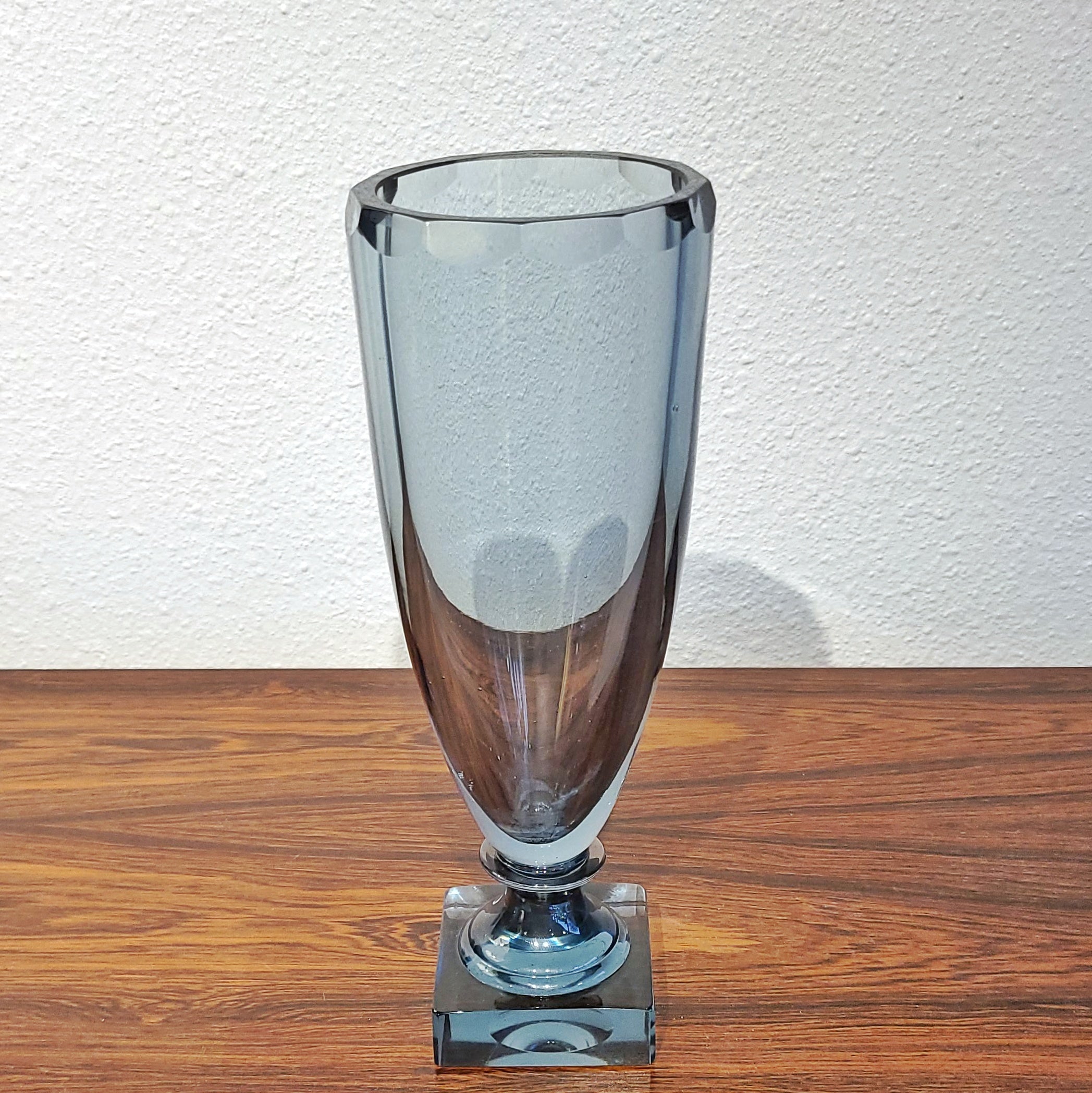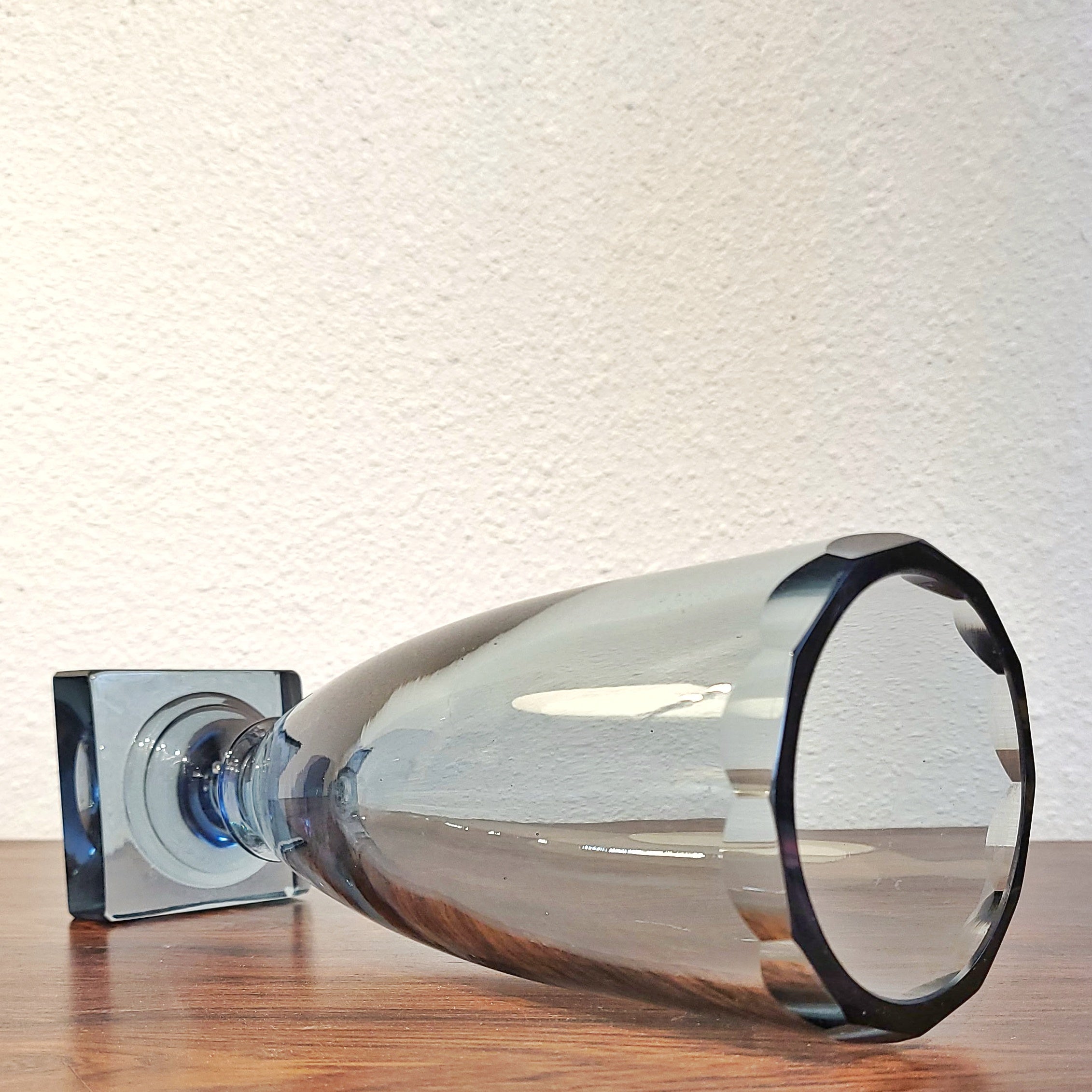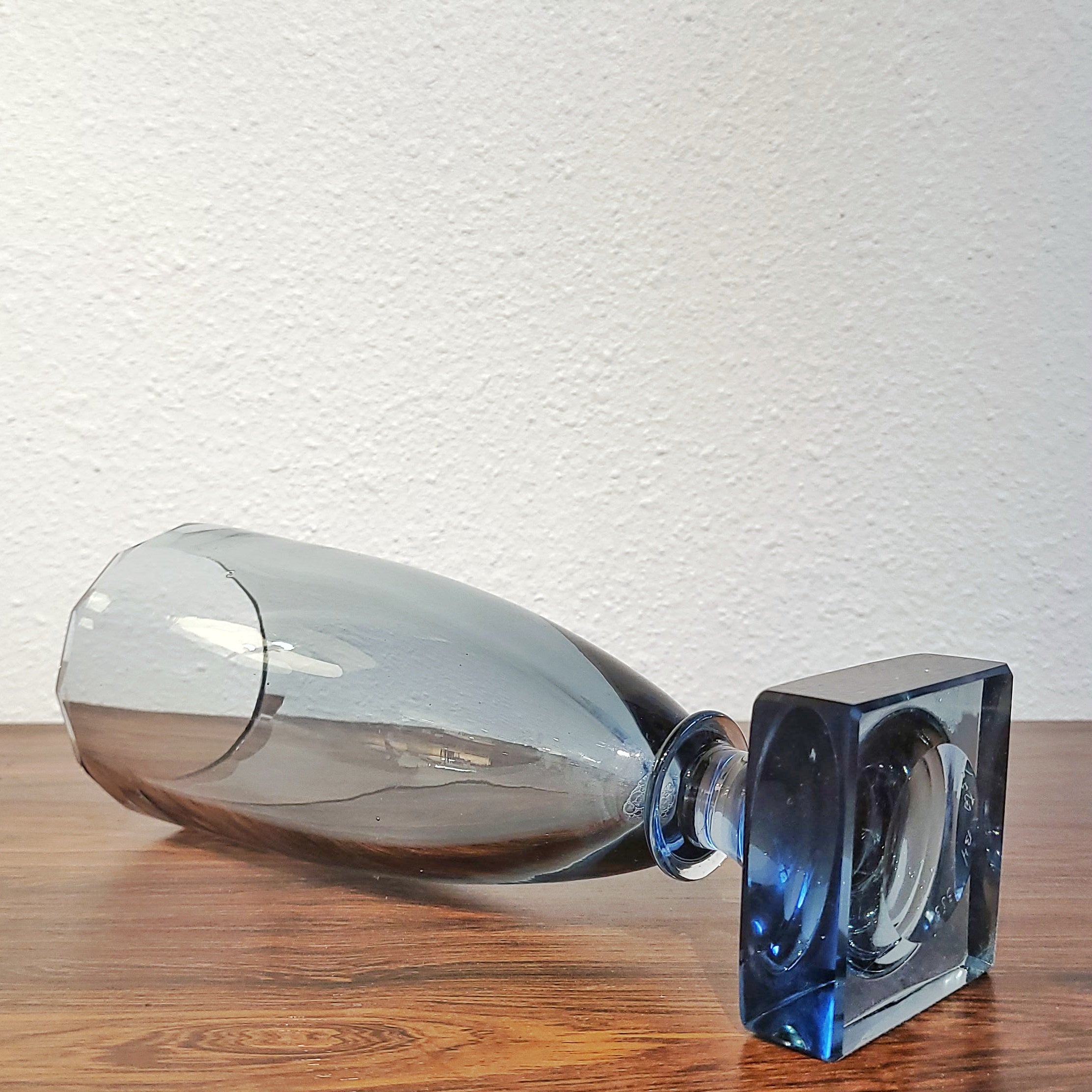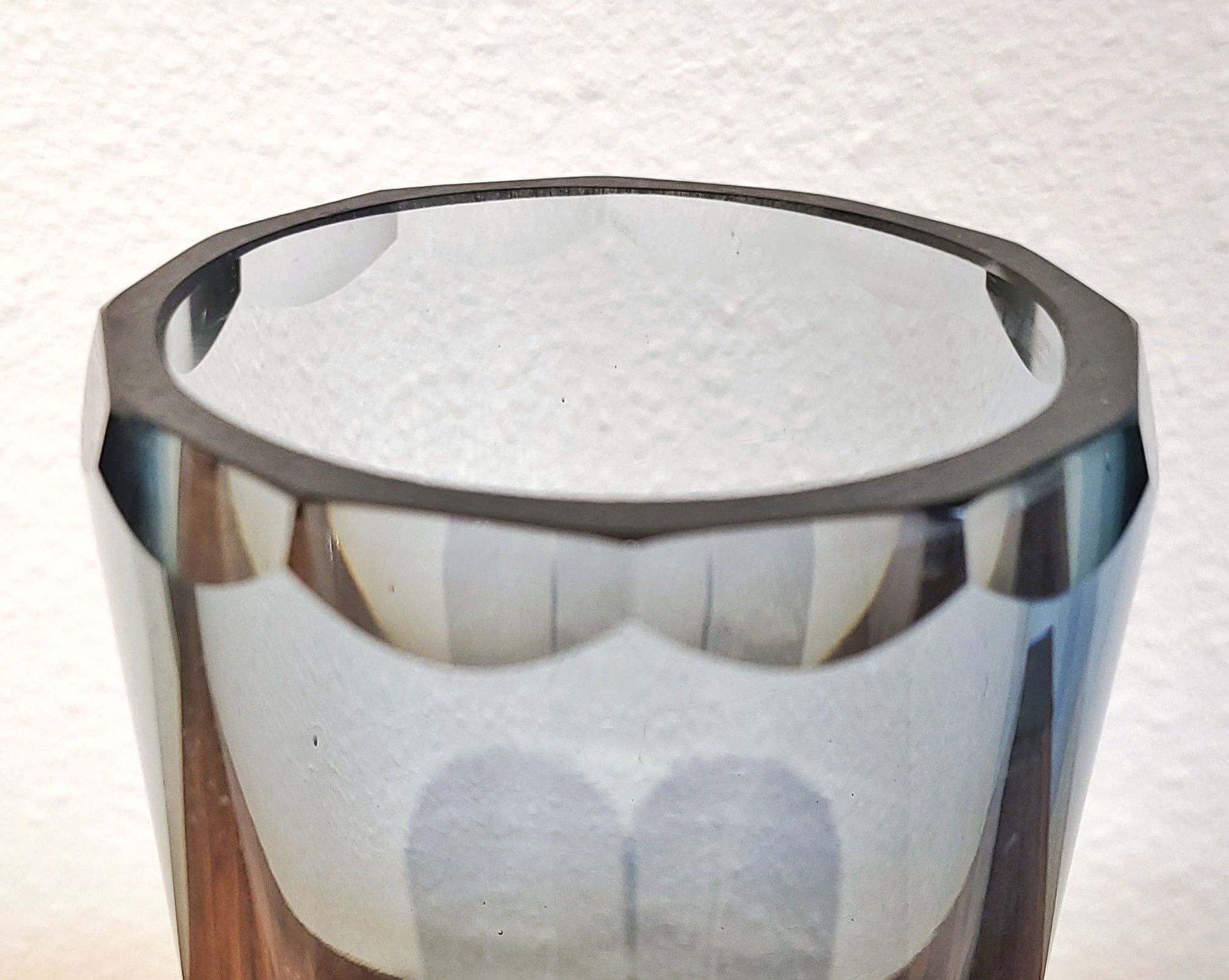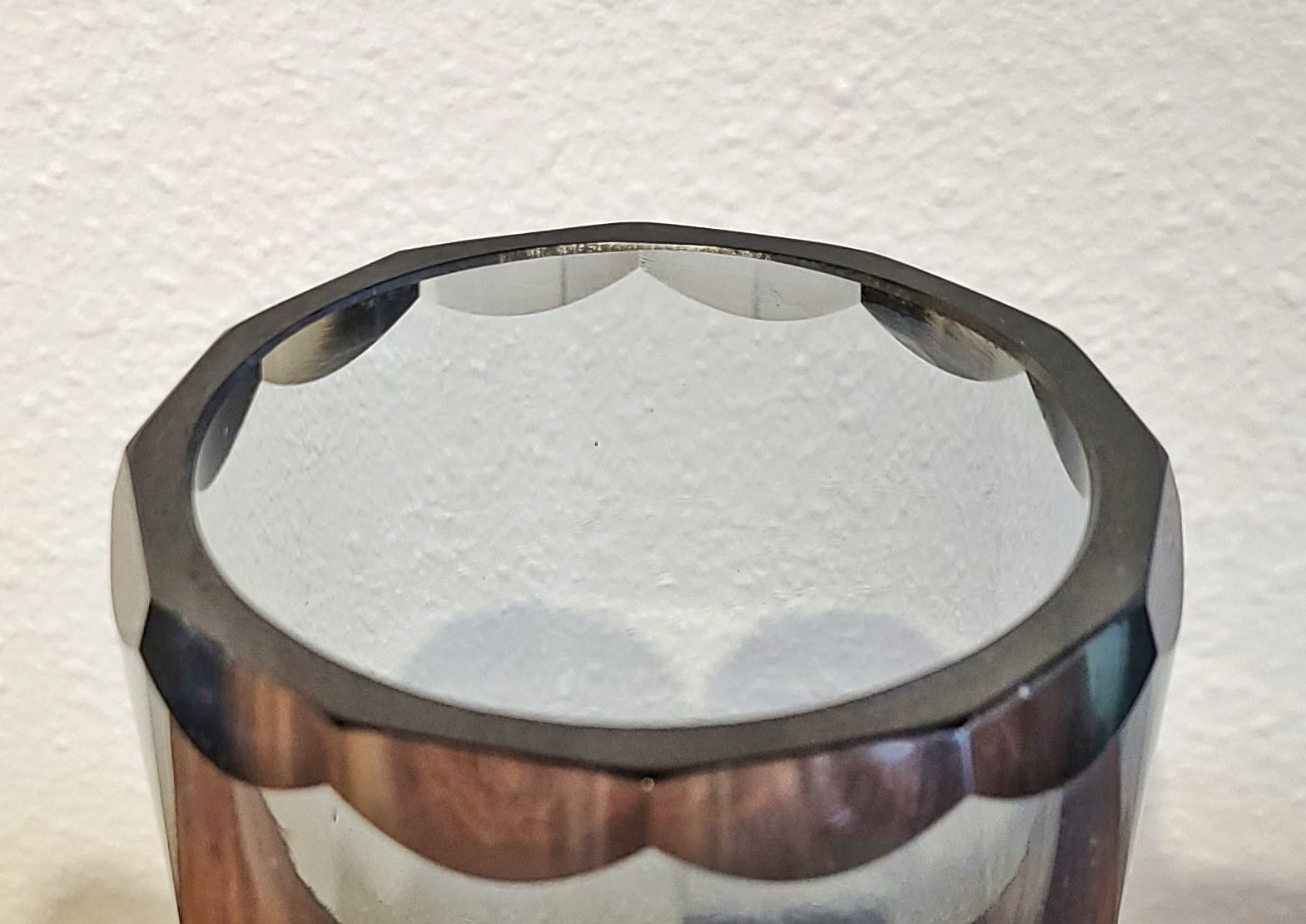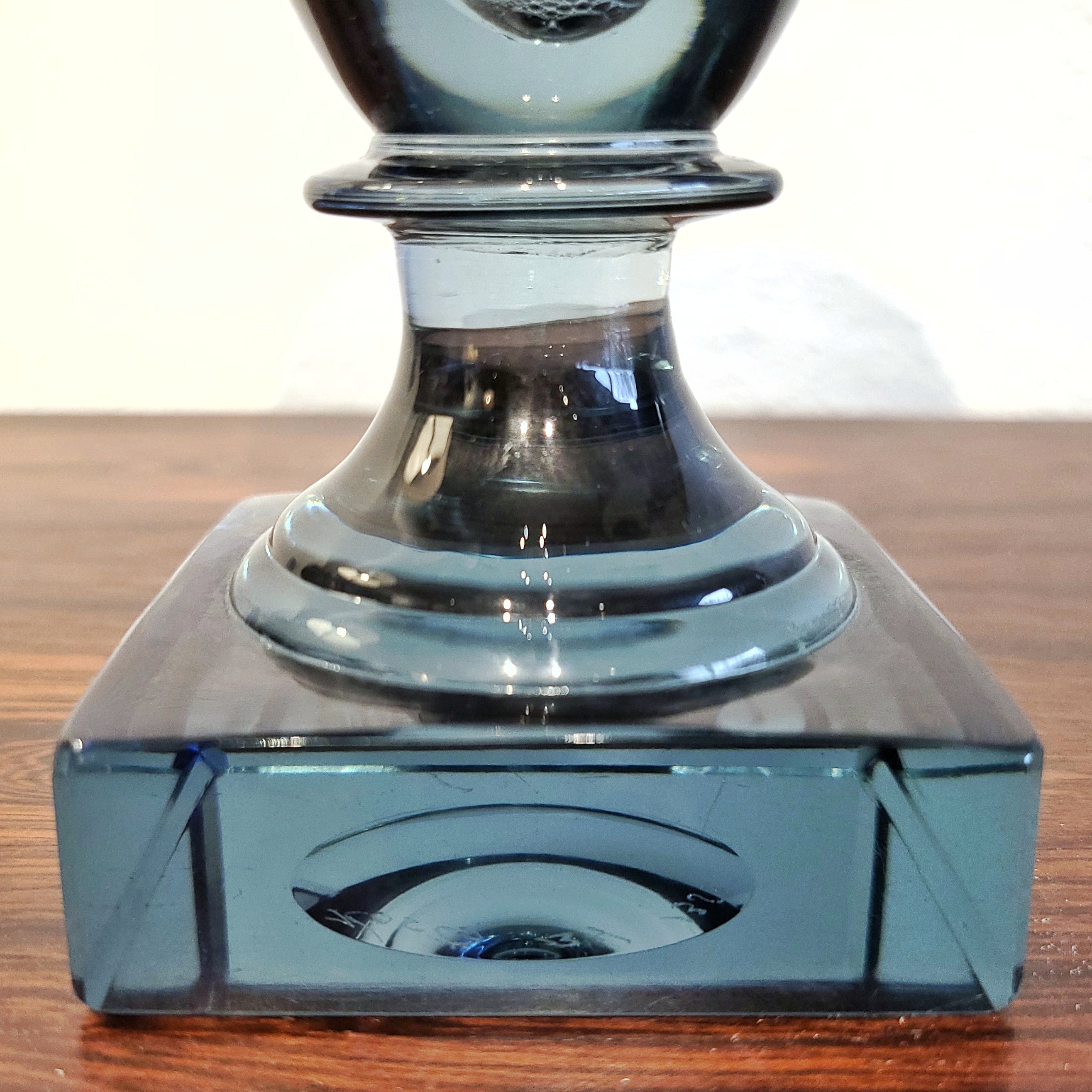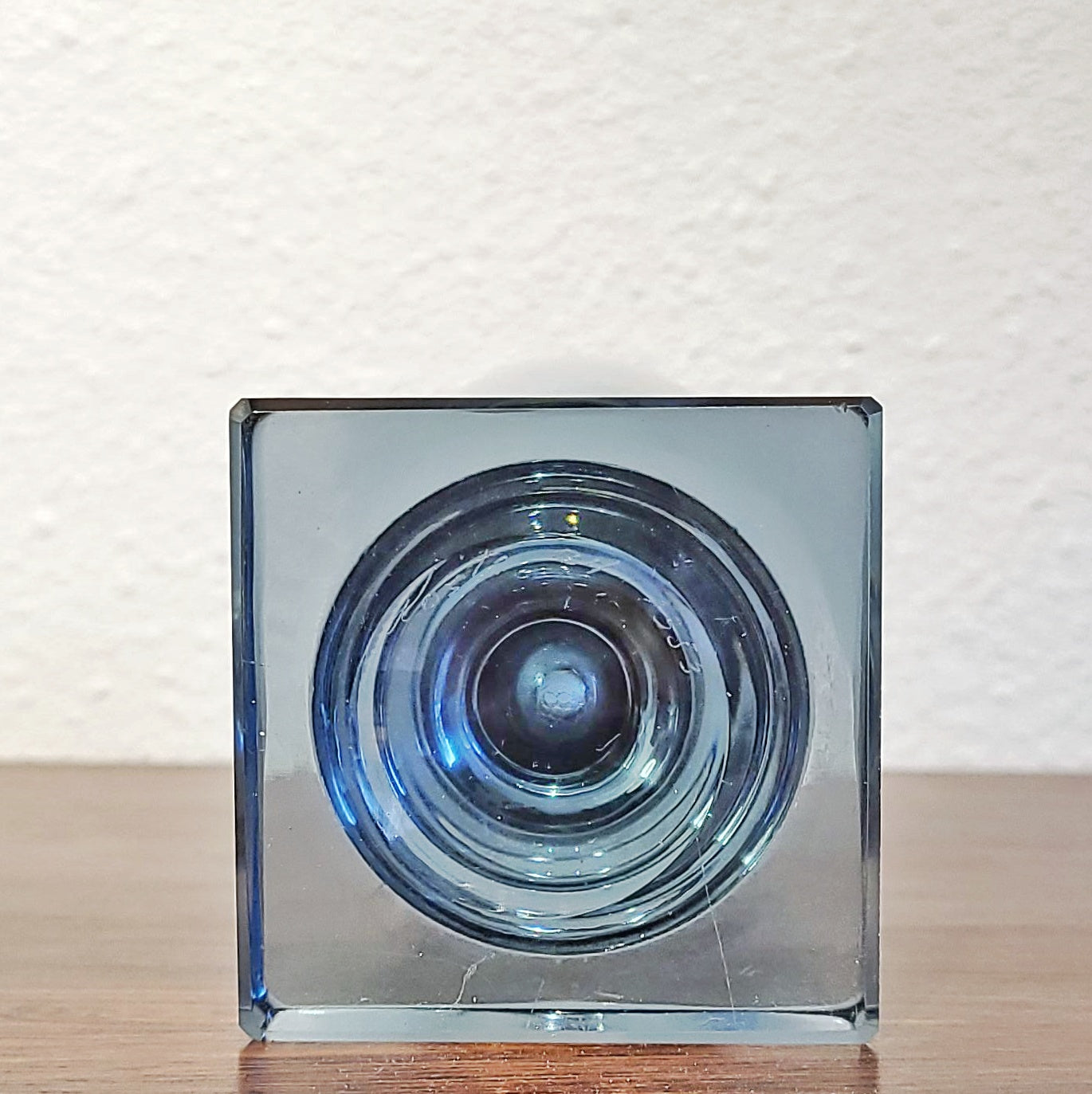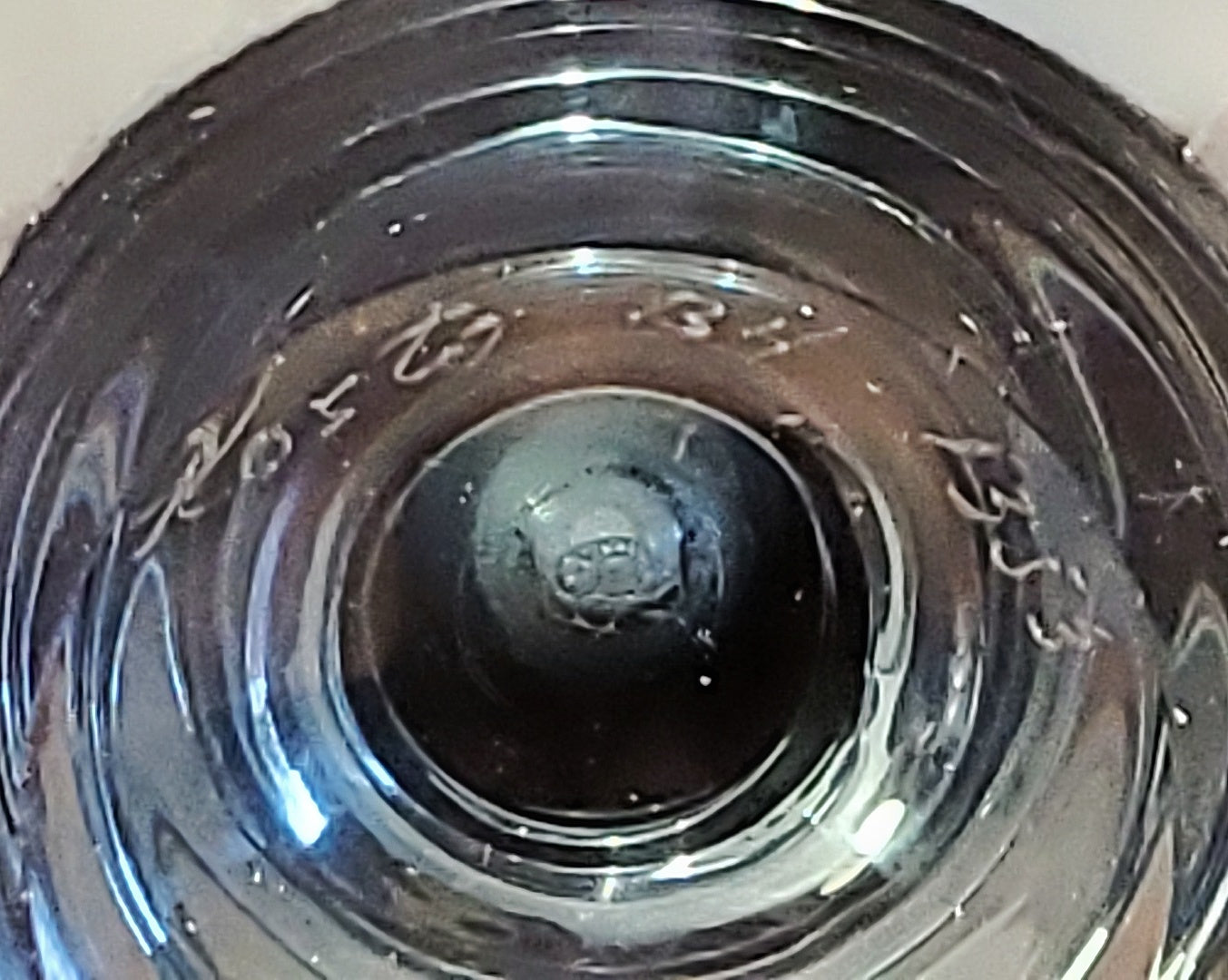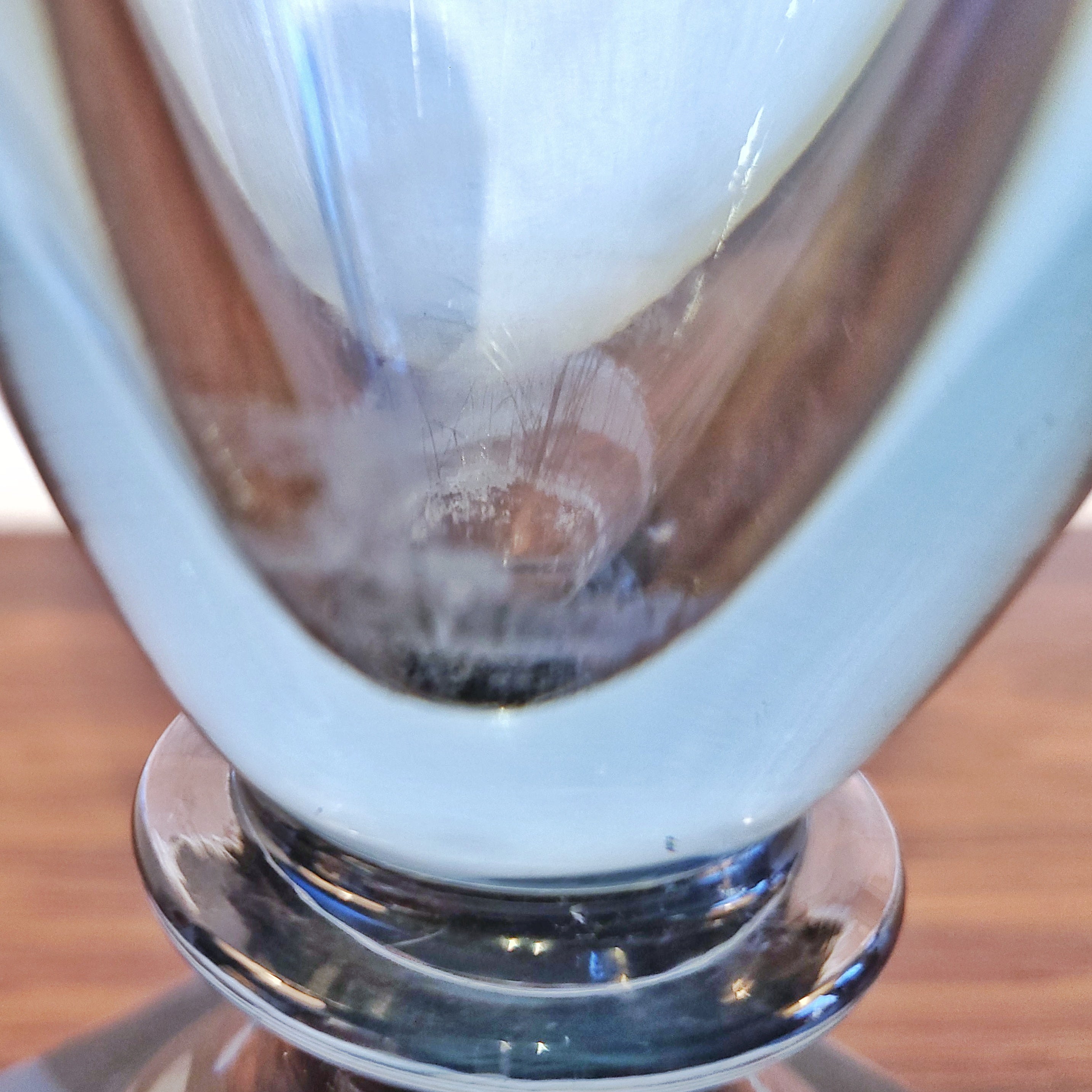 CRYSTAL ART DECO PEDESTAL VASE BY ELIS BERGH FOR KOSTA (1930s)
CONTACT US HERE ABOUT THIS ITEM.
An elegant art deco pedestal vase in smokey blue crystal designed in the 1930s by the architect Elis Bergh for Kosta glassworks of Sweden.  The delicately curved flute-shaped body rises from a heavy square block foot to terminate in a cut and polished faceted rim.  It is signed at the base 'Kosta BH 1353.'  There is a small amount of etching inside at the very bottom of the vase, but it is in otherwise excellent vintage condition.
HAGBARD ELIAS BERGH (aka ELIS BERGH) (1881-1954) was born on April 17th in Linköping, Sweden.  He was a Swedish architect and designer who became better known as a glass artist at the Kosta glassworks.  Bergh studied at the Higher School of Art and Design in Stockholm from 1899-1902 and practiced, among others, with architect Agi Lindegren from 1902-1903 where he participated in the decoration of the Gustaf Vasa Church.  Among his early works as an architect is Villa Skoga in Stoängen, which he designed in 1906 for the publisher Wilhelm Widstrand (Wahlström & Widstrand), but his architectural career was short-lived.
Bergh was an employee of Böhlmark's lamp factory from 1906-1916, then at Pukeberg's glassworks and as the factory manager at Herman Bergman's art foundry.  He also worked for CG Hallbergs Guldsmeds AB.  Between 1928 and 1950 he was artistic director of Kosta glassworks.  After 1950 and until his death in 1954, he worked as a consultant for Kosta.  He came to Kosta through an architectural assignment when he was to carry out an interior design project at the mill.  In 1928 he was called back, now to design lighting fixtures, an area in which he was considered an authority.
As an artistic director, he was responsible for the graceful yet modern design that characterized Kosta's production during the interwar period.   Elis Bergh was responsible for many glassware designs, among them "Karlberg" and "Kulla," but also objects such as vases and other ornaments.  Bergh died on June 23rd, 1954 in Kungsholm parish, Stockholm.
KOSTA BODA glassworks was established as Kosta Glasbruk in 1742, in the densely forested Småland province in southern Sweden.  The company's original name (as well as that of its locality) is a portmanteau of its founders' surnames:  Anders KOskull and Georg Bogislaus STAël von Holstein, both of whom served as generals in the army of Karl XII.  Kosta lay at an important crossroads, its location was chosen to facilitate the delivery of glass to Stockholm to the northeast and Karlskrona to the south.  There was also an unlimited supply of wood at hand for the furnaces.
During its first 150 years, Kosta Glasbruk produced fine, utilitarian glassware—windowpanes, bottles, and drinkware—in addition to chandeliers and other decorative items.  Royalty, nobility, and wealthy merchants being able to afford the costly wares were its customers.  For many decades, until Swedes themselves could be trained, Bohemian glassblowers were employed exclusively.  Not long after its sesquicentennial, when Kosta Glasbruk, exhibited its products at the 1897 General Art and Industrial Exposition in Stockholm, criticism was leveled that they too much resembled those made by other European manufacturers.  This censure was taken to heart, and the company begin to employ its own designers to develop the product range.  This practice has been adhered to ever since.  First to be hired under the policy was Gunnar Gunnarsson Wennerberg (1863-1914), who joined the company in 1898.  Many well-known artists followed, Sven "X-et" Ericsson (1899-1970) and Ewald Dahlskog (1894–1950) among them.  The first female artist employed was Tyra Lundgren (1897-1979), recruited in 1935.
Today's KOSTA BODA was formed in 1971 through the merger of three glassworks:  the ones in Kosta and nearby Åfor along with one further south in Boda.  The group was initially called Åforsgruppen and for a period included Johansfors Glasbruk.  The name KOSTA BODA was adopted in 1976.  The company has been part of Orrefors Kosta Boda AB since 1989.
The glass is an invisible material that eats the light and forwards it.  No other work material is so volatile and wayward. – BERTIL VALLIEN
Details

Dimensions

3.5ʺW × 3.5ʺD × 10.19ʺH
Styles

Art Deco
Hollywood Regency
Modern

Brand

Kosta Glasbruk
Designer

Elis Bergh
Period

1930s
Item Type

Vintage, Antique or Pre-owned
Materials

Crystal
Condition

Very Good Condition, Original Condition Unaltered, No Imperfections
Color

Blue
Condition Notes

Excellent Vintage Condition. May Show Minor Signs of Previous Use.