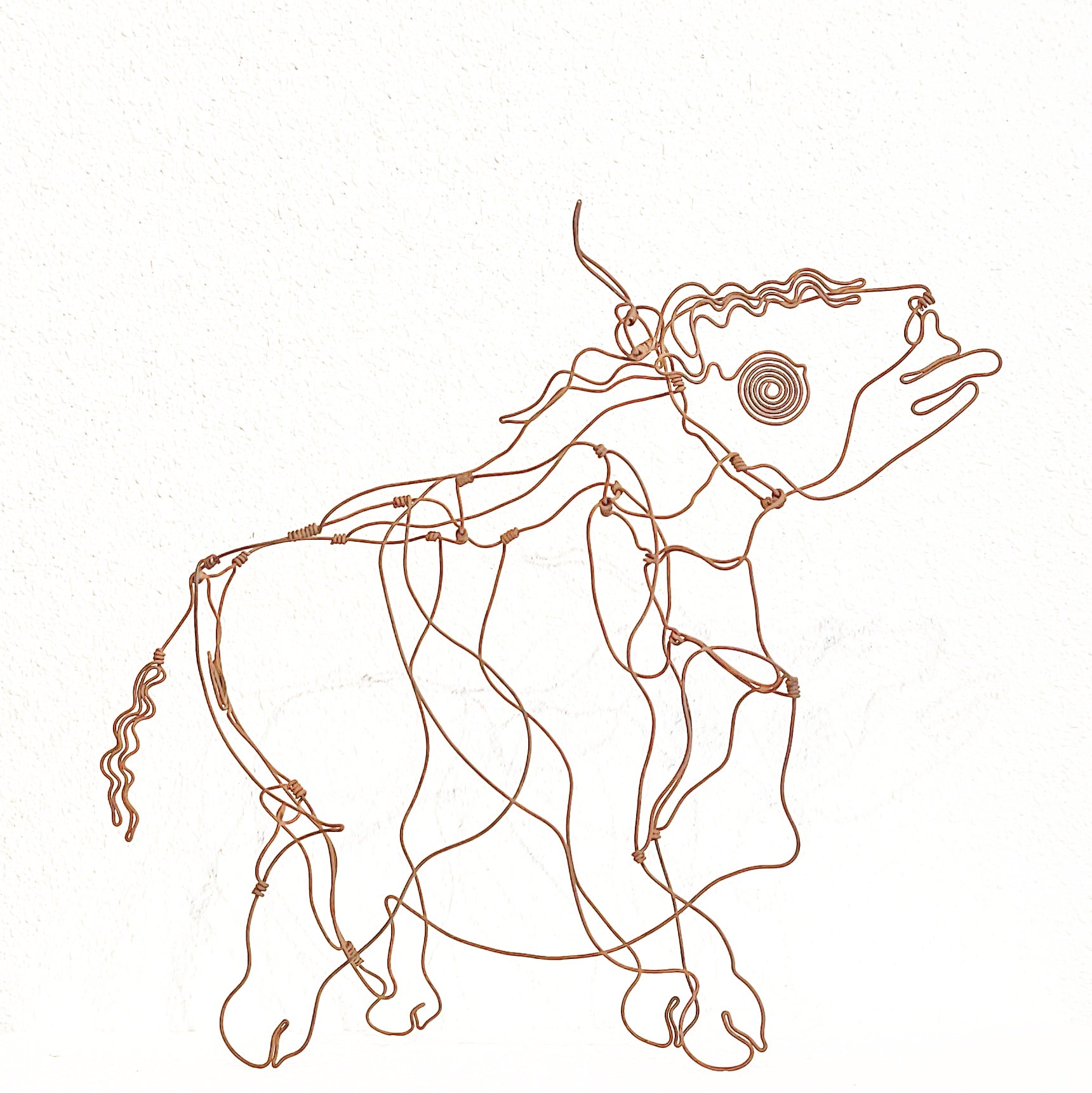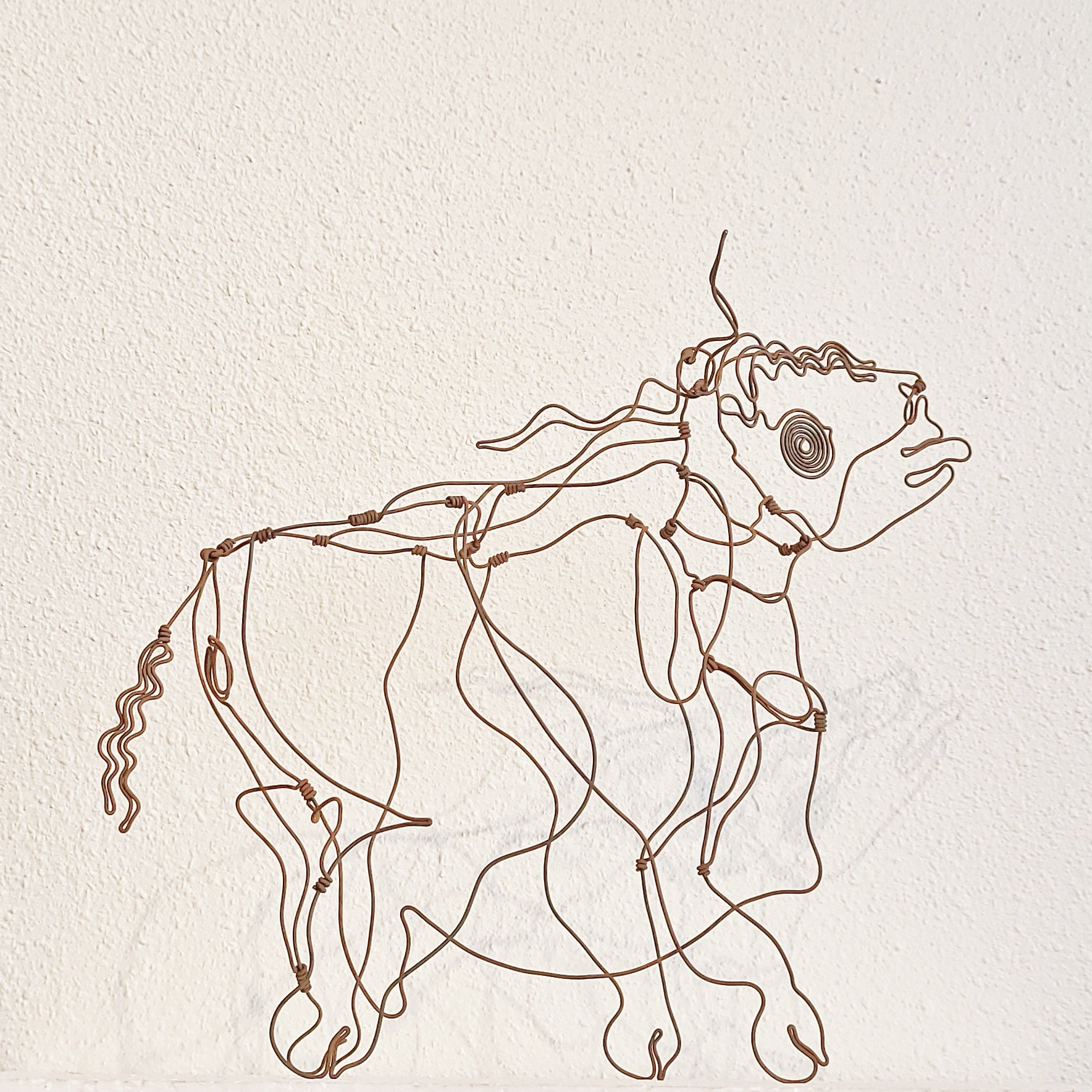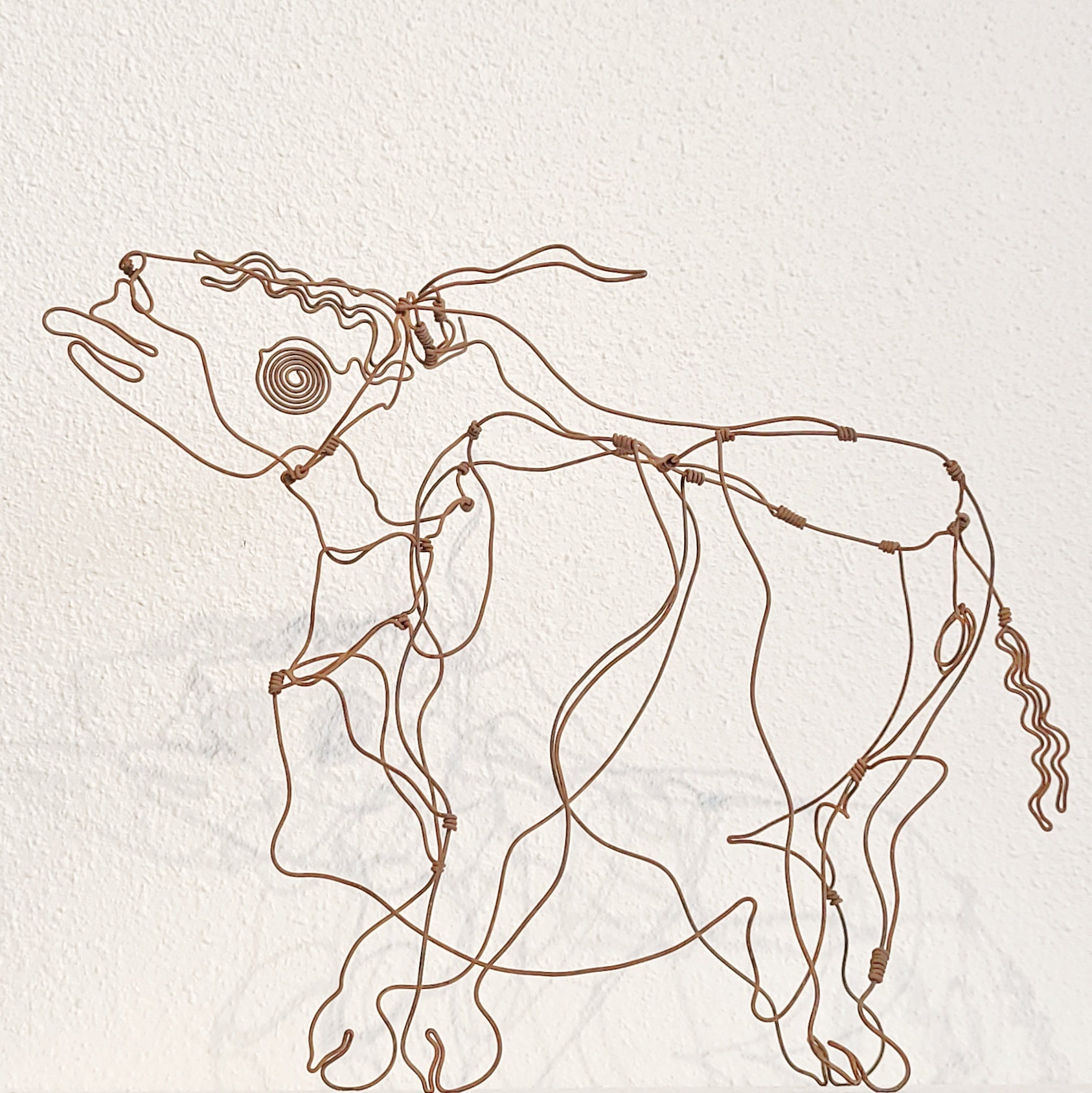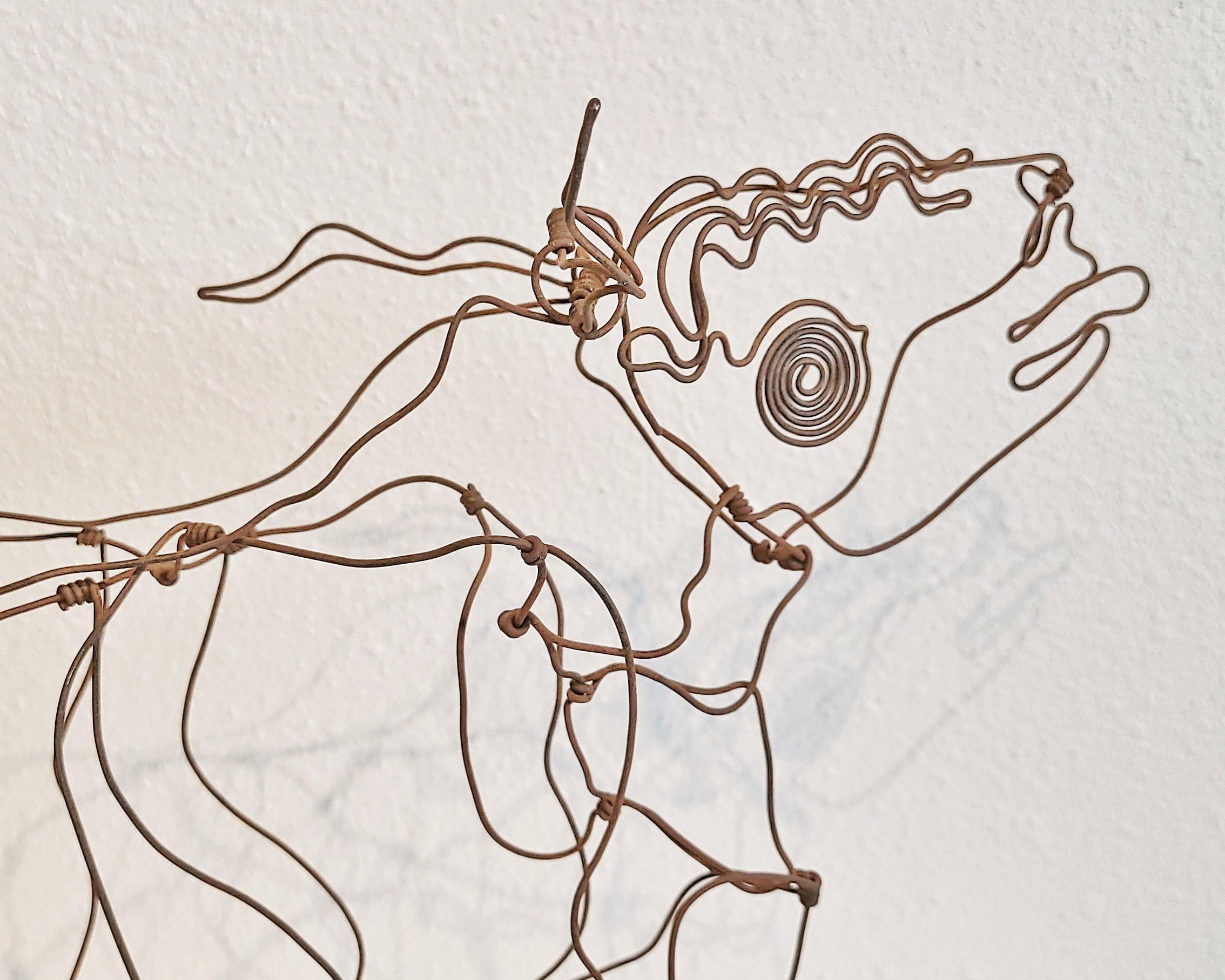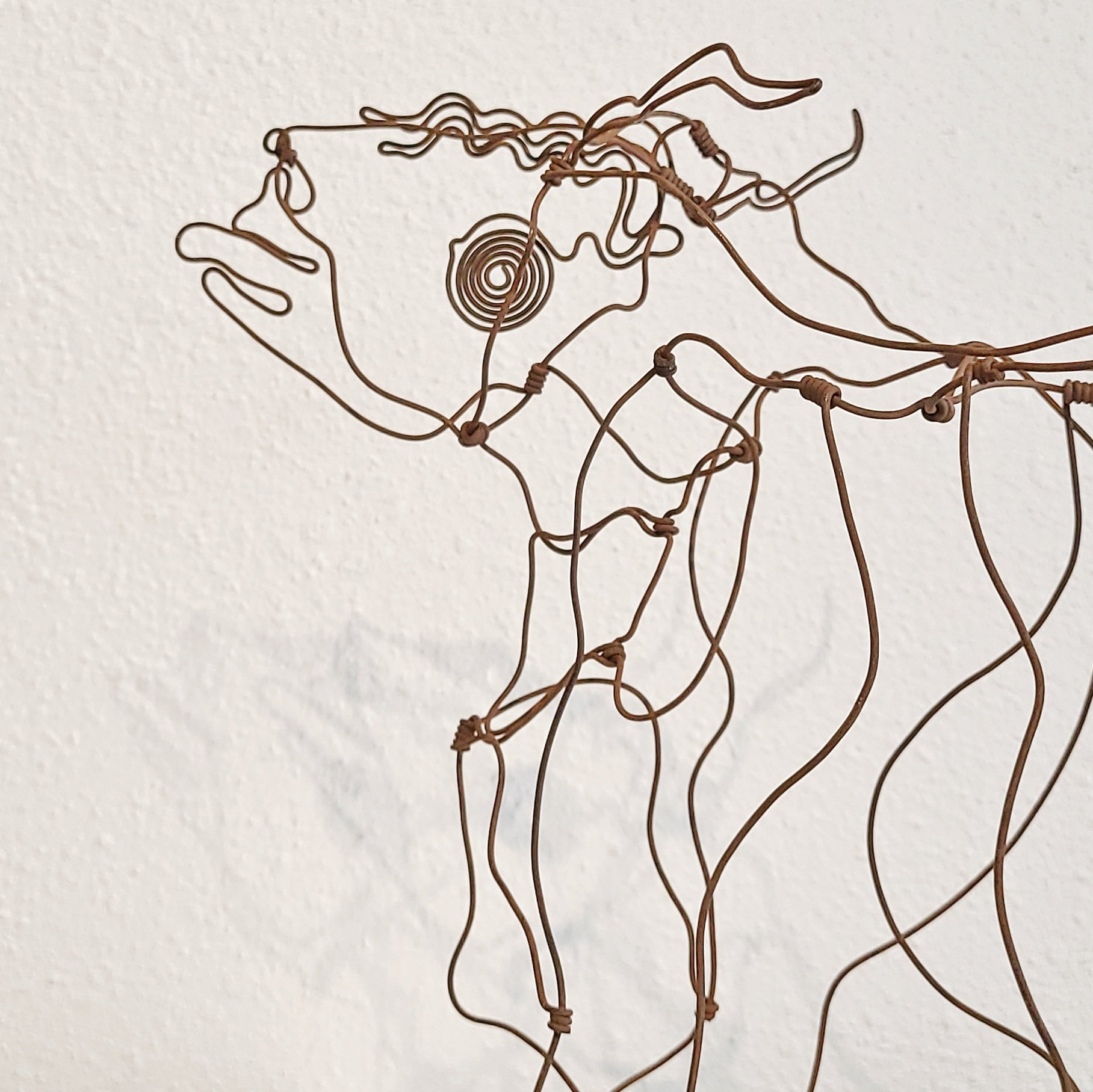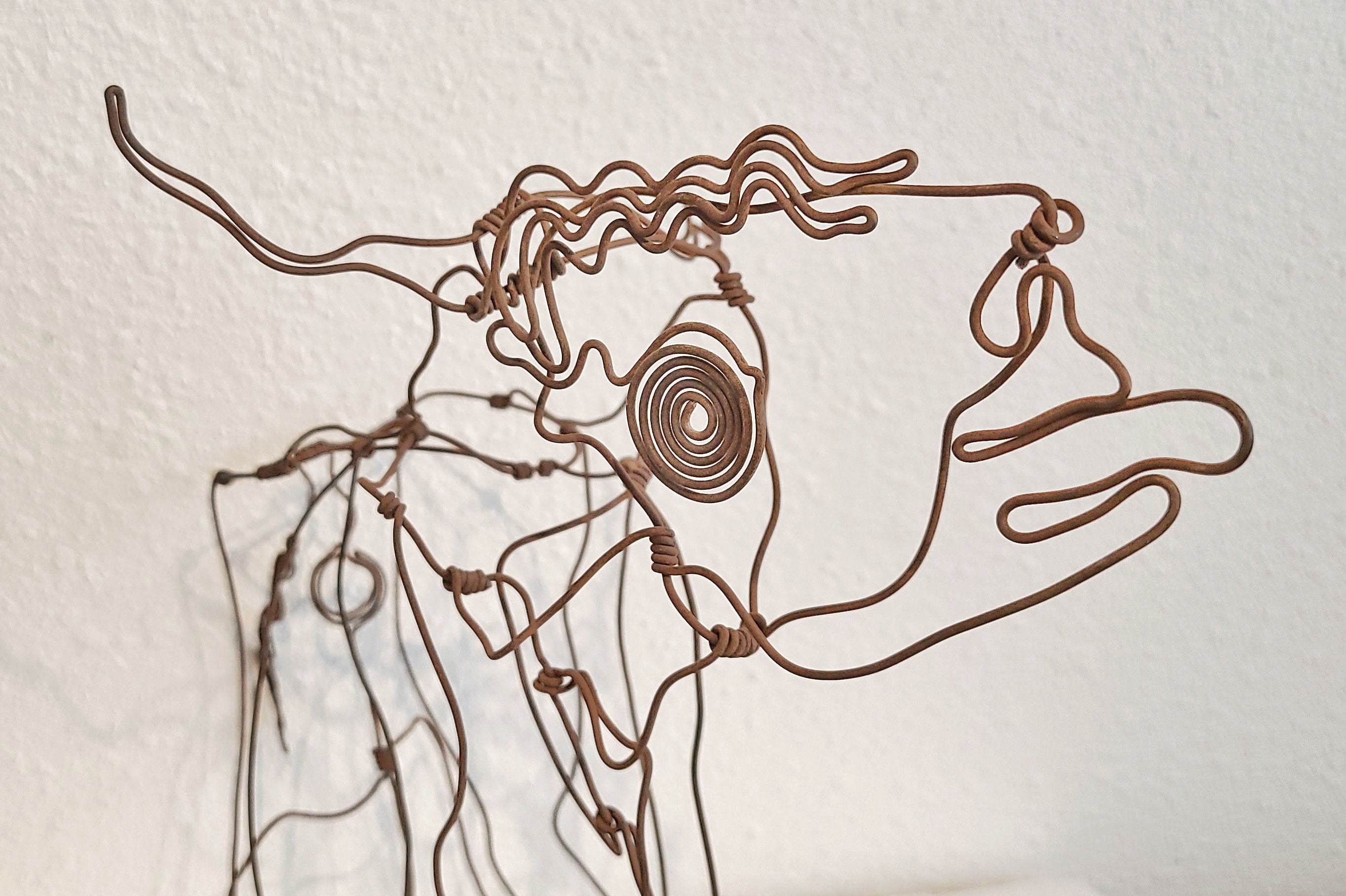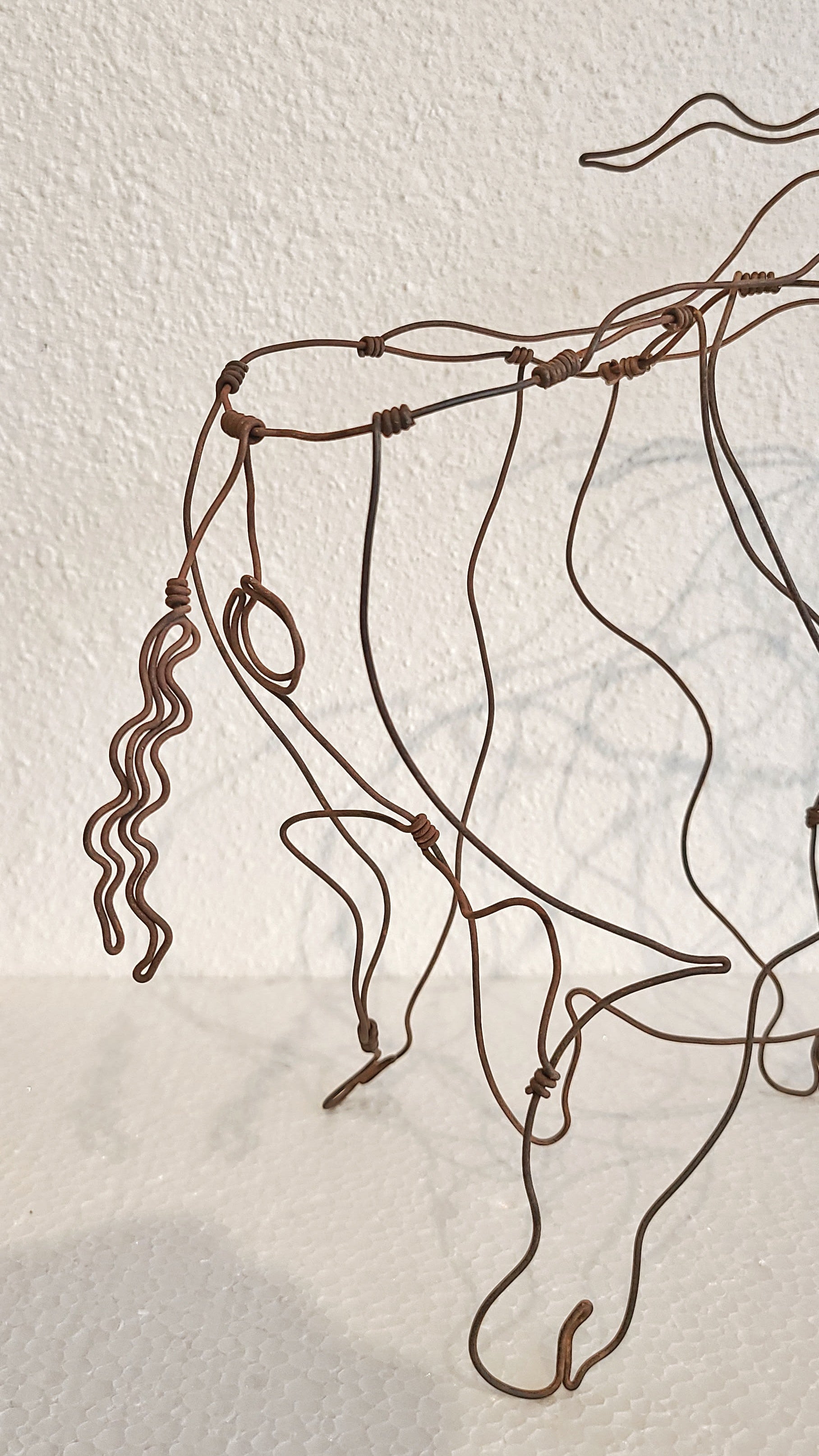 BALING WIRE BULL SCULPTURE BY PAUL GERSHOWITZ c.1955-1965
$765.00
Regular price
$850.00
CONTACT US HERE ABOUT THIS ITEM.
A baling wire sculpture of a standing bull, circa 1955-1965, by Paul Gershowitz.  Gershowitz was an artist and political activist who found work at the Philadelphia Inquirer during the years that he was blacklisted by Joseph McCarthy's House Un-American Activities Committee (HUAC).  During his time there, he fashioned a series of sculptures from the baling wire used to bundle the newspapers.  Unsigned.
PAUL GERSHOWITZ (1929-2017) was born on August 5, 1929, in Brighton Beach, Brooklyn, New York, the son of Sam and Rose (nee Becker) Gershowitz. He graduated from Brooklyn College in 1952 with a Bachelor's Degree in Fine Arts and Math and went almost directly into the army. After serving in Korea from 1952-1954, Paul returned home to pursue an illustrious career as an art school educator and community/arts activist.  Upon his return to Brooklyn in 1955, he created the Brighton Beach Community Cultural Center. The school offered classes in painting, sculpture, photography, dance, music, and theater. Paul was a firm believer in making art available to children but during the McCarthy Era, he was blacklisted for his political views and forbidden to teach in the NYC public schools, so he relocated to Pennsylvania and took a job with the Philadelphia Inquirer.  It was during his time at the Inquirer that he was inspired to create a series of Calder-Esque sculptures from the baling wire used to bundle newspapers together.  It is these sculptures for which the artist has become best known.
In 1971 Paul moved to upstate New York where he opened a number of cultural centers and children's museums. During this time he continued his activities in progressive politics, as well as education and the arts. He was never afraid to fight the good fight and was a fixture on every progressive picket line, where he was known for his bib overalls and red paisley scarf. from 1972 until 1977, he owned and managed the Towne Crier Café which sponsored performances by a variety of musical artists, and still does to this day.
After his retirement, Paul moved to Albuquerque, New Mexico where he worked as a freelance artist and contributed to local causes.  Later, he was inspired by friends in Watsonville, CA to eventually relocate to Santa Cruz in 2012, where he became known locally as a fiery, unstoppable, creative, political activist and agitator for social, economic, and environmental justice. Paul was not afraid to speak up and speak out of turn at City Council meetings and other venues. He was active in many local social justice issues: Beach Flats Community Garden, Art & Revolution Street Theater, Reel Work Film Festival, etc.  Paul Gershowitz died peacefully of natural causes at home on July 22, 2017, in Santa Cruz, CA at the age of 87.
Details

Dimensions

13.75ʺW × 6.5ʺD × 12ʺH
Styles

Abstract
Figurative
Mid-Century Modern

Art Subjects

Abstract
Animals
Figure

Period

1960s
Place of Origin

United States of America
Item Type

Vintage, Antique or Pre-owned
Materials

Metal
Condition

Very Good Condition, Original Condition Unaltered, No Imperfections
Color

Coffee
Condition Notes

Excellent Vintage Condition With a Very Nice Patina