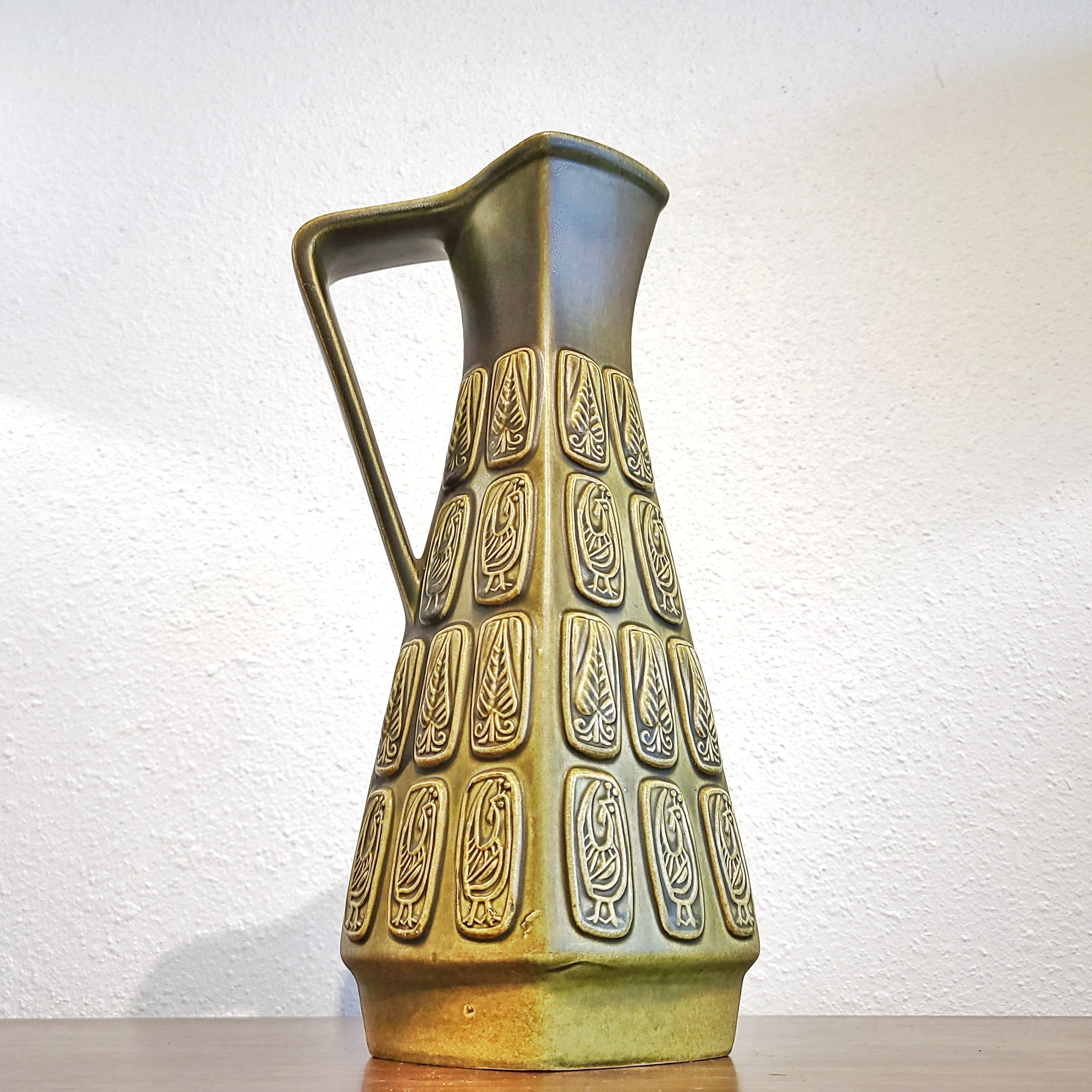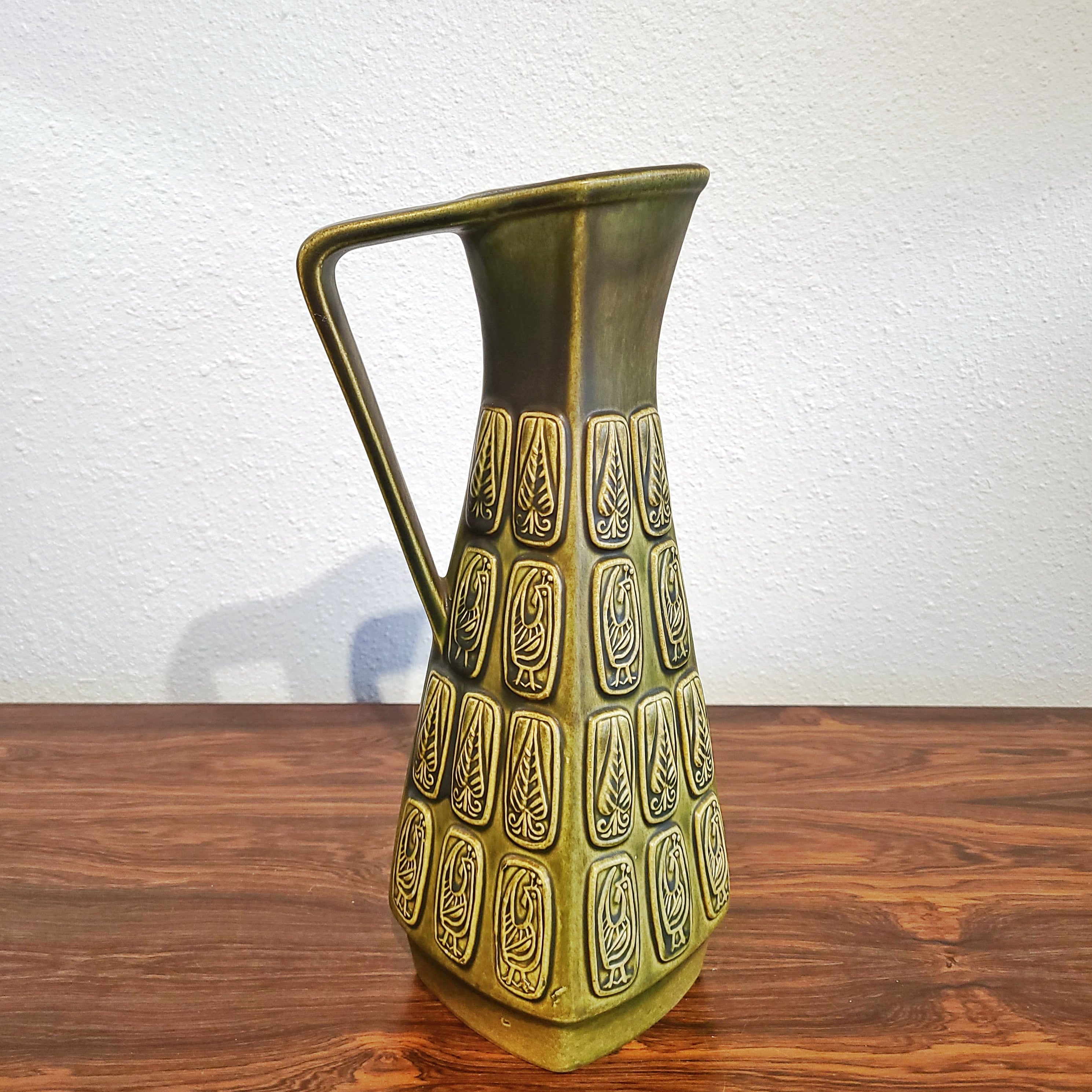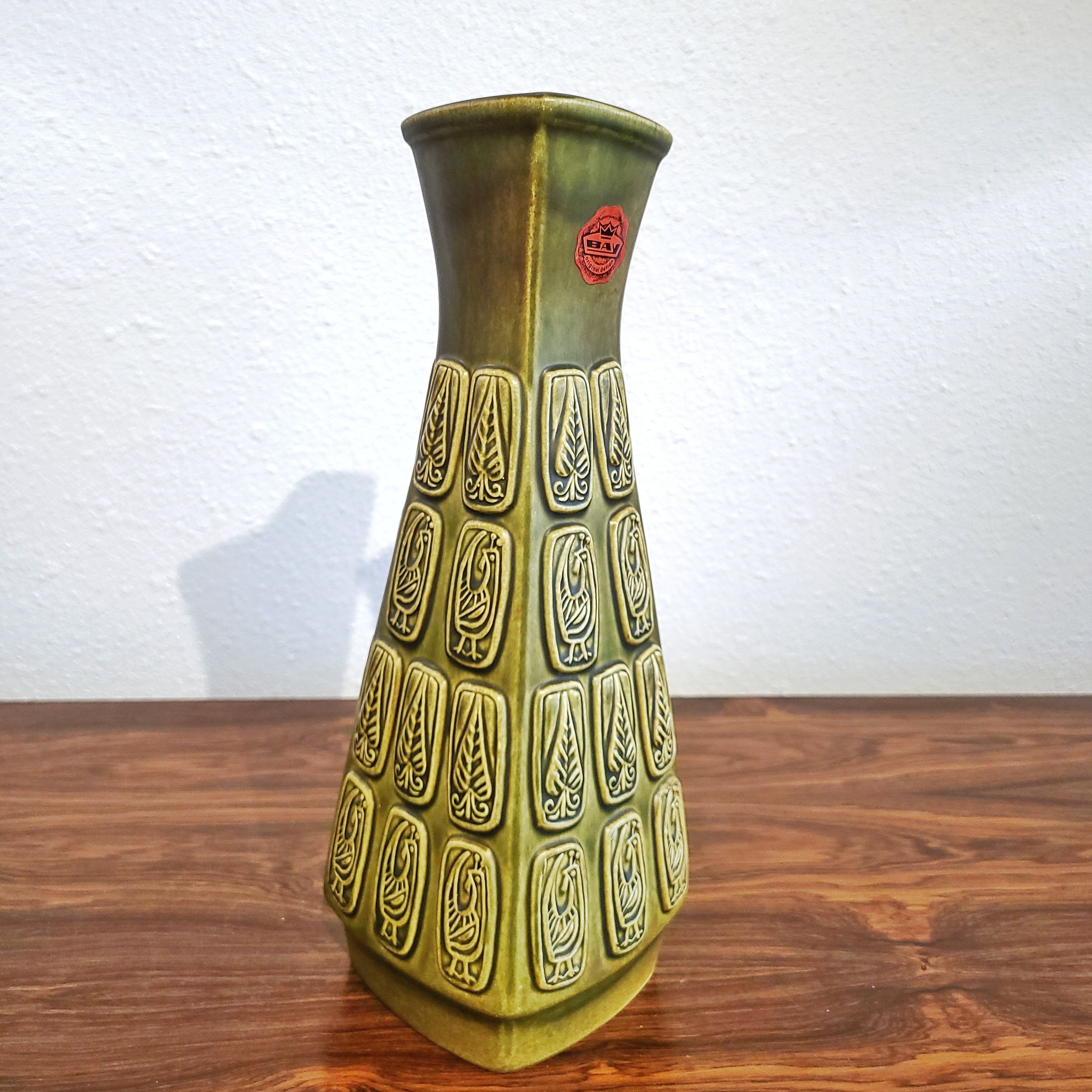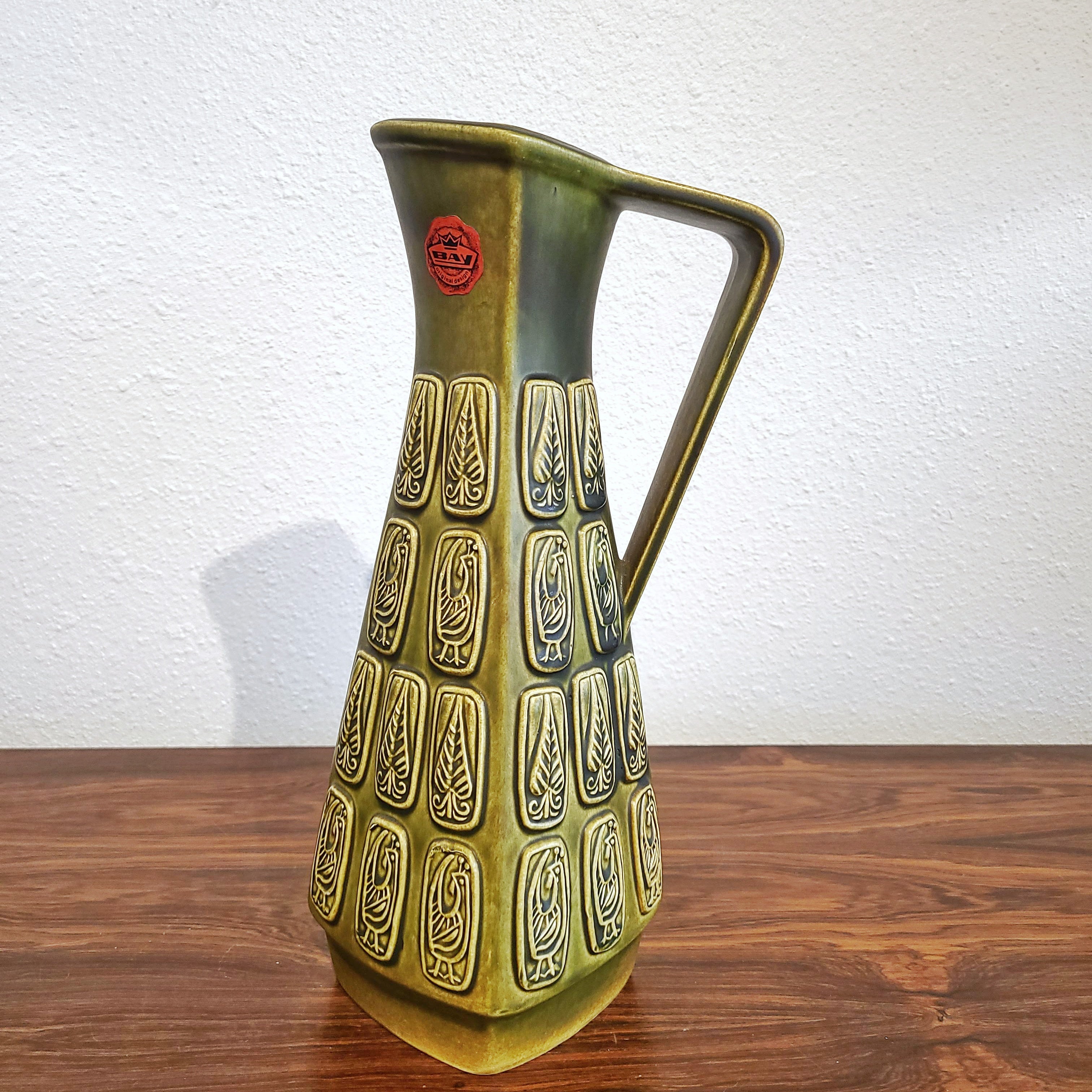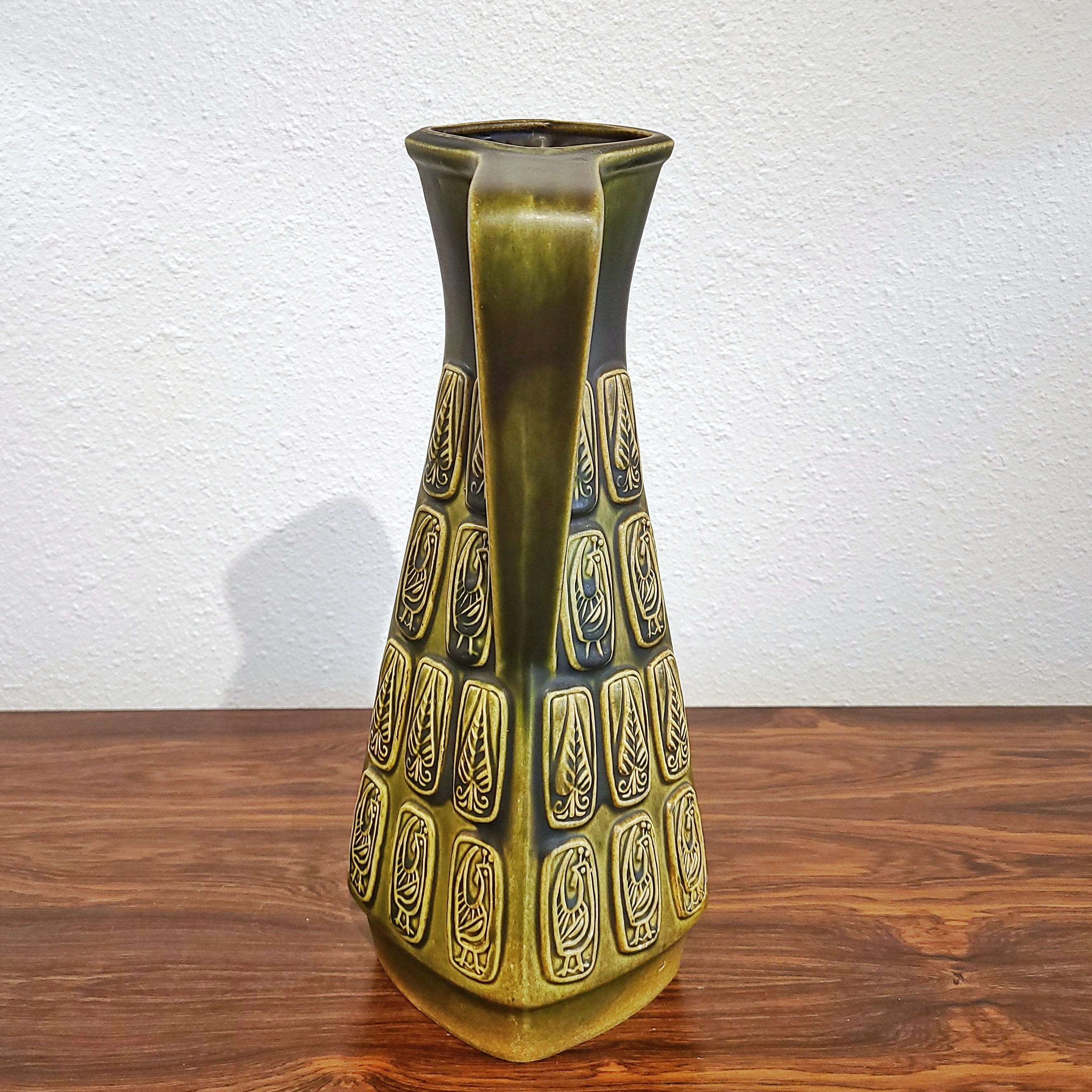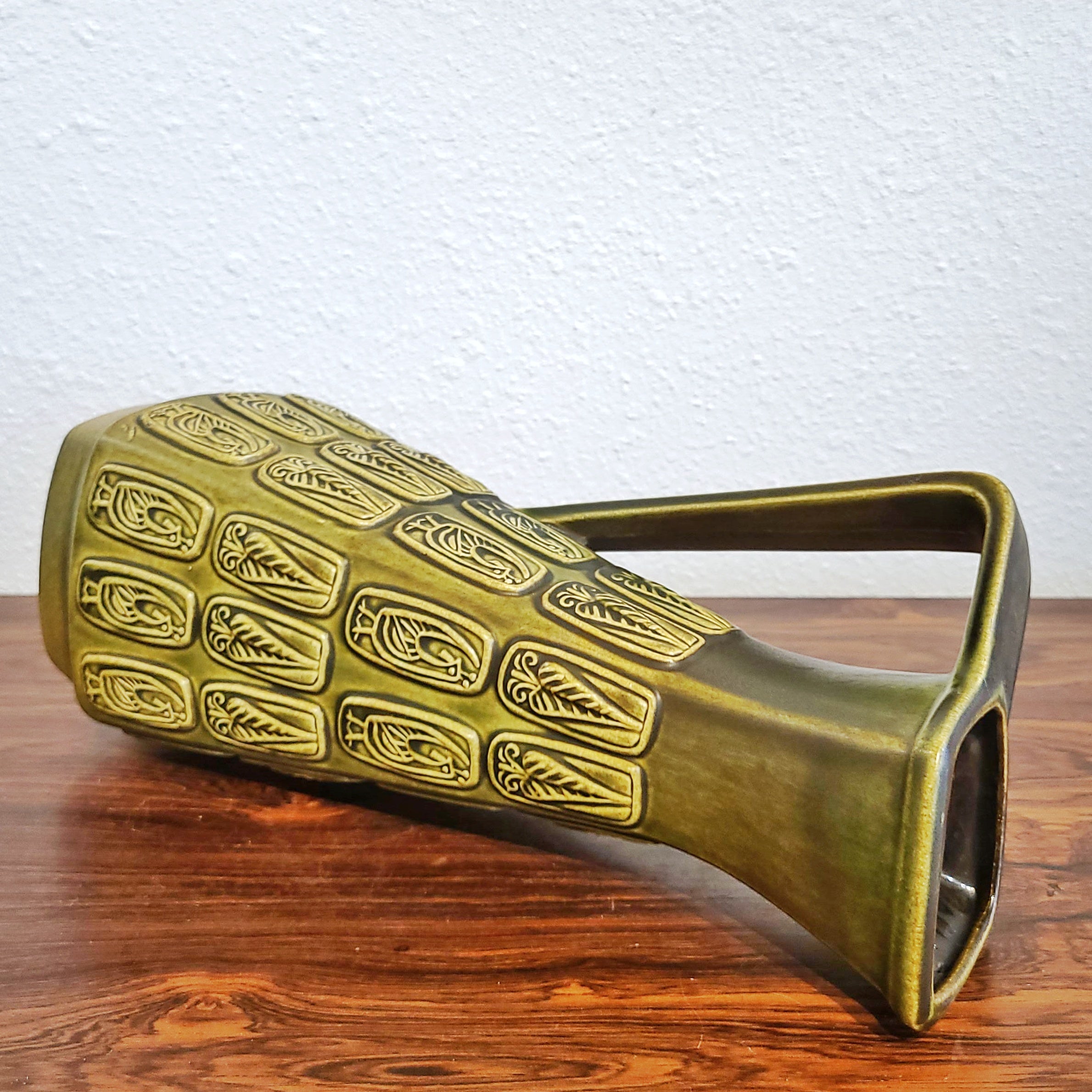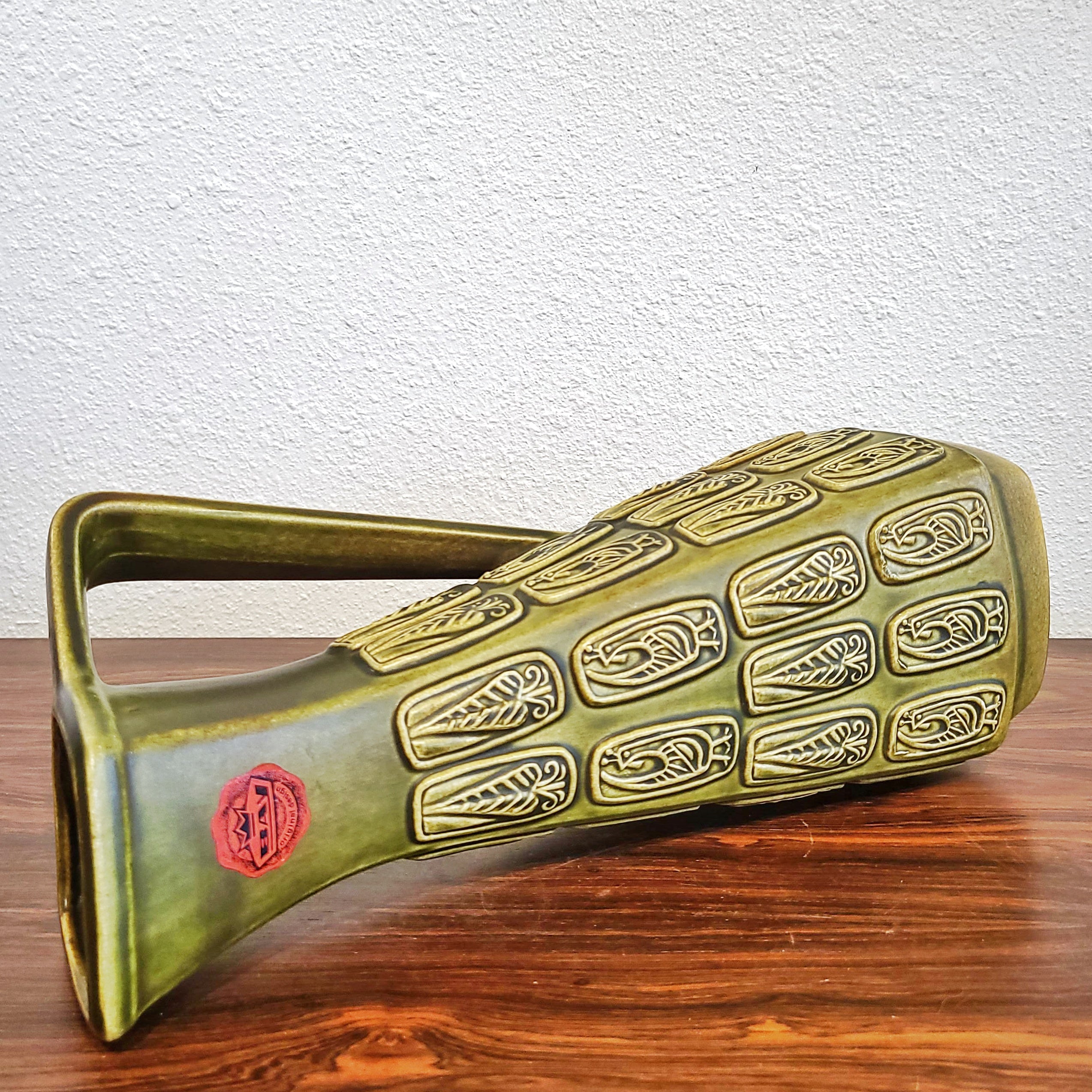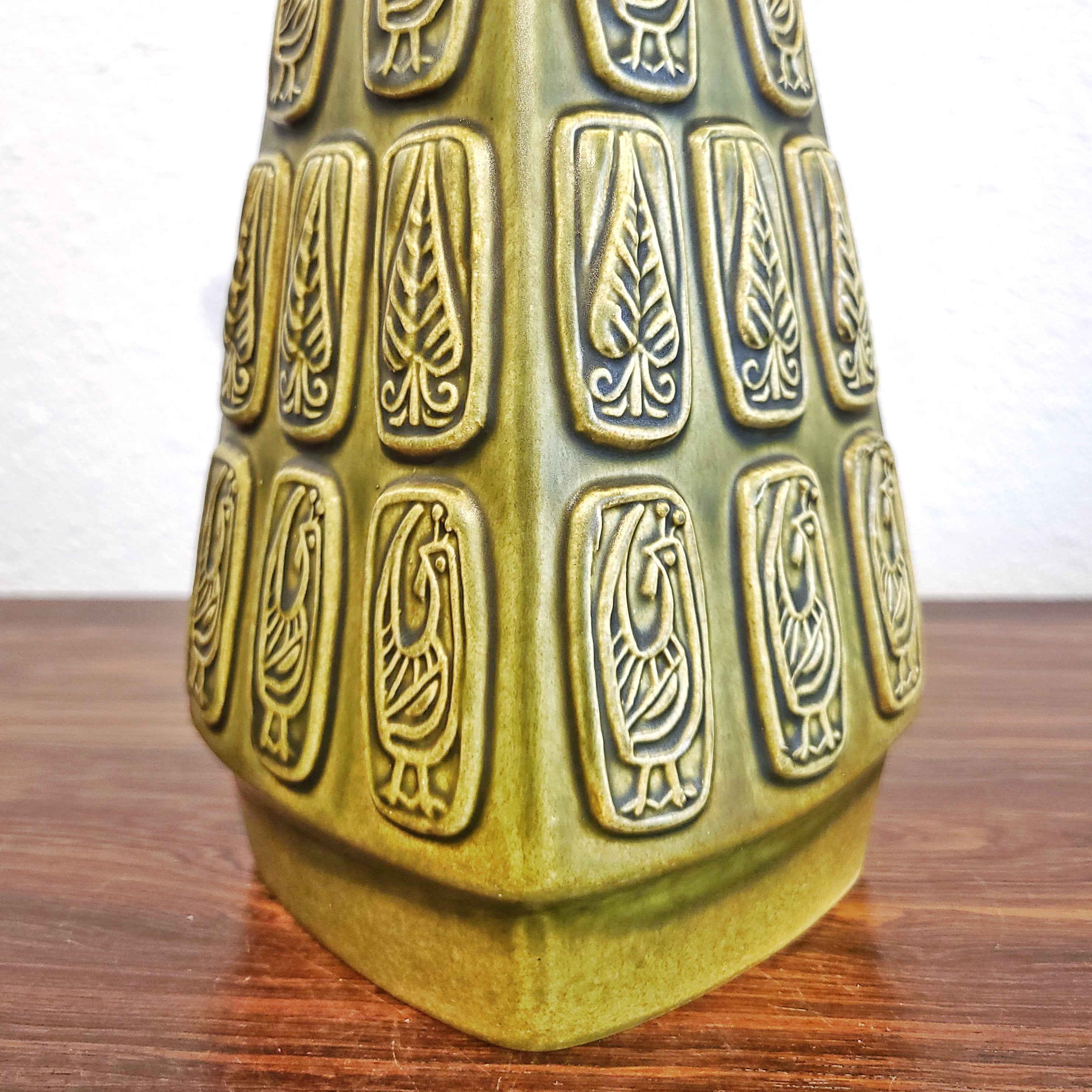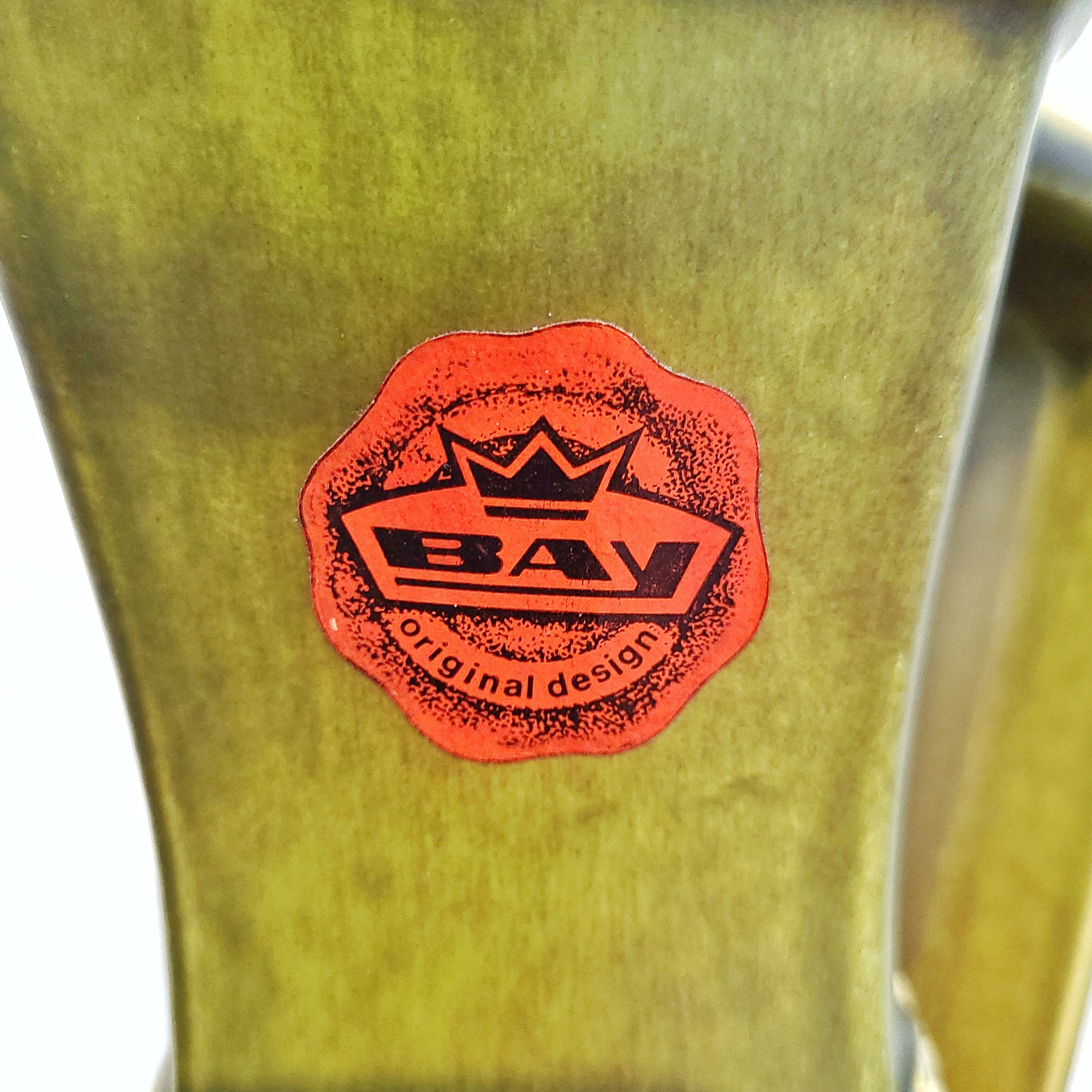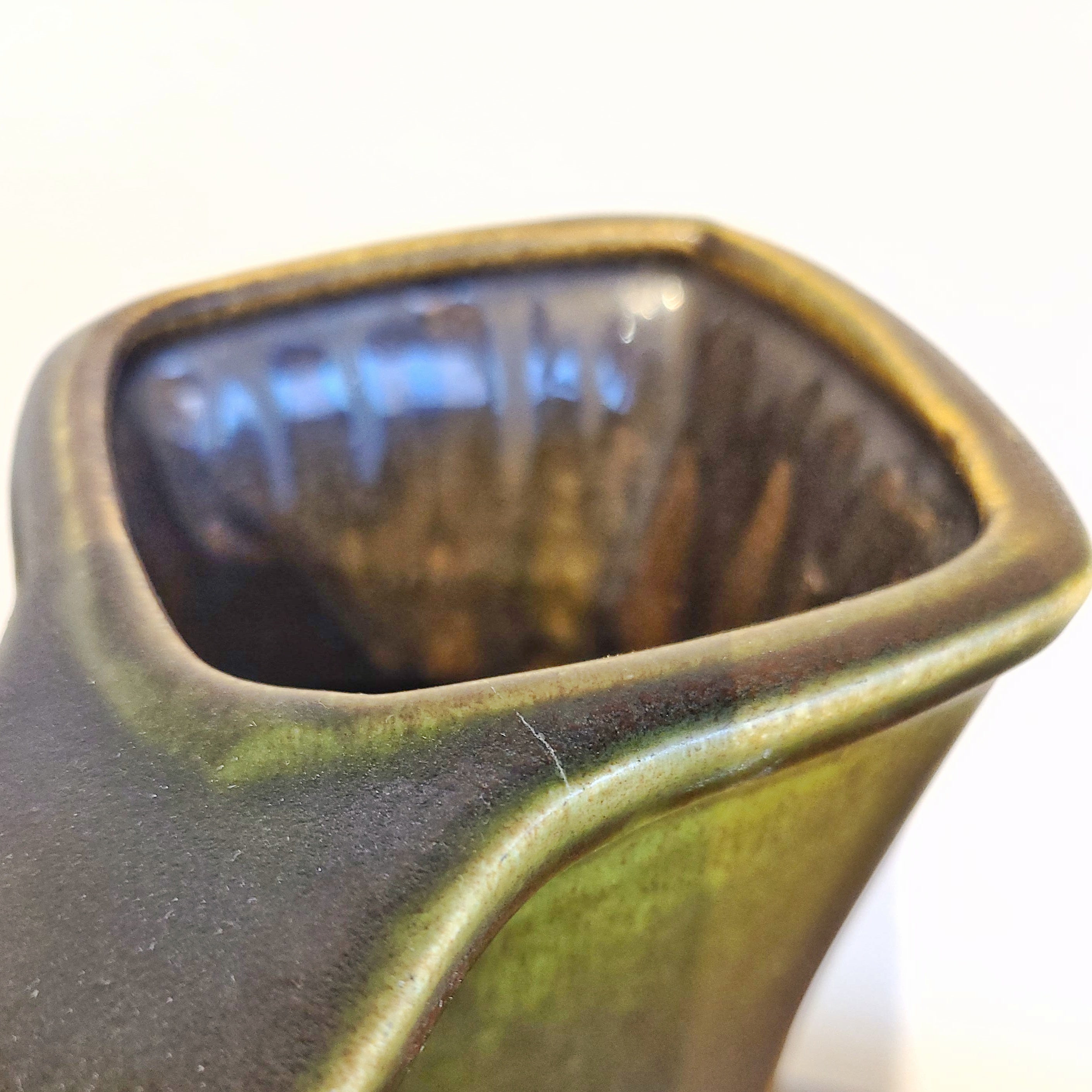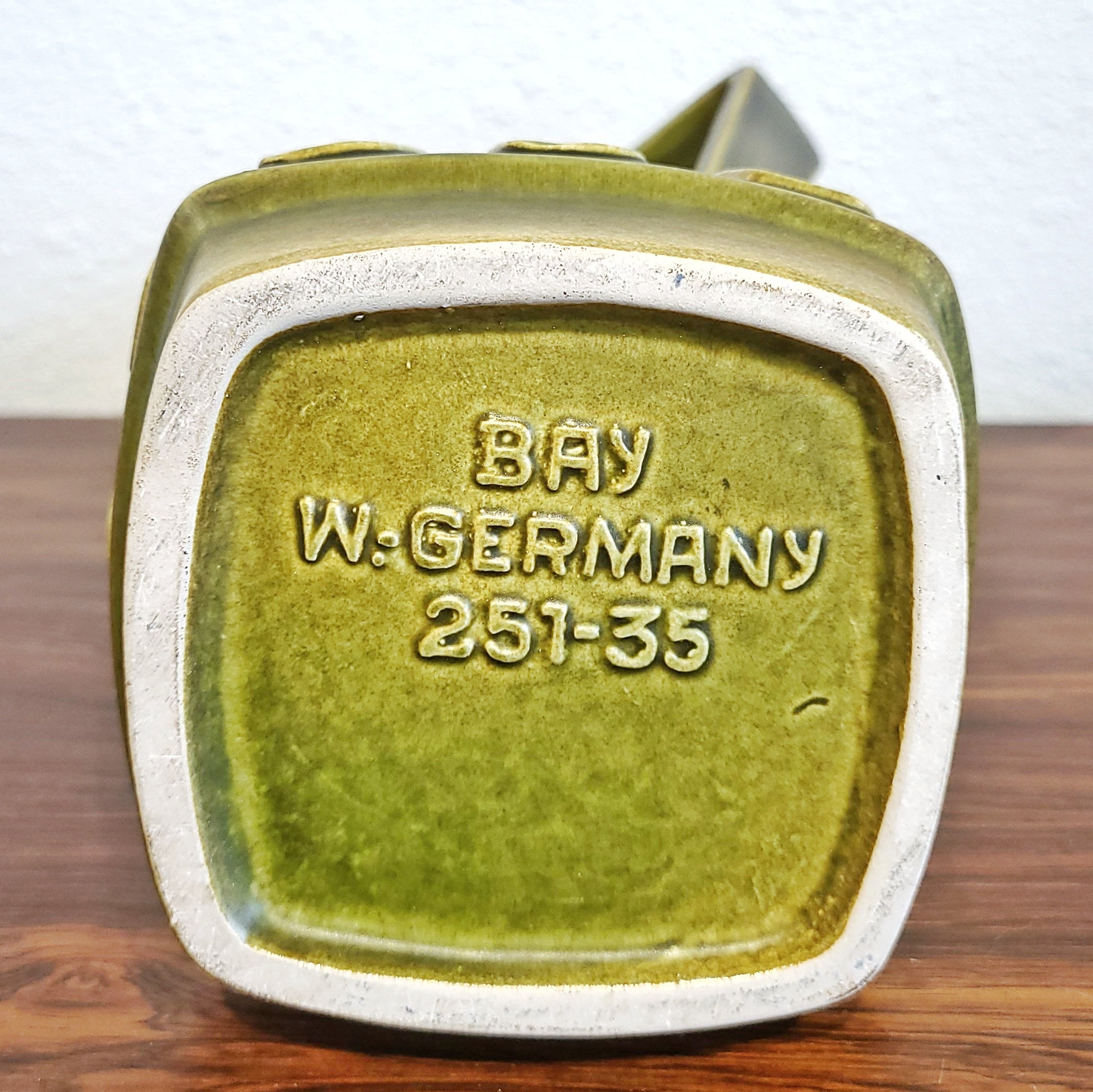 BAY KERAMIK PITCHER VASE Nr. 251/35 FROM THE DECOR SERIES 'TÖPFERMEISTER'
CONTACT US HERE ABOUT THIS ITEM.
A tall "Töpfermeister" series pitcher vase in olive green and goldenrod from Bay Keramik.  The embossed decor consists of regularly spaced medallions depicting birds and leaves.  It still retains its Bay label and does not appear to have ever been used.  There is a single tiny stress fracture (?) at the top of the handle that is roughly 1/4" long and no more than surface deep.  It does not appear to be structural and does not detract.
BAY KERAMIK was founded in 1934 by Eduard Bay in Ransbach-Baumbach, a small town in the heart of the Kannenbäckerland in western Germany. (The Kannenbäckerland, or "potters' land"—a historic center of ceramics industry—is the site of the largest clay deposit in Europe.) Its output was primarily utilitarian prior to the early 1950s when more and more decorative items were introduced. Production and sales grew rapidly throughout the decade, and, by the early 1960s, BAY was a leading manufacturer of art ceramics. Bodo Mans, probably the best-known designer of the period, was employed by the company from 1959 through 1975. His work is considered highly collectible today. The company's art pottery production continued into the 1980s and included some striking work that often showcased utterly fantastic specialty glazes. On the other hand, a huge amount of kitsch was produced for the tourist trade.

Bay used white clay exclusively; marks are almost always molded to the base. The name BAY often appears. The country of origin is typically noted as "WEST-GERMANY" or "W-GERMANY." Early Bay forms from the 30s, 40s and early 50s are inspired by the Jugend/Art Nouveau style with molded patterns of natural forms like leaves and flowers. The colors are discreet in gray, brown, and green palettes. Some decors have small spots in orange containing uranium. In the mid-50s painted geometric patterns became popular. One example is the decor "Florenz" from 1955. In the late 50s and early 60s, the color schemes in the geometric patterns became more advanced and more colorful.

At the end of the 60s and into the early 70s Bay introduced many forms with molded patterns. In combination with strong colors, many of these forms are very decorative and represent the best ceramics that Bay produced. Examples of these are a series designed by Bodo Mans named Ravenna (1961), Istanbul (1961), Iberia (1962), and Bristol (1962). Another series with molded geometric patterns are the forms 70 and 71 from the period 1969 - 1972. These vases are often wrongly attributed to Bodo Mans however the designer is still unknown.

From the end of the 60s and the early 70s is a series of figurines. Four figurines are known: A woman with a fruit basket, a horse, an elephant, and a bull. The designer is not known. These figurines are not marked. During the 70s Bay continued to produce ceramics with molded patterns, often with naturally inspired forms like leaves. Extreme fat lava glazes are not so common but can be a part of the decoration in combination with molded patterns.

Bay continued to produce art ceramics through the 80s and at least a few years after the German reunification in 1990. They made some interesting forms but stopped producing ceramics with molded patterns and colorful, vibrant glazes. These late ceramics are less interesting to collectors today.

DESIGNERS:
Bodo Mans 1959-1975
Josef Koch 1967-1988
A Seidel
Ludwig (Lu) Klopfer

Details
Dimensions

8ʺW × 6ʺD × 14ʺH
Styles

Boho chic
Mid-Century Modern
Brand

Bay Keramik
Period

1960s
Place of Origin

Germany
Item Type

Vintage, Antique or Pre-owned
Materials

Ceramic
Condition

Very Good Condition, Original Condition Unaltered, No Imperfections
Color

Olive
Condition Notes

Excellent Vintage Condition