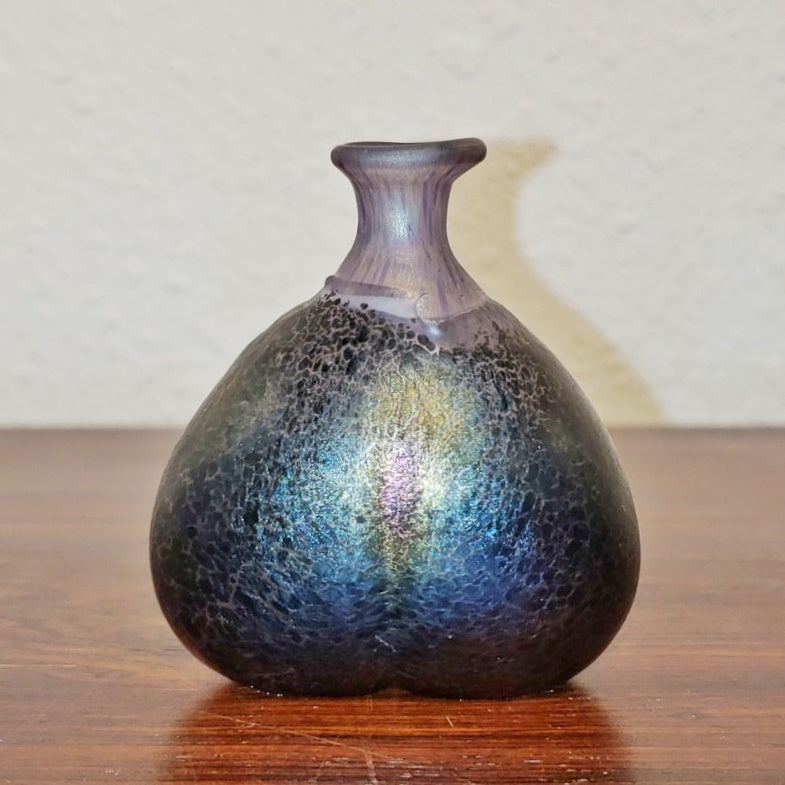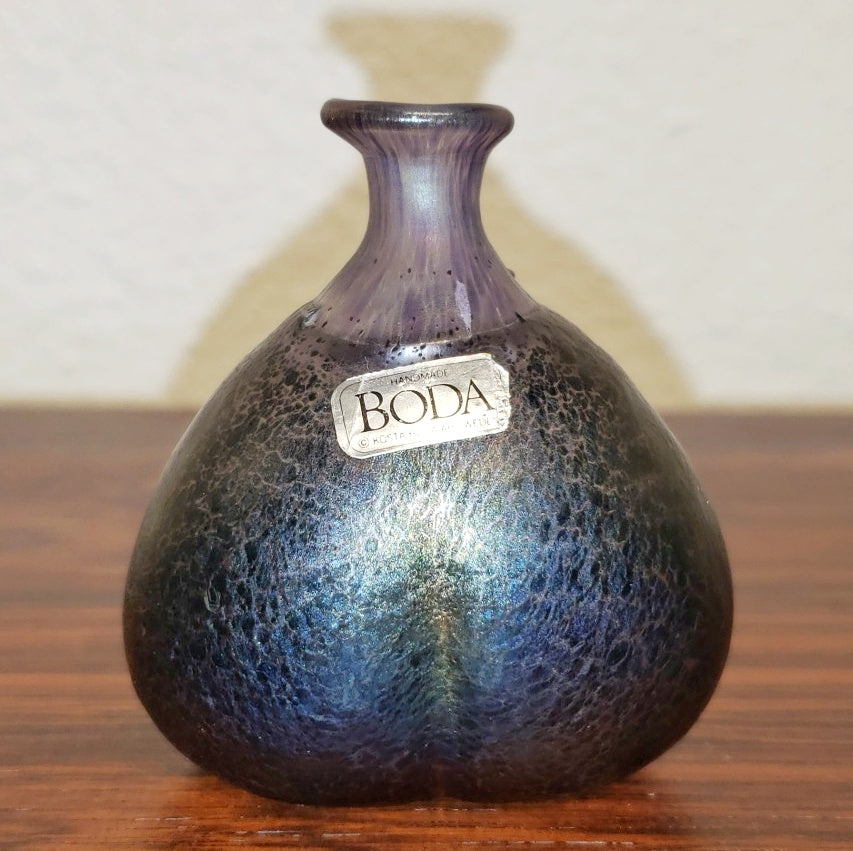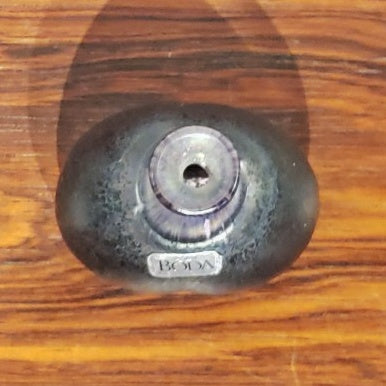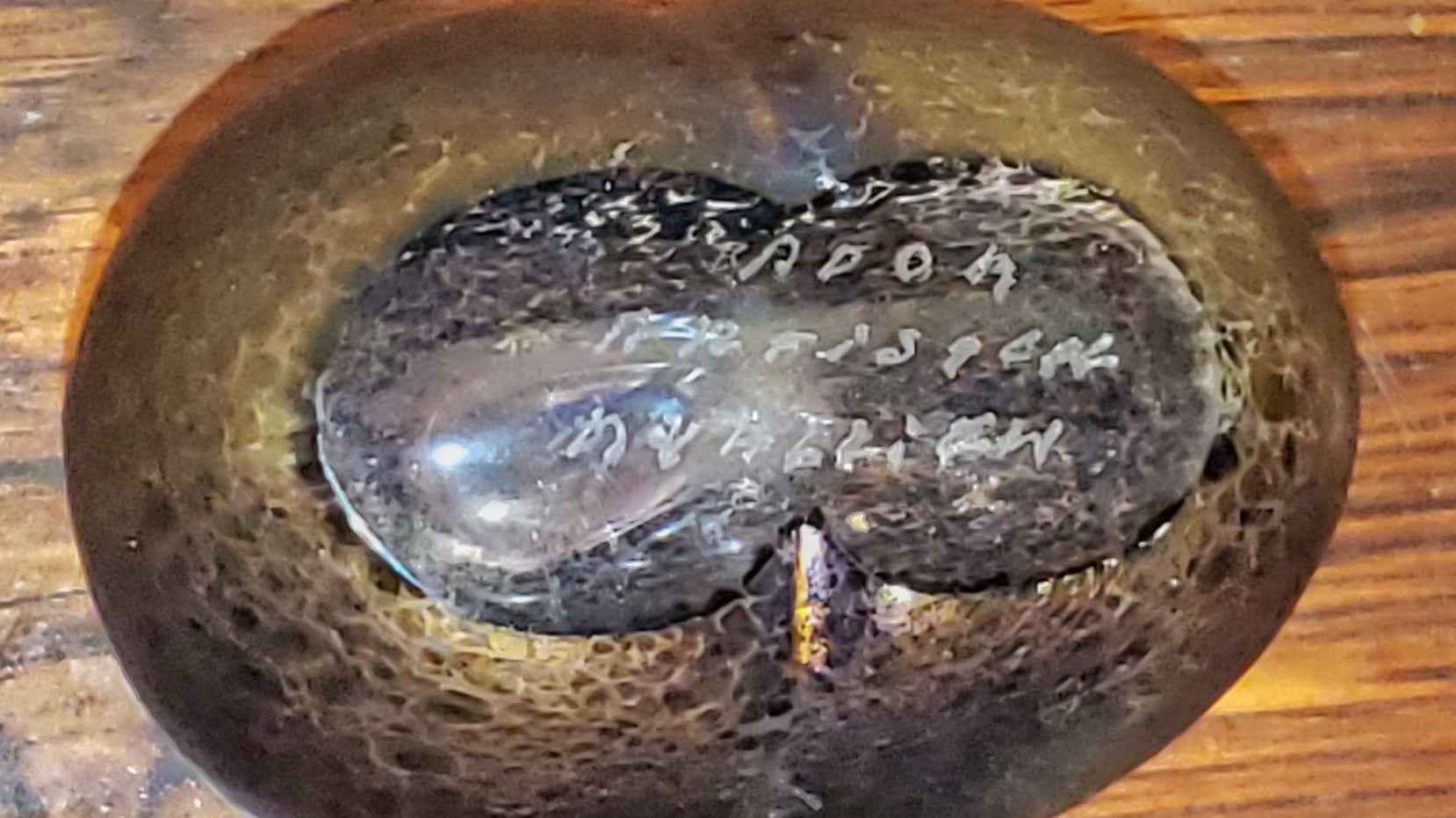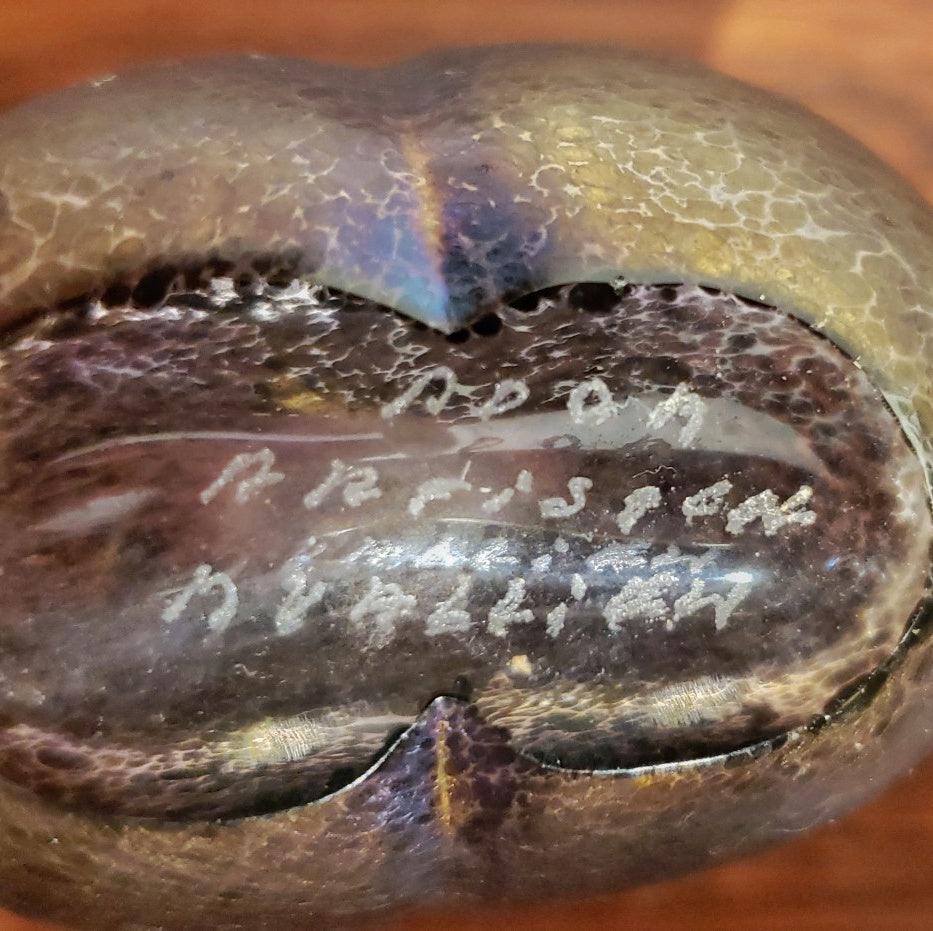 1970s BERTIL VALLIEN 'VULCANO' MINI VASE FOR KOSTA BODA (6 cm)
CONTACT US HERE ABOUT THIS ITEM.
A beautiful, miniature, iridescent glass 'Vulcano' series vase by Bertil Vallien for KOSTA BODA.  (The largest vase in the series stands a full 22 cm.)  Retains its original label.  Acid etched on base.
BERTIL VALLIEN was born in 1938 in Sollentuna, a northern suburb of Stockholm, into a strictly devout religious family.  He felt the inclination to become an artist at a very early age.  This first manifested in his youthful talent for sketching horses.  (In his teens Vallien would join the calvary, serving in the last generation of Sweden's mounted special forces.)  He began the study of ceramics at Stockholm's Konstfack School of Arts, Crafts, and Design in 1955.  He later briefly attended the School for Advanced Industrial Design before returning to Konstfack.  Stig Lindberg (1916-1982), the renowned, master-of-all-trades Swedish designer, was a principal teacher and inspiration.  Vallien graduated from Konstfack in 1961 at the top of his class and was awarded a Royal scholarship to continue his studies in the US and Mexico.  While in Los Angeles, he took a job with a small factory, HAL Fromholt Ceramics; soon he was networking with California artists, critics, and gallery owners.  He was invited to return to Sweden in 1963 by the legendary manager of the C.H. Åfors glassworks, Erik Rosén.  As its Art Director, Vallien was involved in the company's successful restructuring and was responsible for many of its well-known lines.  Åfors began to collaborate with the glassworks in nearby Kosta the following year.  Today's KOSTA BODA was formed through the 1971 merger of the two factories with a third glassworks in Boda to the south.
By the 1970s, Vallien's focus had shifted entirely to glass.  He became well known for massive sculptures that appeared to enclose light within their interiors.  In the 1980s he was a leading figure in the development of the sand-casting technique—pouring molten glass into a prepared bed of sand to create a form.  The method became one of his signatures.  Vallien is perhaps most admired for his enormous sand-cast sculptures of boats.  Inspired by Viking burials, they address themes of journey, memory, and time.  Much of his work conveys a symbolic and mystical narrative; the human head, maps, stars, crosses, bridges, pyramids, and rings are recurring motifs.  Vallien has designed a number of glassware series through the years, the most famous being 'Château.'  First produced in the early '80s for the glassworks in Johansfors, the thin stem of the 'Château' wine glass and the optical effects of its cup make it impossible to reproduce by machine.  The line's tremendous commercial success saved Johansfors from bankruptcy.  Like many Swedish studio artists, Vallien has pursued a career designing for industry while maintaining an independent freelance practice.
Sweden's most innovative, best-known contemporary glass artist, Vallien has exhibited his art worldwide.  His works are held in numerous public collections:  the State Heritage Museum in St. Petersburg, the Nationalmuseum in Stockholm, London's Victoria and Albert Museum, the Art Institute of Chicago, the National Museum of Modern Art in Kyoto, the Metropolitan Museum of Art in New York, Sydney's Powerhouse Museum, and the Museum of Fine Arts in Boston.  He has received an array of awards:  Prince Eugen's medal for Outstanding Achievement in the Arts (1995); an Honorary Doctorate from the University of Vaxjö (2002); the Gold Medal from the Royal Academy of Science in Stockholm (2005); and Seattle's Pilchuck Glass School's prestigious Libenský/Brychtová prize (2008).  Vallien's fame has led to lecturing positions in the US and Japan.  Still very active today, he is based at the glassworks in Kosta.  There, along with other artists such as Anna Ehrner, Åsa Jungnelius, Lena Bergström, and Kjell Engman, Vallien works in close cooperation with the foundry's craftsmen.
KOSTA BODA glassworks was established as Kosta Glasbruk in 1742, in the densely forested Småland province in southern Sweden.  The company's original name (as well as that of its locality) is a portmanteau of its founders' surnames:  Anders KOskull and Georg Bogislaus STAël von Holstein, both of whom served as generals in the army of Karl XII.  Kosta lay at an important crossroads, its location chosen to facilitate the delivery of glass to Stockholm to the northeast and Karlskrona to the south.  There was also an unlimited supply of wood at hand for the furnaces.
During its first 150 years, Kosta Glasbruk produced fine, utilitarian glassware—window panes, bottles, and drinkware—in addition to chandeliers and other decorative items.  Royalty, nobility, and wealthy merchants, being able to afford the costly wares, were its customers.  For many decades, until Swedes themselves could be trained, Bohemian glassblowers were employed exclusively.  Not long after its sesquicentennial, when Kosta Glasbruk, exhibited its products at the 1897 General Art and Industrial Exposition in Stockholm, criticism was leveled that they too much resembled those made by other European manufacturers.  This censure was taken to heart, and the company begin to employee its own designers to develop the product range.  This practice has been adhered to ever since.  First to be hired under the policy was Gunnar Gunnarsson Wennerberg (1863-1914), who joined the company in 1898.  Many well-known artists followed, Sven "X-et" Ericsson (1899-1970) and Ewald Dahlskog (1894–1950) among them.  The first female artist employed was Tyra Lundgren (1897-1979), recruited in 1935.
Today's KOSTA BODA was formed in 1971 through the merger of three glassworks:  the ones in Kosta and nearby Åfor along with one further south in Boda.  The group was initially called Åforsgruppen and for a period included Johansfors Glasbruk.  The name KOSTA BODA was adopted in 1976.  The company has been part of Orrefors Kosta Boda AB since 1989.
The glass is an invisible material that eats the light and forwards it.  No other work material is so volatile and wayward. – BERTIL VALLIEN
Style – SCANDINAVIAN MODERN
Production Period – 1970-1979
Country of Origin – SWEDEN
Designer – BERTIL VALLIEN (b. 1938)
Maker – KOSTA BODA
Attribution – MARKED
Materials – GLASS
Colors – PURPLE
Condition – VERY GOOD (no defects; may show slight traces of use)
Height (in.) – 2.5
Width (in.) – 2.5
Depth (in.) – 1.5