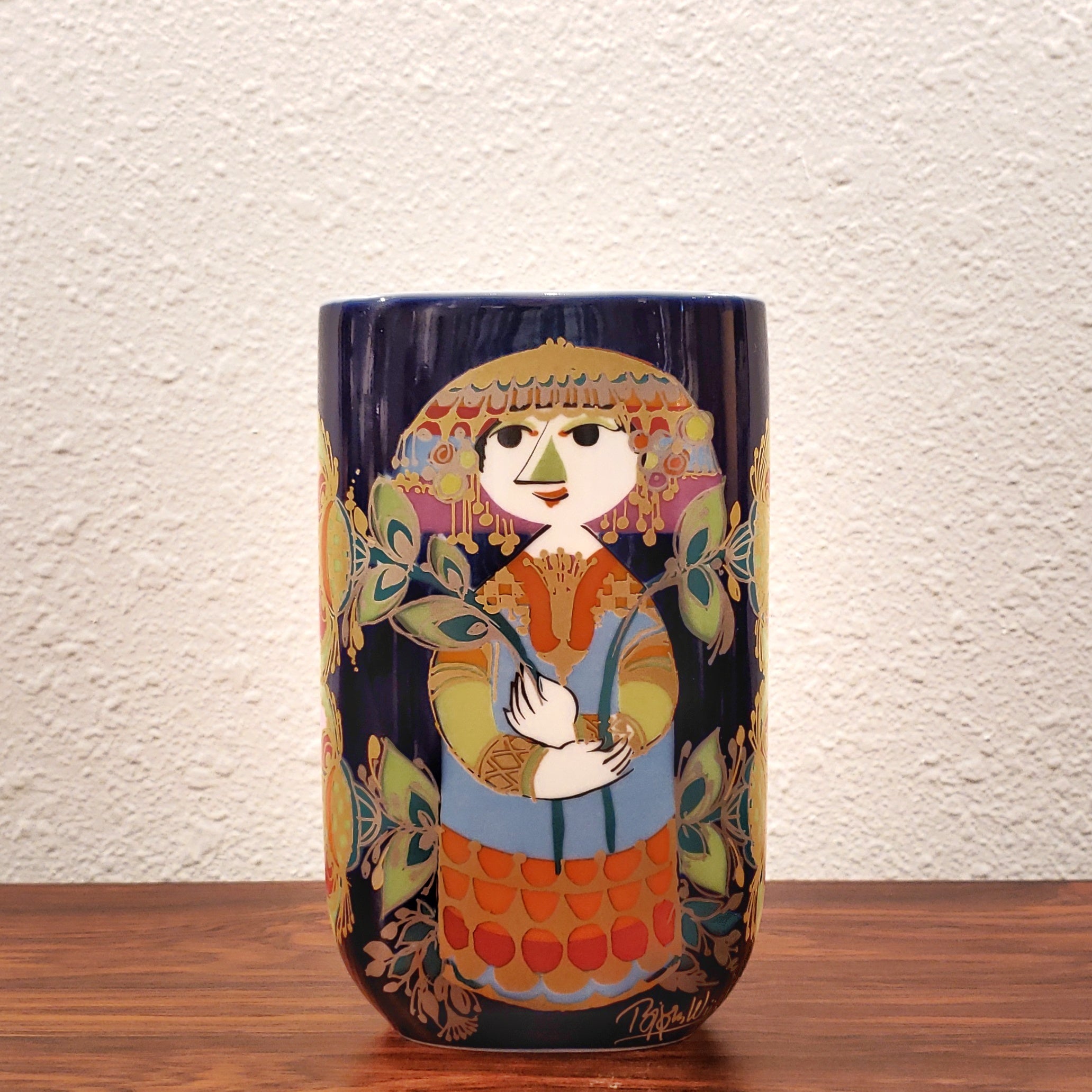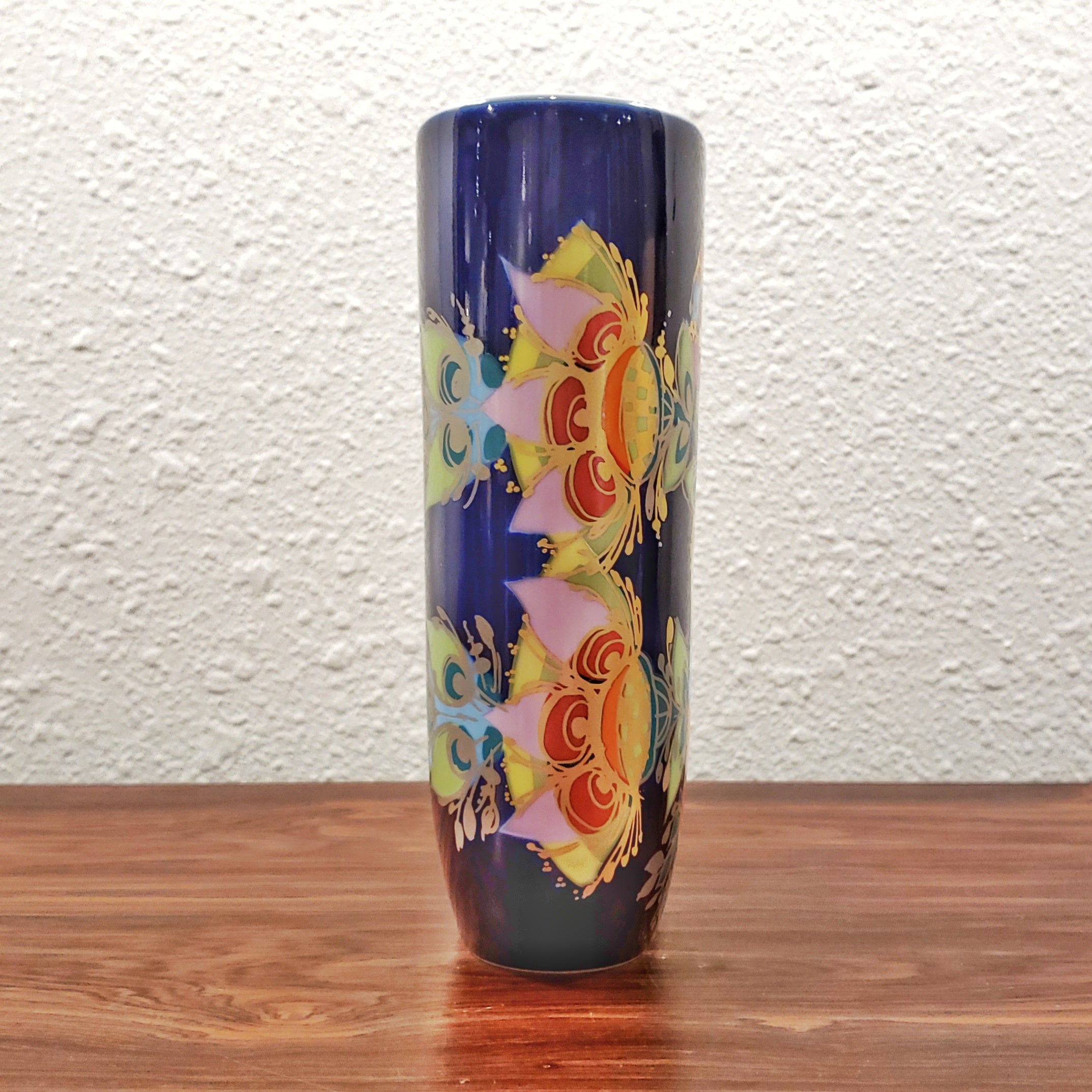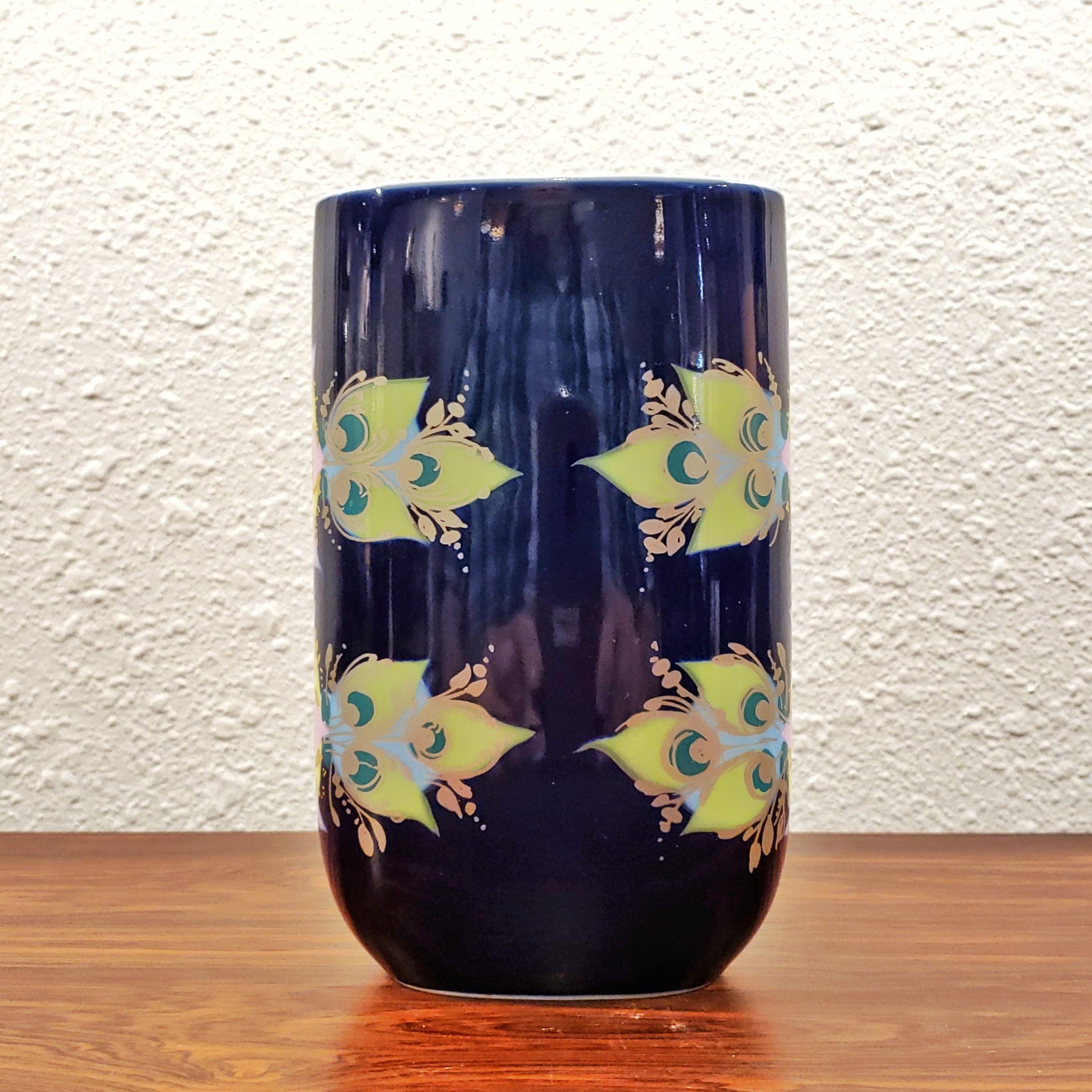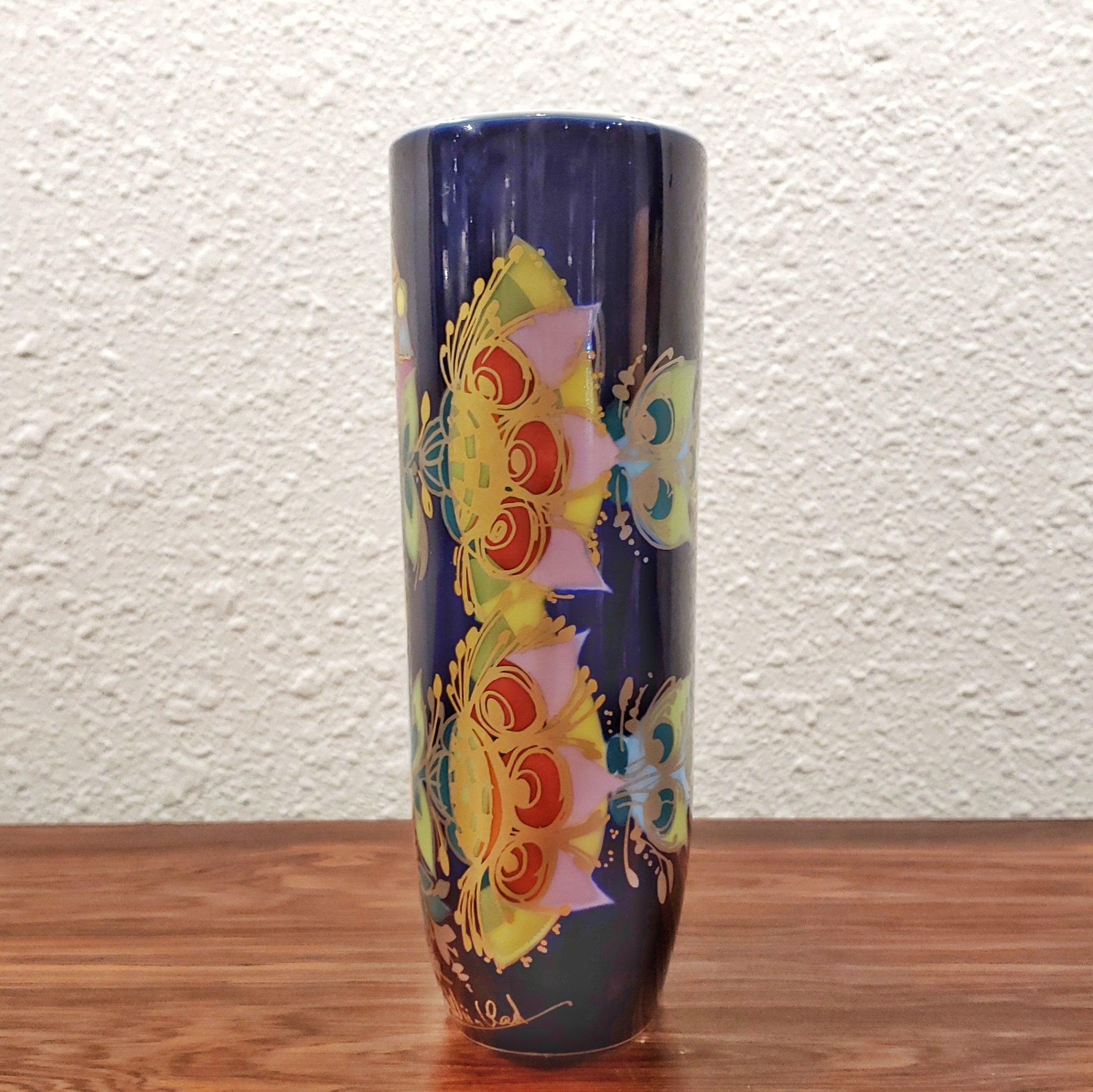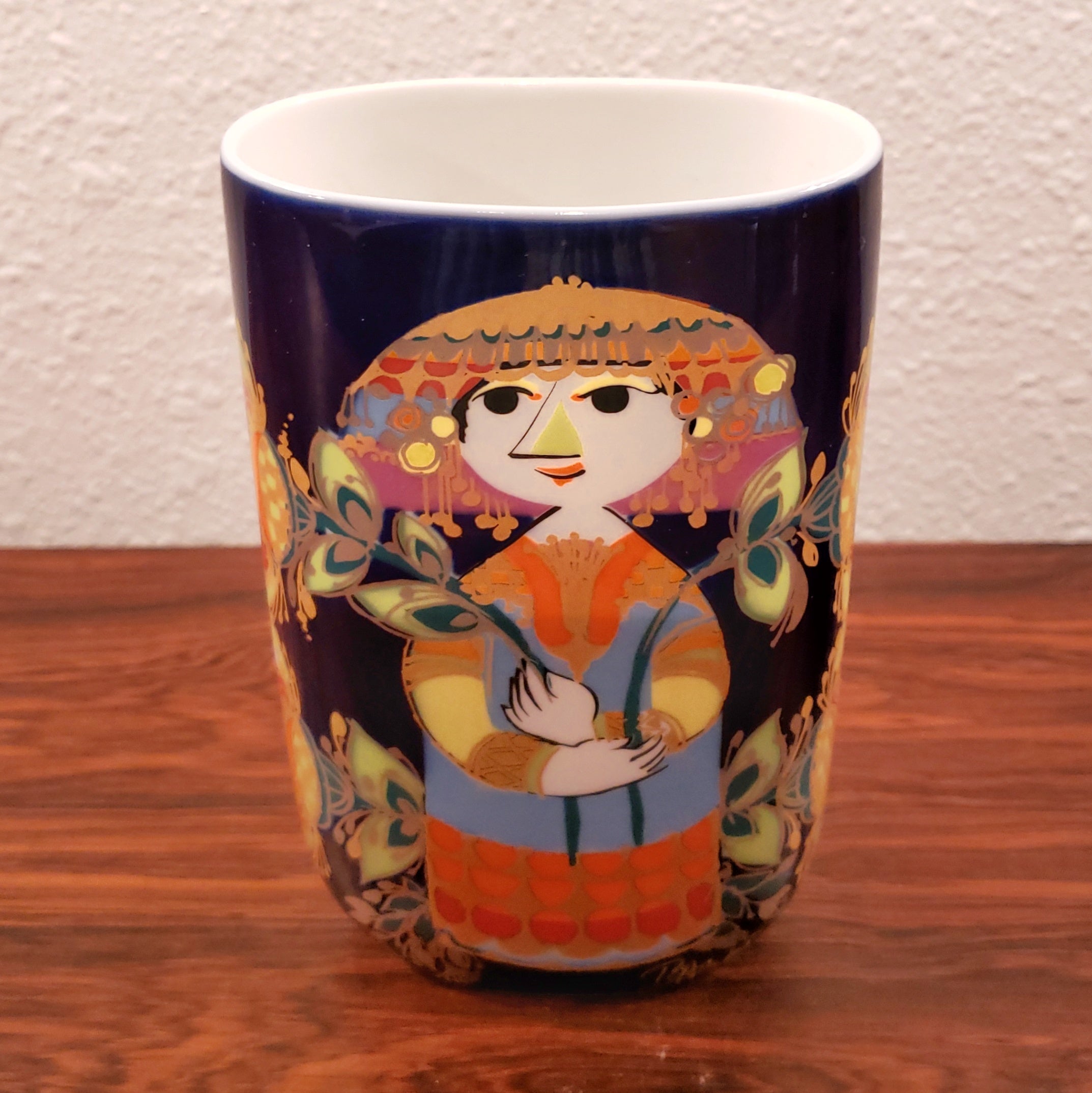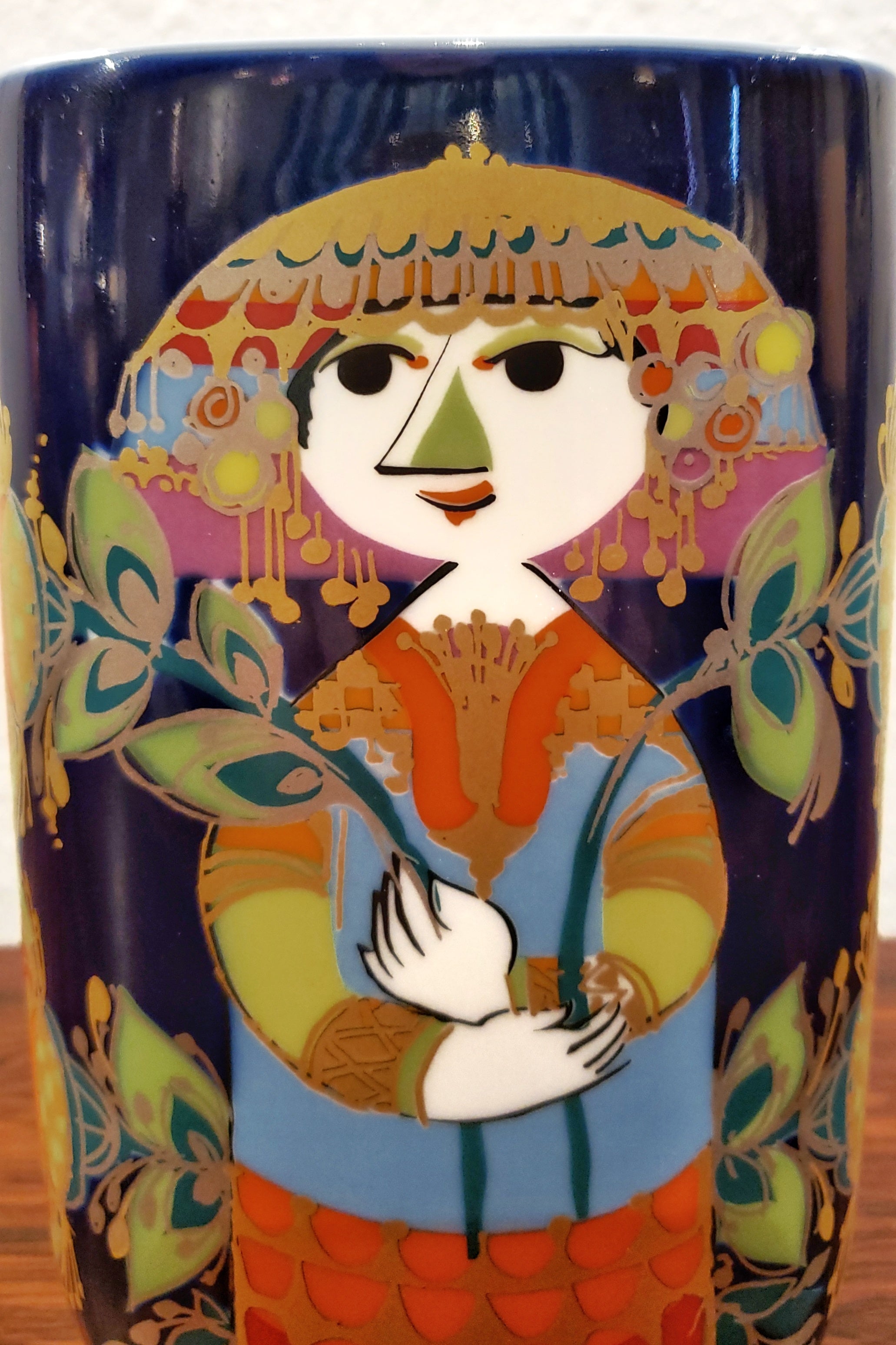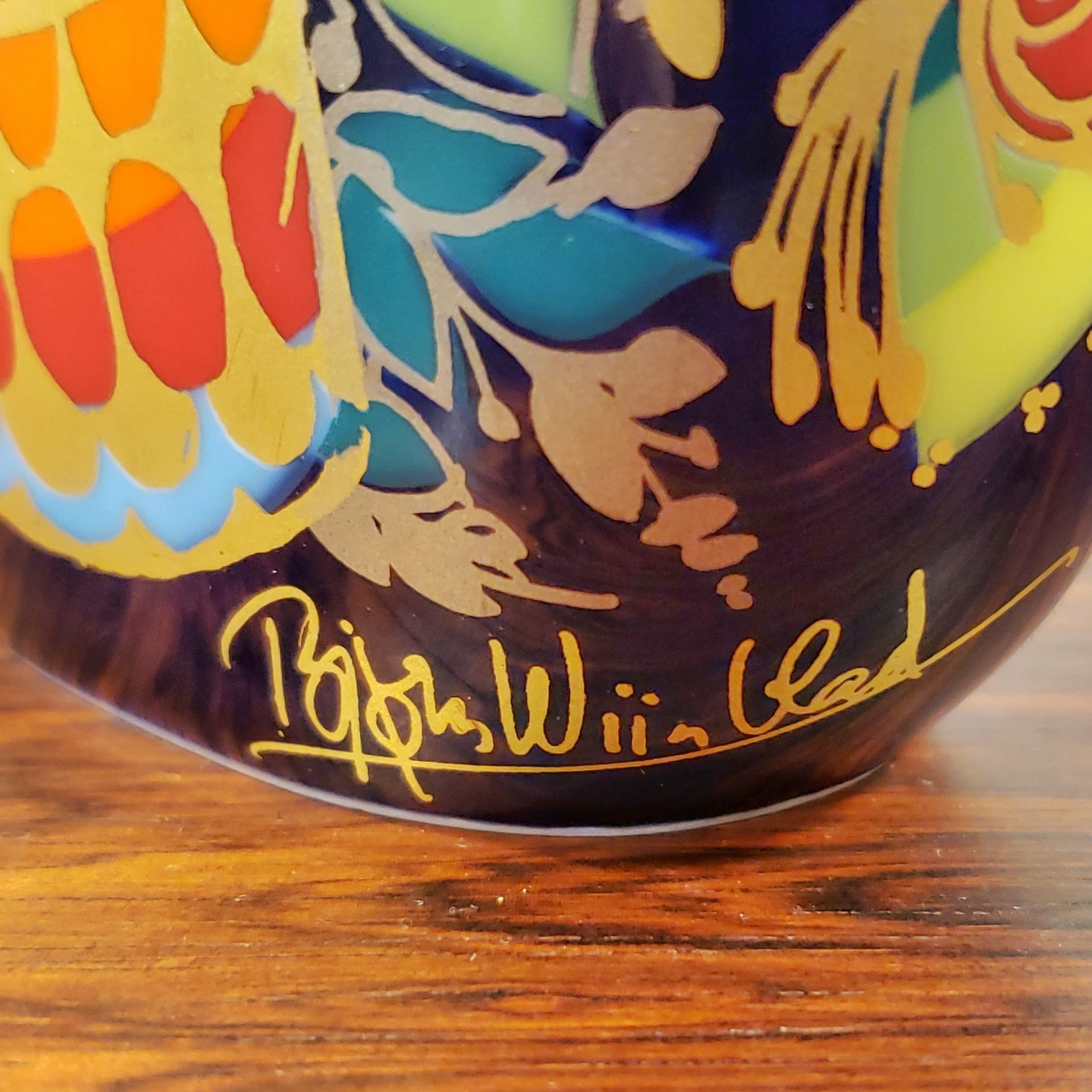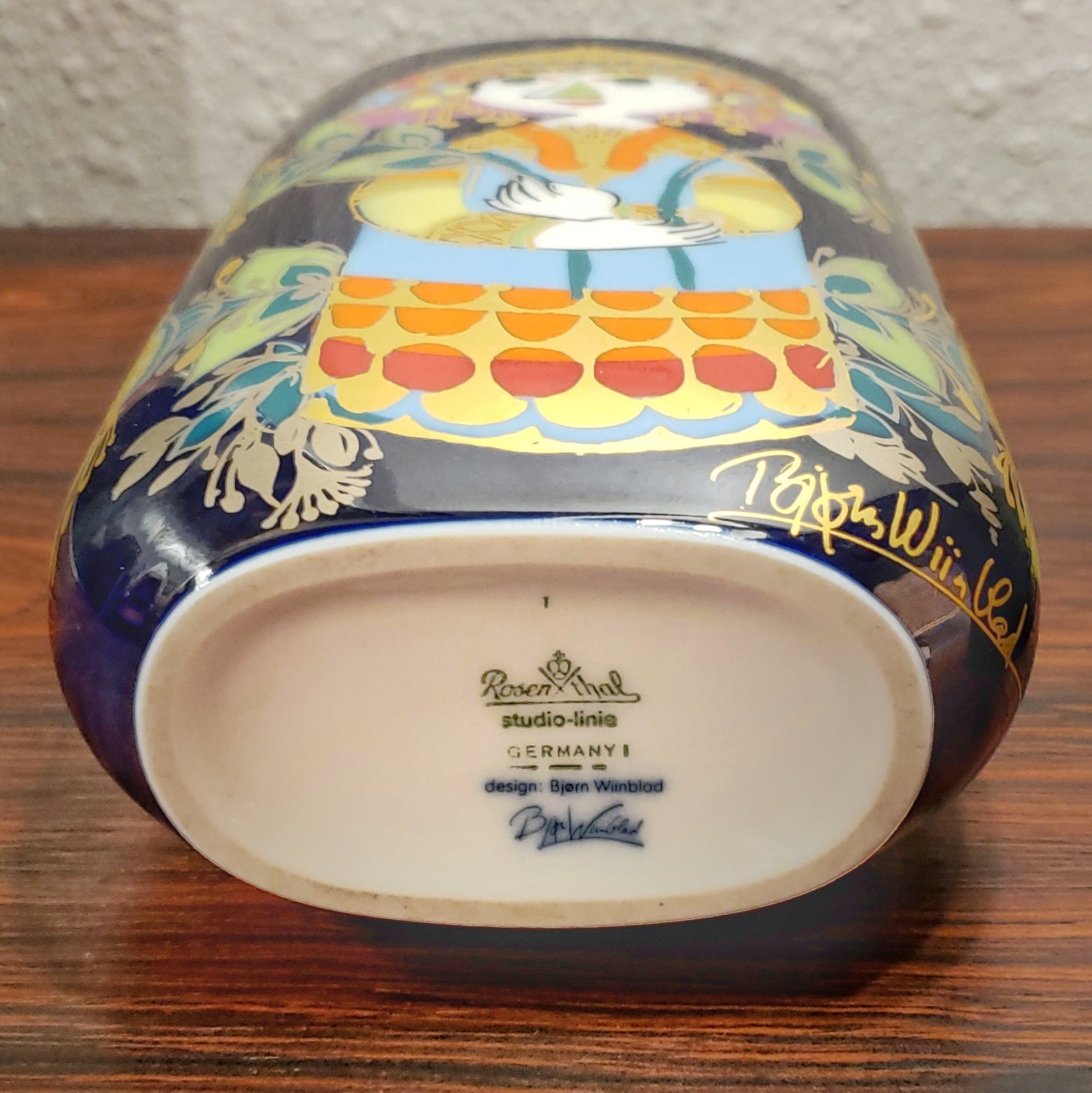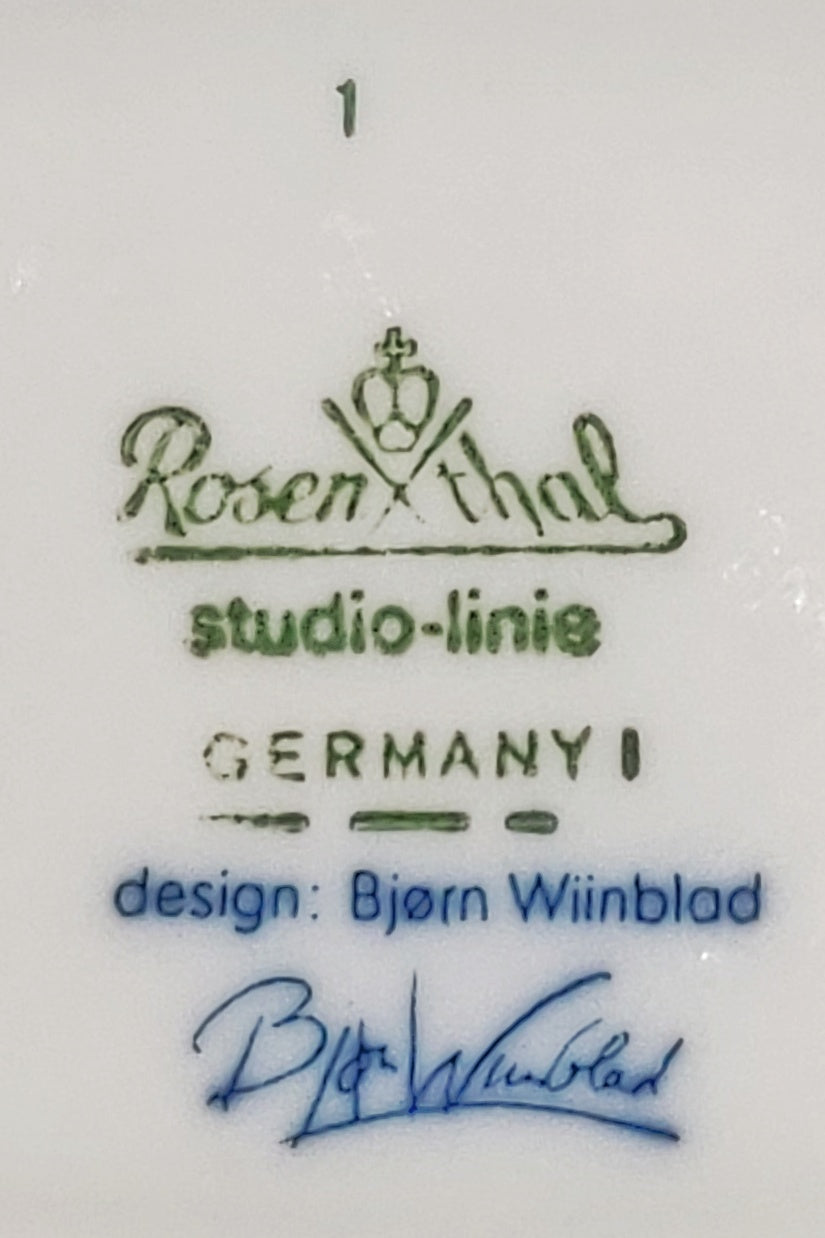 BJØRN WIINBLAD '1001 NACHT' VASE FOR ROSENTHAL (18 cm)
CONTACT US HERE ABOUT THIS ITEM.
A flawless pillow vase from Bavarian porcelain manufacturer ROSENTHAL representing Bjørn Wiinblad's most famous group of designs for the company, '1001 Nacht' (1001 Nights).  Examples with deep-blue cobalt bases and gold detailing are highly sought-after and arguably the most well-executed in the series.  Whimsical and quite beautiful.
BJØRN WIINBLAD was born in Copenhagen in 1918 into a prominent family immersed in Denmark's political and social affairs—interests that Wiinblad never shared.  He apprenticed for a time as a typographer before deciding to pursue a career in art.  A fellow student at the Graphics School of the Royal Danish Academy of Fine Arts introduced him to the decoration of ceramics.  In 1945, two years after graduating, he made his debut with a small exhibition in Copenhagen.  A large number of ceramics as well as drawings, posters, and other artwork were displayed.  It attracted great attention and led to commissions from both within Denmark and abroad—and to Wiinblad's recruitment by the artistic director of a small Danish earthenware factory, Nymølle.  An outpouring of platters, bowls, cups, dishes, ashtrays, and candlesticks from Nymølle ensued, all bearing Wiinblad's designs.  Their easy affordability assured his great popularity within Denmark.  In 1951, Wiinblad established a workshop of his own in the town Hjortekær north of Copenhagen.  It would eventually become a production hub for worldwide distribution.
At a time when functionalism was preeminent in the world of design, Wiinblad espoused a style dominated by wavy lines and romantic visions.  Comical, smiling, round-faced people, dressed in fanciful costume and often surrounded by natural elements—twining vines, floral wreaths, fantastical trees—were characteristic of his work.  Color was employed with great assurance: saturated and strong, sometimes psychedelic, often supplemented by metallics.  The wider world discovered Wiinblad in the mid-1950s.  He met Philip and Lavinia Rosenthal toward the end of the decade, and they became lifelong friends; in 1960 he was appointed the artistic director at their porcelain factory in Bavaria.  His most popular dinnerware design for ROSENTHAL, 'Romanze,' is typical Wiinblad in terms of its incredible level of fine, decorative detail.  From 1971 through 1982 he produced an annual commemorative Christmas plate for the company.
Wiinblad is also noted for poster design and his work with textiles, the latter used in costumes for ballets and stage presentations.  In 1954 he began collaborating with businesses and organizations in Dallas, Texas.  (He would operate a store there in the 1980s.)  He received commissions from the Dallas Ballet and the Dallas Theater Center for costume and set design; from retailer Neiman Marcus; and for multiple projects for noted Dallas developer Trammell Crow.  Wiinblad designed five massive Scheherazade tapestries for the Dallas International Apparel Mart that were displayed from 1973 until the building was closed in 2004.
Museums around the world have Wiinblad's work in their permanent collections.  Among these are the Victoria and Albert Museum in London; MoMA in New York; and Stockholm's National Museum in Oslo.  Wiinblad's desire was to create objects that were accessible to everyone, and he was not shy about breaking down the boundaries between art and design.  He died in 2006 at the age of 87.
ROSENTHAL was founded in 1879 as a family porcelain painting business in the town of Werl in the Rhineland by Philipp Rosenthal, the son of a porcelain merchant.  Its small operations were soon moved to the palace building of Schloß Erkersreuth, a castle that Rosenthal and his bother Max had acquired in Selb, Bavaria, near the Czech border.  The enterprise enjoyed an unexpected breakthrough with the commercial success of its cigar ashtrays.  By 1889 ROSENTHAL had 60 employees and had moved the company into town and opened its own porcelain factory there.  The company continued to expand through start-ups and acquisitions.  In 1916, Rosenthal introduced an eight- and twelve-sided porcelain dinnerware set, 'Maria,' named after his second wife, Maria Franck.
In 1934, during the era of National Socialism, Rosenthal, although a Catholic, was ousted from the company because of his Jewish ancestry.  The management and supervisory boards turned against him and implemented various measures to prevent his using his voting rights to change board composition.  The Nazi Party was asked for support, and Rosenthal's voting shares were sold to his enemies.  Notwithstanding, the regime never went directly against Rosenthal so as not to jeopardize the foreign reputation of the export-strong company.  Rosenthal was physically incapacitated in 1936; his death in 1937 paved the way for the anti-Semitic executive committee and Rosenthal's more party-sympathetic grandchildren.
After WWII, Philipp Rosenthal's son Philip Rosenthal, having returned from exile in England, traveled to Selb at the request of family members to pursue restitution claims.  He joined the paternal porcelain company in 1950 and became head of its design department two years later.  In collaboration with such acclaimed industrial designers as Raymond Loewy, Tapio Wirkkala, Elsa Fischer-Treyden, Timo Sarpaneva, Verner Panton, and Luigi Colani, an impressive product range was assembled.  Contributions by well-known modern artists Henry Moore, Friedensreich Hundertwasser, Salvador Dalí, Ernst Fuchs, and HAP Grieshaber secured ROSENTHAL's international fame.  When Bauhaus founder Walter Gropius laid plans for its new porcelain factory in 1963, he threw in the design for his award-winning 'TAC' tea set.
Philip Rosenthal served as chairman of the board throughout most of the 1960s and '70s.  During this tenure, ROSENTHAL had more than 10,000 employees.  One of the first modern entrepreneurs in Germany, Rosenthal pioneered a co-determination system for employees in 1963.  By 1997, ROSENTHAL (publicly traded since 1939) was 90%-owned by Waterford Wedgwood and the market leader for high-quality porcelain and glassware in Germany—and, in conjunction with Waterford, the leader worldwide.  When liquidity issues forced the collapse of Waterford, ROSENTHAL was compelled to file for insolvency.  The subsequent court proceedings led to its sale in 2009 to the Italian household producer Sambonet Paderno.  Founded that year, Rosenthal GmbH is an independent company of the Sambonet-Paderno Group and remains head-quartered in Selb.
I have chosen to create things that can make people's everyday life richer and more beautiful. – BJØRN WIINBLAD
Production Period – 1965-1974
Country of Origin – WEST GERMANY
Designer – BJØRN WIINBLAD (1918-2006)
Maker – ROSENTHAL
Attribution – MARKED
Materials – CERAMIC
Colors – MULTICOLOR
Condition – VERY GOOD (no defects; may show slight traces of use)
Height (cm) – 18.0
Width (cm) – 11.0
Depth (cm) – 6.5