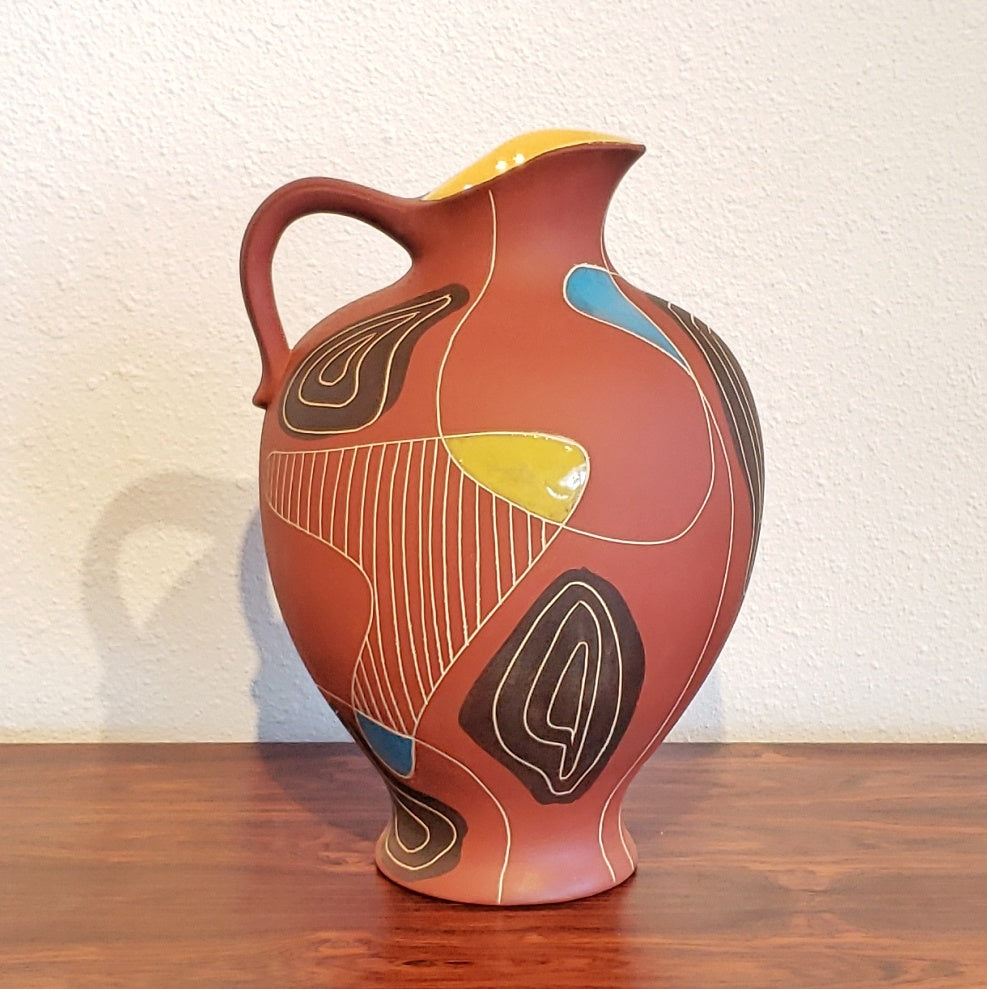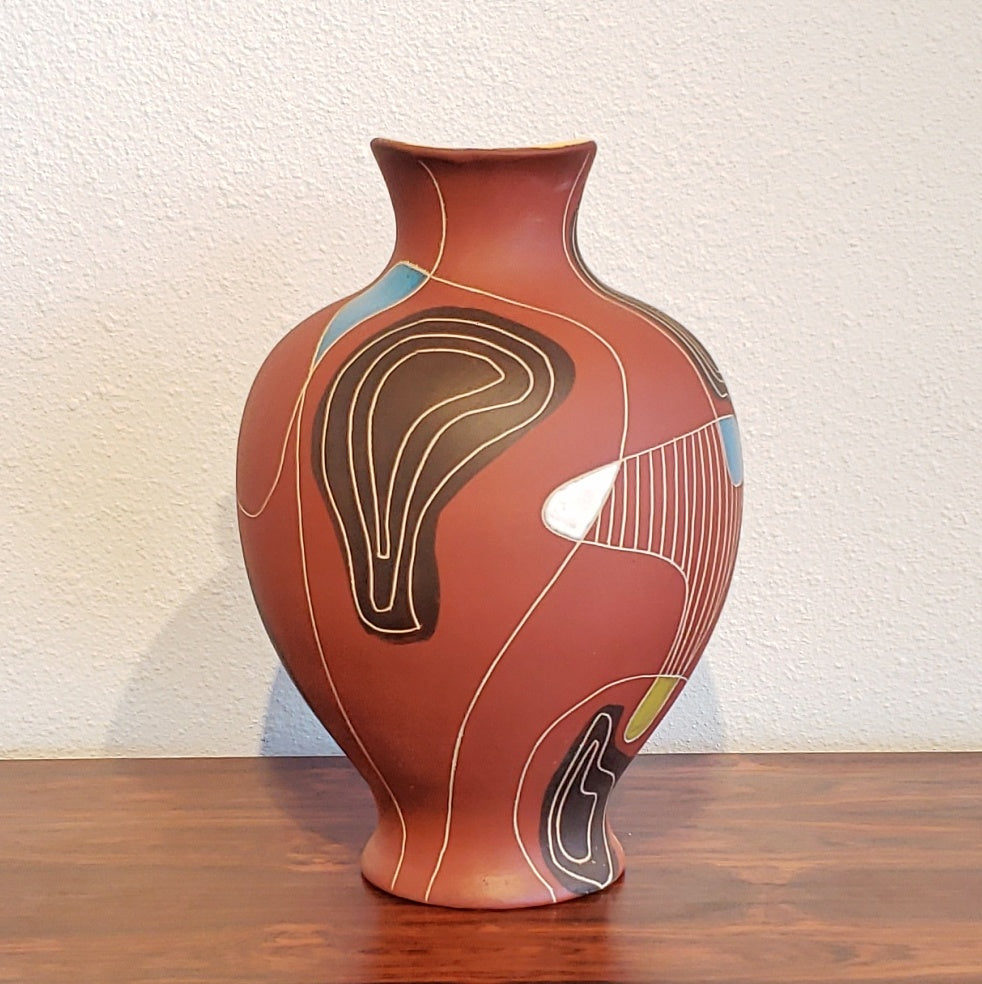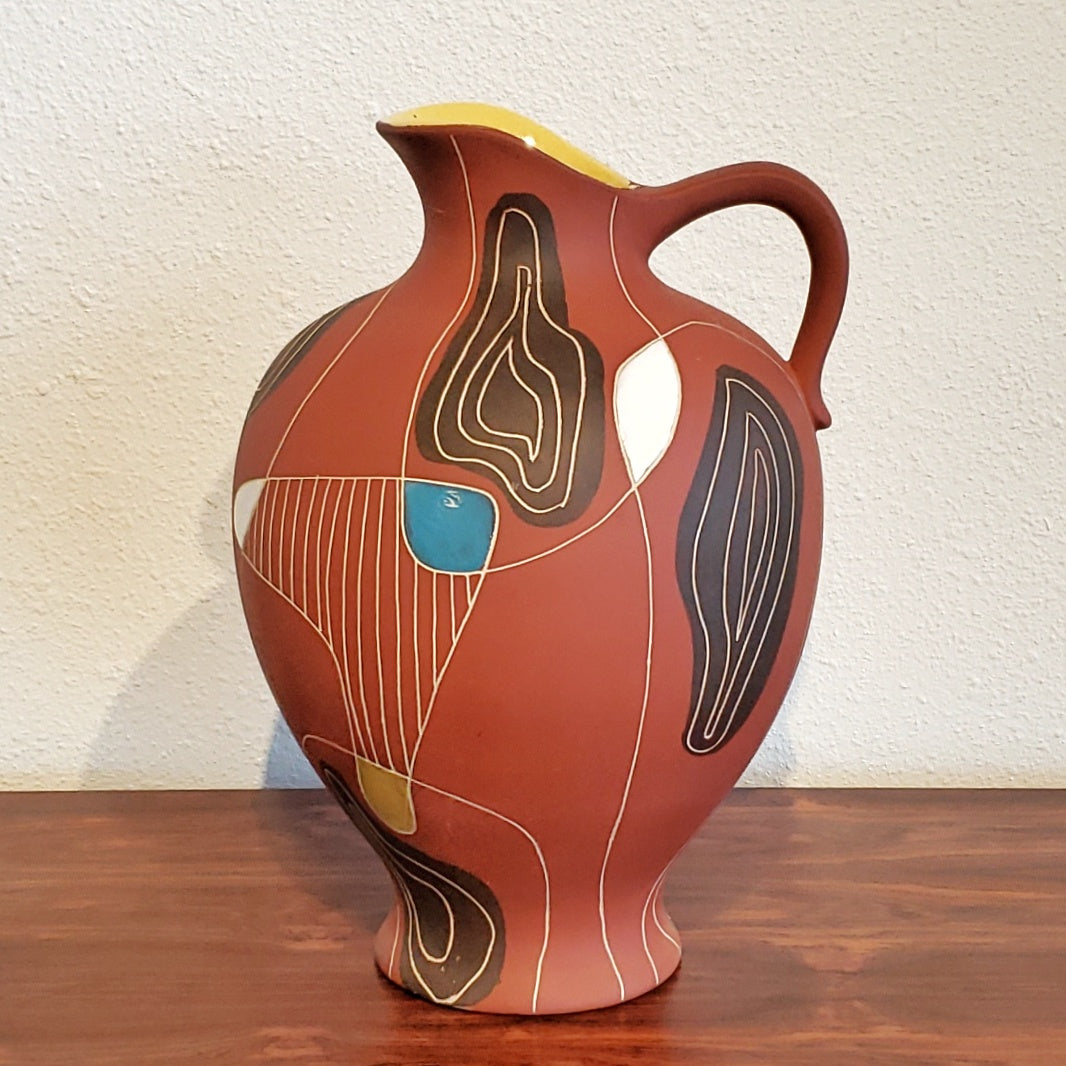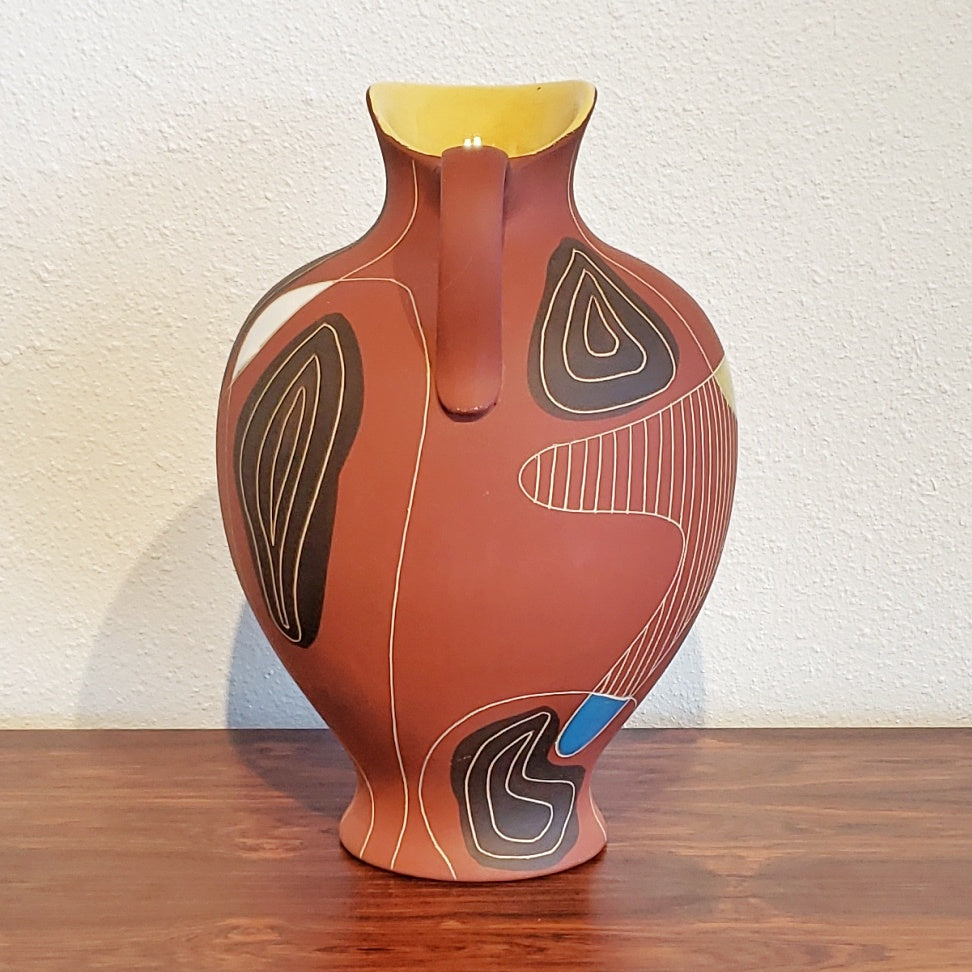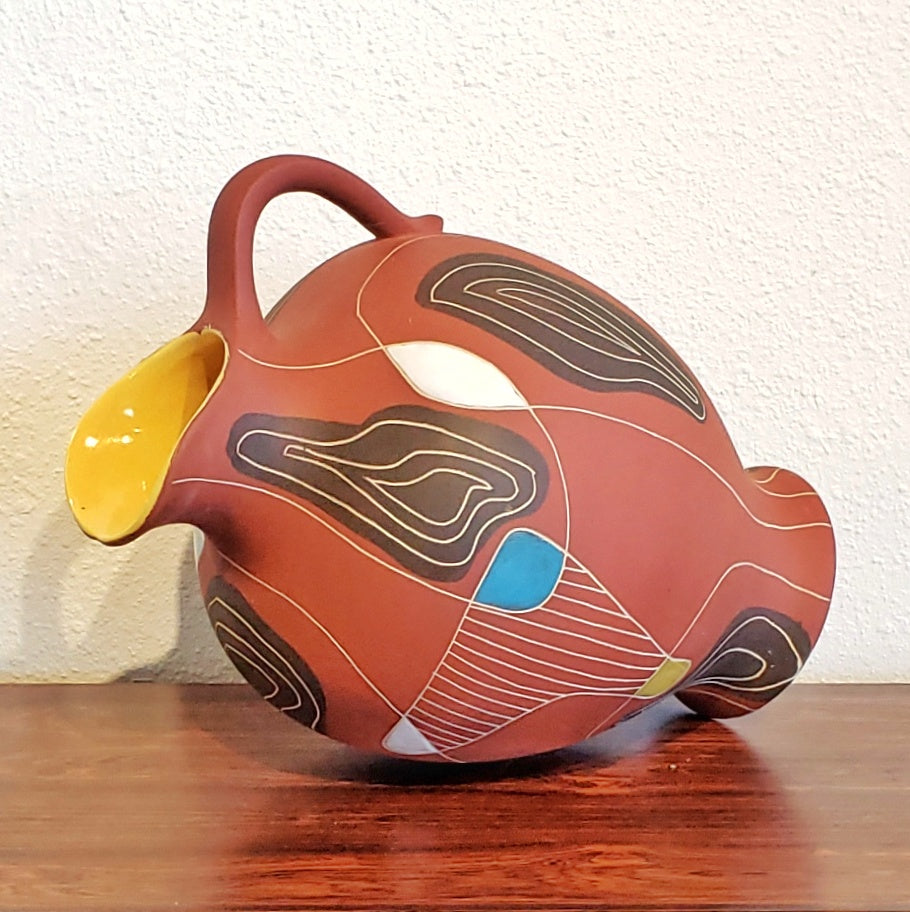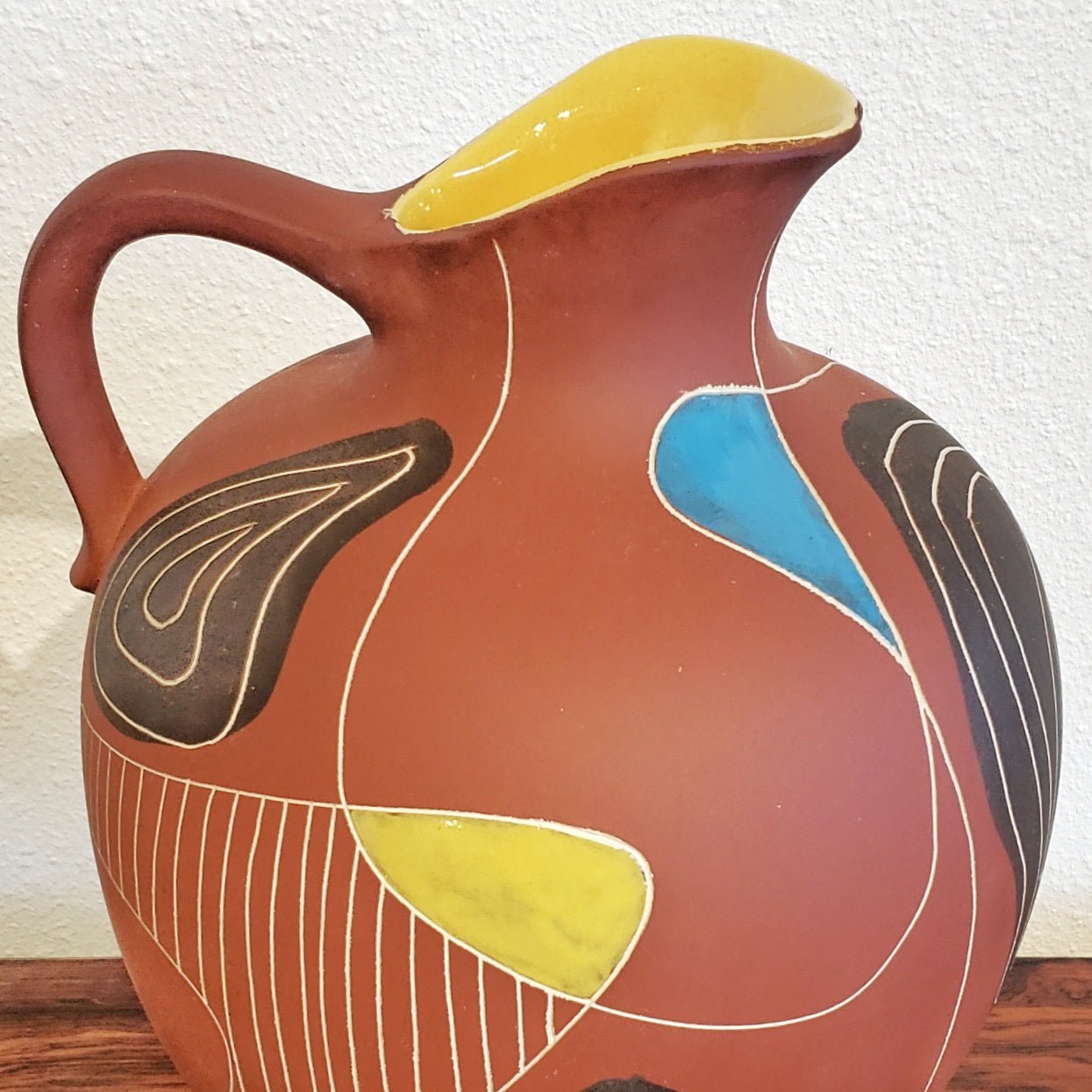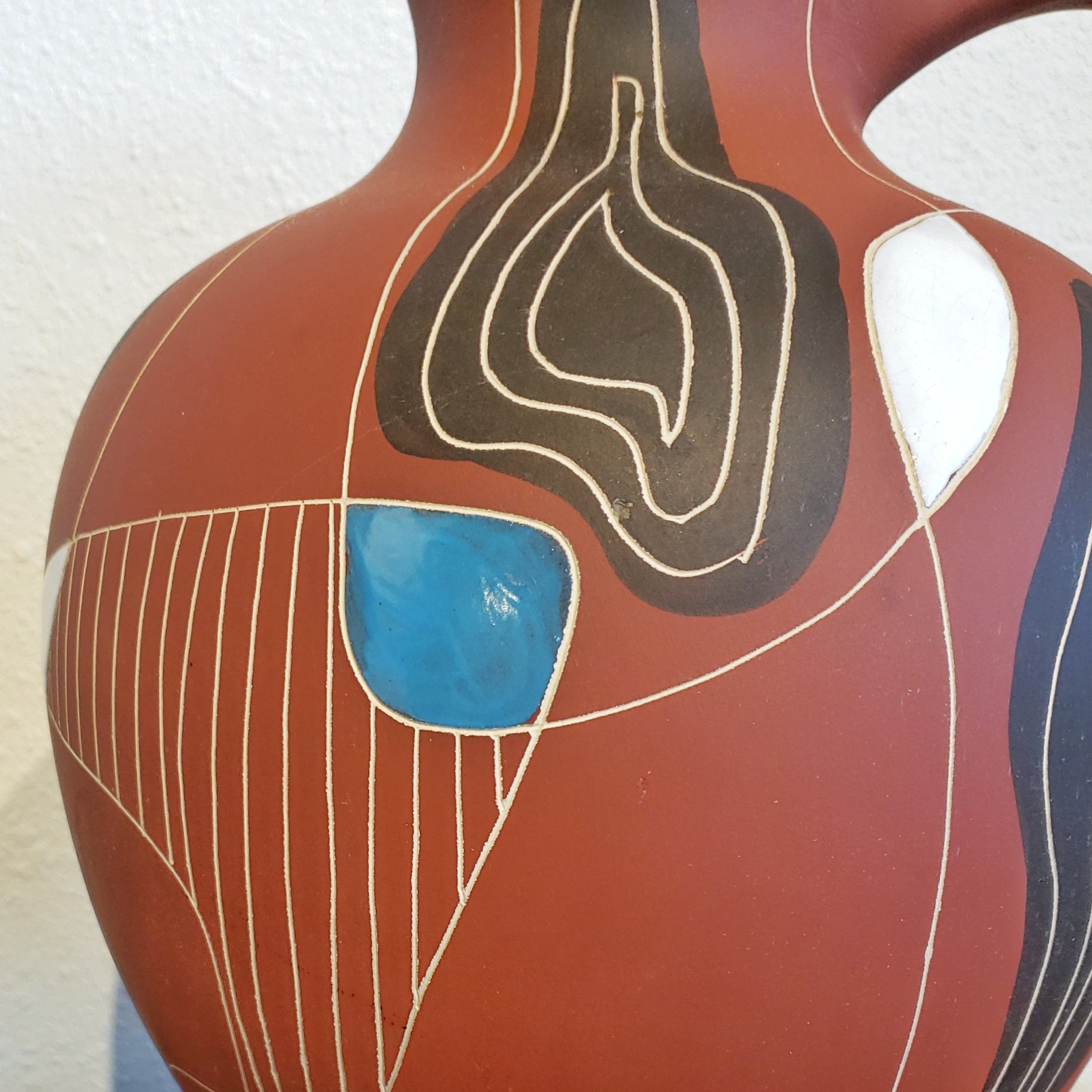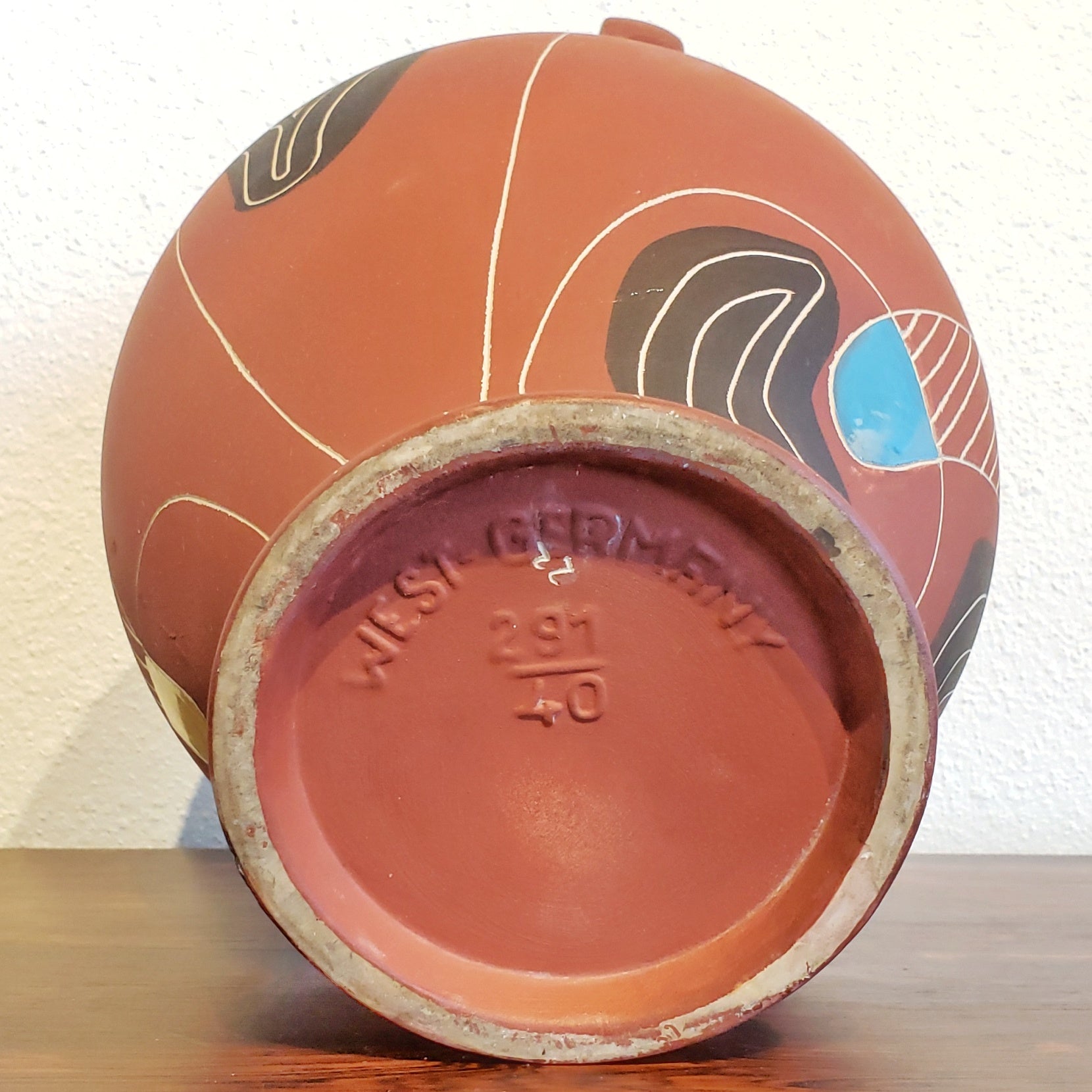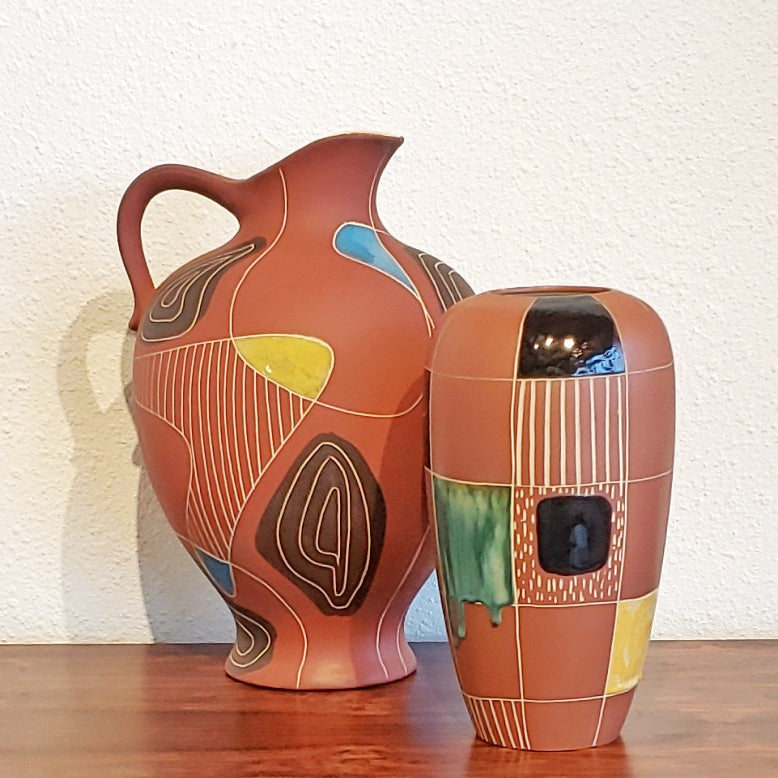 BODO MANS 'BRASIL' FLOOR VASE 291/40 FOR BAY KERAMIK (RARE)
CONTACT US HERE ABOUT THIS ITEM.
A stunning and rare Bay Keramik floor vase finished with renowned designer Bodo Mans's 'Brasil' décor (1958).
BODO MANS was born in 1935.  From 1949 to 1951 he apprenticed as a window dresser and a decorative painter.  He next trained as a graphic designer in Cologne before taking up the study of ceramics at the technical school in Höhr-Grenzhausen (1954-1956).  After brief employment as a ceramic painter with Keto Keramik, he took a temporary job at the Madoura company in Vallauris, a small community in southeastern France bordering the resort town of Antibes.  The Madoura workshop is famously where Picasso realized his ceramic designs while living in Vallauris (1948-1955).
Following his 1957 return to Germany and a short stint with Ruscha Keramik, Mans went to work as a designer for Marei Keramik in Rheinbach, where he was employed through the end of 1958.  Clear influence of his earlier work at Keto is seen in his work for Marei.  Some of his designs from the period were adopted by BAY KERAMIK of Ransbach-Baumbach, and in 1959 Mans began to freelance officially for the company, providing plans for both forms and décors.  Well-known examples of the latter include 'Reims' (approx. 1960), 'Istanbul,' 'Ravenna,' and 'Saarburg' (all approx. 1961).  Mans became a permanent designer for BAY in 1962.  That same year, along with Liesel Spornhauer and others, he became a founding member of the ceramic group "Muffel."  Its exhibitions brought his ceramic objects and murals to public attention; he won great acclaim for their color, playfulness, and formal technical design.  The popularity of his early work for BAY anticipated that of German art pottery more generally.  Mans officially retired from BAY in 1975.  Since then he worked as a freelance industrial designer, painter, graphic artist, and journalist.  He passed away in 2001.
BAY KERAMIK was founded in 1934 by Eduard Bay in Ransbach-Baumbach, a small town in the heart of the Kannenbäckerland in western Germany.  (The Kannenbäckerland, or "potters' land"—a historic center of ceramics industry—is the site of the largest clay deposit in Europe.)  Its output was primarily utilitarian prior to the early 1950s when more and more decorative items were introduced. Production and sales grew rapidly throughout the decade, and, by the early 1960s, BAY was a leading manufacturer of art ceramics.  Bodo Mans, probably the the best-known designer of the period, was employed by the company from 1959 through 1975. His work is considered highly collectible today.  The company's art pottery production continued into the 1980s and included some striking work that often showcased utterly fantastic specialty glazes.  On the other hand, a huge amount of kitsch was produced for the tourist trade.
BAY KERAMIK used white clay exclusively; marks are almost always molded to the base.  The name BAY often appears.  The country of origin is typically noted as "WEST-GERMANY" or "W-GERMANY."
Design Year – 1958
Country of Origin – WEST GERMANY
Designer – BODO MANS (1935-2001)
Maker – BAY KERAMIK
Attribution – MARKED
Materials – CERAMIC
Colors – TERRA COTTA, MULTICOLOR
Condition – VERY GOOD (no defects; may show slight traces of use)
Height (cm) – 40.0
Diameter (cm) – 11.0