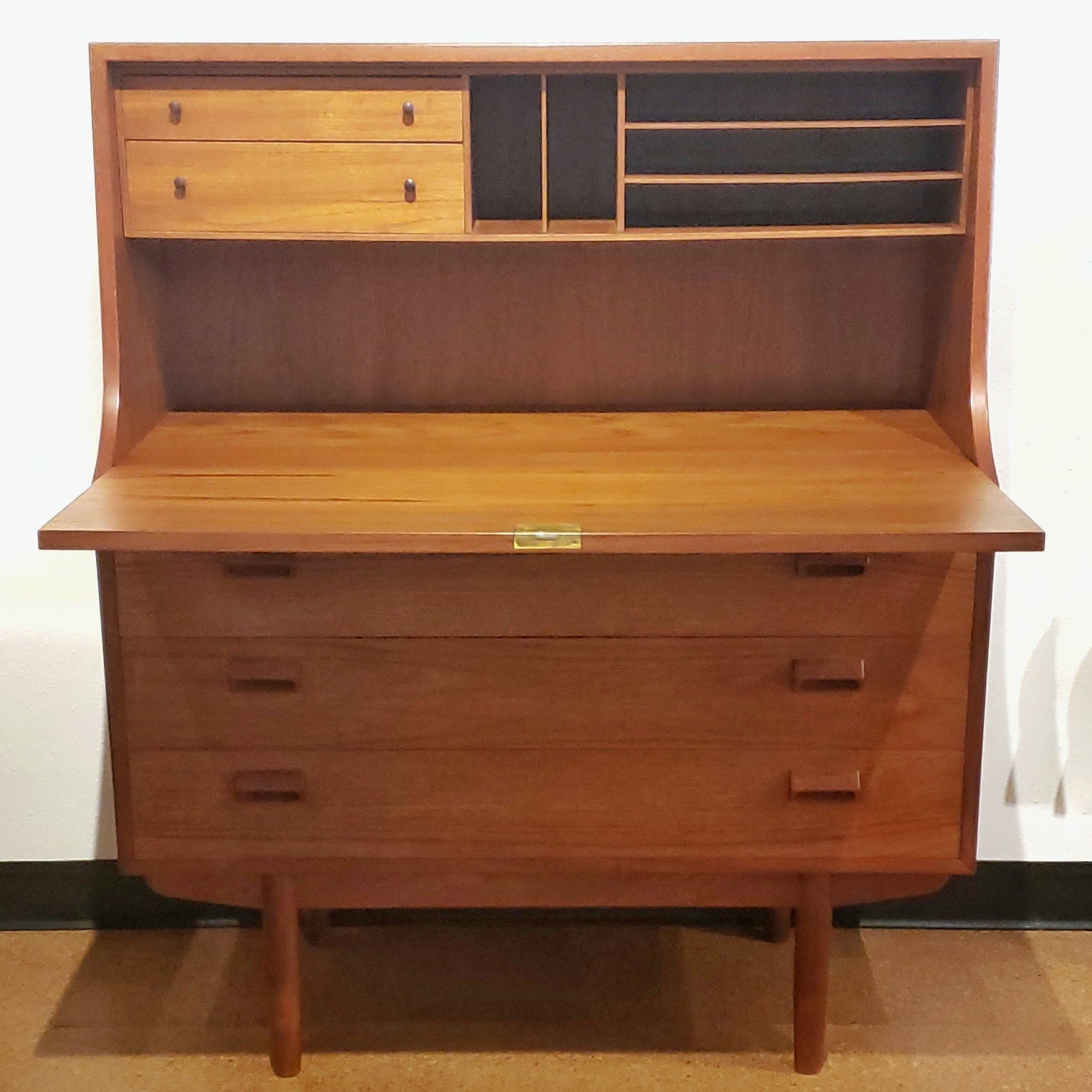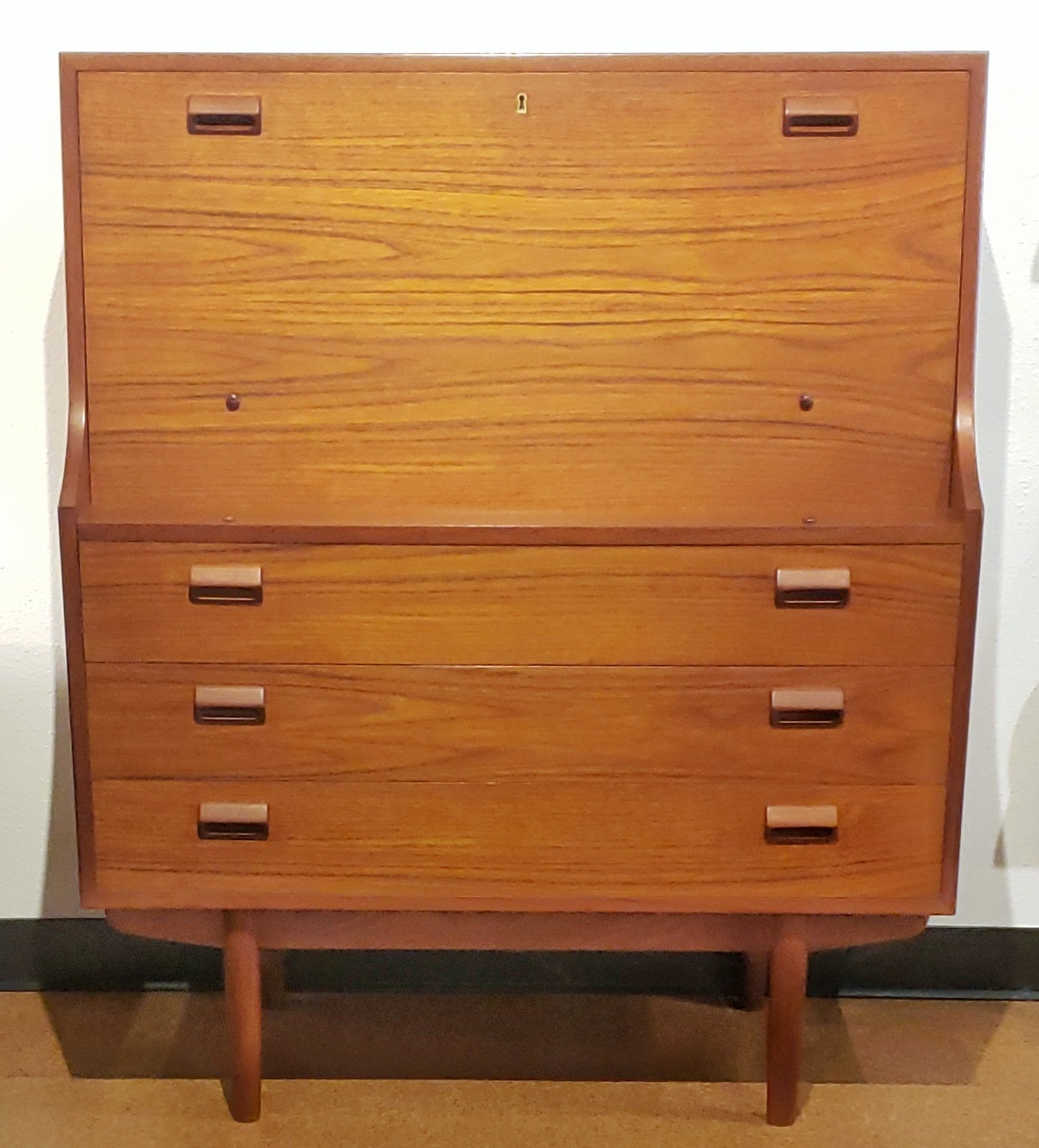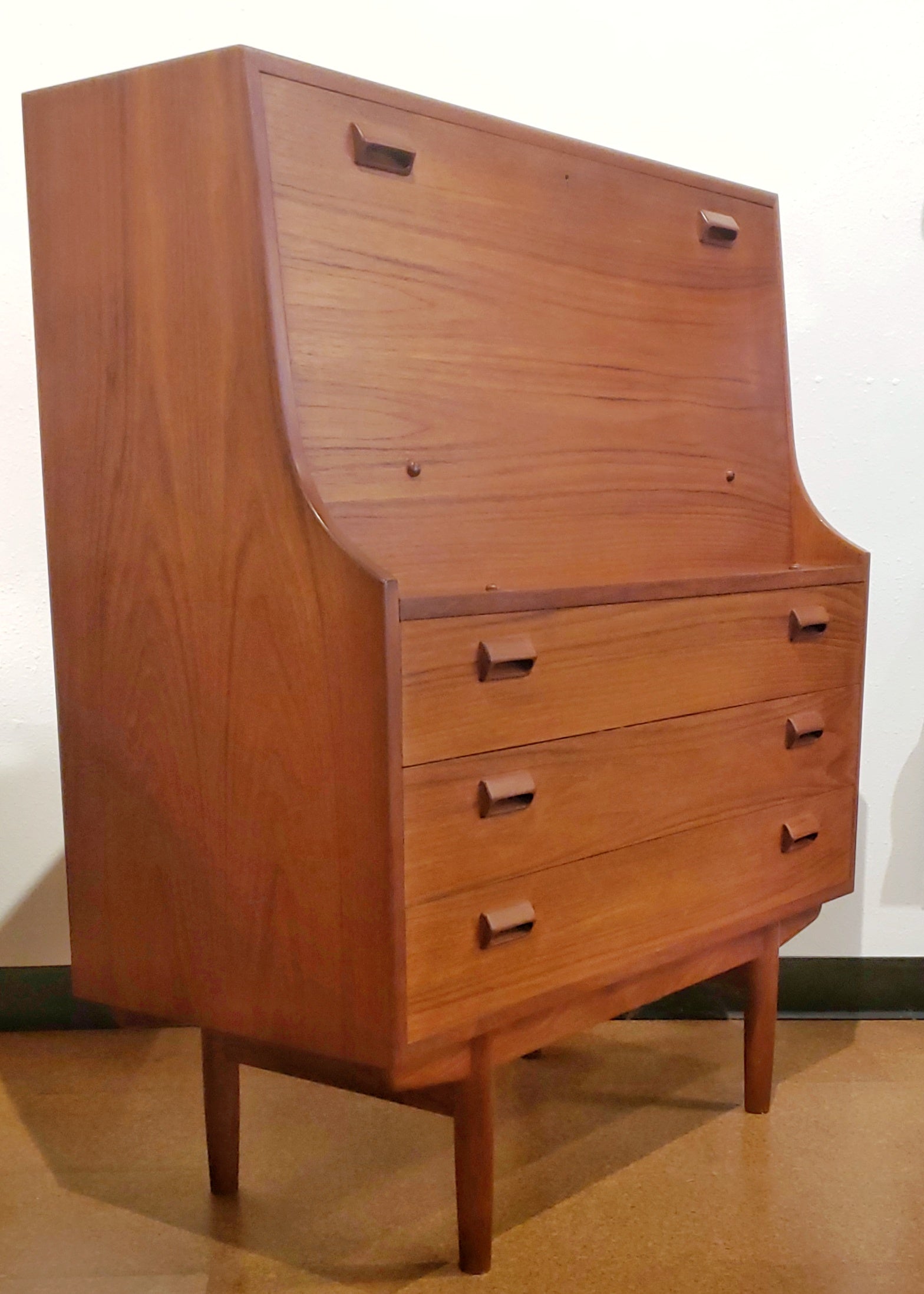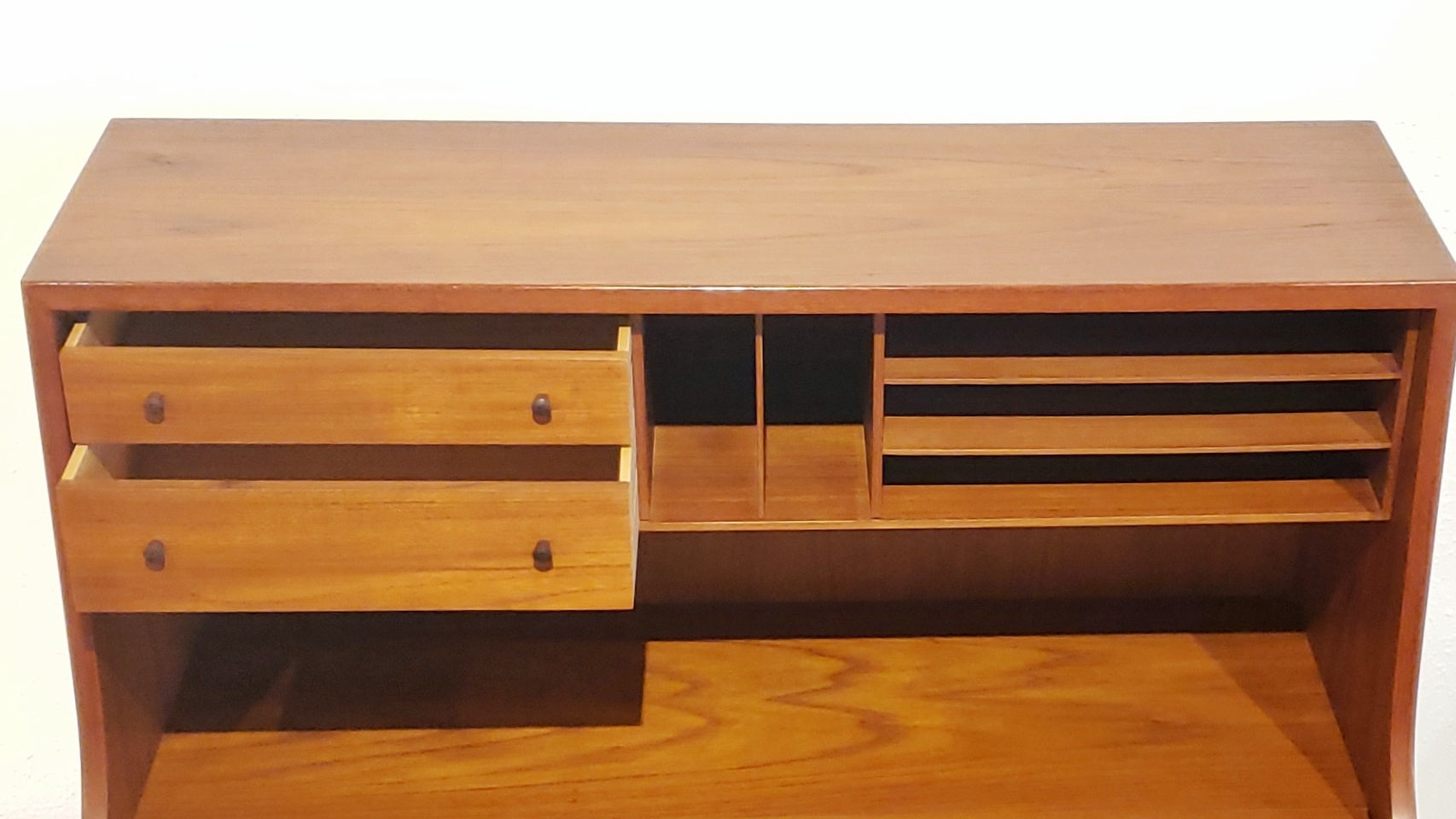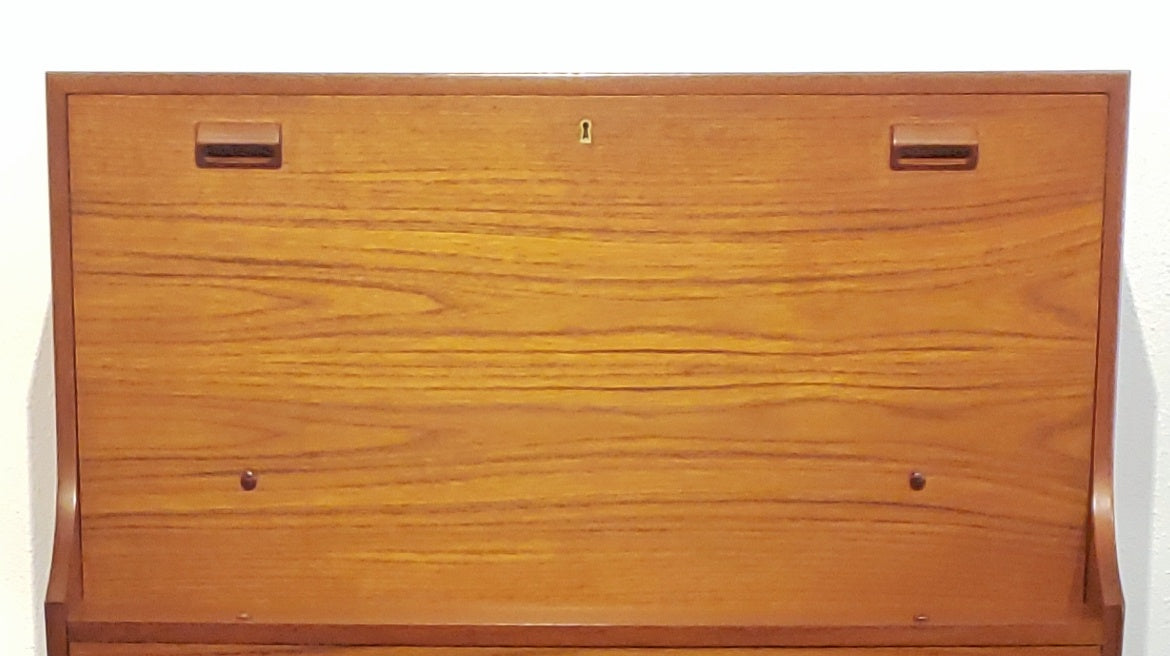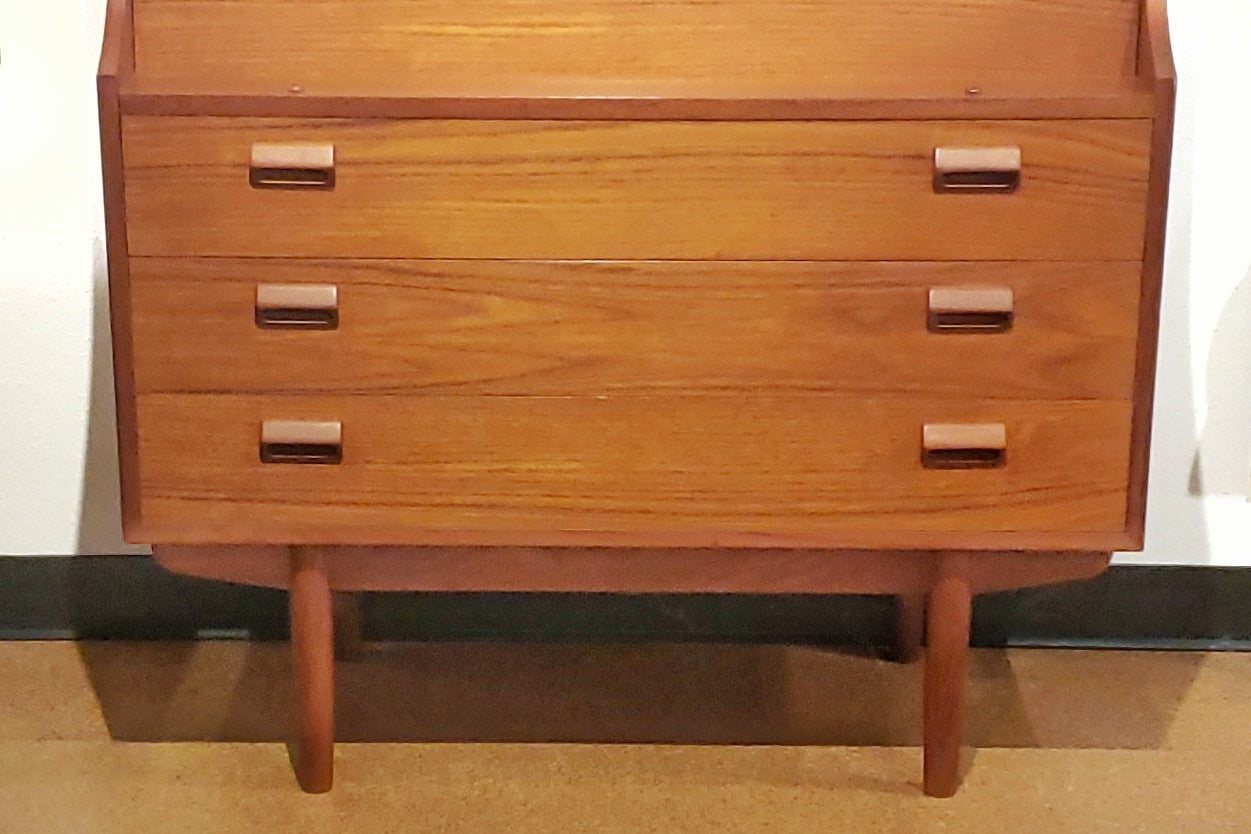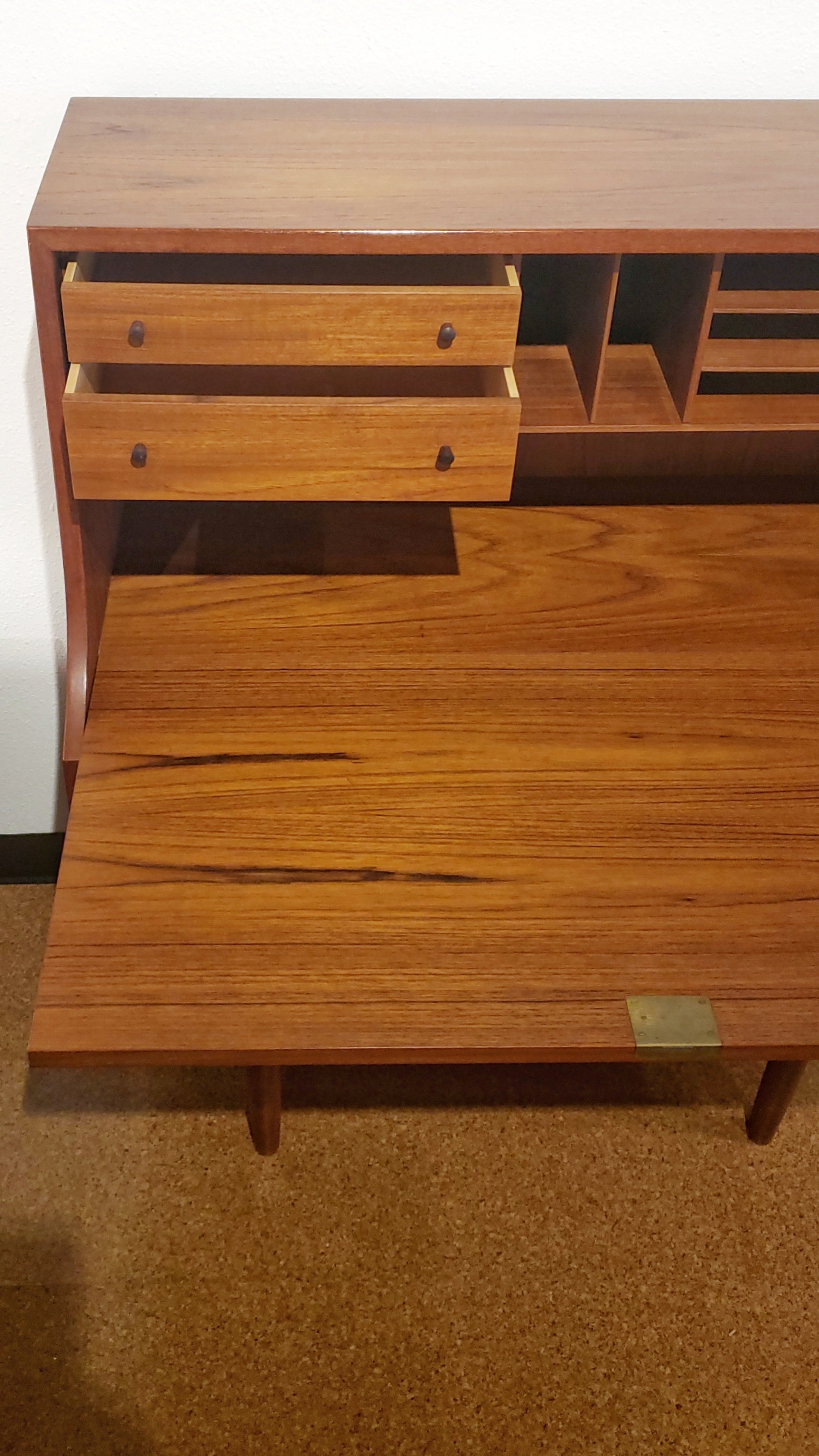 BØRGE MOGENSEN SECRETARY FOR SØBORG MØBELFABRIK
CONTACT US HERE ABOUT THIS ITEM.
A teak Børge Mogensen drop-front secretary and chest-of-drawers designed for Søborg Møbelfabrik.  Perfect.
BØRGE MOGENSEN was born in Ålborg in the Jutland region of Denmark in 1914.  After early years as a cabinetmaker, he took up the formal study of furniture design at the Danish School of Arts and Crafts in Copenhagen (1936-38) with architect and furniture designer Kaare Klint, commonly considered to be the father of modern Danish furniture design.  Mogensen went on to train as an architect at the Royal Danish Academy of Fine Arts' School of Architecture where he served as Klint's teaching assistant.  He graduated in 1942 and became head of design at the Danish Consumers Co-operative Society (FDB) that year.  He opened a design office in 1950—the year that his famous 'Hunting Chair' saw its debut at the Copenhagen Cabinet Maker's Guild Exhibition.
Together with contemporaries Hans Wegner and Finn Juhl, he defined and popularized what became the "Danish Modern" style.  Mognesen had a particular genius for an almost scientific analysis of functionality, and his restrained aesthetic brought a tranquil, modest appearance to his work.  Known as the "people's designer," he was driven to create affordable, practical designs.  His preferred material was wood.  Clients included Frederica Stolefabrik, Fritz Hansen, and SØBORG MØBELFABRIK.  Notable projects were the 'Spoke-Back' sofa (1945) and 'Spanish' chair (1959), as well as a variety of shelving and storage designs.  Mogensen was honored with the Eckersberg Medal in 1950, the annual prize from the Copenhagen Carpentry Guild in 1953, and the C.F. Hansen Medal in 1972.  He died in 1972.
SØBORG MØBELFABRIK was founded as a traditional workshop in 1890 by cabinetmaker Jacob E. Jacobsen in the suburbs of Copenhagen.  It was modernized by his sons Arne (no relation to the mid-century designer Arne Jacobsen) and Orla when they took over the firm in 1930.  Dedicated to producing high-quality furniture showcasing the Danish design tradition, SØBORG MØBELFABRIK worked with some of Denmark's most celebrated mid-century furniture designers.  Among them were Peter Hvidt & Orla Mølgaard-Nielsen, Mogens Lassen, Børge Mogensen, and Bernt Petersen.
Notable designs for SØBORG MØBELFABRIK include Mogensen's 'King of Diamonds' chair (1944) and 'China' cabinet (1944); Hvidt & Mølgaard's 'No. 302' cabinet, 'No. 309a' sideboard, 'No. 311' dining set, and 'Nos. 316 and 317' chairs (1950's); Christian Hvidt's 'SM03,' 'SM76,' and 'SM200' wall units (1970s).
Through the '40s, '50s, and '60s, SØBORG MØBELFABRIK participated in the annual exhibitions of the Copenhagen Guild of Joiners—exhibitions that laid the foundations for Danish furniture's international acclaim and indeed for the very recognition of "Danish Design" as a concept.  The company continues to produce a wide range of contemporary and classic designs, and is also licensed to sell designs originally produced by the manufacturers CARL HANSEN & SØN, FRITZ HANSEN, FREDERICA, ERIK JØRGENSEN, and RUD RASMUSSEN.
…Serve people,...focus firmly on people, instead of forcing people to adapt to things at any cost. – BØRGE MOGENSEN
Design Year – 1951
Country of Origin – DENMARK
Designer – BØRGE MOGENSEN (1914-1972)
Maker – SØBORG MØBELFABRIK
Attribution – WELL-KNOWN
Materials – TEAK
Condition – VERY GOOD (no defects; may show slight traces of use)
Height (in.) – 47.0
Width (in.) – 39.0
Depth (in.) – 18.0