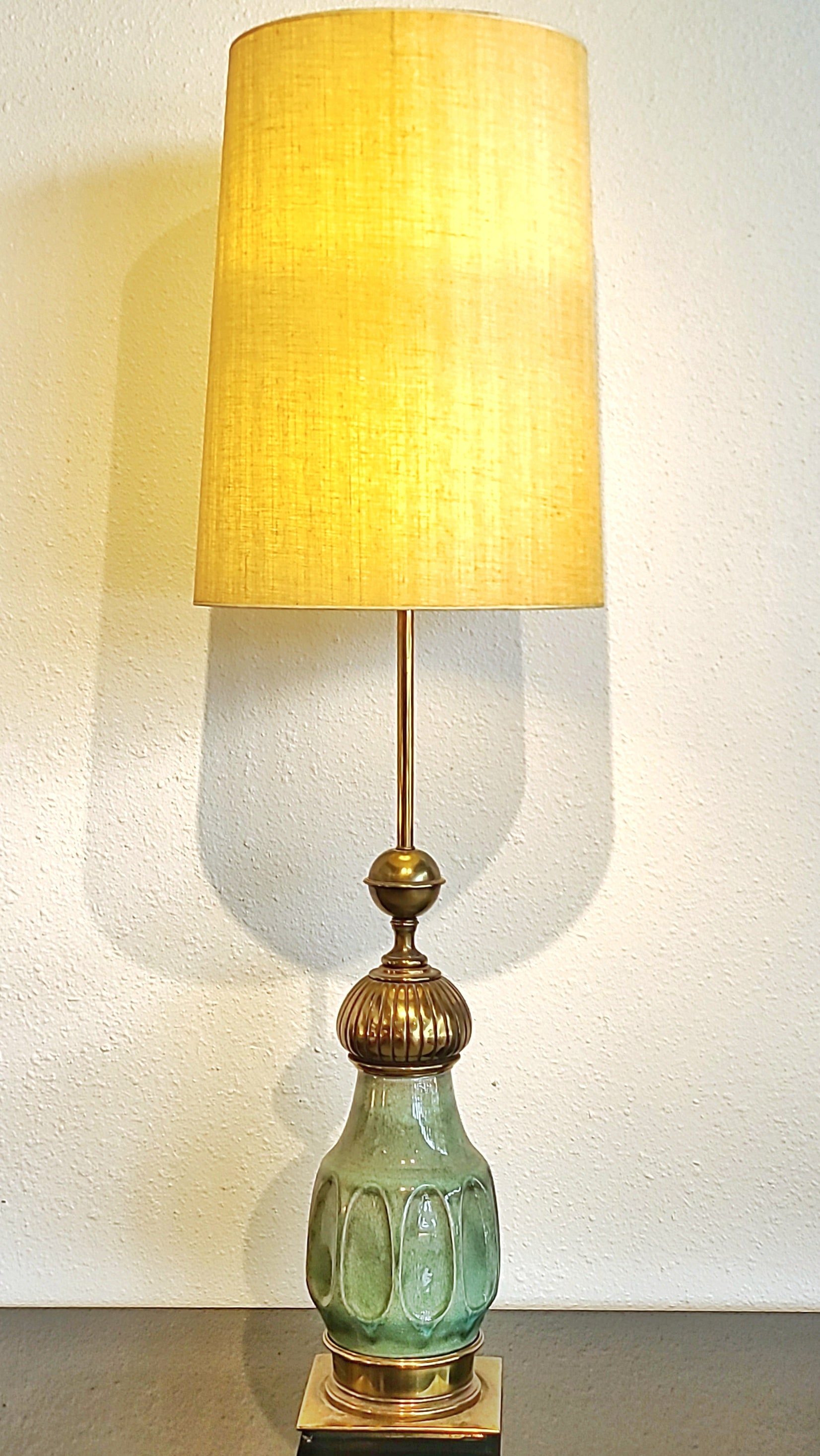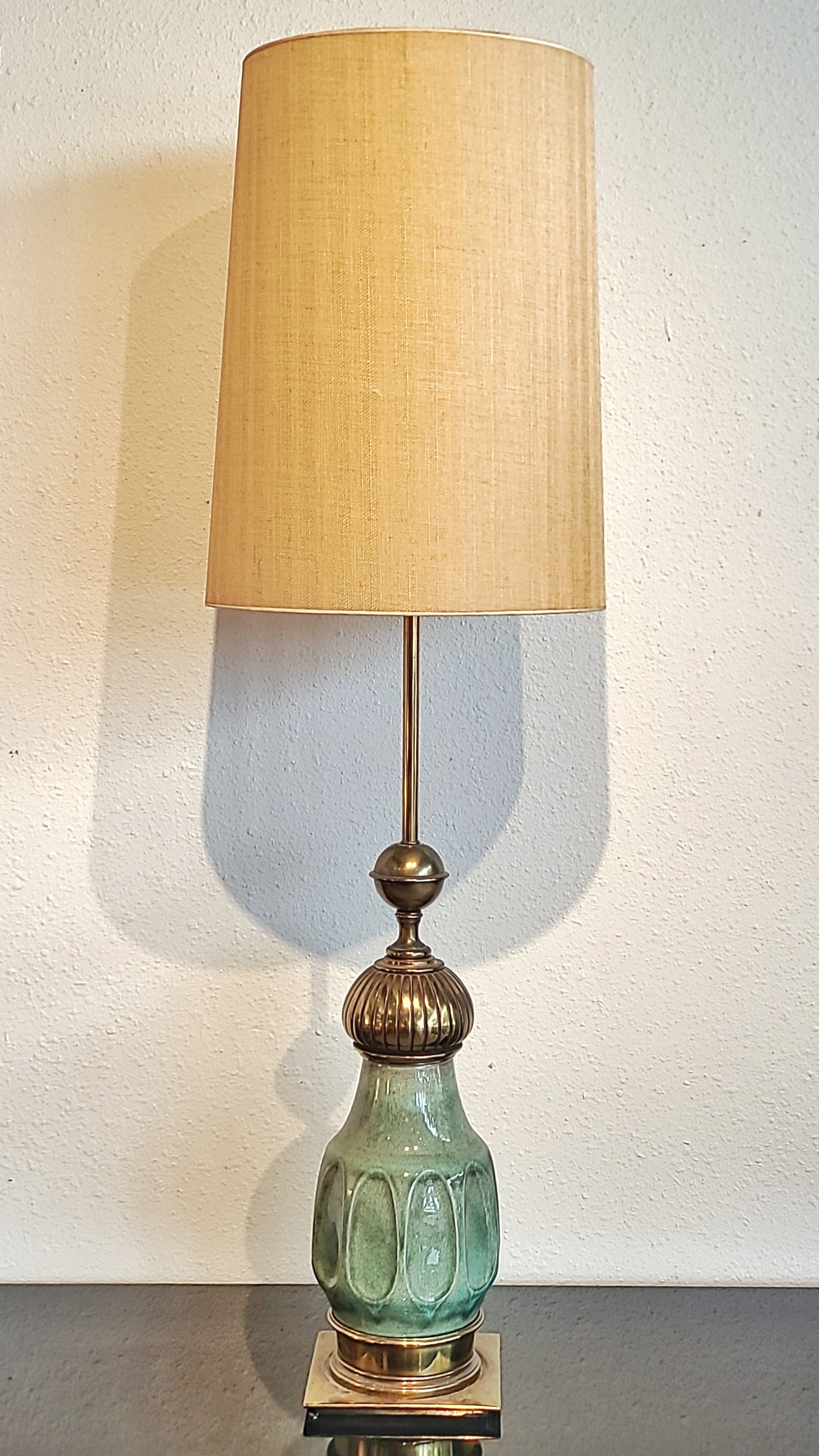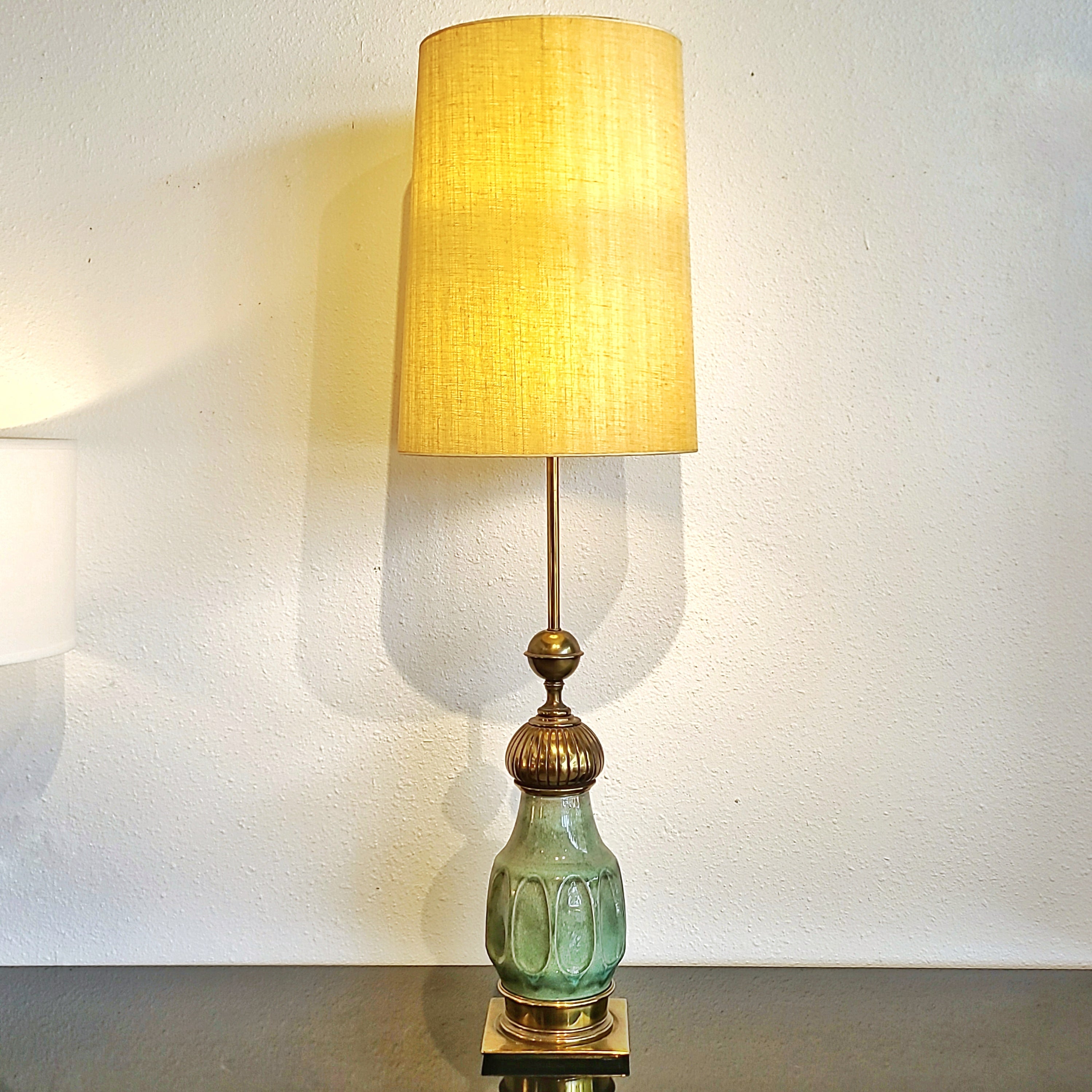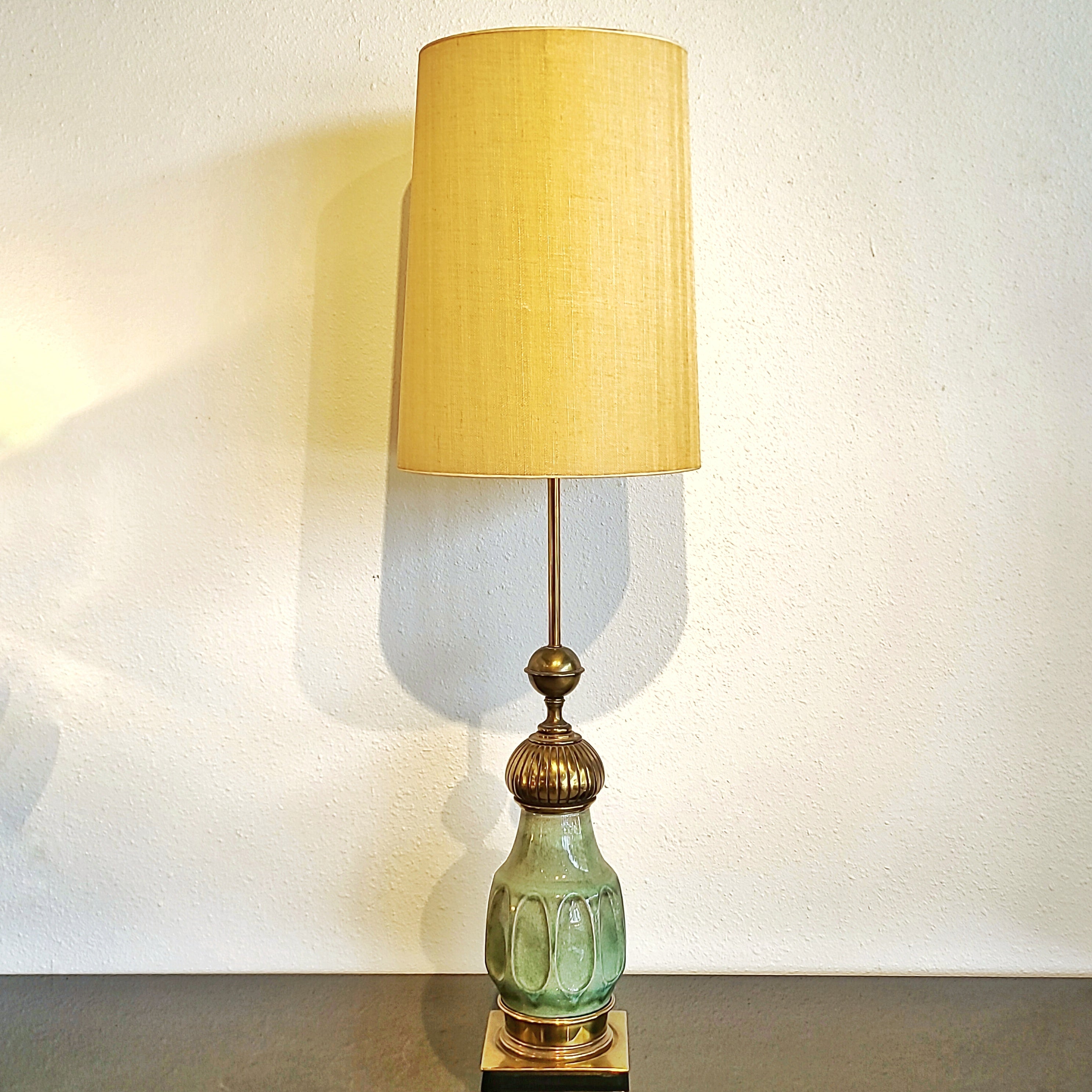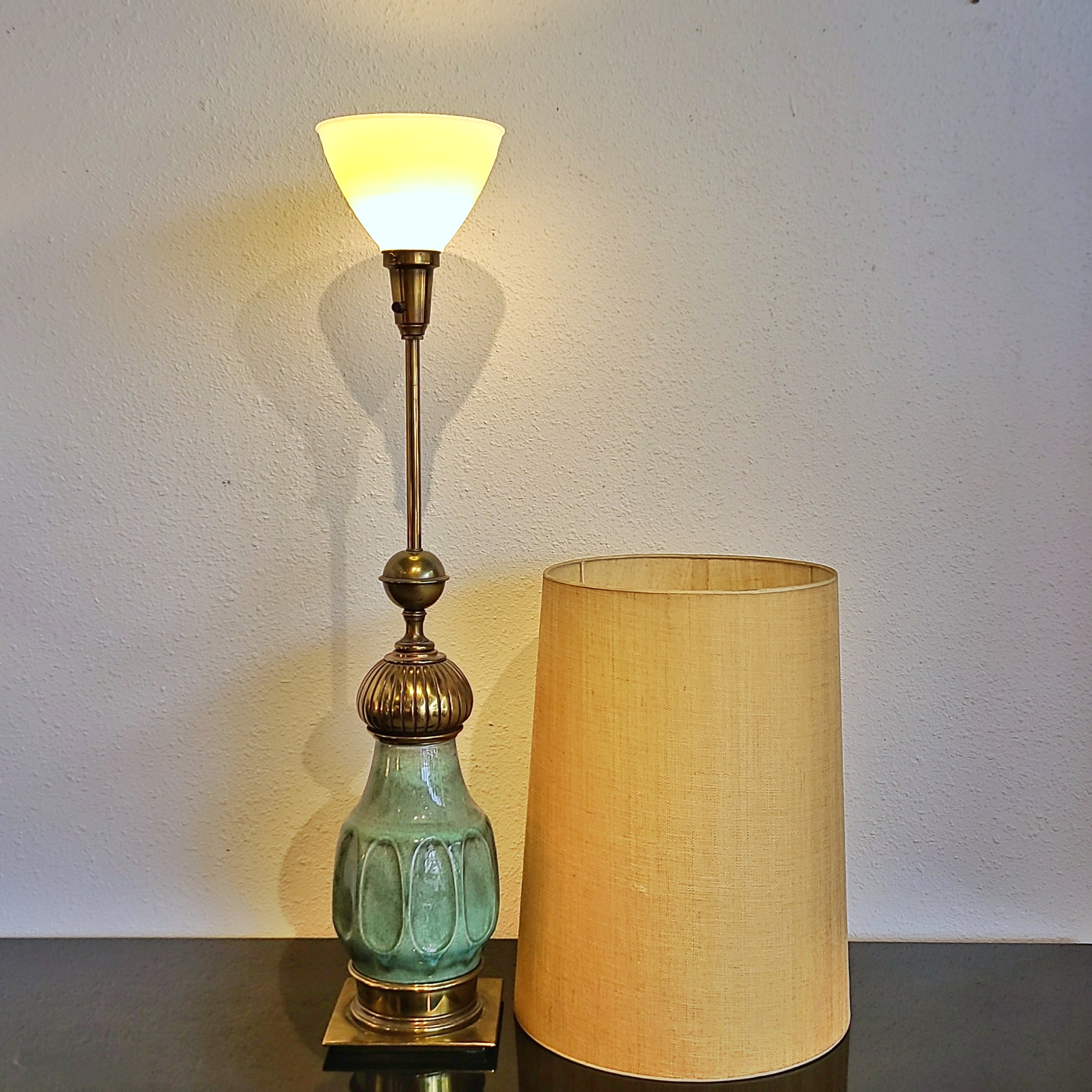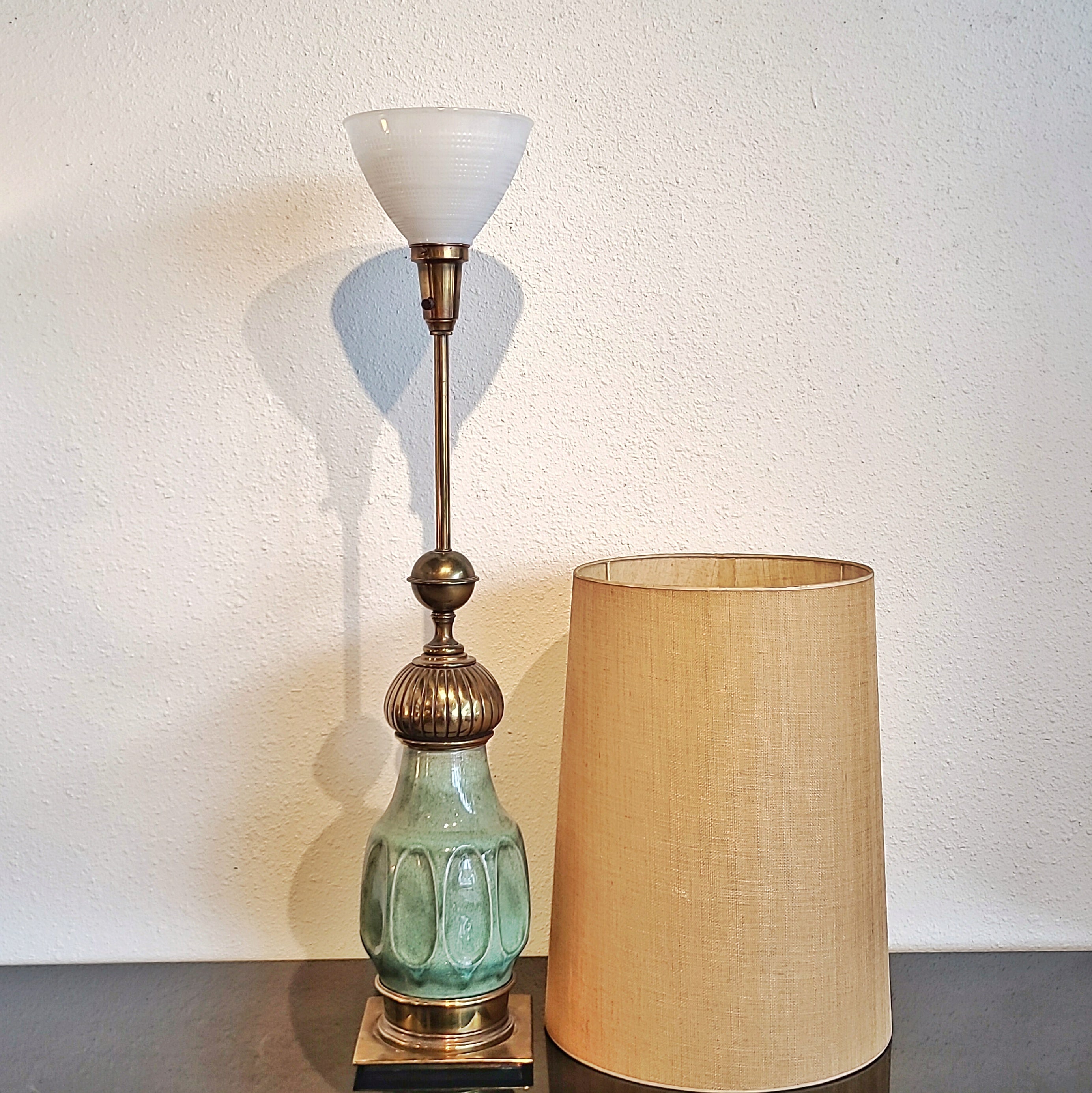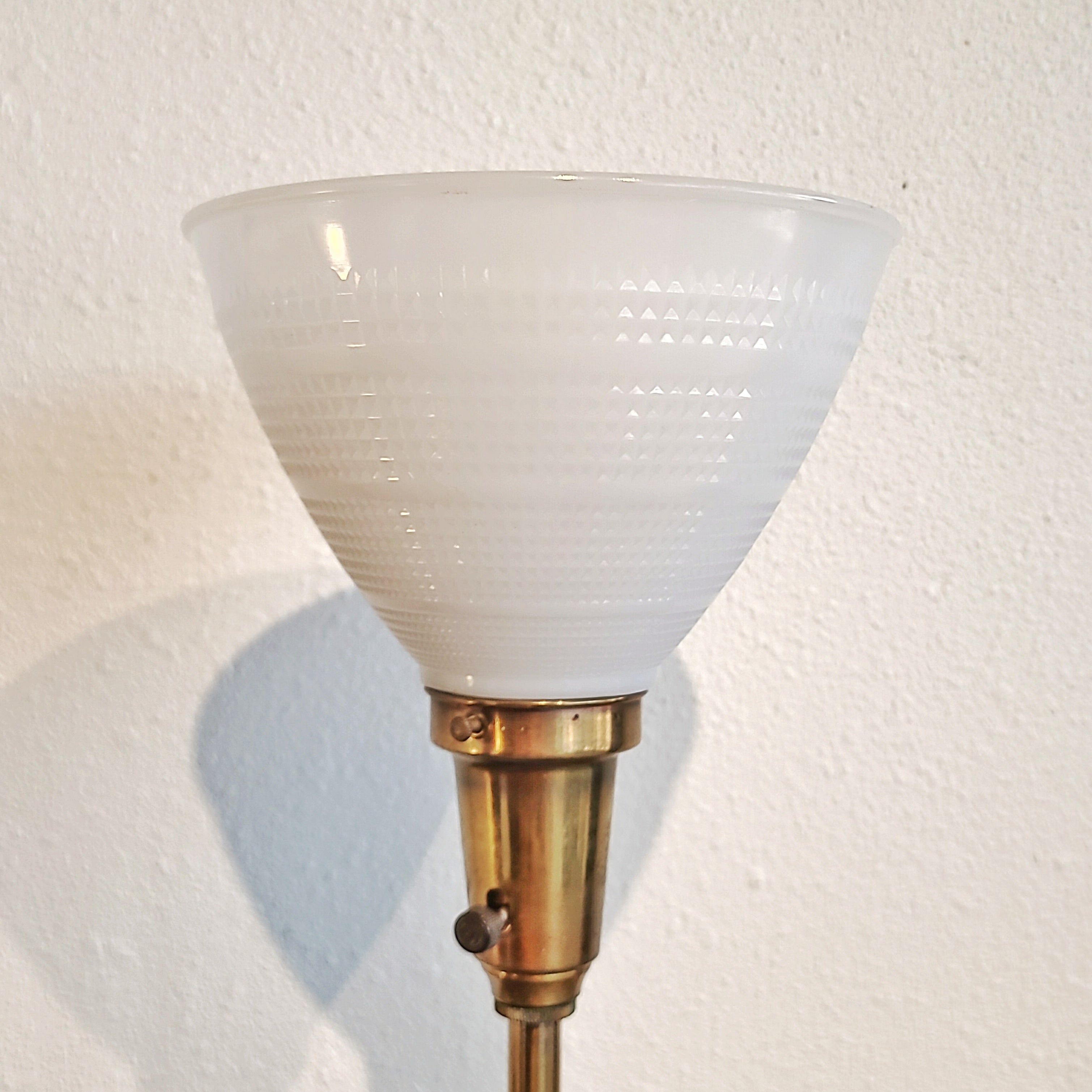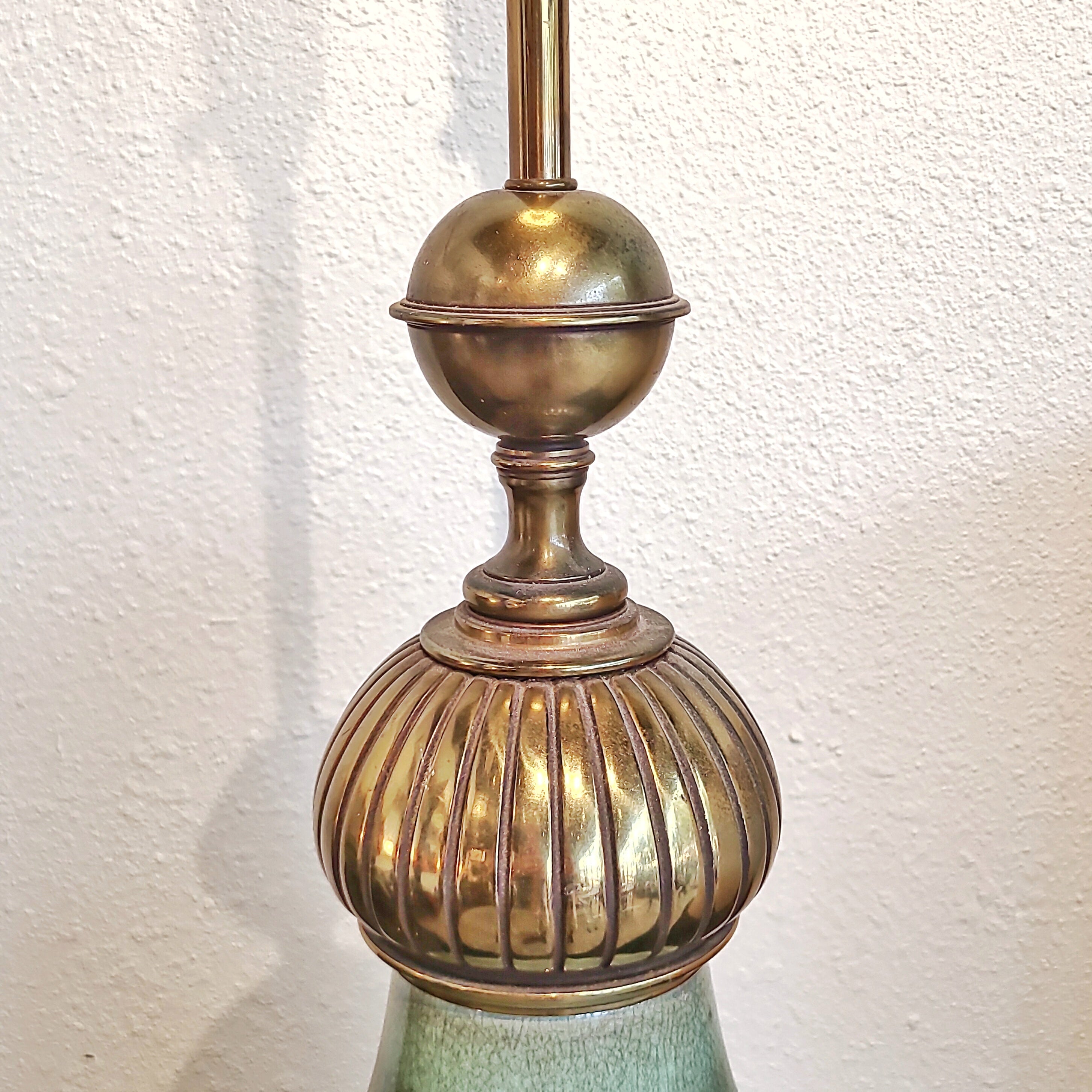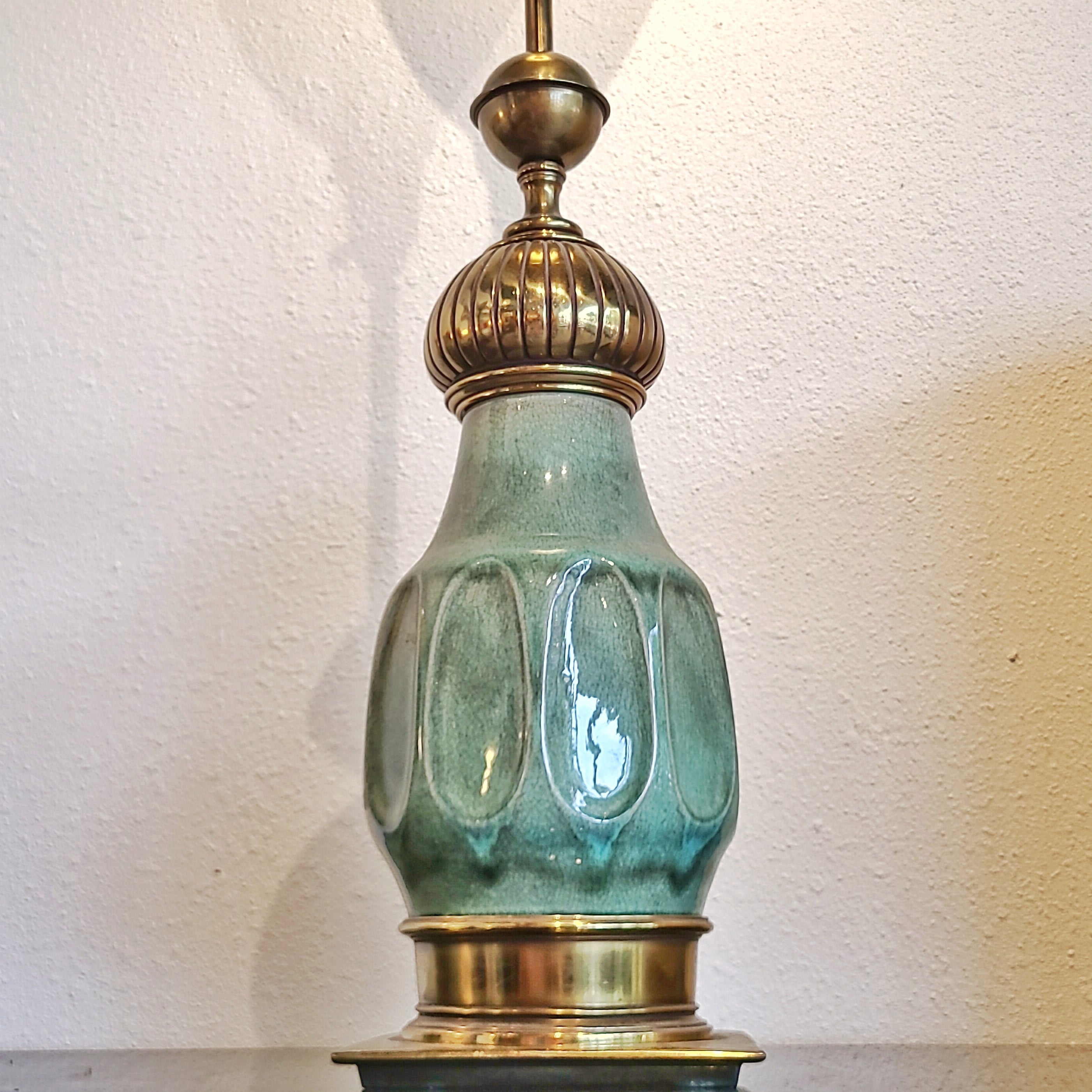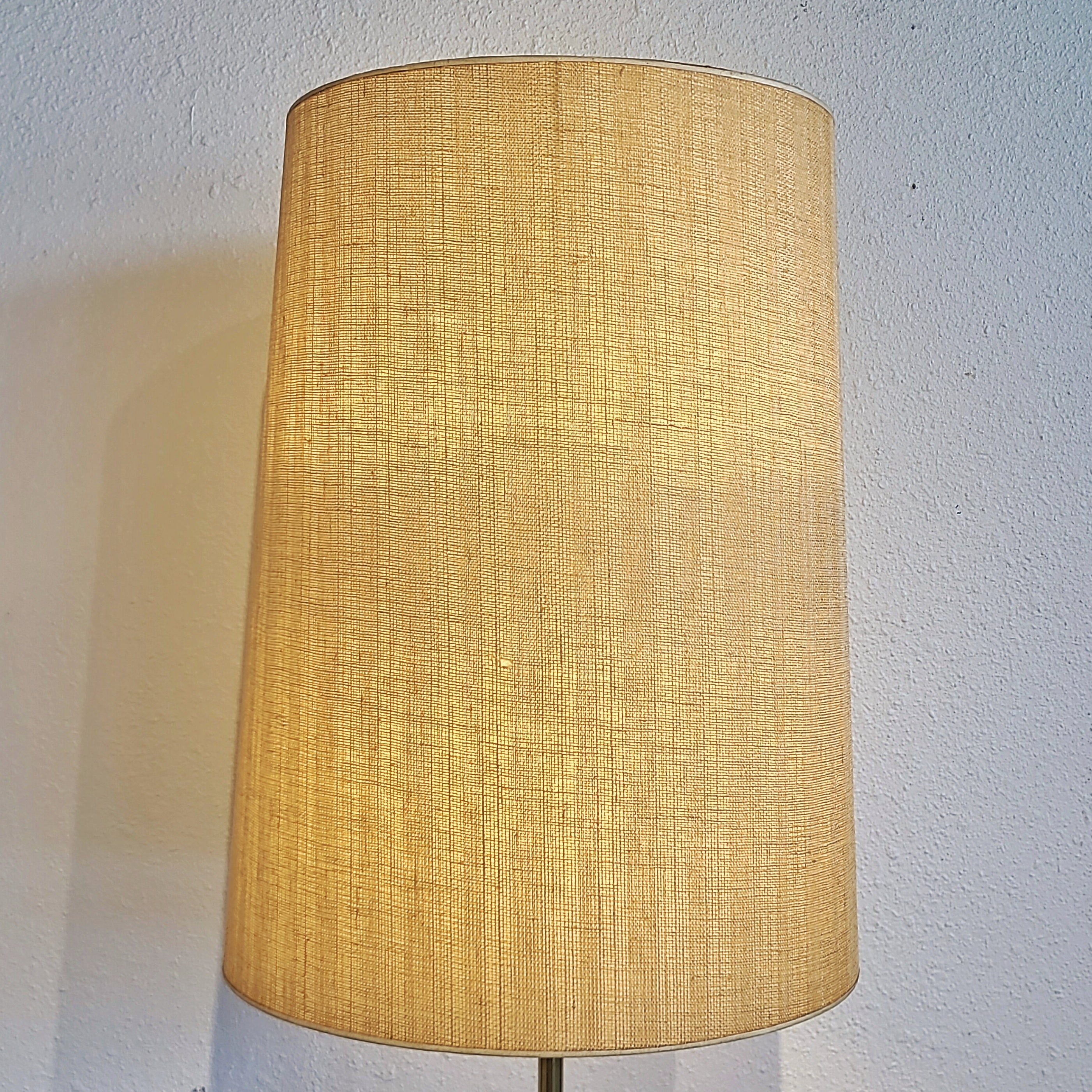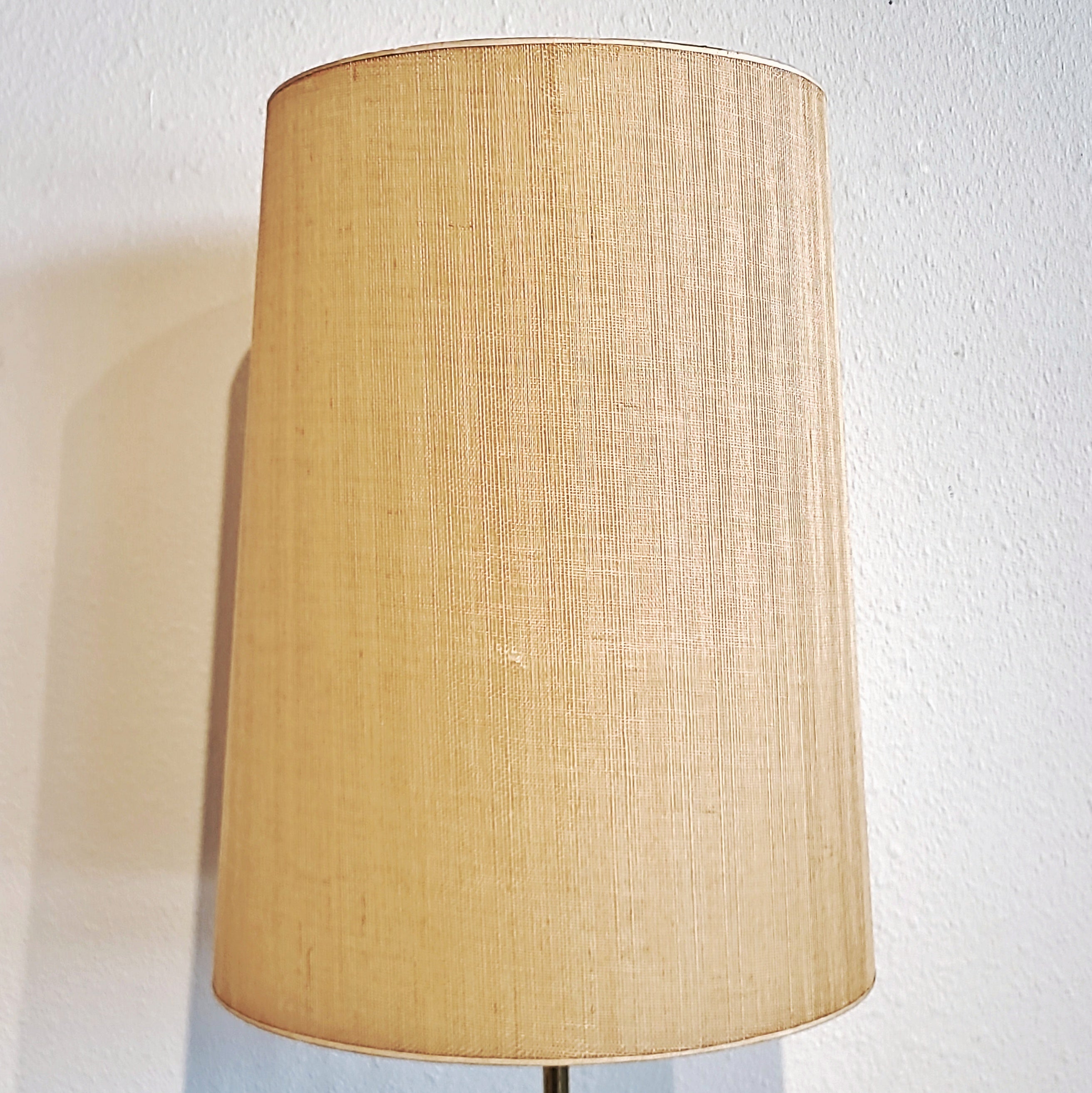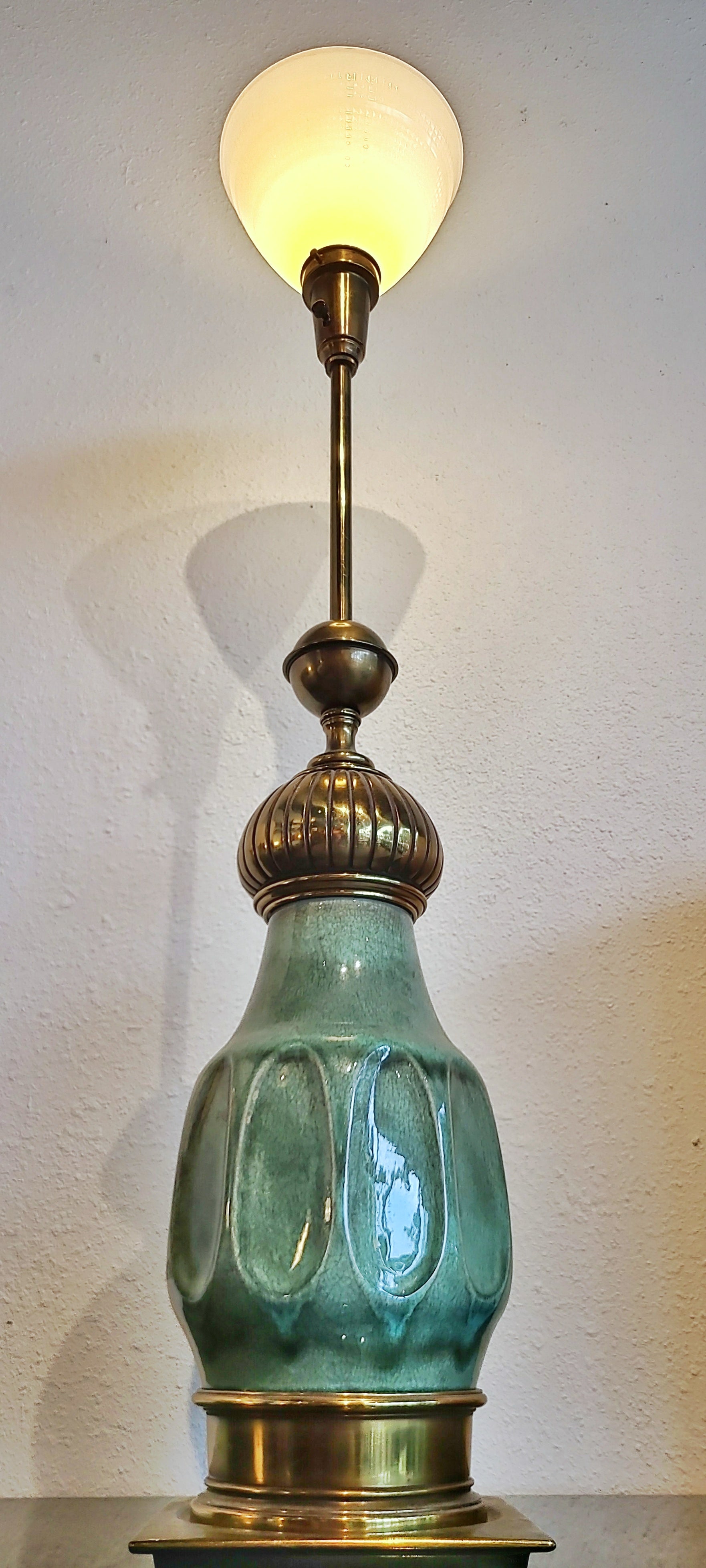 TALL STIFFEL BRASS AND CERAMIC TABLE LAMP
CONTACT US HERE ABOUT THIS ITEM.
A magnificent mid-century solid brass table lamp from the STIFFEL LAMP COMPANY, possibly by designer Edwin Cole. The silky crackle glaze that covers its clay body gradates between celadon and seafoam. The lamp's height to the top of the milk glass diffuser is 38 ½" and its diameter 8". Verticality is accentuated with the addition of a vintage drum shade, yielding an overall height of 50". This lamp has been outfitted with a three-way socket and a two-way in-line switch.
The STIFFEL LAMP COMPANY was founded in 1932 by Ted Stiffel (1899–1971) in Chicago, Illinois. Stiffel's ambition was to manufacture portable light fixtures that were intelligently designed and accessibly priced. His dedication to excellence would soom establish the firm as the industry's quality leader.
Raised in Memphis, Stiffel initially pursued a music career. After discharge from service in World War I, he worked for Western Electric in Chicago and then for the lighting firm, Nellie J. Kaplan Co. His own firm began operations by supplying lamps to regional department stores. By the 1940s it owned a factory large enough to produce the volume required for national distribution. STIFFEL was eventually competing with the likes of Frederick Cooper. Its output was celebrated both for its splendid design and the precise craftsmanship it evinced.
During World War II, STIFFEL opened a machine screw department to produce bolts for anti-aircraft guns and other components for the war effort. The government contracts were withdrawn following V-J Day in 1945. Architect and designer Edwin J. Cole (1904-1992) joined the firm in 1948. Cole would be responsible for some of STIFFEL's most striking designs. Today his vintage creations—often lamps with distinctively tall and shapely ceramic bodies, sometimes finished with chinoiserie details in brass—are highly sought after by collectors.
The STIFFEL LAMP COMPANY has contributed much to the lighting industry over the years: innovations such as the vertical pole lamp and inventions such as the patented Stiffel Switch—not to mention unparalleled accomplishments in design. Following a bankruptcy in 2000, the brand was revived in 2013 in Linden, New Jersey, where newly produced, high-quality lamps again carry the STIFFEL name.
DETAILS
Design Period – 1960s
Maker – STIFFEL LAMP COMPANY
Production Period – 1960s
Origin – USA
Styles/Movements – HOLLYWOOD REGENCY; BOHO CHIC; MEDITERRANEAN
Materials – BRASS, CERAMIC
Colors – CELADON
Shade – INCLUDED
Power – UP TO 120V (US STANDARD), CORDED, TYPE 'A' PLUG
Condition – Very good vintage condition; without defects, but showing slight traces of use.
Dimensions – 8" DIAM. × 50" H