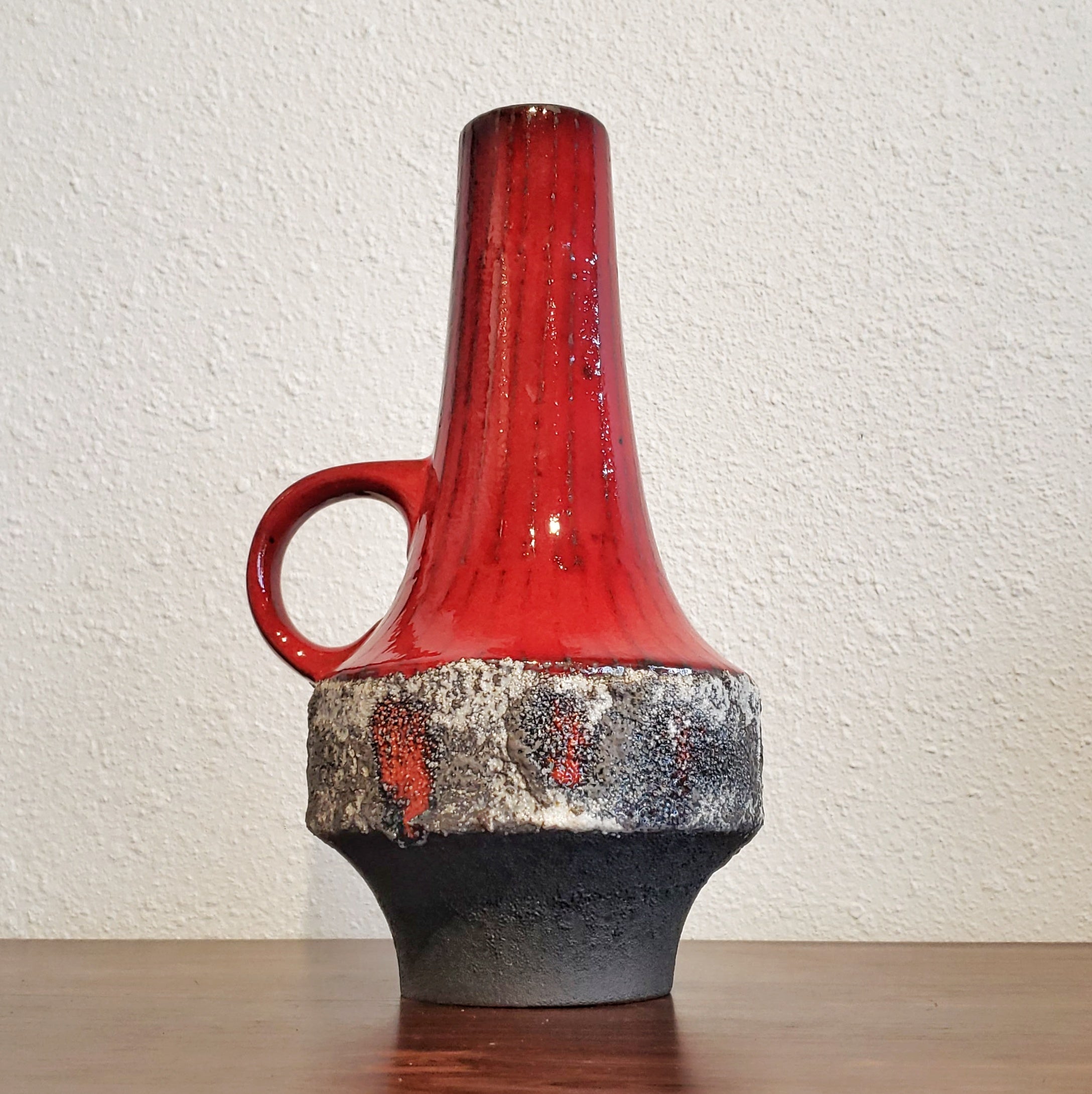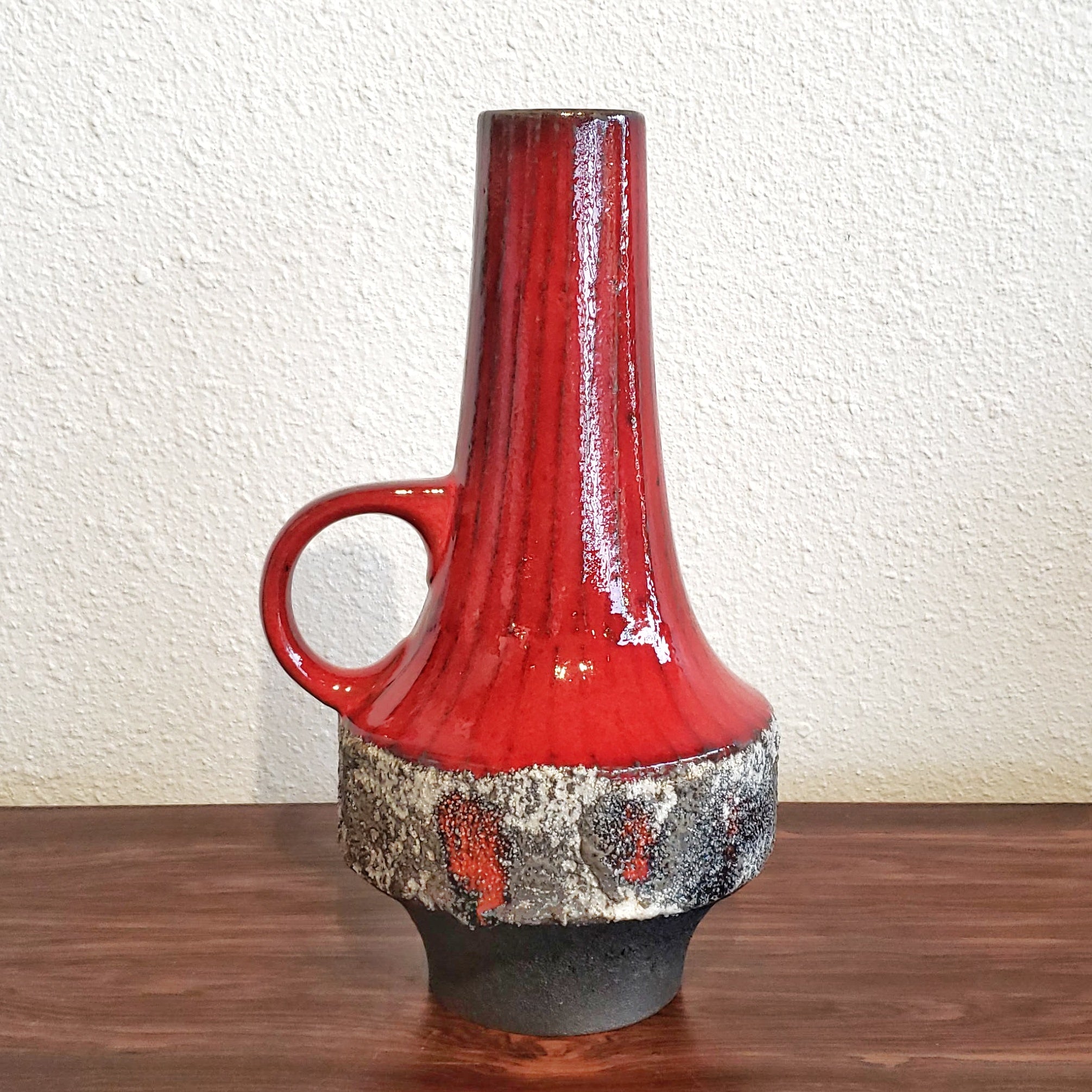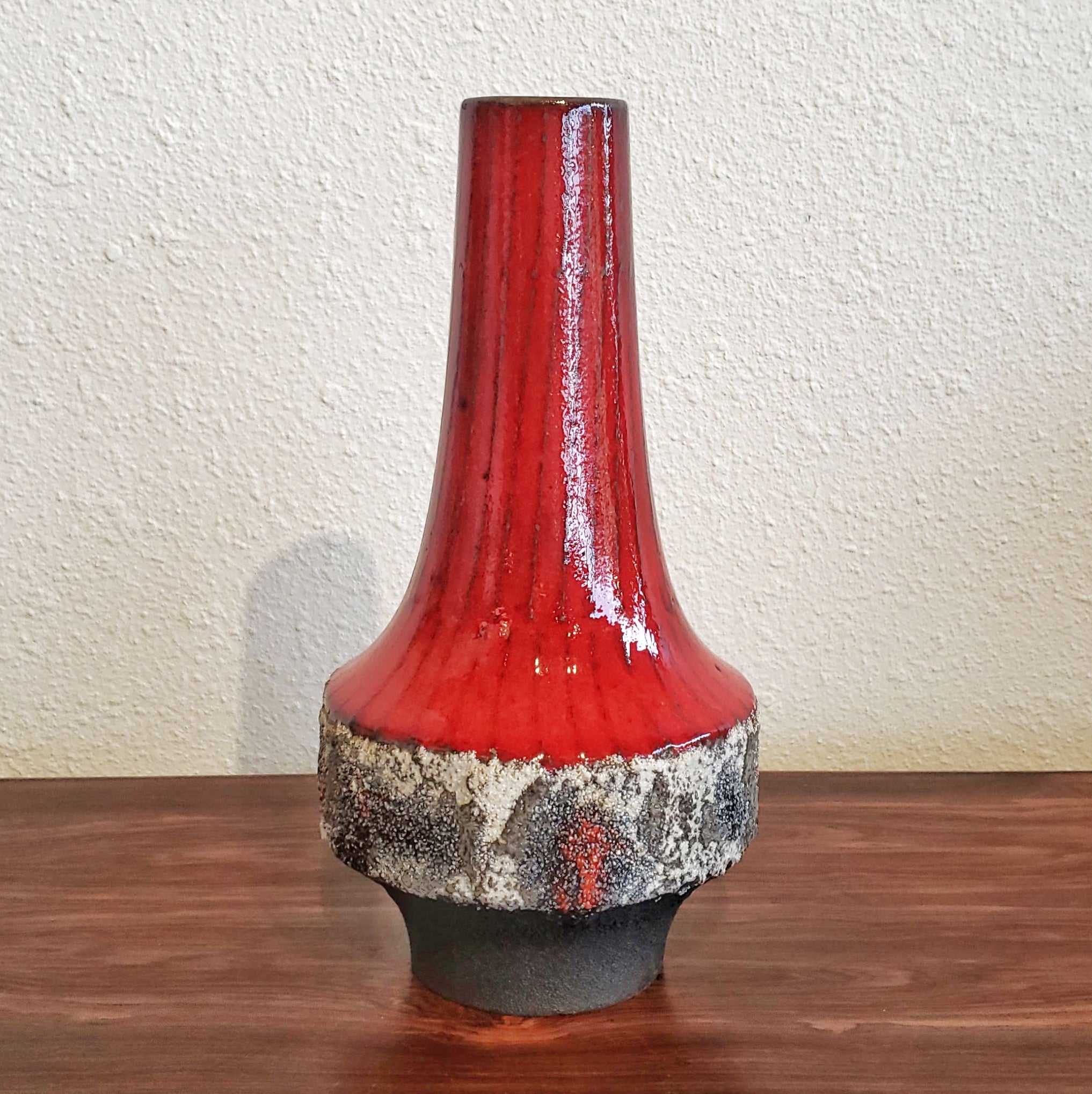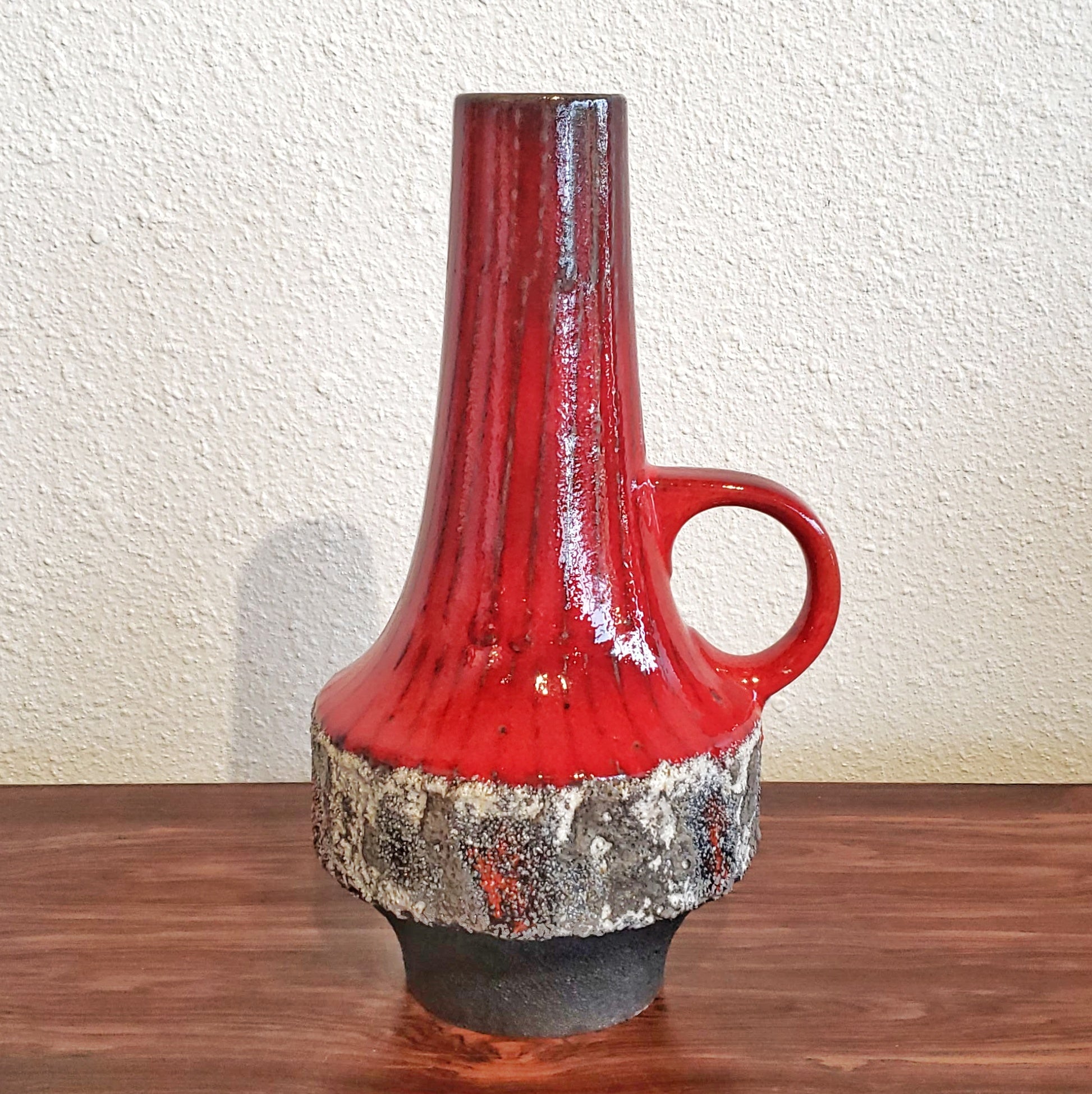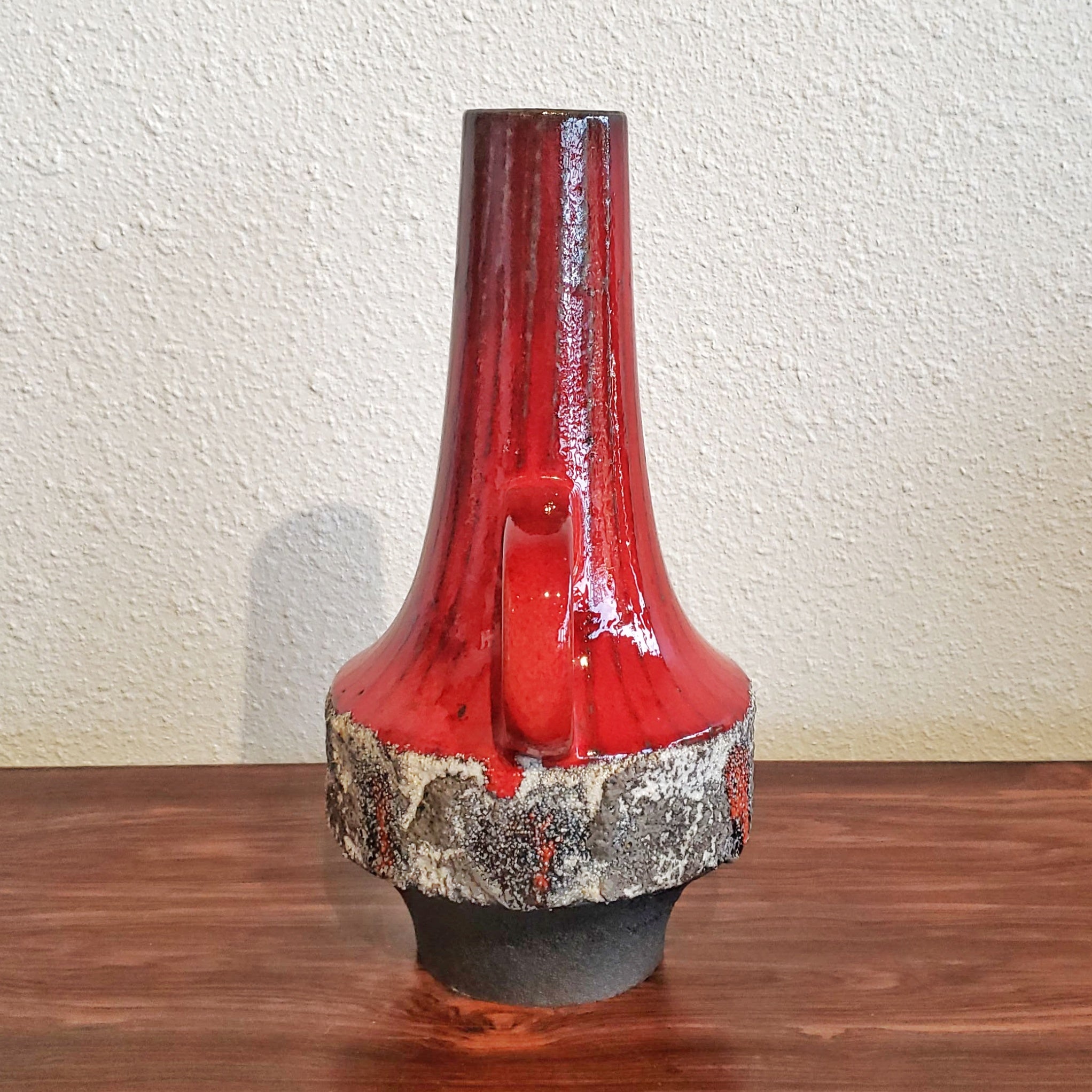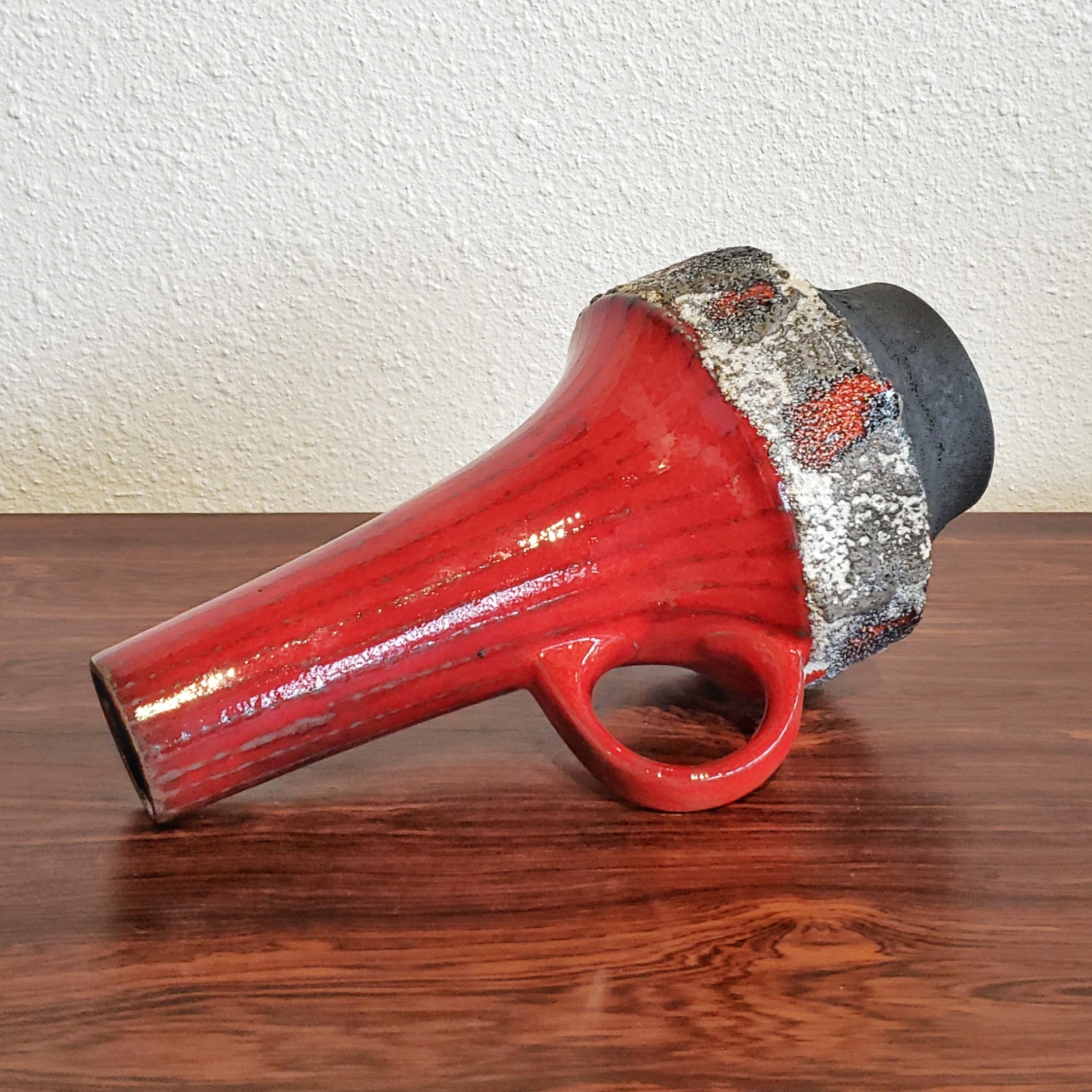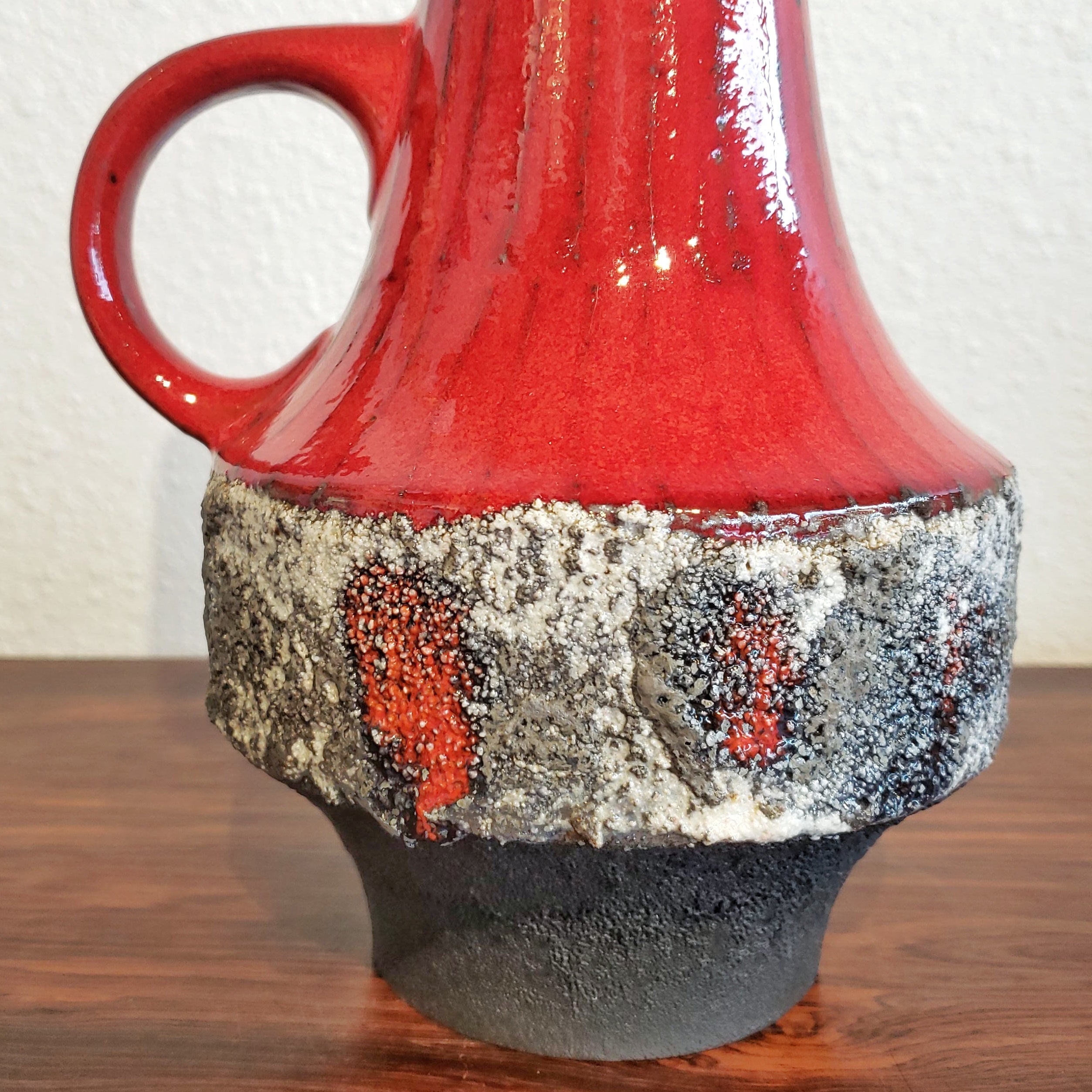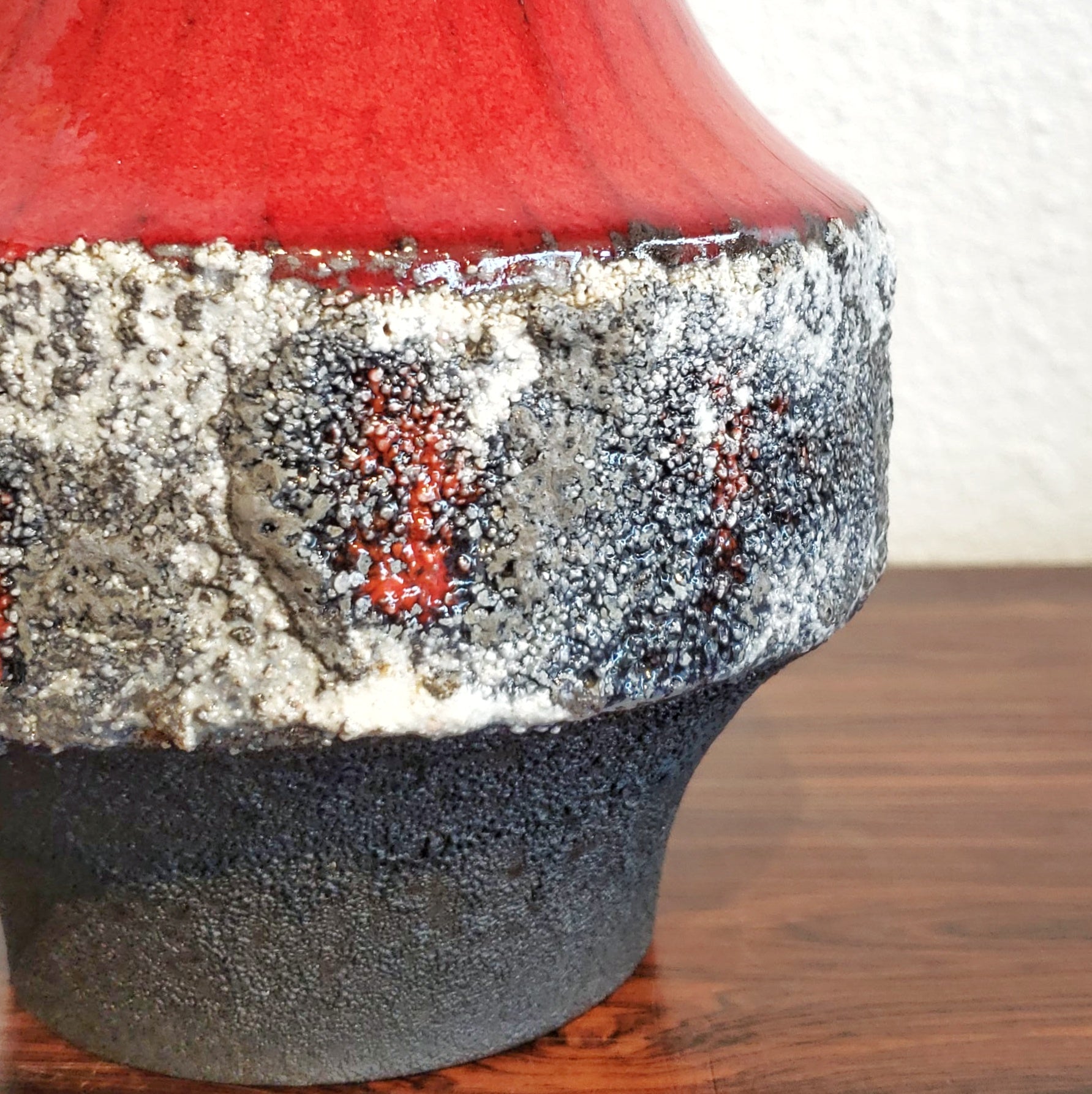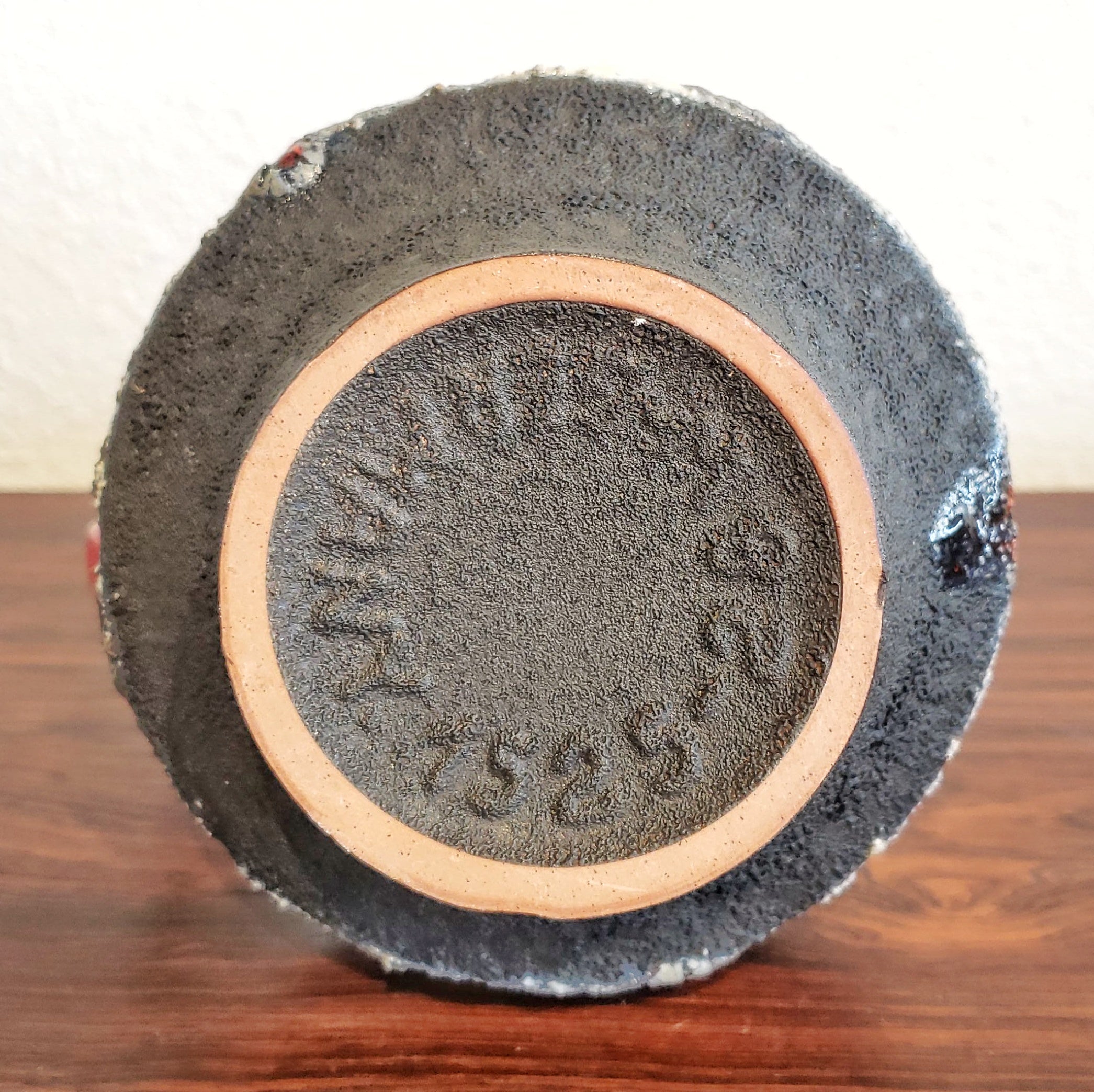 CARSTENS TÖNNIESHOF LUXUS SERIES 'MALMÖ' DECOR VASE Nr. 1525/28
CONTACT US HERE ABOUT THIS ITEM.
A beautiful example of Carstens 'Malmö' decor on a high end Luxus Series rocket vase form designed by Heinz Siery in the late 1960s.  The deep red glossy glaze features vertical dark grey striations and a sandy textured volcanic belt in grey white and red that separates the glossy top from the matte black base.  the form and the decor are inseparable, as it seems that one was custom made for the other.
CARSTENS TÖNNIESHOF was founded in 1946 by Ernst Carstens and his son Christian. Their family had had a long prior history of manufacturing ceramics and porcelain in Germany, but all of its businesses had collapsed by the end of WWII. Most of the CARSTENS factories wound up on East German soil when the country was divided and so were expropriated by the DDR. Father and son built the new Tönnieshof factory on a farm of that name in Fredelsloh in Lower Saxony, just west of the border with East Germany. Production of table ceramics began in 1947; the first known decorative pieces date from the early '50s. Ernst's wife Trude Carstens served as artistic director until her death in 1965.
CARSTENS TÖNNIESHOFF was very successful for many years and produced an enormous variety of shapes and glazes. The 'Luxus' and 'Atelier' ranges were more expensive lines and they sold in large department stores—'Atelier,' launched in 1962, was the creation of renowned designer Gerda Heuckeroth. Helmut Scholtis introduced the very popular 'Ankara' décor in 1963 during a stint with CARSTENS; an example of the "wax resist" technique, it was applied to a broad array of forms. Lava glazes were employed during the second half of the 1960s. Production was eventually expanded abroad to Austria, Chile, Argentina, and Australia—it may well have topped out at close to 10,000 items daily. Other distinguished designers on CARSTENS' roster included Heinz Siery, Rudolph Christmann, and Dieter Peter. The firm went bankrupt in 1977.
HEINZ SIERY was a true luminary in the world of ceramics in the 1950s and '60s.  His form designs had significant impact on the product styles of makers Fohr, Scheurich, CARSTENS, and Ruscha, among others.  Siery often employed "the golden ratio" (or an approximation) while designing, lending harmonious proportion to his work.  This can be clearly seen in his most iconic vase, no. 271/22 for Scheurich.  Presented in 1959, it was extremely popular and was still being manufactured in the 1970s.  Siery also developed and introduced new methods of industrial organization.
In 1969 Siery and wife, Ingrid Siery-Illgner, established a jointly operated studio, Atelier Syré, near the historic town of Euskirchen in North Rhine-Westphalia out of which they both freelanced.  (Ingrid had also designed decorative objects for CARSTENS, and overseen the design department at the Wächtersbach earthenware factory.)  In addition to commissioned work, the couple produced creations of their own—notably elegant, figural sculptures made of bronze, whose simple, classical forms and sleek lines evoke the work of Henry Moore and Joannis Avramidis.  Atelier Syré houses a sculpture park home to more than 300 of these works.
| | |
| --- | --- |
| Designer | HEINZ SIERY |
| Manufacturer | Carstens Tönnieshof |
| Design Period | 1960 to 1969 |
| Production Period | Unknown |
| Country of Manufacture | Germany |
| Identifying Marks | This piece has an attribution mark |
| Style | Vintage, Mid-Century, Modernist, Space Age |
| Detailed Condition | Excellent — This vintage piece is in near original condition. It may show minimal traces of use and/or have slight restorations. |
| Product Code | |
| Materials | Ceramic |
| Color | Black, grey, red, white |
| Width | 5.5 inch |
| Depth | 5.5 inch |
| Height | 11.3 inch |