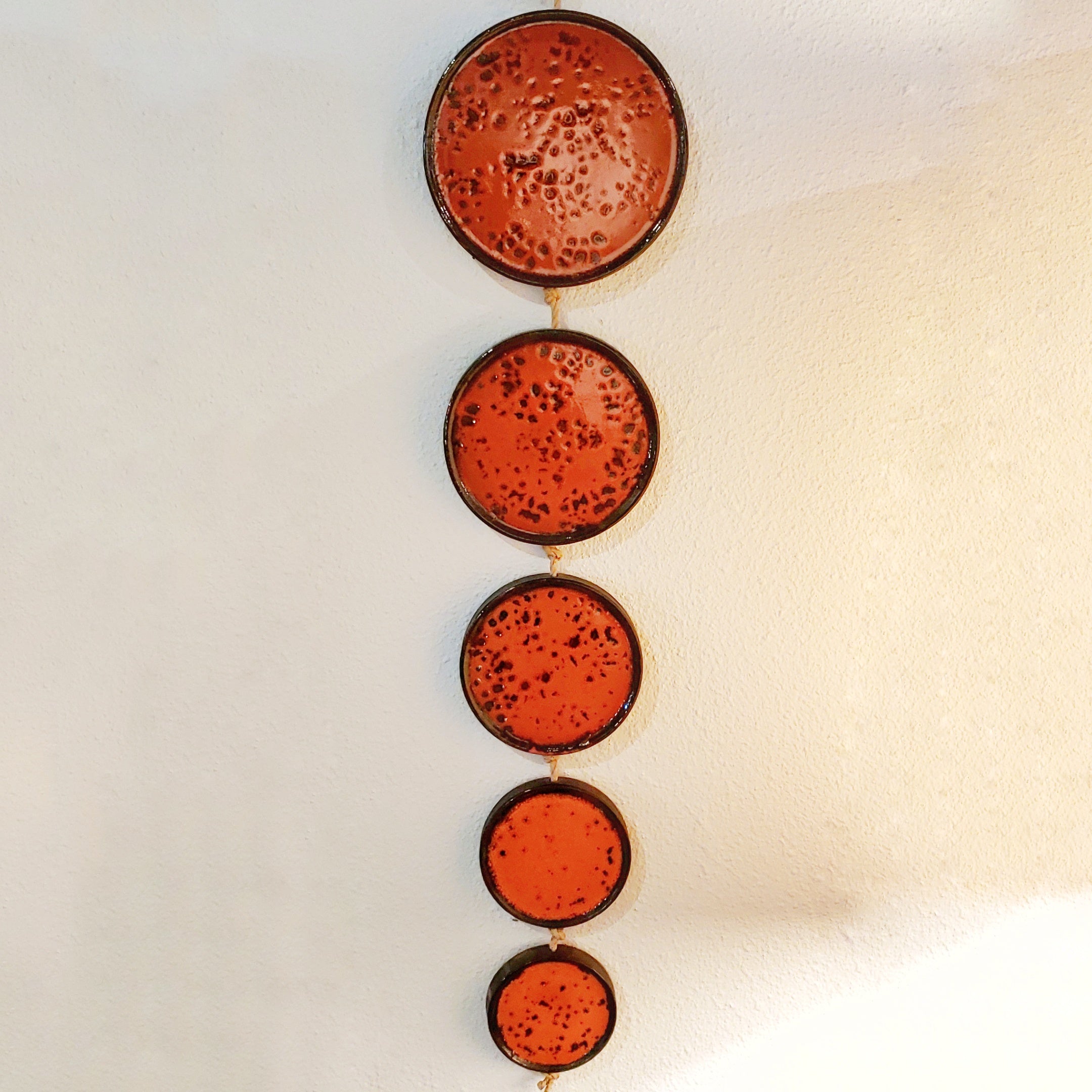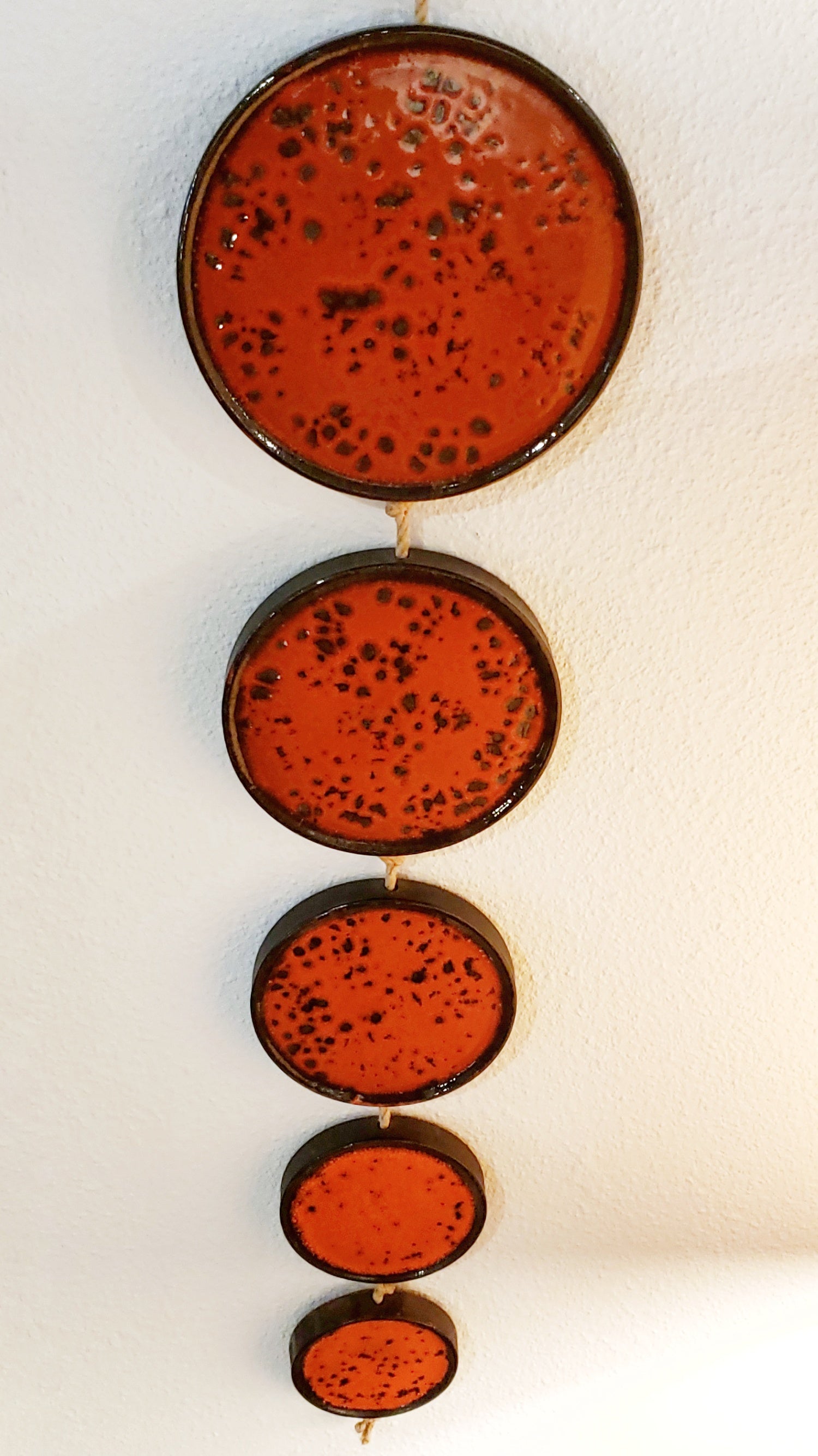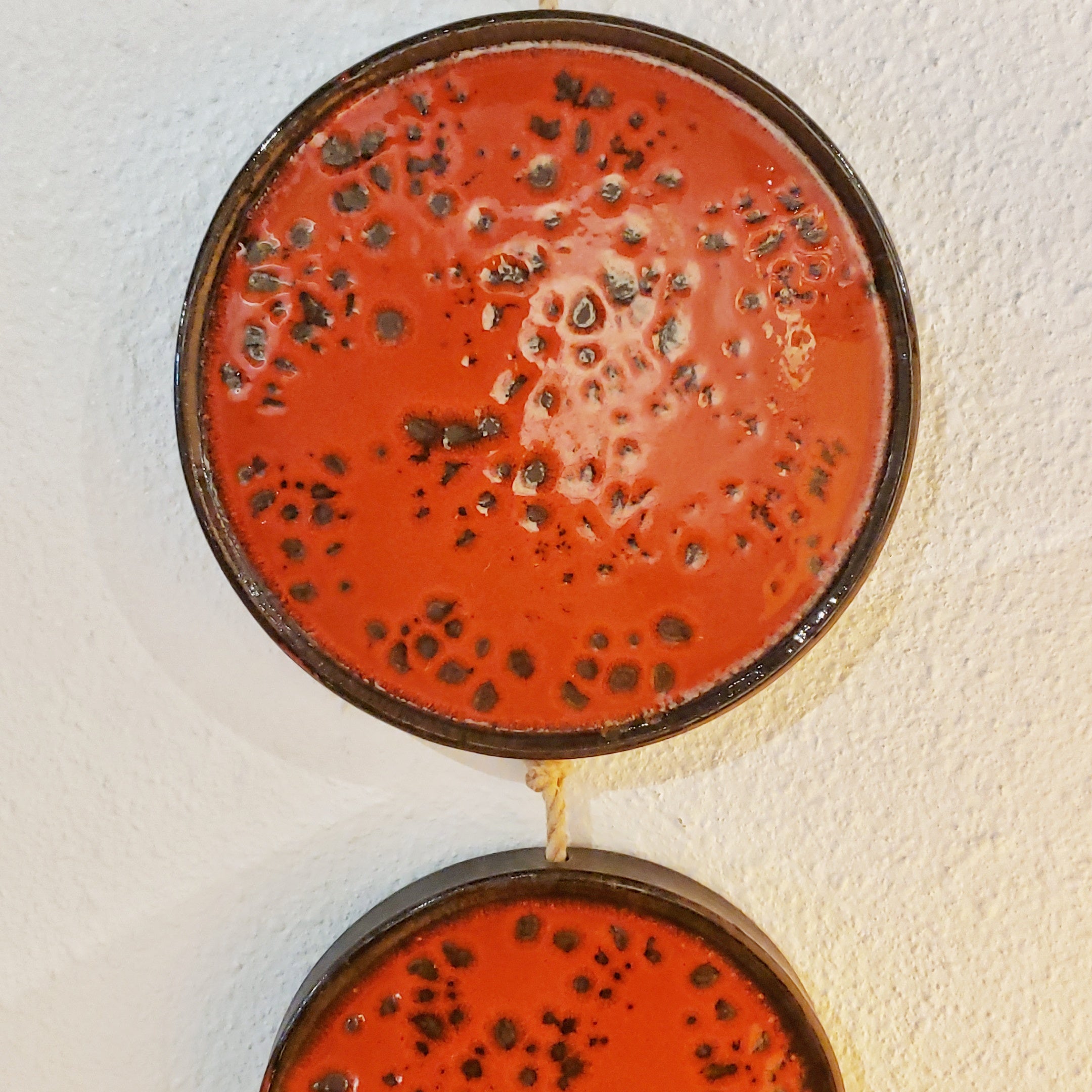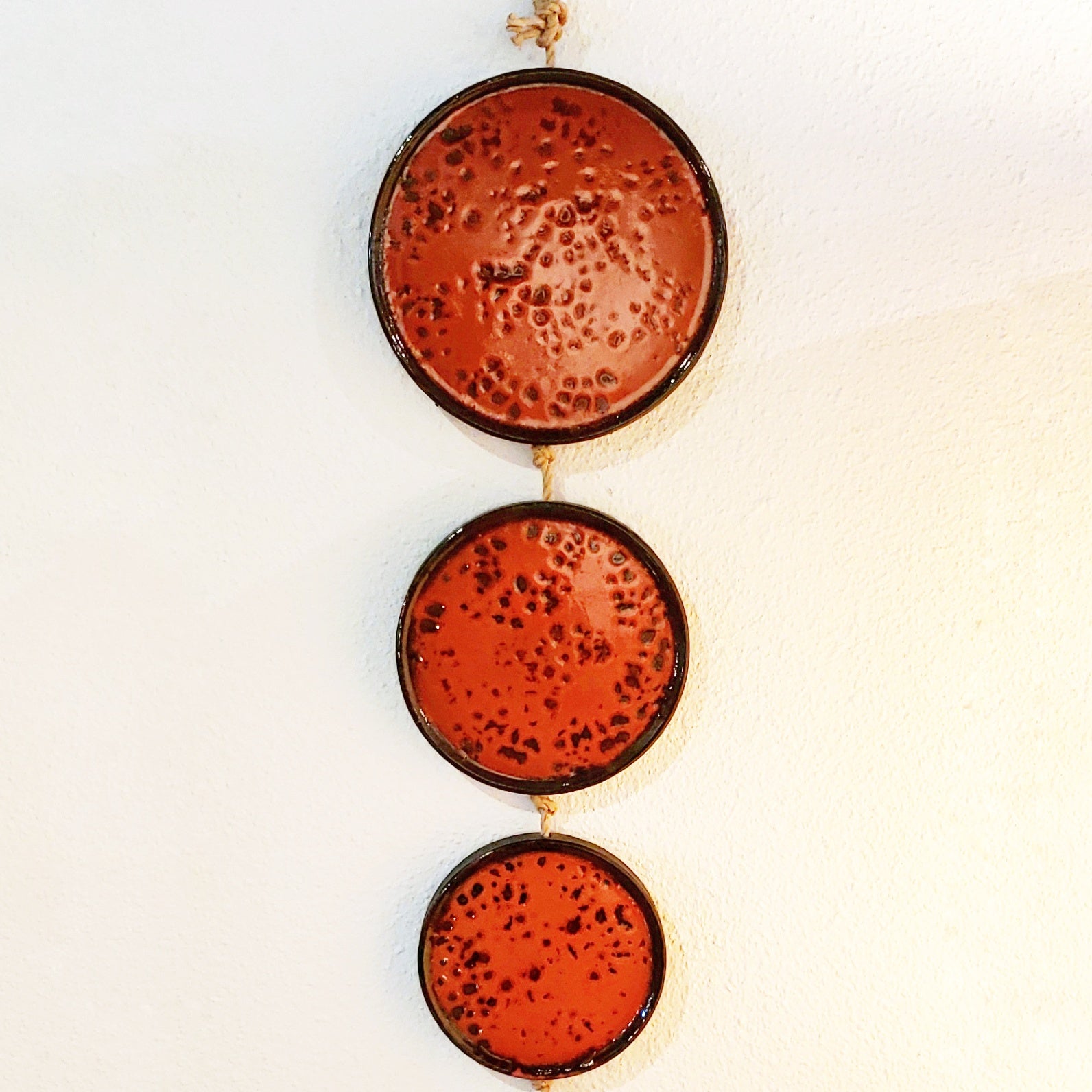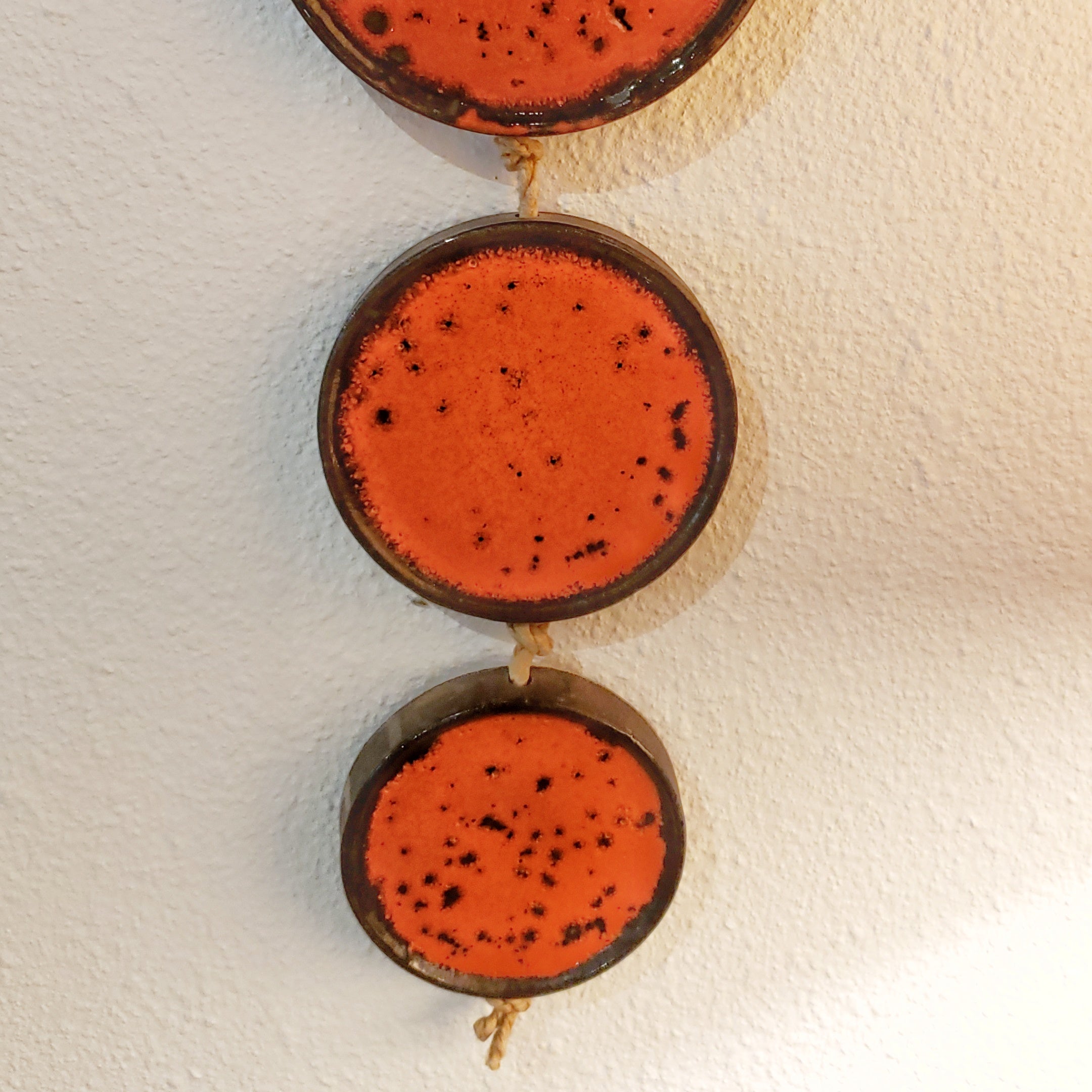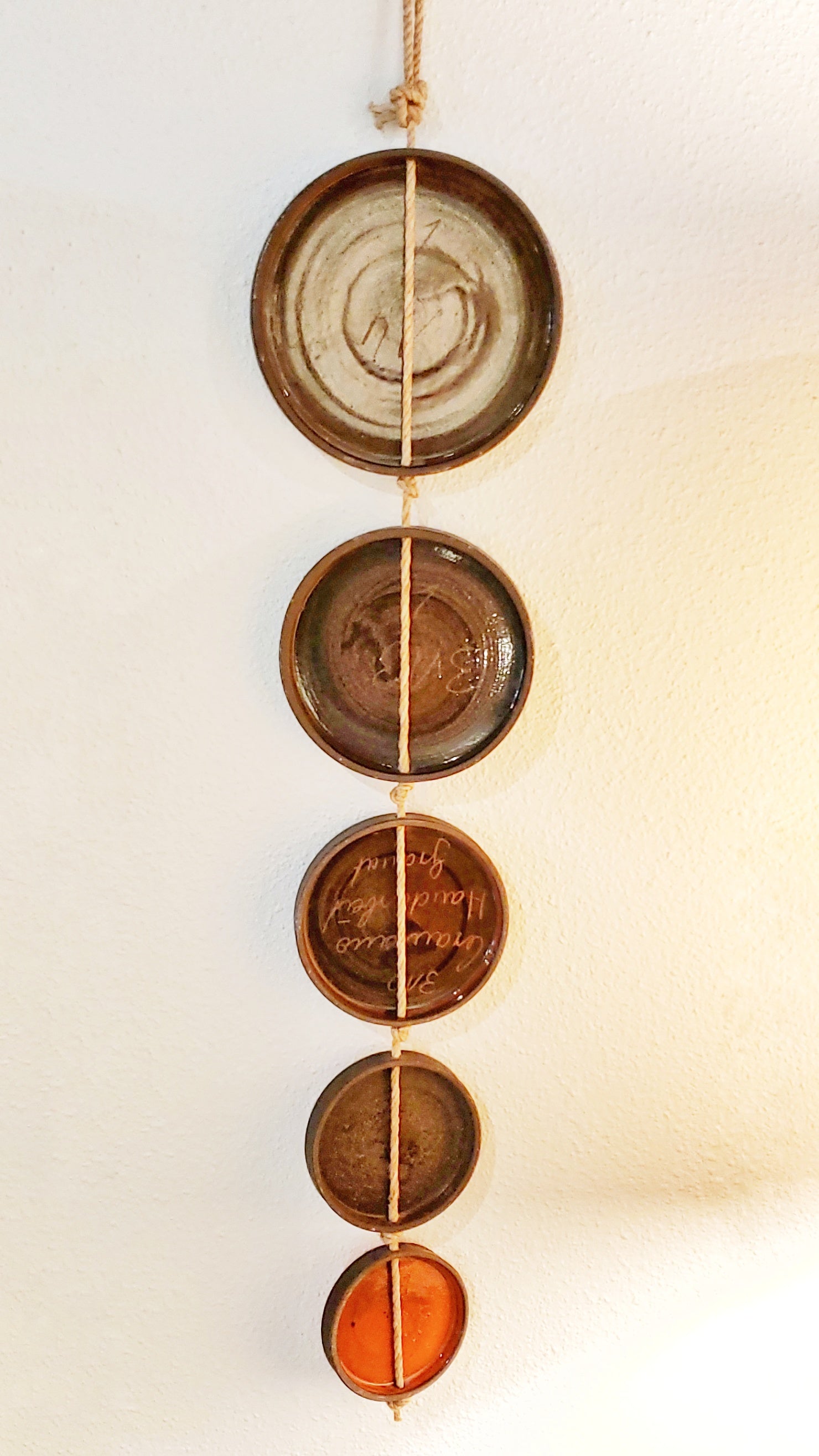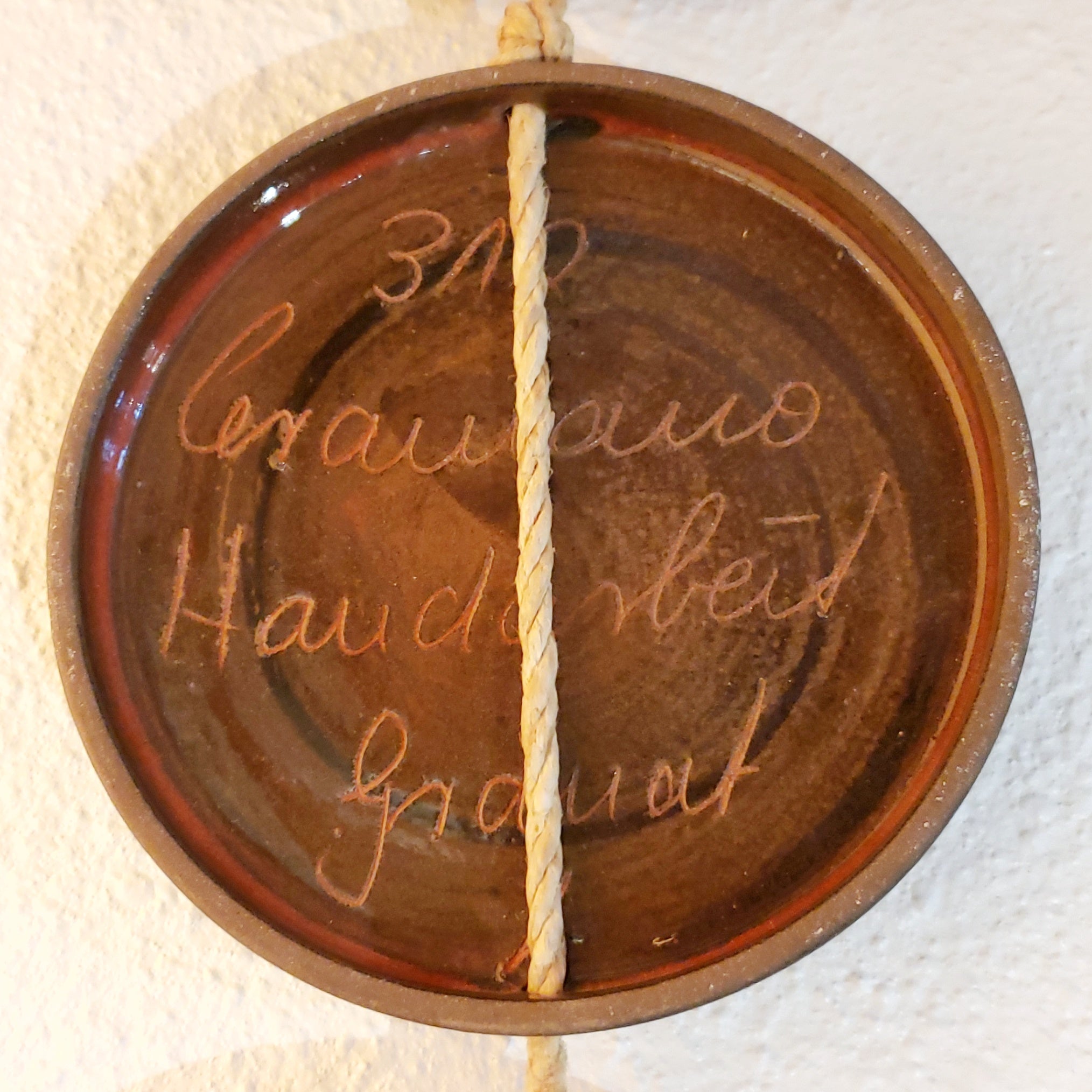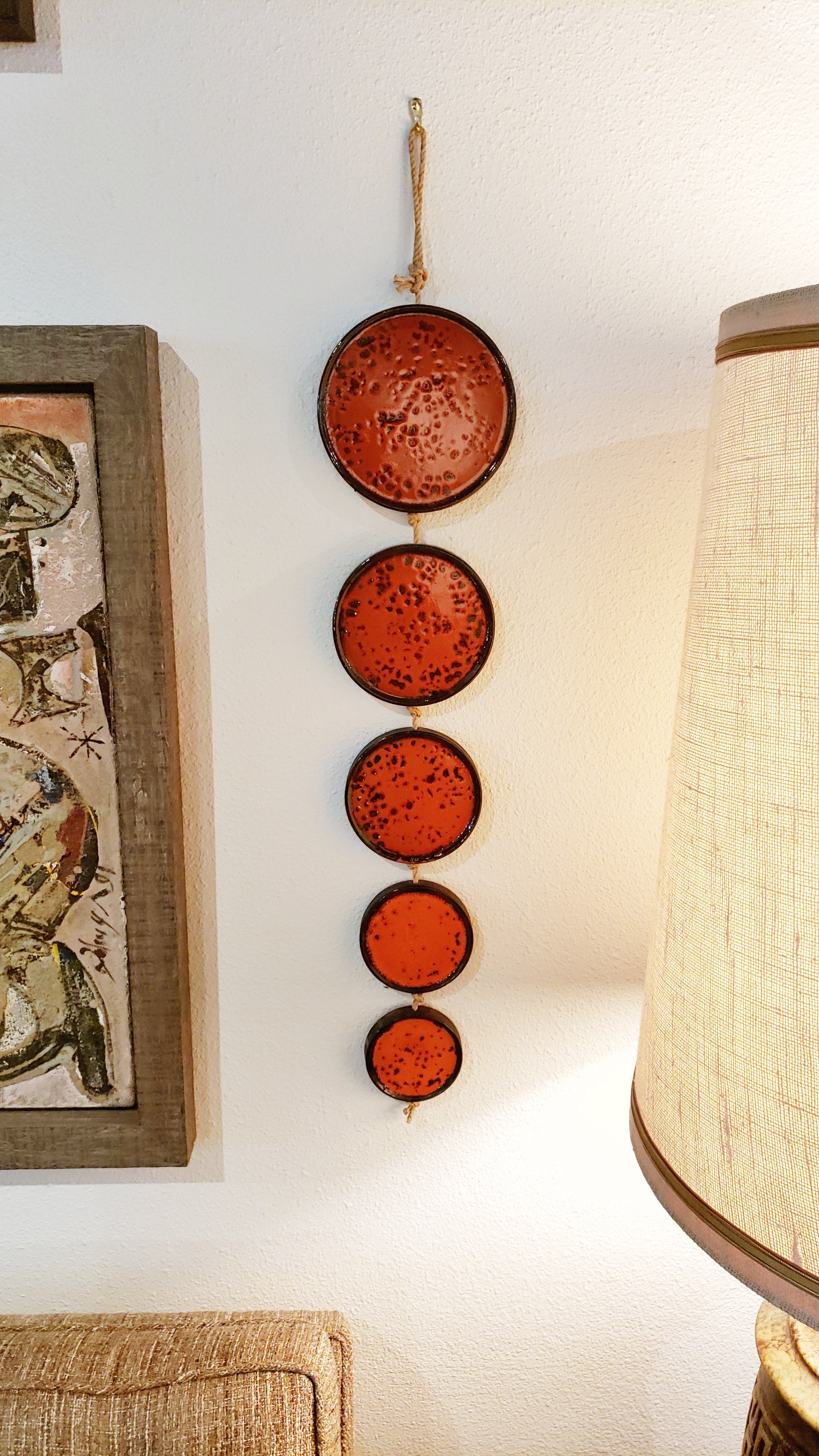 CERAMANO 'GRANAT' WALL HANGING
CONTACT US HERE ABOUT THIS ITEM.
From CERAMANO KERAMIK comes a complete collection of graduated plates finished in Hanns Welling's vibrant 'Granat' décor from the 1960s.  The five disks are suspended along a sturdy, 88-cm rope that is knotted at regular intervals to create this exceptional wall hanging.
HANNS WELLING was responsible for some of the most sophisticated output of several of the best post-war German art-pottery manufacturers—Keto, Ruscha, and CERAMANO among them.  He served as the last's artistic director in the early 1970s—otherwise little is recorded about his relationships with these firms.  Many famous CERAMANO shapes and decors are ascribed to him: 'Pergamon,' 'Koralle,' 'Minerva,' 'Ceralux,' 'Tundra.'  Welling also designed tableware and collectibles for Goebel Porzellan.
CERAMANO was the brainchild of Jakob Schwaderlapp, the founder of Jasba Keramik.  He set up the sister factory in 1959 to produce higher-end ceramics—artistic and often experimental—to complement the mass-produced lines of Jasba.  Previously the production of such items was restricted to small workshops; Schwaderlapp's concept was to replicate the look and feel of the work of craftsmen using modern production methods.  The enterprise went public at the Frankfurt Spring Fair with an extensive production range, and the designer Hanns Welling was introduced as the man in charge—responsible for all CERAMANO shapes and décors as well as all advertising.  Welling remained at the helm until 1962 when the position of head designer was handed to Gerda Heuckeroth (later known for her amazing body of work at Carstens).
To achieve its goals, CERAMANO employed many of the top artists of the day, notably (in addition to Welling and Heuckeroth) Dudas Laszlo.  The items it produced were generally of a high quality and a varied nature.  Many of the more expensive pieces were completely handmade on a wheel—using CERAMANO's signature reddish-brown clay, naturally.  Top decors include 'Pergamon,' 'Rustica,' and 'Rubin' plus rarities such as 'Saturn,' 'Incrusta,' and 'Achat.'  Bases are generally hand-marked or engraved by the décor artist with the shape number, décor name, and artist's initials (space permitting).  This practice enhanced the "studio work" semblance of CERAMANO pieces.  Schwaderlapp's son and partner, Willi Schwaderlapp, took over the company in 1964 and split it off from Jasba entirely.
[Note:  Whenever a shape number present, it usually has three-digits and is sometimes followed by a second number, ranging from one to six, that indicates relative size.  Whether or not text is included on the base depends largely on the size of the vase.  'Handarbeit,' or Handmade, is a common engraving.  Vases from later periods were provided with paper labels.]
CERAMANO continued to develop economically with the takeovers of Waku Feuerfest and Steinzeug- und Mosaikplattenfabrik in the 1970s, allowing for expansion into the production of tableware and architectural tiles, respectively.  Export share increased for a time, but the gambit ultimately proved unsuccessful.  As the 1980s progressed, interest in art pottery began to wane sharply.  CERAMANO finally closed its doors in 1989.  (Jasba is still in operation, producing industrial tiles exclusively.)
Design Period – 1965-1974
Country of Origin – WEST GERMANY
Designer – HANNS WELLING
Maker – CERAMANO
Attribution – MARKED
Materials – CERAMIC
Colors – ORANGE, DARK BROWN
Condition – VERY GOOD (no defects; may show slight traces of use)
Height (cm) – 88.0
Width (cm) – 17.0
Depth (cm) – 1.5