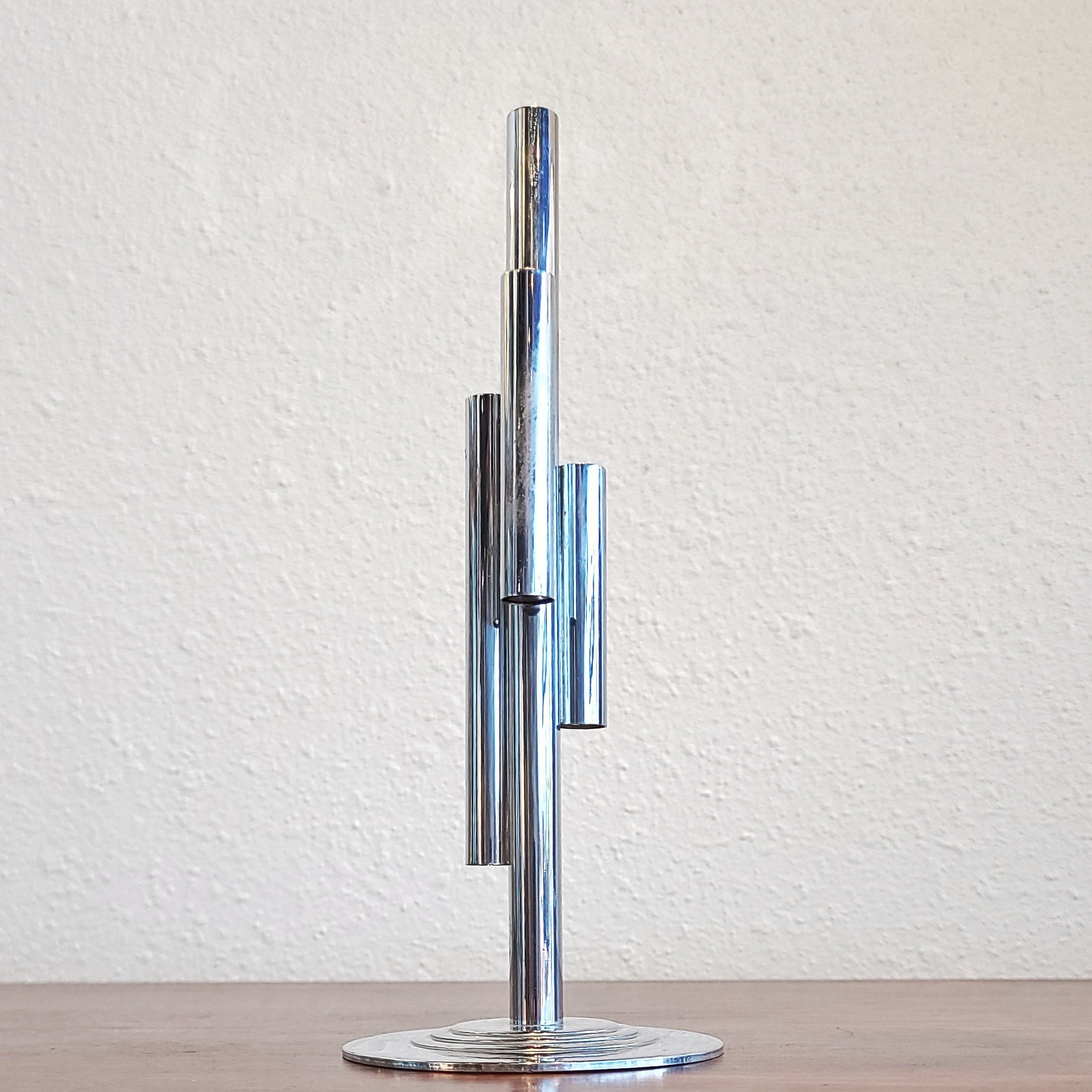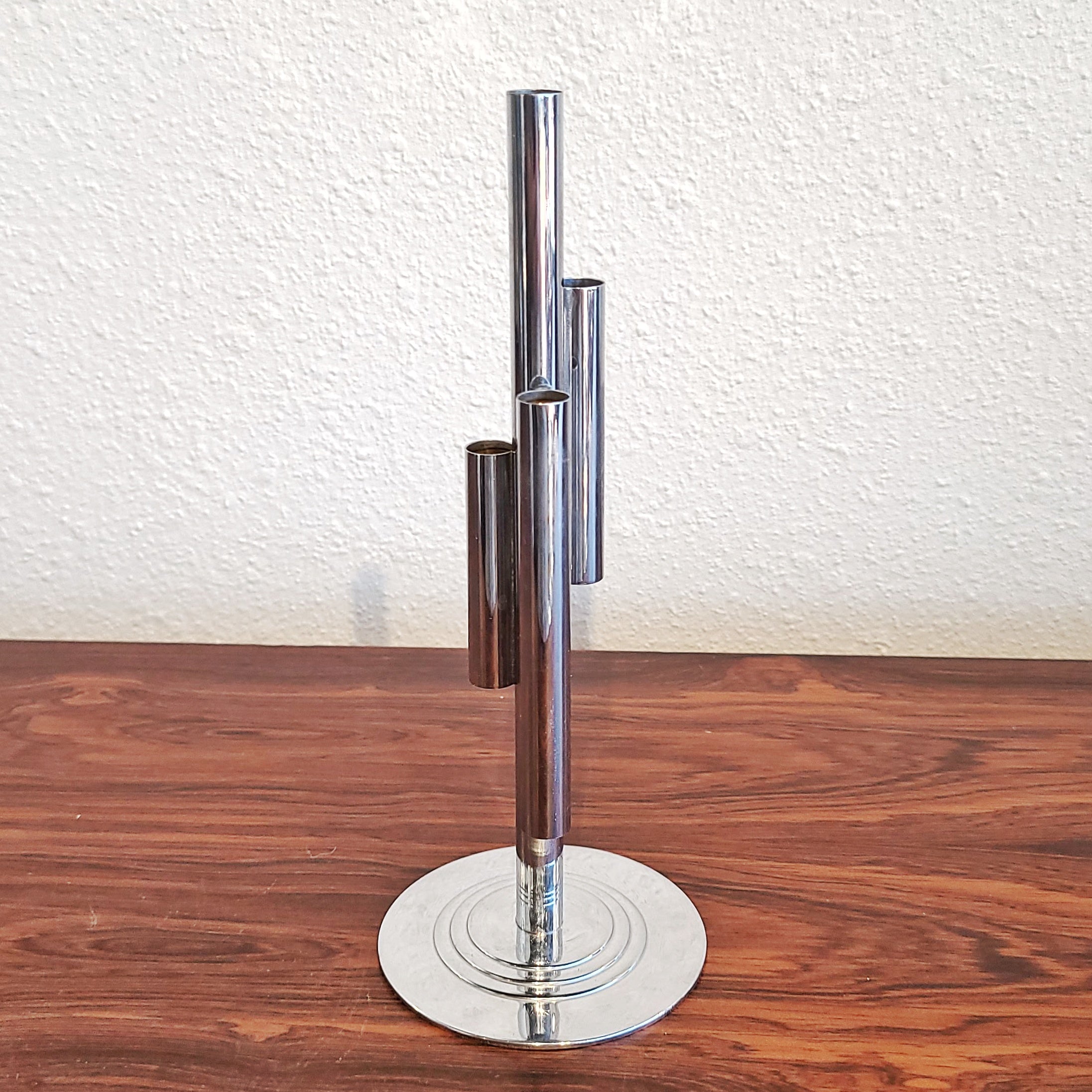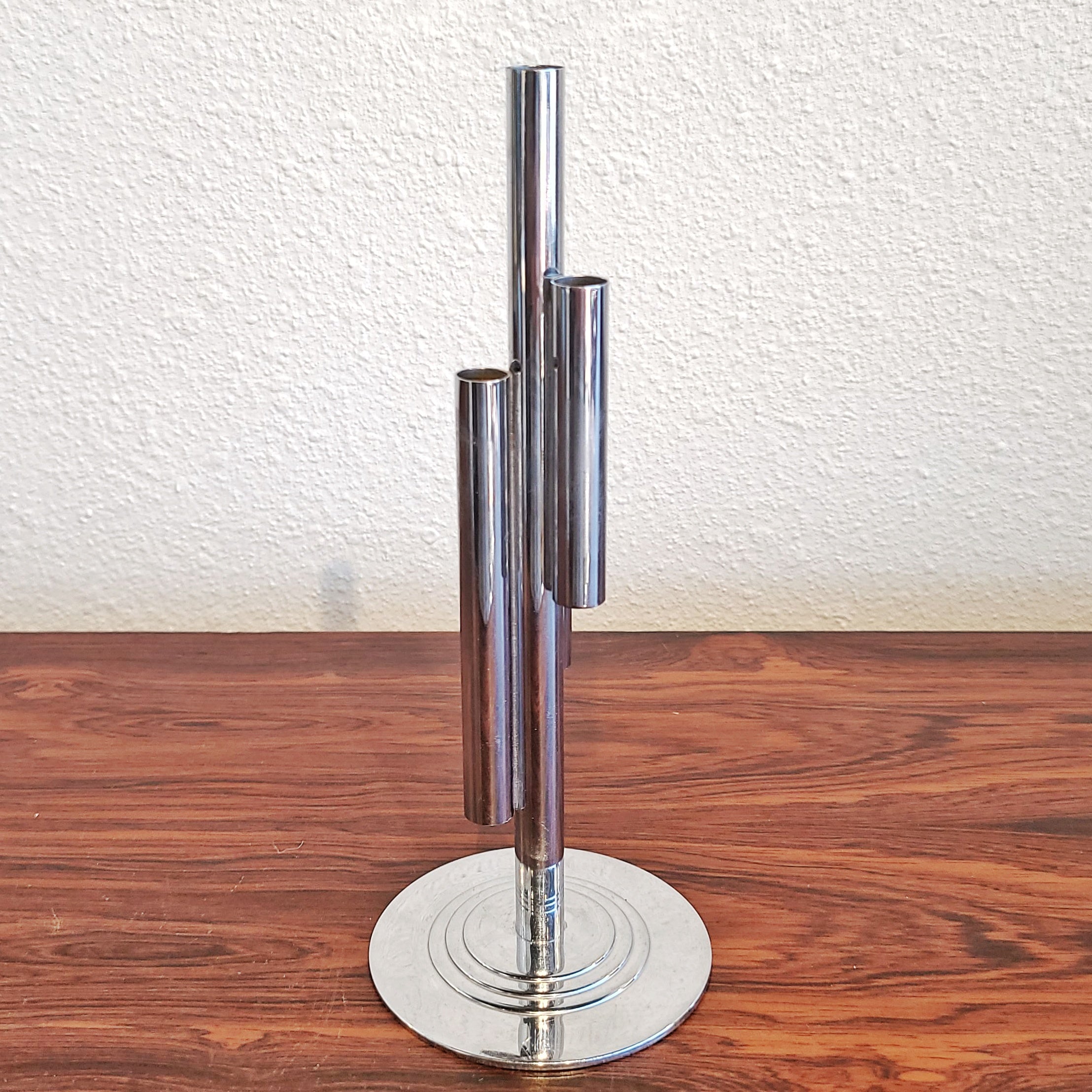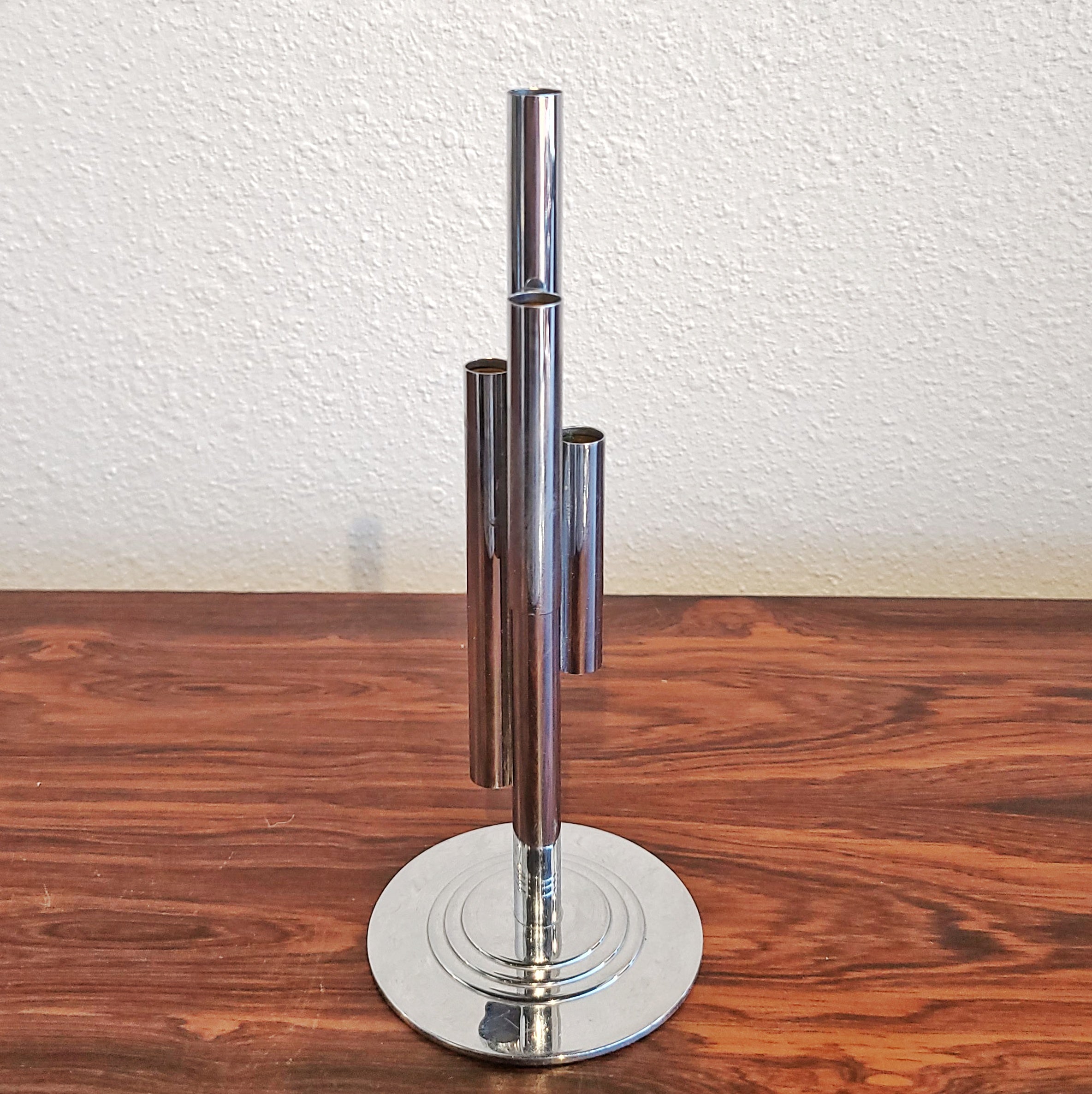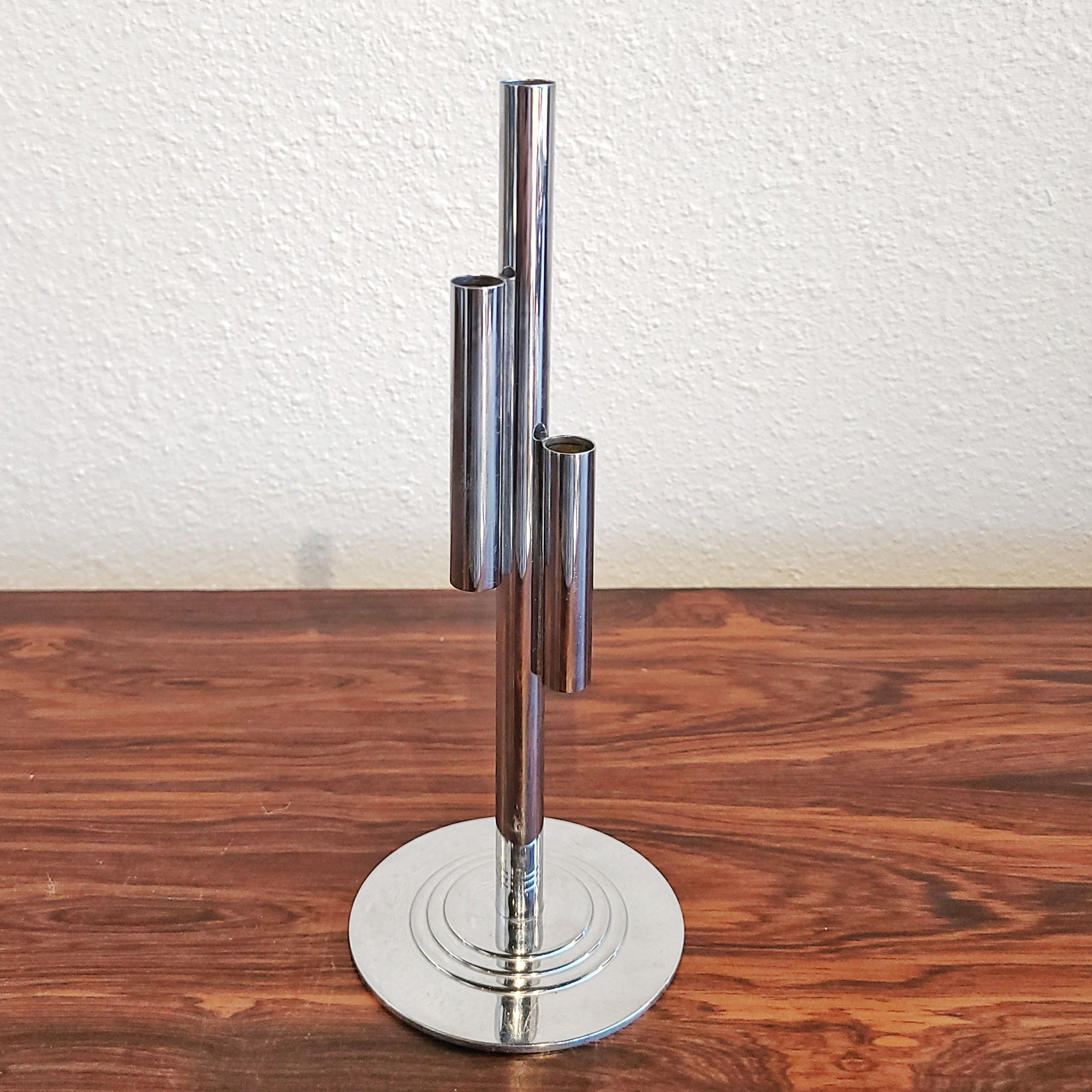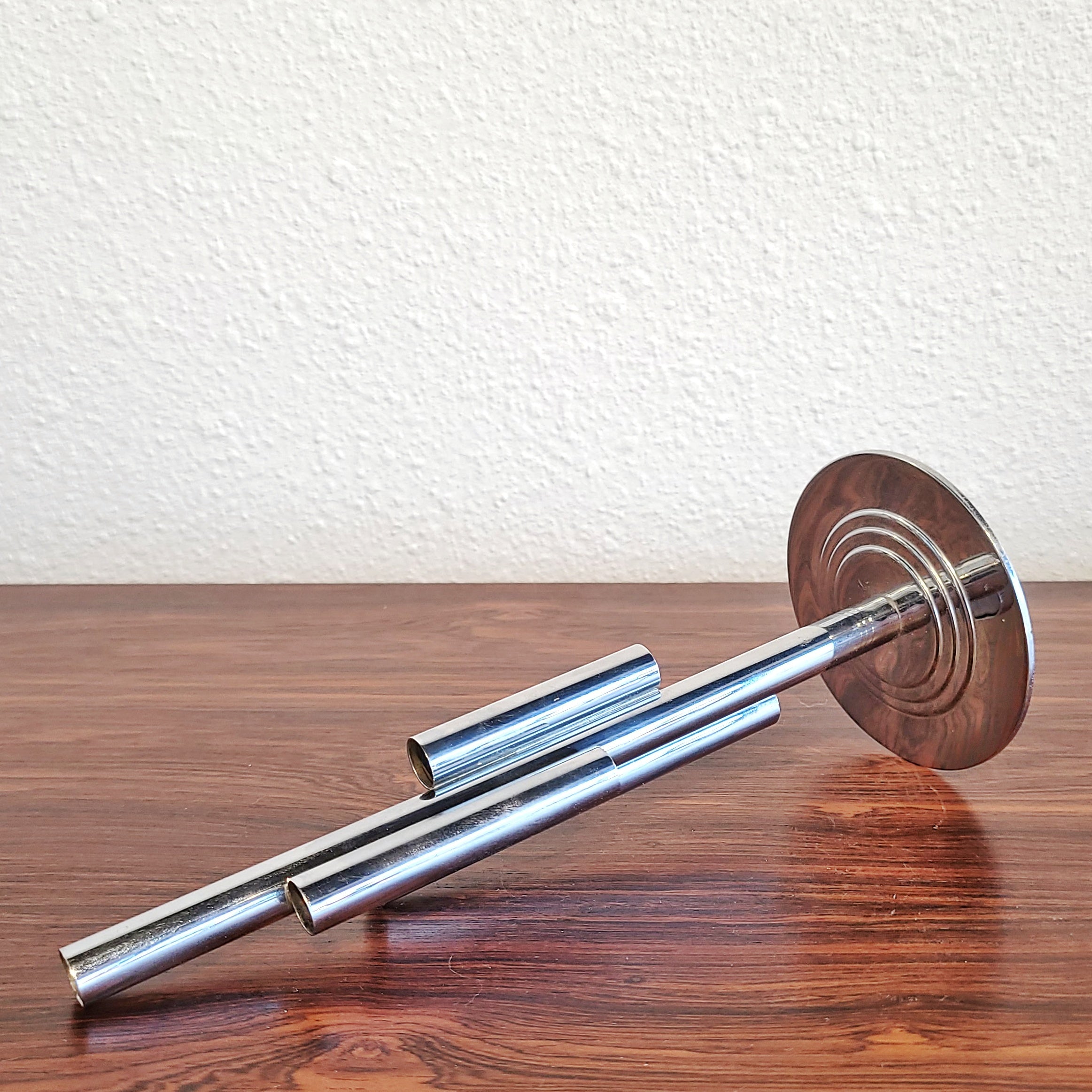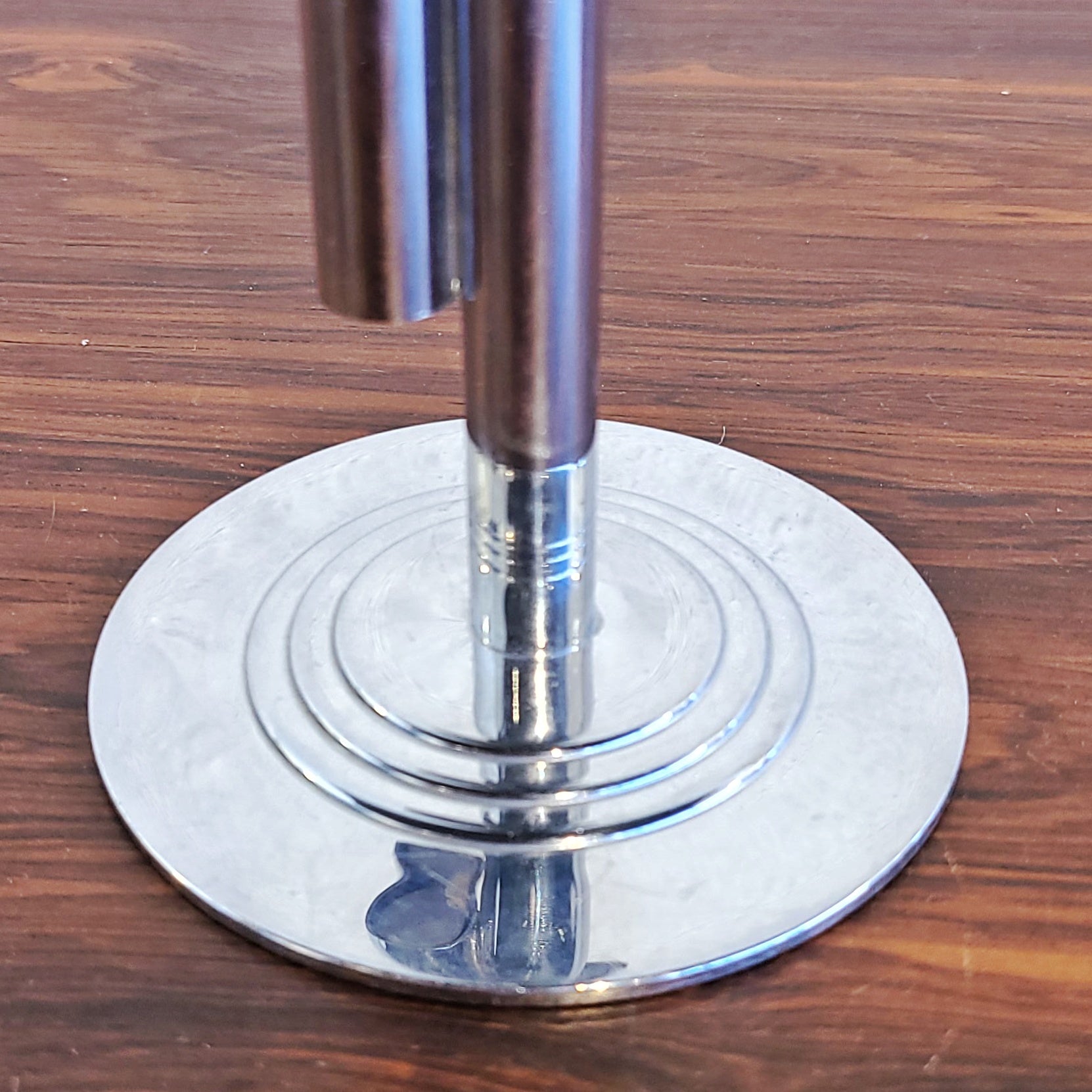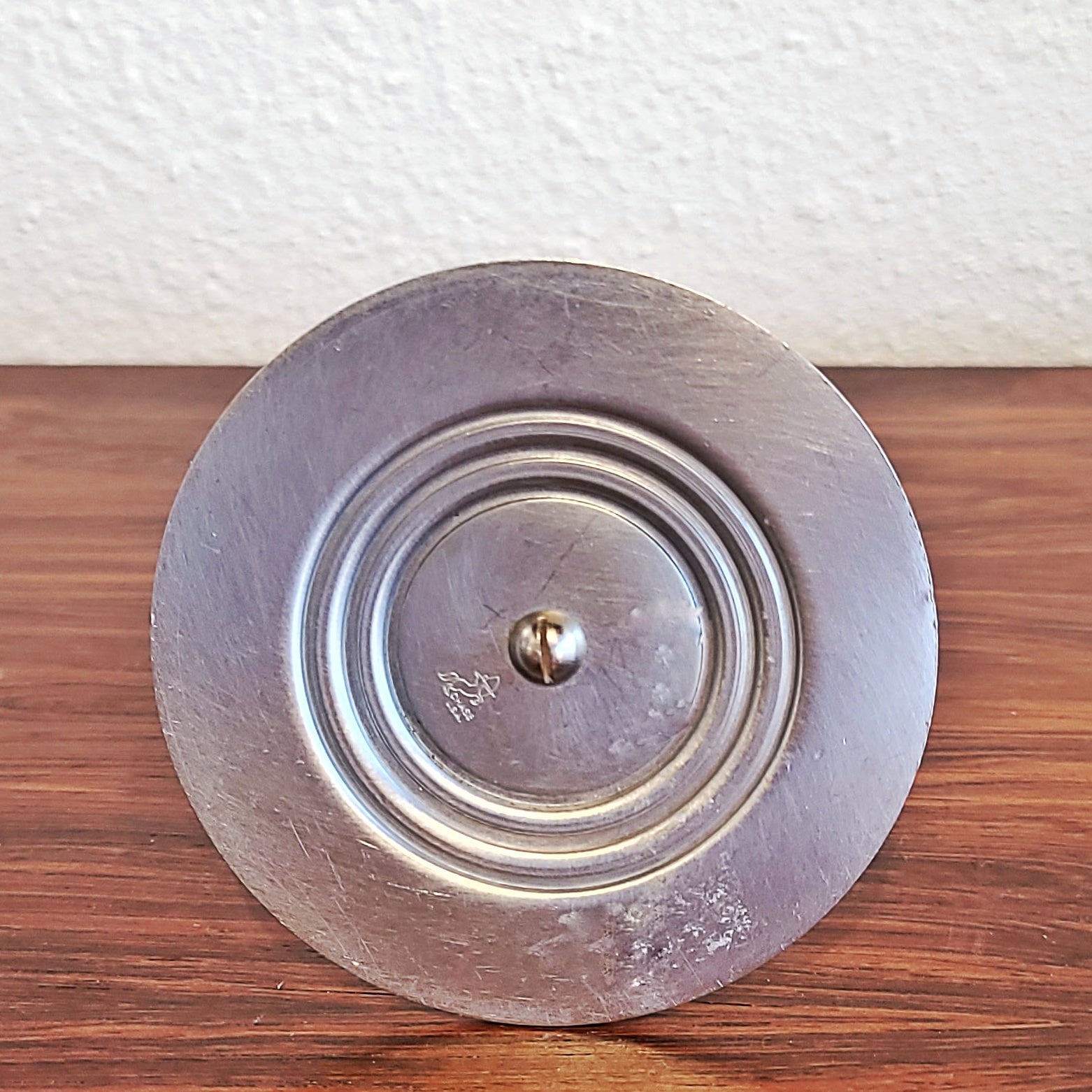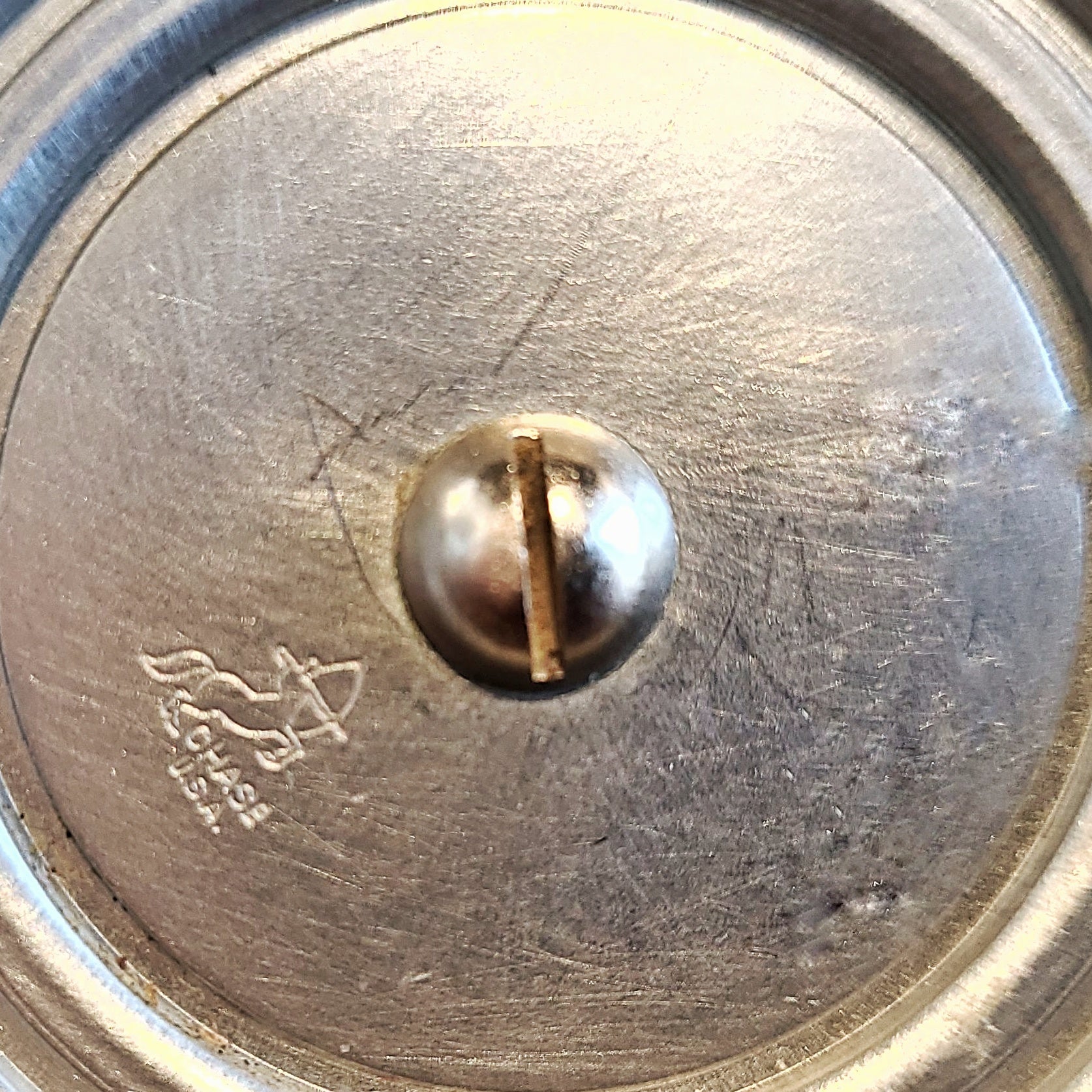 ART DECO BUD VASE DESIGNED BY RUTH GERTH FOR CHASE
CONTACT US HERE ABOUT THIS ITEM.
A beautiful, nearly pristine, tubular chrome Art Deco bud vase designed by Ruth Gerth in 1933 for the Chase Brass and Copper Company. This iconic design is comprised of a central chrome cylindrical tube rising from a flat circular chrome base.  Three additional chrome tubes are attached to the central tube in a staggered fashion. The vase bears the Chase maker's mark and logo on the bottom.  Dimensions 9.5" long x 7.5" high x 4.5" diameter
CHASE BRASS AND COPPER CO. was founded in Waterbury, Connecticut, in 1876 by Henry Sabin Chase. The company became one of the largest brass manufacturers in the city and continued to expand throughout the early 20th century, acquiring additional companies for the production of copper. The firm also produced consumer and industrial products including buttons, novelties, copper pipe, and plumbing supplies. During the 1930s, when demand for these types of goods declined due to the Great Depression, Chase, seeking to increase its business, entered the consumer market with a line of modern household goods in the Art Deco style, made of chrome-plated metal, copper, and brass. The stylish, streamlined wares were created by some of the leading industrial designers of the day, including Russel Wright, Rockwell Kent, Lurelle Guild, and Walter Von Nessen.  They were usually signed with the distinctive company logo of a centaur drawing a bow.  This specialty product line resulted in more than 500 decorative accessories, tableware, and lighting, designs, and lasted for only twelve years. Chase discontinued the line in the early 1940s when the company was engaged by the US government to produce war materials, such as shells and gun casings.  Although the company still exists today, It is this short-lived line of decorative housewares for which Chase is most well known.  These items are highly sought after today by collectors of American streamlined Art Deco. Chase moved from Waterbury, Connecticut in 1975. Today, Chase Brass and Copper Company, LLC is based in Montpelier, Ohio.
RUTH GERTH was born in Illinois in 1897.  By her late teens, she had developed a keen interest in art and design, and pursued her education at the Chicago Art Institute.  From the 1920s onwards, she was active as an illustrator and an interior and industrial designer.  After her marriage to the architect William Gerth, the couple established the design studio Gerth & Gerth, which specialized in metalwork.  The firm was responsible for the design of over 1000 objects, ranging from a radio and a man's electric razor to a watering can.
During the 1930s and 1940s, Her most prominent client was the Chase Brass & Copper Company of Waterbury, Connecticut, for whom she designed novelties and planned the offices, gift shop, showrooms, and accessory displays in the company's new offices in the Chase Tower in Manhattan in the 1930s.  In an article in the September 1933 issue of 'Design', it was commented that "Ruth Gerth [was] one of the more resourceful industrial designers" for Chase (p.10). She was known for her ability to recycle discarded material and old stock at Chase and 'reimagine' the shapes into some of their best-selling pieces. A number of her designs for Chase were patented. A candleholder designed by Gerth & Gerth for Chase is illustrated in 'The Machine Age in America 1918-1941' by Richard Guy Wilson, Dianne H. Pilgrim, and Dickran Tashjian (New York, NY: Brooklyn Museum of Art/Harry N. Abrams, Inc., 1986 p.326). Ruth Gerth also designed lanterns for the R.E. Dietz Company.
She was a member of the Society of Illustrators and the Artists Guild, an association of freelance artists which had been founded in 1920 to promote fair practices for the employment of freelance artists.  She served as their president in 1936.
In the late 1940s, with the jewelry designer Milton Cavagnaro (1913-1993), the photographer and lithographer Leo Holub (1916-2010), and the architect and furniture designer George Kosmak, the Gerths formed the multidisciplinary design group Design Development in San Francisco.

Ruth Gerth's work was exhibited at the Metropolitan Museum of Art in New York City; the Museum of Modern Art in New York City; and the Art Institute of Chicago in Chicago, Illinois. Among awards she received was the first prize in the American Face Brick Association contest for face brickwork for garden and grounds of residences (late 1920s or early 1930s).  Ruth Gerth dies in 1952.

Details
Dimensions

3.5ʺW × 3.5ʺD × 8.75ʺH
Styles

Art Deco
Industrial
Minimalism

Brand

Chase Brass and Copper Company
Designer

Ruth and William Gerth
Period

1930s
Place of Origin

United States of America
Item Type

Vintage, Antique or Pre-owned
Materials

Brass
Chrome
Condition

Very Good Condition, Original Condition Unaltered, No Imperfections
Color

Silver
Condition Notes

Excellent Vintage Condition