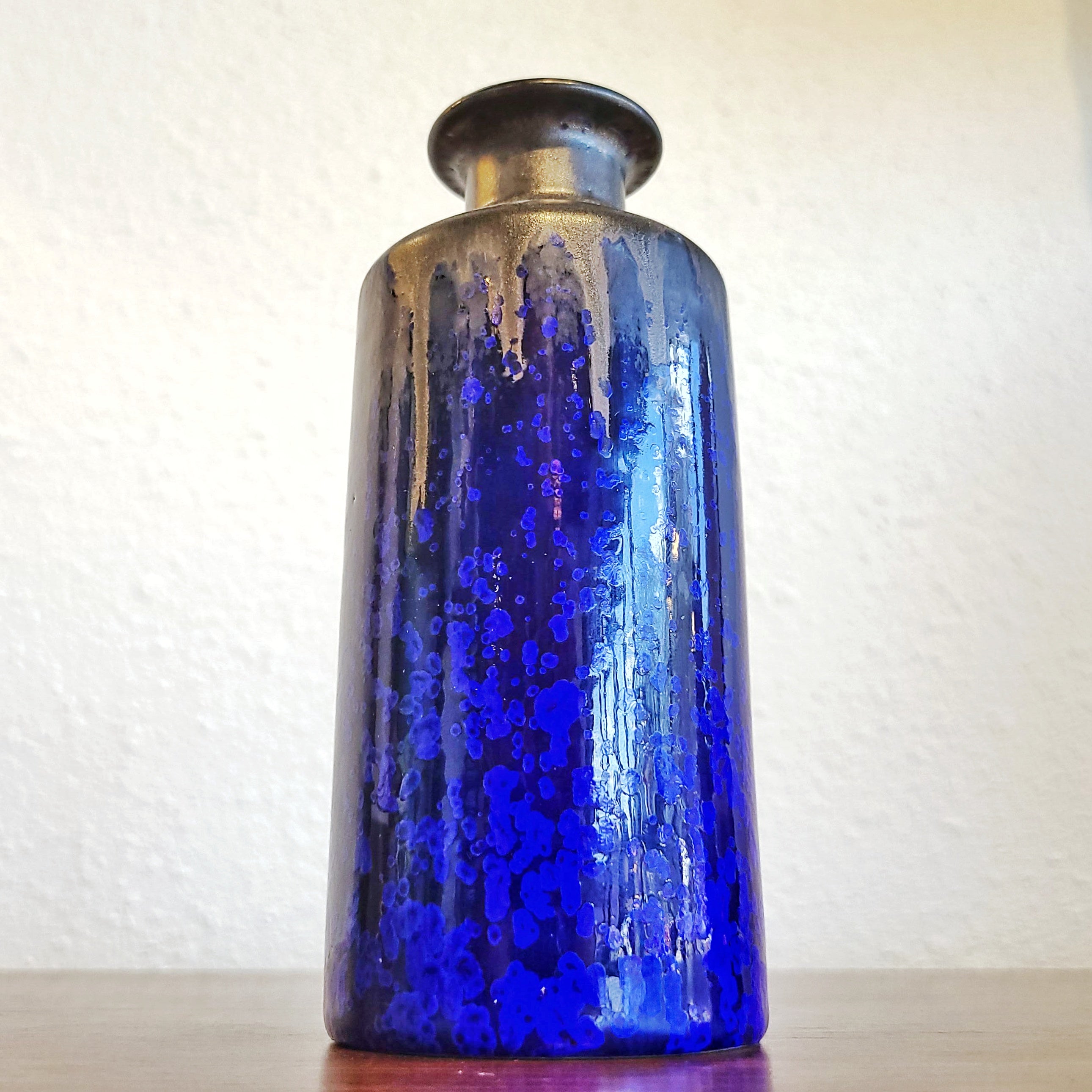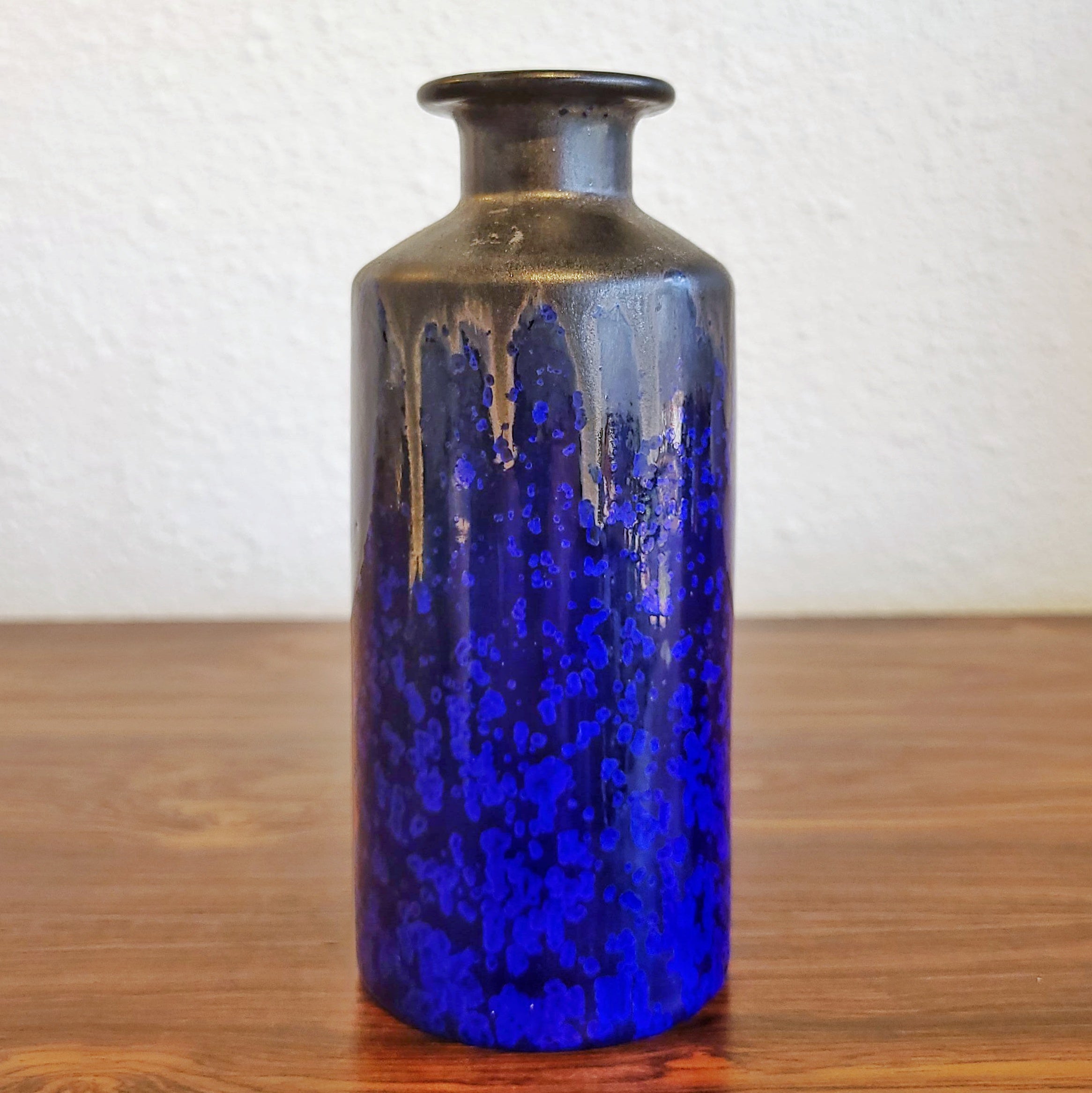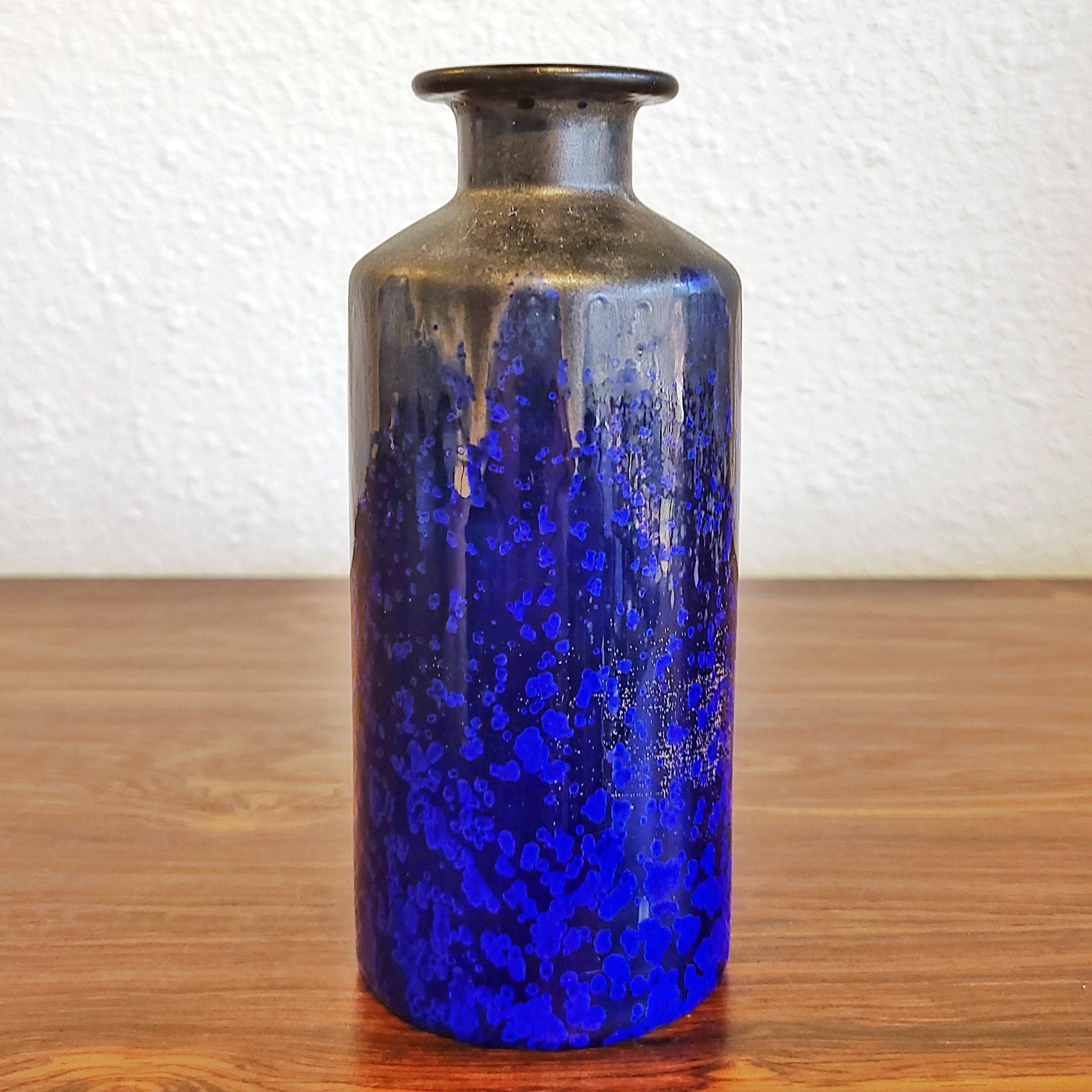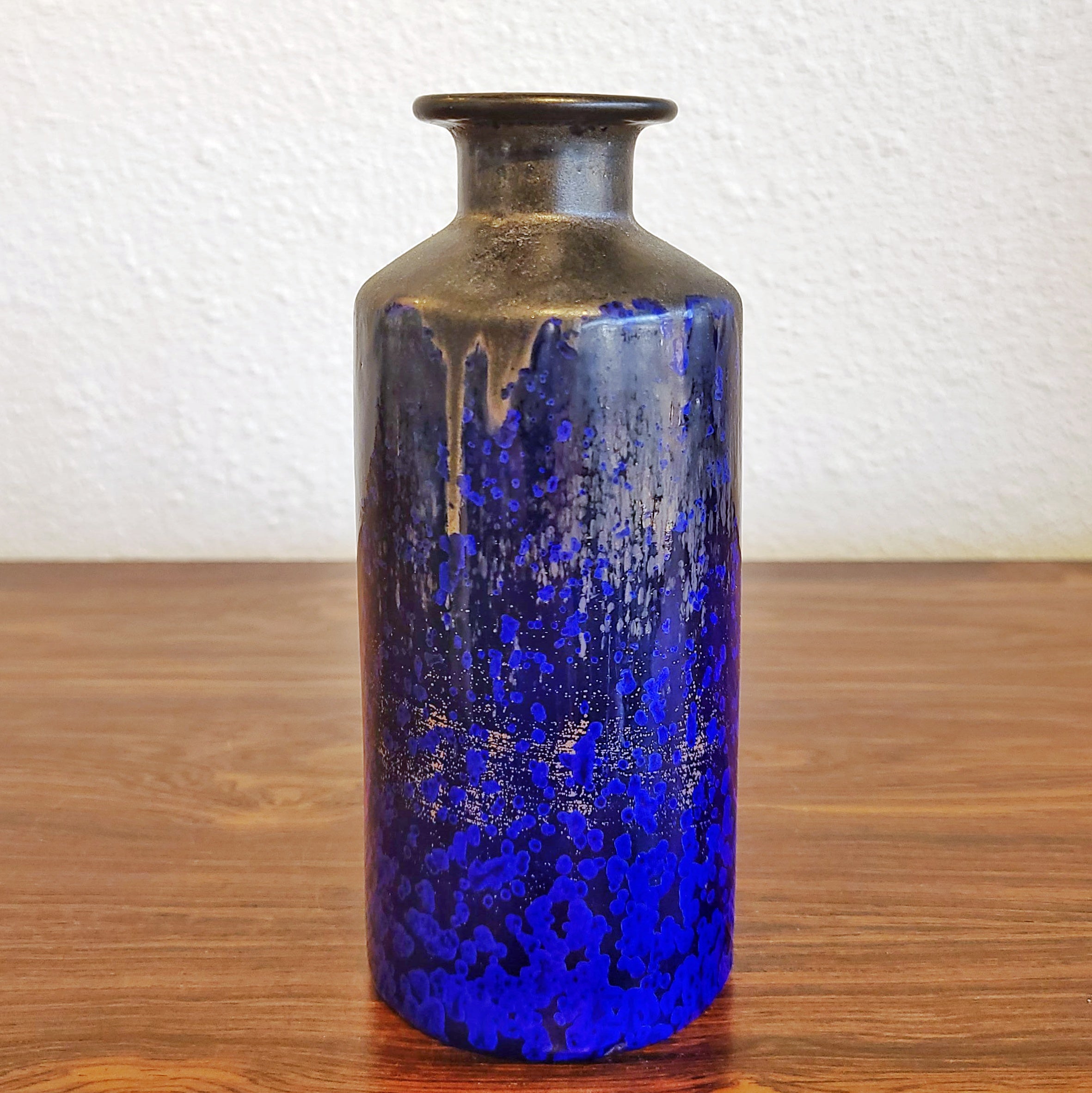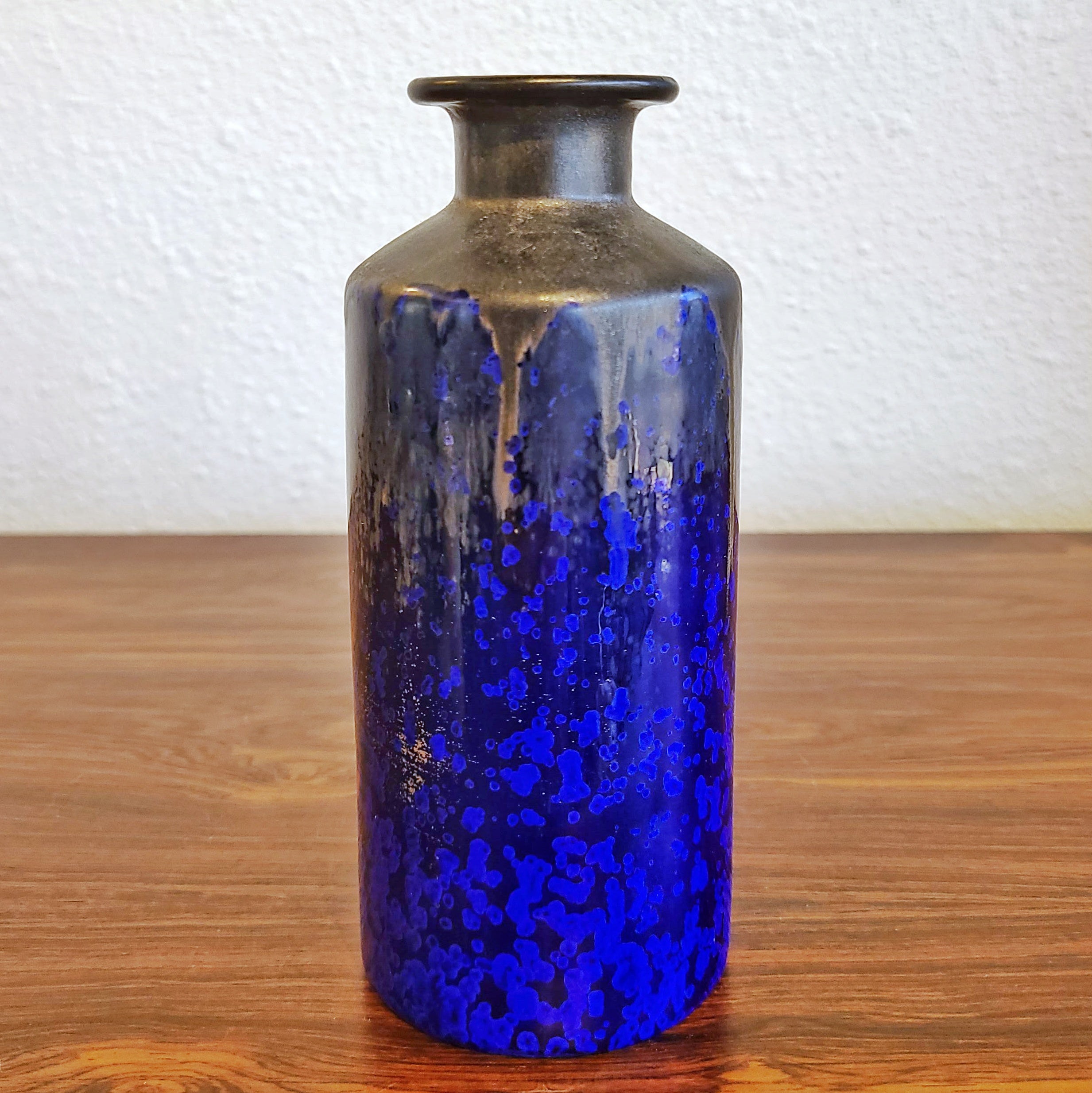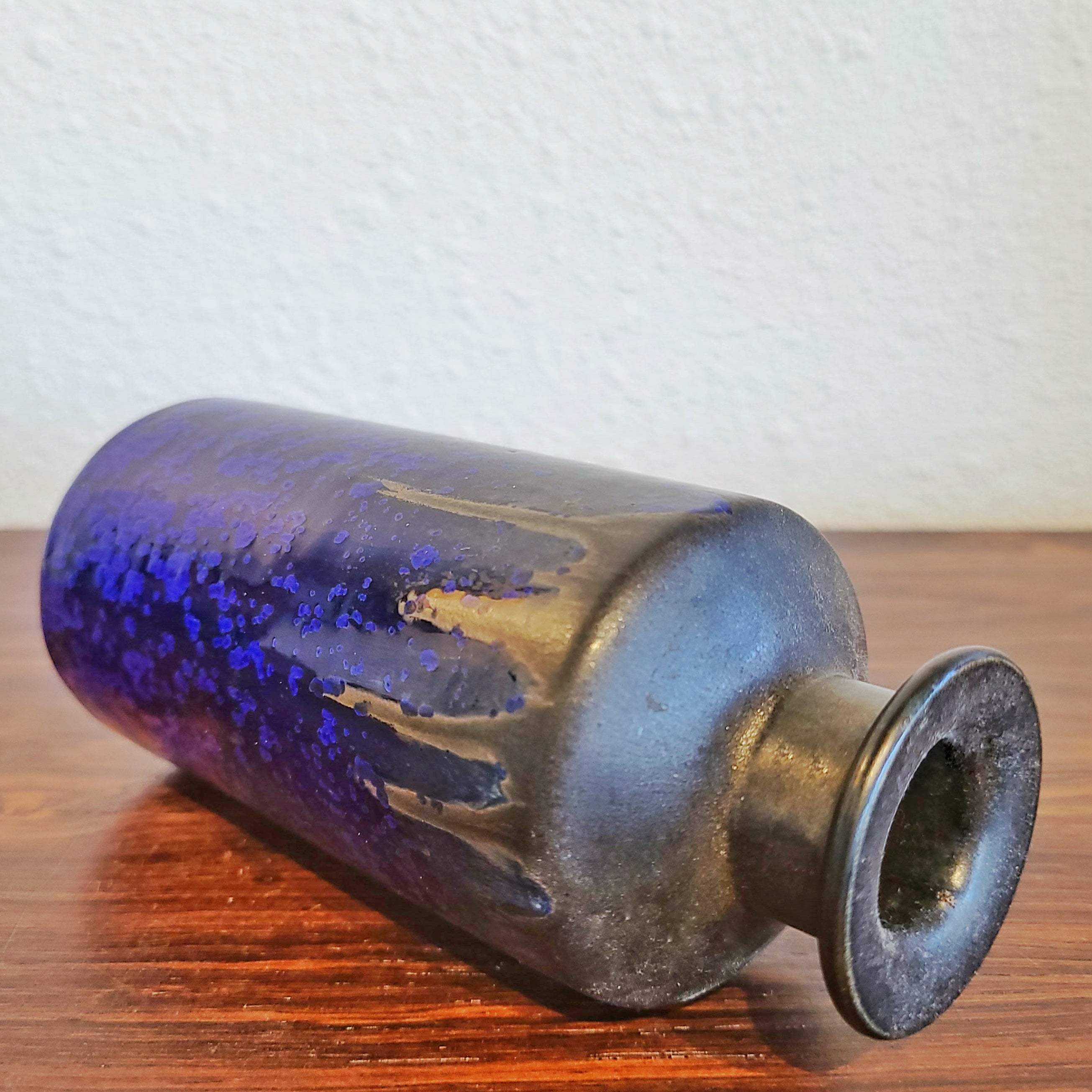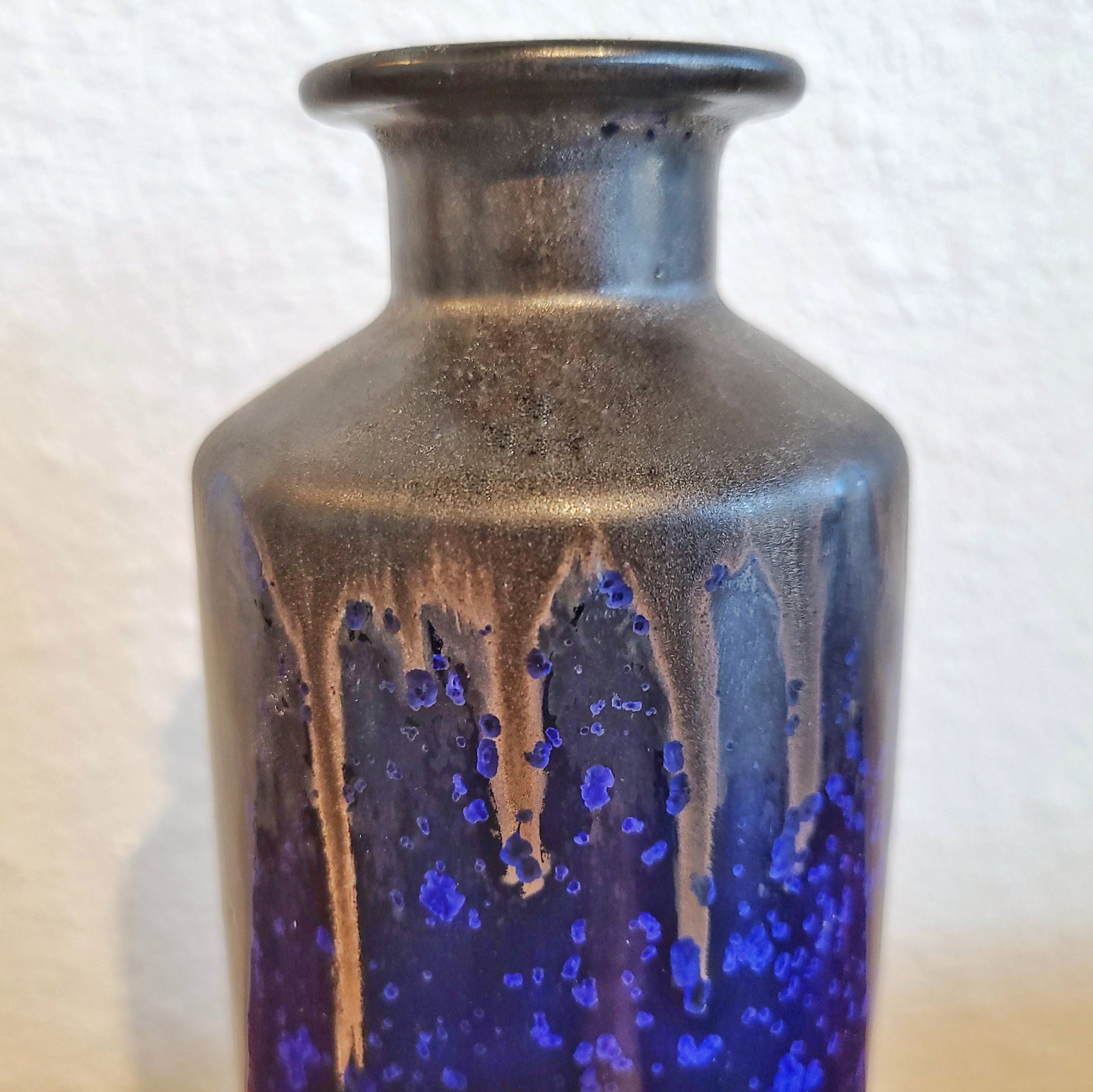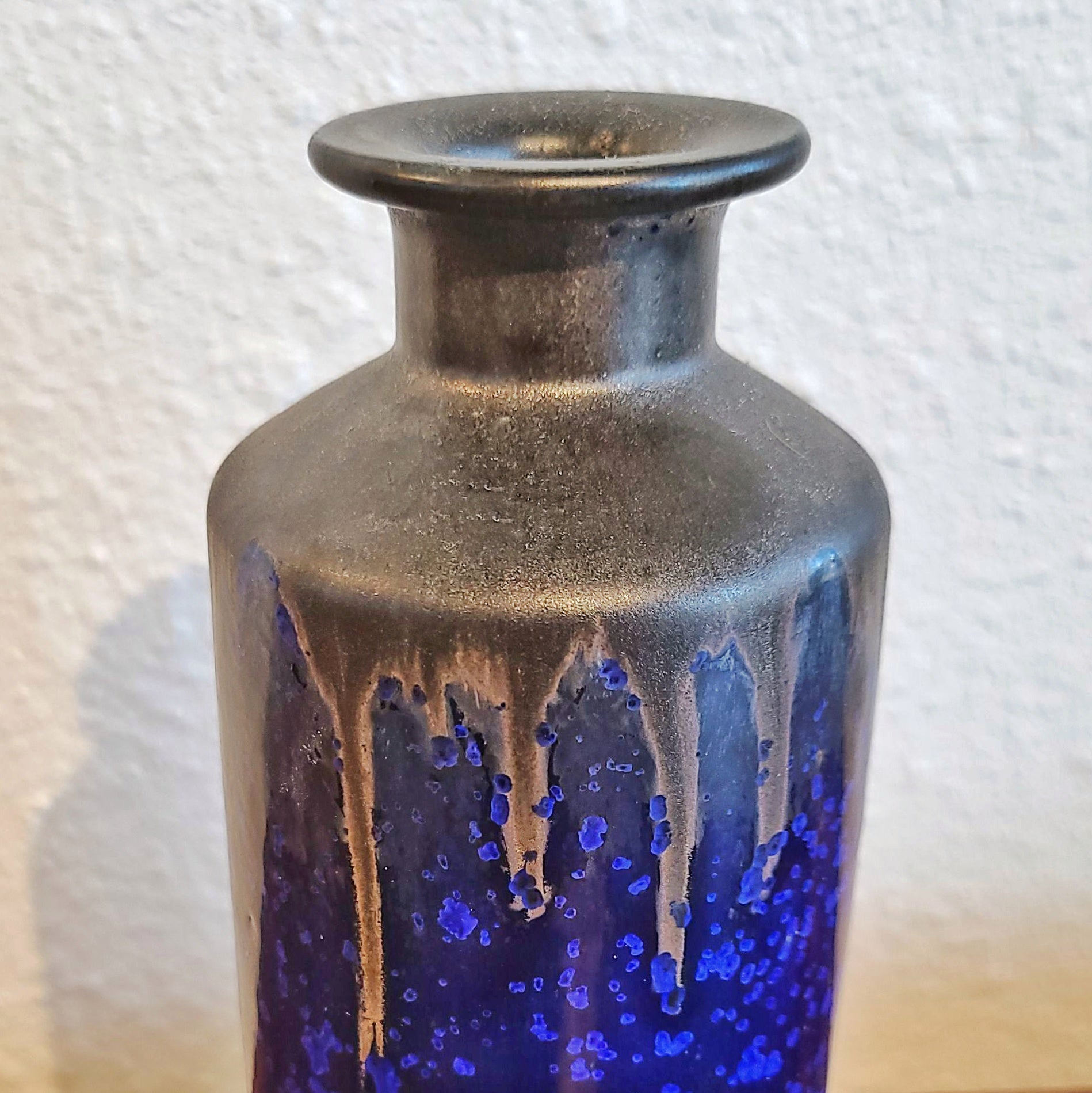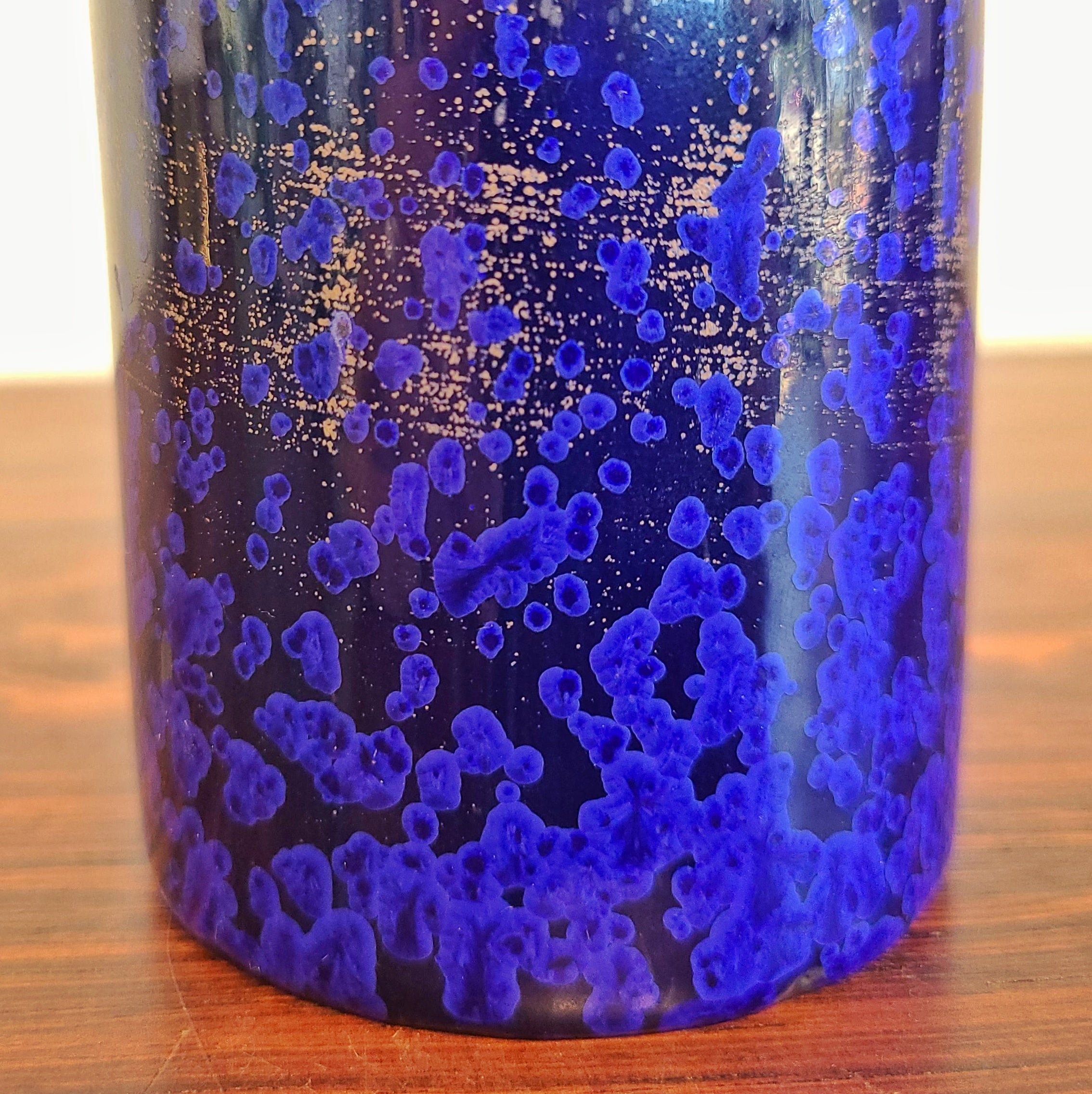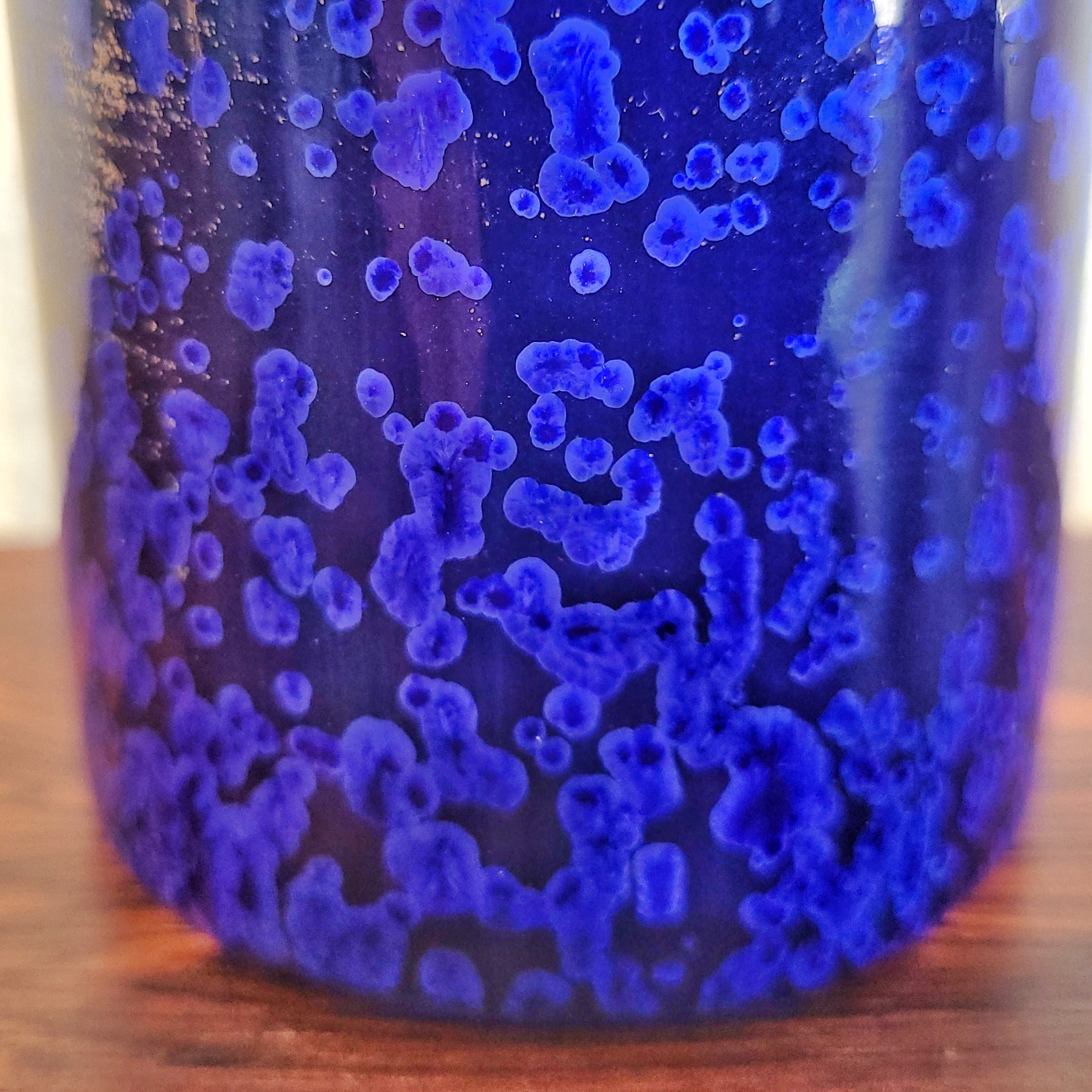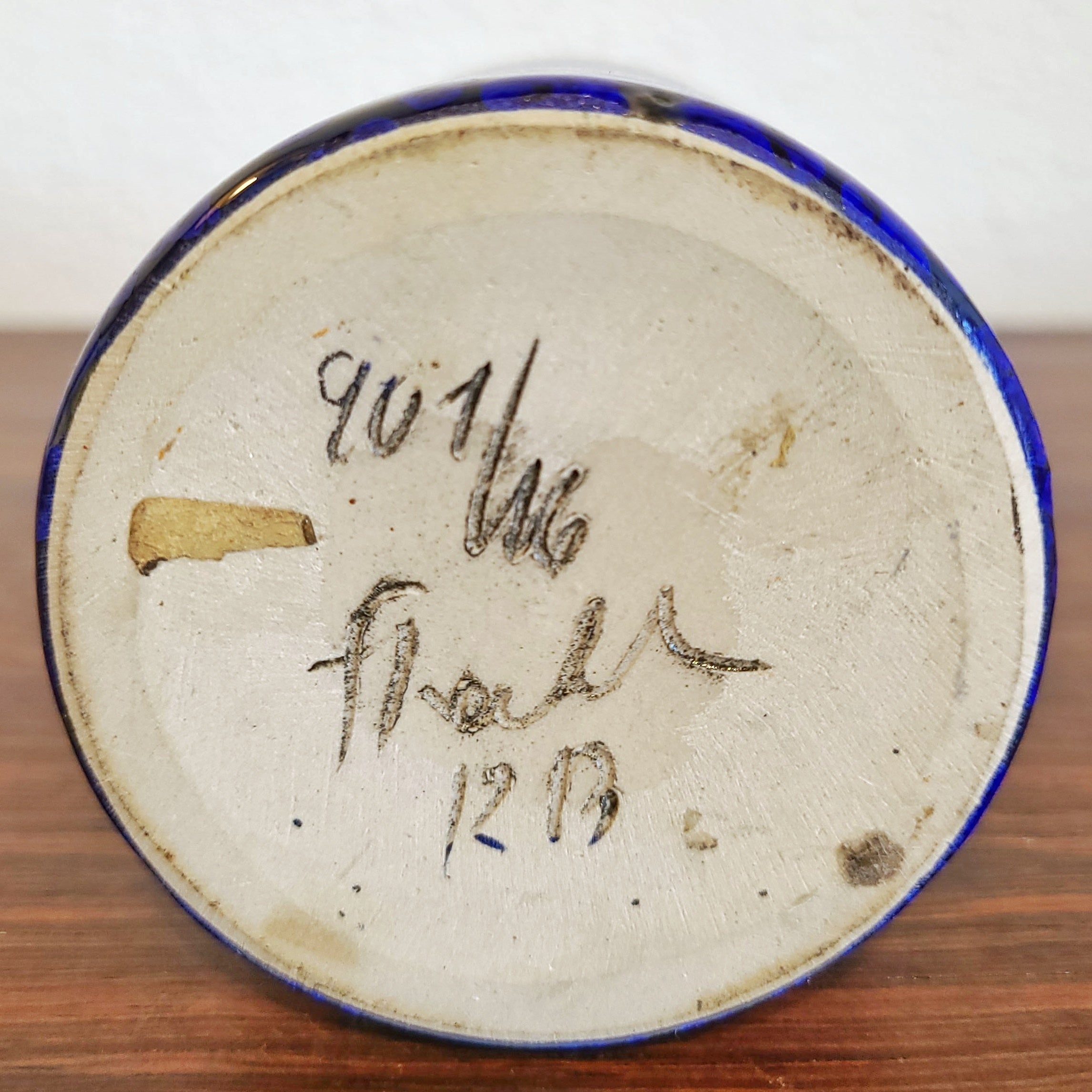 CRYSTALLINE BLUE WENDELIN STAHL CYLINDER VASE
CONTACT US HERE ABOUT THIS ITEM.
A beautiful crystalline blue cylinder vase by master ceramicist Wendelin Stahl.  This is one in a series of vases, all in different shapes, with a matt metallic anthracite glaze on top of a deep cobalt blue crystalline glaze.  It is signed by the artist and numbered 901/16 (the shape designation and its height in centimeters)
WENDELIN STAHL (1922-2000) was born into a family of potters in Höhr-Grenzhausen which, since the 16th century, has been the center of the ceramics industry in Germany due to its proximity to the largest clay deposit in all of Europe. In the period from 1938 to 1939 Stahl completed an apprenticeship in the ceramics workshop of Kunow & Drossé in Höhr-Grenzhausen.  There he met his future business partner and wife, Else Harney (1919–1984), who was completing her own apprenticeship.  Unfortunately, the war intruded and Wendelin was called into service from 1940 to 1945, but when he returned, he continued his training from 1945 to 1951 in the company of his brother and master potter Rudi Stahl (1918-1987) in Höhr-Grenzhausen.
Elsa was an accomplished artisan in her own right, and from 1951 to 1952 she continued her training as a pupil of Albrecht Klauer-Simonie and Wendelin's older brother, Rudi.  She passed her master craftsman examination in 1955, the same year that Wendelin passed the journeyman's examination.  Elsa was the daughter of Hans Harney (1877-1954), a former consul and director of the Deutsche Bank in Dusseldorf.  In 1917 he bought the ruins of the medieval Coraidelstein Castle in Klotten and had two houses built on the property.  Else and Wendelin began living there and set up a joint workshop in the old manor house in 1952 where they began producing artistically conceived ceramics in small series.  All objects rotated on the potter's wheel come from Wendelin Stahl.  The decors - initially stylized vegetables and later abstracts - were by Else Harney.  The objects were often reworked by pressing them into molds or carving sgraffito designs into them while in a leather-hard state. The decors were applied with colored engobes.  The majority of the objects, which are not consistently marked, have a carved model number often with the size in centimeters separated by a slash.  Everything was done in-house.  The collections of the workshop, which at times had seven employees, were regularly presented at the spring and autumn trade fairs in Frankfurt and sold by regional representatives through upscale specialist retailers.  In addition, something that is little known is that the workshop delivered several model series of lamp bases, some with crystal glazes, to the Krösselbach Fayence company at the beginning of the 1960s, but discontinued series production altogether by the middle of the decade despite continued demand.
At the beginning of the 1960s, Stahl turned to the development of forms and glazes for his individual ceramic art.  The focus was on crystal and reduction glazes, examples of which were shown at many exhibitions at home and abroad and can be found in numerous public and private collections.
After adding engobes or incised decorations to his objects in the 1950s , and after having made classic, beautiful crystal glazes from the 1960s , he devoted himself to the manufacture of artistically perfect celadon from the 1970s.  Stahl's shapes and glazes are characterized by connoisseurs of contemporary ceramics mostly through a special play of colors of the fired celadons in copper red, manganese violet or titanium blue. His vessels which were actually only carriers for his unequaled beautiful glazes, always showed clear linearity and perfect clarity. In further attempts he succeeded in improving the glazing technique to such an extent that it finally culminated in 'Tenmoku' which is a type of glaze that originated in China and is often characterized by a deep warm brown, into which delicate green tones, or sometimes a light brown or subtle blue tones can flow.
During their time together, Wendelin Stahl and Else Harney both contributed greatly to the artistic development of ceramics in Europe. Students from all over the world came to learn the craft of pottery from them. After Else's death in 1984, Wendelin Stahl ran the workshop there together with his former student Ayca Riedinger until his death in 2000.
| | |
| --- | --- |
| Designer | WENDELIN STAHL |
| Manufacturer | WENDELIN STAHL |
| Design Period | 1960 to 1969 |
| Production Period | 1960 to 1969 |
| Country of Manufacture | Germany |
| Identifying Marks | This piece has an attribution mark |
| Style | Vintage, Mid-Century, Hand-Crafted, Minimalist, Modernist |
| Detailed Condition | Excellent — This vintage piece is in near original condition. It may show minimal traces of use and/or have slight restorations. |
| Product Code | |
| Materials | Ceramic |
| Color | Blue, silver |
| Width | 2.8 inch |
| Depth | 2.8 inch |
| Height | 6.5 inch |
| | |