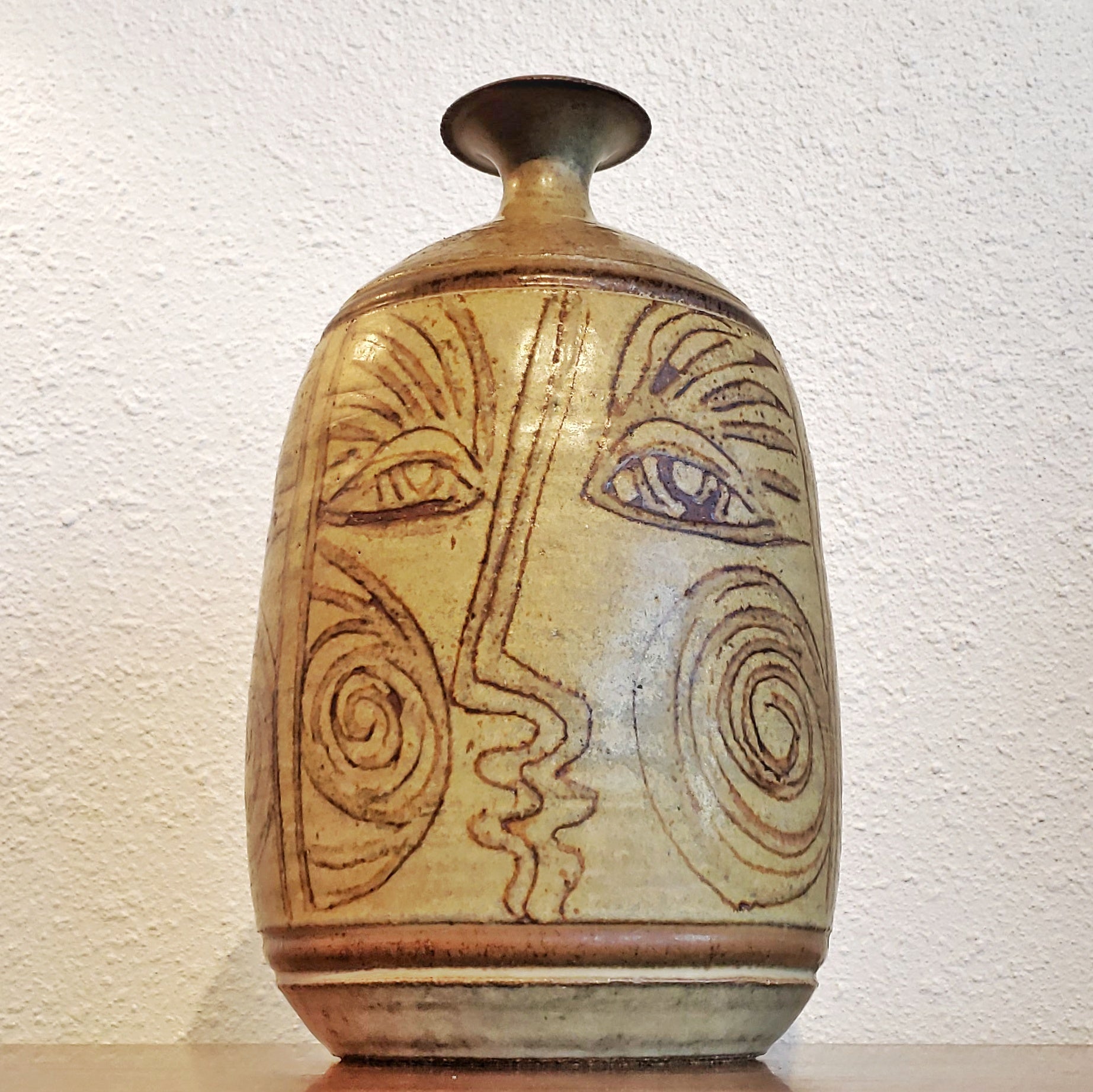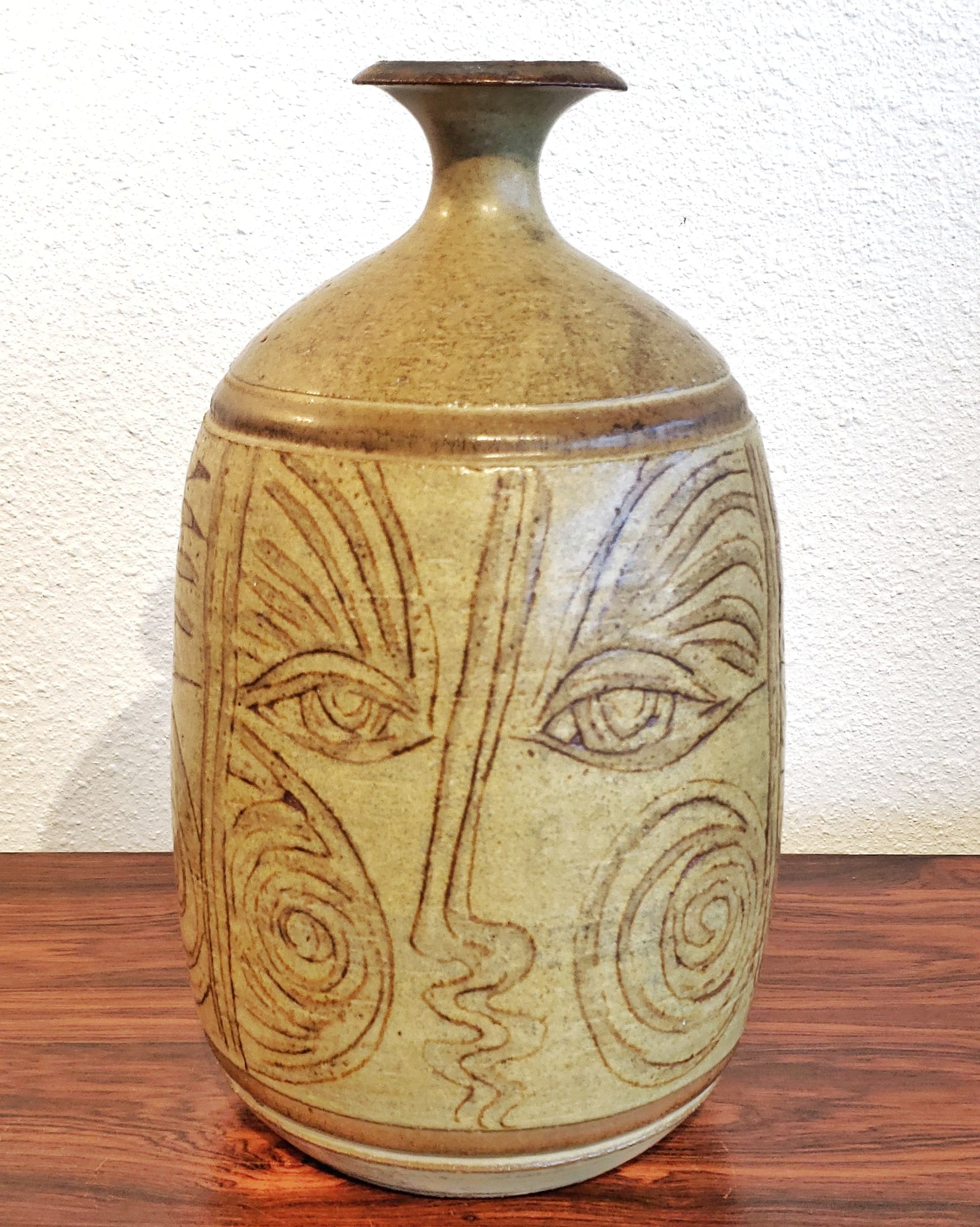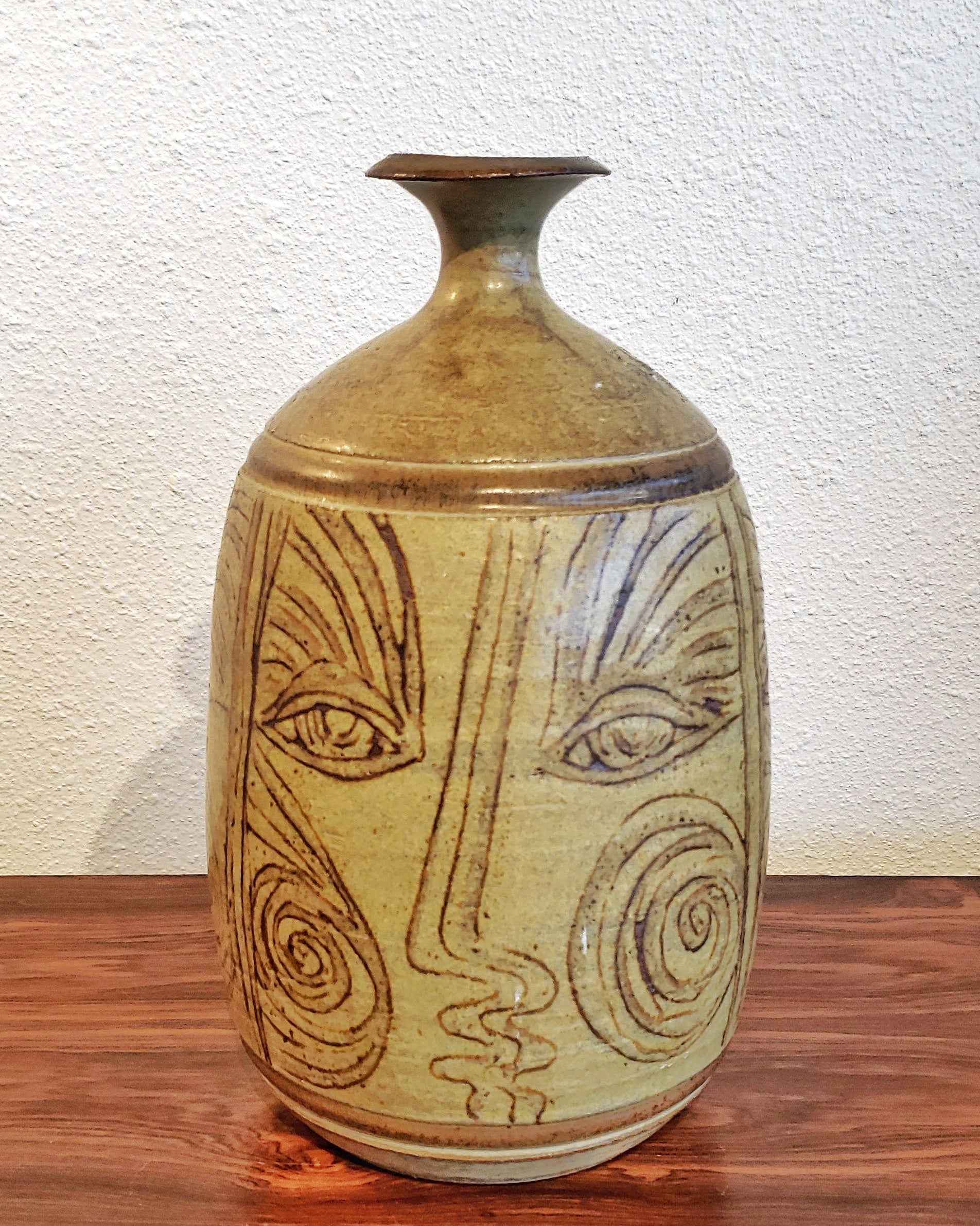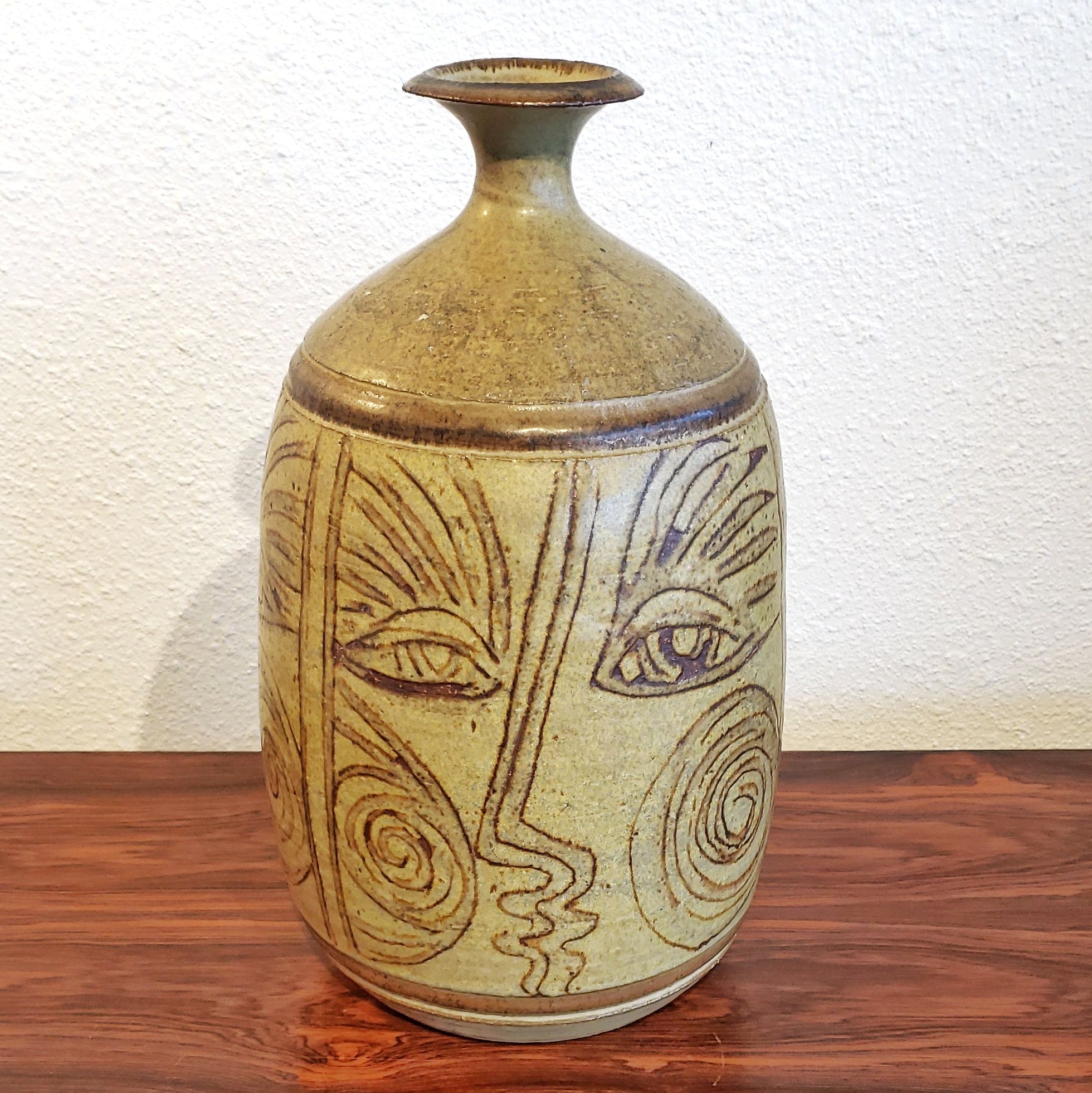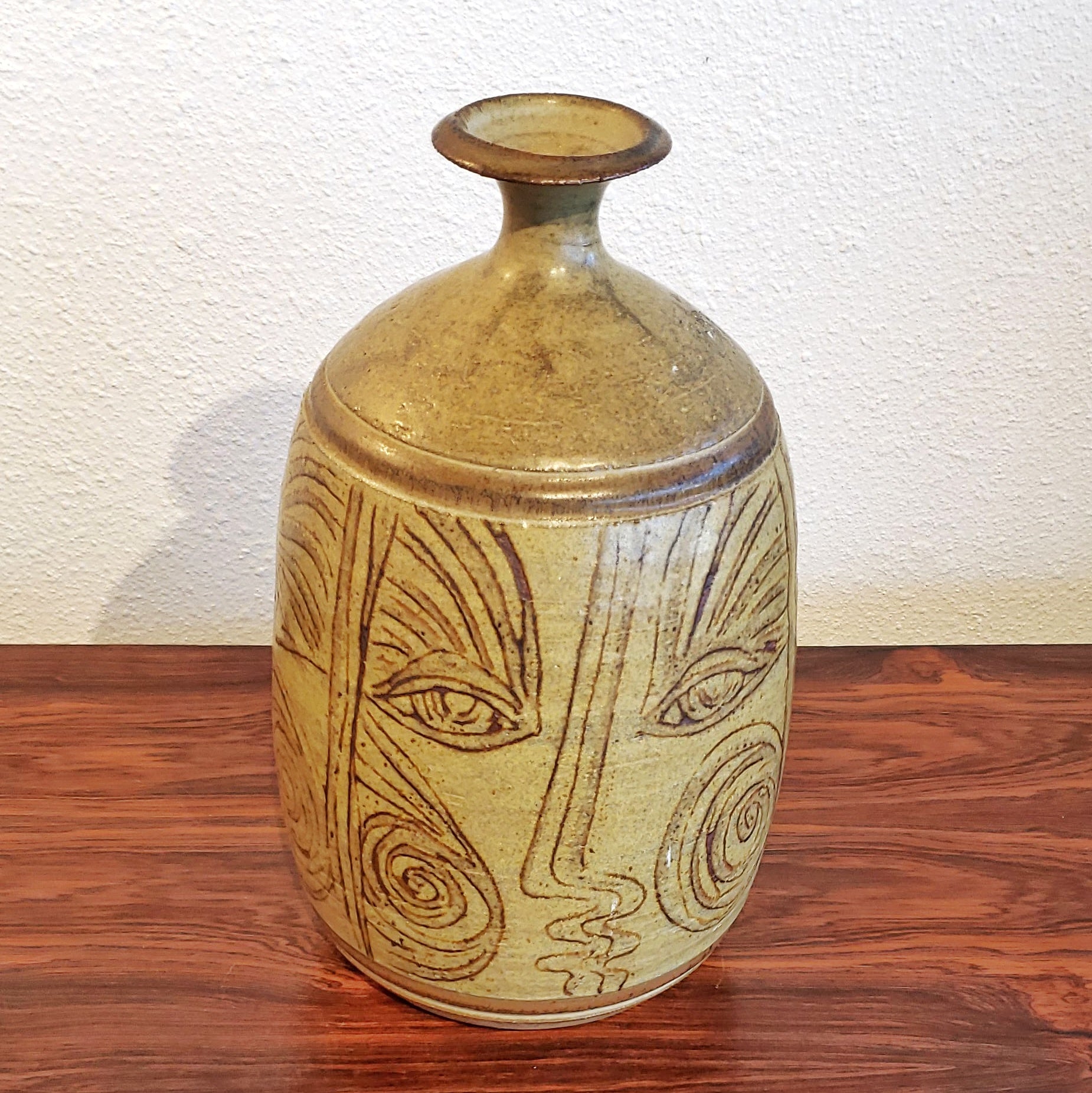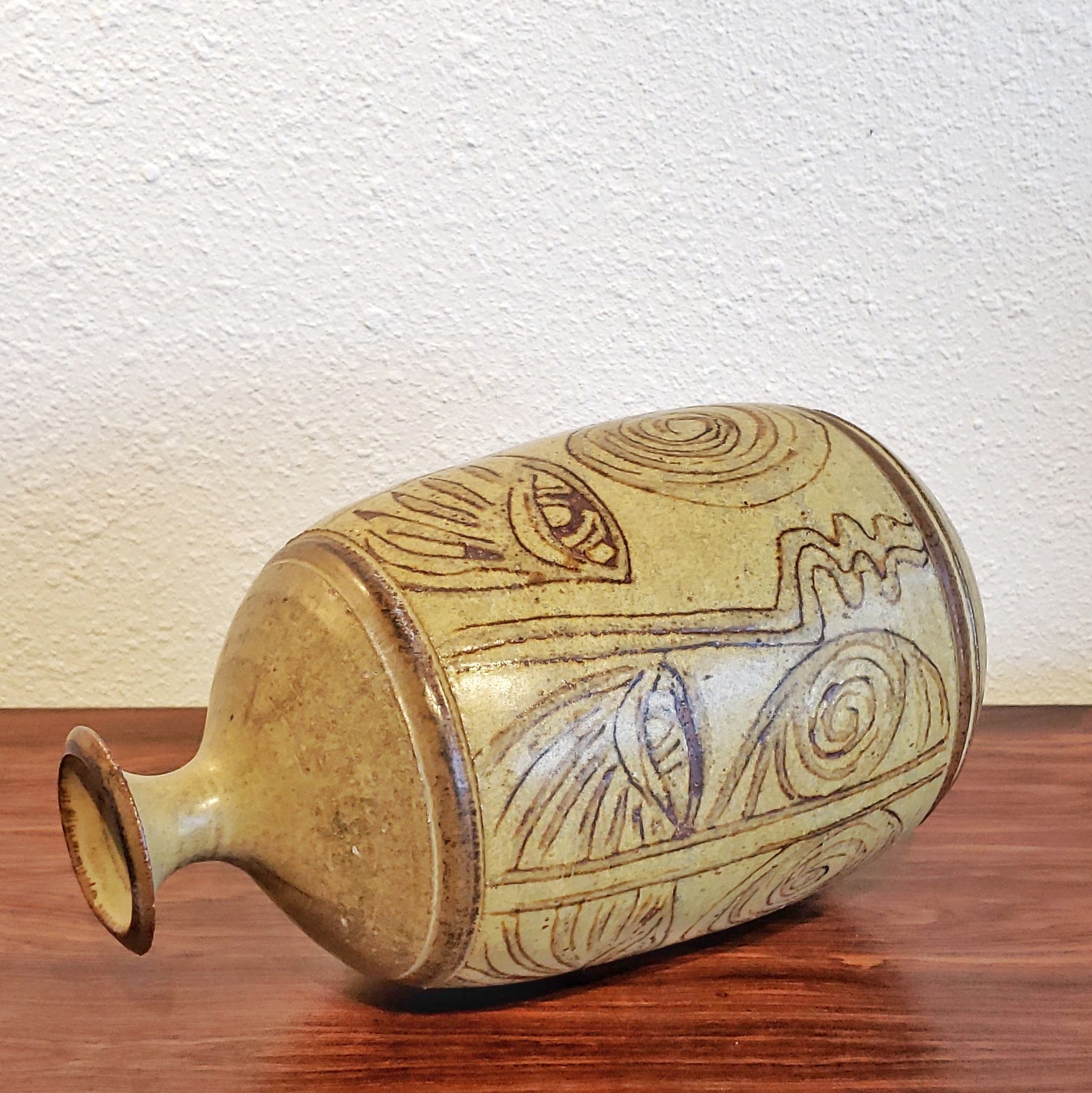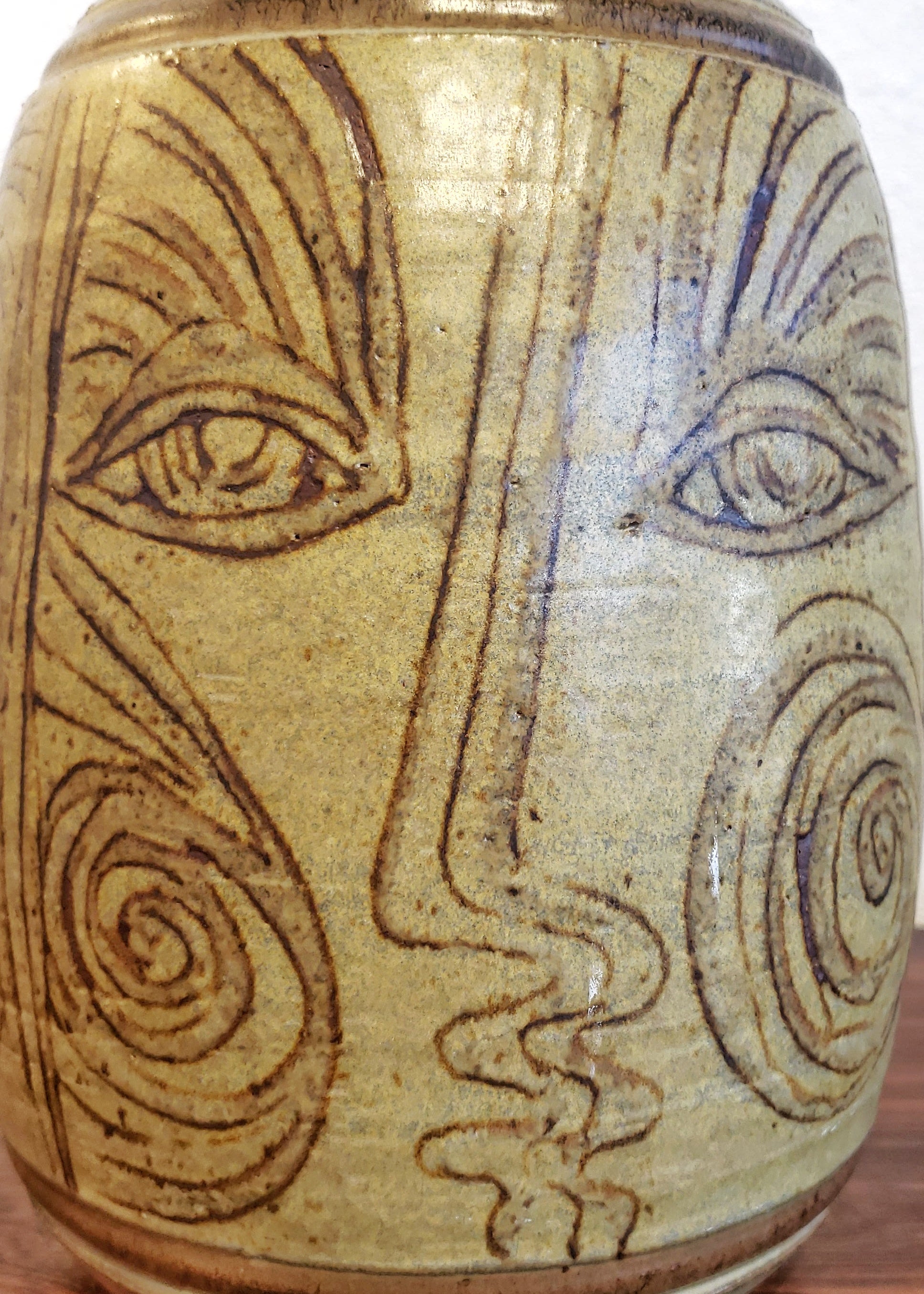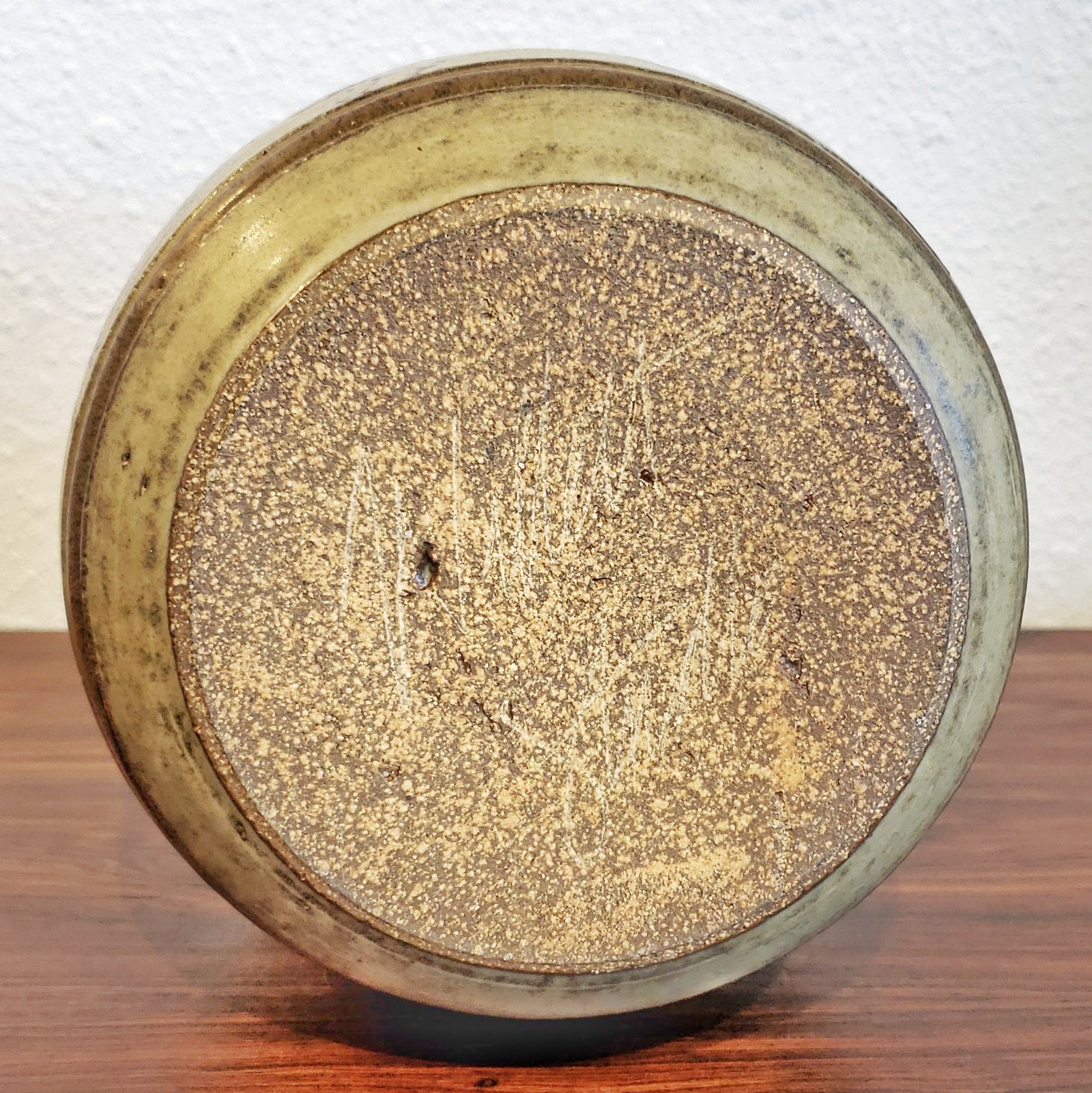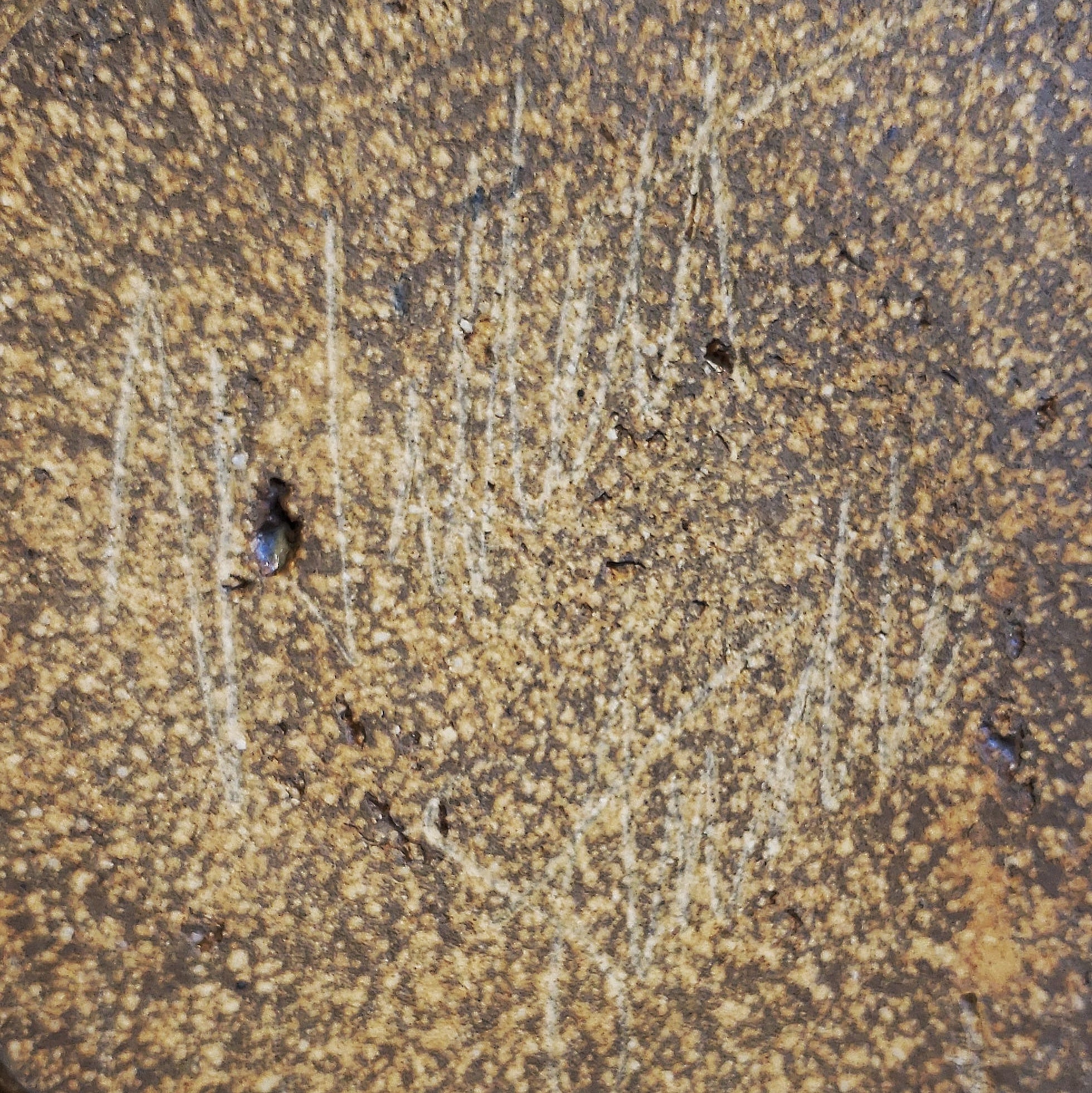 EARLY FRANK WILLETT STONEWARE WEED POT
CONTACT US HERE ABOUT THIS ITEM.
A large and early stoneware weed pot by Santa Fe artist Frank Willett.  It presumably depicts the original three muses of ancient greek mythology; one born from the movement of water, another who makes sound by striking the air, and a third who is embodied only in the human voice.  They were called Melete or 'Practice', Mneme or 'Memory', and Aoide or 'Song.'
FRANK WILLETT's work in high fired porcelain and stoneware is widely known and respected in the ceramic art community in New Mexico.  A master of his craft, his work has been widely shown and collected both in New Mexico and nationally.  In addition to receiving the Governor's Award for Excellence in the Arts in 2013, he was honored by the City of Santa Fe Arts Commission Mayor's Award for Excellence in the Arts in 2002, was featured in the December 2005 issue of Ceramics Monthly, and was included in the Ceramic Arts Yearbooks 2015.  His work has been shown in numerous invitational and juried shows, including an invitational show in the New Mexico Governor's Gallery, an invitational show of New Mexico potters at Santa Fe Clay, and, most recently, an exhibit of ceramics, "Critical Chaos", in conjunction with an NCECA conference, "Critical Santa Fe, a Symposium" in the Gallery at Santa Fe Community College.
He has taught wheel throwing classes at Santa Fe Community College and Santa Fe Clay, and has given workshops at several colleges and ceramic educational institutions in the region.  In conjunction with the International Folk Art Market, he participated recently in a cultural exchange with Korean National Treasure, Mr. Han, and with a group of potters from Kazakhstan where he and they demonstrated their wheel work in front of a large group of students, potters and faculty at Santa Fe Community College.
He holds an MA in Fine Art from CSU Los Angeles and taught high school art in California before moving to Santa Fe in 1971, where he established Santa Fe Pottery on historic Guadalupe Street.  Throughout the years he has produced pottery continuously, all with an unerring sense of beautiful form, good design and superb craftsmanship.  For more than thirty five years he and his wife, Luisa Baldinger, have collaborated in a number of ceramic adventures. Together they produced Sunridge Pottery, a line of functional wheel-thrown and slab-made pottery for both the wholesale and retail markets, designed and produced "Santa Fe Lights", ceramic architectural lighting fixtures, and continued to sell their work in their shop Santa Fe Pottery.  In 2003 they sold the shop.  In his "retirement" Frank continues to spend several hours in the studio each day making his one-of-a-kind pieces on the wheel and collaborating with Luisa on the glazing and firing in both the gas and soda kilns at their studio.
| | |
| --- | --- |
| Manufacturer | FRANK WILLETT |
| Design Period | 1970 to 1979 |
| Production Period | 1970 to 1979 |
| Country of Manufacture | United States |
| Identifying Marks | This piece has an attribution mark |
| Style | Vintage, Mid-Century, Hand-Crafted, Modernist |
| Detailed Condition | Excellent — This vintage piece is in near original condition. It may show minimal traces of use and/or have slight restorations. |
| Product Code | |
| Materials | Stoneware |
| Color | Tan, brown |
| Width | 6.8 inch |
| Depth | 6.8 inch |
| Height | 11.8 inch |