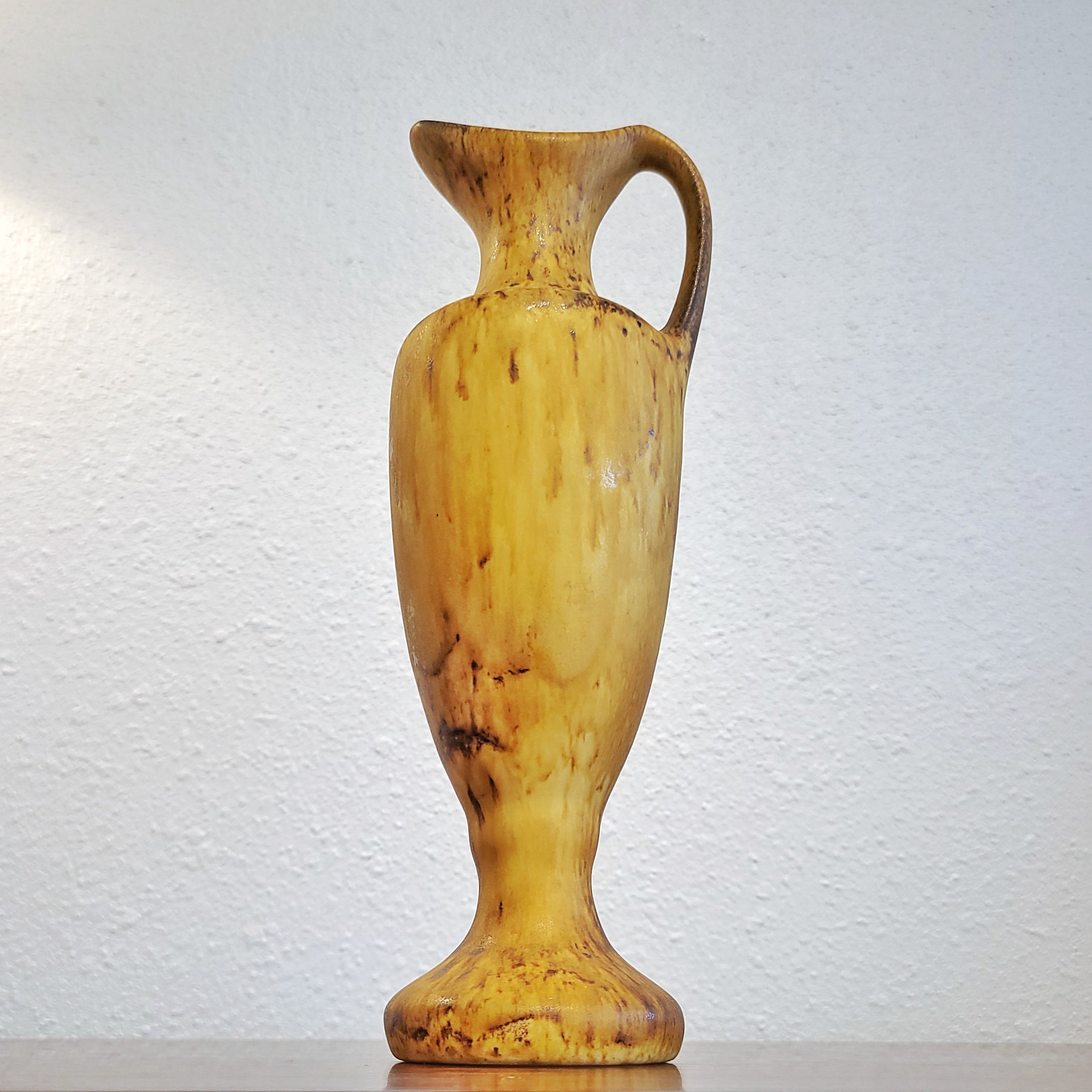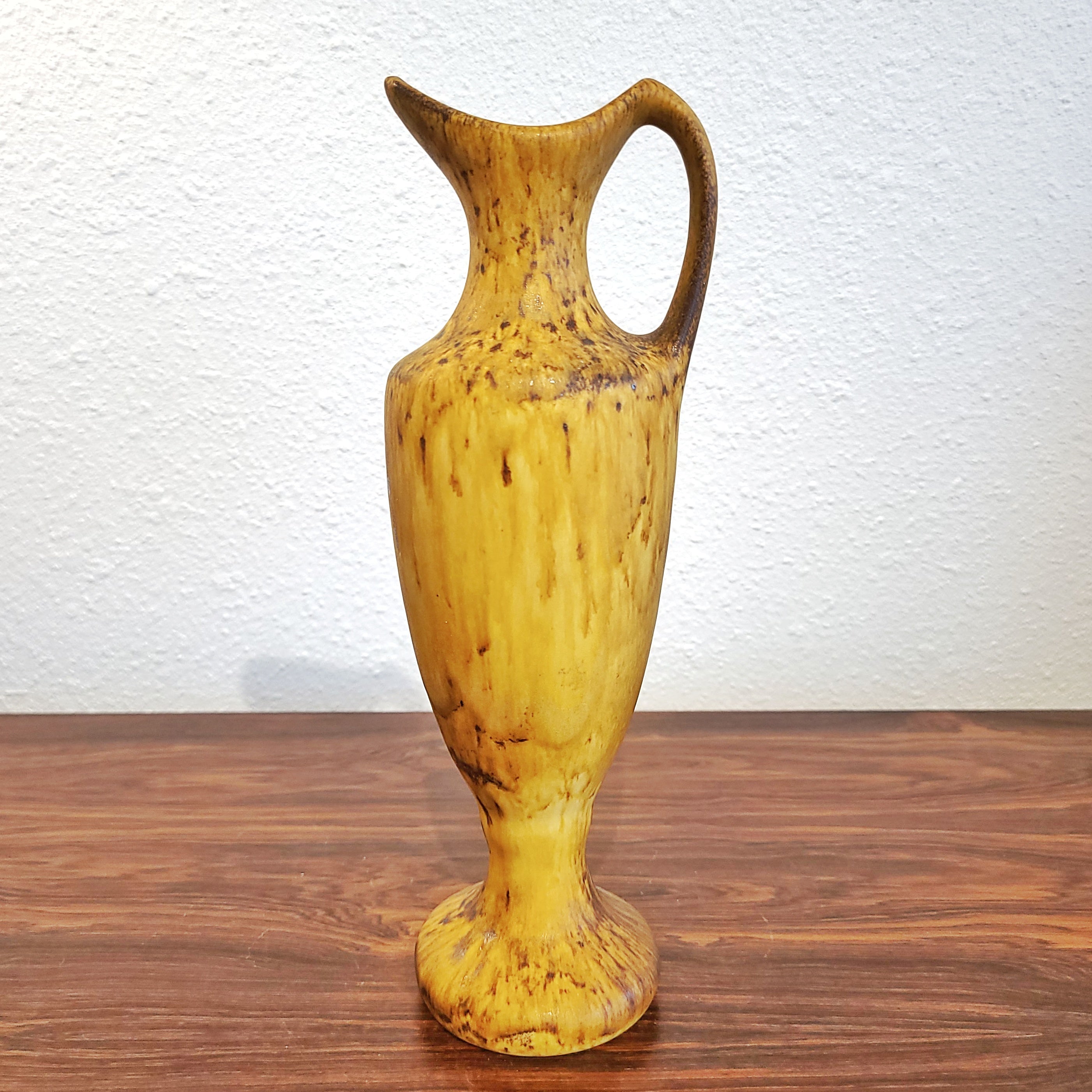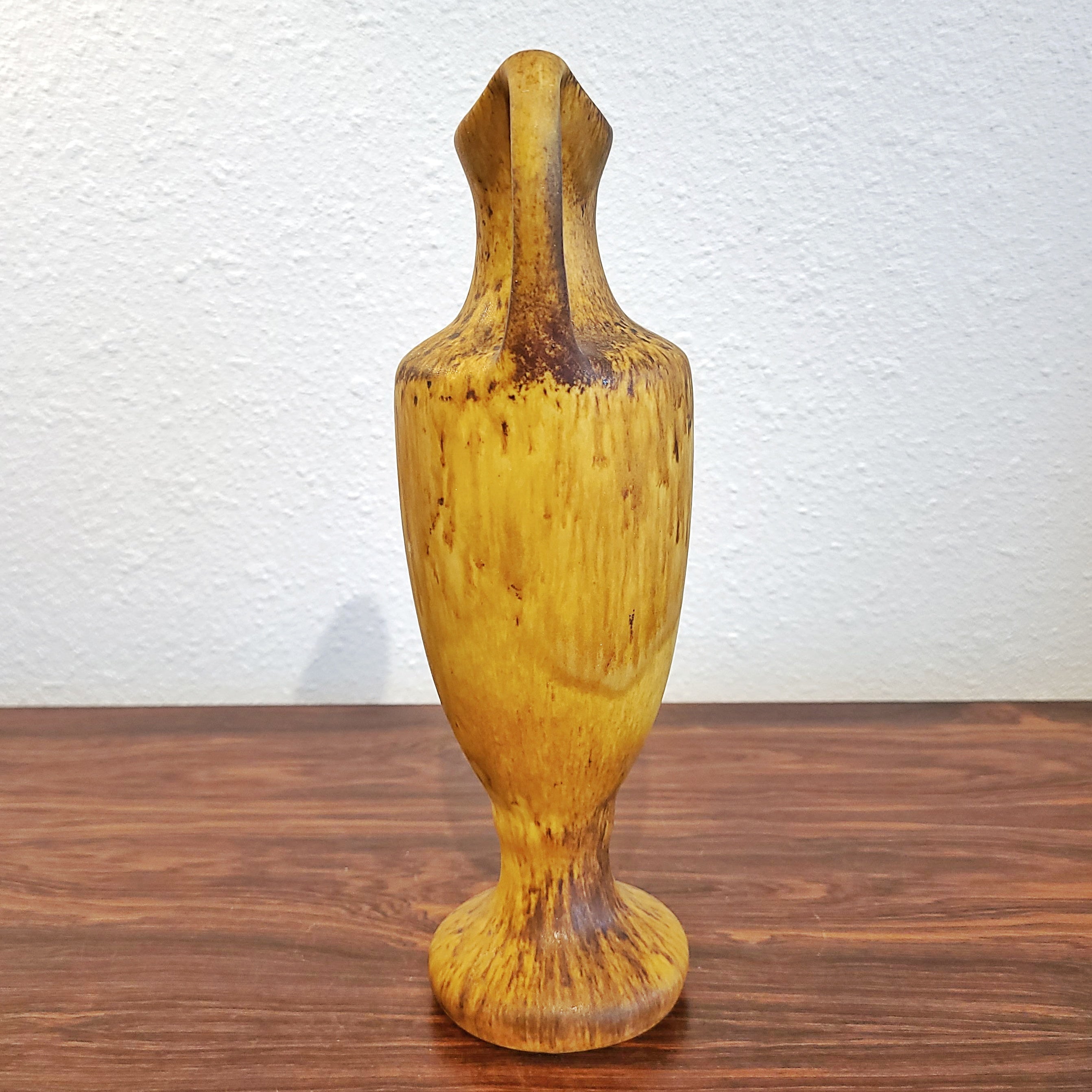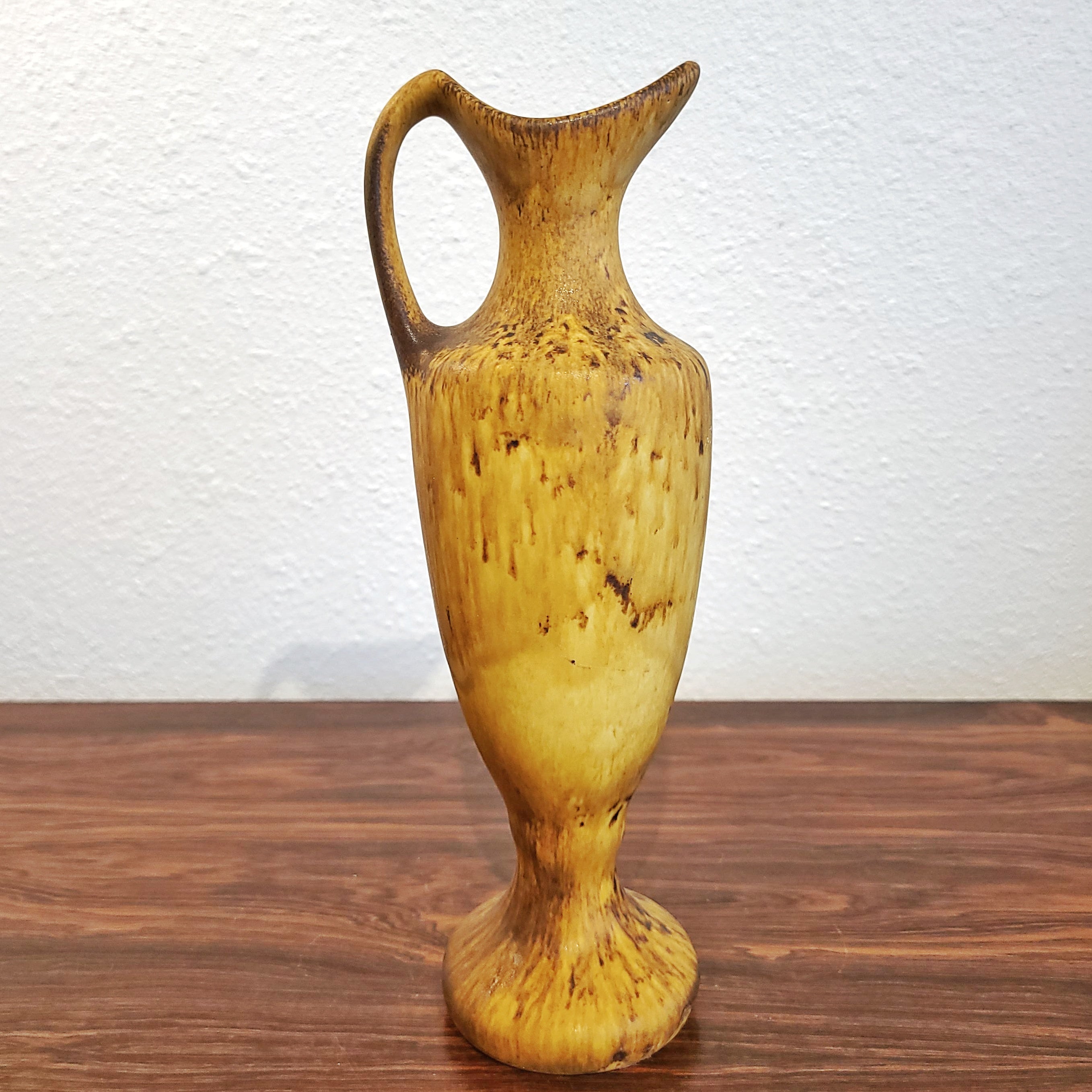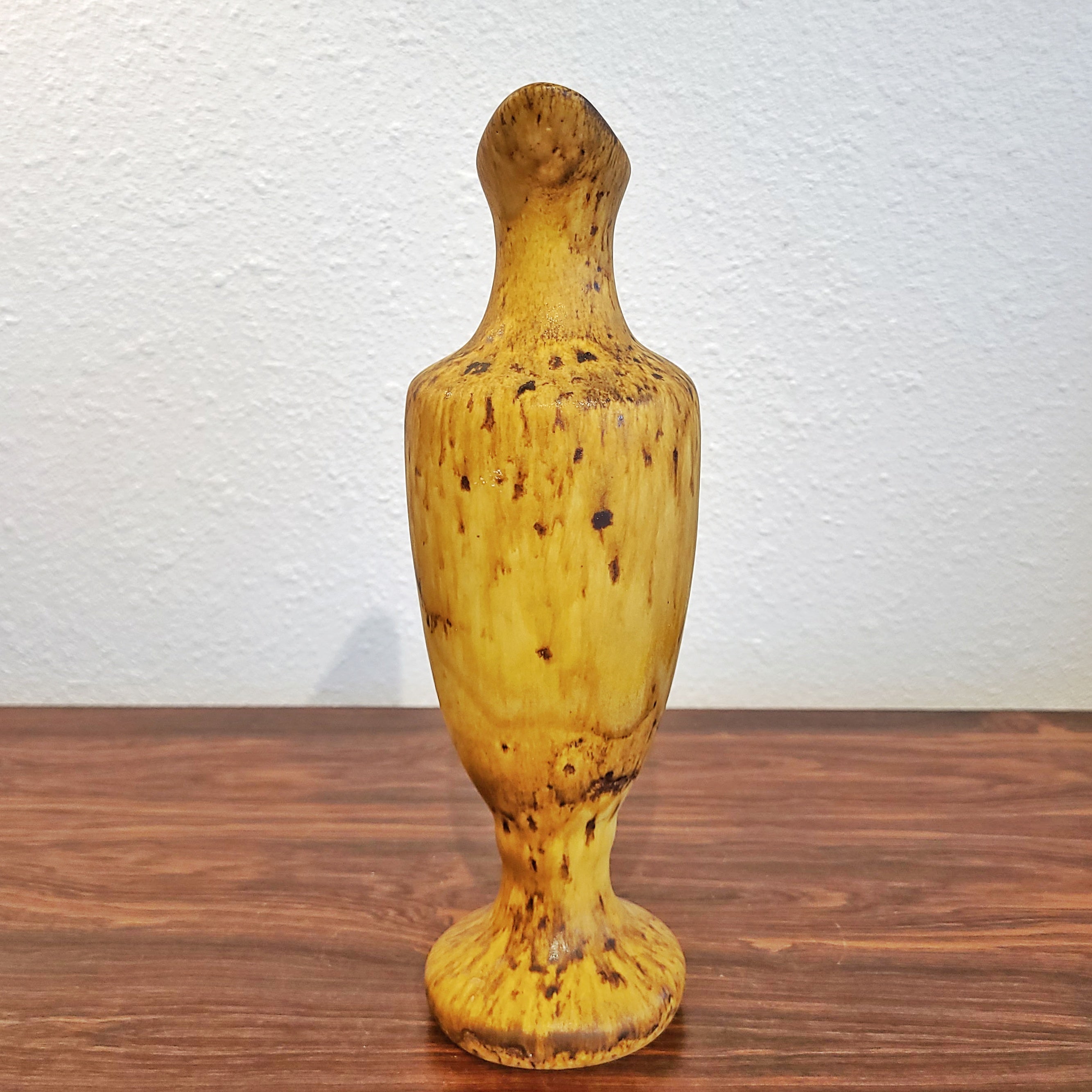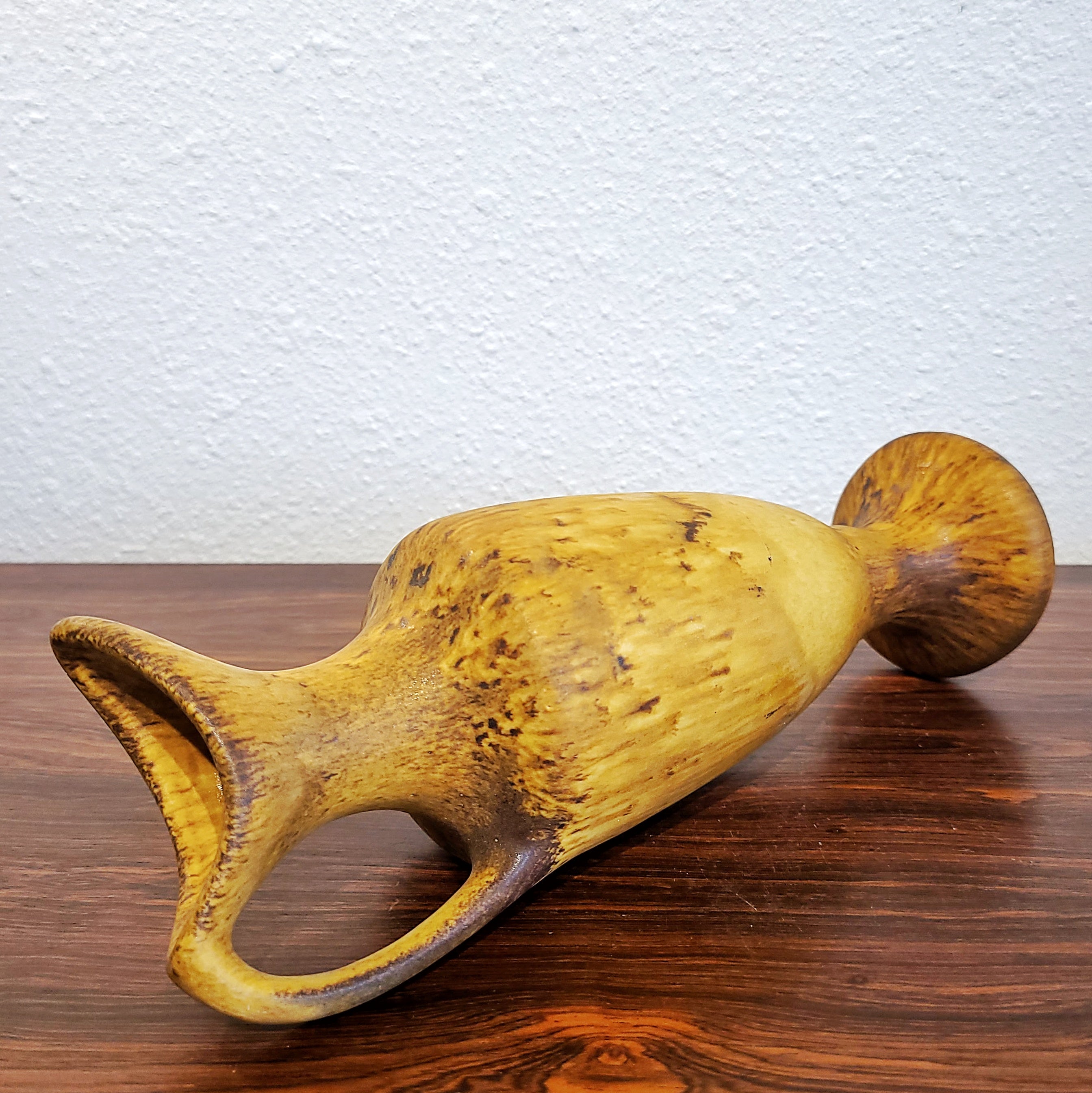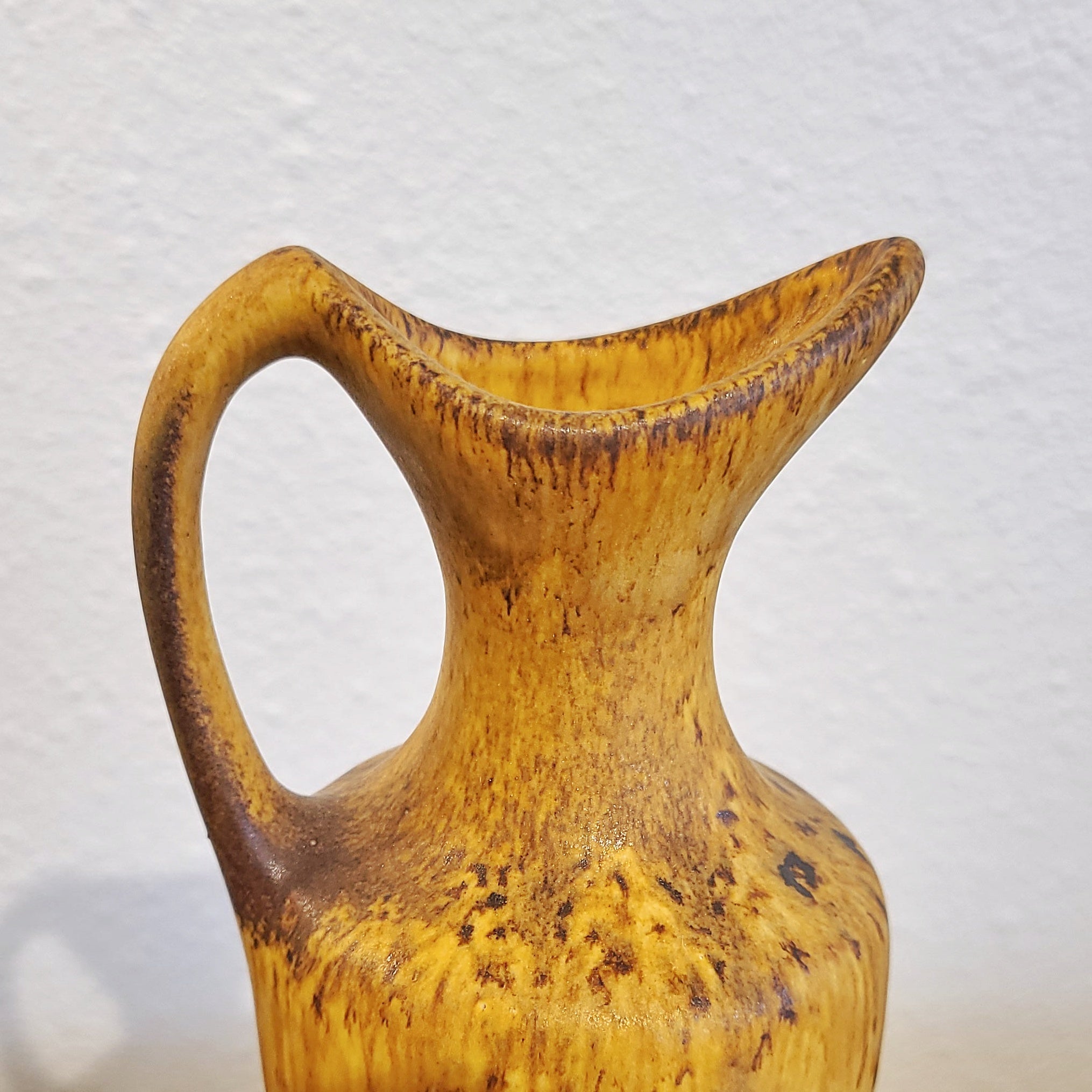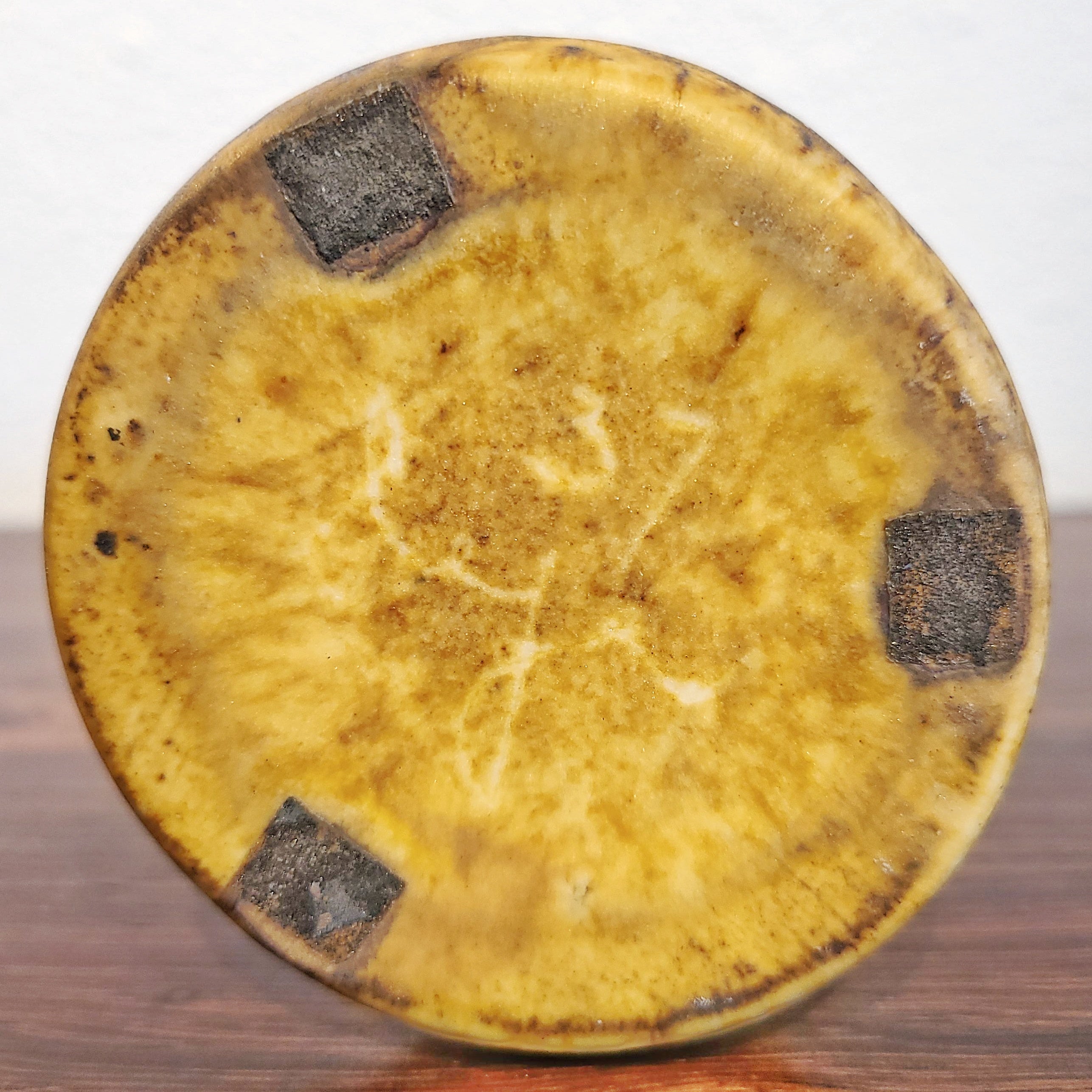 EARLY MAIGONIS DAGA EWER VASE
CONTACT US HERE ABOUT THIS ITEM.
An early and classically formed Maigonis Daga Art Pottery ewer vase with dark brown speckles on top of a rich ochre glaze.  This precedes his immigration to the US, and This was created in his studio in Adelaide, Australia in the 1950s or early 60s, prior to his immigration to the US.
MAIGONIS 'MIKE' DAGA (1923-2001) was born in Riga, Latvia, and immigrated to Australia in1948 as a war refugee.  While in Australia he attended the Adelaide School of Art where he studied sculpture before beginning his career in studio ceramics in 1954.  His early Australian work consisted of modernist, slip cast forms that were focused on, but were not limited to, functional forms, and were well received.  These early works are signed 'Daga' on the base along with a form number.  He ran his successful commercial pottery studio until 1964 when he closed it to immigrate to the U.S.  Once in America, Daga produced ceramics from his home until 1970, when he opened another business called the 'Daga Design Studio' at 4505 34th Ave. South, Minneapolis, MN.  During the 1970's he produced a number of commissioned works including the 'Sears, Vincent Price National Treasures' series of dinnerware which replicated colonial Williamsburg pottery from the 1700's. In the 1980's Daga began sculpting and producing the animal forms on granite plinths for which he has become widely known.

Maigonis Daga passed away in 2001 and the studio was closed up for a number of years until it was resurrected by his son Ilgvar Daga and Camdon Magnus using many of the original molds.  They described it as follows;
"Today the Daga studio has been revived and refitted. The threads of the past are woven into the second generation through the synergistic collaboration of Maigonis Daga, his son Ilgvar Daga, and Camdon Magnus.
The following pages will introduce you to the studio as it is today. You will find we are now using hand cast bases, environmentally aware glaze recipes, and a website complete with a gallery and secure online purchasing..."
It seems that up until 2006 Magnus Camden was working at the 'Daga Design Studio' recreating some of the animals inspired by the work of Maigonis Daga:
"My name is Camden and I am the potter/sculptor/studio mouse and voice-on-the-phone/etc...here at my studio. I work in the former studio of Maigonis Daga, who passed away in 2001. Now, I am in the process of rekindling a new flame from the embers of his life's work.
All phases of the work are done here in the studio (by me). I make the sculptures, then make the plaster molds and then cast pieces from the molds.  The glazes are all made in house and applied by dipping, painting, or spraying. No two pieces are ever alike."
There is no record of the company's existence beyond 2008.
| | |
| --- | --- |
| Designer | MAIGONIS DAGA |
| Manufacturer | MAIGONIS DAGA |
| Design Period | 1950 to 1959 |
| Production Period | Unknown |
| Country of Manufacture | Australia |
| Identifying Marks | This piece has an attribution mark |
| Style | Vintage, Mid-Century, Modernist, Neo-Classical |
| Detailed Condition | Excellent — This vintage piece is in near original condition. It may show minimal traces of use and/or have slight restorations. |
| Product Code | |
| Materials | Ceramic |
| Color | Goldenrod, brown |
| Width | 3.0 inch |
| Depth | 3.0 inch |
| Height | 11.0 inch |