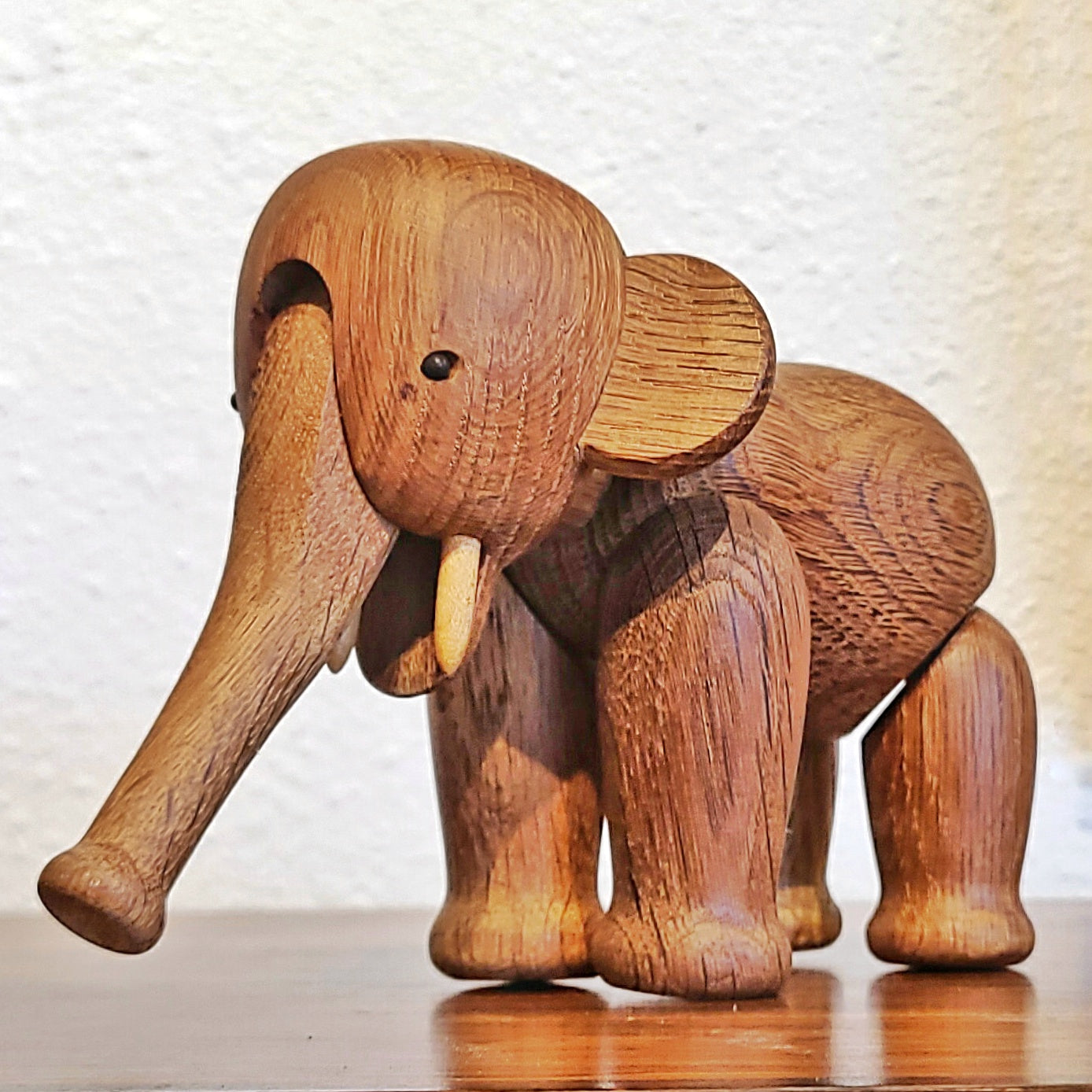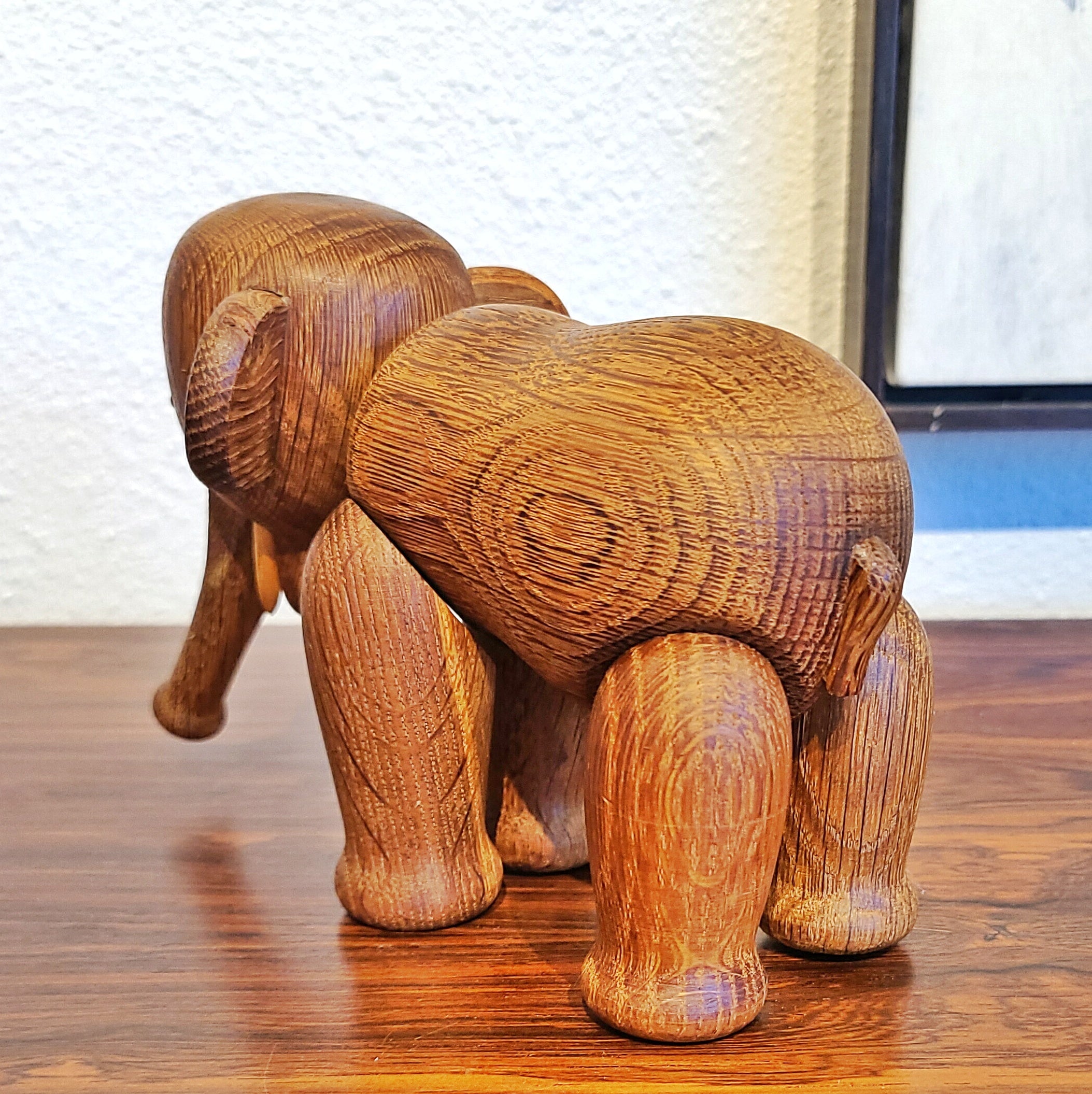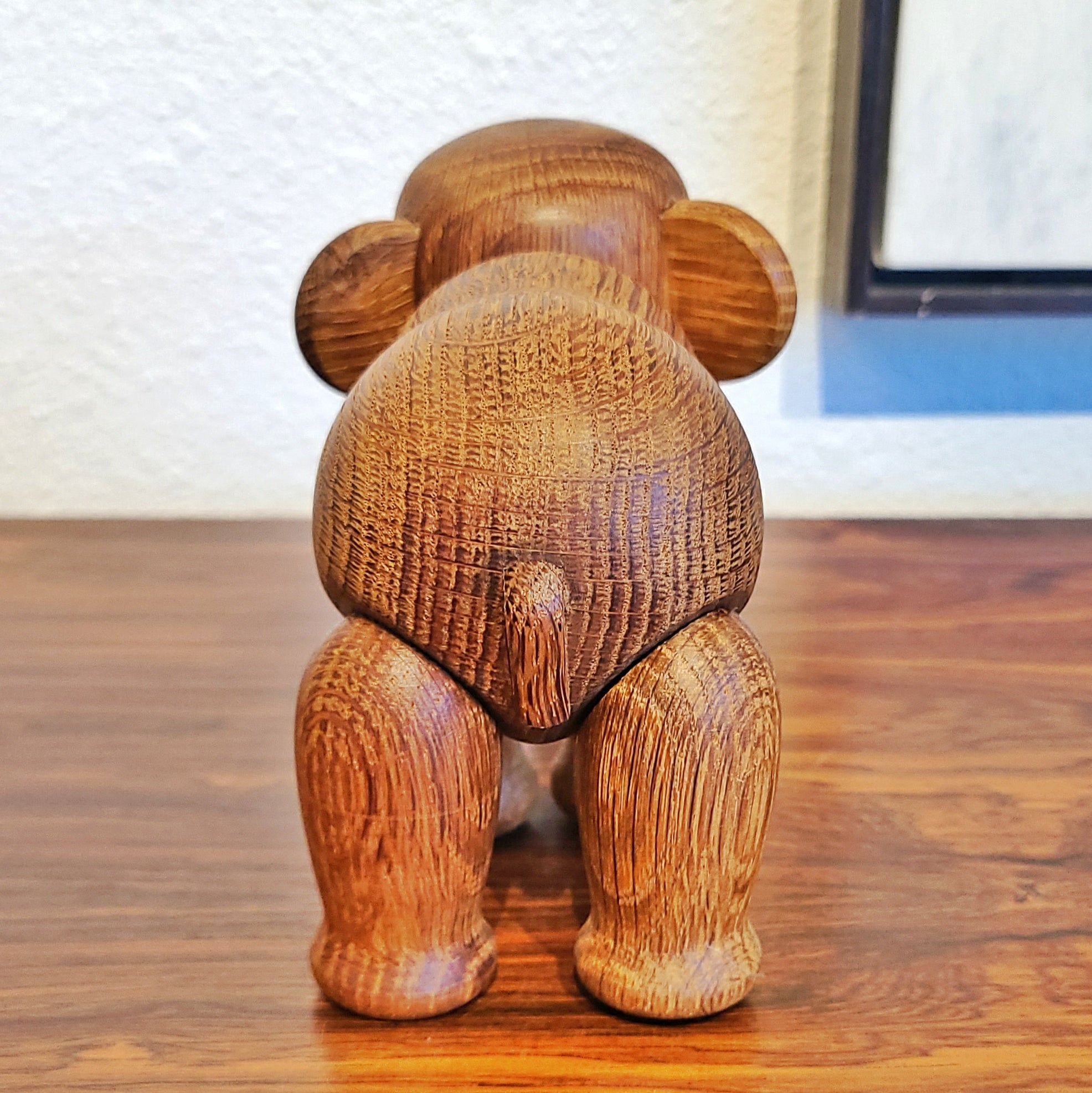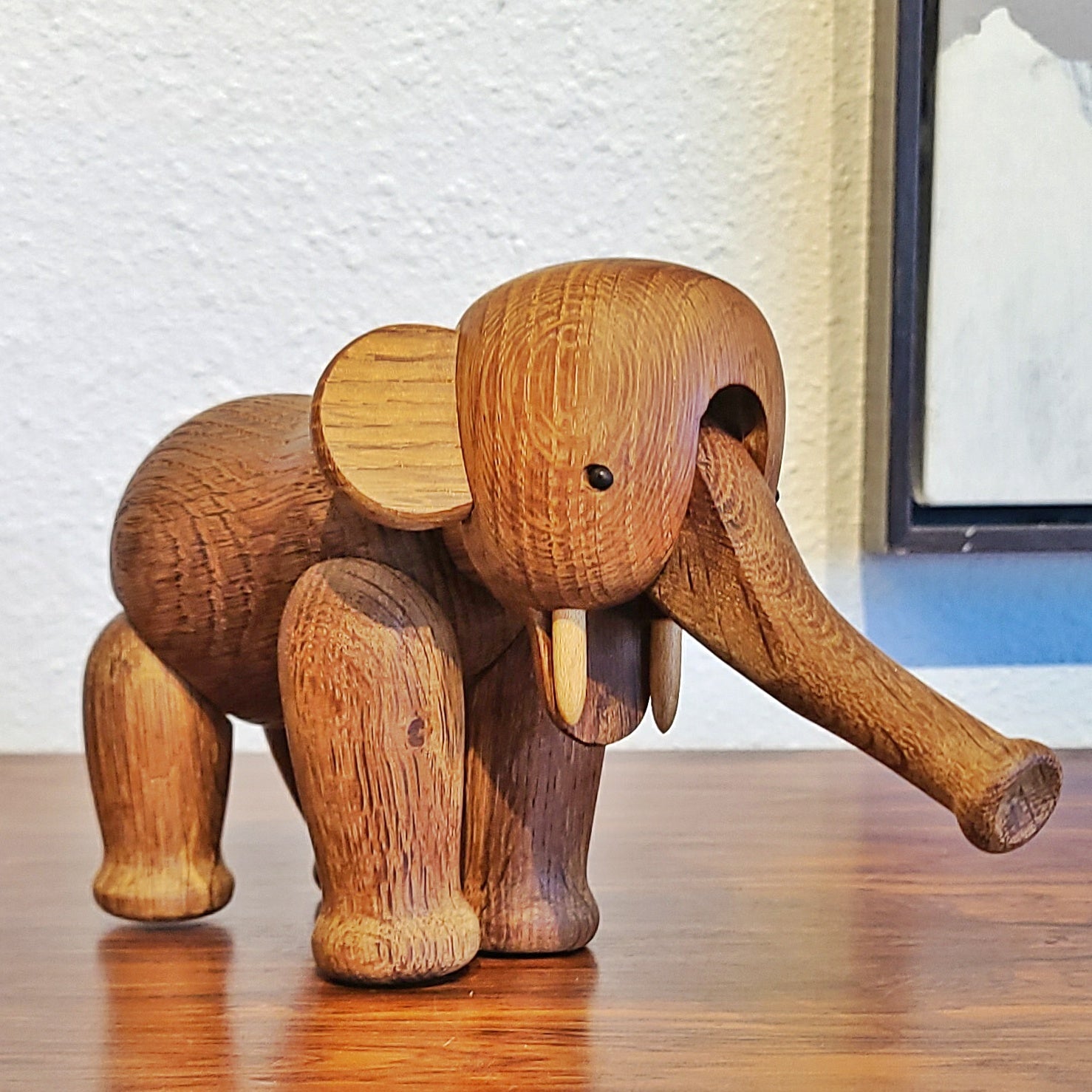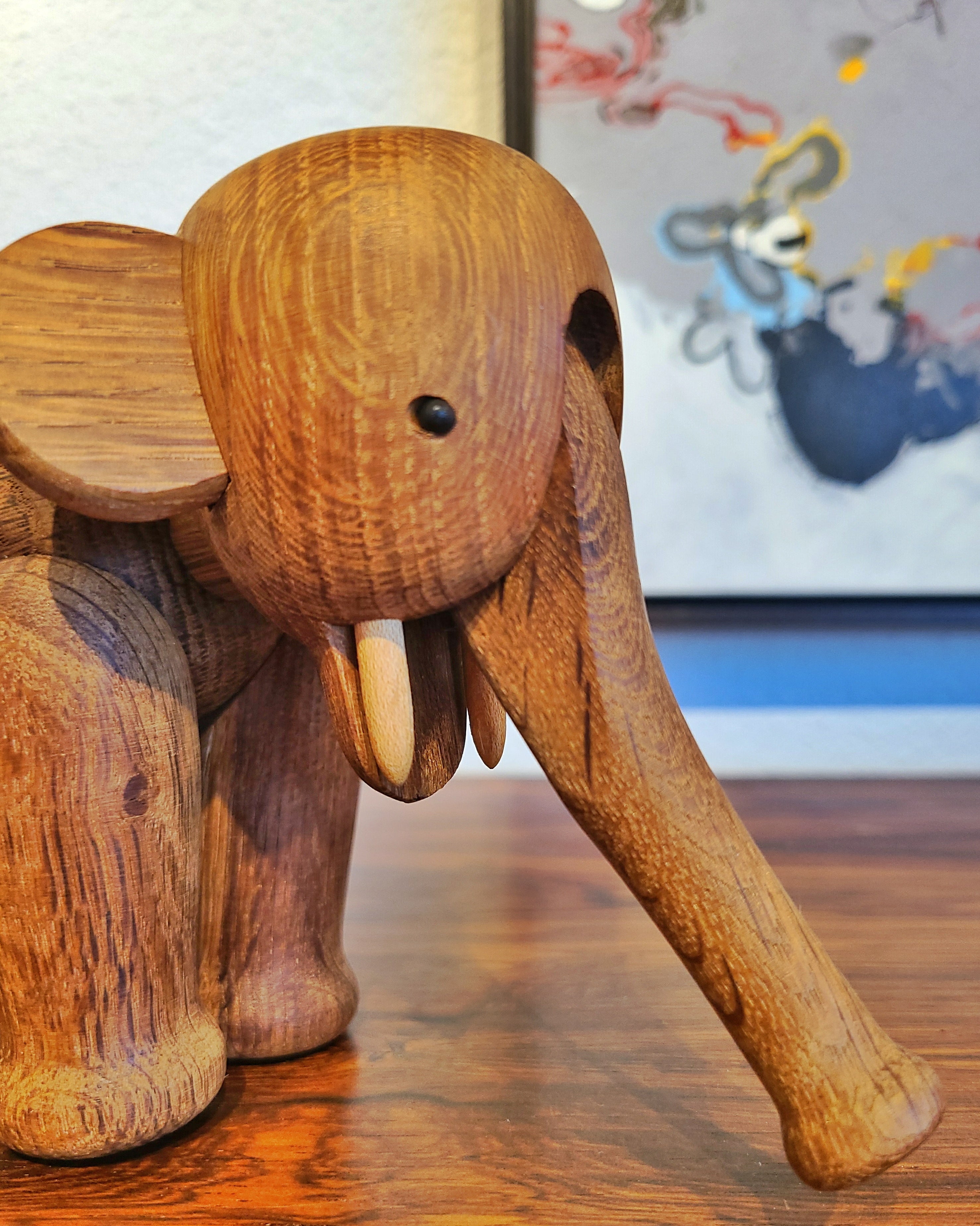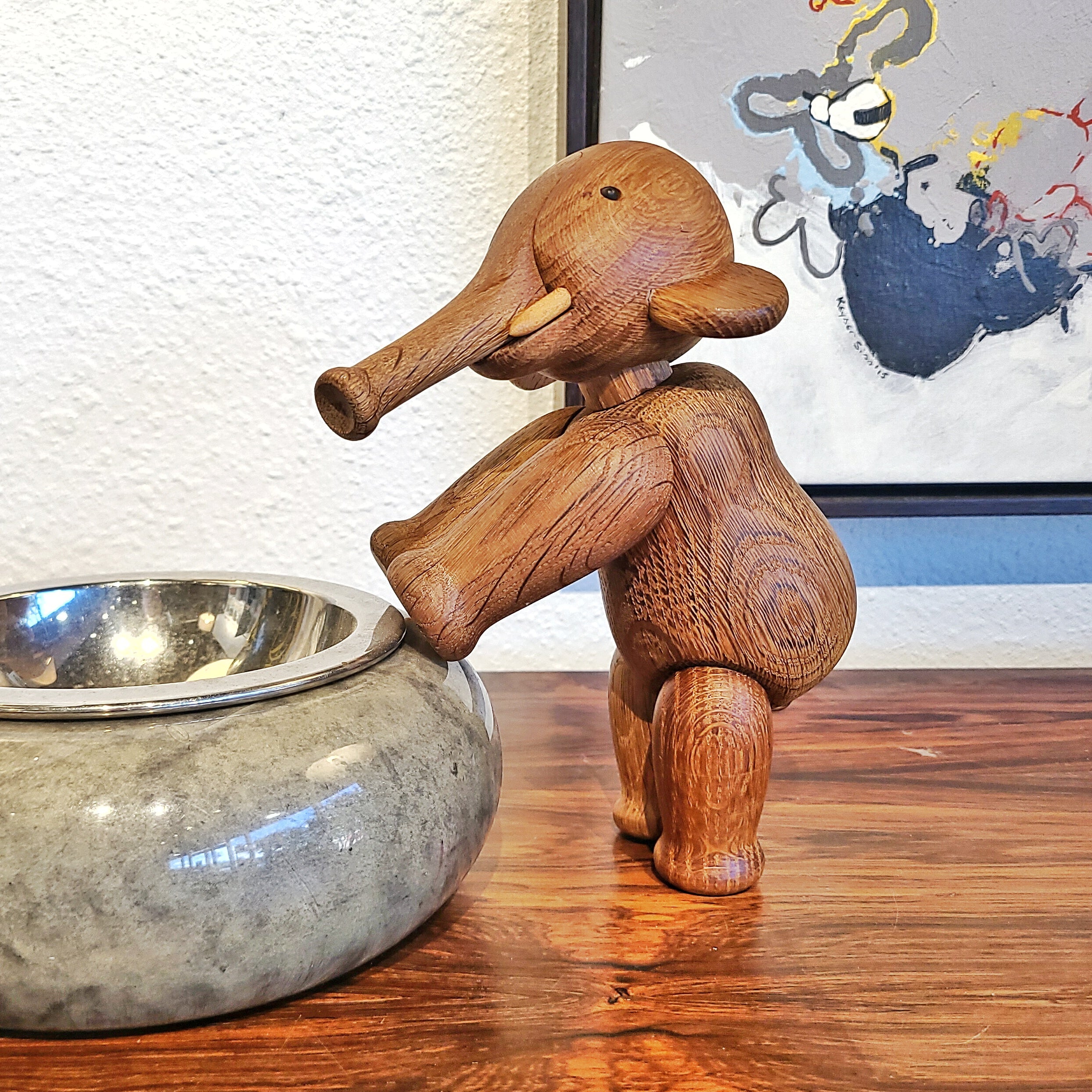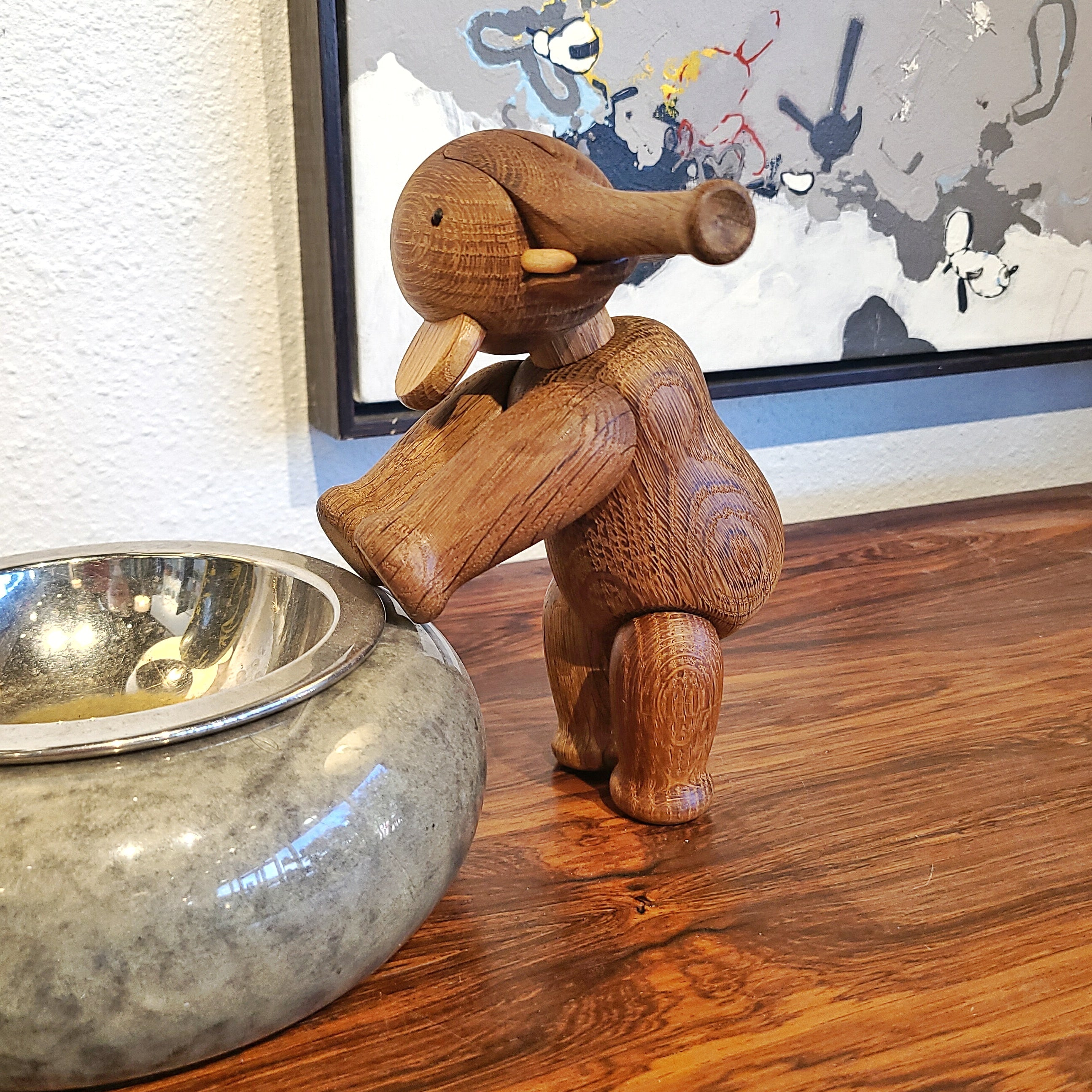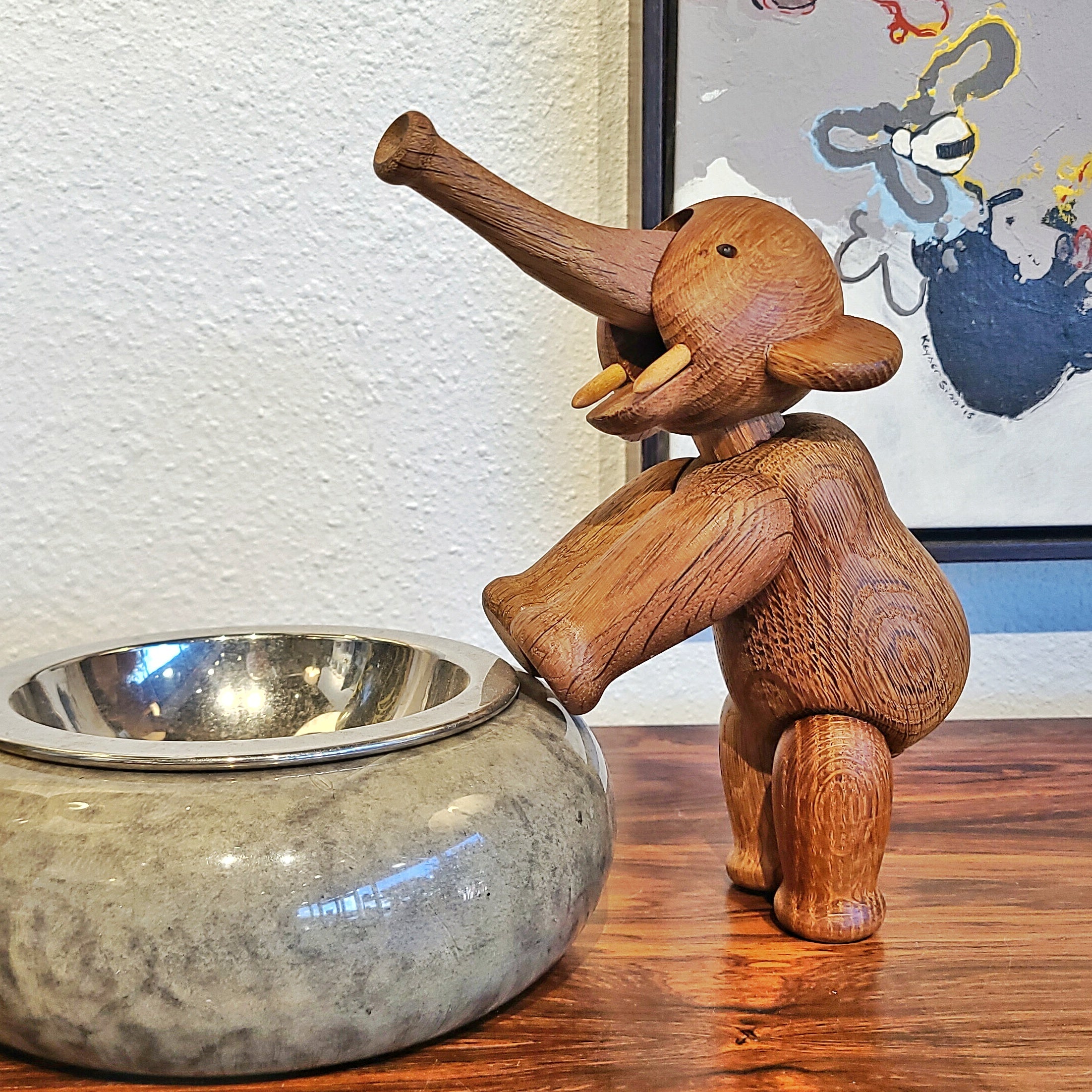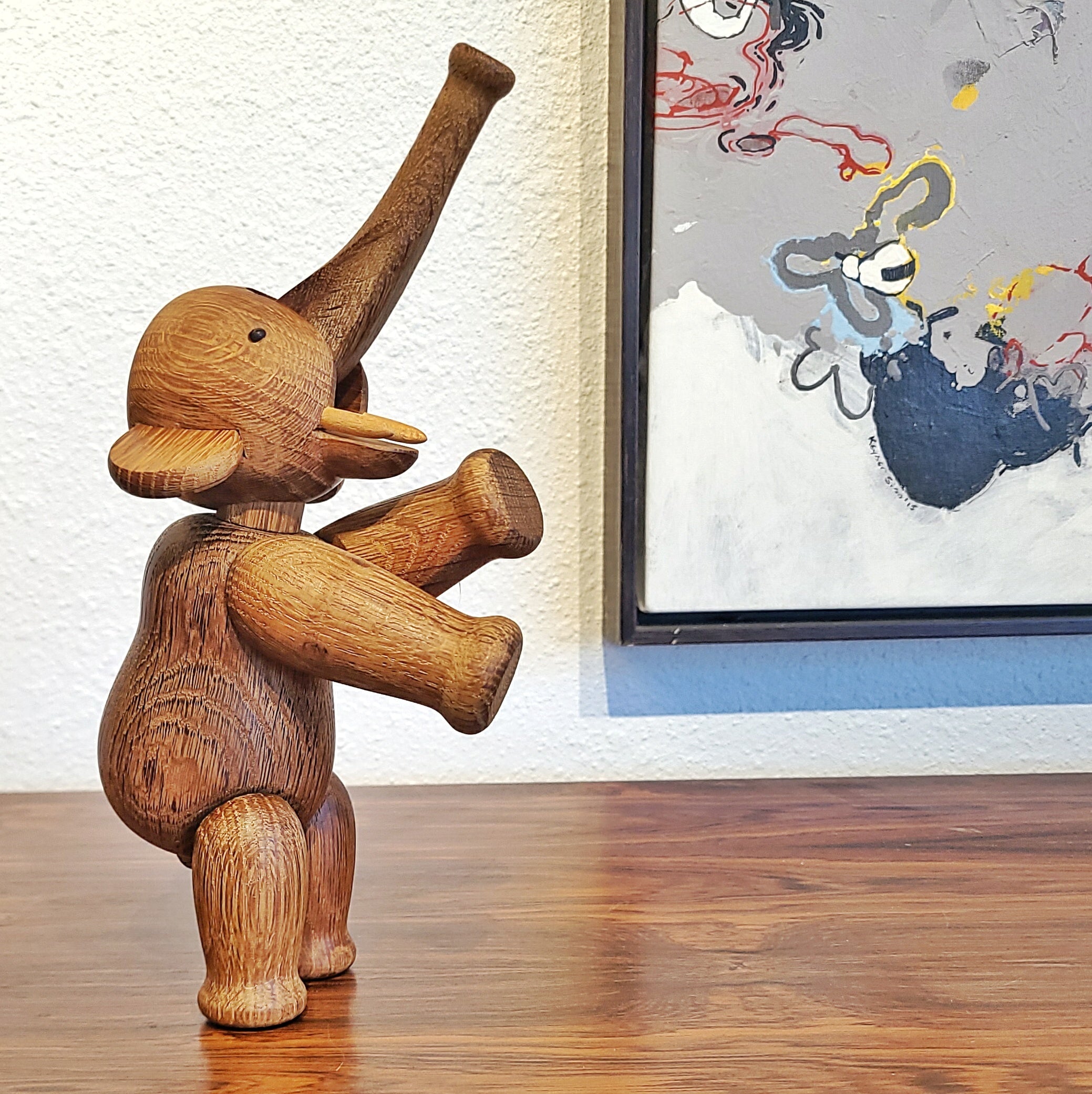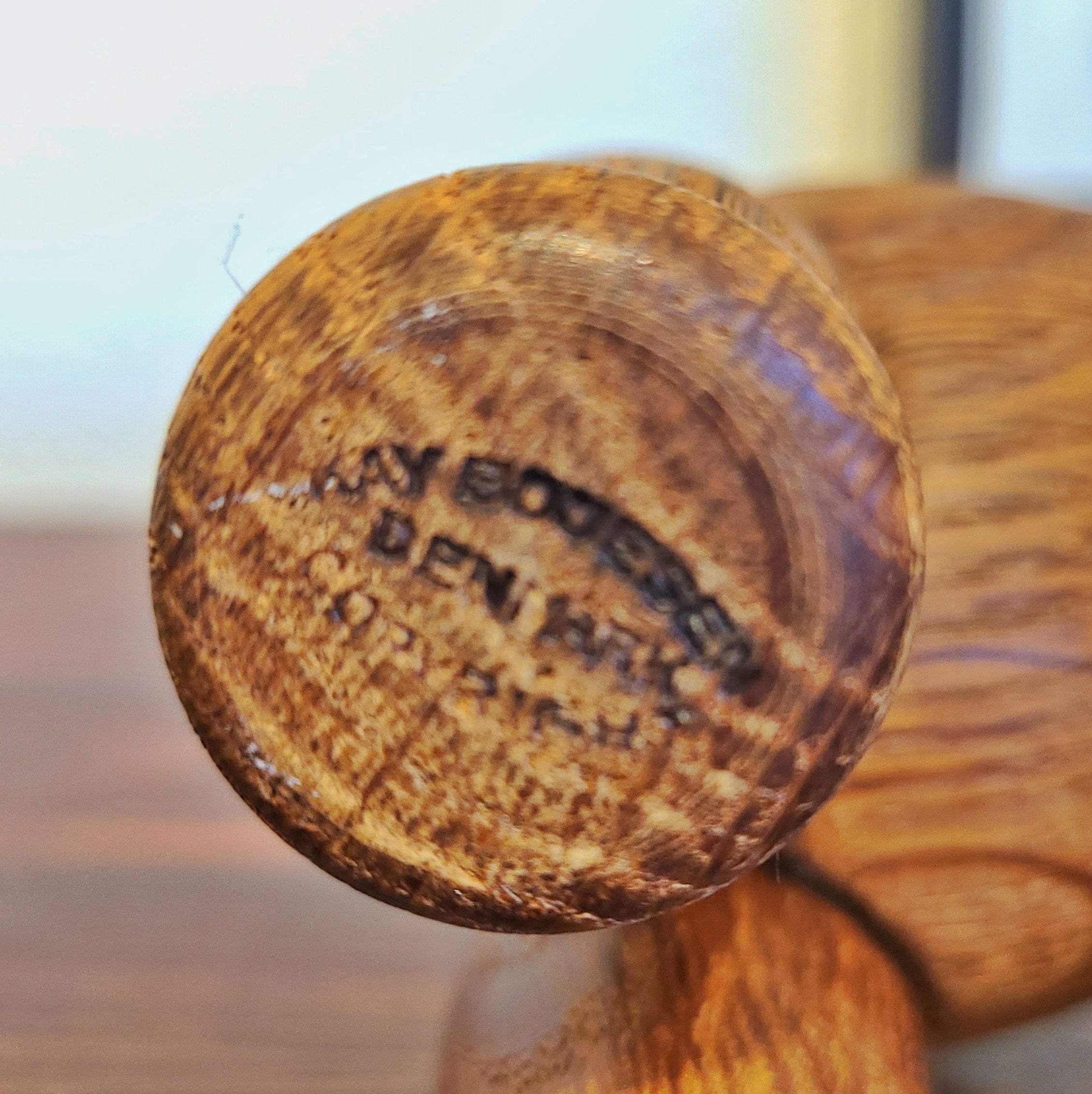 EARLY ORIGINAL ARTICULATED OAK ELEPHANT BY KAY BOJESEN c. 1953 (DENMARK)
CONTACT US HERE ABOUT THIS ITEM.
An excellent early example of Kay Bojesen's hand-carved, articulated, solid oak elephant—designed in Denmark in 1953. It has a beautiful, rich, golden brown patina, and its right front foot bears the early Bojesen oval mark. All joints are tight and in working order. A classic for children and adults alike. With its cheery countenance, the elephant should be a faithful companion for life.
KAY BOJESEN (1886–1958) was a Danish silversmith and designer. Born in Copenhagen, he first trained to be a grocer, but began working for Danish silversmith Georg Jensen (1866–1935) in 1906. He completed his apprenticeship in 1910. His early work is described as being in an Art Nouveau style, likely due to Jensen's influence. BOJESEN was one of the first Danish artisans to embrace functionalism and was also among the pioneers behind Den Permanente, the "Permanent Exhibition of Danish Arts." Organized by a cooperative of artists "to provide and maintain exhibition premises in Copenhagen for the propaganda and sale at home and abroad of the products of Danish handicrafts and industrial design," it included a shop and showroom and came to represent the best in Danish and Scandinavian design.
In the 1930s, BOJESEN started to indulge his interest in wood. He created a range of wooden toys that all lived up to his ideal that design should be round, soft, and have a good feel to it. He made no attempt to create lifelike copies of real animals but instead to create imaginative toys for a child's world, where "lines need to smile." He is best known for his wooden monkey, which was exhibited at the Victoria and Albert Museum in London in the 1950s and which today is considered a design classic. He created more than 2000 such toys and was one of Denmark's most prolific artisans of the 20th century.
Apart from wooden toys, BOJESEN's repertoire included teapots and goblets in silver. He also designed furniture for children, jewellery, and housewares. A set of stainless steel cutlery he designed in 1938 won the Grand Prix at the Milan Triennial IX of 1951, after which it was rechristened Grand Prix. Relaunched for manufacture by BOJESEN's granddaughter, Susanne Bojesen Rosenqvist, the set is known today as the national cutlery of Denmark and is found in every Danish Embassy worldwide. BOJESEN died in 1958, at the age of 72. His shop in Copenhagen, which he had founded in 1932, was operated by his widow Erna Bojesen until her death in 1986.
DETAILS
Designer – KAY BOJESEN
Design Period/Year – 1953
Origin – DENMARK
Styles/Movements – DANISH MODERN
Materials – OAK
Colors – GOLDENROD, BEIGE, BLACK
Condition – Excellent original vintage condition with a gorgeous golden brown patina. There are no flaws and only very minor signs of previous ownership, consistent with age and use.
Dimensions – 9 ¼" W × 3 ½" D × 5 ¾" H