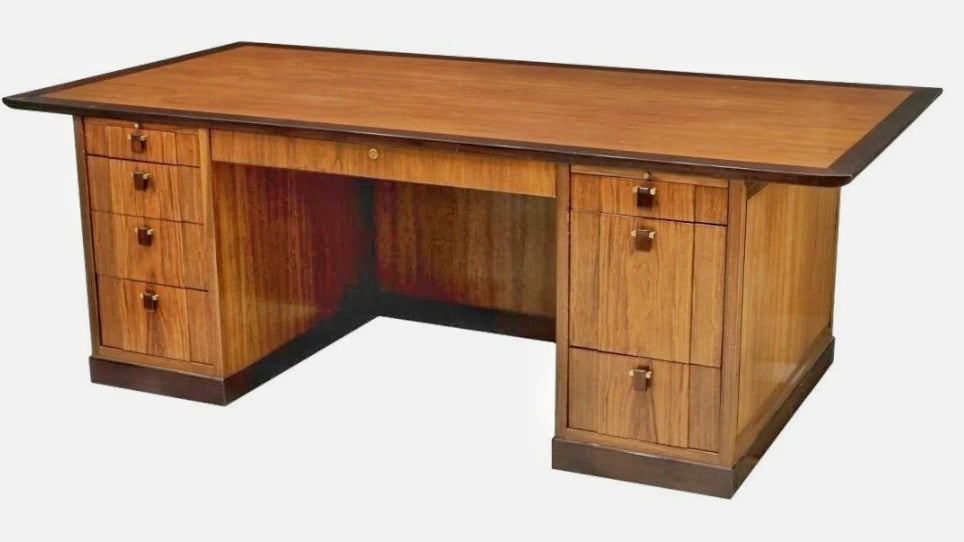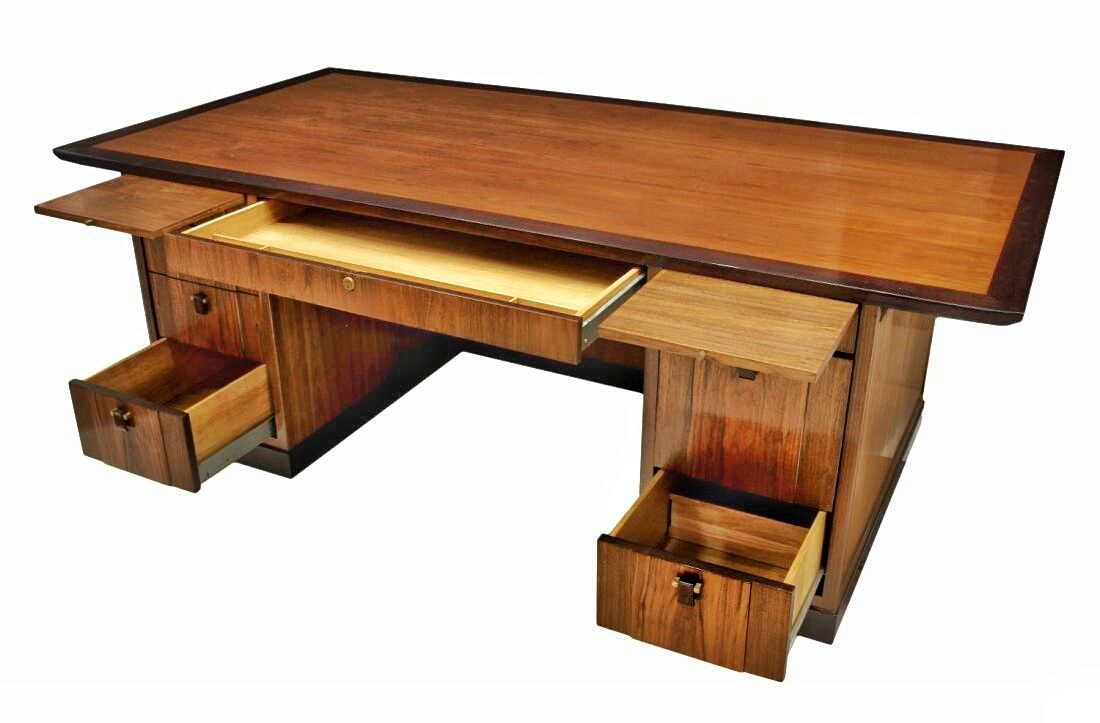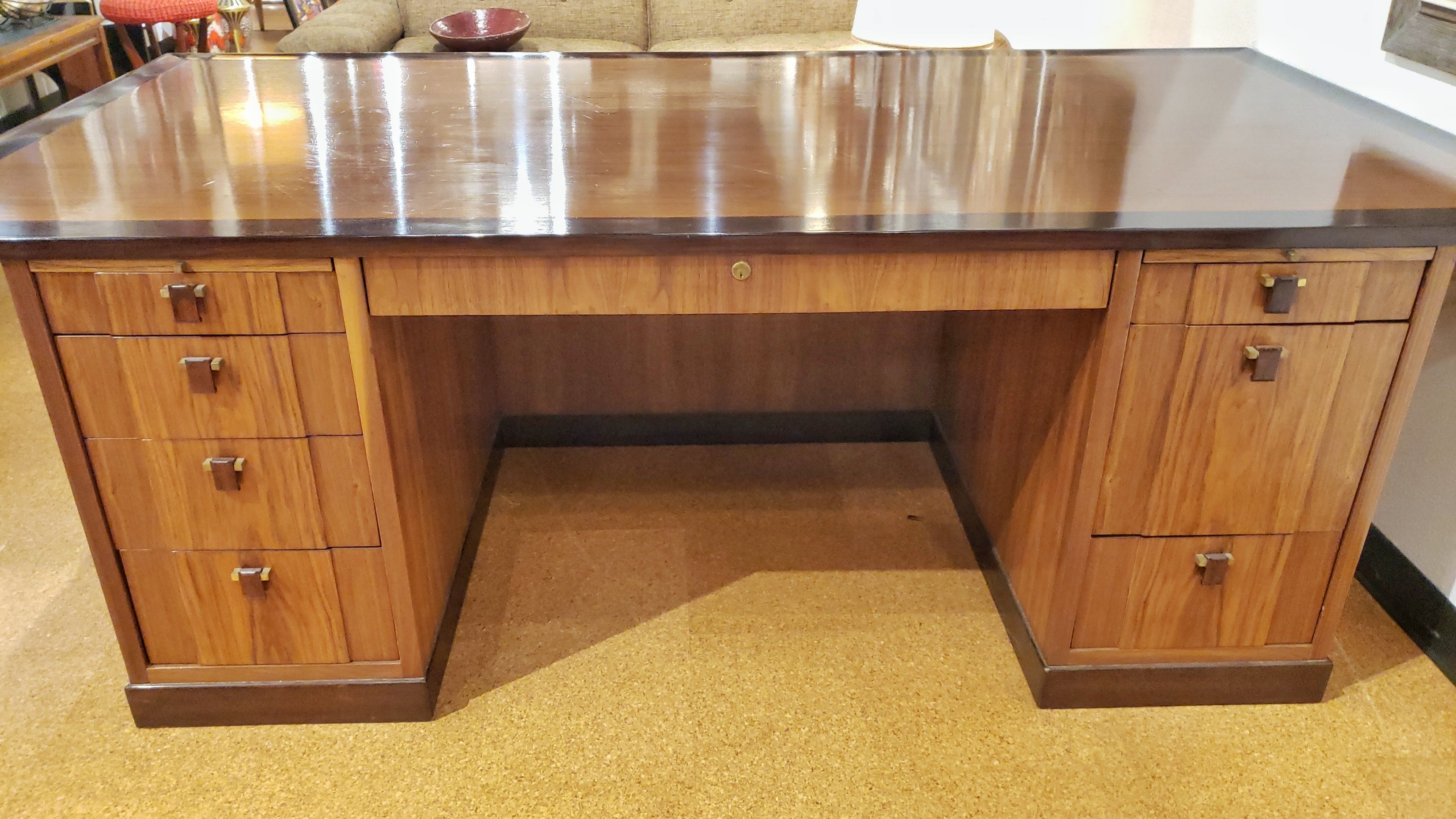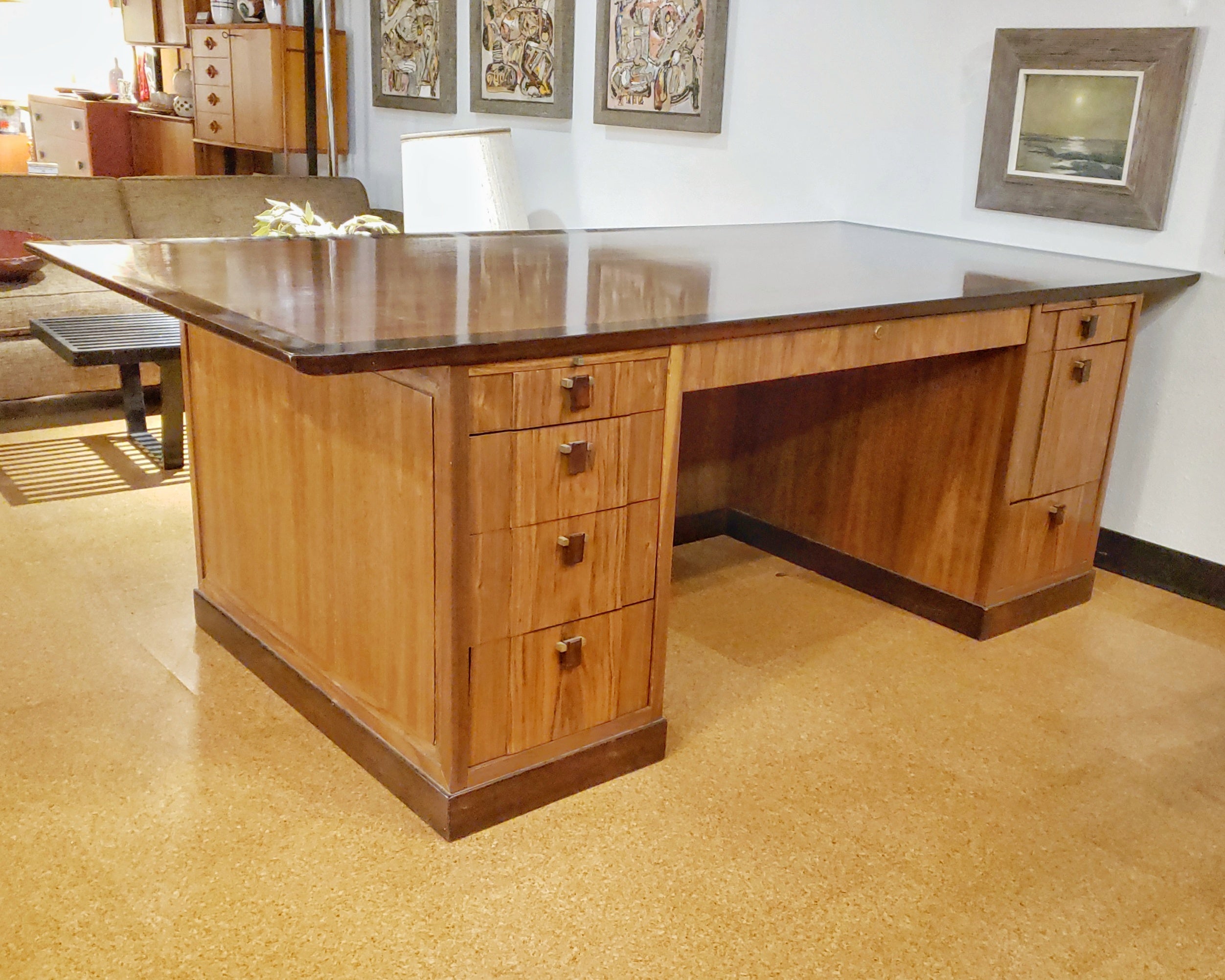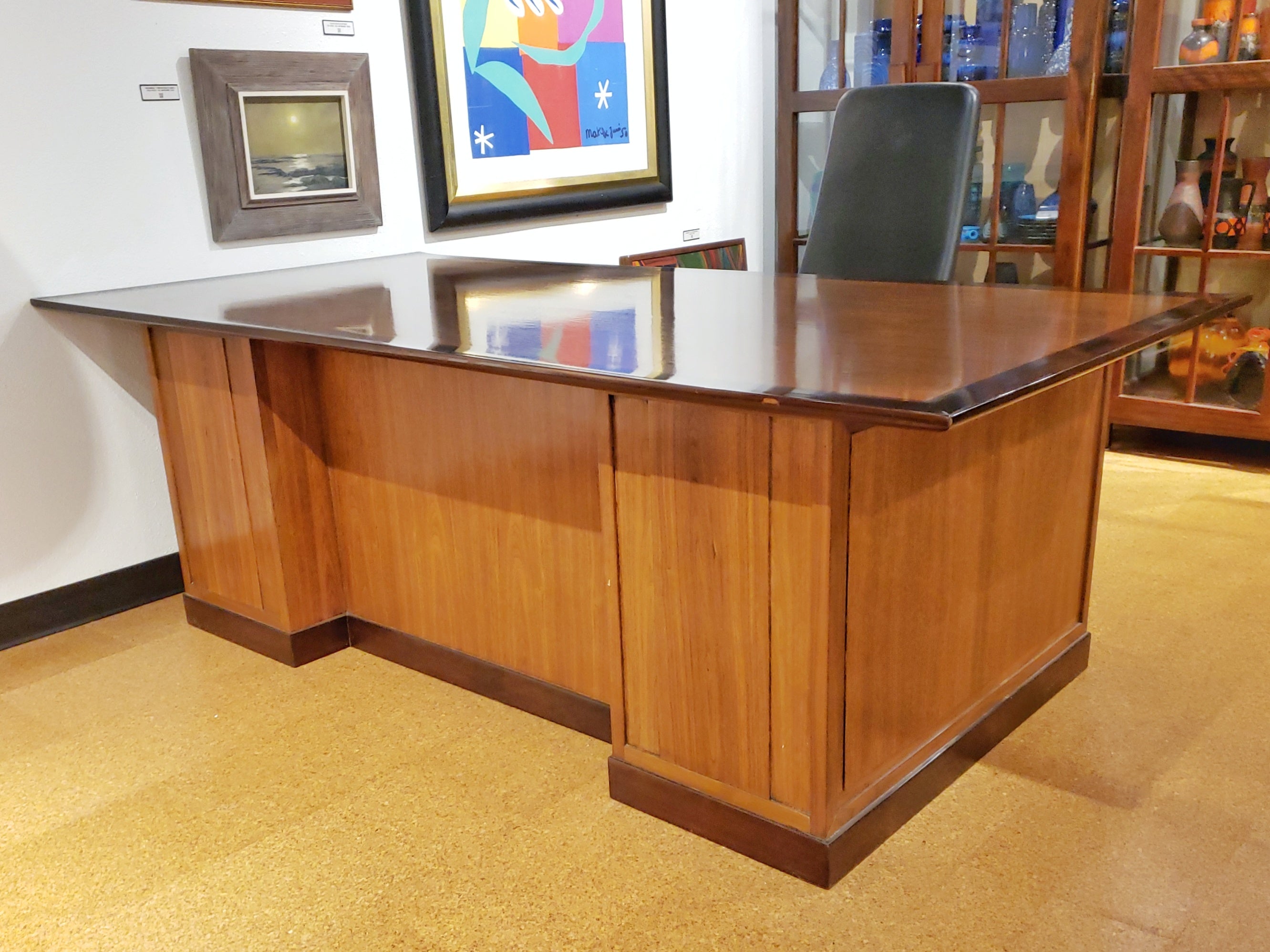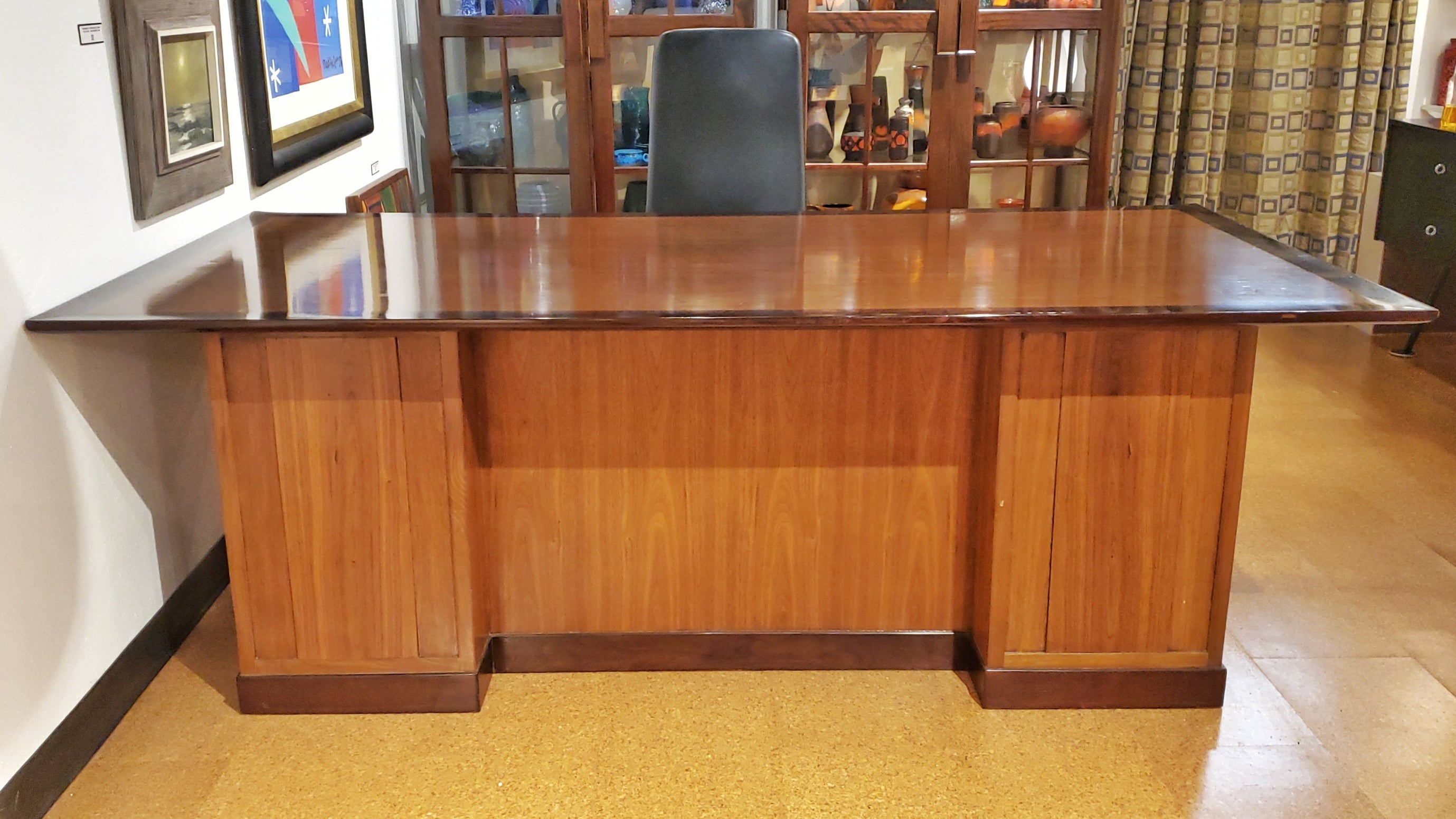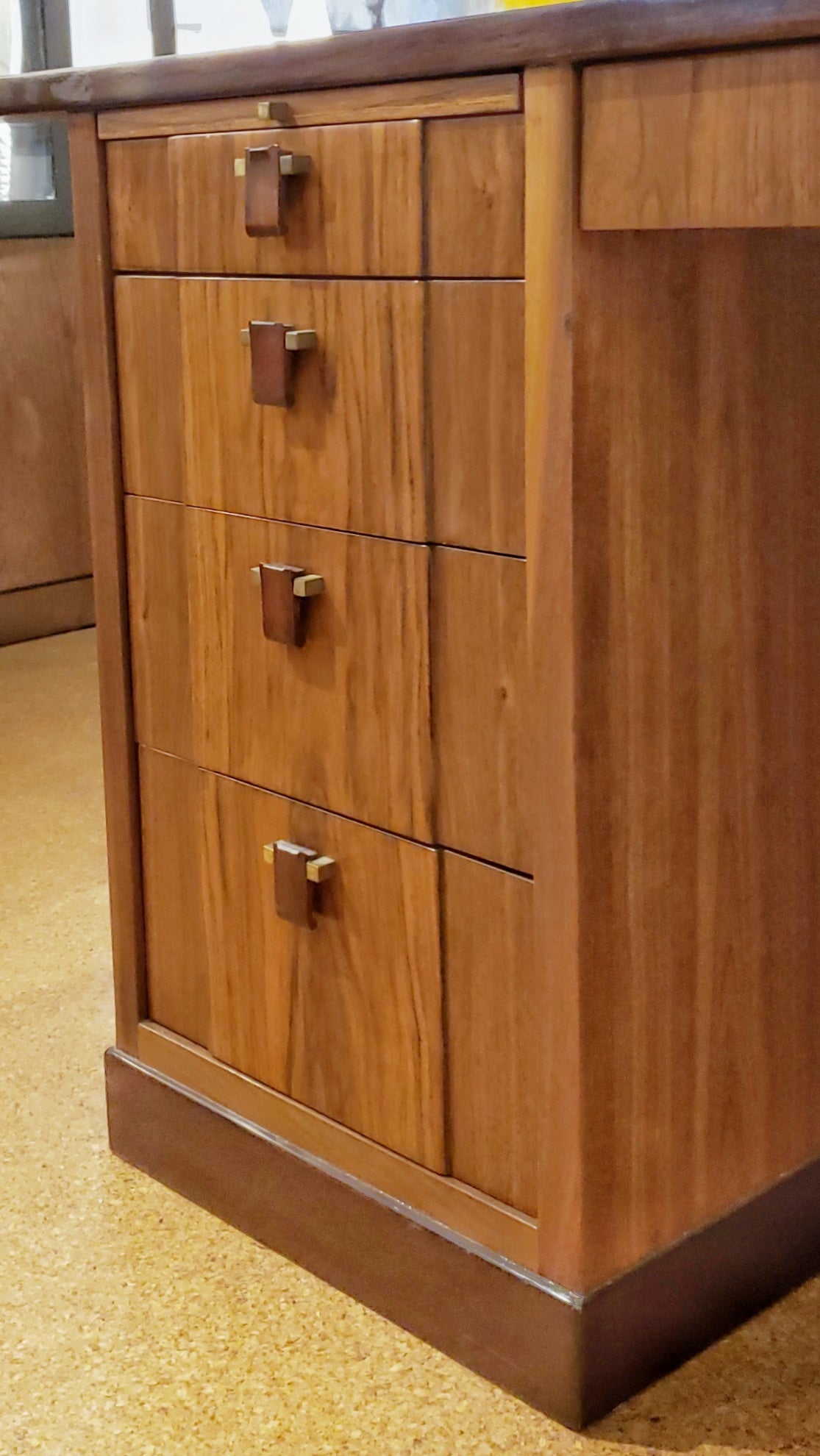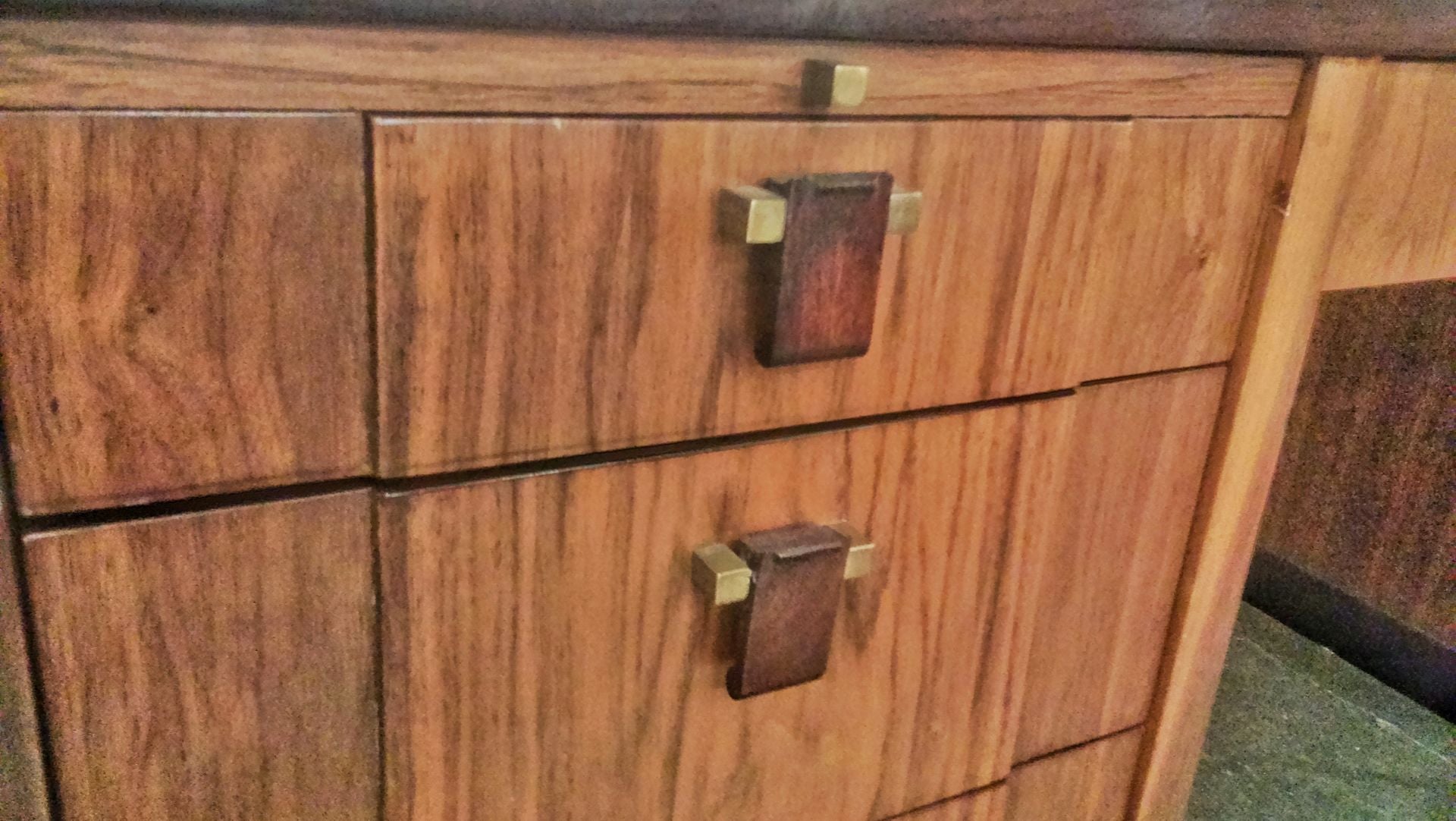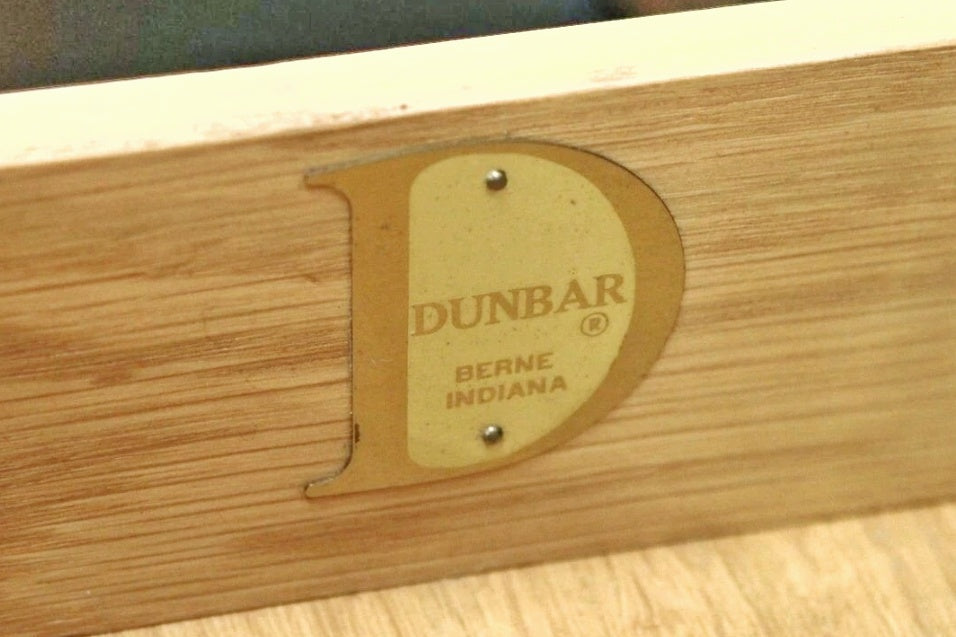 EDWARD WORMLEY EXECUTIVE DESK FOR DUNBAR
$8,925.00
Regular price
$10,500.00
CONTACT US HERE ABOUT THIS ITEM.
A stunningly beautiful two-tone, double-pedestal executive desk by Edward Wormley for the DUNBAR Furniture Company.  Made predominately of richly grained tawi, it is trimmed in high-contrast solid mahogany and exquisitely detailed throughout.  The top produces a dramatic overhang on three sides, its dark border rounding up slightly before leveling out above the recessed kneehole.  The desk has eight drawers (including a hanging-file drawer), right- and lefthand pull-out writing surfaces, and a modesty panel.  Both of its bevelled pedestals sit atop plinth bases.  The vertical woodgrain of the drawer-fronts is matched for visual continuity; each drawer has a mahogany hang-pull that swings freely from solid brass hardware.  This piece would make a dramatic, urbane, and particularly masculine statement in any executive office—at home or the office.  Knee clearance of 25".
EDWARD J WORMLEY was born in Oswego, IL, a small farming community west of Chicago.  He attended the Art Institute of Chicago in the late 1920s and took his first job with the design studio at Marshall Field's department store.  He was recruited by Dunbar Furniture of Berne, IN, in 1931 and soon rose to become its Director of Design.  His work was a great hit from the start, and in 1944 DUNBAR was inspired to abandon the manufacture of historical reproductions and focus strictly on Modern lines.  A devotee of meticulous craftsmanship, Wormley would create some of the most memorable pieces of the mid-20th century—elegant, understated, and exceptionally well-made.  Never truly at the forefront of Modernism, Wormley combined multiple elements of classical, historical design and translated them into an American vernacular, incorporating many European innovations.  His tenure with DUNBAR is considered one of the most historically meaningful partnerships between designer and manufacturer.  He retired from DUNBAR in the late 1960s.
Furniture is needed for practical reasons, and because it must be there, it may as well be as pleasant as possible to look at, and in a less definable psychological way, comforting to the spirit. – EDWARD J WORMLEY
Design Period – 1960-1969
Country of Origin – USA
Designer – EDWARD J WORMLEY (1907-1995)
Maker – DUNBAR
Attribution – MARKED
Materials – TAWI, MAHOGANY
Condition – VERY GOOD (no defects; may show slight traces of use)
Height (in.) – 29.0
Width (in.) – 84.0
Depth (in.) – 42.0