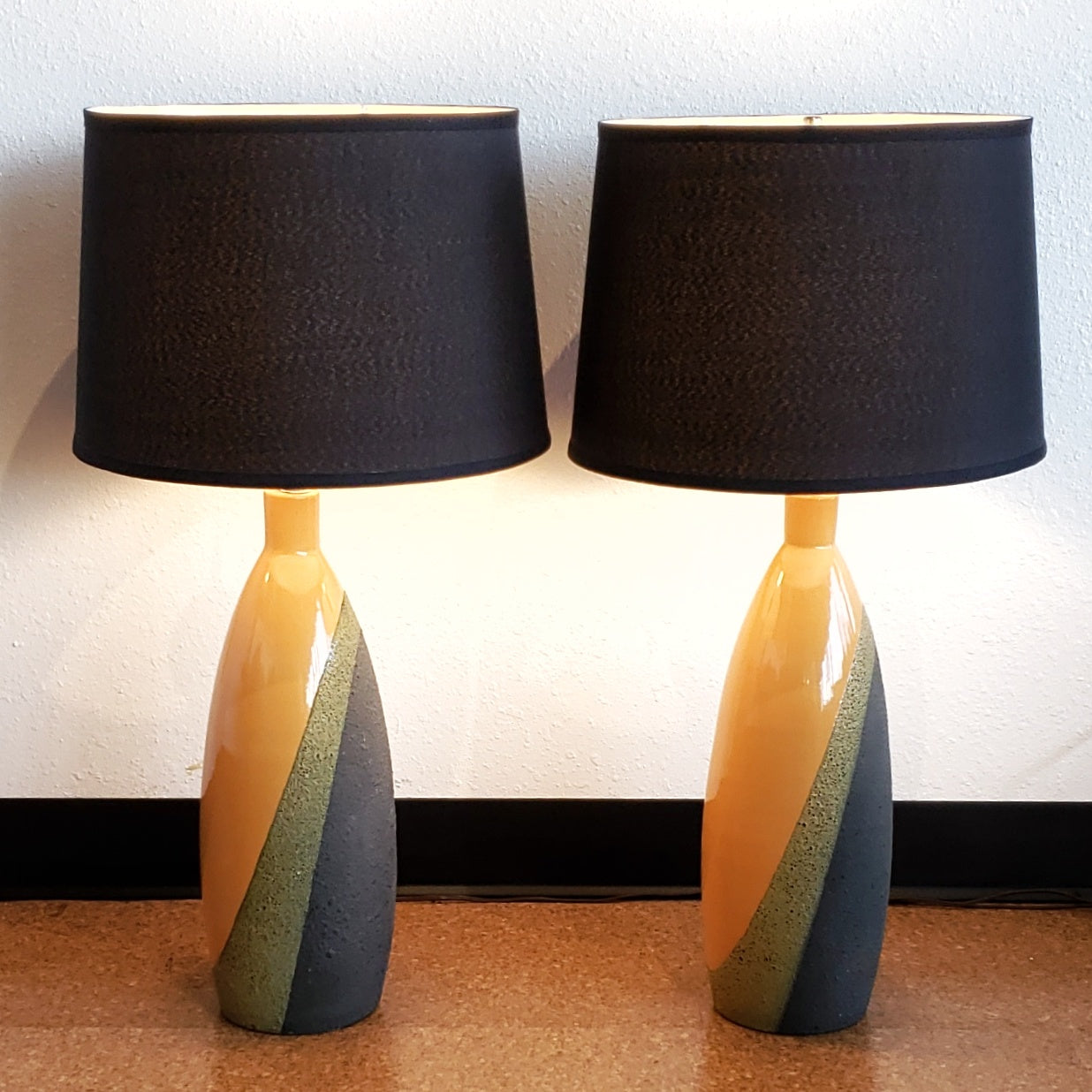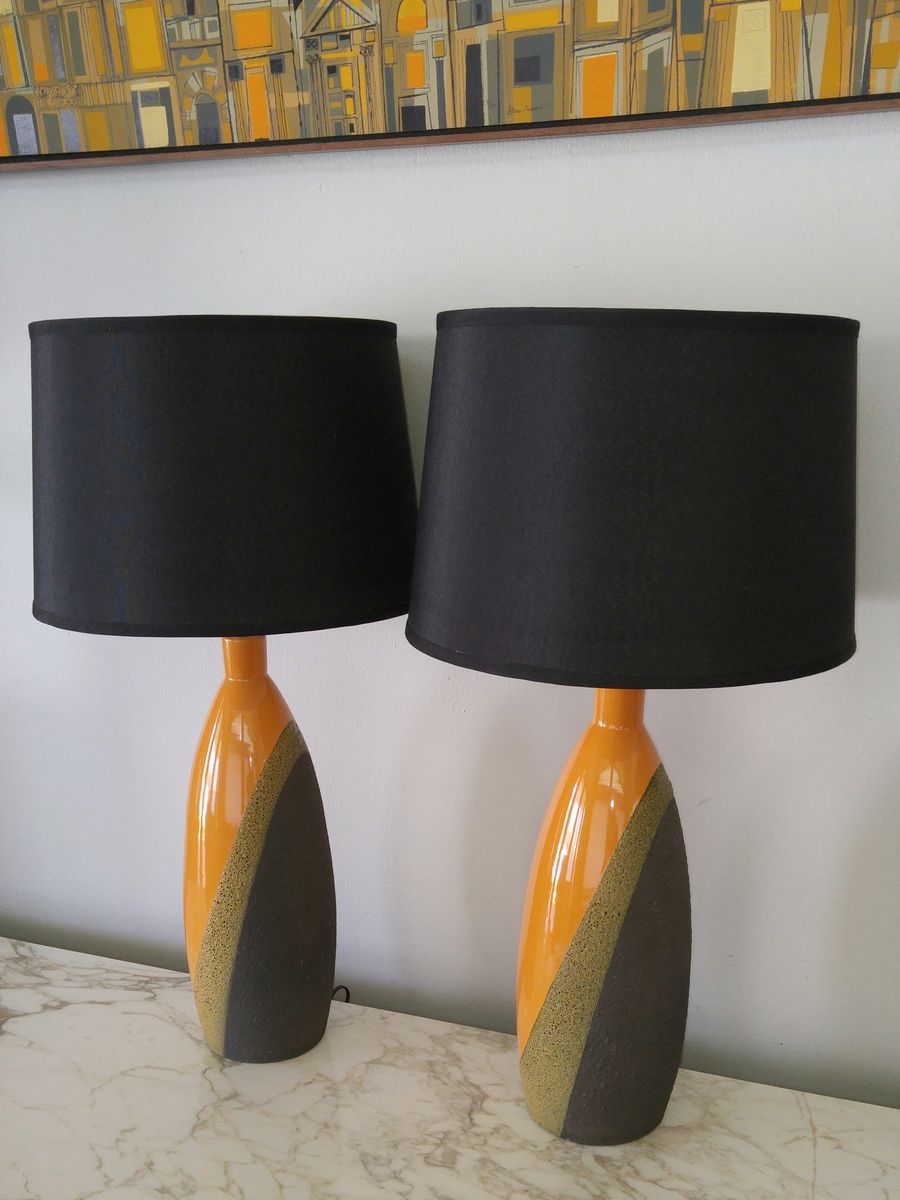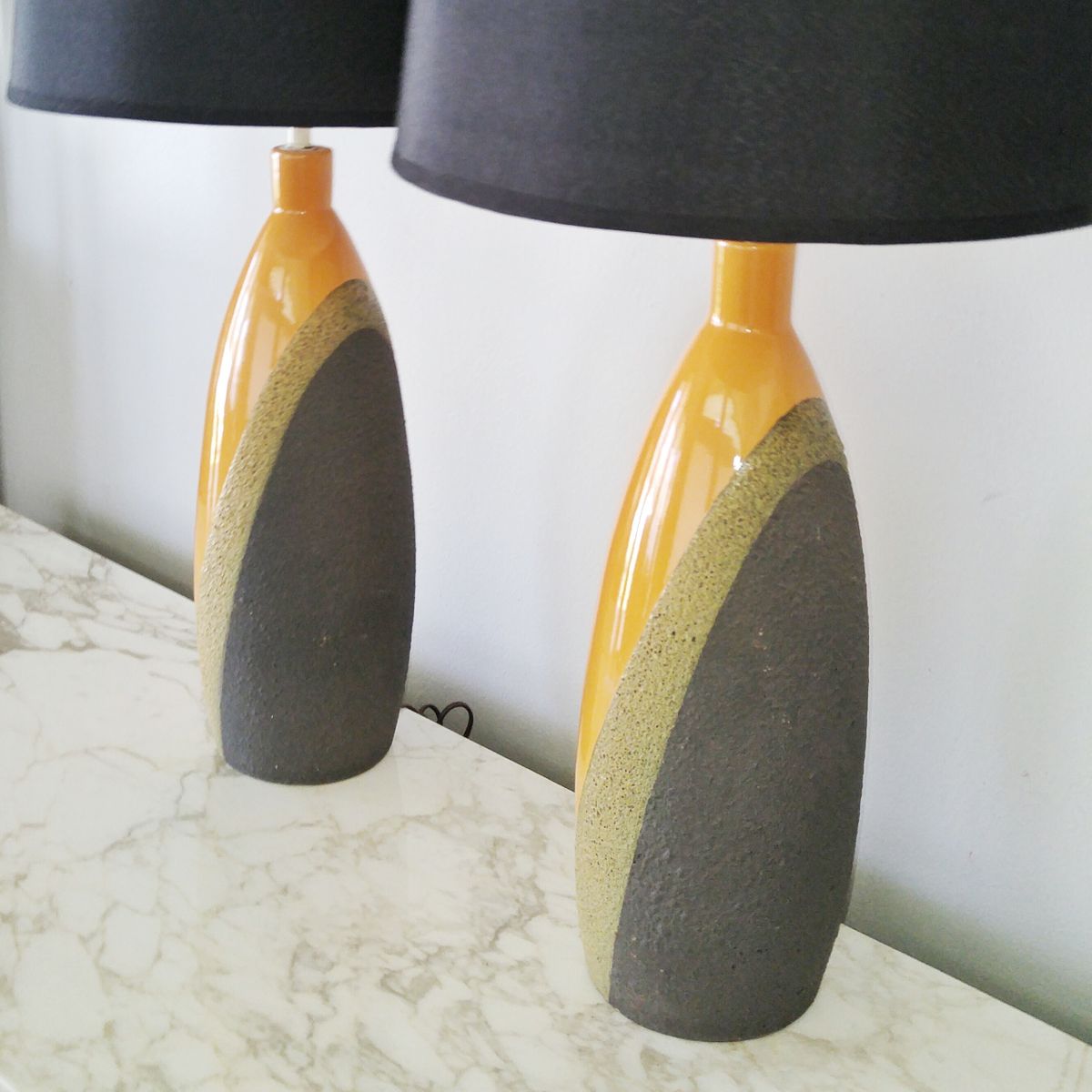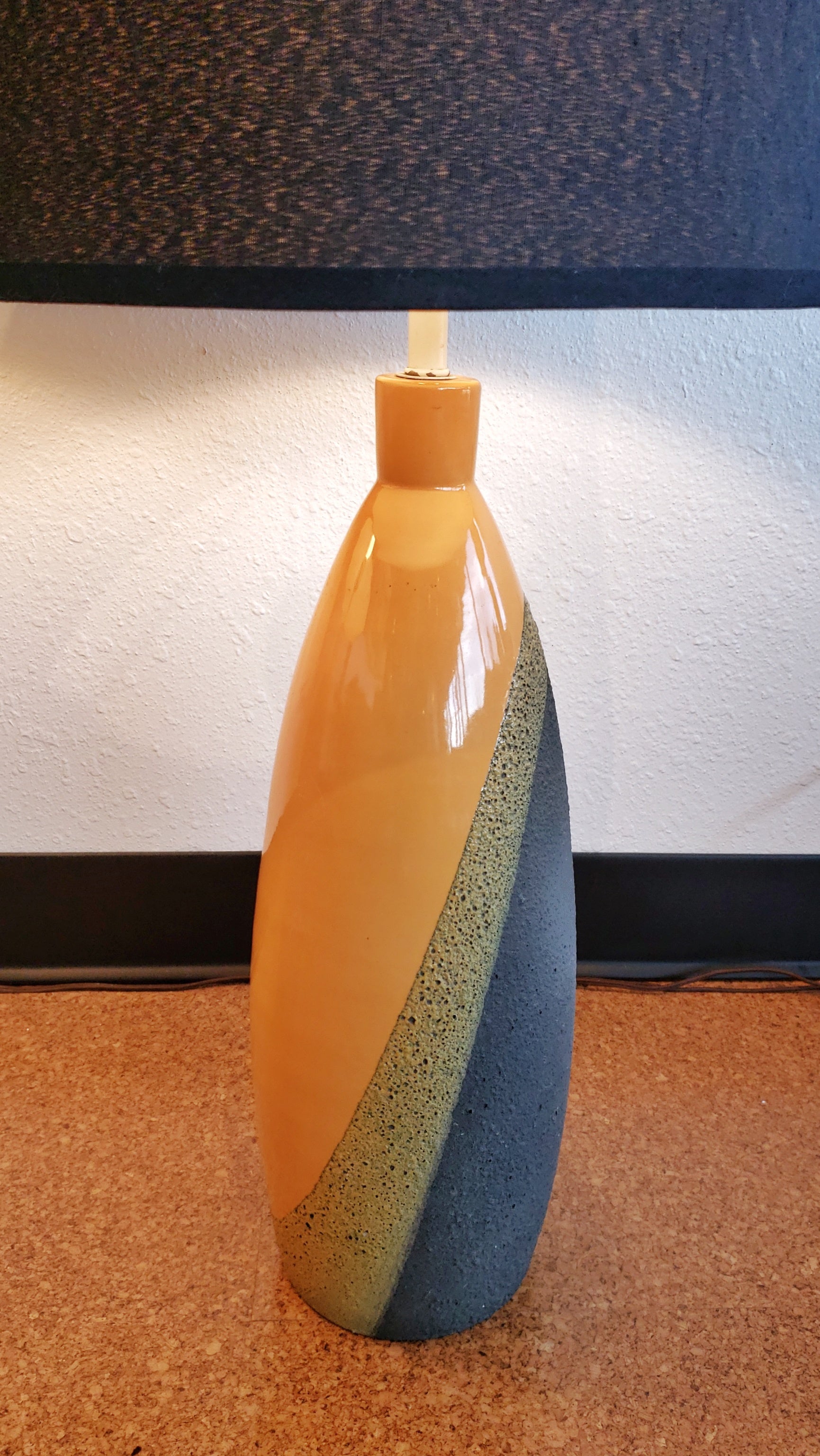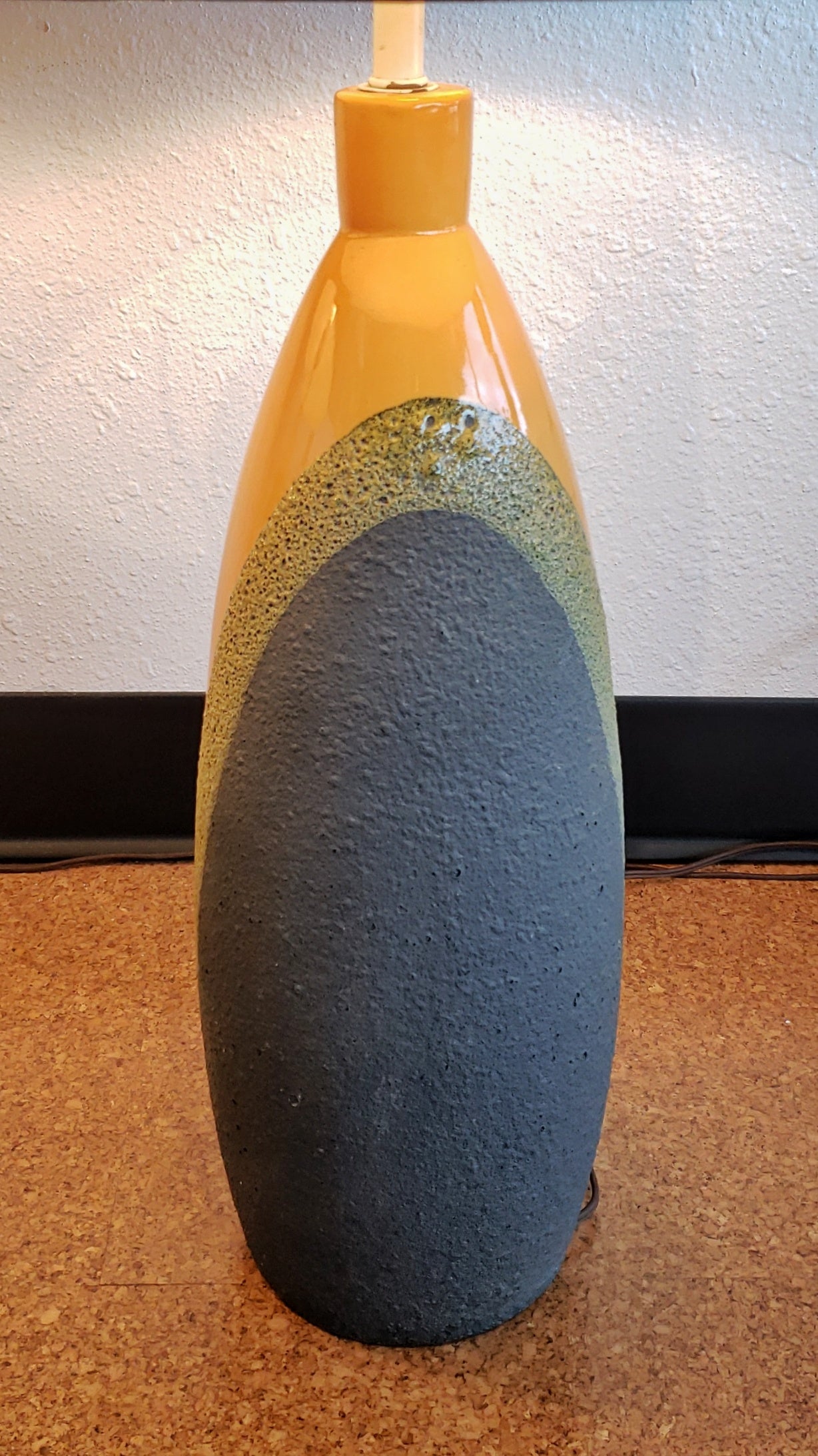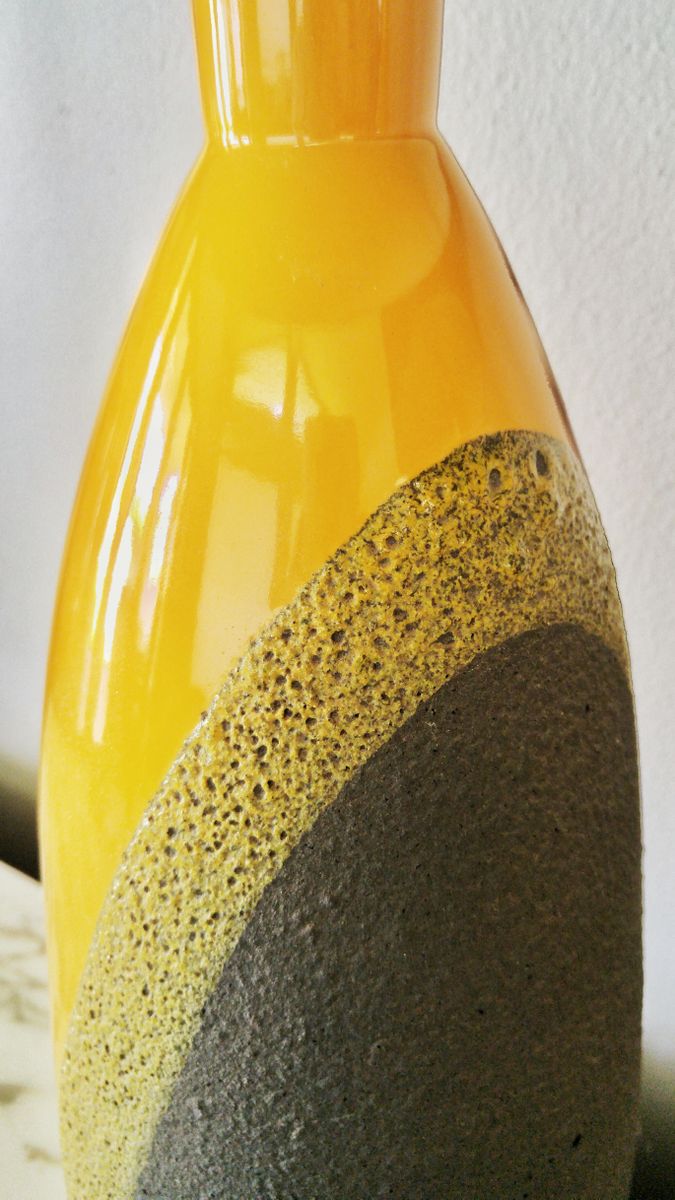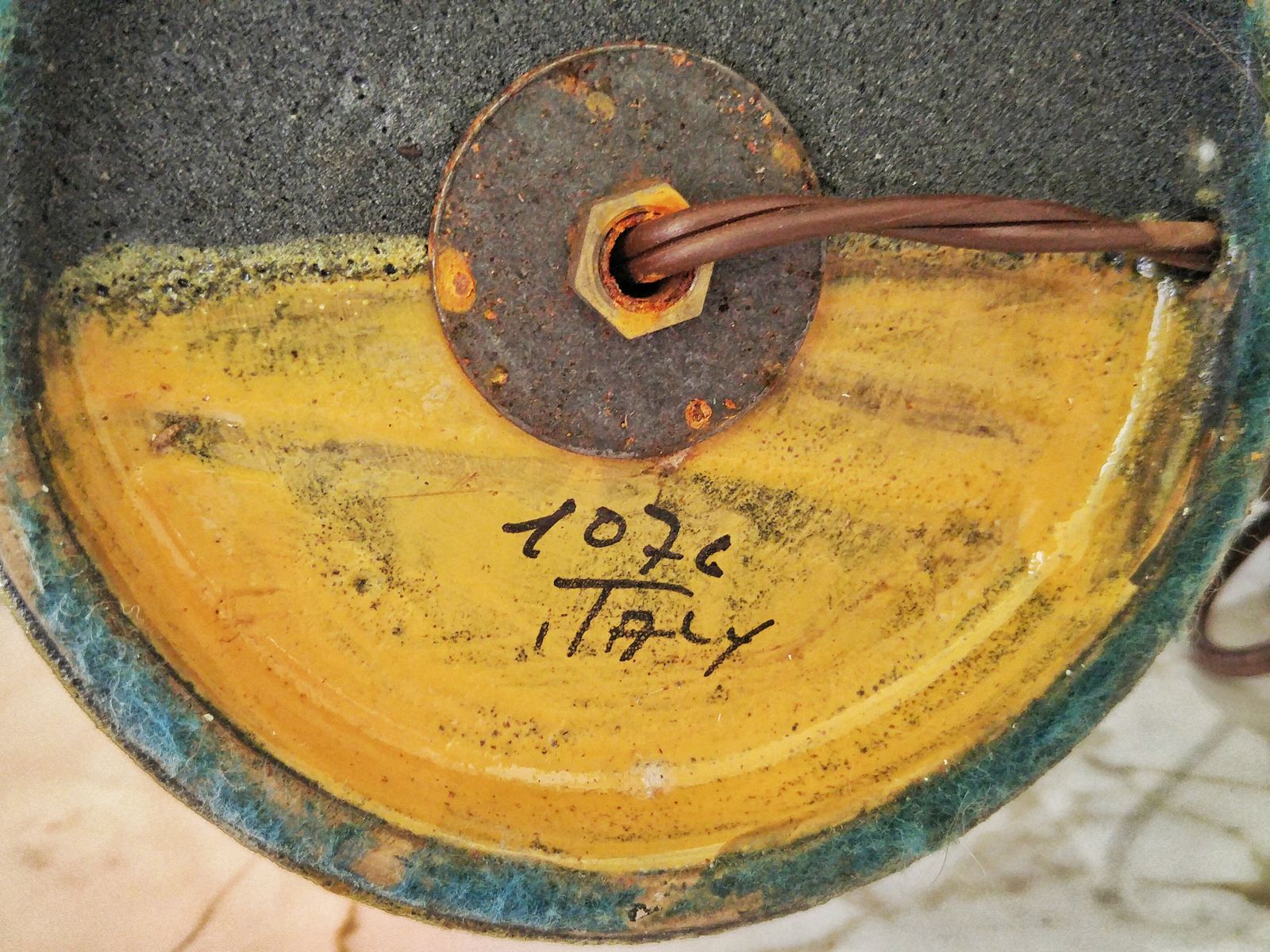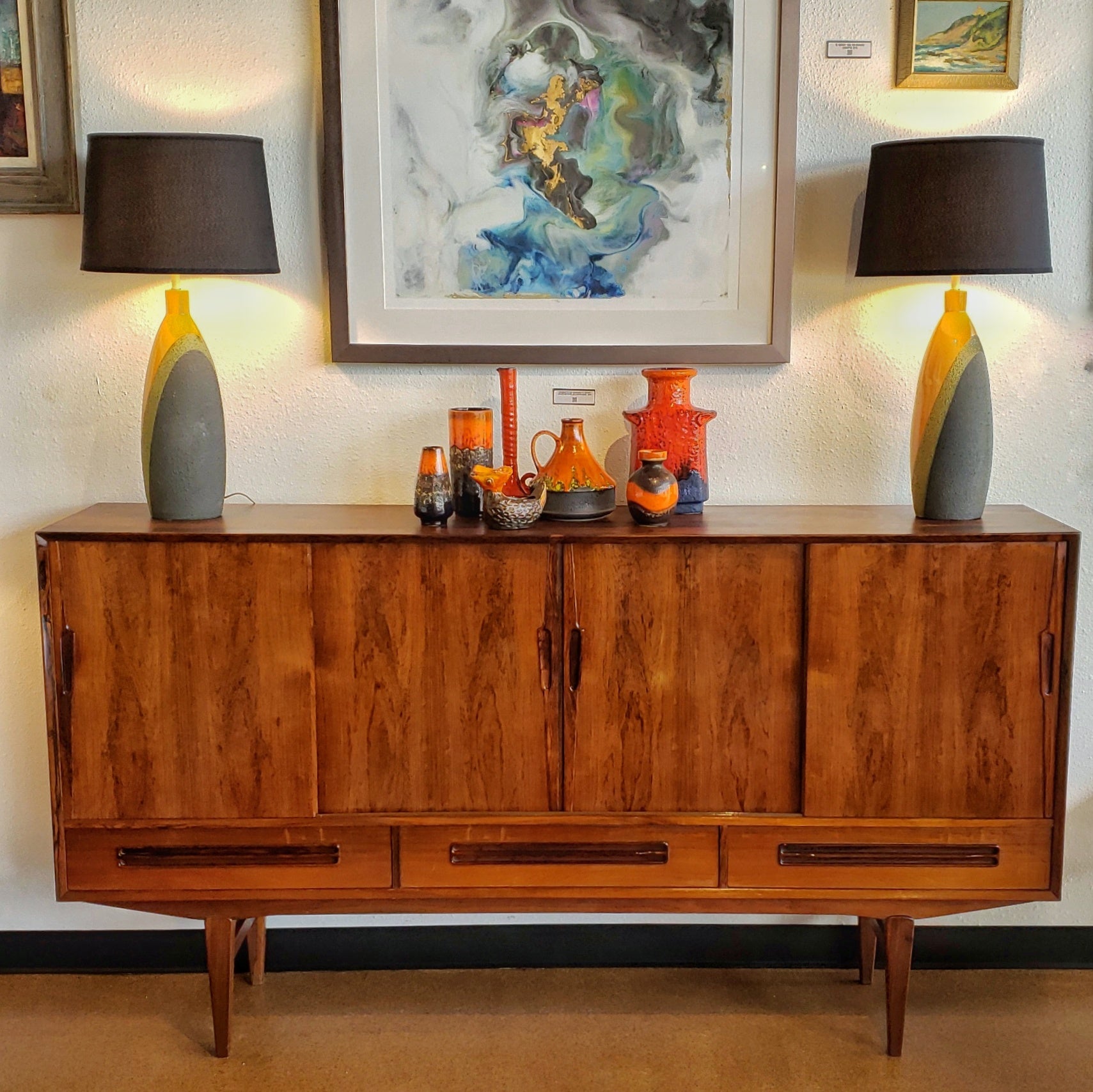 ETTORE SOTTSASS TABLE LAMPS FOR BITOSSI
CONTACT US HERE ABOUT THIS ITEM.
A beautiful pair of cadmium yellow table lamps with yellow/dark-gray volcanic surface decor and black, cloth shades.  Designed in the mid to late 1950s by famed Italian architect and industrial designer Ettore Sottsass and produced by BITOSSI CERAMICHE of Montelupo Fiorentino, Italy.  Probably imported into the US by Raymor.
ETTORE SOTTSASS was born in Innsbruck in 1917 and grew up in Turin in northern Italy, where his father (also Ettore) worked as an architect.  Sottsass attended the prestigious Politecnico di Torino, and graduated in 1939 with a degree in architecture.  He then dutifully joined the Italian military.  When Italy surrendered to the Allies in 1943, hundreds of thousands of Italian troops were captured by the Germans, Sottsass among them.  He spent the rest of the war in a labor camp in Sarajevo.  Upon his return home, Sottsass worked for a few years in Turin with his father, often on new, modernist versions of buildings that had been destroyed during the war.  In 1947 he set up his own architectural and industrial design studio in Milan.  There he began to explore a variety of media:  ceramics, painting, sculpture, furniture, photography, jewelry, architecture, and interior design.  In 1956 Sottsass had a brief stint working with industrial designer George Nelson, initially in Nelson's New York City offices.  During this time, his focus shifted away from architecture and toward design.
Returning to Italy in 1957, he took a job as an art director with the design company Poltronova, a semi-industrial producer of contemporary furniture.  The following year he signed on as a consultant in the electronics division of Olivetti, the Italian typewriter manufacturer.  Its founder Adriano Olivetti hired Sottsass to work alongside his son, Roberto.  Sottsass made a name for himself as a designer at Olivetti, where he managed to bring office equipment into the realm of popular culture.  Sottsass, Roberto Olivetti, and Mario Tchou won the prestigious 1960 Compasso d'Oro prize for the design of the 'Elea 9003,' the first Italian mainframe computer.  His work for Olivetti reached a climax in 1969 when he collaborated with Perry King on the 'Valentine' typewriter—today considered a milestone in 20th century design.  Compared with the drab typewriters of the day, the bright red plastic portable 'Valentine' was as much a design statement as an office machine, and it became something of a fashion accessory.  Meanwhile at Poltronova, Sottsass developed a range of objects that were expressive of his personal travels in the US and India.  These included large, altar-like ceramic sculptures and his 'Superboxes'—massive case pieces meant to hold all of one's belongings and to reside in the middle of a room.  Covered in boldly colorful custom laminates, they anticipated Sottsass's work with the Memphis Group.
Sottsass spent the 1960s and '70s playing with radical forms and materials—reimagining the very concept of functionality.  These years were marked by experimental collaborations with young design collectives such as Superstudio and Archizoom Associati and culminated in the founding of the Memphis Group in December 1980.  (The group took its name from a Bob Dylan song that happened to be playing during its first meeting, "Stuck Inside of Mobile with the Memphis Blues Again.")  Memphis was launched with a 40-piece collection of postmodern furniture, ceramics, lighting, glass, and textiles that featured fluorescent colors, slick surfaces, intentionally lop-sided shapes, and squiggly patterns in laminate.  Other founding members were Aldo Cibic, Marco Marabelli, Matteo Thun, and Marco Zanin; Johanna Grawunder, Marco Susani, and Mike Ryan joined later.  The group was active through 1988 and attracted worldwide attention with its energy and flamboyance.
Concurrent with the Memphis Group, Sottsass began assembling a major design consultancy, Sottsass Associati.  Its studio gave him a platform from which to launch architectural and design projects of a substantial scale for such large international companies as Apple, Phillips, Siemens, Zanotta, Fiat, and Alessi.  Its work was generally conducted by young associates, who often left to open their own studios.  Sottsass Associati, now based in London and Milan, continues to operate.  In 2006 the L.A. County Museum of Art held the first major museum survey exhibition of Sottsass's work in the US.  Retrospectives have since been mounted in London (2007), Maastricht (2009), and, on the occasion of his 100th birthday, in New York City (2017).
BITOSSI CERAMICHE was established in 1921 as Manifattura Ceramica Cav. Guido Bitossi & Figli by Guido Bitossi in Montelupo Fiorentino in Tuscany—a region with an ancient tradition of ceramics a few kilometers from Florence.  The Bitossi family, documented in the area as early as 1536, had for centuries worked there as sculptors, painters, but especially as potters.  In the twentieth century, under Guido's leadership, they would introduce an extraordinary stylistic and formal renewal of their craft.
In the late 1940s master ceramist Aldo Londi (1911-2003) was named BITOSSI CERAMICHE's creative director.  He held the position for more than 50 years and would design over 1,000 objects for the company.  Himself a Montelupo native, Londi brought to BITOSSI a deep expertise in the traditional production of ceramics.  Nevertheless he keenly appreciated the streamlined forms of the mid-century moment.  He is best known for his 'Rimini Blu' collection (1955-1965), an iconic series comprised of over 150 designs—bowls, vases, jugs, and animal figurines—all glazed in a vibrant azure hue and embossed with abstract motifs and shapes.  It helped to bring expressive, hand-crafted work into the modernist design conversation in Italy.  Londi's last solo collection, 'ARKitectura,' stands somewhat apart from his earlier work and features elegantly minimalistic animal figures glazed in monochromatic black, white, or platinum.  Both collections are still in production today and widely collected by enthusiasts.
During Londi's tenure, BITOSSI collaborated successfully with a host of famous designers, including the legendary architect-designer Ettore Sottsass.  An avatar of 1960s counter-culture, Sottsass thought design should be provocative and sensual, and his avant-garde style blended well with BITOSSI's mid-century aesthetic.  Besides Sottsass, BITOSSI partnered with designers Piero Fornasetti, Karim Rashid, Arik Levy, Fabio Novembre, Benjamin Hubert, Matteo Thun, Monica Förster, and Cédric Ragot.
Today BITOSSI CERAMICHE is justly considered an institution.  The Bitossi family and its foundation have amassed an archive of over 7,000 historical documents and materials in relation to the production of ceramics.  The assemblage is housed in the Bitossi Artistic Industrial Museum in Montelupo.  In 2014, BITOSSI became an official member of the Registry of Italian Historical Companies, appointed by the Italian National Union of Chambers of Commerce.
I try and be as stupid as possible regarding my profession, which means I try to look at as few design magazines as possible. – ETTORE SOTTSASS
Design Period – 1950-1959
Country of Origin – ITALY
Designer – ETTORE SOTTSASS (1917-2007)
Maker – BITOSSI CERAMICHE
Attribution – WELL-KNOWN
Materials – CERAMIC
Condition – VERY GOOD (no defects; may show slight traces of use)
Plug – N. AMERICAN
Height (in.) – 29.0
Diameter (in.) – 15.09