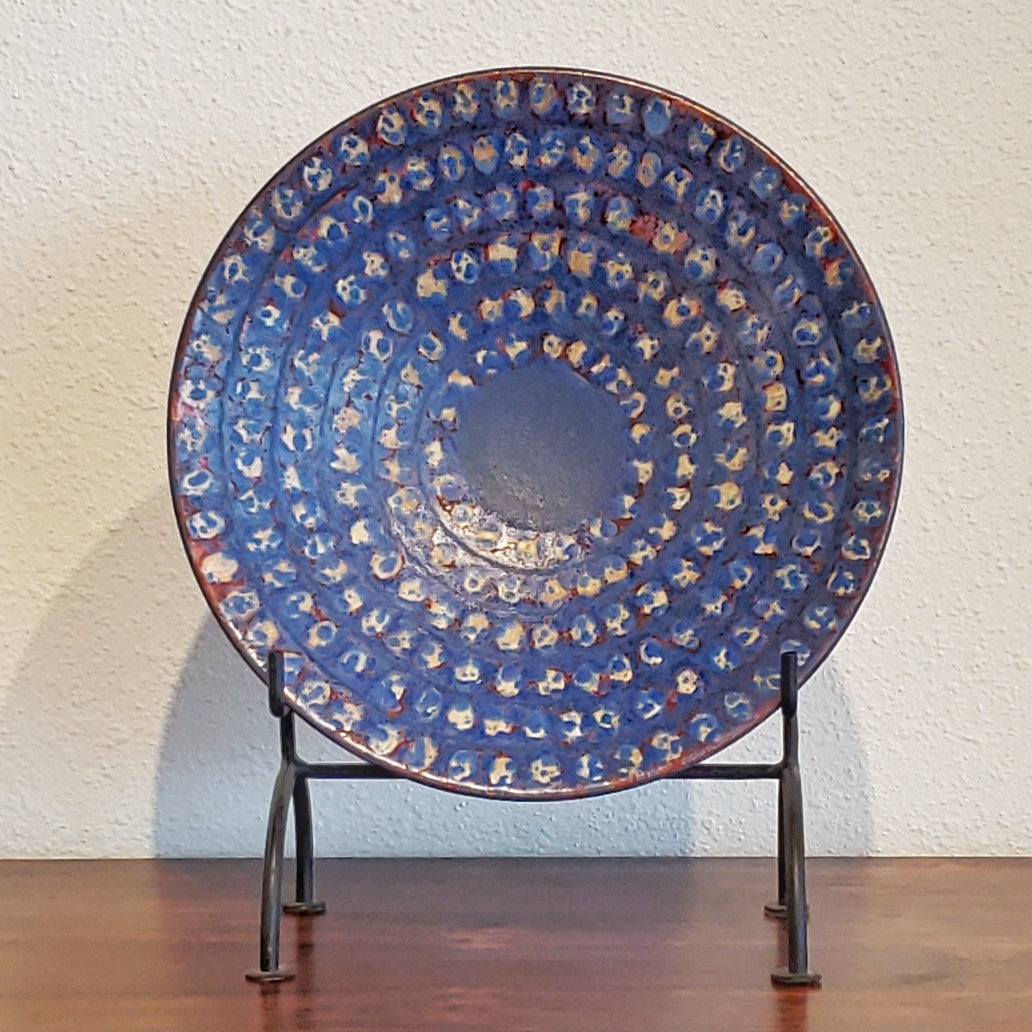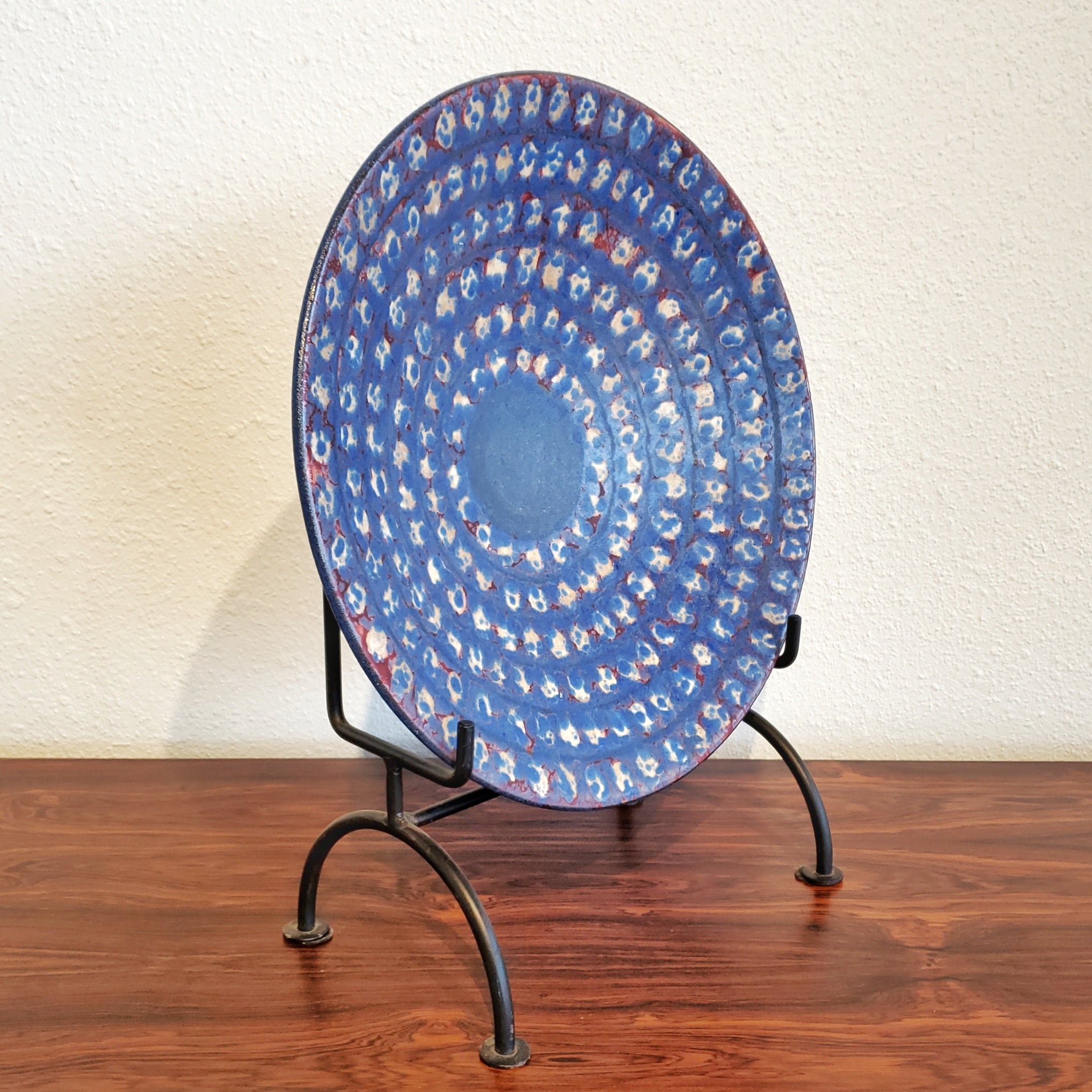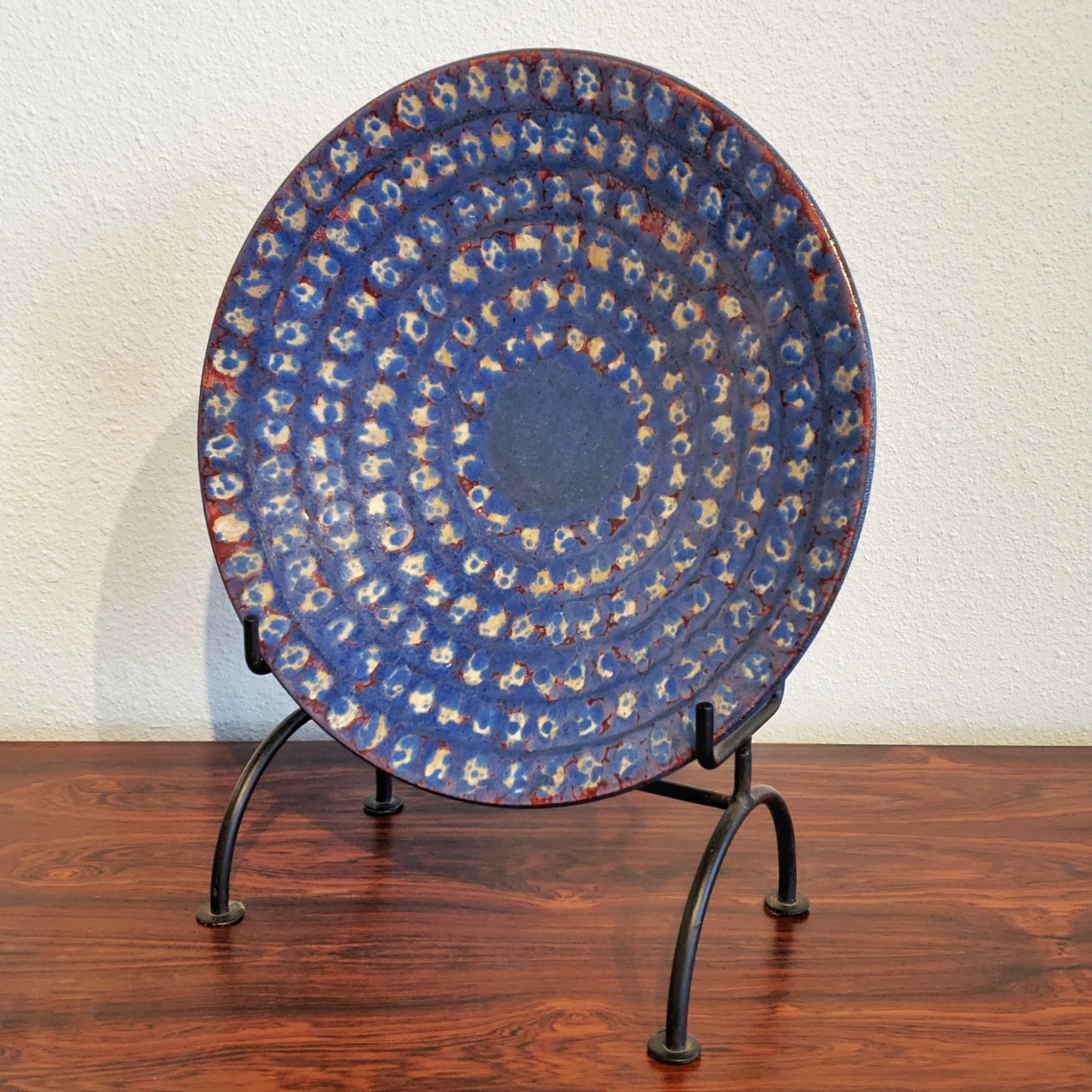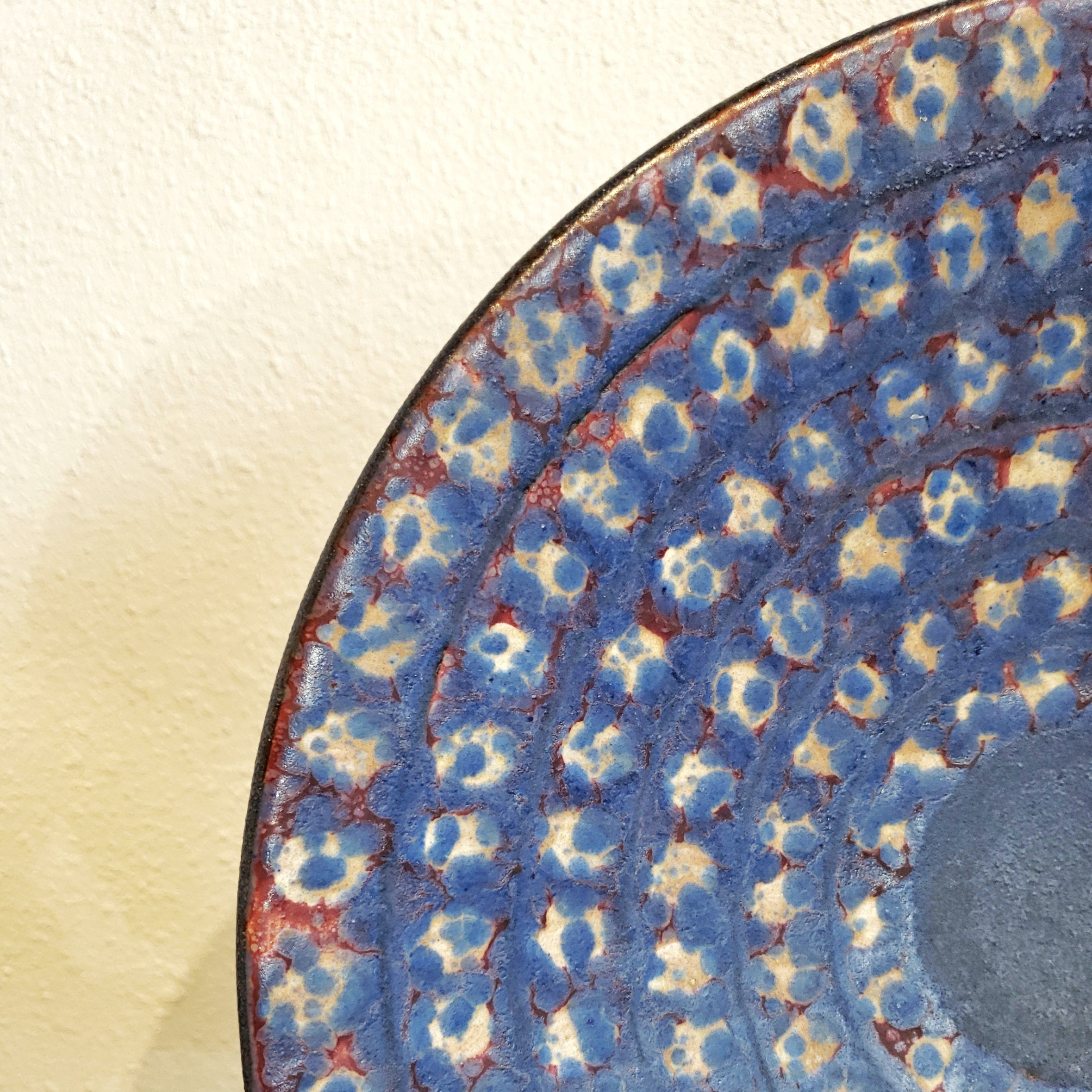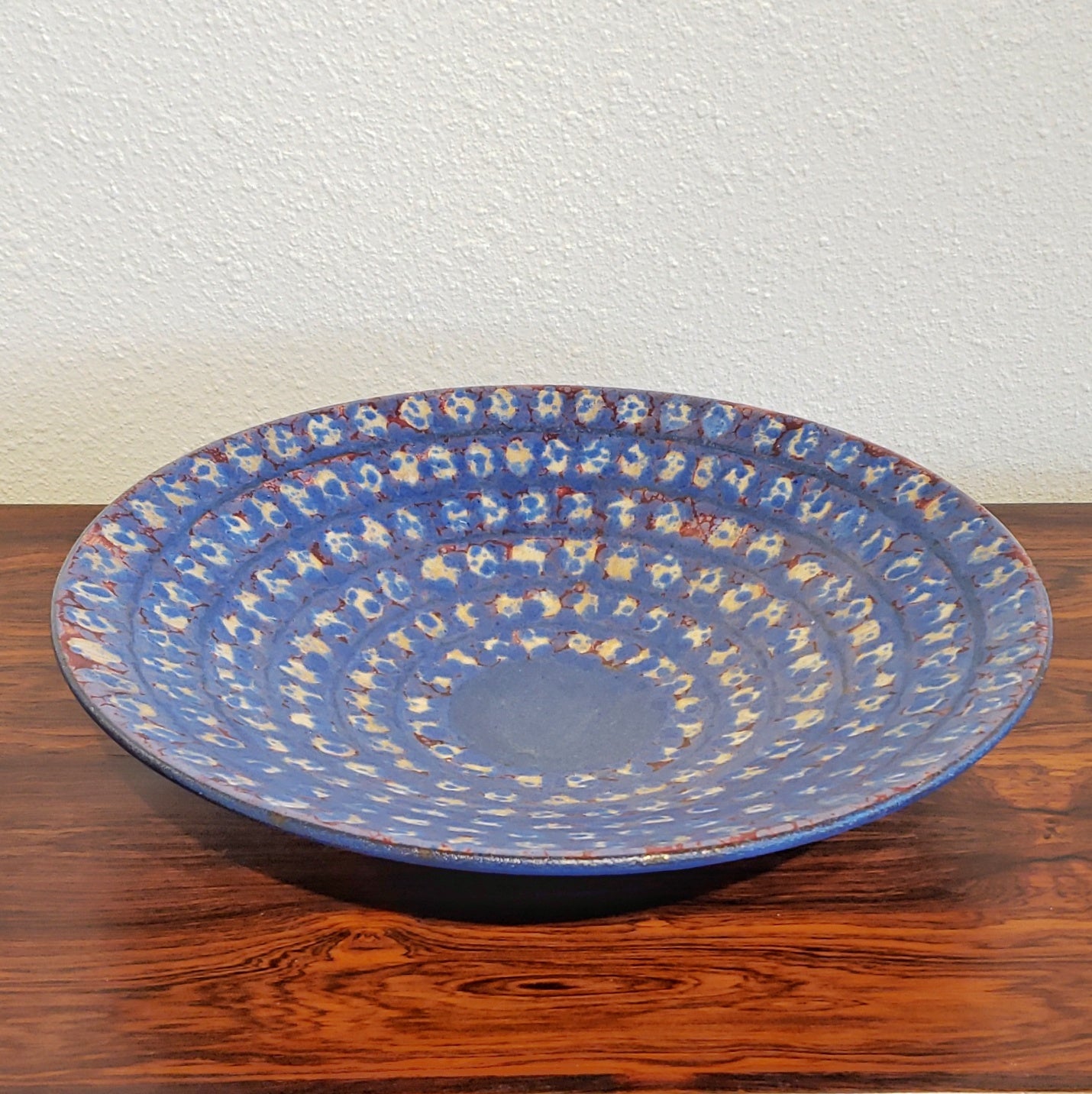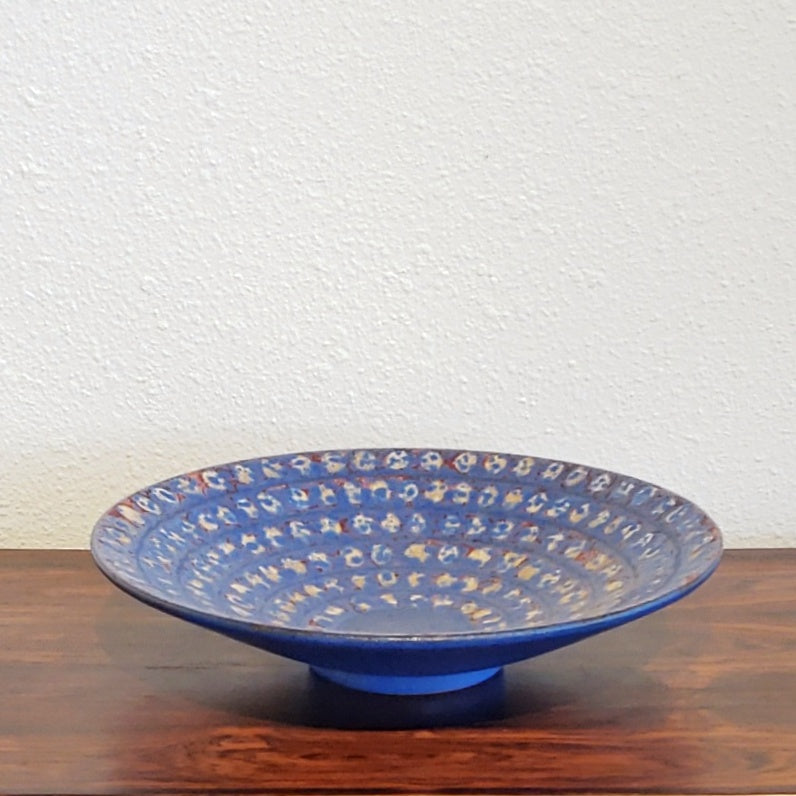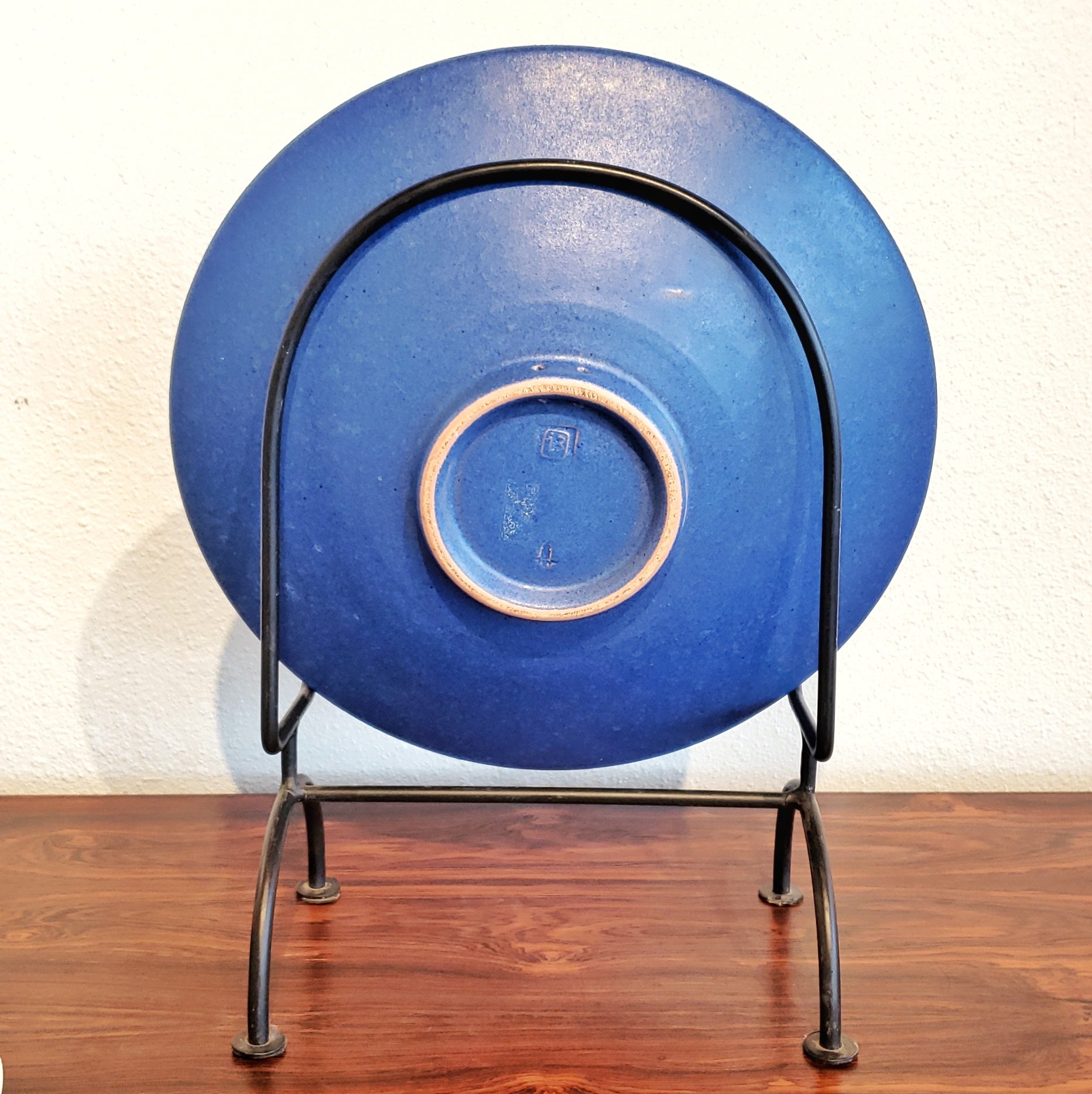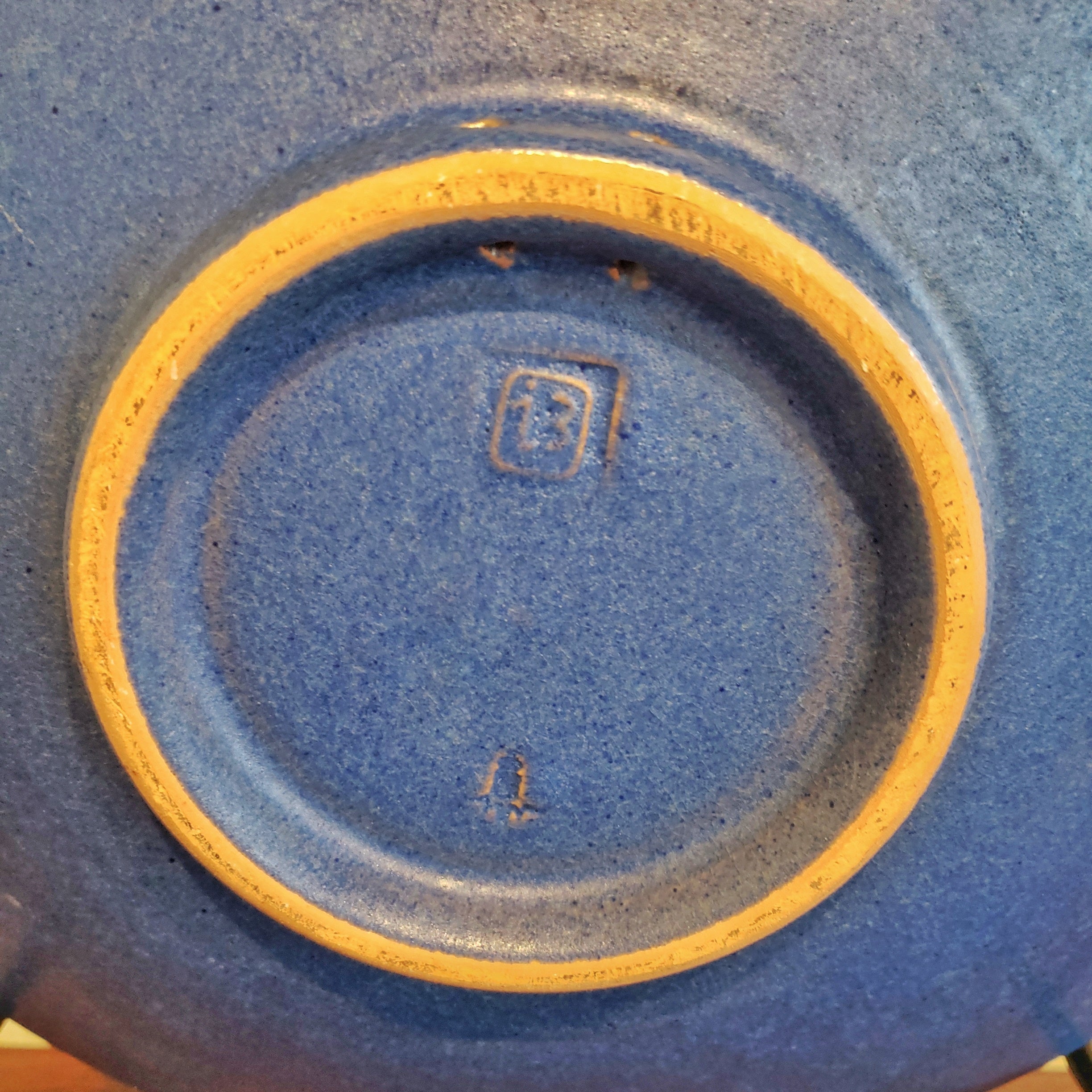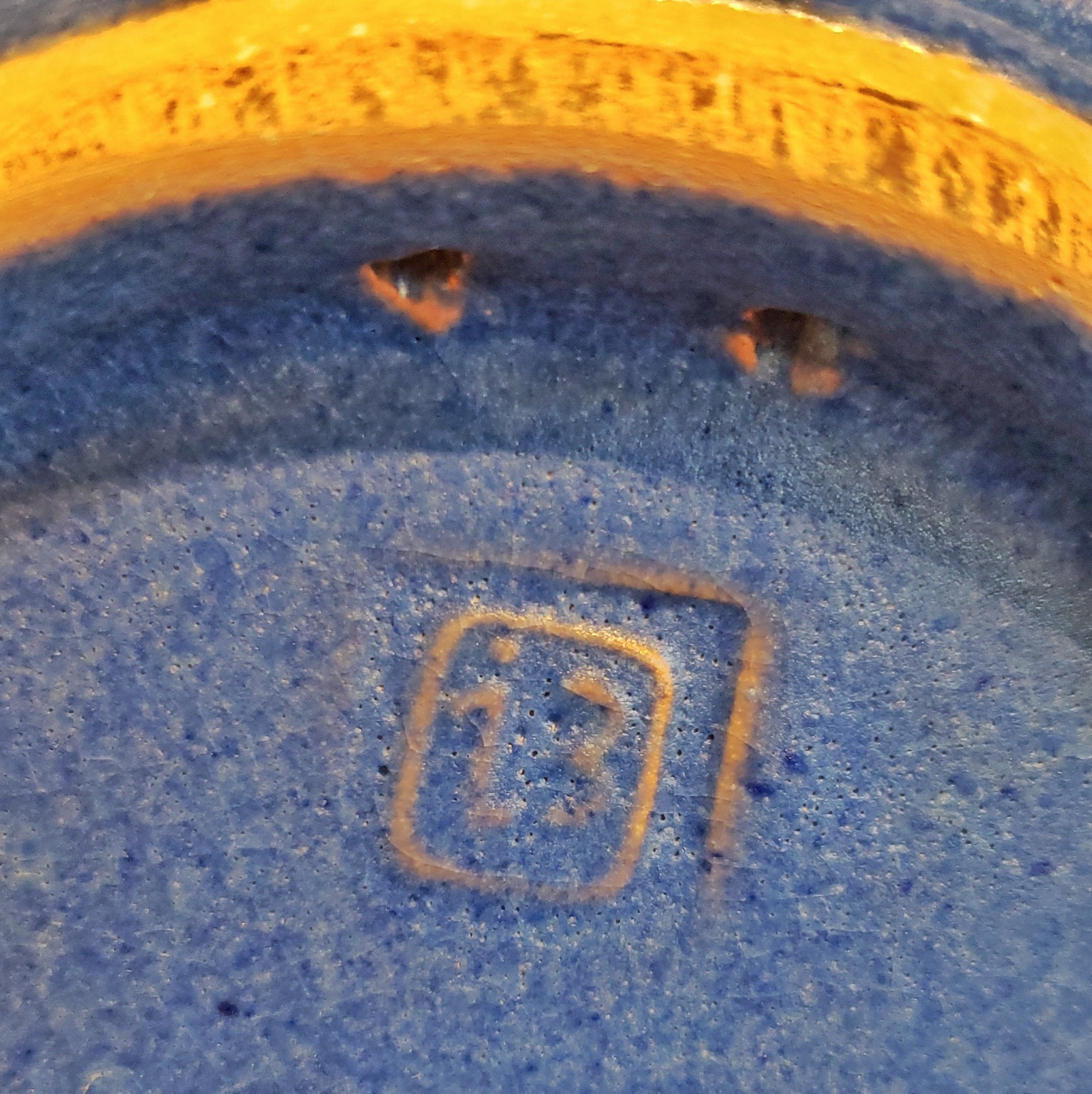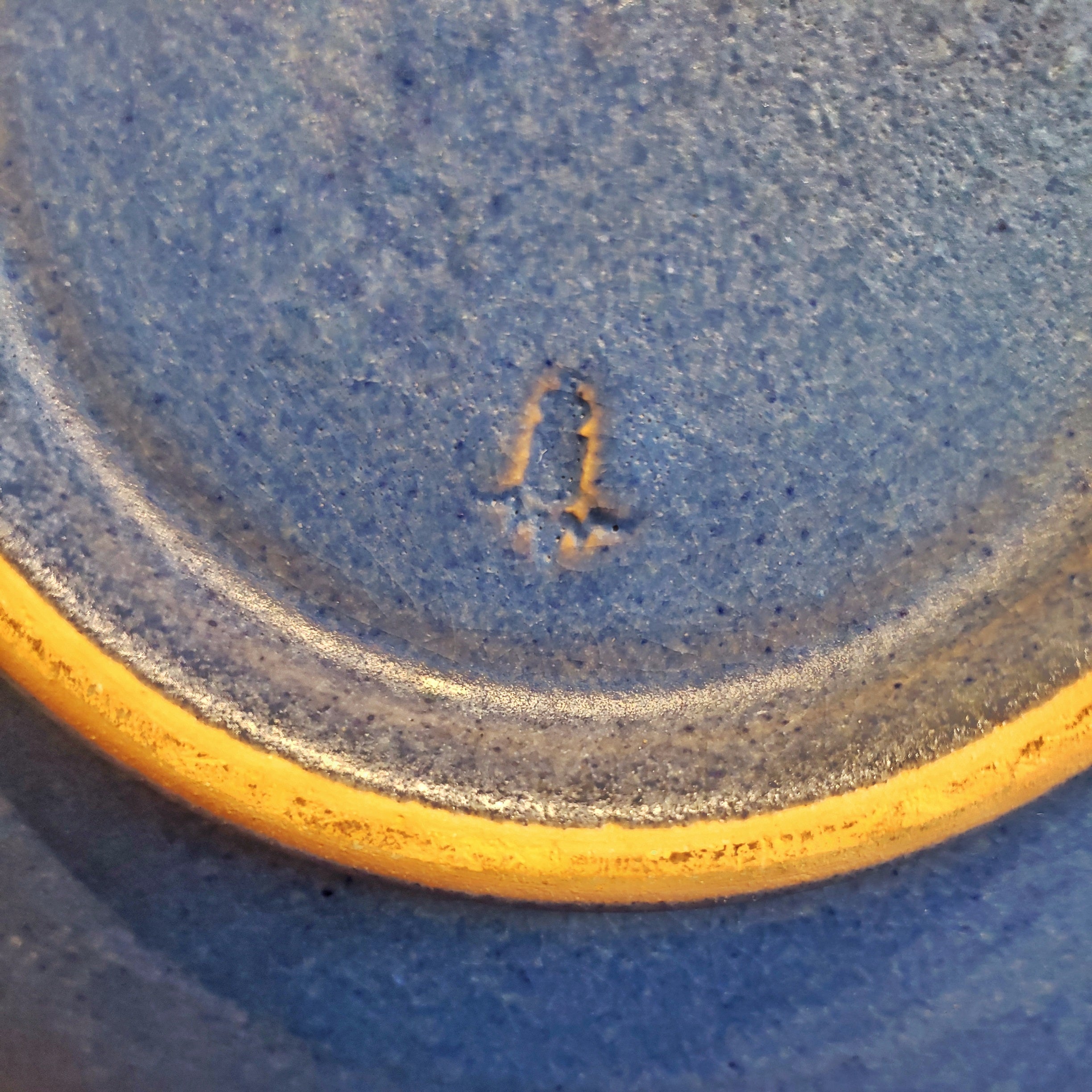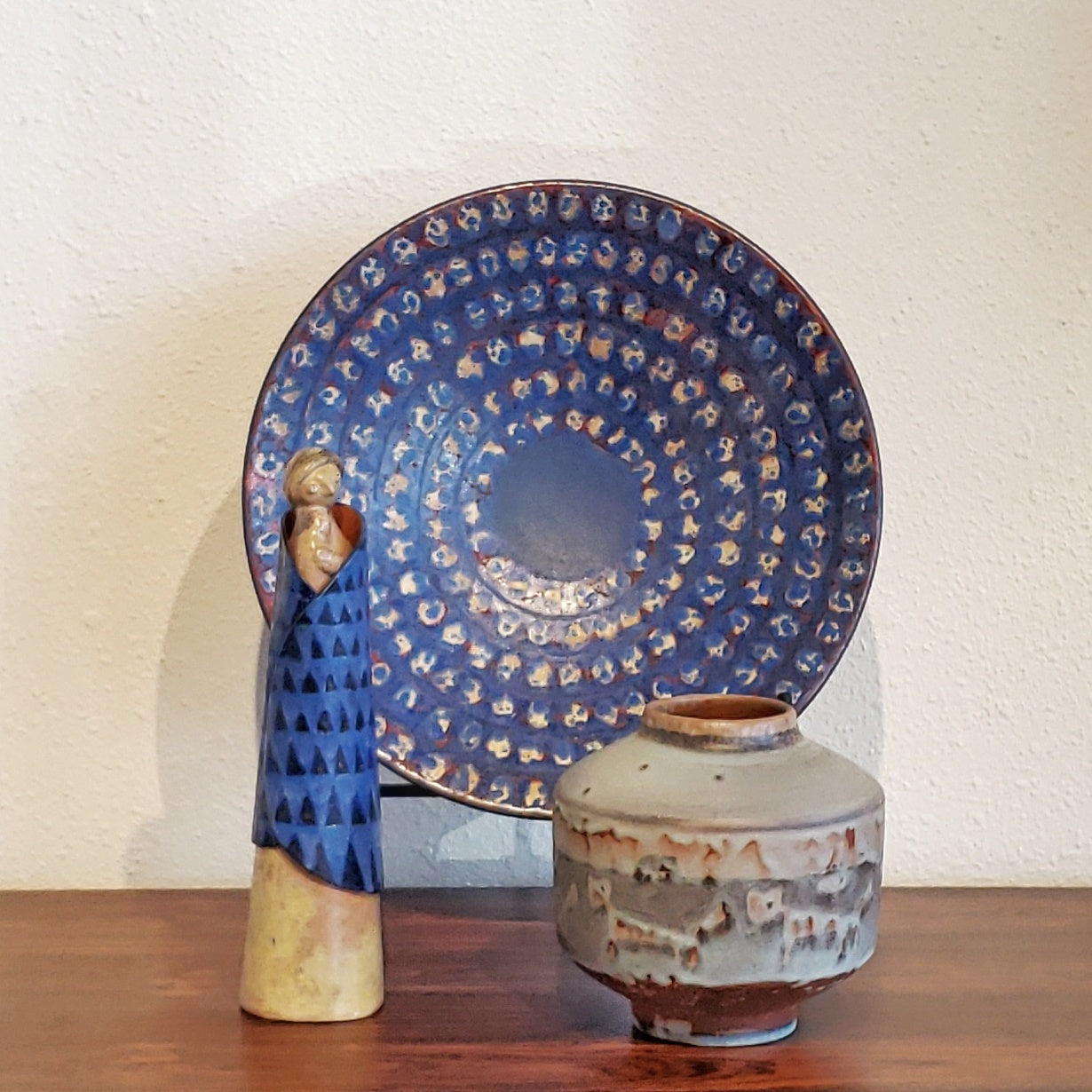 EVA FRITZ-LINDNER STUDIO CHARGER
CONTACT US HERE ABOUT THIS ITEM.
A large, decorative charger plate by West German studio art potter Eva Fritz-Lindner. Egyptian blue dapples obscure concentric rings of bone-colored medallions and a deep oxblood underglaze. Suitable for display with a stand or for hanging. Could serve nicely as an aureola positioned behind the artist's madonna [see photo].
EVA FRITZ-LINDNER was a celebrated folk-art sculptor and ceramicist whose work is avidly pursued today by worldwide collectors. Born in Düsseldorf in 1933, she served as an apprentice at the Werkkunstschule—the applied arts training center—in Wiesbaden in Hesse for five years, from 1949 through 1954, and was a master student in Erich Kuhn's sculpture class for the final two. At the age of 22 she was awarded the Grand Prix at a 1955 exhibition in Cannes: Five Millennia of German Ceramics. Soon after Fritz-Lindner was hired as a master designer by the State Majolica Manufactory in Karlsruhe where she was employed for nearly a decade, through 1963, becoming one of its most popular artists. Major accolades earned during this tenure were a 1958 Baden-Württemberg Arts Prize and the Silver Medal at the International Ceramics Exhibition in Prague in 1962.
Stepping out of a limelight she had never fully embraced, Fritz-Lindner withdrew to her private studio in Karlsruhe-Durlach in 1964 and started to freelance exclusively. She designed and created hundreds of highly-regarded ceramic folk-art sculptures rendered with creativity and whimsy. Animals (owls, in particular) and family were frequent themes. Her success led to commissions for larger works for public and private gardens and buildings; examples include mosaic wall designs in Mannheim, Schwäbisch Gmünd, and Göppingen. Of particular note, she created four enormous outdoor owl sculptures for the Palace Gardens in Karlsruhe in 1967. Whatever the size of the work, Fritz-Lindner hand-painted each one of her creations in distinct and colorful fashion. She would on occasion supply designs for glass works to be produced in Murano, Italy. Fritz-Lindner died in 2017.
Fritz-Lindner's ceramics reside in the Hetjens-Museum Düsseldorf, the Museum of Contemporary Ceramic Art in Frechen, the Württemberg State Museum Stuttgart, in Badenisches Landesmuseum Karlsruhe, the Museum of Applied Art in Cologne, and the Museo National de Cerámica Valencia—as well as in public gardens and buildings and in private collections.
Production Period – 1970-1979
Country of Origin – WEST GERMANY
Designer – EVA FRITZ-LINDNER (1933-2017)
Attribution – MARKED
Materials – CERAMIC
Colors – BLUE, BEIGE, RED
Condition – VERY GOOD (no defects; may show slight traces of use)
Diameter (cm) – 36.0
Depth (cm) – 8.0