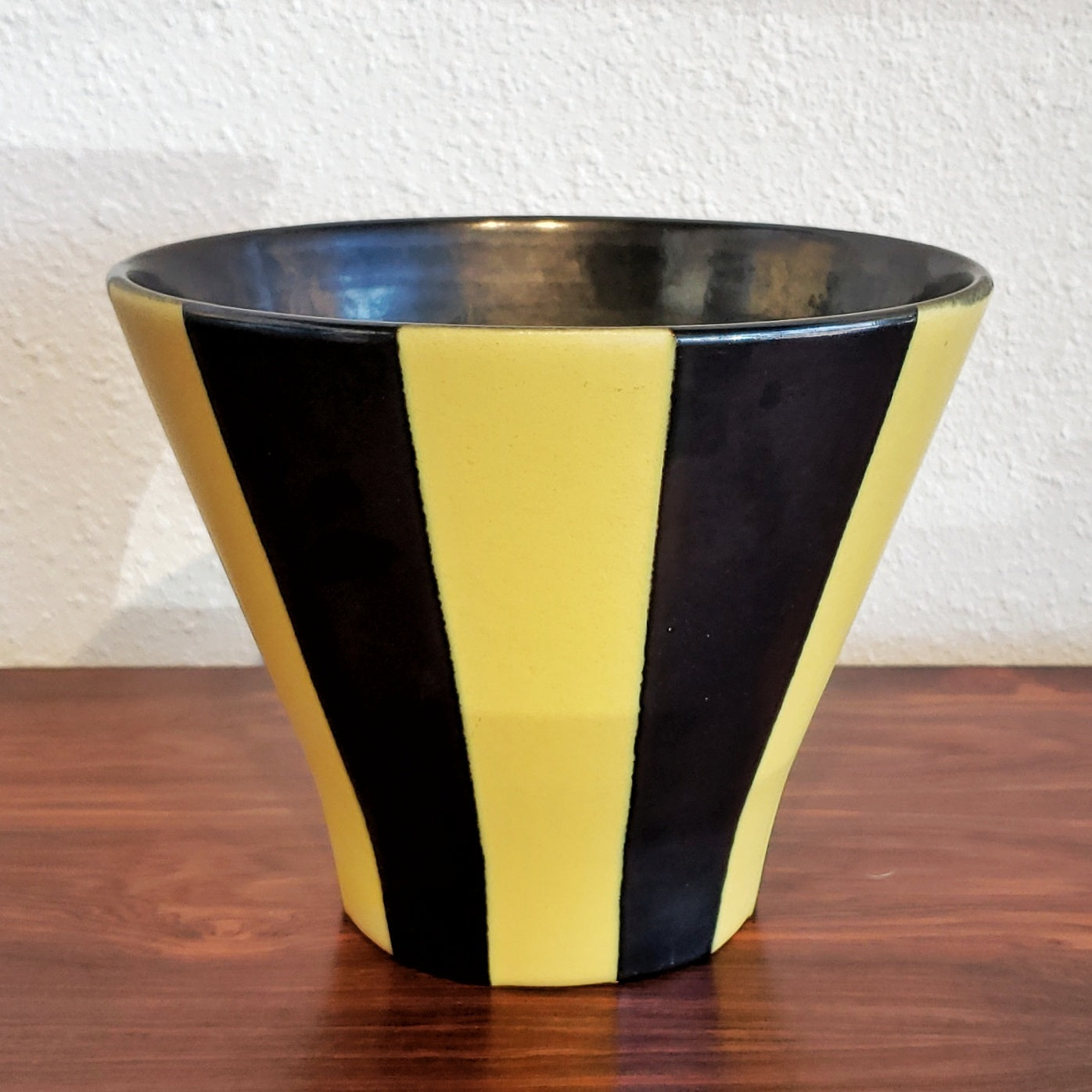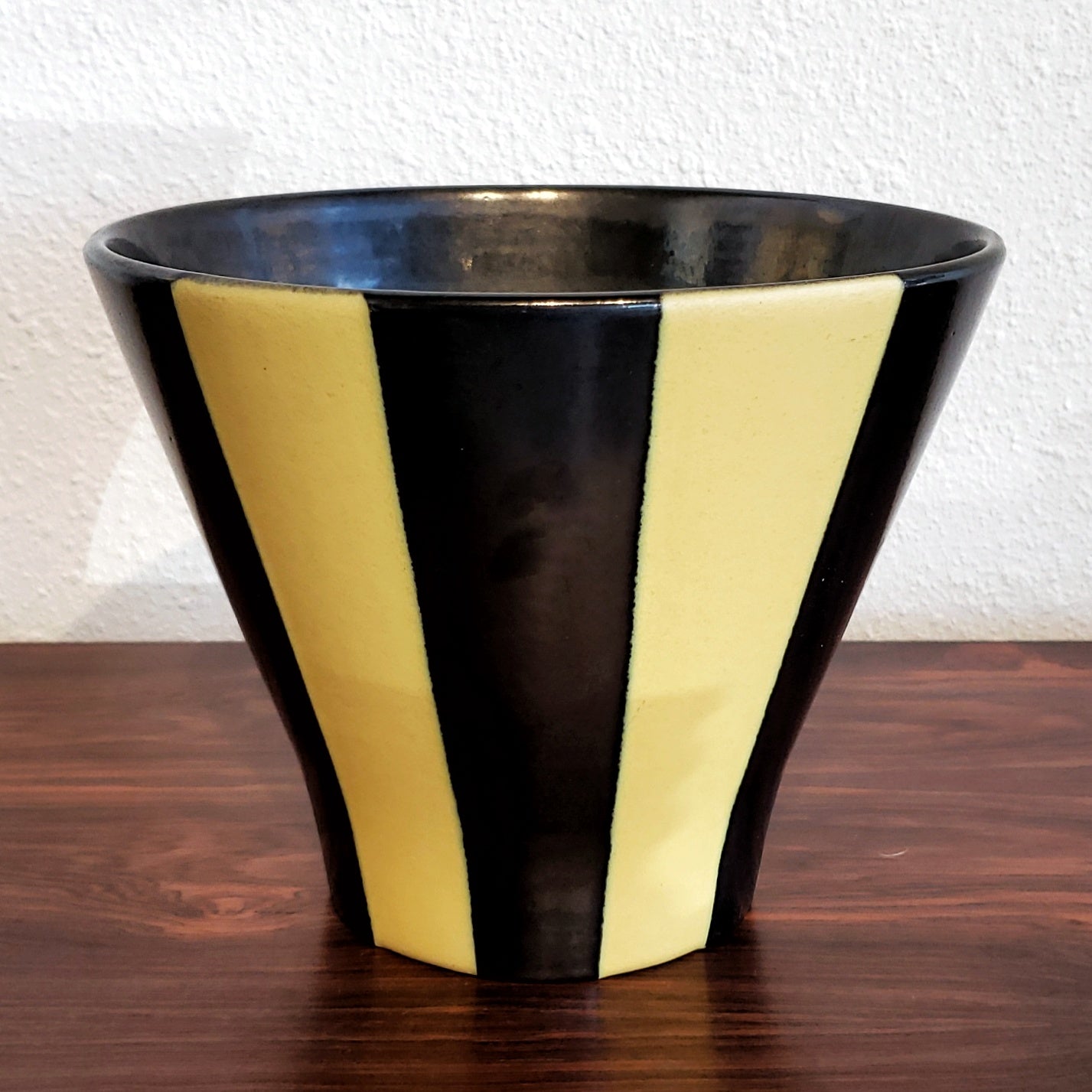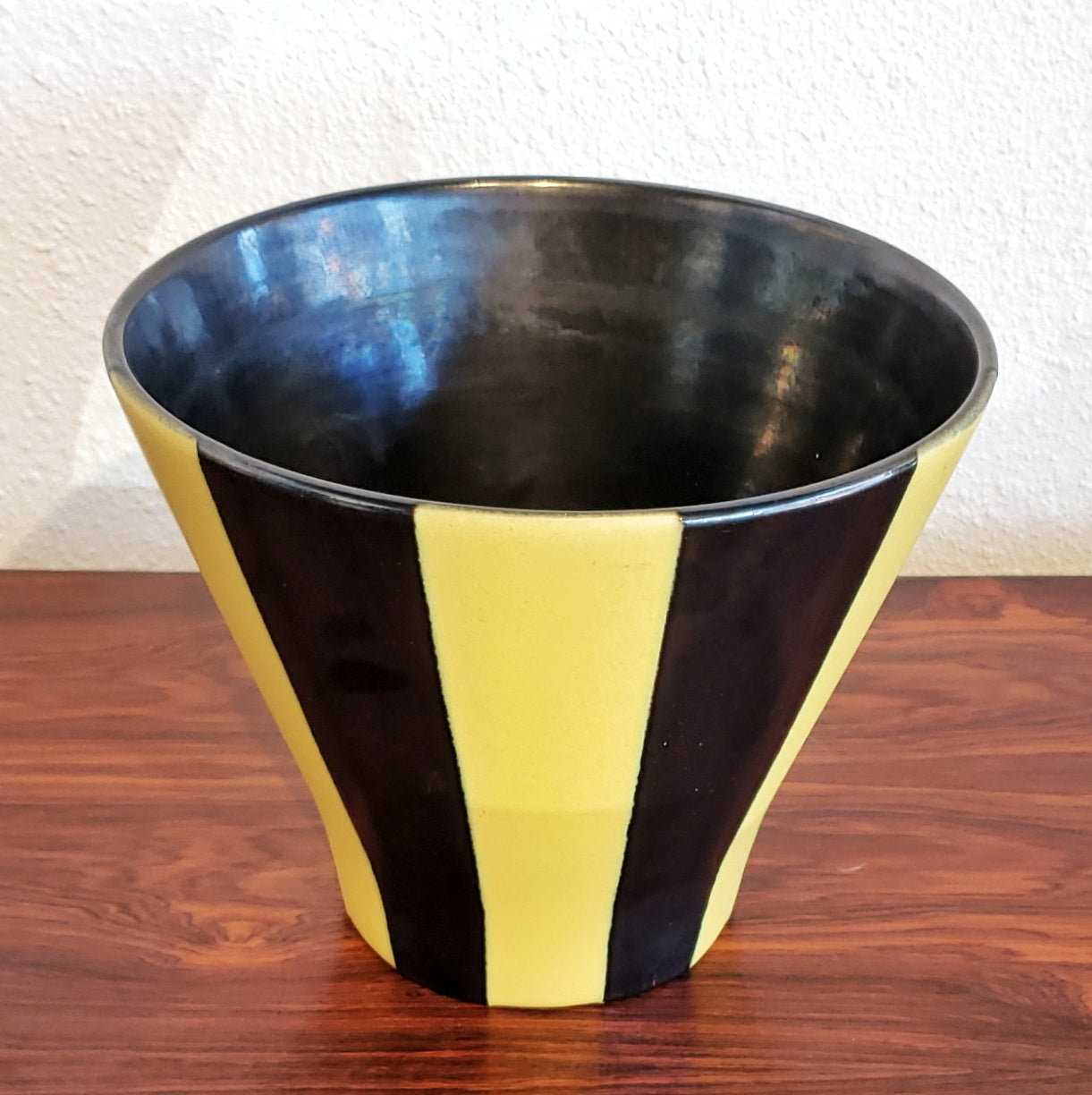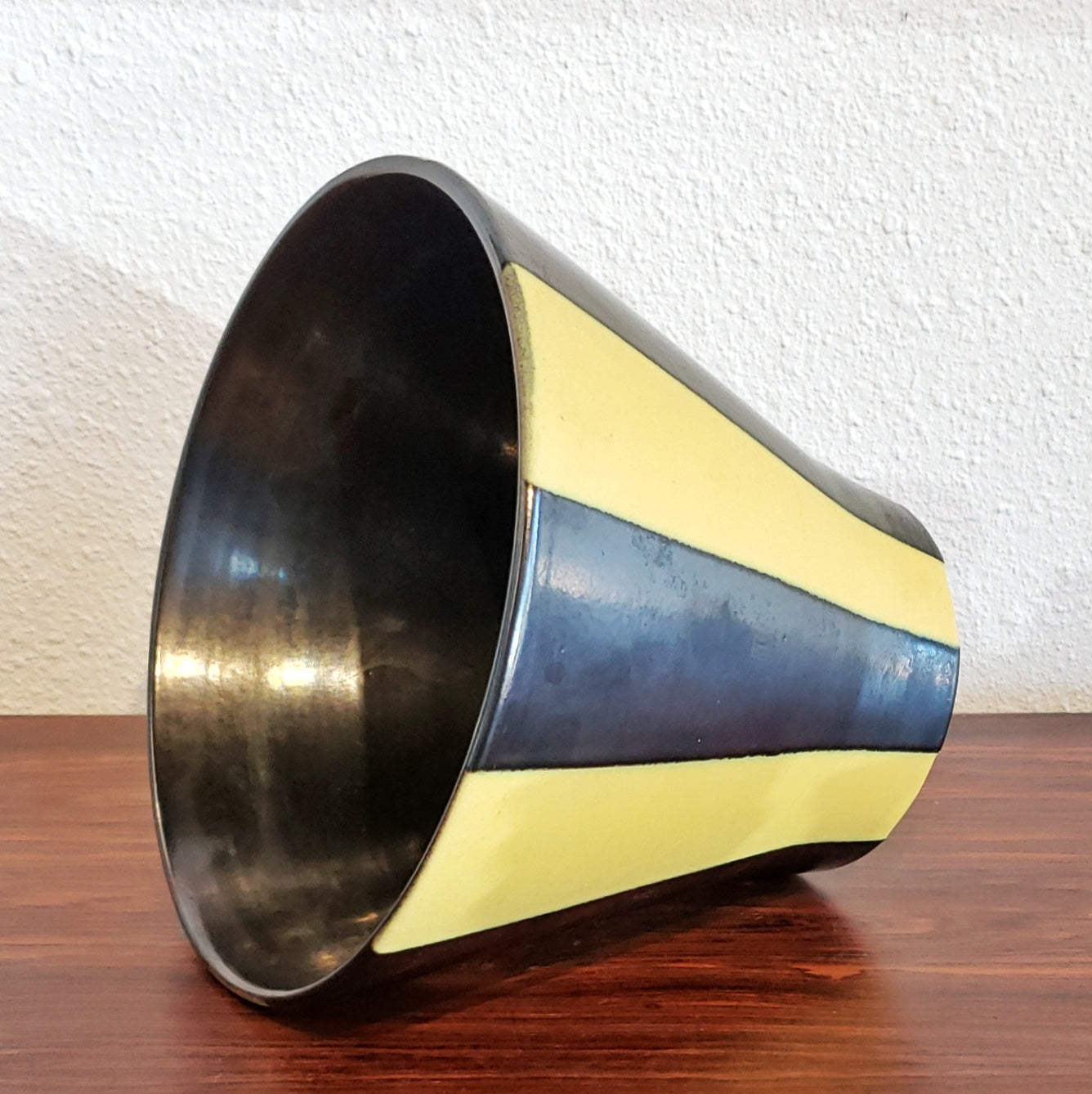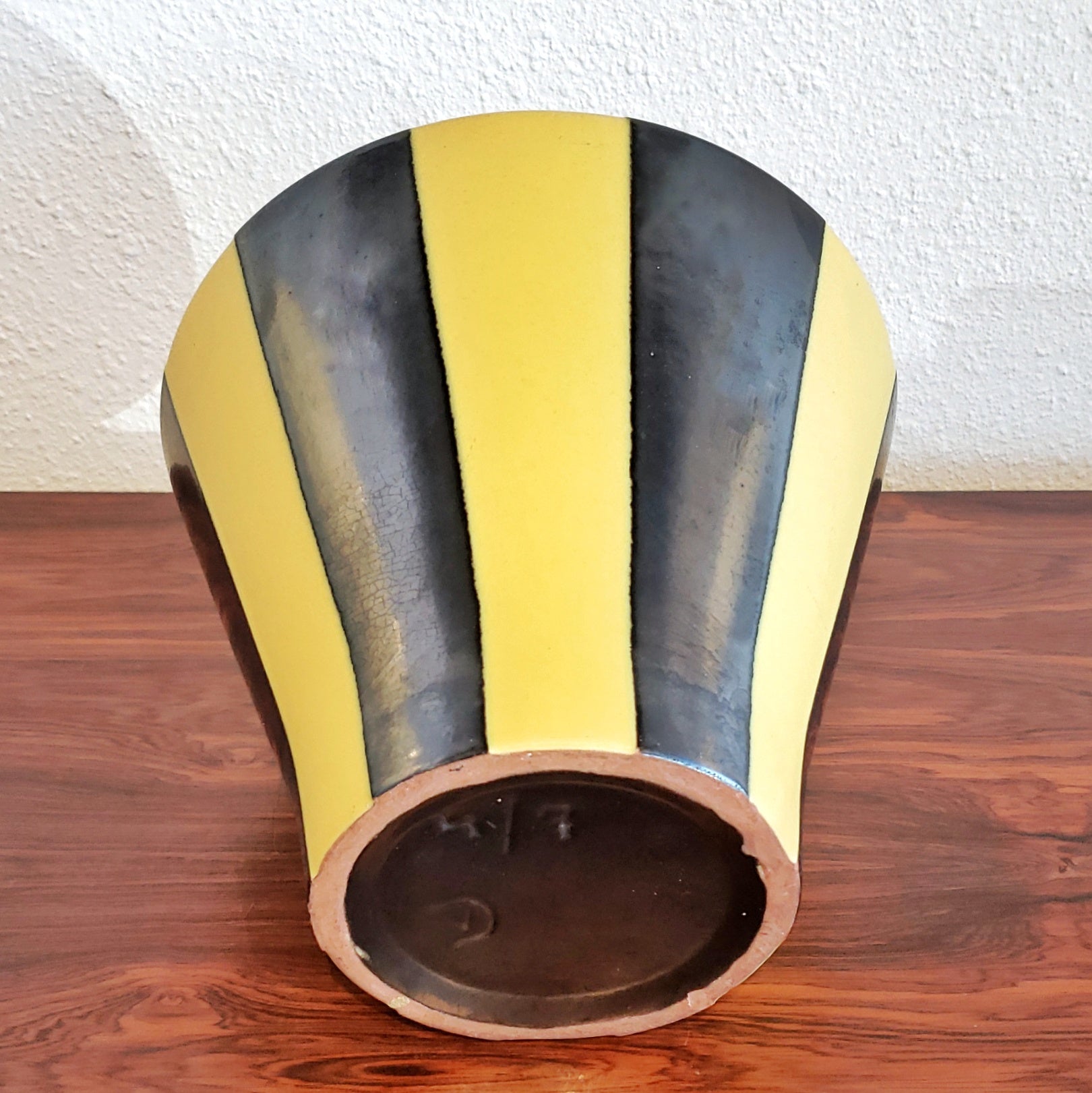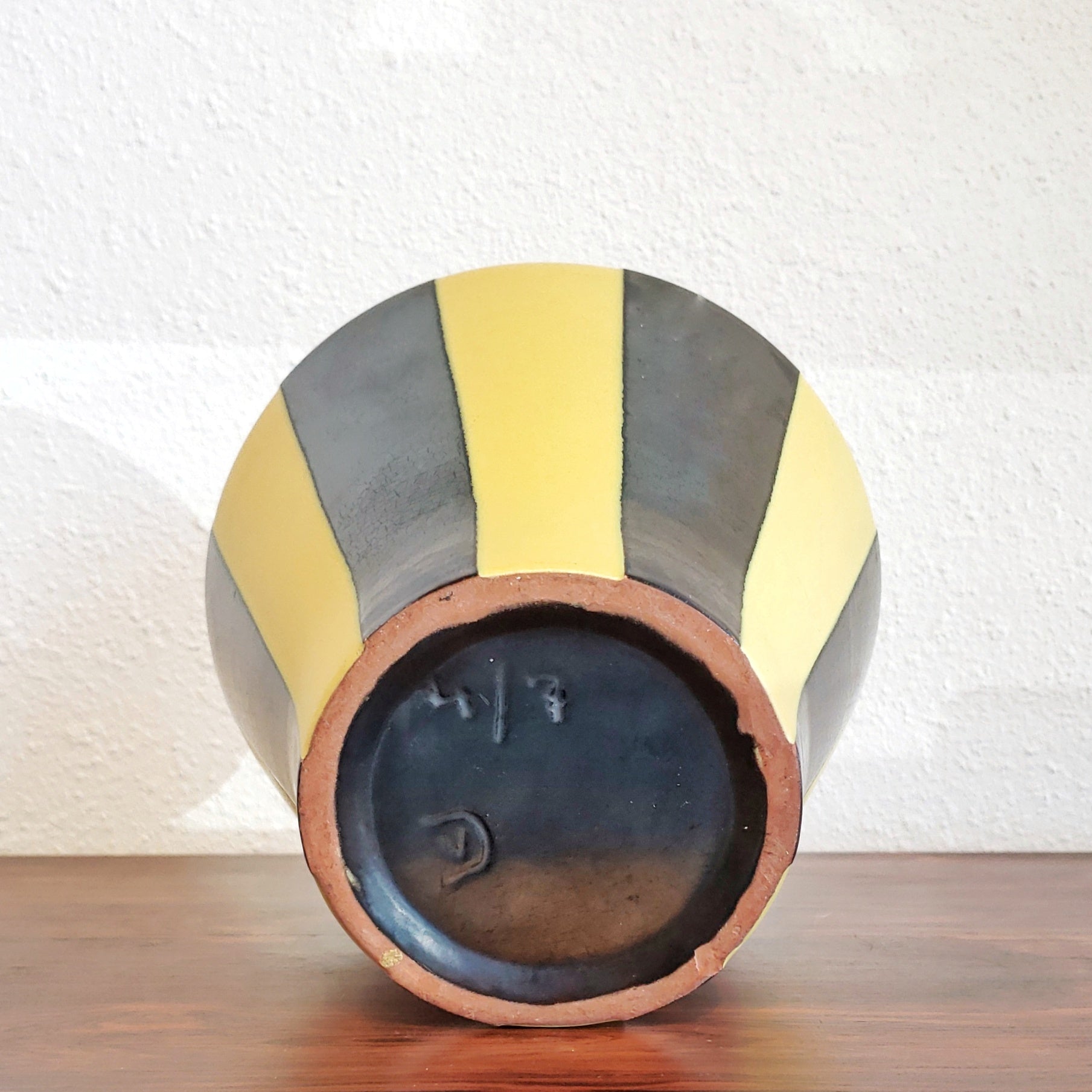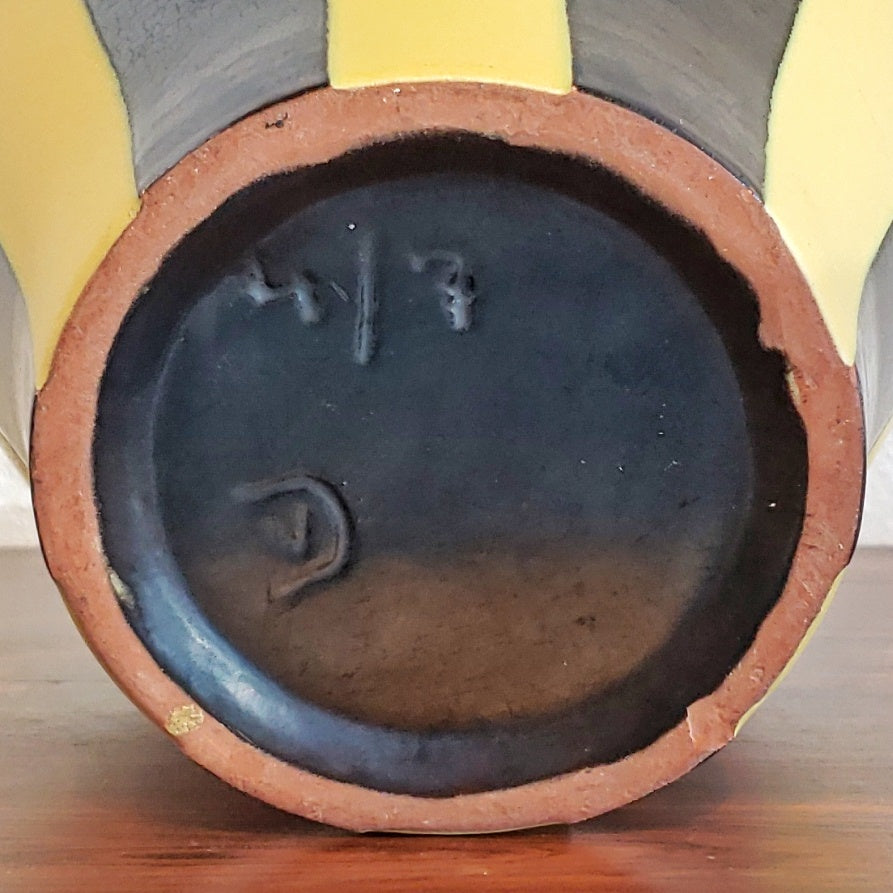 FRITZ VAN DAALEN YELLOW AND BLACK CACHEPOT
CONTACT US HERE ABOUT THIS ITEM.
An unusually large and lovely cachepot designed by Fritz Van Daalen in the 1950s.  The form is flared and decorated with with yellow and black in wide vertical stripes.  A particularly fine example with only the faintest signs of previous use.
VAN DAALEN KERAMIK was established in 1938 by Fritz van Daalen in the small town of Schwäbisch Gmünd in southern Germany, about 50 km east of Stuttgart.  Van Daalen ran a local store retailing handcrafted items, and he set up the ceramics workshop to produce figurines, wall plaques, and bowls to sell there.  Production was suspended in 1943 for WWII and resumed in 1946.  VAN DAALEN's output eventually included a quantity of vitrified utilitarian ceramics.
By 1951 operations had been relocated to a farm outside of the town of Aalen, 20 km to the east.  The ceramics modeler Friedrich Düpmann was hired by VAN DAALEN KERAMIK in 1952.  His tenure was short-lived, but the designs he produced set the tone for the firm's production for the rest of the decade.  (Düpmann was later employed at Steuler Keramik where, arguably, he would do his most important work.)  From the mid 1950s onward, van Daalen's son Helmut took responsibility for the introduction of new shapes and décors.
At some early point in its history, VAN DAALEN introduced the unusual and rather unfortunate practice of destroying the original models of shapes that were no longer financially viable.  For example, if demand for a particular vase dried up, its corresponding mold was shattered.  VAN DAALEN KERAMIK ceased operations in 1973 when it was unable to find enough suitably skilled workers.  The surviving molds and the company name were taken over by Carstens.
VAN DAALEN always used a dark red clay.  Almost all items were marked on the base with a "VD" symbol and a form number and size.  Earlier items had a relative size number (e.g., 1-4); later items list the height in cm.  Form numbers appear to be either between 0-200 or in the 4000's.
Production Period – 1950-1959
Country of Origin – WEST GERMANY
Maker – VAN DAALEN KERAMIK
Attribution – MARKED
Materials – CERAMIC
Colors – YELLOW, BLACK
Condition – VERY GOOD (no defects; may show slight traces of use)
Height (cm) – 17.5
Diameter (cm) – 22.0