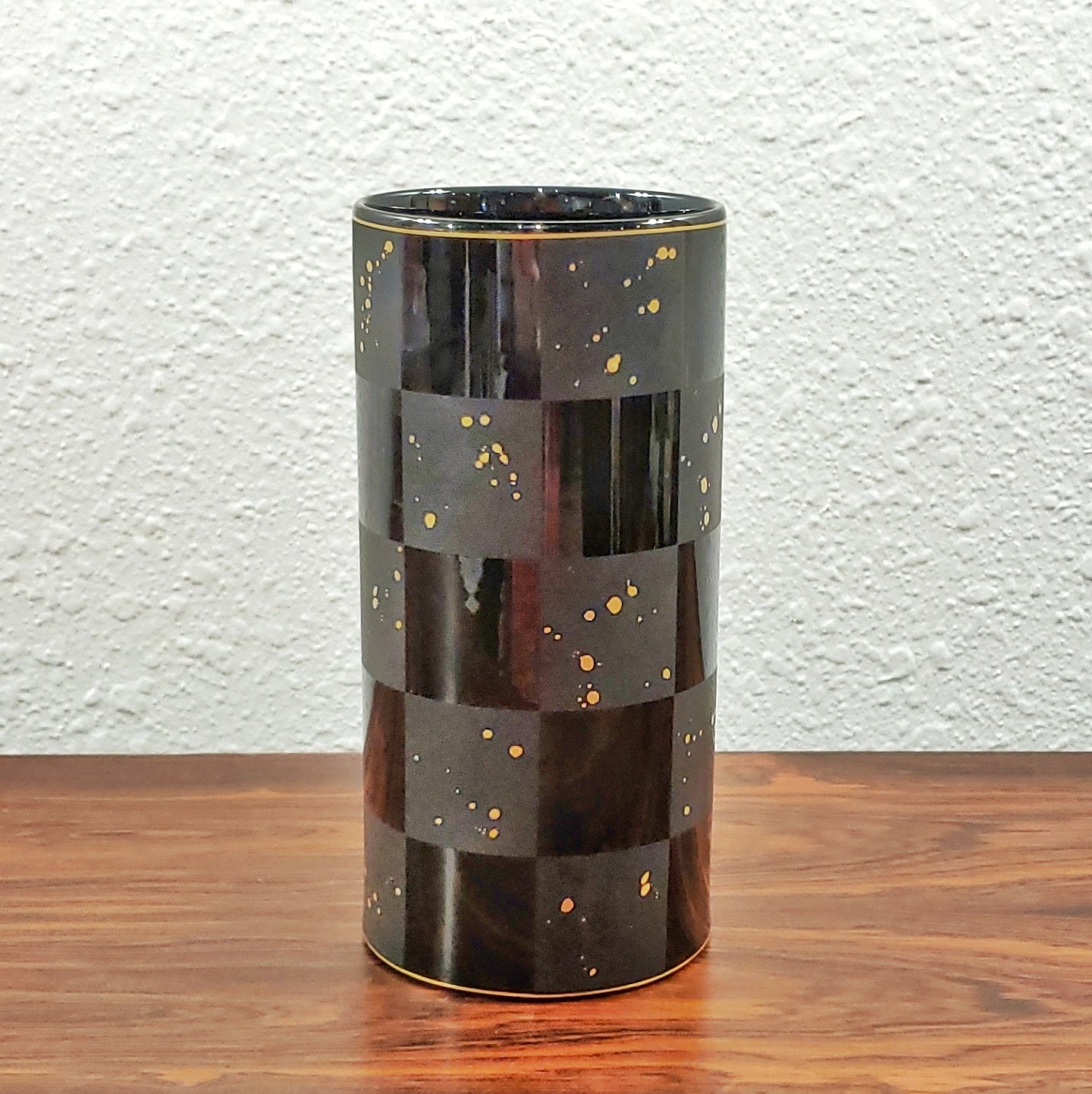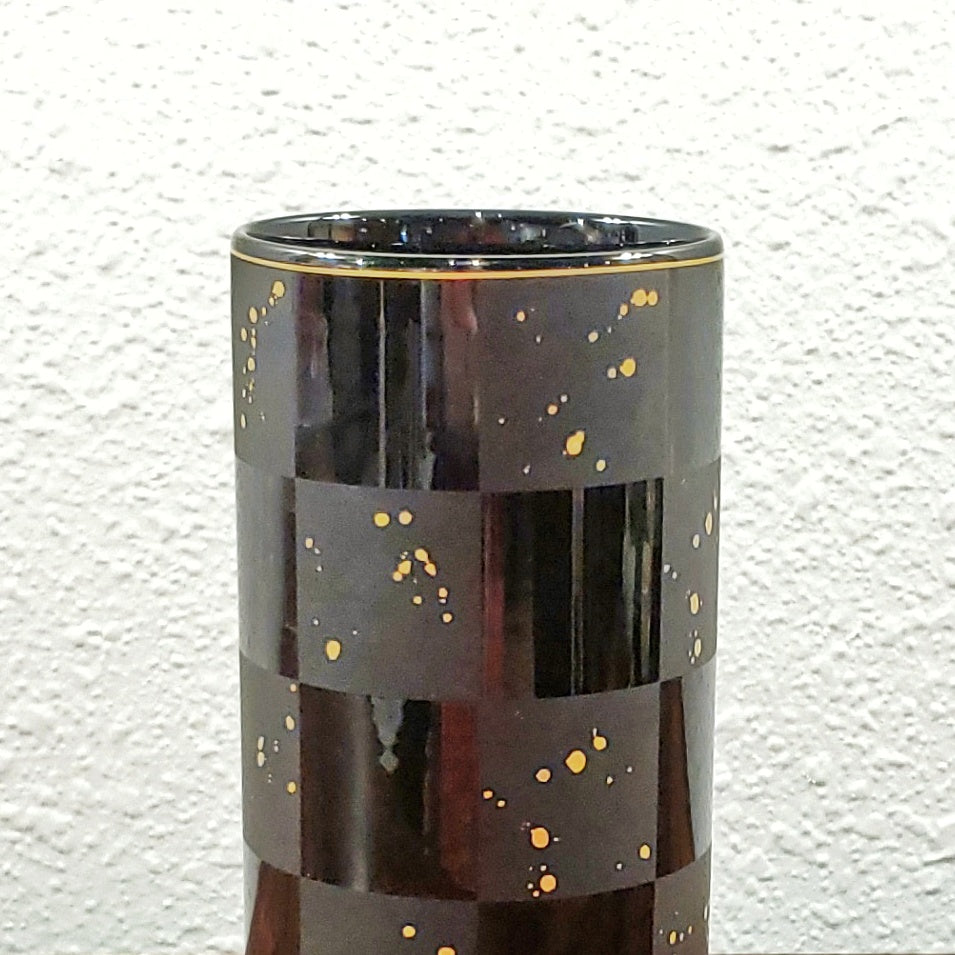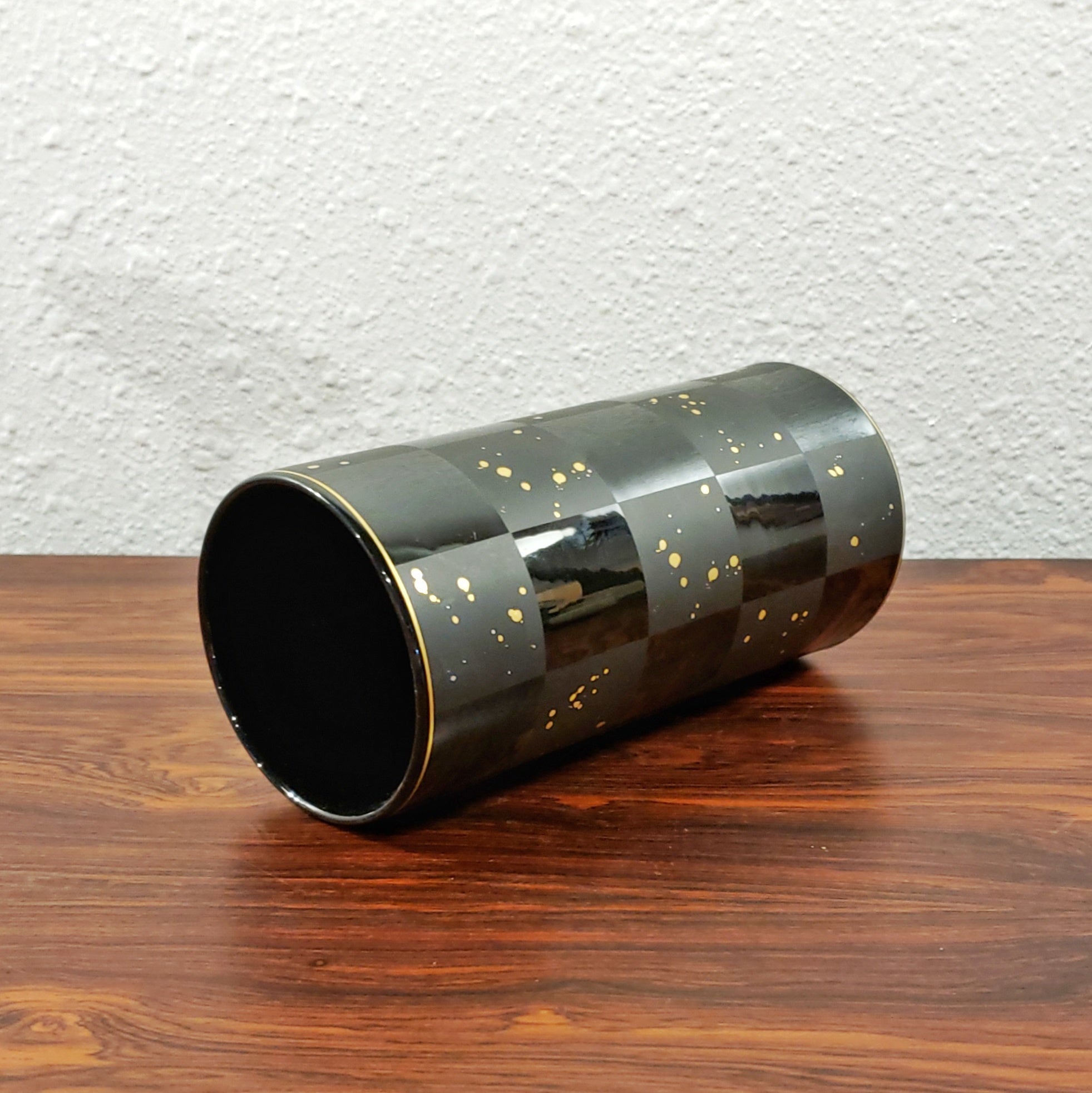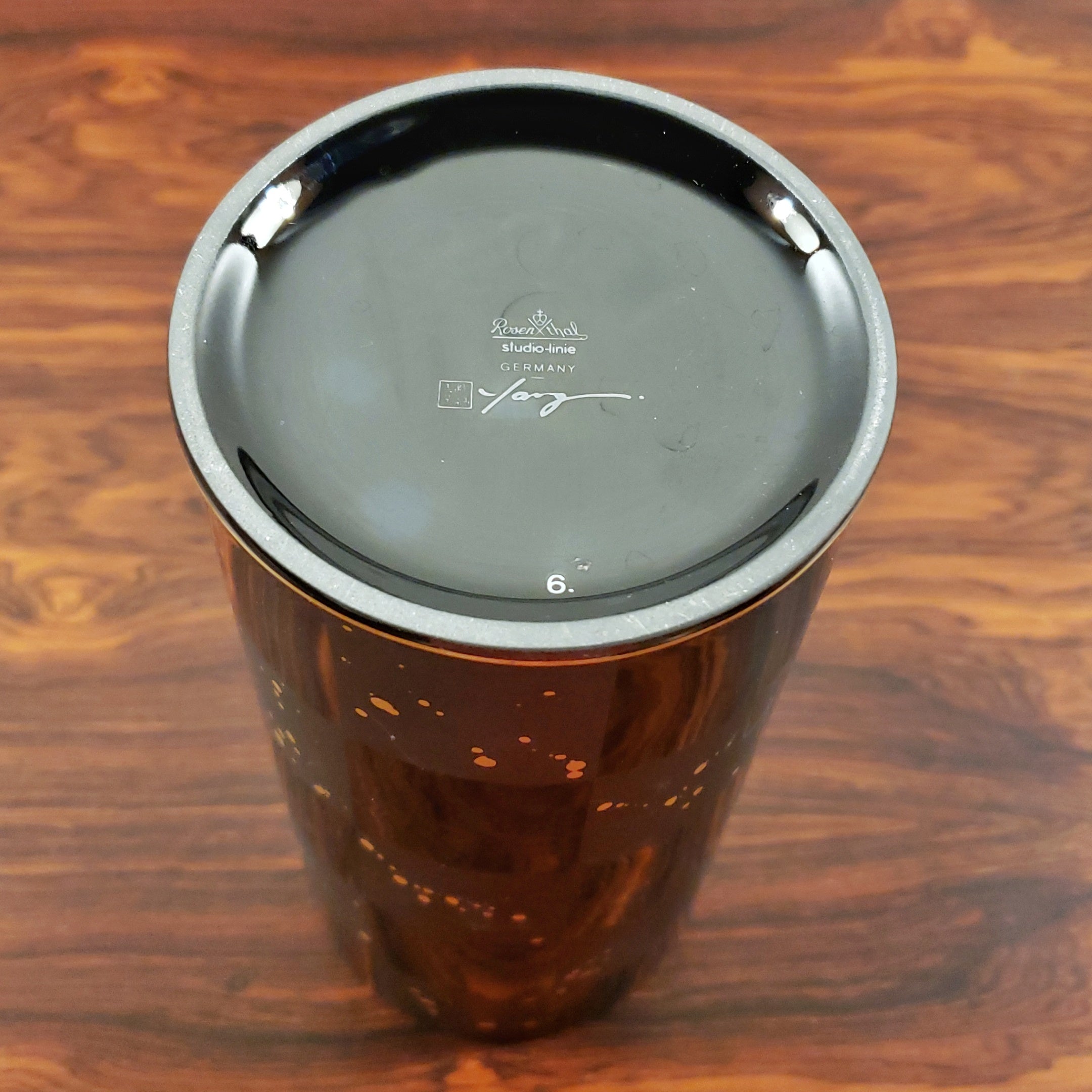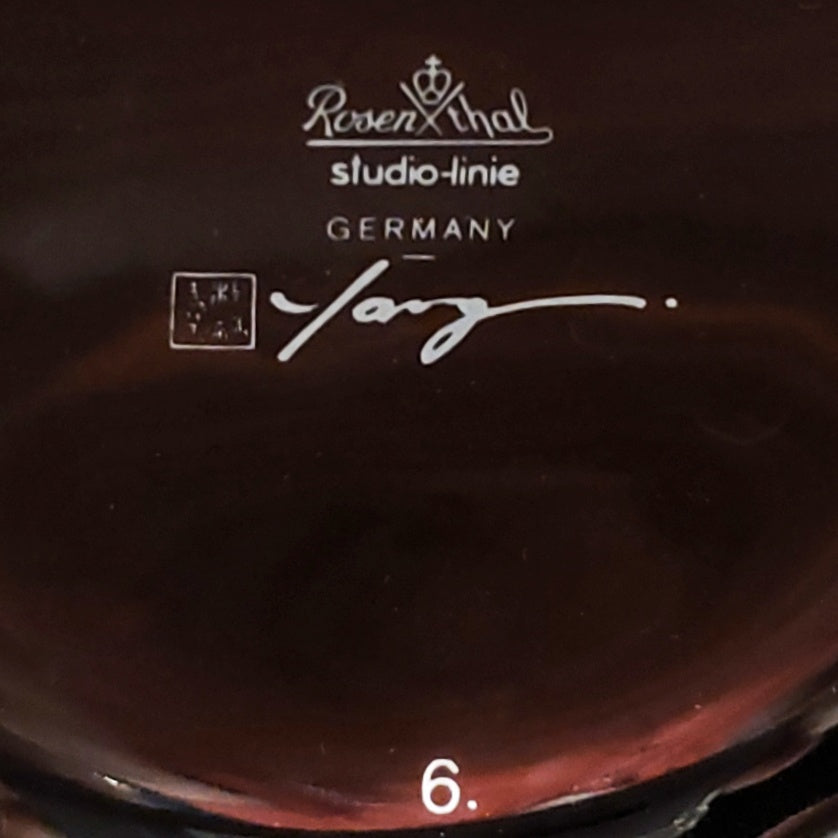 1990s FROGEN YANG AND ELSA FISCHER-TREYDEN 'CARRÉ D'OR' PORCELAIN VASE FOR ROSENTHAL
CONTACT US HERE ABOUT THIS ITEM.
A striking, black-on-black cylinder vase designed by Elsa Fischer-Treyden (form) and Frogen Yang (decoration) for ROSENTHAL's Pop Art studio line.  The décor name is 'Carré D'or' and in this manifestation consists of alternating matte and gloss squares in a checkerboard pattern, with splatters of gold on the matte squares and a thin gold pinstripe around the top and bottom of the vase.  The interior is glossy black.  The item is fully marked on the base with the standard ROSENTHAL Studio-Linie mark in white, as well Yang's signature and the numeral 6.
FROGEN YANG (H.J. Sharon Yang), born in 1953, is an Indonesian designer well-known for fashion and textile designs.  He began working for ROSENTHAL in 1993.  He has created many popular décors and designs for its studio line series.  Yang is probably most famous for the porcelain Coca-Cola can and milk carton vases he created for ROSENTHAL's 'Do Not Litter' collection.  Also admired are his 'Madura' décor, the 'Giardino-weiss' form-décor vase, and the 'Kaleidoscope' vase produced on a triangular, constructivist shape designed by Marcello Morandini.
ELSA FISCHER-TREYDEN was a Russian-born, West German modernist designer.  She was born in 1901 and emigrated to Berlin in 1918.  There she studied, between 1923 and 1932, at the United State Schools for Free and Applied Arts.  She initially produced studio pieces made of bronze and ceramic, in particular bowls and vases.  Studies in industrial design with Wilhelm Wagenfeld at the Berlin University of the Arts (1948-1949) followed.  Fischer-Treyden freelanced for porcelain maker Villeroy & Boch and designed teaware made of Jena glass before being hired by ROSENTHAL in 1952.  She became one of its most important designers, well-known for such works as the porcelain service 'Fortuna,' the ceramic pillow-form 'Favo,' and the famous stemware series 'Fuga.'  This last, inspired by the tulip, was awarded Germany's national Gute Form prize.  Fischer-Treyden has been recognized by MoMA for the significant impact her career has had on contemporary design.  Her work is exhibited at the Porzellanikon in Selb, MoMA, the Dallas Museum of Art, and the Corning Museum of Glass.  She worked for ROSENTHAL up until her death in 1995.
ROSENTHAL was founded in 1879 as a family porcelain painting business in the town of Werl in the Rhineland by Philipp Rosenthal, the son of a porcelain merchant.  Its small operations were soon moved to the palace building of Schloß Erkersreuth, a castle that Rosenthal and his bother Max had acquired in Selb, Bavaria, near the Czech border.  The enterprise enjoyed an unexpected breakthrough with the commercial success of its cigar ashtrays.  By 1889 ROSENTHAL had 60 employees and had moved the company into town and opened its own porcelain factory there.  The company continued to expand through start-ups and acquisitions.  In 1916, Rosenthal introduced an eight- and twelve-sided porcelain dinnerware set, 'Maria,' named after his second wife, Maria Franck.
In 1934, during the era of National Socialism, Rosenthal, although a Catholic, was ousted from the company because of his Jewish ancestry.  The management and supervisory boards turned against him and implemented various measures to prevent his using his voting rights to change board composition.  The Nazi Party was asked for support, and Rosenthal's voting shares were sold to his enemies.  Notwithstanding, the regime never went directly against Rosenthal so as not to jeopardize the foreign reputation of the export-strong company.  Rosenthal was physically incapacitated in 1936; his death in 1937 paved the way for the anti-Semitic executive committee and Rosenthal's more party-sympathetic grandchildren.
After WWII, Philipp Rosenthal's son Philip Rosenthal, having returned from exile in England, traveled to Selb at the request of family members to pursue restitution claims.  He joined the paternal porcelain company in 1950 and became head of its design department two years later.  In collaboration with such acclaimed industrial designers as Raymond Loewy, Tapio Wirkkala, Elsa Fischer-Treyden, Timo Sarpaneva, Verner Panton, and Luigi Colani, an impressive product range was assembled.  Contributions by well-known modern artists Henry Moore, Friedensreich Hundertwasser, Salvador Dalí, Ernst Fuchs, and HAP Grieshaber secured ROSENTHAL's international fame.  When Bauhaus founder Walter Gropius laid plans for its new porcelain factory in 1963, he threw in the design for his award-winning 'TAC' tea set.
Philip Rosenthal served as chairman of the board throughout most of the 1960s and '70s.  During this tenure, ROSENTHAL had more than 10,000 employees.  One of the first modern entrepreneurs in Germany, Rosenthal pioneered a co-determination system for employees in 1963.  By 1997, ROSENTHAL (publicly traded since 1939) was 90%-owned by Waterford Wedgwood and the market leader for high-quality porcelain and glassware in Germany—and, in conjunction with Waterford, the leader worldwide.  When liquidity issues forced the collapse of Waterford, ROSENTHAL was compelled to file for insolvency.  The subsequent court proceedings led to its sale in 2009 to the Italian household producer Sambonet Paderno.  Founded that year, Rosenthal GmbH is an independent company of the Sambonet-Paderno Group and remains head-quartered in Selb.
Production Period – 1990-1999
Country of Origin – WEST GERMANY
Designer – FROGEN YANG (b.1953) ; ELSA FISCHER-TRERYDEN (1901-1995)
Maker – ROSENTHAL
Attribution – SIGNED
Materials – PORCELAIN
Colors – BLACK, GOLD
Condition – VERY GOOD (no defects; may show slight traces of use)
Height (cm) – 18.5
Diameter (cm) – 9.0