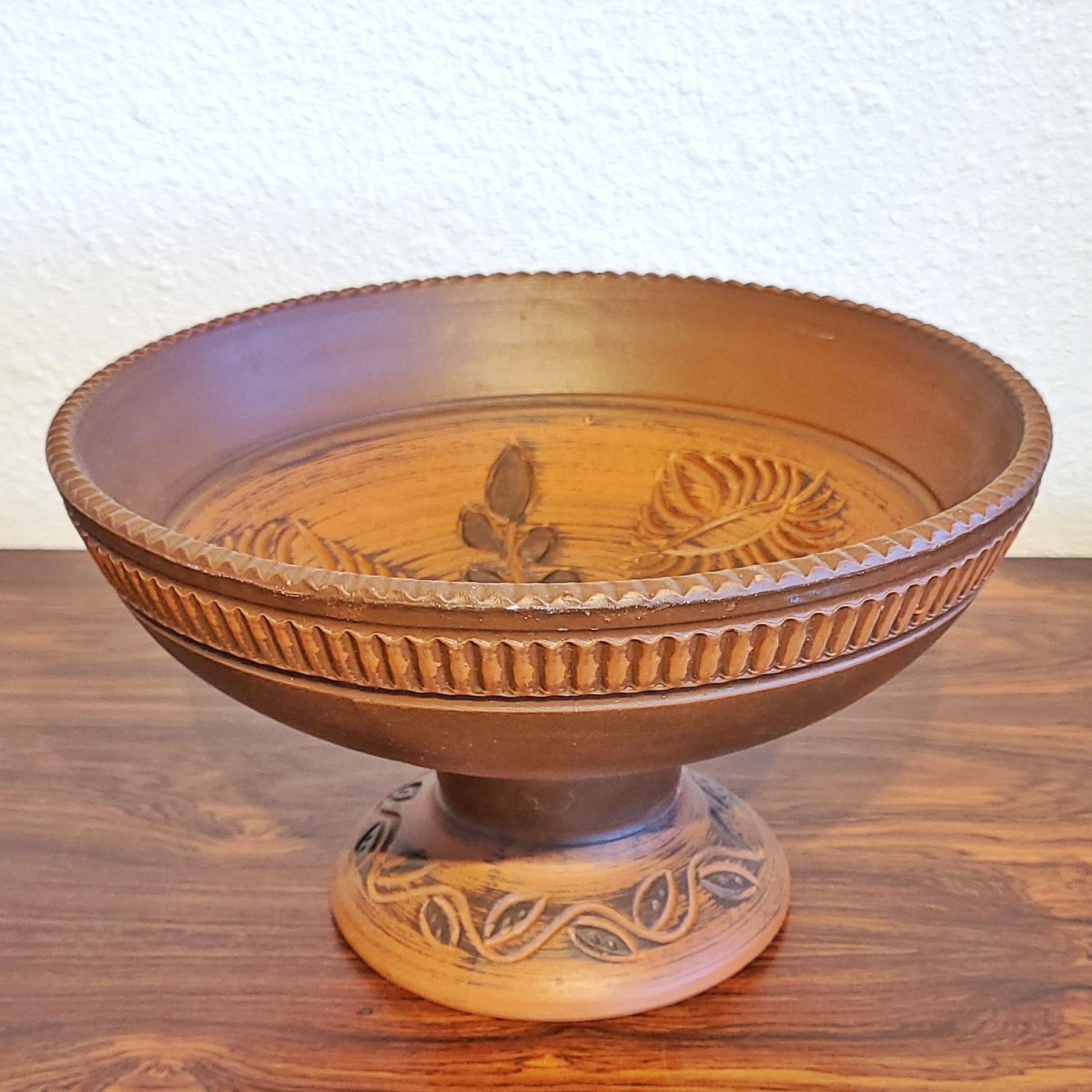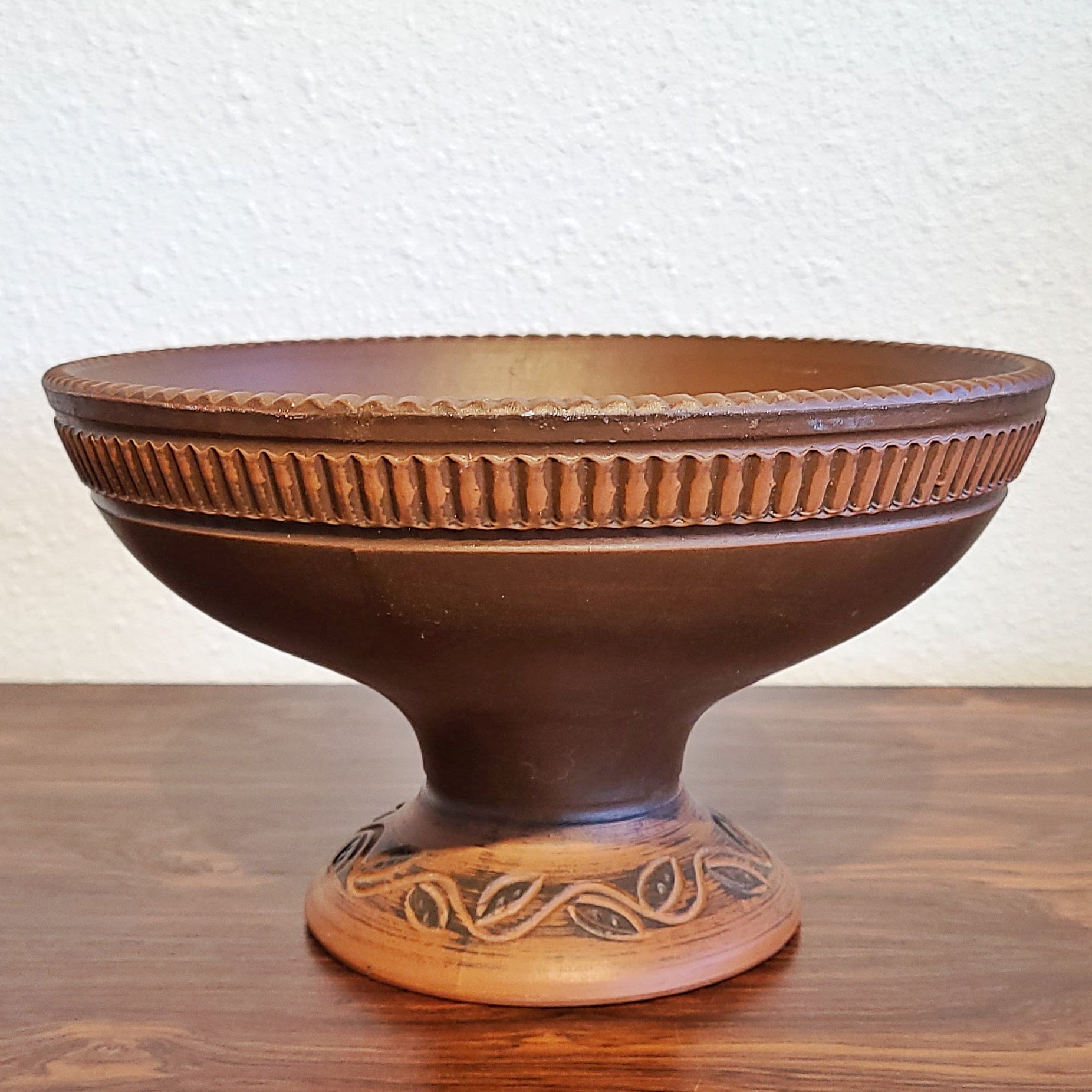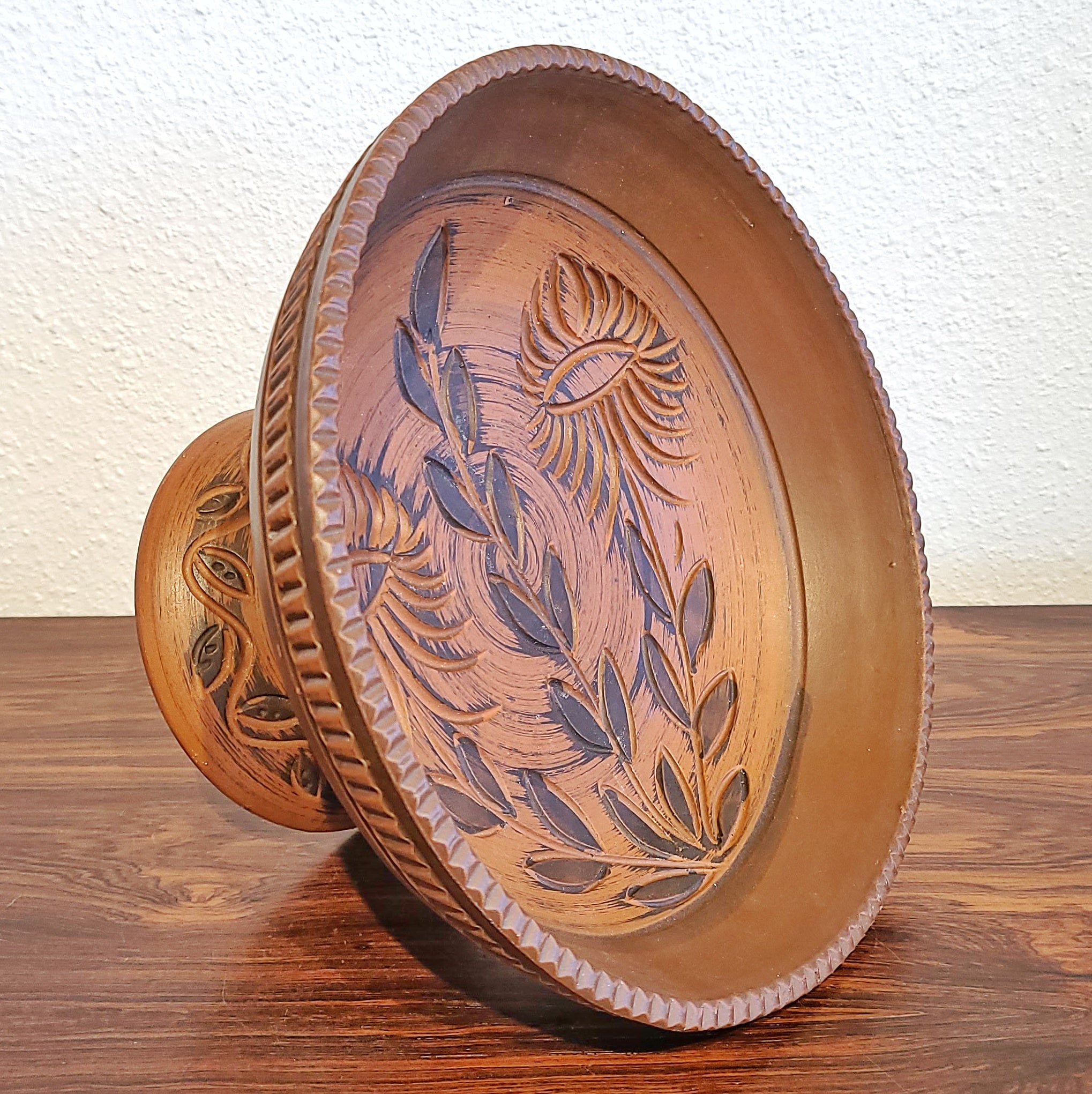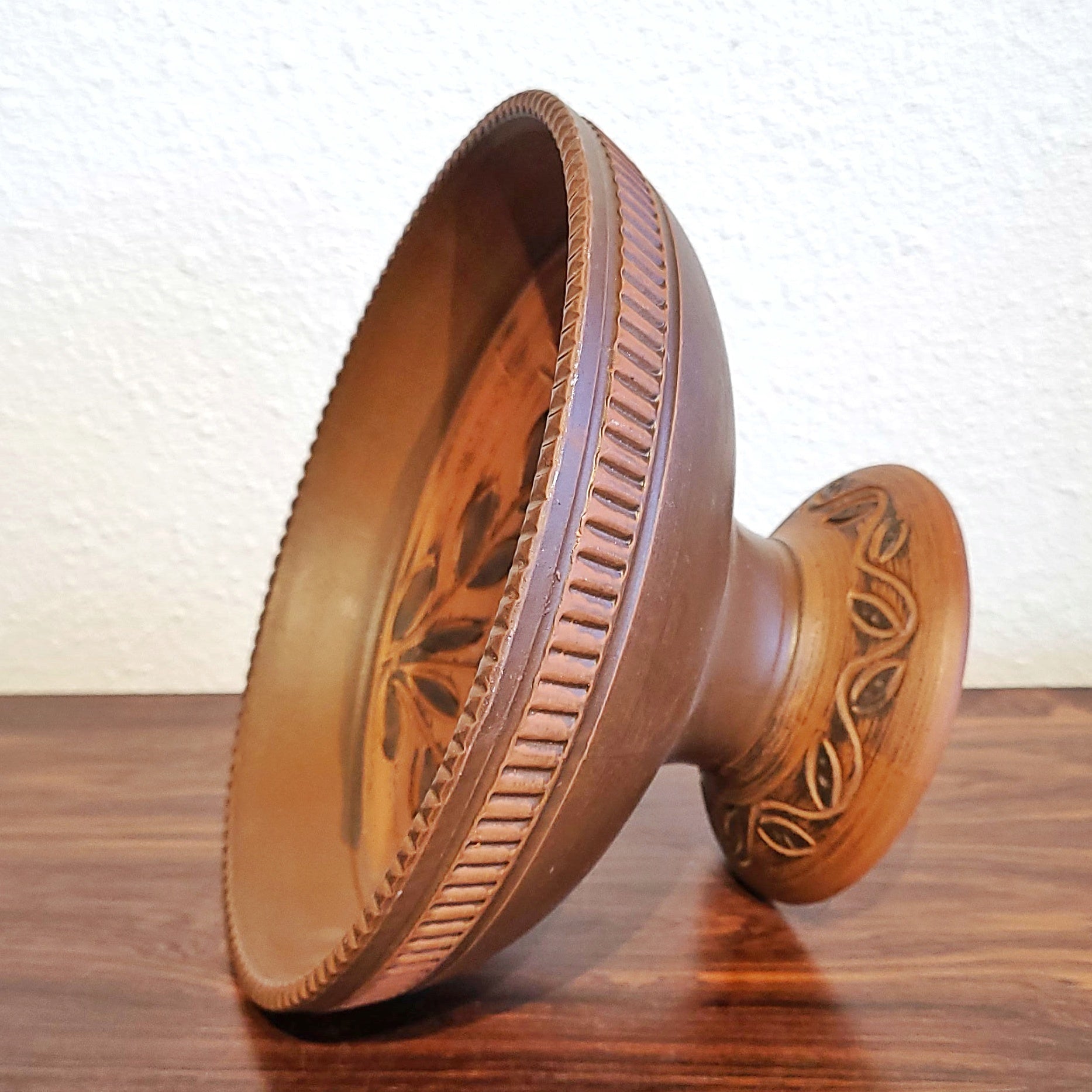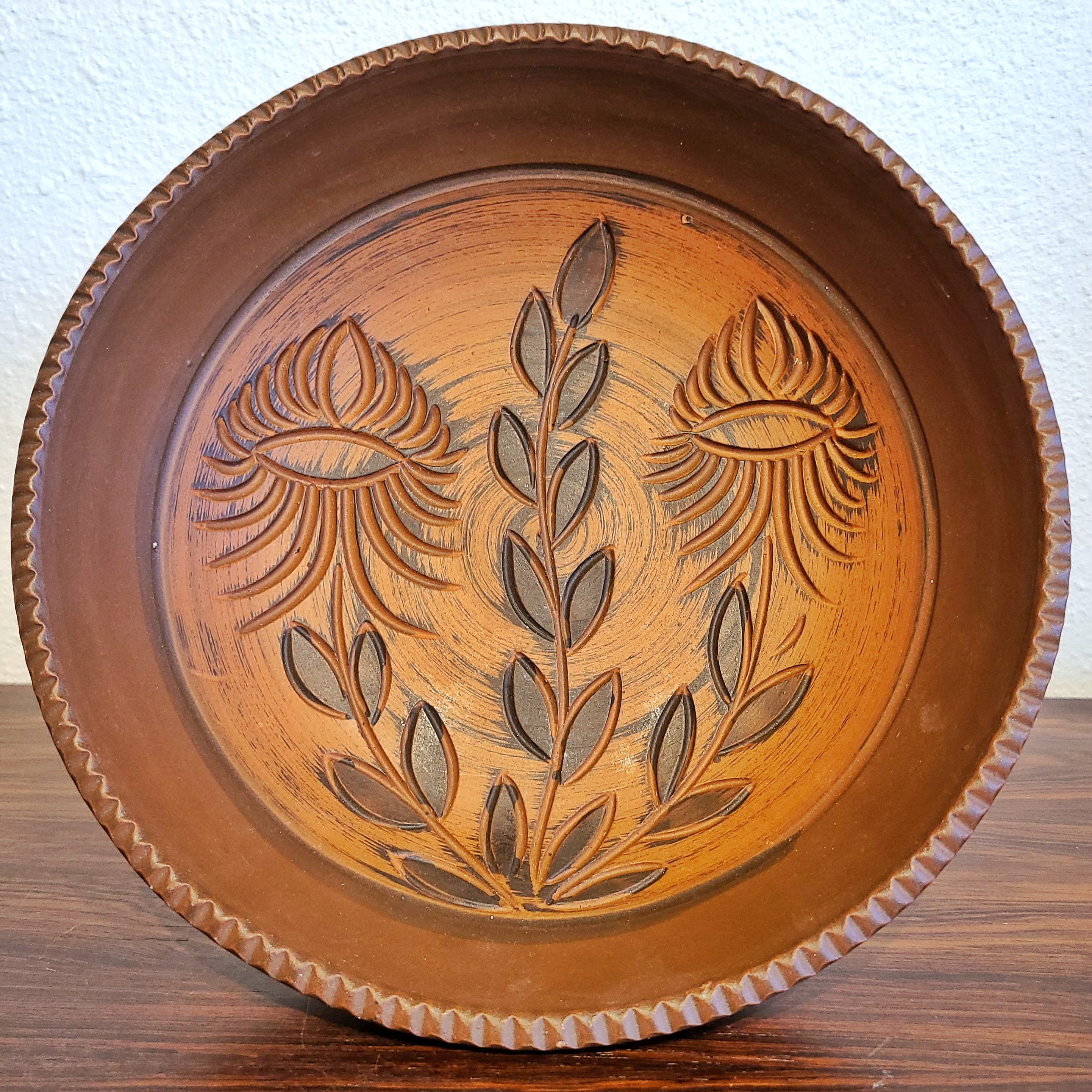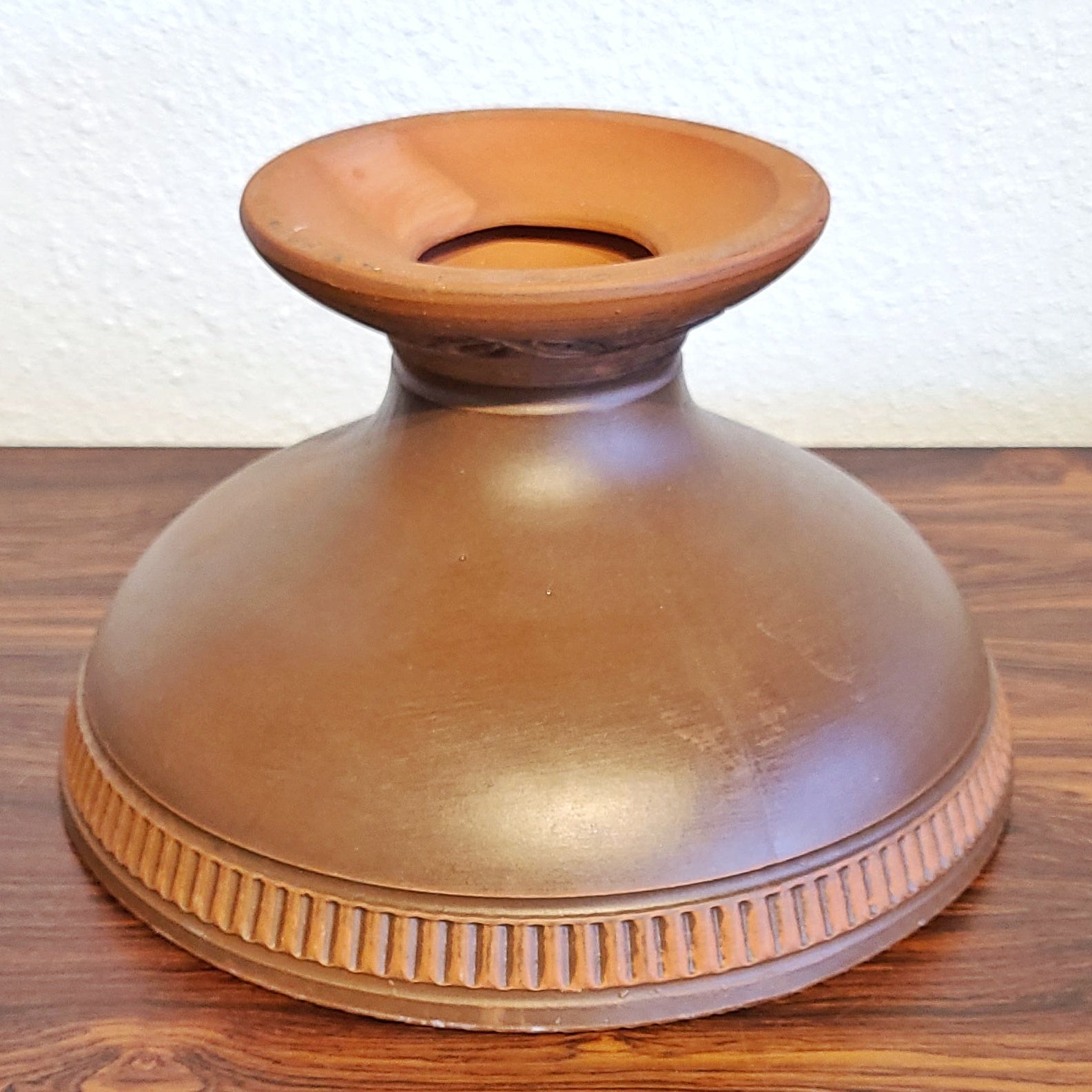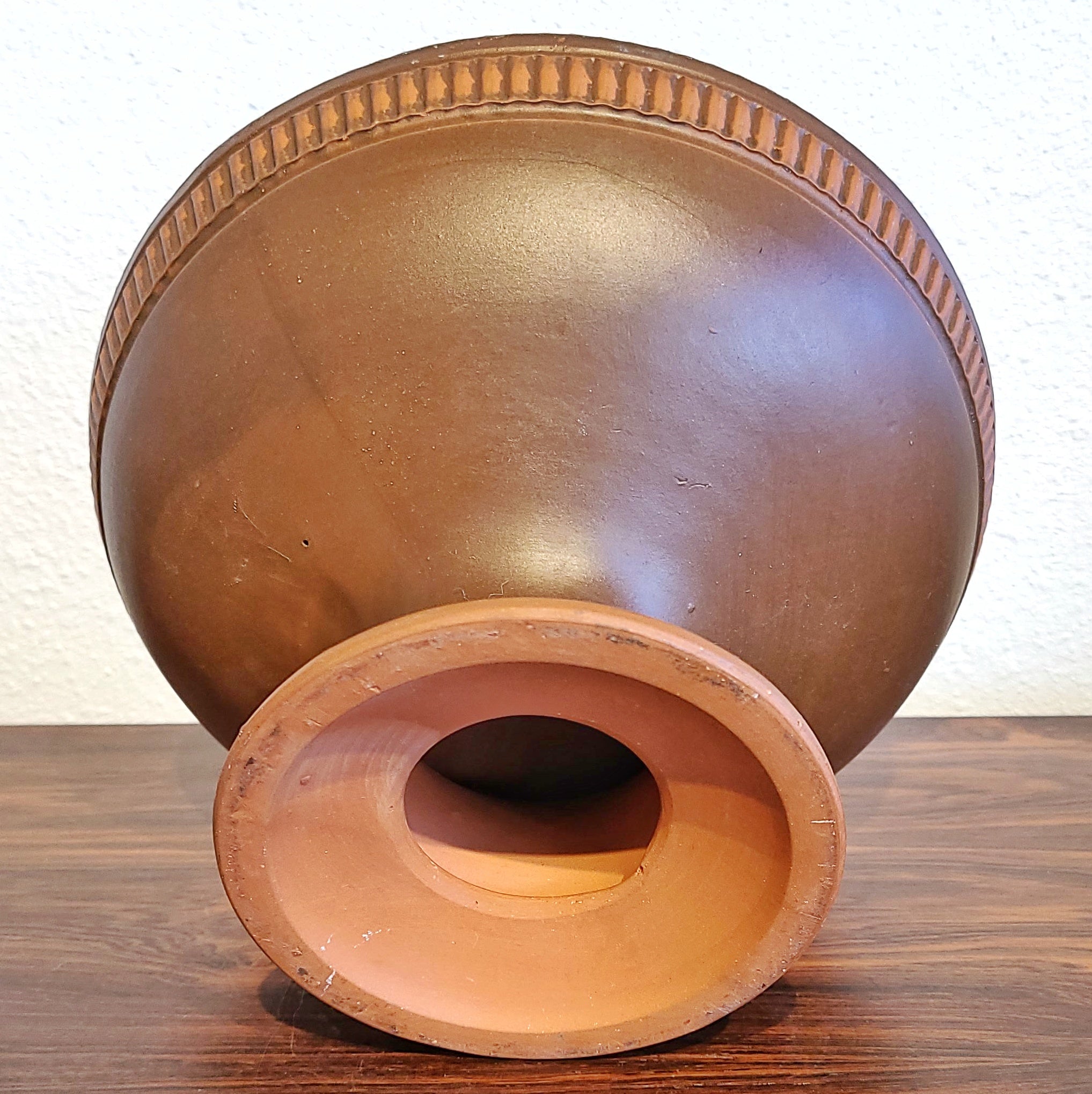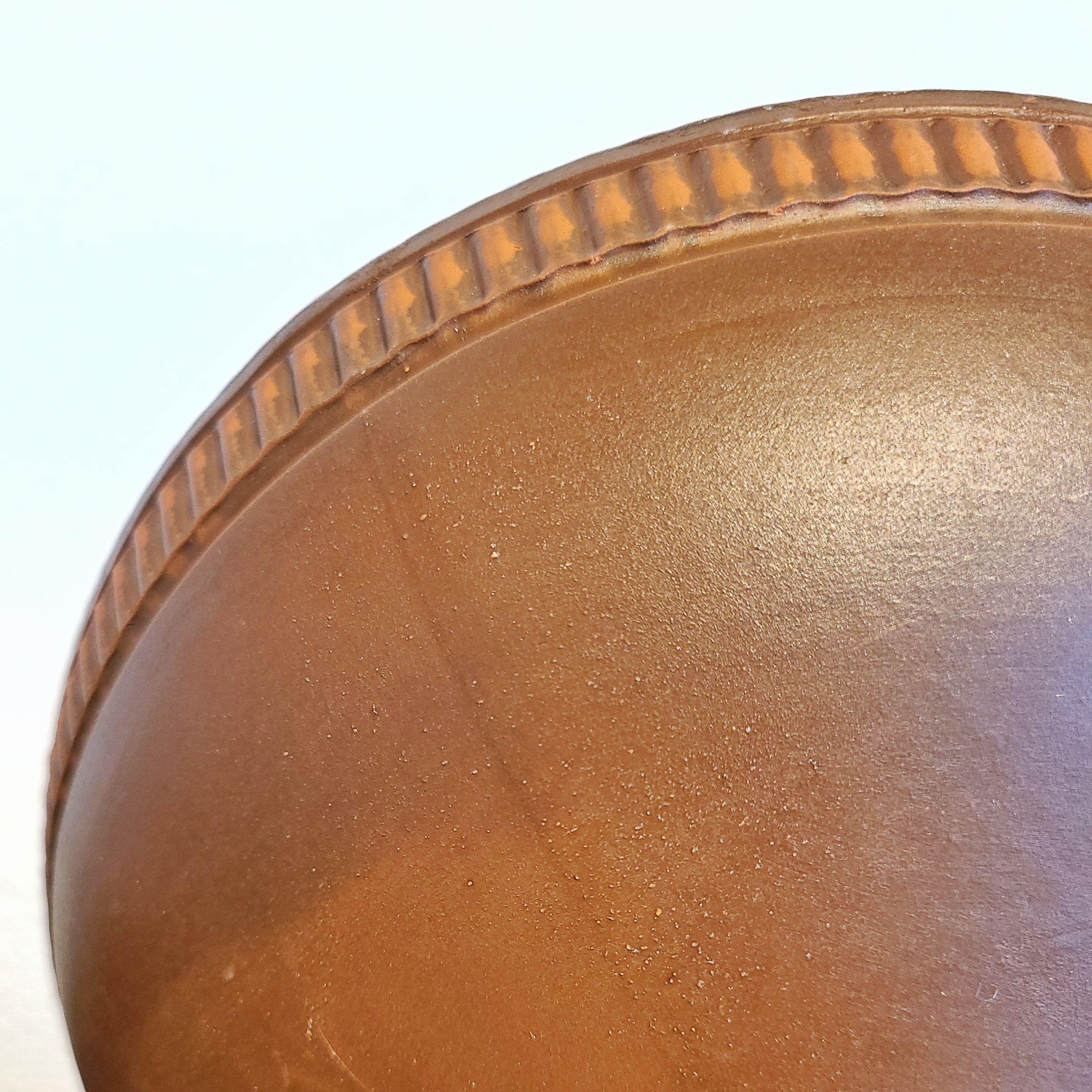 EIWA? KERAMIK FOOTED SGRAFFITO 'KLINKER' BOWL
CONTACT US HERE ABOUT THIS ITEM.
A beautiful two tone 'klinker' style footed centerpiece bowl with a floral sgraffito decor and a hand burnished surface, probably by Eiwa Keramik. though it is unmarked.
EIWA KERAMIK (Eiwa, Eisbach-Wagner, Ransbach-Baumbach), was a workshop for the production of high quality decorative and household ceramics, founded in Ransbach-Baumbach in 1956 by the trained freelancer Leo Wagner and his father-in-law Erich Eisbach.  The small workshop soon developed into an active small business, which at times had over twenty employees.  The company did not take part in trade fairs and did not advertise in the trade press, but in spite of this, there was continuously increasing demand for their pottery and frequent inquiries asking for the name of the maker.  The production program was delivered exclusively to selected wholesalers and distributed by them.  Exclusive series were also produced, for example, for the company Flix-Keramik based at the same location.  Flix was essentially a wholesaler that purchased pottery from various companies such as Eiwa or Ü-Keramik to be produced with their own exclusive decors.  In 1993 Eiwa was leased out.  Two years later it was finally closed.  The products are all made of red *klinker clay and are mostly decorated with incised  sgraffito decors and colored engobes.  The shapes and decors all go back to Leo Wagner and are usually marked with an incised form number and a corresponding height indication, often with an H and the sticker "Eiwa".  In the case of exclusive series, there is usually a sticker from the respective sales company.
*KLINKER POTTERY is made from a native red or brown clay that was otherwise employed in the production of a particular sort of partially-vitrified bricks, commonly referred to as "klinkers"—so called for the metallic sound they make when struck together. Like the namesake bricks, klinker pottery is hard fired at very high temperatures. In addition to being hand-thrown, it's usually also burnished and decorated by hand, and only partially glazed if at all. The production methods tend to make these items very water-resistant, and in most cases, waterproof, even without an interior glaze. The Krupps marketed their products under the name "Krupp-Klinker." (Incidentally, being denser than normal bricks, Klinker bricks provide relatively poor insulation. On the other hand, their hard surfaces make them frost-resistant, so they are well-suited for use in facades and as pavers.)
Designer
LEO WAGNER
Manufacturer
EIWA KERAMIK
Design Period
1950 to 1959
Production Period
1960 to 1969
Country of Manufacture
Germany
Identifying Marks
The style of the design is reminiscent of the designer and/or manufacturer
Style
Vintage, Mid-Century, Hand-Crafted, Modernist
Detailed Condition
Excellent — This vintage piece is in near original condition. It may show minimal traces of use and/or have slight restorations.
Product Code


Materials
Ceramic, Earthenware
Color
Black, brown, orange
Width

1

0.0 inch

Depth

10.0 inch

Height

6.0 inch