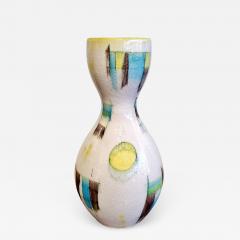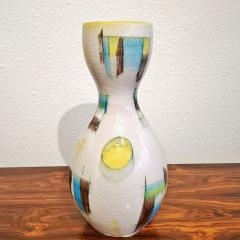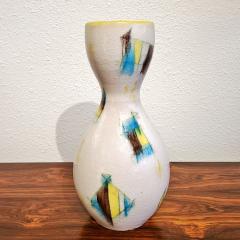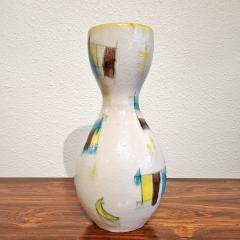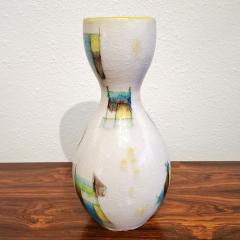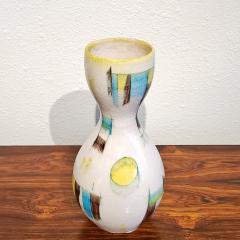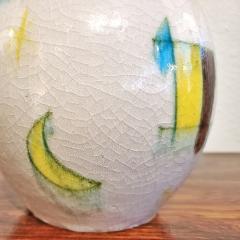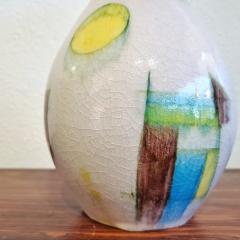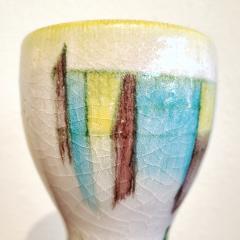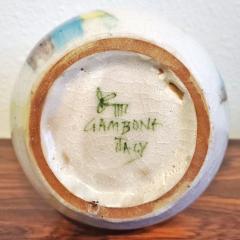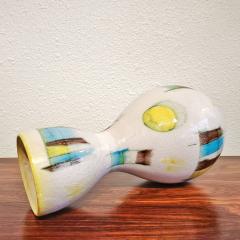 GUIDO GAMBONE GOURD SHAPED CRACKLE GLAZED VASE (31.5 cm) - REPAIRED
CONTACT US HERE ABOUT THIS ITEM.
A magnificent, gourd-shaped vase by maestro Guido Gambone—perhaps the finest Italian studio potter of the modern era.  The geometric design elements of the décor appear to include sun, moon, and stars—along with several groupings of more abstract, window-like forms.  It is clearly inscribed in the artist's hand on the base with Gambone's last name and his signature "donkey" mark.  There is an Invisible repair to the base.
GUIDO GAMBONE was arguably the most influential Italian ceramist of the previous century.  The elder Gambone (son Bruno was also a gifted potter) defined a unique style that fused traditional ceramic method with unstructured form, uniting the art of the past with that of the modern era.  His dynamic objects with their experimental glazes and eccentric patterns achieved great popularity in his day and are treasured holdings in today's private and museum collections.
Born in Montella in the southern Italian region of Campania in 1909, Gambone received his earliest ceramics training at the Manifattura Artistica Ceramica Salernitana in nearby Vietri sul Mare.  He continued his studies at the Industria Ceramica Salernitana (I.C.S.), eventually taking on its directorship.  Gambone moved north to Florence in 1936 with fellow artists Vincenzo Procida and Francesco Solimene to organize the Cantagalli ceramics company (named for founder Ulisse Cantagalli, 1839–1901) which specialized in reviving the rich colors and patterns of the Maiolica tradition.
In the early 1940s he teamed up with brother Remigio and friend Andrea D'Arienzo to establish his own ceramic factory in Vietri Marina, Salerno:  La Faenzerella.  Owing to wartime conditions the company grew rather slowly, but Gambone was soon winning prizes for its production.  In 1947, for example, he received the prestigious Premio Faenza award for a ceramic panel of his creation.  The genius of this phase of Gambone's ceramic design rested primarily in his use of thick glazes, often rendered more viscous by the addition of glass and sand.  He continued in this style into the 1950s, when he established a second workshop in Florence:  La Tirrena.  In the new space Gambone advanced his earlier designs by working in larger, even more elaborate, amorphic forms.  He reunited with Vincenzo Procida at La Tirrena and also worked there collaboratively with his son Bruno Gambone.
1950 saw the showcase of one of Gambone's collaborative works at a group exhibition at the Brooklyn Museum in New York City.  In 1951 Gambone enjoyed a solo showing at the Galleria Il Milione in Milan.  By the end of the decade, he had achieved wide international acclaim.  He upheld his dedication to his work until 1967, when La Tirrena closed its doors.  Gambone died two years later at the age of 60.
Production Period – 1955-1964
Country of Origin – ITALY
Designer – GUIDO GAMBONE (1909-1969)
Attribution – MARKED
Materials – CERAMIC
Condition – VERY GOOD (no defects; may show slight traces of use)
Height (cm) – 32.0
Diameter (cm) – 14.0