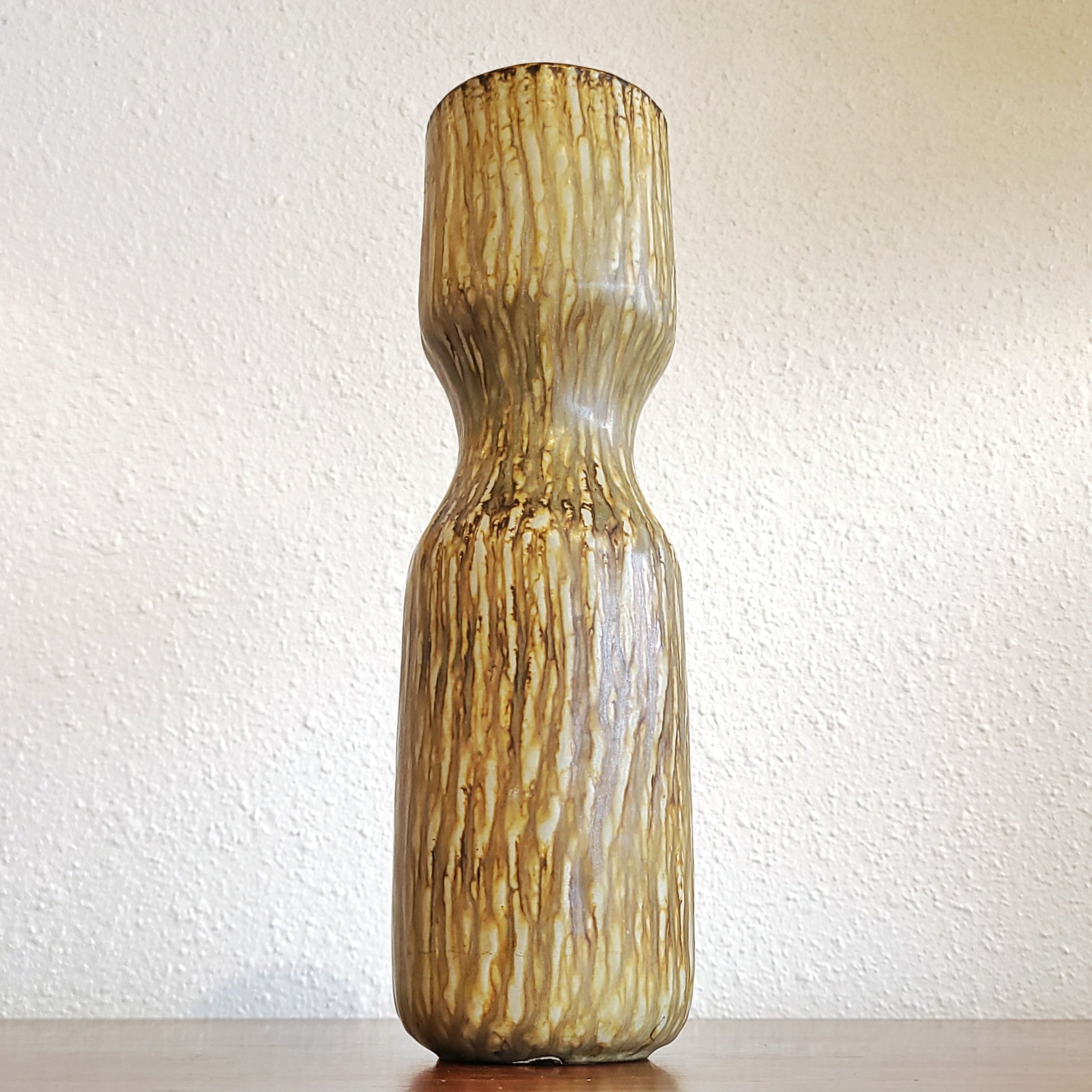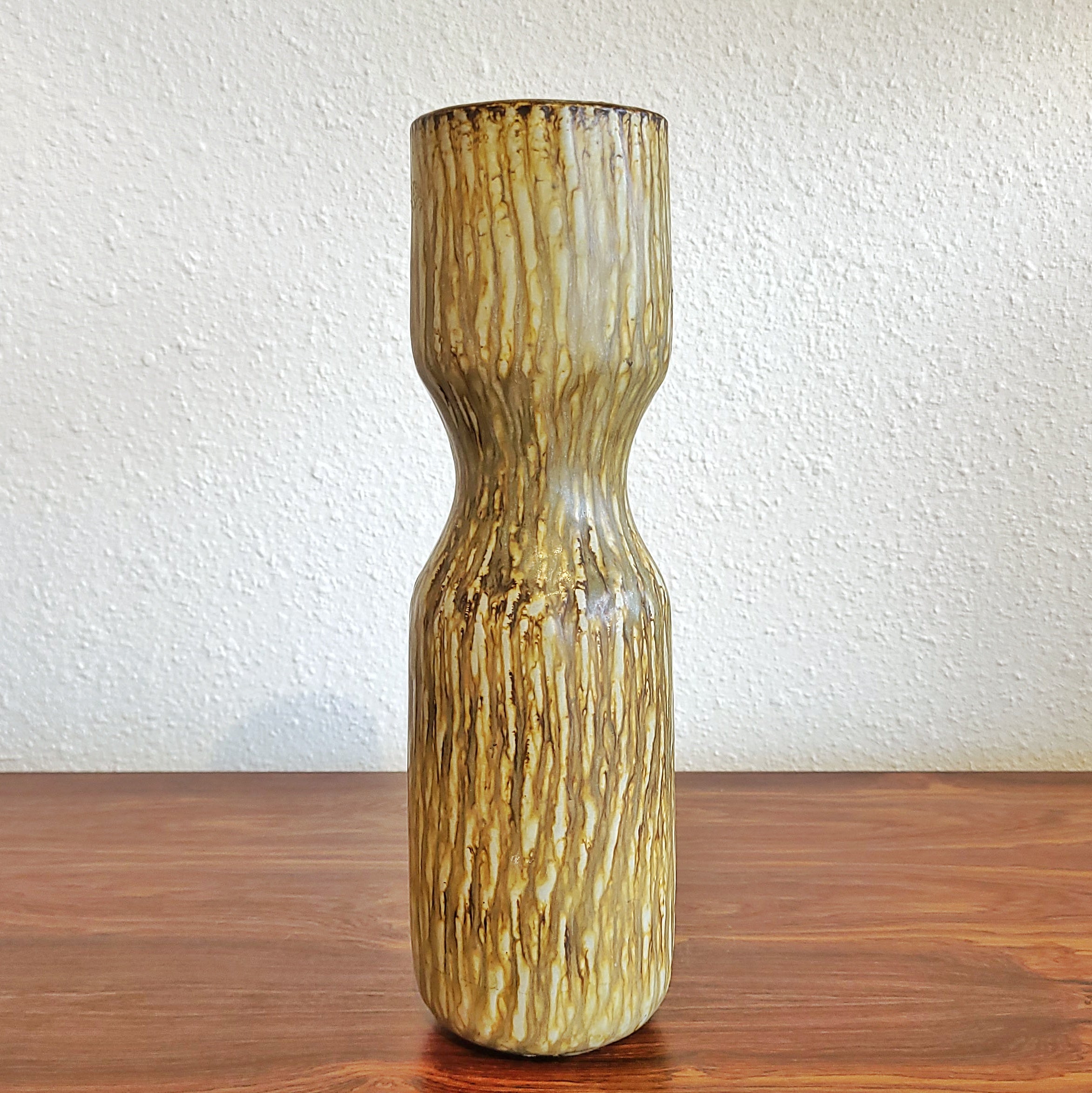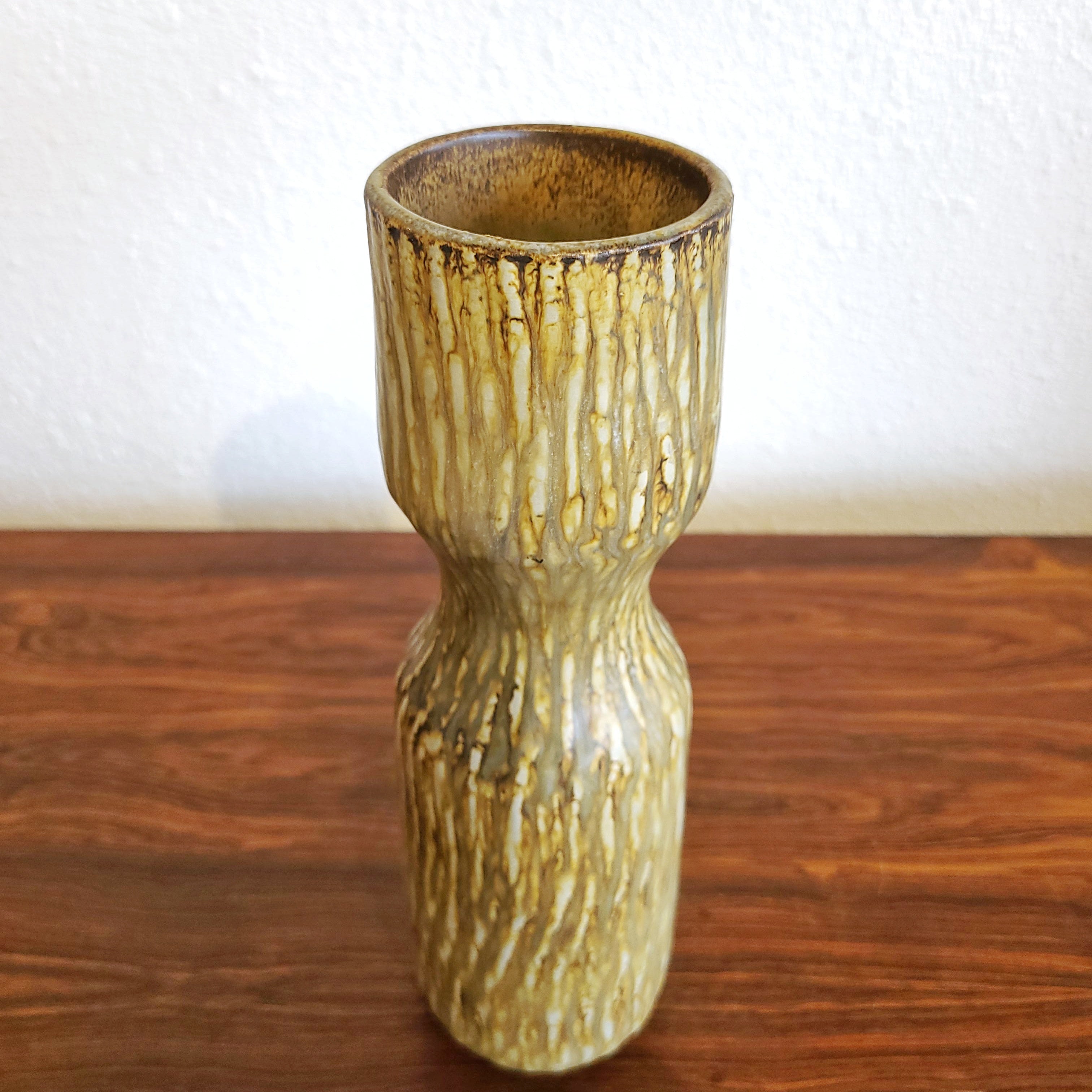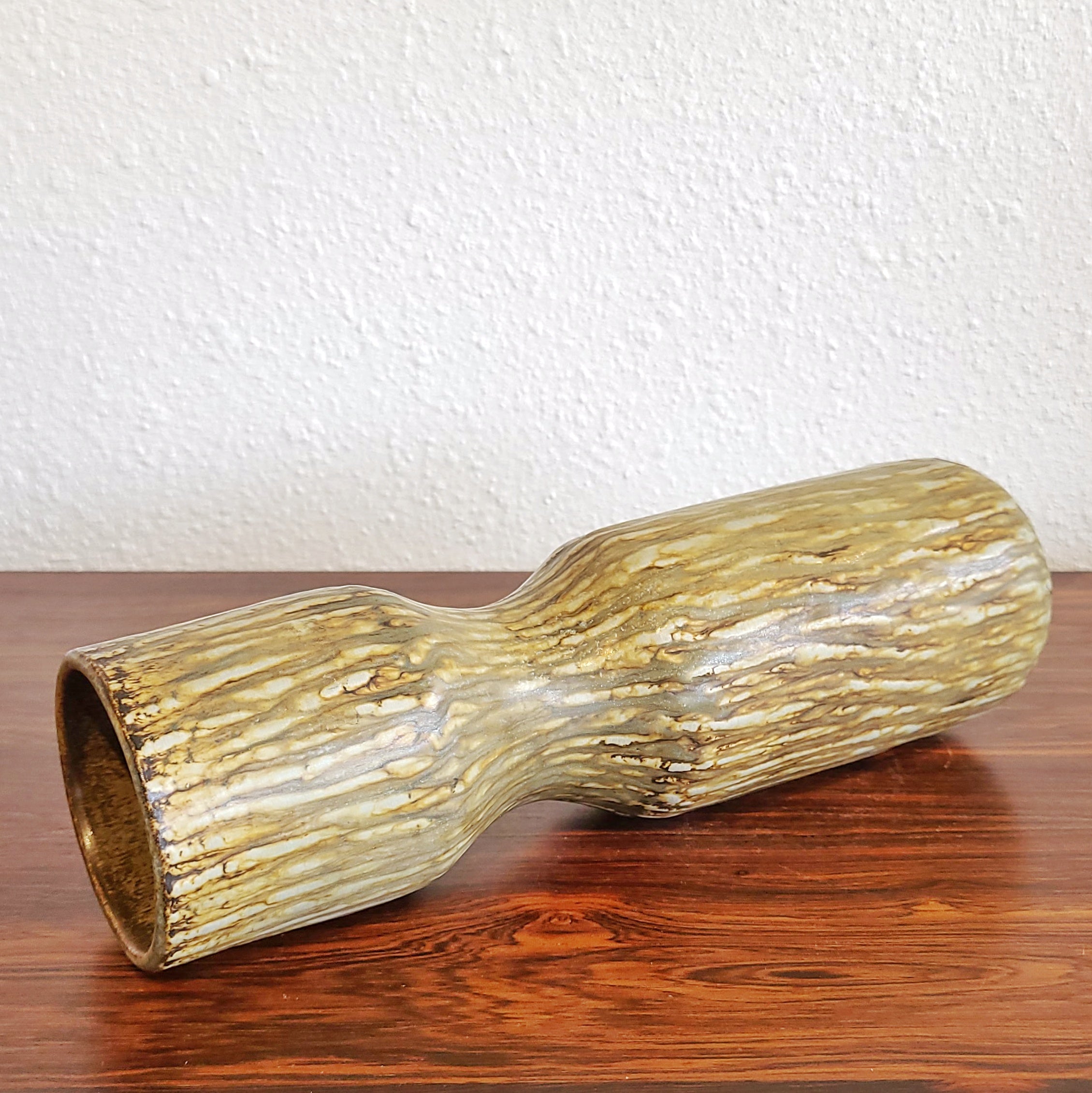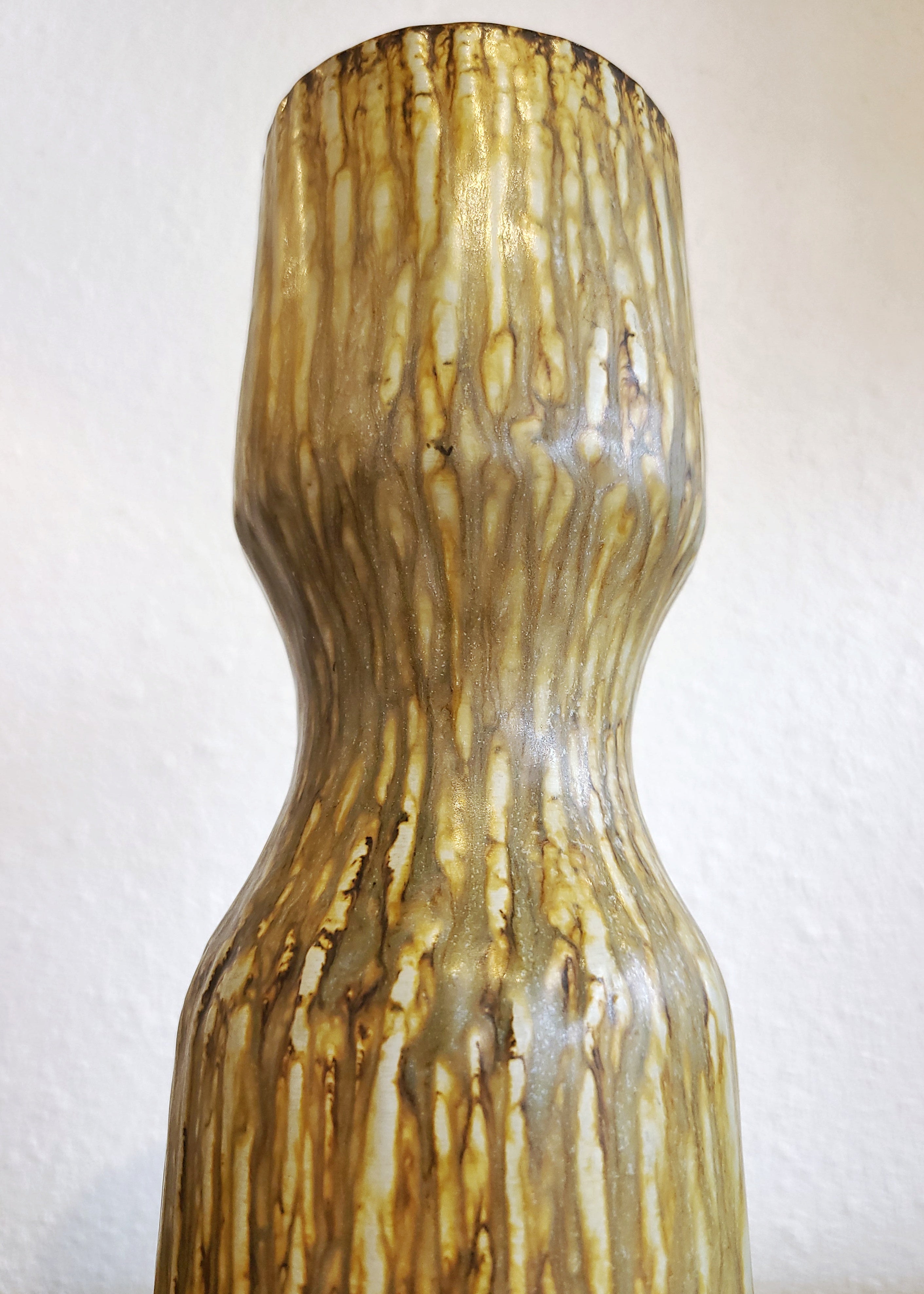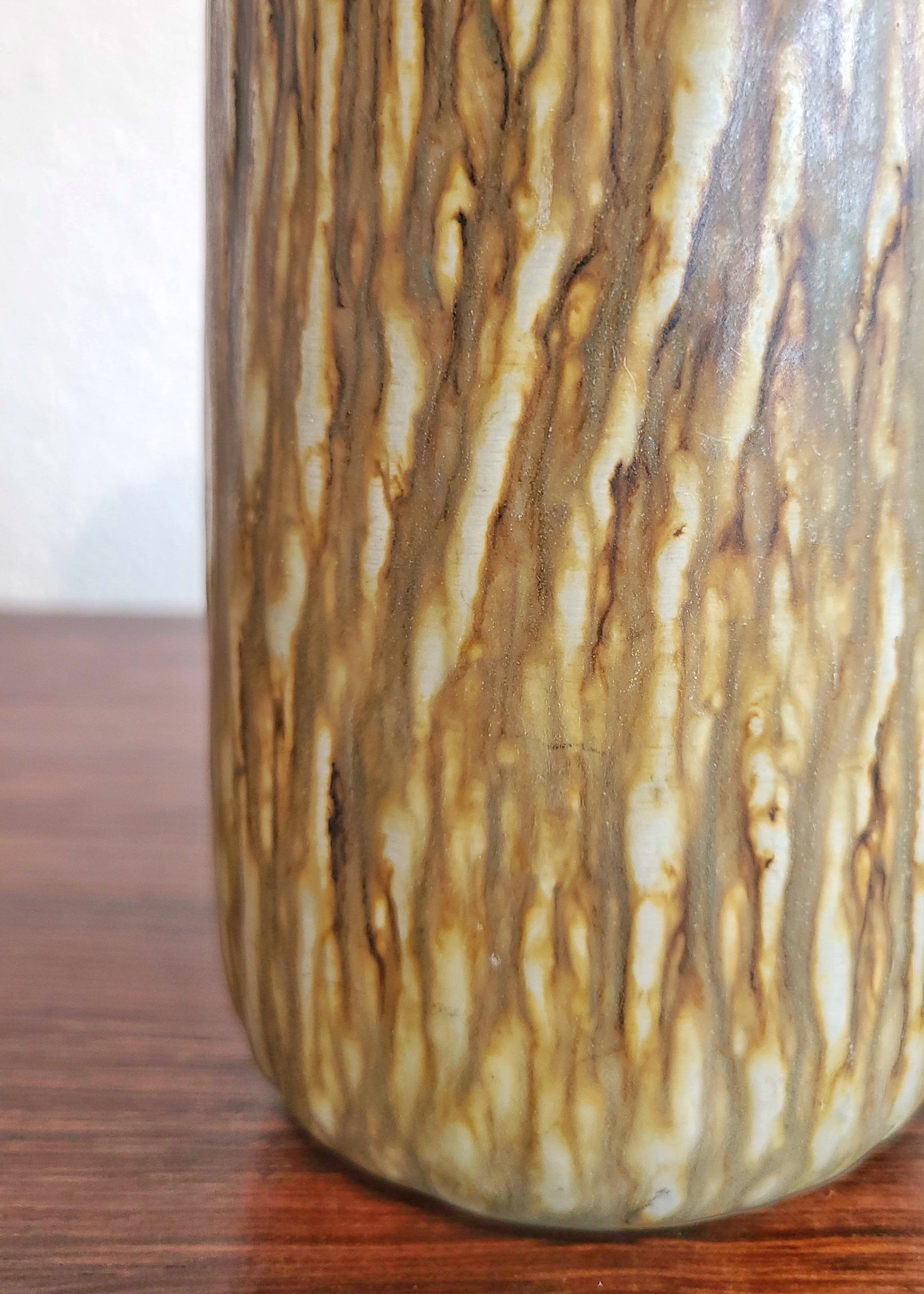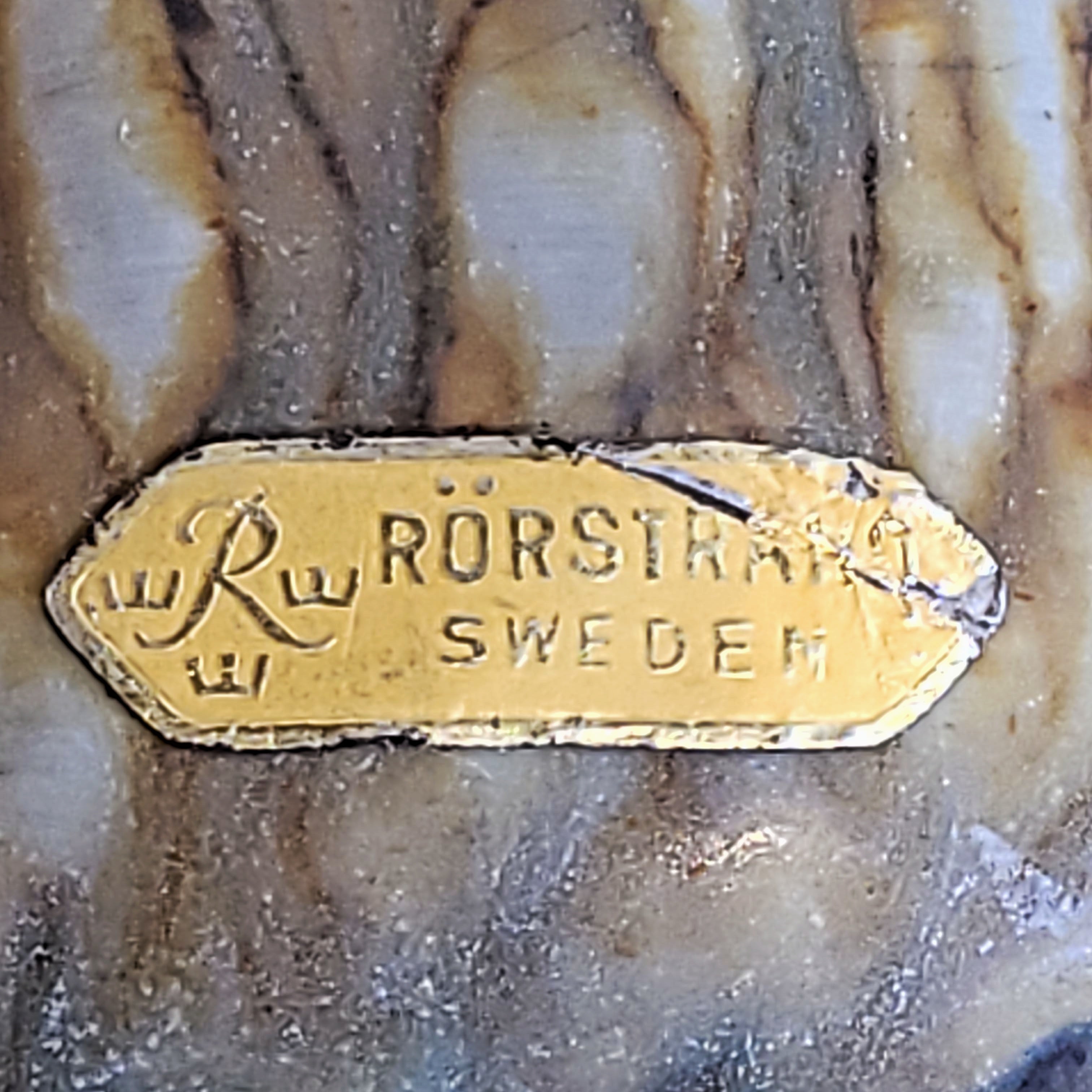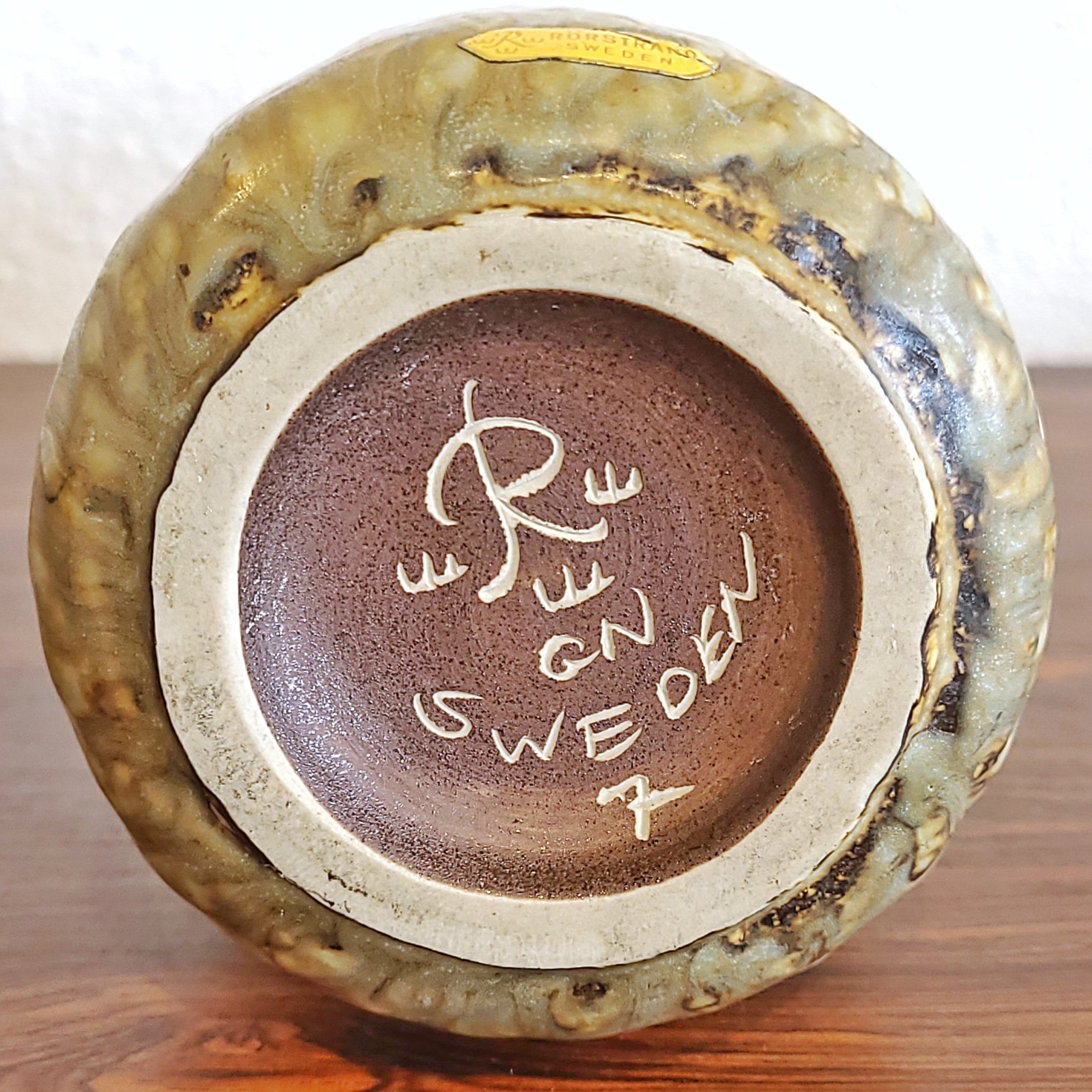 GUNNAR NYLUND 'RUBUS' VASE FOR RÖRSTRAND (SWEDEN)
CONTACT US HERE ABOUT THIS ITEM.
An outstanding cinch waisted stoneware vase designed in the 1950s by Gunnar Nylund as part of his 'RUBUS' series for Rörstand of Sweden.  Though difficult to see, the surface of the vase is highly textured with vertical ridges that follow the lines of the beautiful running glaze in shades of beige, brown, and pale mossy green that almost gives the impression of a stand of birch trees in the forest.
RÖRSTRAND has been documented as early as the 13th century, when Magnus Ladulås donated property to the Clara Convent. In 1527, under Gustavus Vasa, the area was returned to the crown. The area was named "Rörstrand" because the clear lake's shore was overgrown with reeds.
After an "Associations contract between all concerned in the Swedish Porcelain works, which will be established at great Rörstrand in the Delft manner" was signed in 1726, a porcelain factory was built at the castle Rörstrand.  The factory had indeed been privileged to produce true porcelain, but faience  was the only thing that came to be produced until the 1770s. In 1758, rival Marieberg began to produce flintware. High production costs, small market, and strong competition from imported Chinese porcelain, kept Rörstrand from trying to copy Marieberg's goods.
By the 1770s, Rörstrand begins its own production of the English flintware, however, it takes time before Rörstrand succeed in developing its own technology in the new technique. After Marieberg was acquired in 1785, Rörstrand was the only major Swedish porcelain factory and the technology was not a priority. Only after Gustafsberg is founded in 1825 does mass production of printed tableware in earthenware take off. During the 1860s, Rörstrand porcelain was one of the nation's largest industries.
In 1900, there were around 1,100 employees. The factory's products had a worldwide reputation and participated successfully in various fields of art and industrial exhibitions. The expansion of the city meant that the land was needed for housing. The factory in Rörstrand was closed and demolished in 1926. Production was moved first to Gothenburg after acquiring the Gothenburg porcelain factory, and later to Lidköping in the 1930s.
Between 1960-1990, Rörstrand passed through several owners, including Upsala-Ekeby AB, Finnish Wärtsilä, Hakusan and Gustavsberg porcelain factory. As of 2001, Rörstrand is a part of Iittala which, because of losses, moved production to Sri Lanka and Hungary. On 30 December 2005 the factory in Lidköping closed, and thus ended a nearly 280-year-old Swedish industrial history. In 2007 Iittala, which included the Rörstrand brand, was bought by Fiskars.  The former porcelain factory is now a museum, in which the legacy lives on.
GUNNAR NYLUND was born in Paris in 1904 to a Danish artist mother and a Finnish-Swedish sculptor father, both of whom were art students there at the time.  In 1917, the family moved to Copenhagen, and later to Helsinki, where Nylund attended elementary school.  When the Finnish civil war broke out at the end of 1918, he and his mother moved to Denmark where he was enrolled in boarding school.  Following graduation in 1923, he returned to Helsinki to complete an architecture internship and study ceramics with his father, who encouraged him to explore the physicality of animals.  Nylund would craft a wide variety of stylistically lifelike animal figurines and sculptures over the course of his long career, many of which reside in museums.
Nylund eventually returned to Copenhagen to study architecture at the Royal Danish Academy of Fine Arts, but he continued to practice ceramics with his father and took on part-time work at the Bing & Gröndahl (B&G) porcelain factory.  His contributions to the 1925 Internationale des Arts Décoratifs et Industriels Modernes expo in Paris would lead B&G to offer him a permanent position.  Nylund quit his architectural studies for the job at B&G, where he worked under the tutelage of Jean René Gauguin (son of Paul Gaugin).  After three years of work focused on stoneware, he had his fill of the firm's conservative approach, feeling that his impulses toward modernity were being stifled.  Leaving B&G in 1928, Nylund established the Nylund & Krebs studio with glaze chemist Nathalie Krebs (1895-1978), renting out the workshop of renowned cermicist Patrick Nordström (1870-1929) in Islev, a suburb of Copenhagen.  In 1929 they launched SAXBO, a groundbreaking series of Nordic stoneware, mostly undecorated in matte glazes of novel colors.  The pioneering range has since become an icon of Scandinavian ceramic design.  The pair assumed control of Nordström's workshop in 1930.
The SAXBO line generated a lot of attention at a Svenskt Tenn exhibition in 1931, leading to Nylund's recruitment by Swedish porcelain giant RÖRSTRAND.  He was stationed at their Lidköping factory where he produced the first Swedish matte-glazed stoneware and sculptures in shimmering, colorful chamotte.  (Chamotte is an inert type of grog—crushed, unglazed pottery, used an additive in ceramic production—made from high-fired, refractory clay.)  His pieces proved to be very popular and had a profound impact on modern Swedish ceramics.  Much of Nylund's stoneware from the period features Song Dynasty inspired crackelé and oxblood glazes.  He was particularly celebrated for his matte, feldspar-glazes with hare's-fur and crystal décors.  Sculptures were produced both in series and as one-offs.  Nylund was also responsible for the designs of numerous tableware patterns. He worked continuously for RÖRSTRAND until—barring a one-year return stint at B&G—the majority of the time as its artistic director.  In the 1940s Nylund was commissioned to do several freelance projects, including designing bathroom fixtures and interiors for the Swedish bathroom manufacturer Ifö.  He also designed a number of products for refrigerator use.  He took the position of artistic director for the Strömbergshyttans glassworks in Hovmantorp in 1955 (and would later freelance there).  In the early 1960s, he returned to Copenhagen and started producing a more industrial class of stoneware for Nymölle Keramiska Fabrik in Lyngby as a contractor.  At this time he also created Europe's largest stoneware fountain the "Scanisaurus," that features twin plesiosaurs, in Bromölla, Sweden.
Much of Nylund's time since the mid '40s was devoted to reliefs and other work for the decoration of public spaces.  Examples include the "Theater Cavalcade" at the Malmö Stadsteater, "The Jungle Awakens" now found at the entrance of the library of the University of Agriculture in Uppsala, and the "Three Västgöter" relief for the Västgöta student nation in Uppsala; as well as altarpieces for the Lidköping crematorium and the cathedral in Skara.  He also created sculptures such as "St. George and the Dragon" for Sweden's National Institute of Arts and Crafts and the "Mermaid" fountain for the National Museum in Stockholm (since moved to the RÖRSTRAND museum in Lidköping).  Nylund ended his career as a pensioner with his own workshop in the southern Swedish town of Lomma.  He left a legacy of unsurpassed ceramic quality, magnificent creative design, and brilliant craftsmanship. He died in 1997.
| | |
| --- | --- |
| Designer | Gunnar Nylund |
| Manufacturer | Rörstrand |
| Design Period | 1950 to 1959 |
| Production Period | 1950 to 1959 |
| Country of Manufacture | Sweden |
| Identifying Marks | This piece has an attribution mark |
| Style | Vintage, Mid-Century, Scandinavian Modern, Hand-Crafted, Minimalist, Modernist |
| Detailed Condition | Excellent — This vintage piece is in near original condition. It may show minimal traces of use and/or have slight restorations. |
| Product Code | |
| Materials | Ceramic, Stoneware |
| Color | Khaki, tan, goldenrod, olive |
| Height | 11.8 inch |
| Diameter | 3.5 inch |
| | |
| | |