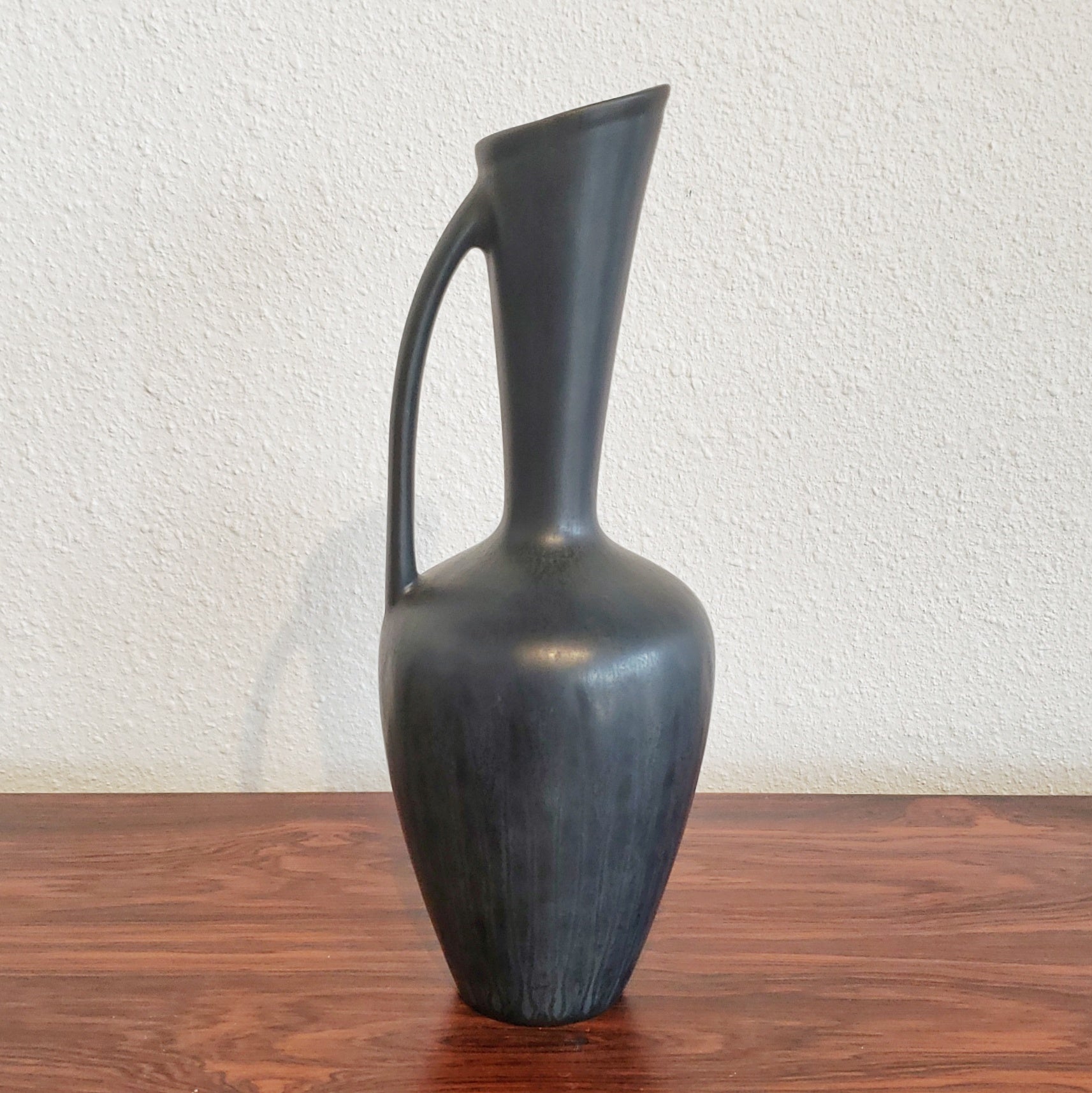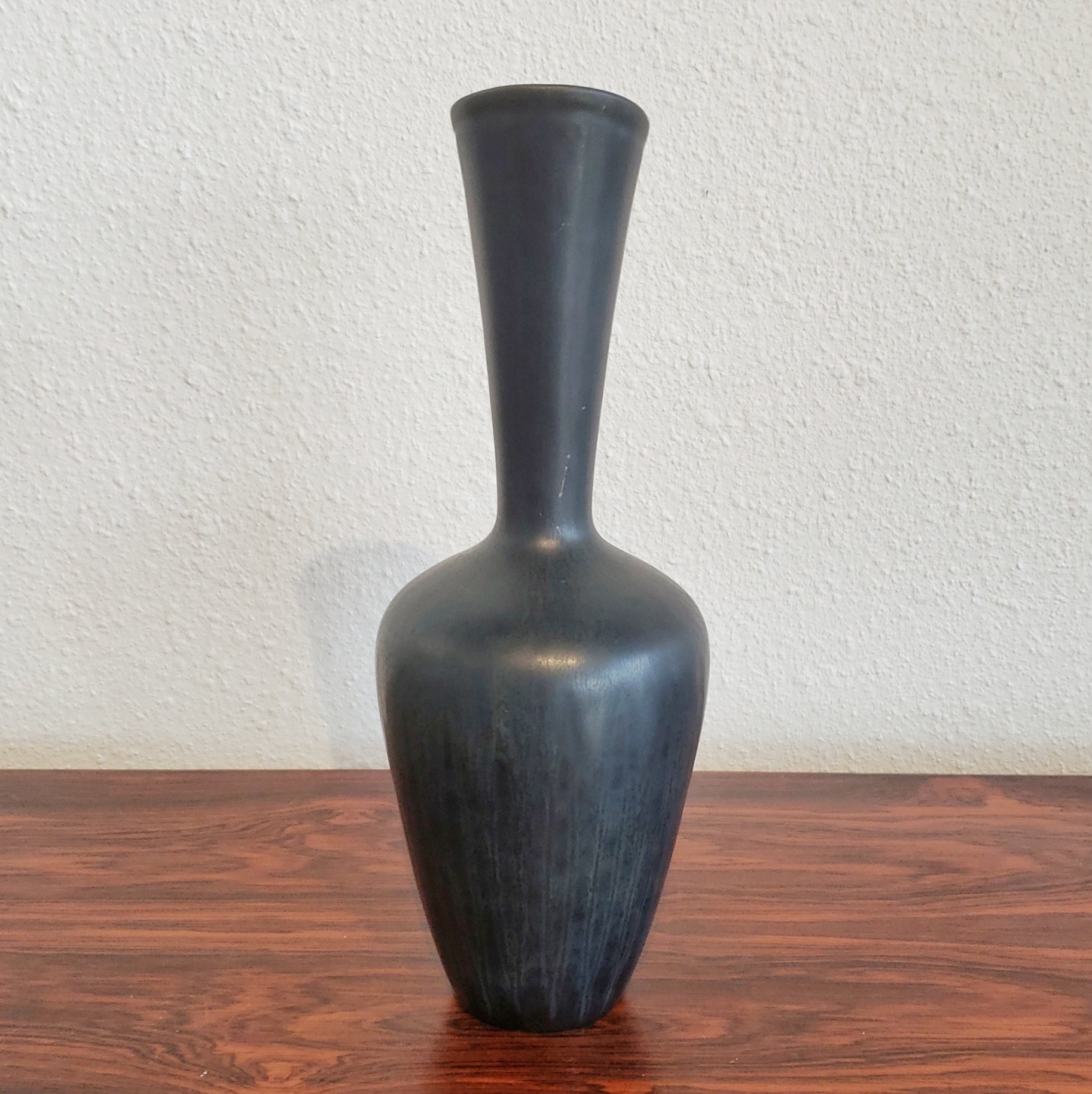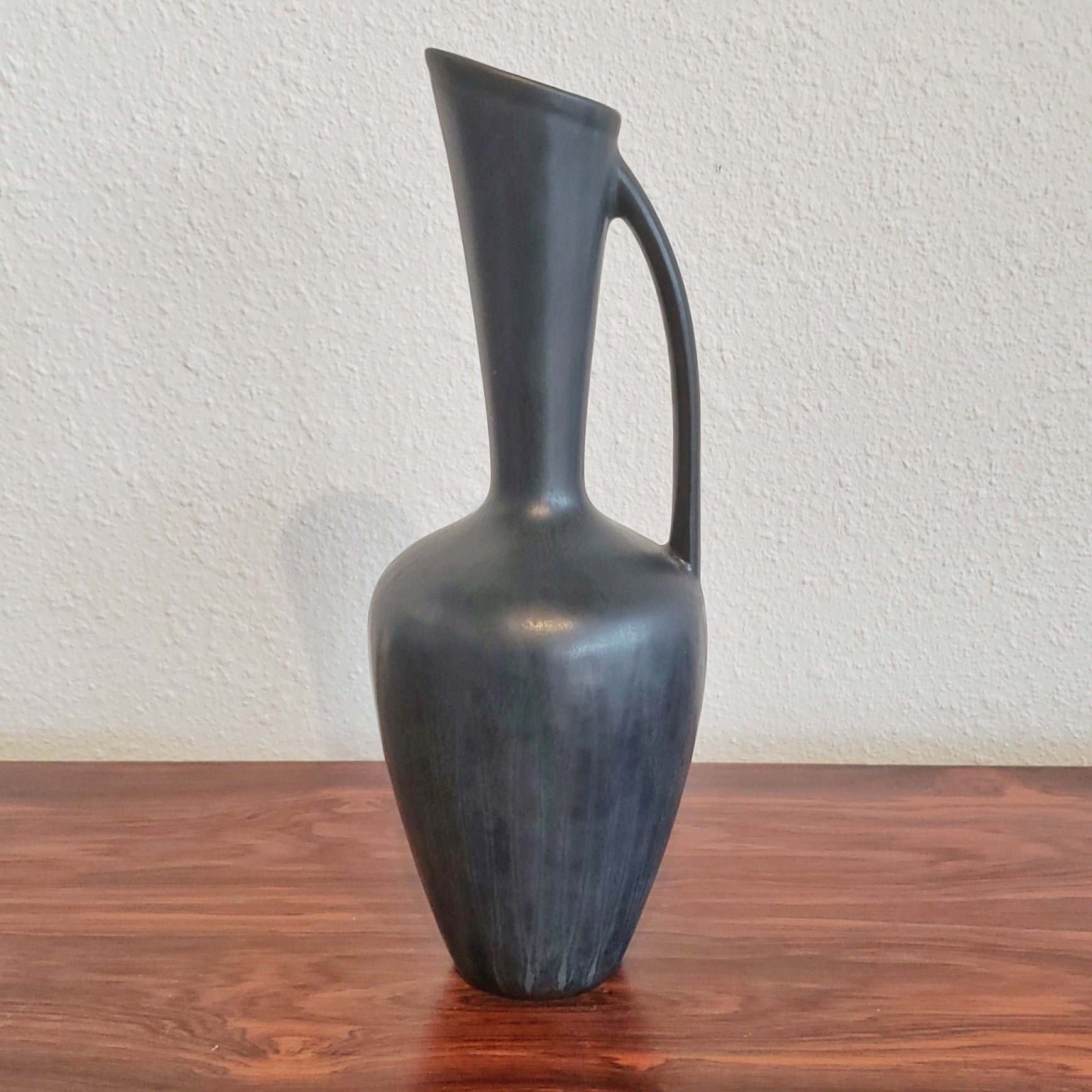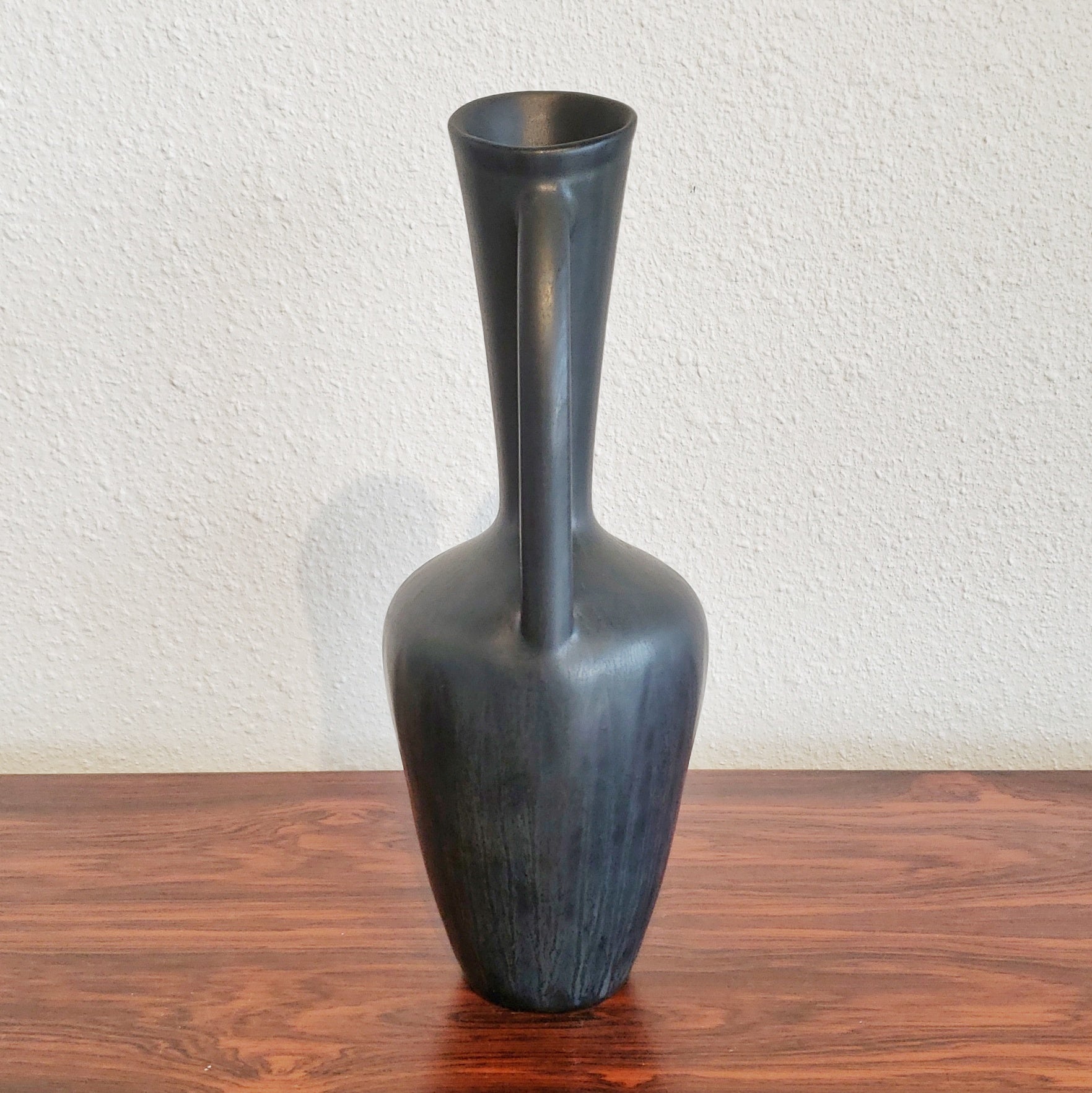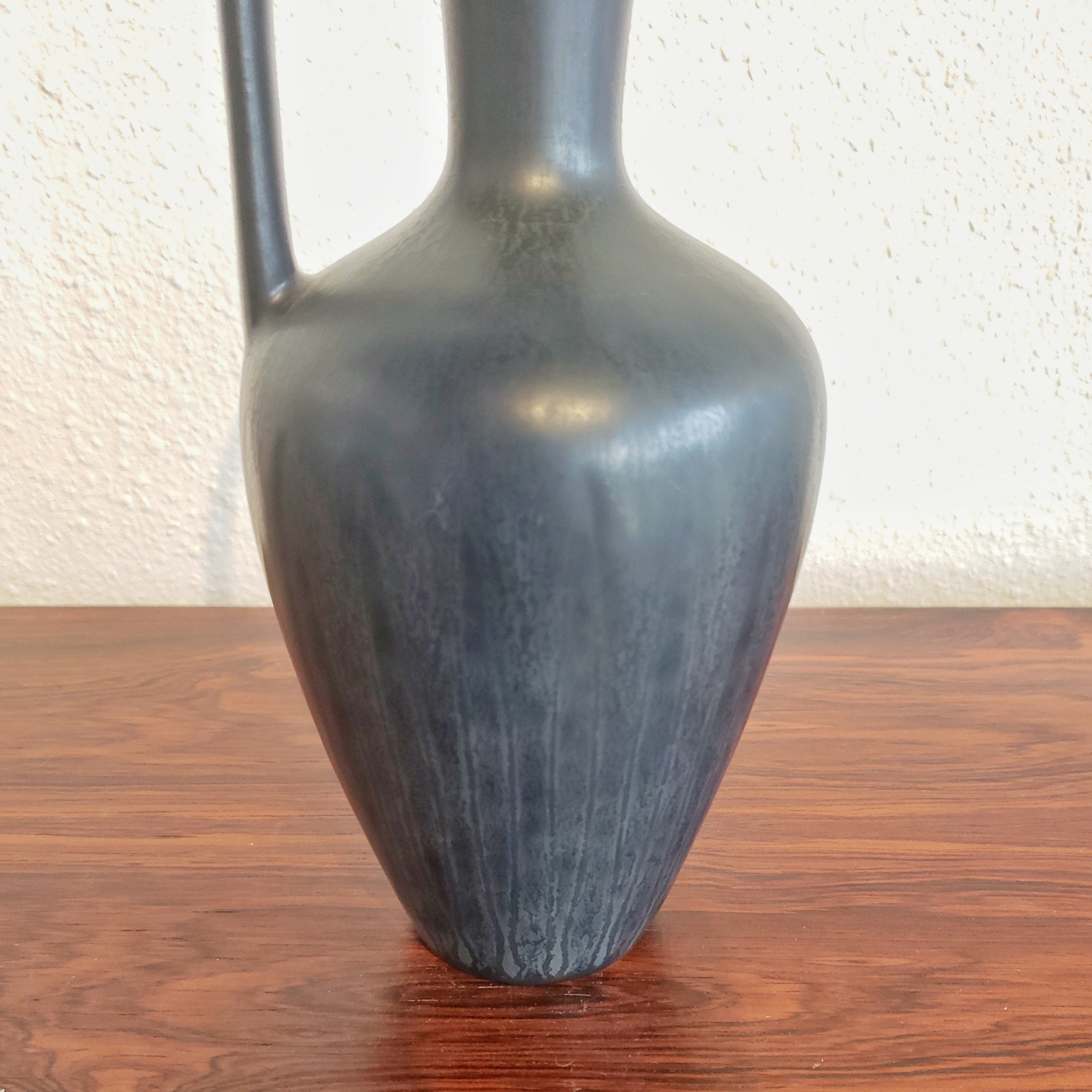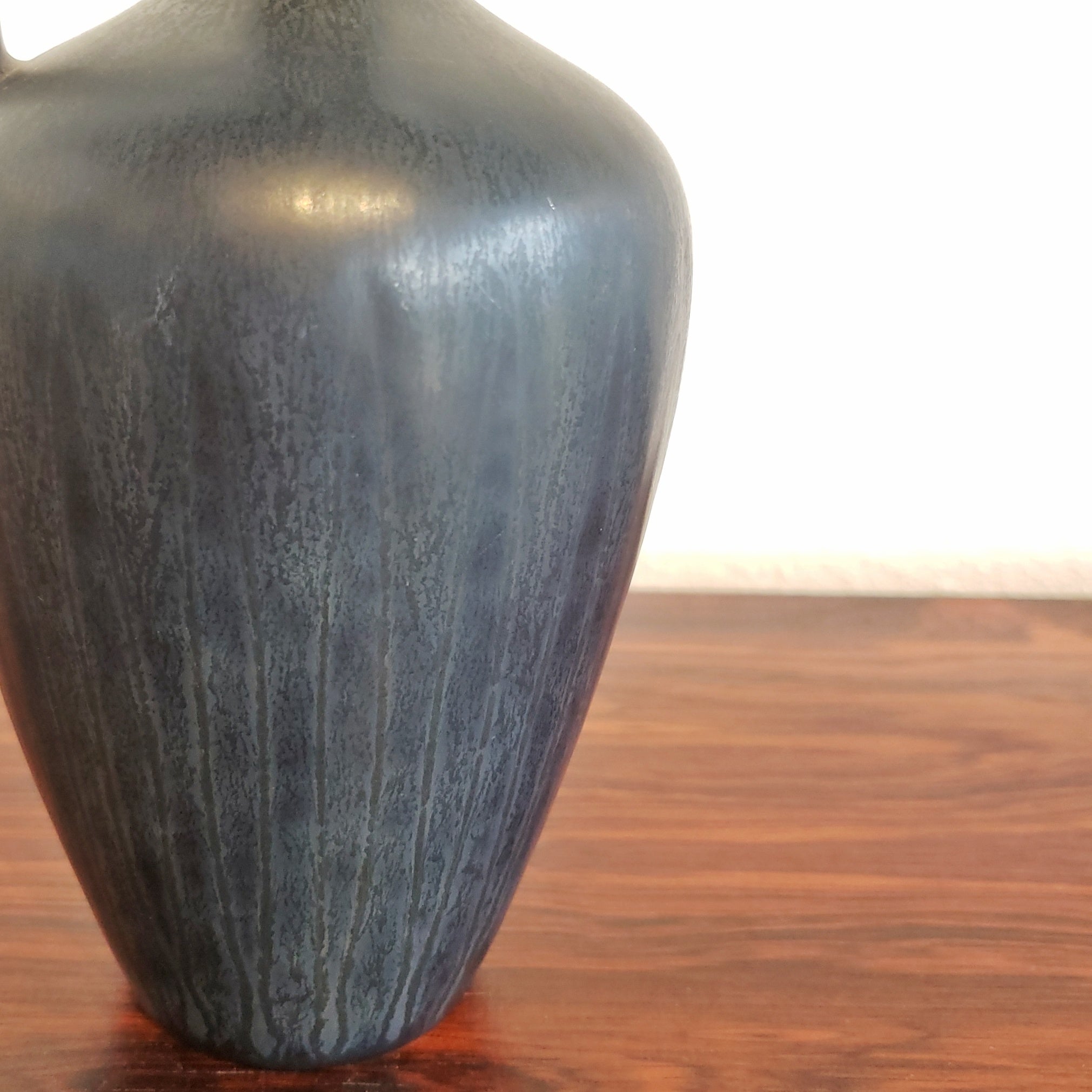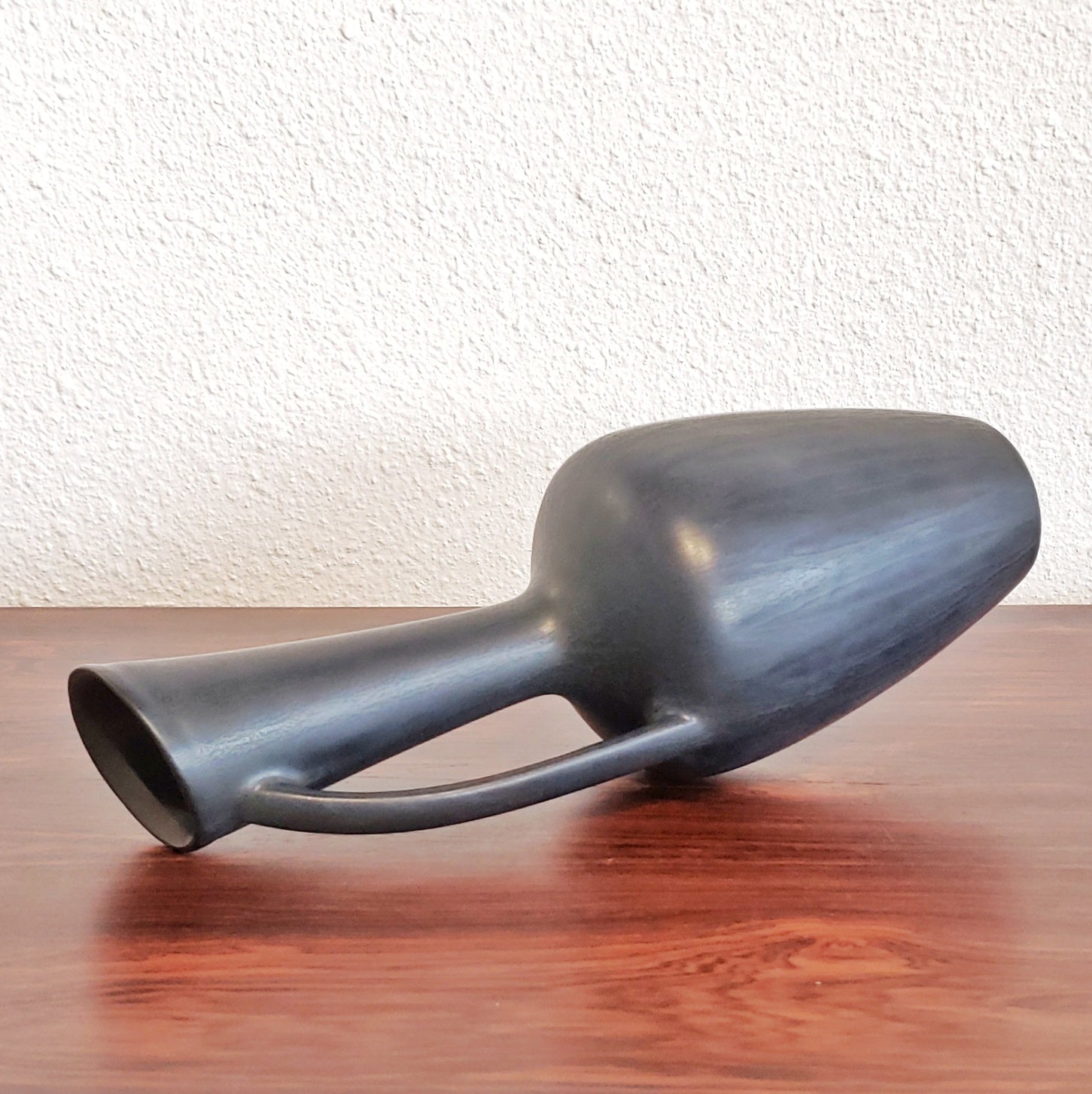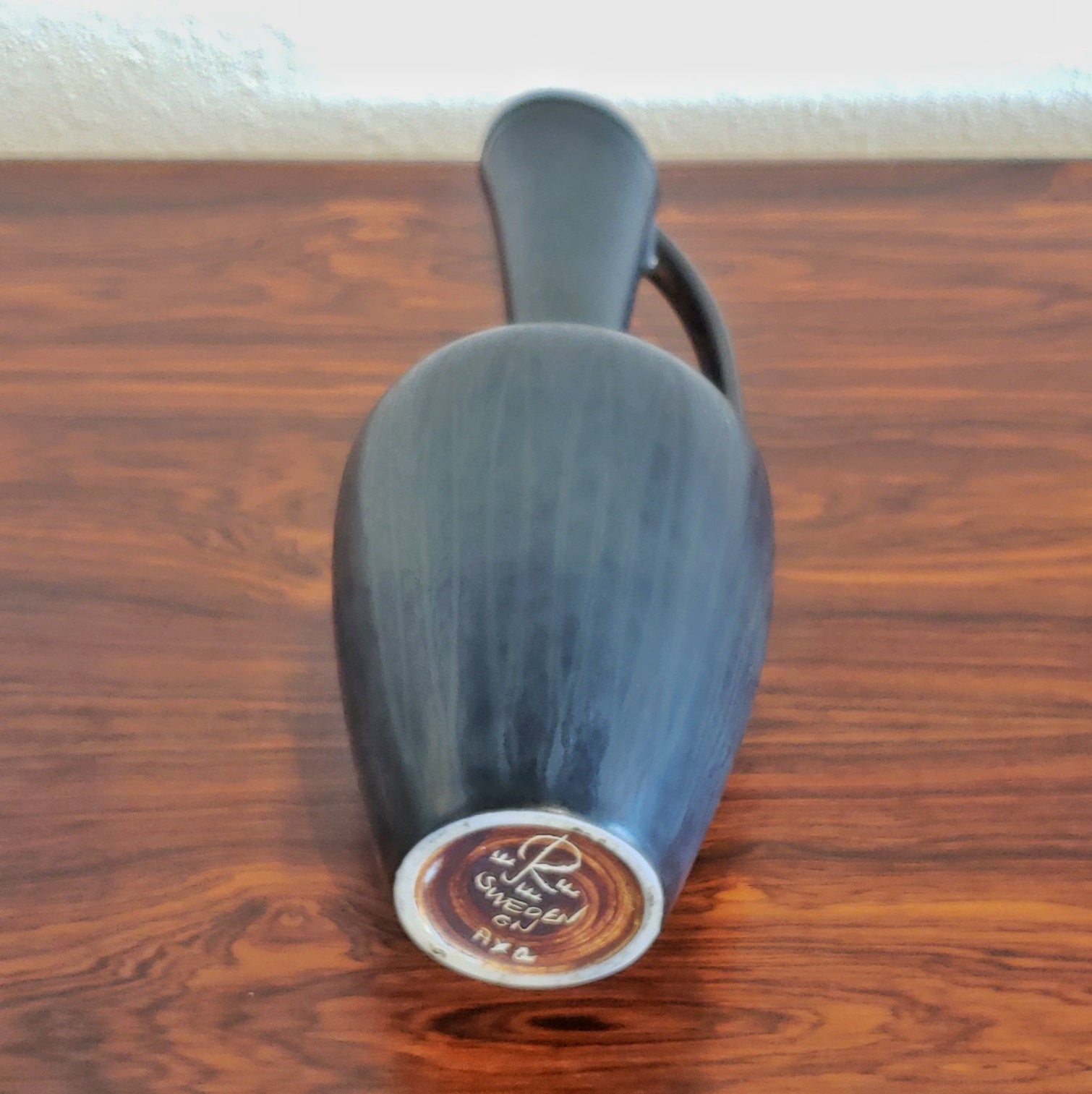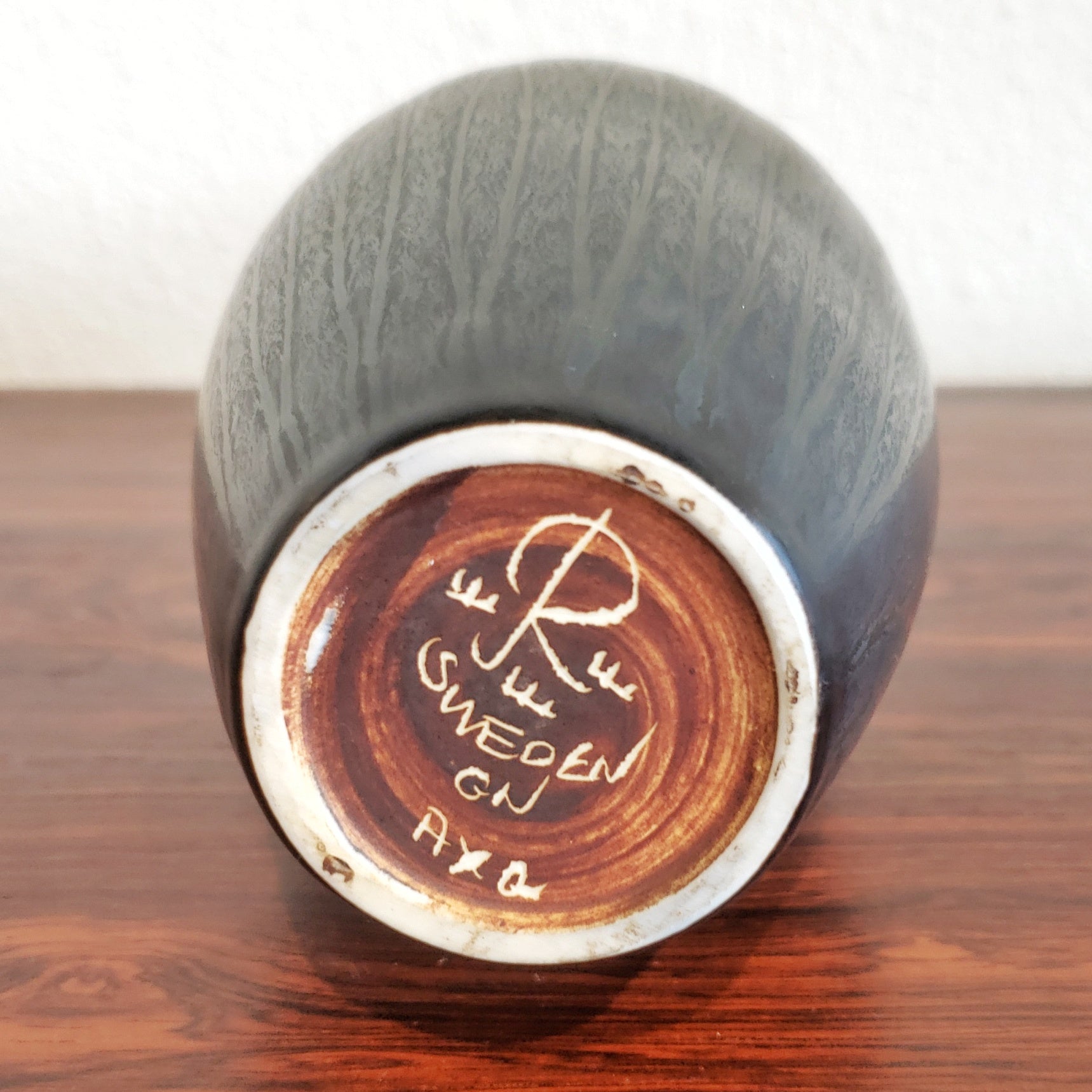 1950s GUNNAR NYLUND VASE MODEL 'AXQ' FOR RÖRSTRAND (27.5 cm)
CONTACT US HERE ABOUT THIS ITEM.
A supremely elegant Scandinavian stoneware vase (model AXQ) by Danish-Finnish ceramic artist, designer, and sculptor Gunnar Nylund for RÖRSTRAND.  Nylund was one of the most renowned ceramicists of the last century and is best known for his work with the Swedish brand RÖRSTRAND, one of the oldest ceramics manufacturers in Europe.  The dark, slate-colored hare's-fur glaze is beautifully striated and very subtle.  Made in the 1950s, it is fully marked on the base.
GUNNAR NYLUND was born in Paris in 1904 to a Danish artist mother and a Finnish-Swedish sculptor father, both of whom were art students there at the time.  In 1917, the family moved to Copenhagen, and later to Helsinki, where Nylund attended elementary school.  When the Finnish civil war broke out at the end of 1918, he and his mother moved to Denmark where he was enrolled in boarding school.  Following graduation in 1923, he returned to Helsinki to complete an architecture internship and study ceramics with his father, who encouraged him to explore the physicality of animals.  Nylund would craft a wide variety of stylistically lifelike animal figurines and sculptures over the course of his long career, many of which reside in museums.
Nylund eventually returned to Copenhagen to study architecture at the Royal Danish Academy of Fine Arts, but he continued to practice ceramics with his father and took on part-time work at the Bing & Gröndahl (B&G) porcelain factory.  His contributions to the 1925 Internationale des Arts Décoratifs et Industriels Modernes expo in Paris would lead B&G to offer him a permanent position.  Nylund quit his architectural studies for the job at B&G, where he worked under the tutelage of Jean René Gauguin (son of Paul Gaugin).  After three years of work focused on stoneware, he had his fill of the firm's conservative approach, feeling that his impulses toward modernity were being stifled.  Leaving B&G in 1928, Nylund established the Nylund & Krebs studio with glaze chemist Nathalie Krebs (1895-1978), renting out the workshop of renowned cermicist Patrick Nordström (1870-1929) in Islev, a suburb of Copenhagen.  In 1929 they launched SAXBO, a groundbreaking series of Nordic stoneware, mostly undecorated in matte glazes of novel colors.  The pioneering range has since become an icon of Scandinavian ceramic design.  The pair assumed control of Nordström's workshop in 1930.
The SAXBO line generated a lot of attention at a Svenskt Tenn exhibition in 1931, leading to Nylund's recruitment by Swedish porcelain giant RÖRSTRAND.  He was stationed at their Lidköping factory where he produced the first Swedish matte-glazed stoneware and sculptures in shimmering, colorful chamotte.  (Chamotte is an inert type of grog—crushed, unglazed pottery, used an additive in ceramic production—made from high-fired, refractory clay.)  His pieces proved to be very popular and had a profound impact on modern Swedish ceramics.  Much of Nylund's stoneware from the period features Song Dynasty inspired crackelé and oxblood glazes.  He was particularly celebrated for his matte, feldspar-glazes with hare's-fur and crystal décors.  Sculptures were produced both in series and as one-offs.  Nylund was also responsible for the designs of numerous tableware patterns. He worked continuously for RÖRSTRAND until—barring a one-year return stint at B&G—the majority of the time as its artistic director.  In the 1940s Nylund was commissioned to do several freelance projects, including designing bathroom fixtures and interiors for the Swedish bathroom manufacturer Ifö.  He also designed a number of products for refrigerator use.  He took the position of artistic director for the Strömbergshyttans glassworks in Hovmantorp in 1955 (and would later freelance there).  In the early 1960s, he returned to Copenhagen and started producing a more industrial class of stoneware for Nymölle Keramiska Fabrik in Lyngby as a contractor.  At this time he also created Europe's largest stoneware fountain the "Scanisaurus," that features twin plesiosaurs, in Bromölla, Sweden.
Much of Nylund's time since the mid '40s was devoted to reliefs and other work for the decoration of public spaces.  Examples include the "Theater Cavalcade" at the Malmö Stadsteater, "The Jungle Awakens" now found at the entrance of the library of the University of Agriculture in Uppsala, and the "Three Västgöter" relief for the Västgöta student nation in Uppsala; as well as altarpieces for the Lidköping crematorium and the cathedral in Skara.  He also created sculptures such as "St. George and the Dragon" for Sweden's National Institute of Arts and Crafts and the "Mermaid" fountain for the National Museum in Stockholm (since moved to the RÖRSTRAND museum in Lidköping).  Nylund ended his career as a pensioner with his own workshop in the southern Swedish town of Lomma.  He left a legacy of unsurpassed ceramic quality, magnificent creative design, and brilliant craftsmanship. He died in 1997.
Production Period – 1950-1959
Country of Origin – SWEDEN
Designer – GUNNAR NYLUND (1904-1997)
Maker – RÖRSTRAND
Attribution – MARKED
Materials – STONEWARE
Condition – VERY GOOD (no defects; may show slight traces of use)
Height (cm) – 27.5
Diameter (cm) – 10.0