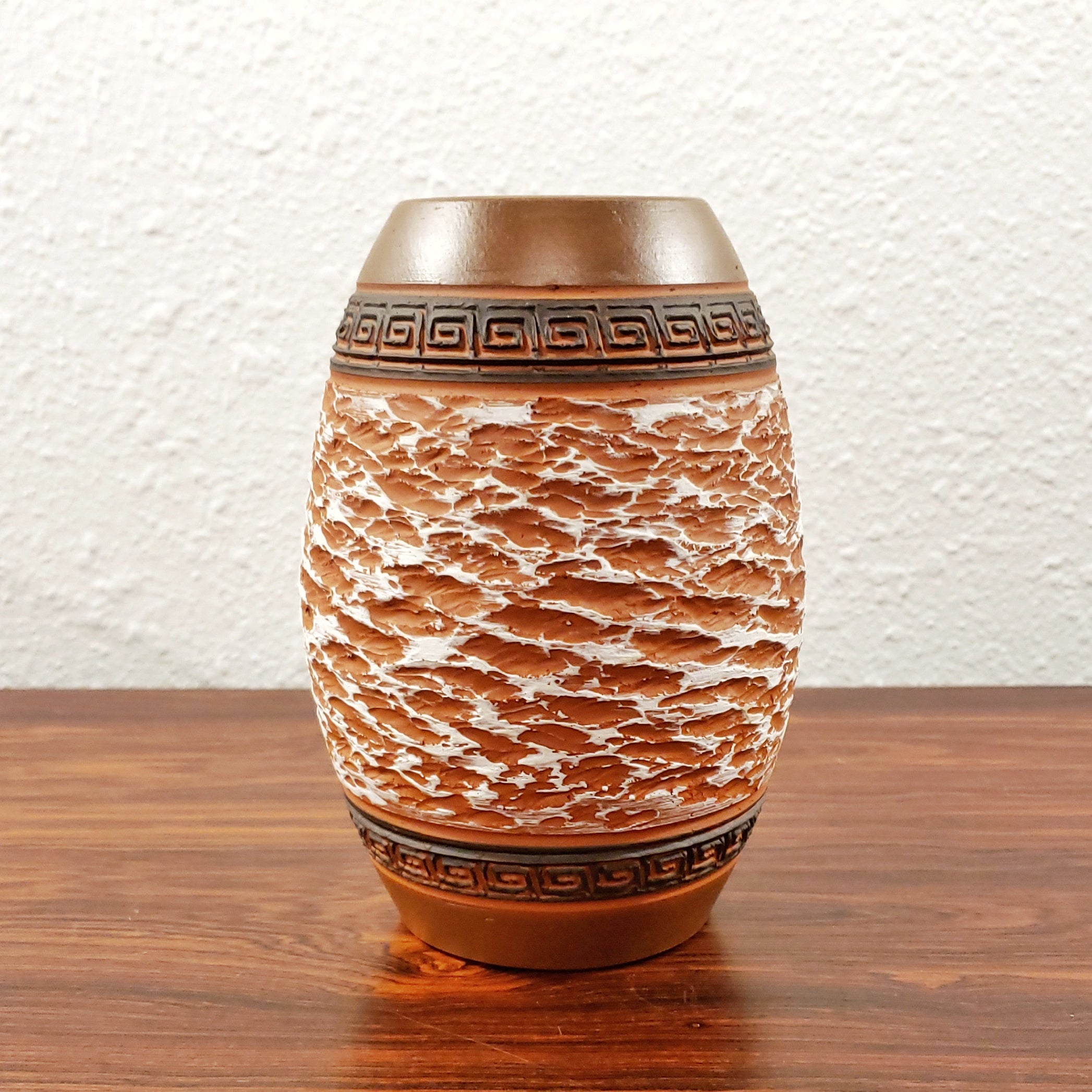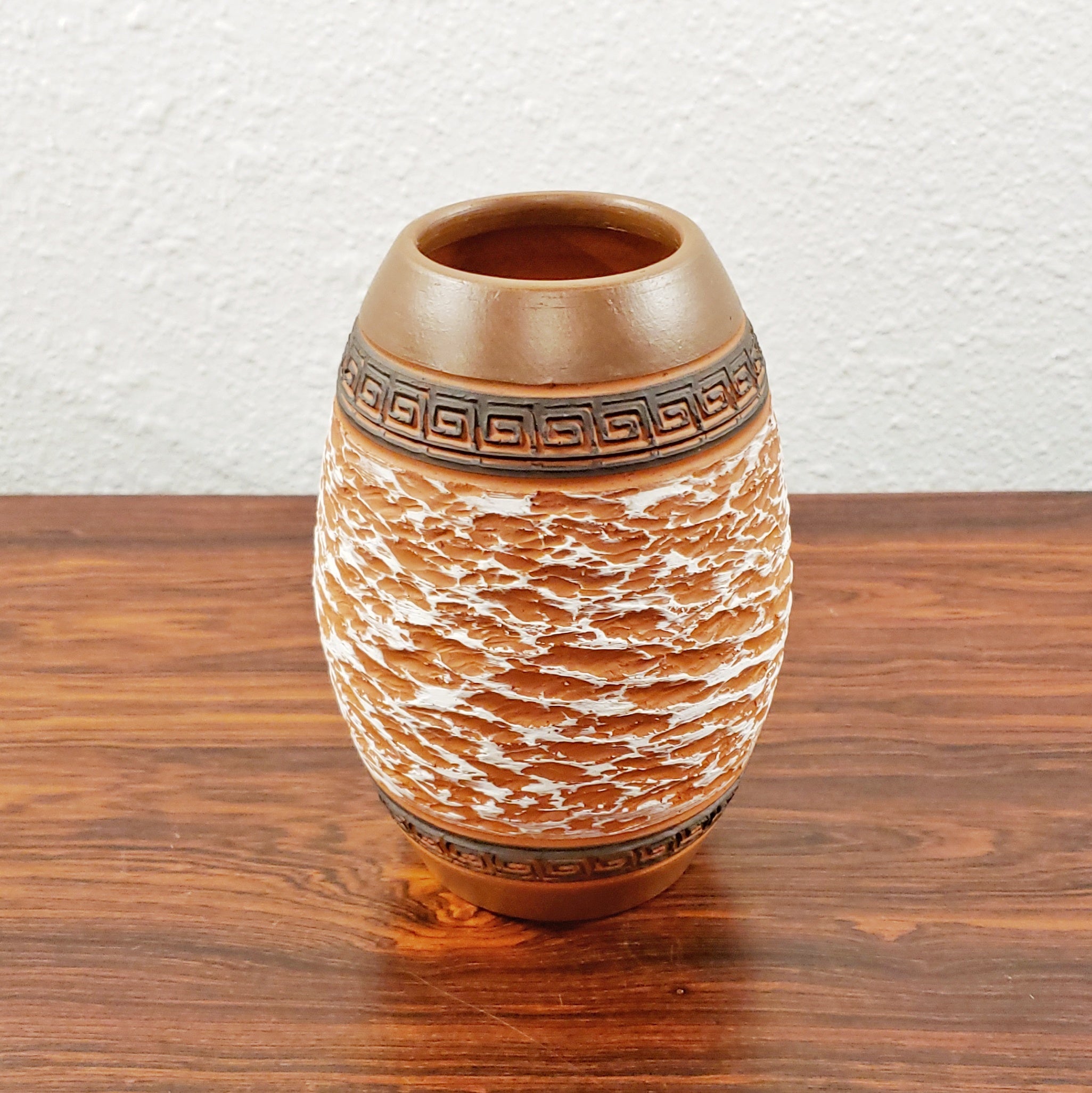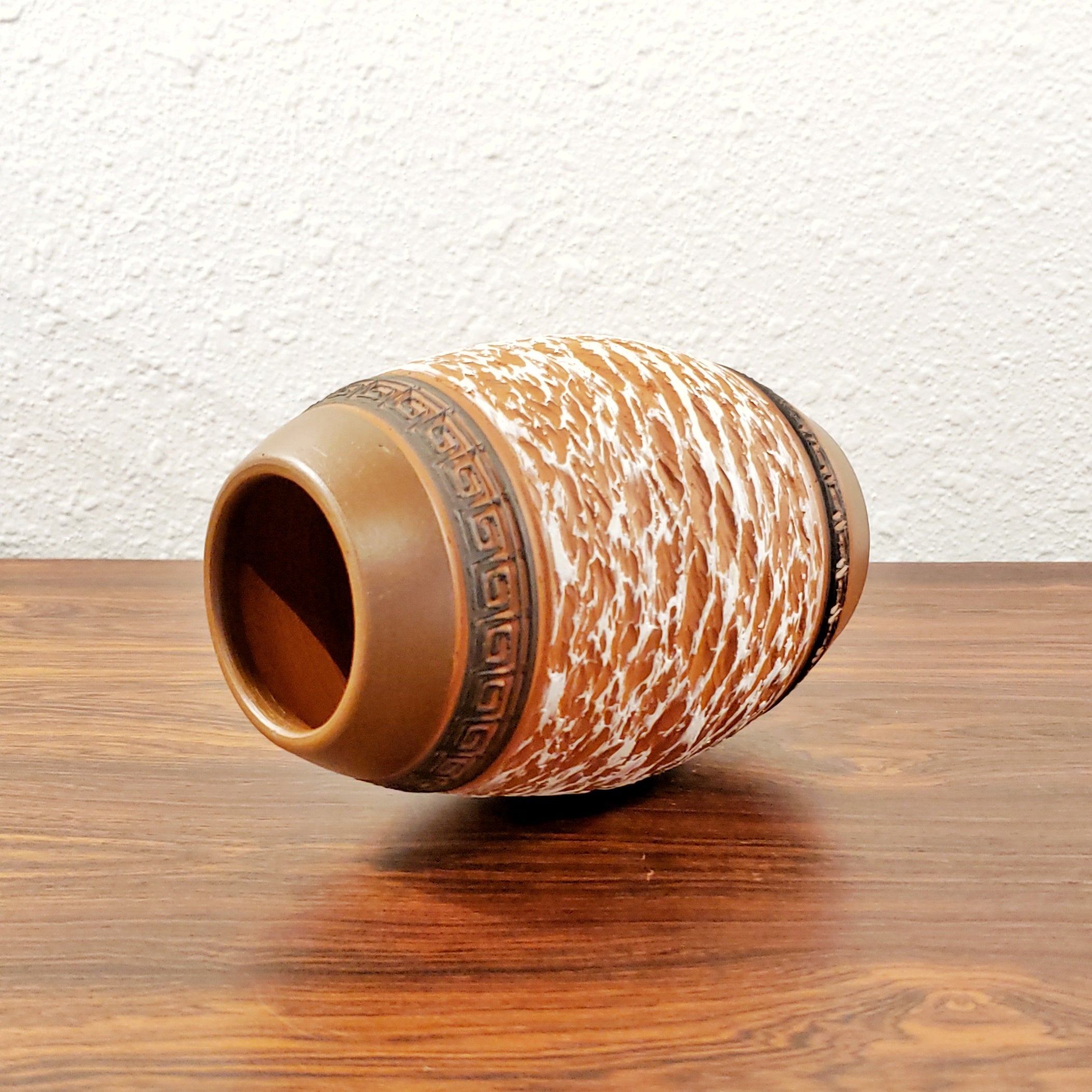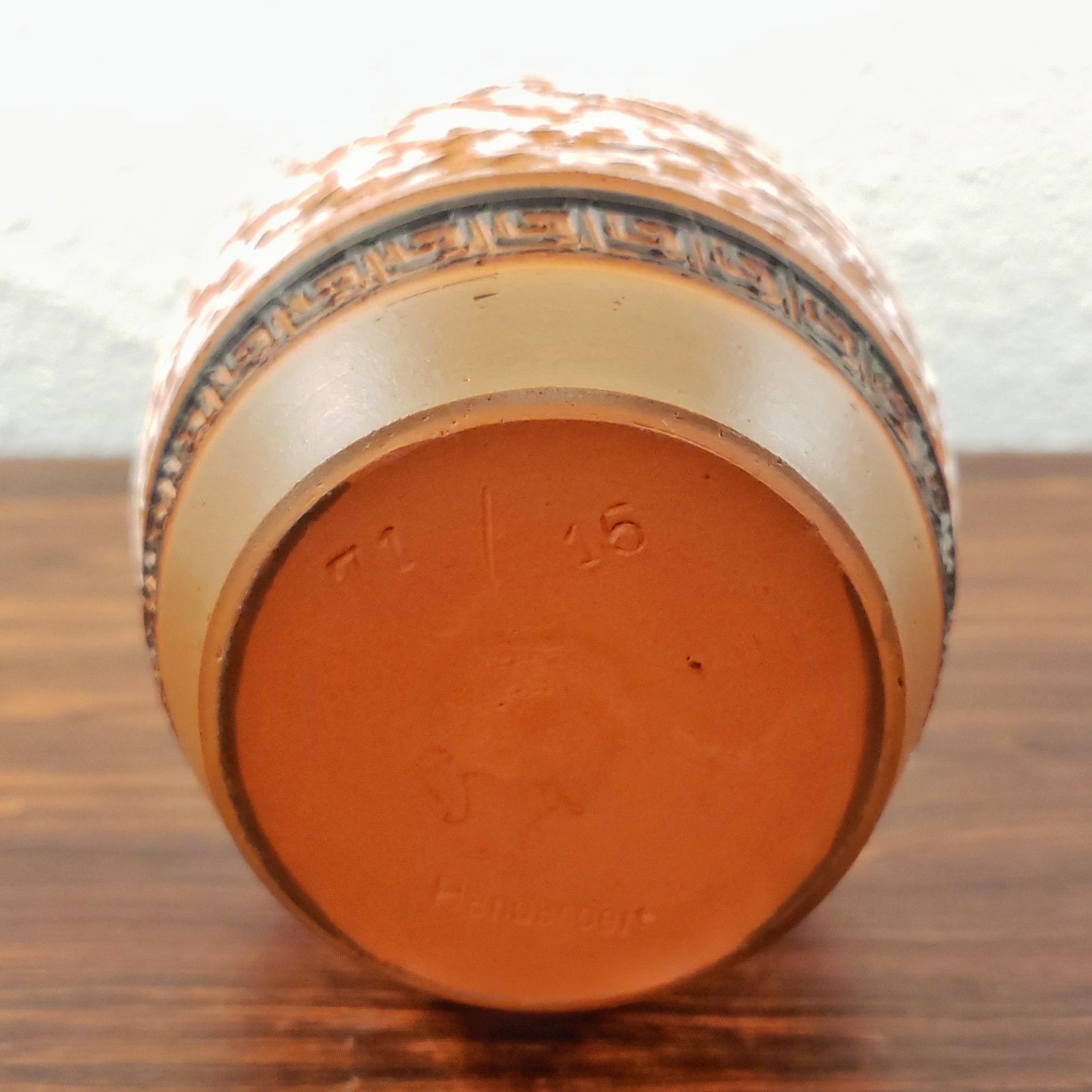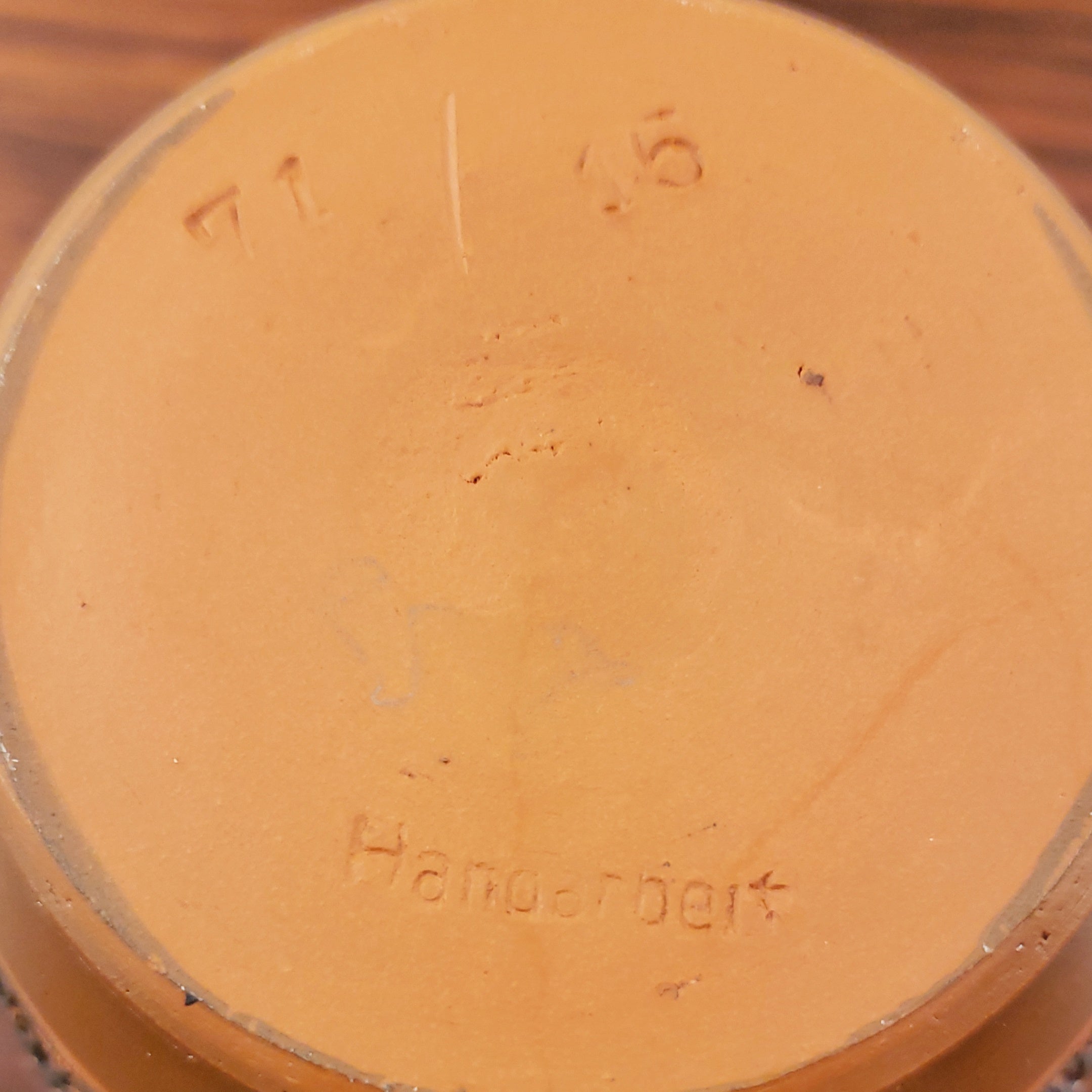 ALFRED KRUPP KLINKER VASE FOR AKRU KERAMIK 71/15
CONTACT US HERE ABOUT THIS ITEM.
An extraordinary "klinker" vase produced by AKRU (Alfred Krupp) KERAMIK in the 1950s.  The rough, swirling middle—its white-highlighted peaks evoking gentle ocean waves breaking at the shore—is framed between parallel meanders, or running Greek key patterns.  The shape number (71) and the size (15 cm) are incised on the bottom along with the word "Handarbeit."  The last indicates that this vase, like almost all klinker, is entirely handmade—hand-thrown and hand-decorated.
AKRU KERAMIK was founded by master potter Alfred Josef Krupp and his wife Thilde in 1948 as the "Alfred J. Krupp Ceramic Workshop."  Krupp, educated at the technical college of ceramics in Höhr-Grenzhausen, set up the enterprise in a converted goat stall on his parents' farm in the Hillscheid community in the German Rhineland using a borrowed pottery wheel and a home-made, wood-burning kiln.  The couple set about producing vases and utensils using a native red clay that was otherwise employed in the production of a particular sort of partially-vitrified bricks, commonly referred to as "klinkers"—so called for the metallic sound they make when struck together.  Like the namesake bricks, klinker pottery is hard-fired at very high temperatures.  In addition to being hand-thrown, it's usually also burnished and decorated by hand, and only partially colored, if at all, using special dyes.  The production methods tend to make these items very water-resistant, and in most cases, waterproof, even without an interior glaze.  The Krupps marketed their products under the name "Krupp-Klinker."  (Incidentally, being denser than normal bricks, Klinker bricks provide relatively poor insulation.  On the other hand their hard surfaces make them frost-resistant, so they are well-suited for use in facades and as pavers.)
In 1960 the company ran afoul of industrial giant Essen Friedrich Krupp Group (today's ThyssenKrupp AG) who were trying to assert proprietary rights to the name Krupp.  Following legal advice, the pottery was officially renamed "Akru-Klinker-Keramik, Josef Alfred Krupp" with the conglomerate's approval.
Over the next few years, the product range was expanded and production was partially mechanized.  The workshop still operates today, under the AKRU KERAMIK name.  It specializes in the production of drinking vessels and tableware.
Production Period – 1950-1959
Country of Origin – WEST GERMANY
Maker – AKRU KERAMIK
Attribution – REMINISCENT IN STYLE
Materials – CERAMIC
Condition – VERY GOOD (no defects; may show slight traces of use)
Height (cm) – 15.0
Diameter (cm) – 10.0