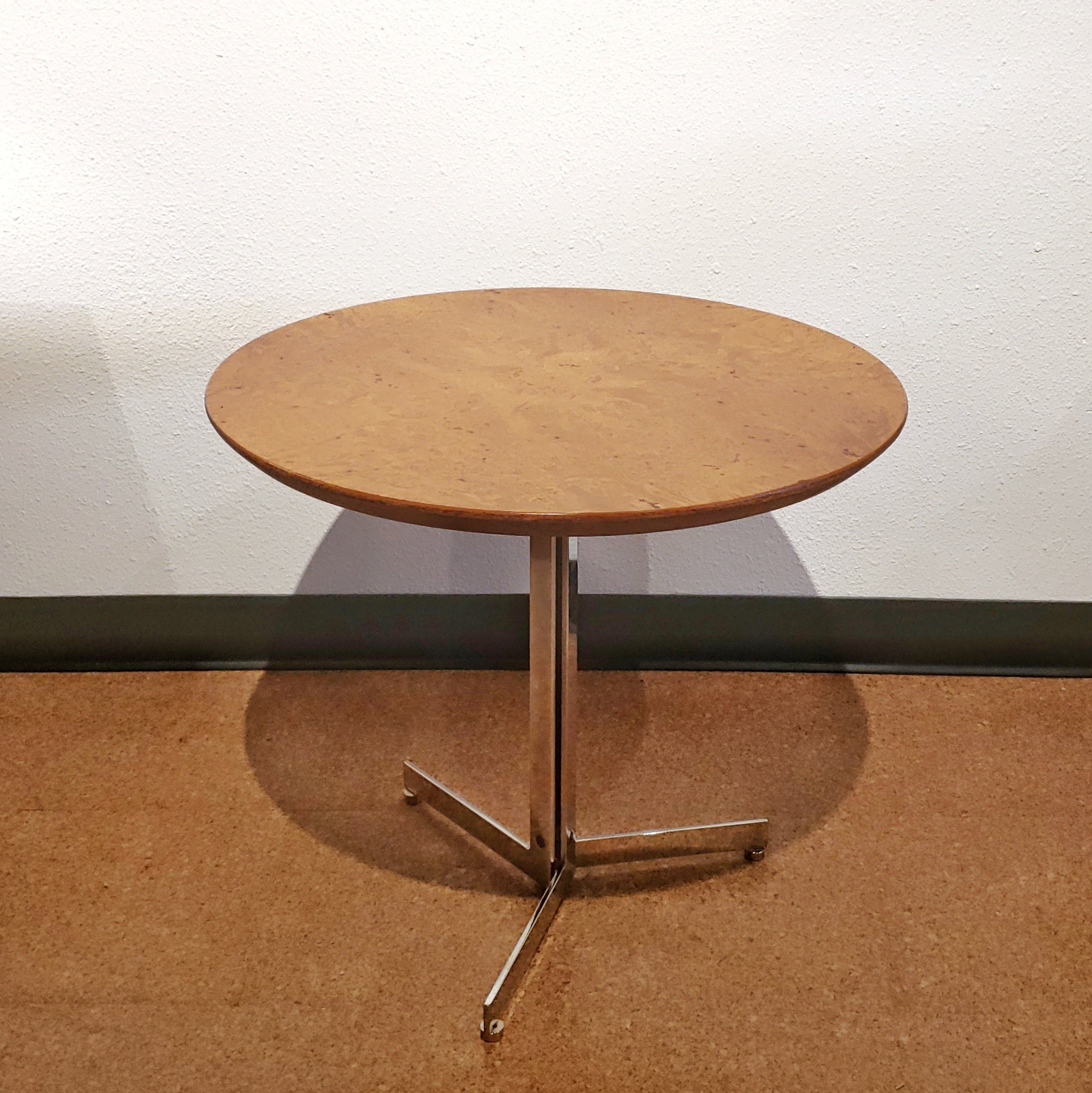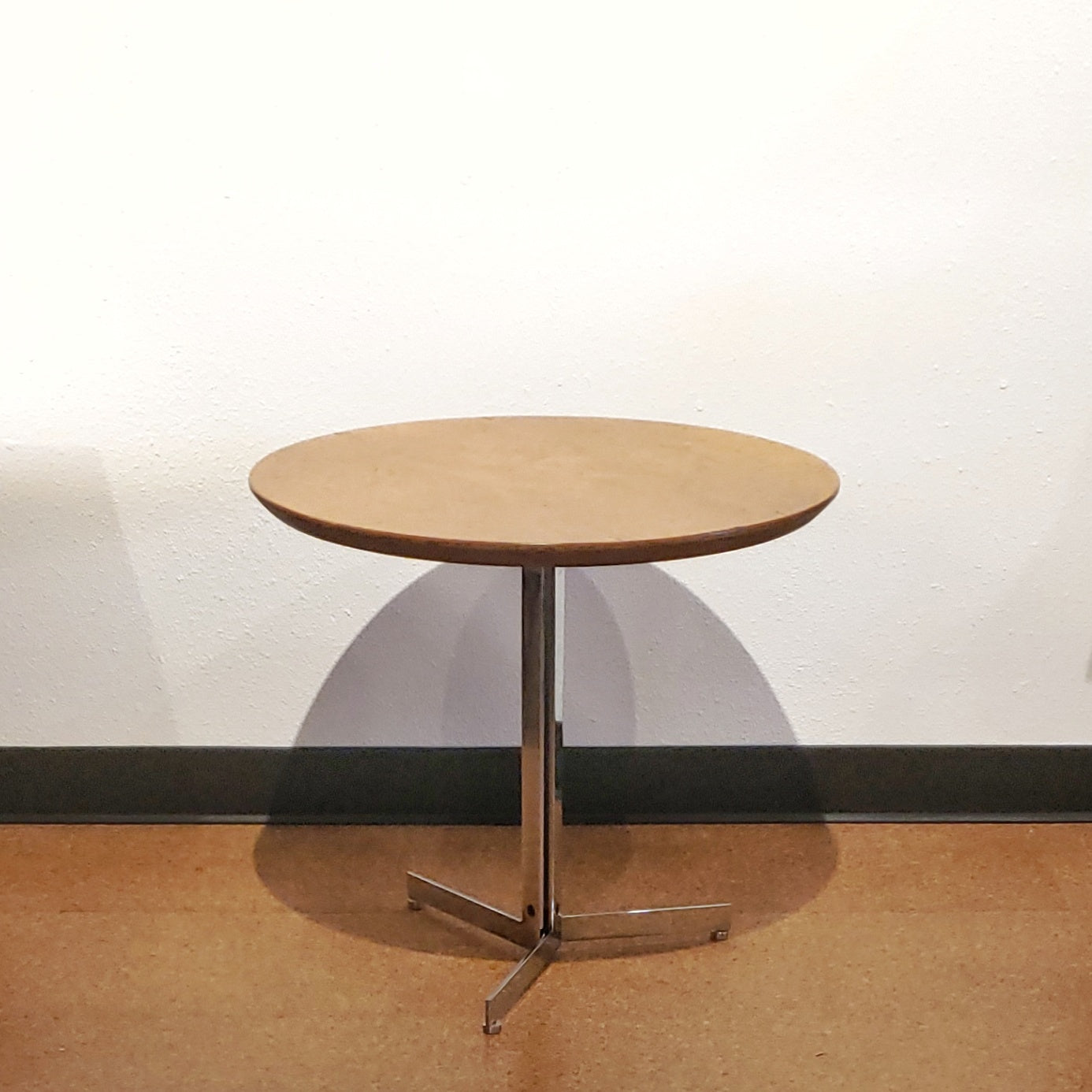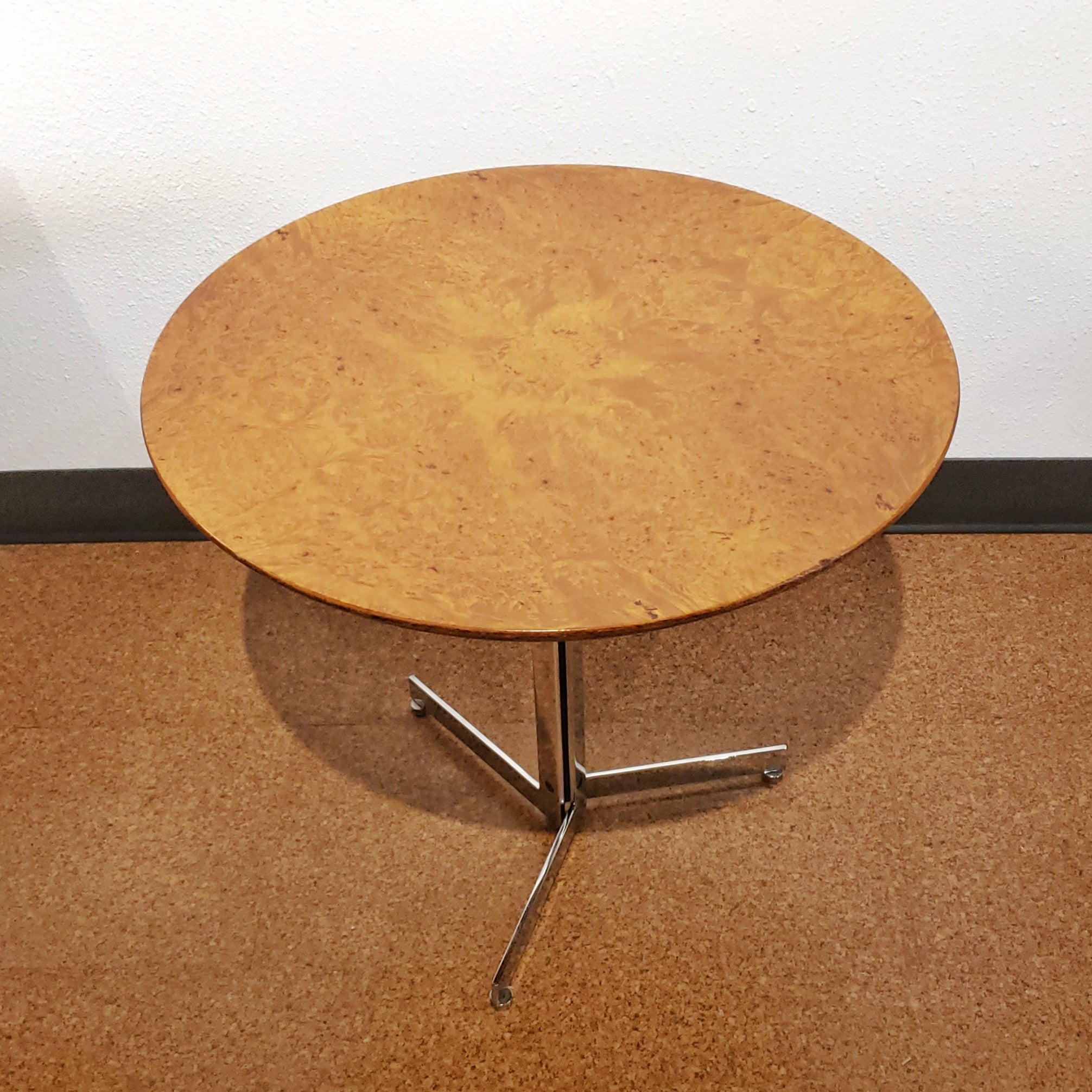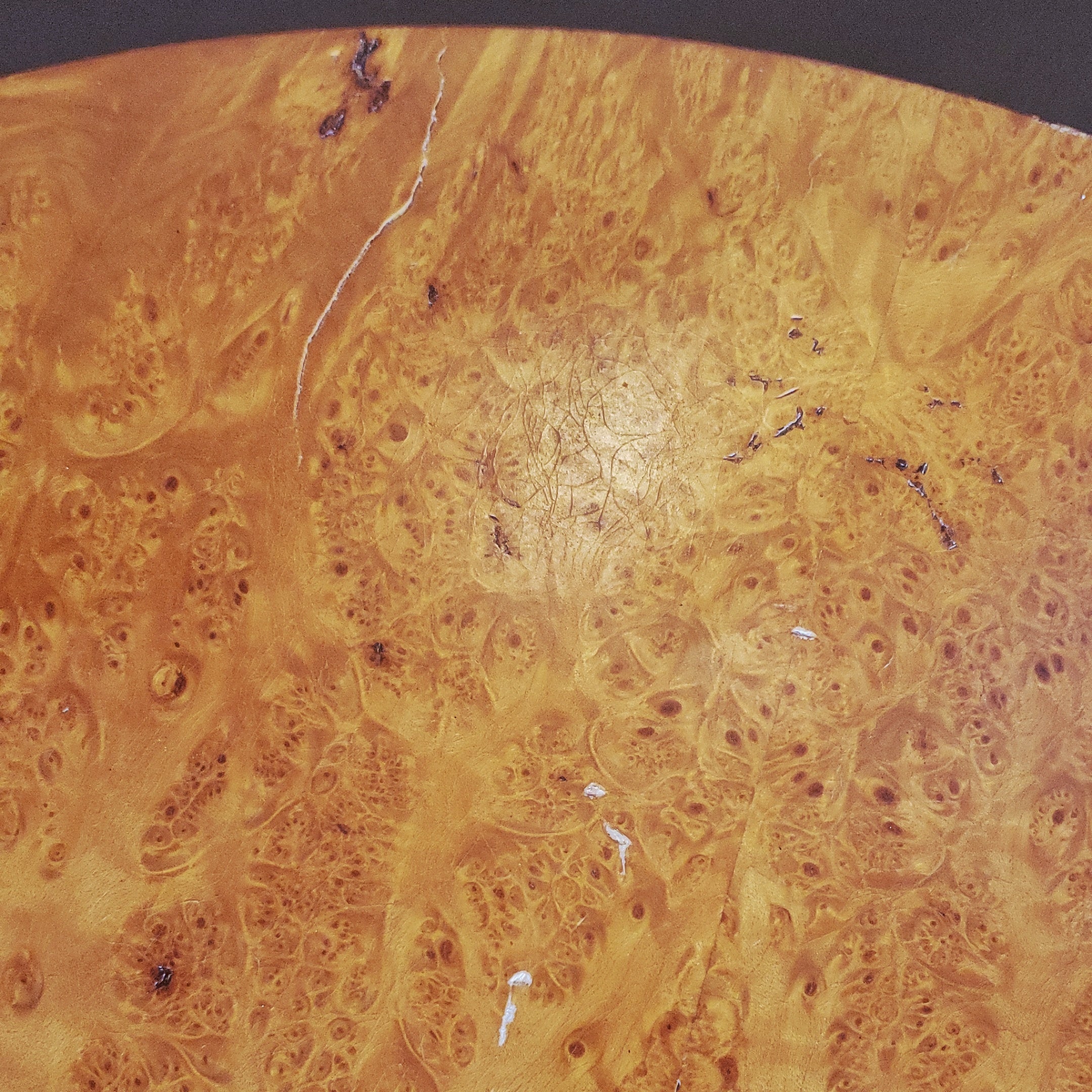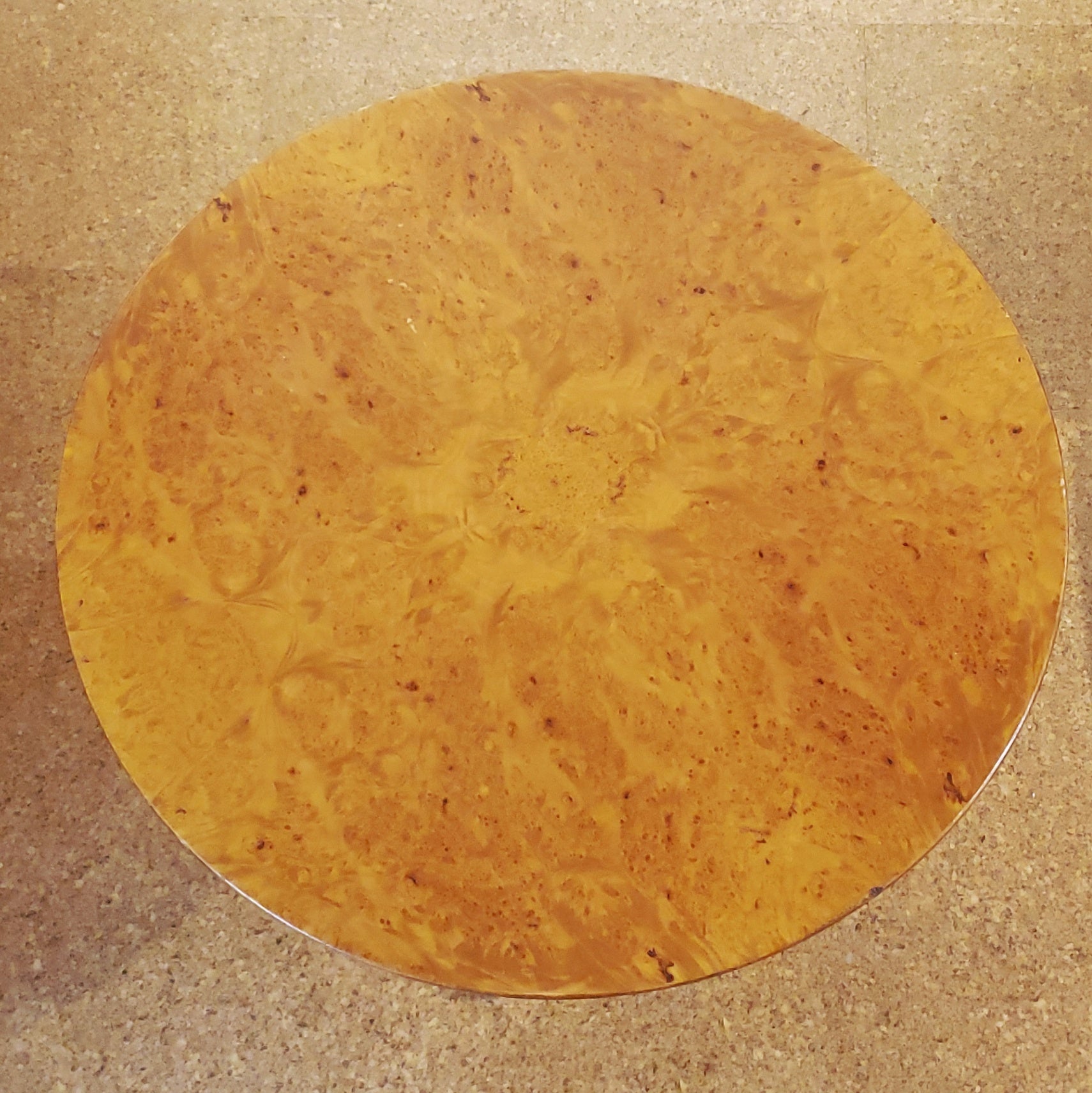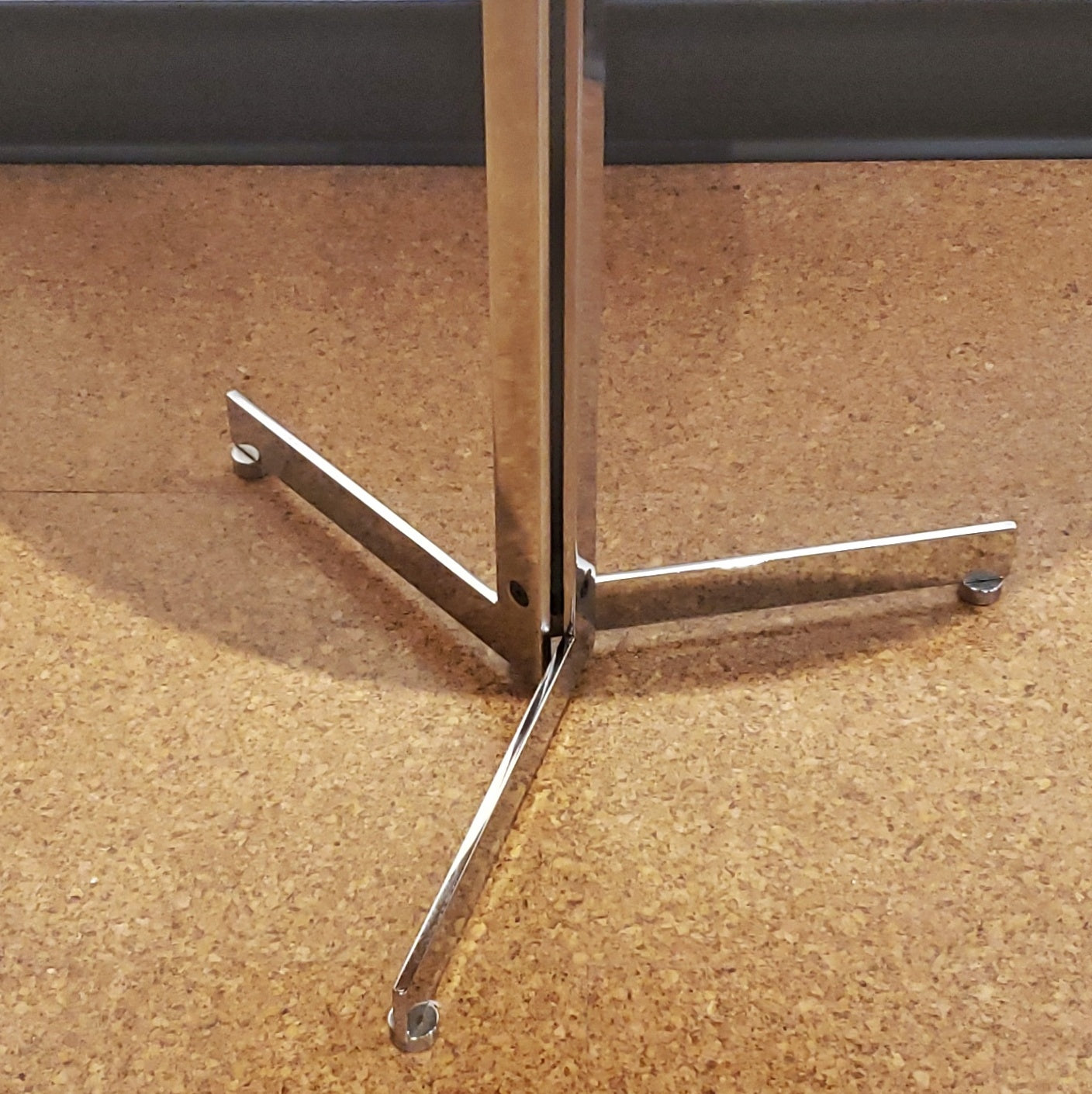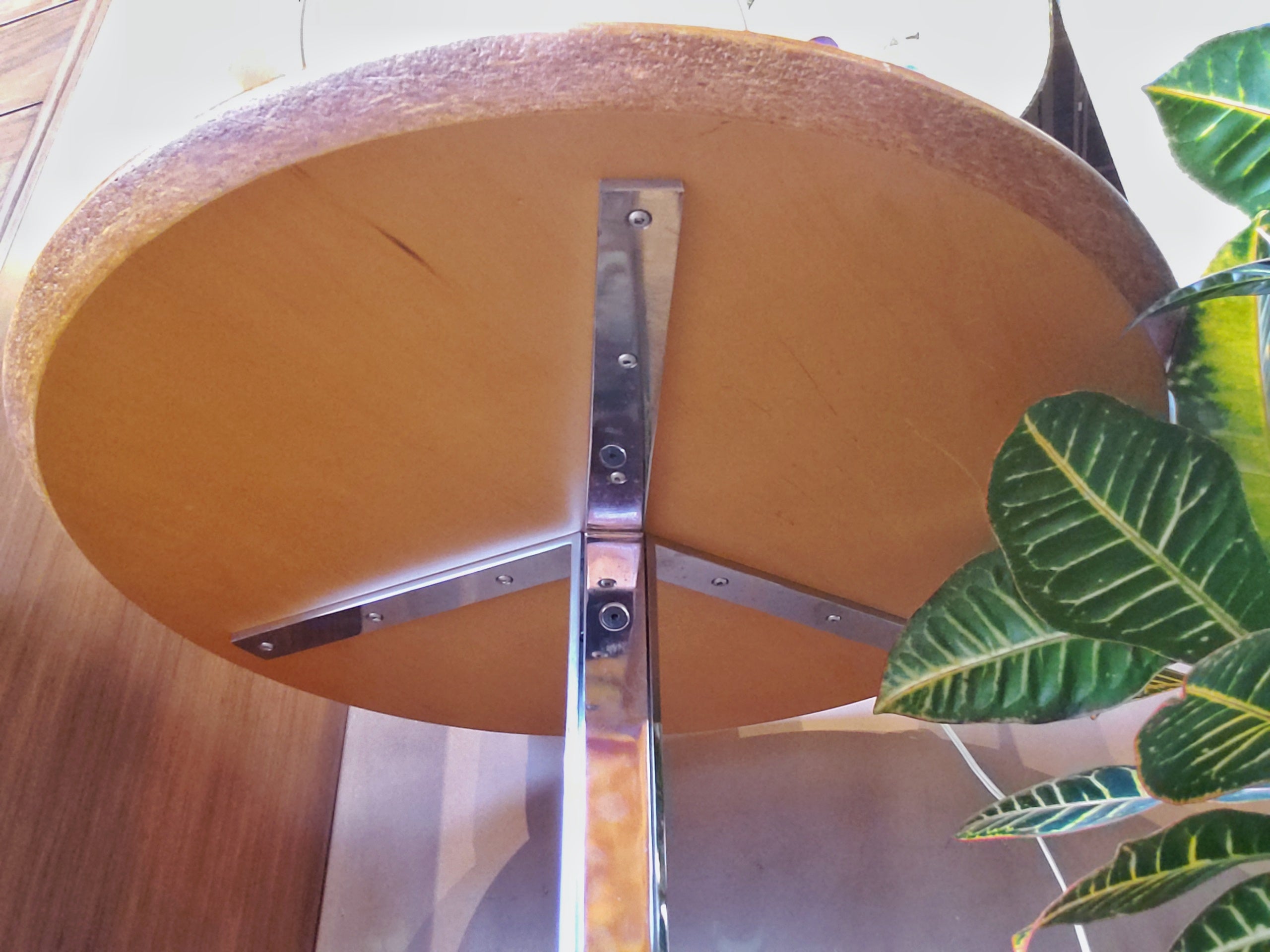 HANS EICHENBERGER 'ALPHA' SIDE TABLE FOR STRÄSSLE
CONTACT US HERE ABOUT THIS ITEM.
Swiss architect Hans Eichenberger's iconic 'Alpha' side table for STRÄSSLE with a rare beveled-edge, olive burl top on the classic chromed steel tripod base.
HANS EICHENBERGER was born in 1926 in Grosshöchstetten, outside of Berne, Switzerland.  Following an apprenticeship as a carpenter, he interned as a draughtsman in 1950 and 1951 in Paris.  The dynamic milieu that surrounded Le Corbusier in those years had a lasting impact on Eichenberger's life and work.  Returning to Switzerland, he opened his own workshop in Berne (headquartered in the famous Halen settlement since 1960).  In 1958, Eichenberger founded Swiss Design with a group of architects and designers—Robert Haussmann, Kurt Thut, Teo Jakob, Peter Haussmann, and Alfred Hablützel—for the purpose of promoting their work internationally.  By the decade's end he was also freelancing for the modernist architectural studio, Atelier 5.
Eichenberger's many collaborations with Swiss Design and Atelier 5 members and his individual projects for clients such as the Swiss National Bank, the Kunstmuseum Bern, and the SBB, have tied his name inextricably to Swiss Modernism.  His iconic designs include the 'Saffa' chair for Dietiker (1955), the 'EXPO 64' folding armchair (1964), the 'HE' seating series for Strässle (1978), and the 'Litfass Column' for Wogg (1994).  Röthlisberger and De Sede two other Swiss furniture makers, were also among his customers.  The majority of Eichenberger's creations are made predominantly of metal, leather, and plastics—not wood.
The Swiss Confederation presented Eichenberger with Design Awards in 1954, 1957, and 1958—and in 2016 granted him the Grand Award for Design in recognition of his seminal role in shaping the history of furniture and interior design in the 20th century and his influence on multiple generations of designers.  Eichenberger's works are represented in various collections:  at MoMA in New York, the Vitra Design Museum in Weil am Rhein, and the Museum of Design, Zurich.
STRÄSSLE was founded by Gottfied Srässle in 1886 as a saddlery, upholstery, and coach-building business in the small town of Kirchberg, twenty miles east of Zürich.  Strässle wanted to make upholstered furniture affordable for the middle classes.  (Prior to the end of the 19th century, comfortable, uphosltered furniture was generally produced by carpenters and saddlers by individual order, according to the wishes of strictly wealthy clients.)  His eldest son Josef, who had trained as an interior decorator in Nice, took over the business in 1929 and was joined by his brother Alois the next year.
STRÄSSLE rose to international prominence under the leadership of a third generation in the person of Alex Strässle (b. 1931).  Trained as an upholsterer, he developed the export market and initiated production under foreign license.  STRÄSSLE's twin focus on usability and artistry and its collaborations with with world-renowned designers—Hans Eichenberger, Paul Tuttle (who served under contract from 1967 to 1983), Hans Bellmann, S. L. Bensinge, and André Vandenbeuck, among others—established the company's global reputation.
Groundbreaking designs introduced by STRÄSSLE include the 'Nonna' rocker (1971) and the 'Arco' lounge chair (1976) by Tuttle; the Eichenberger Collection (1978); and Bellmann's Sitwell line (1950's), made entirely of fiberglass and polyester.  Today the company concentrates primarily on the production of its 'Relax' recliners.
The art of simplification is the omission of artificiality. – HANS EICHENBERGER
Country of Origin – SWITZERLAND
Designer – HANS EICHENBERGER (b. 1926)
Maker – STRÄSSLE
Height (in.) – 21.5
Diameter (in.) – 24.0