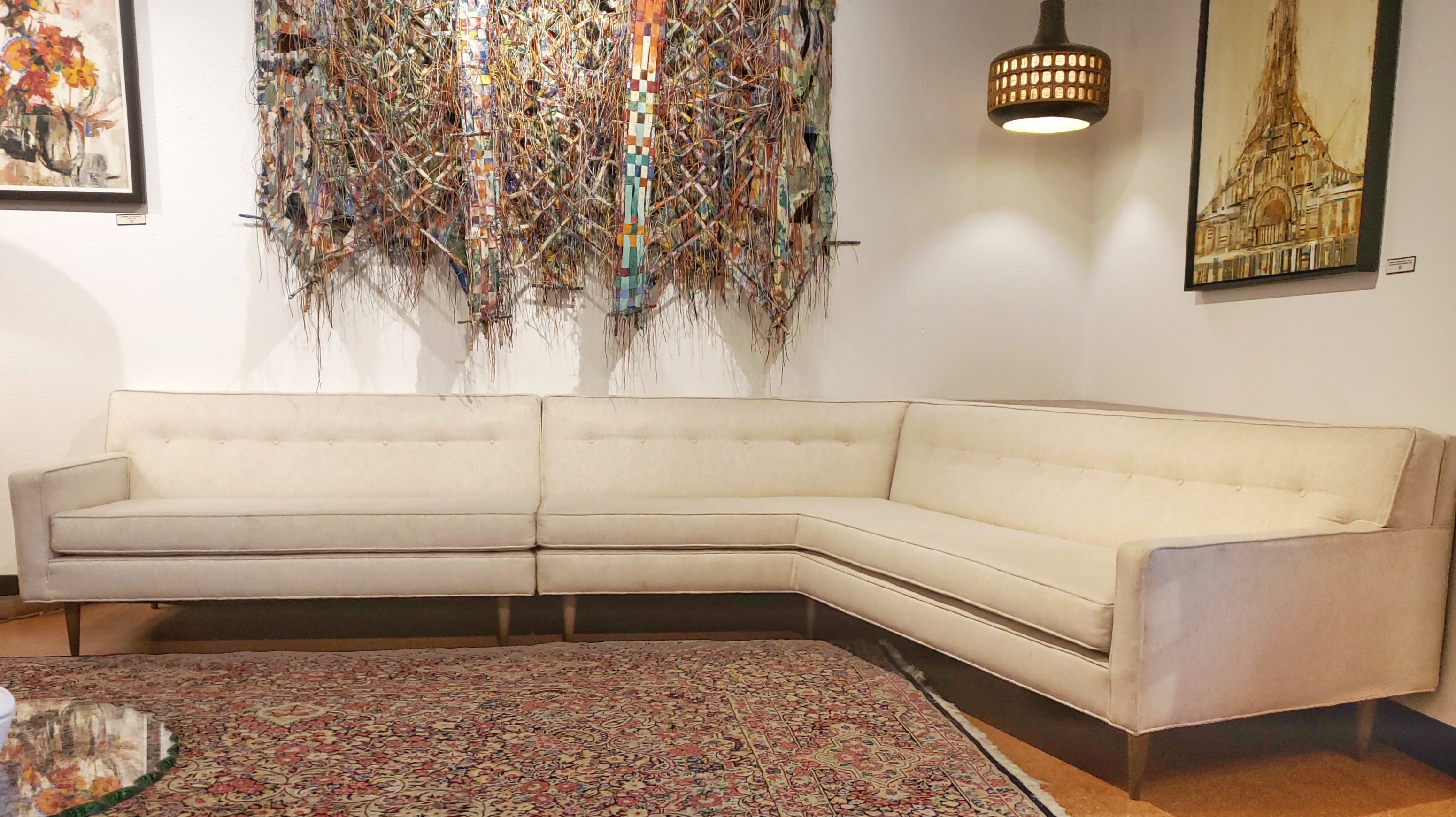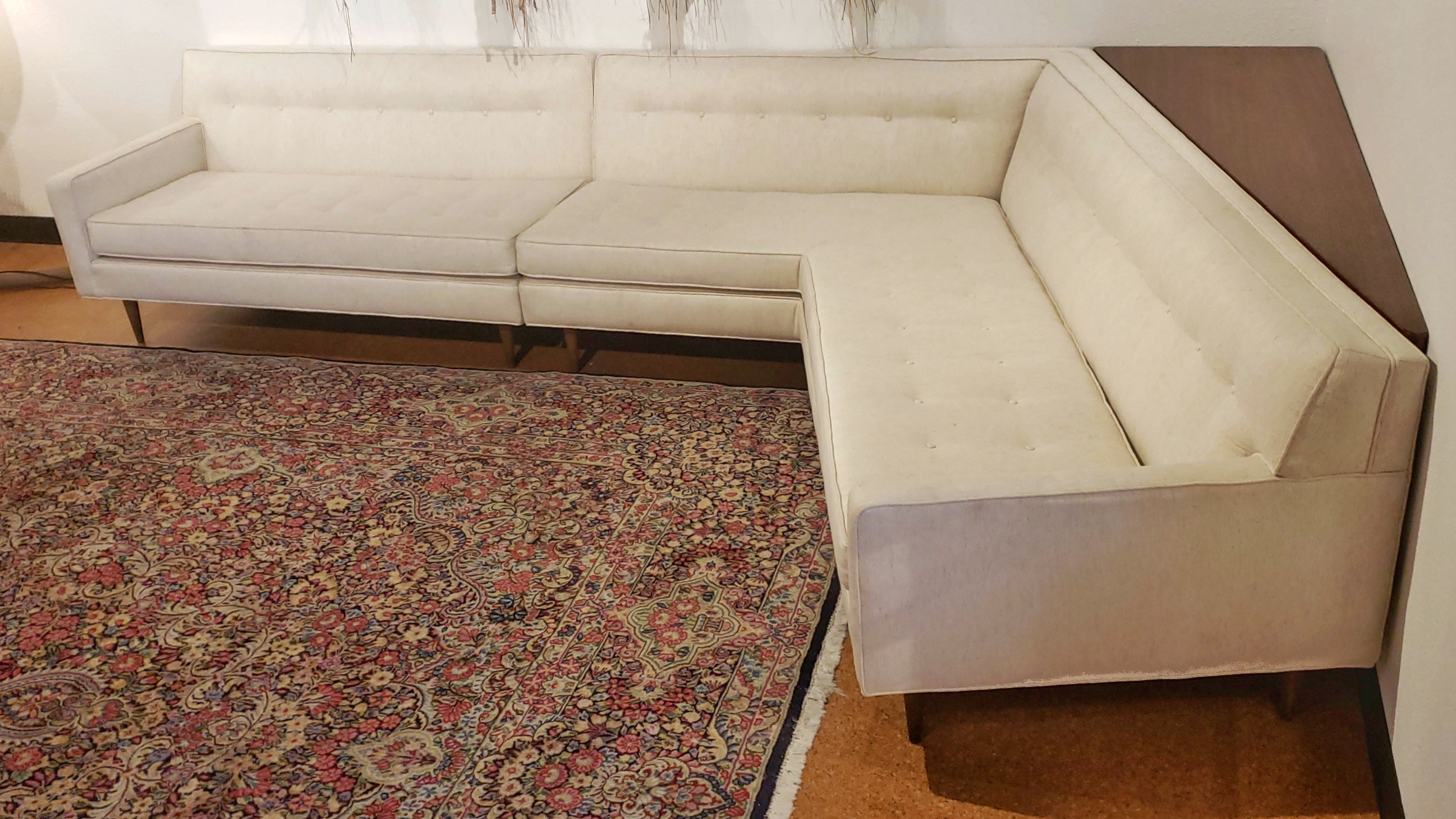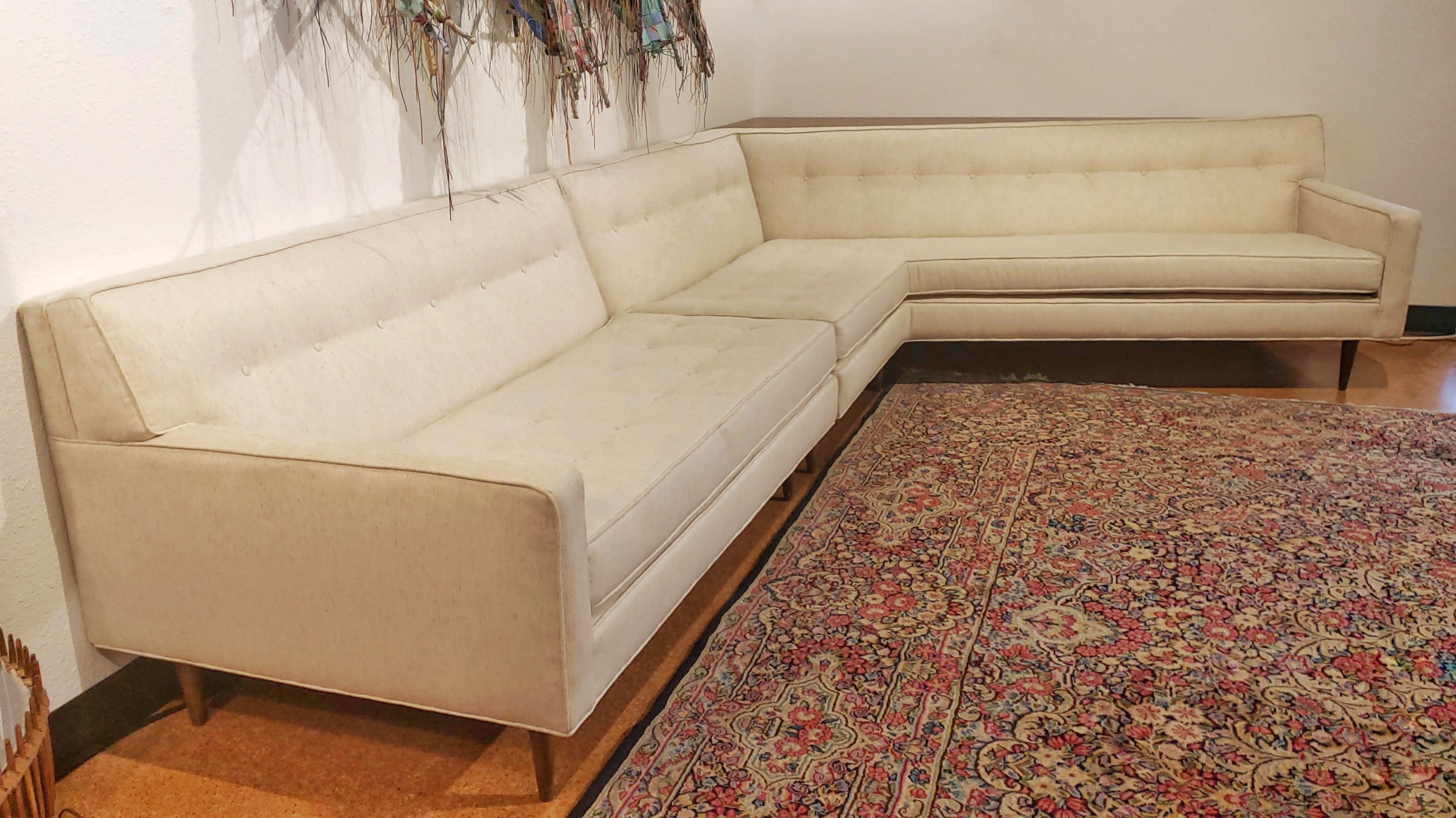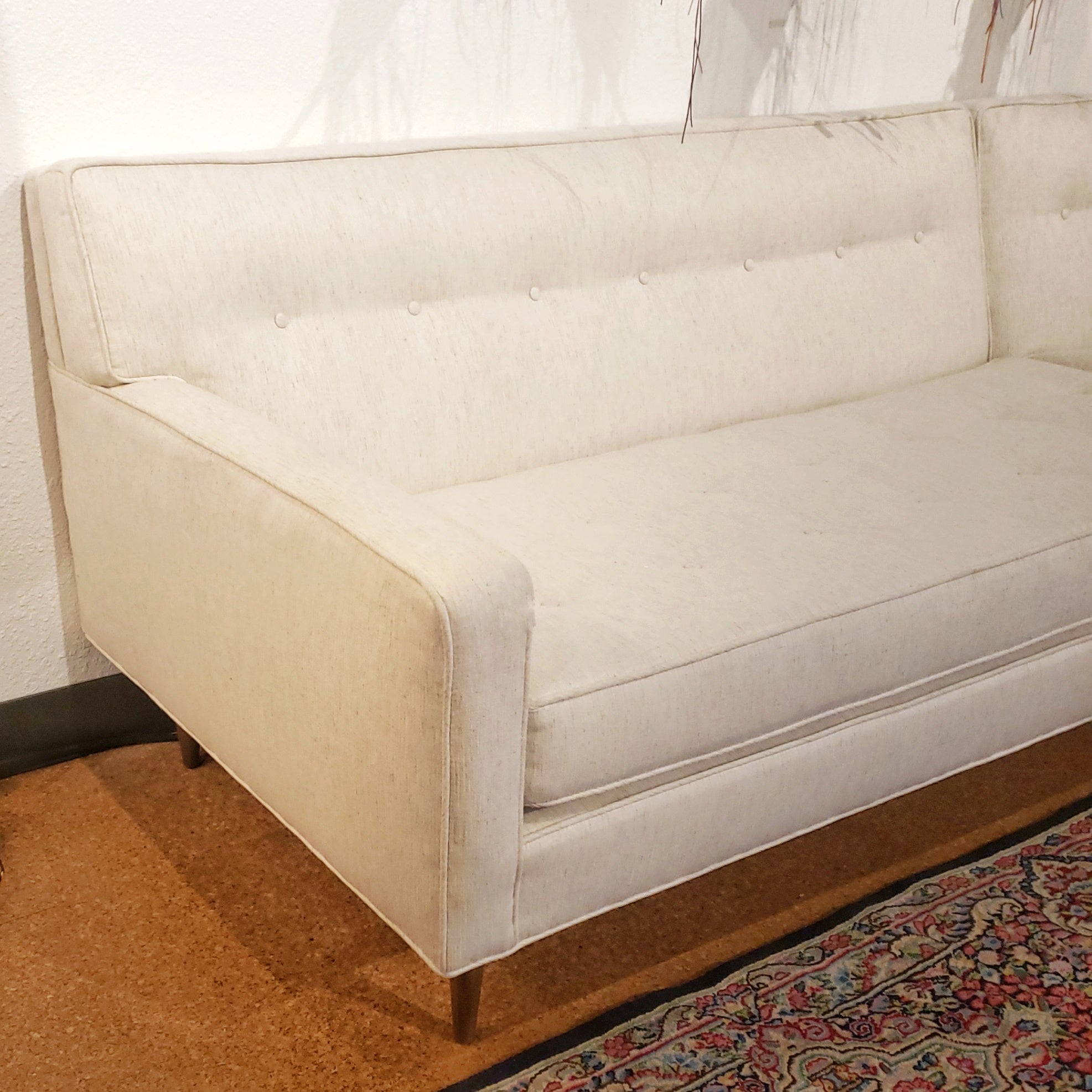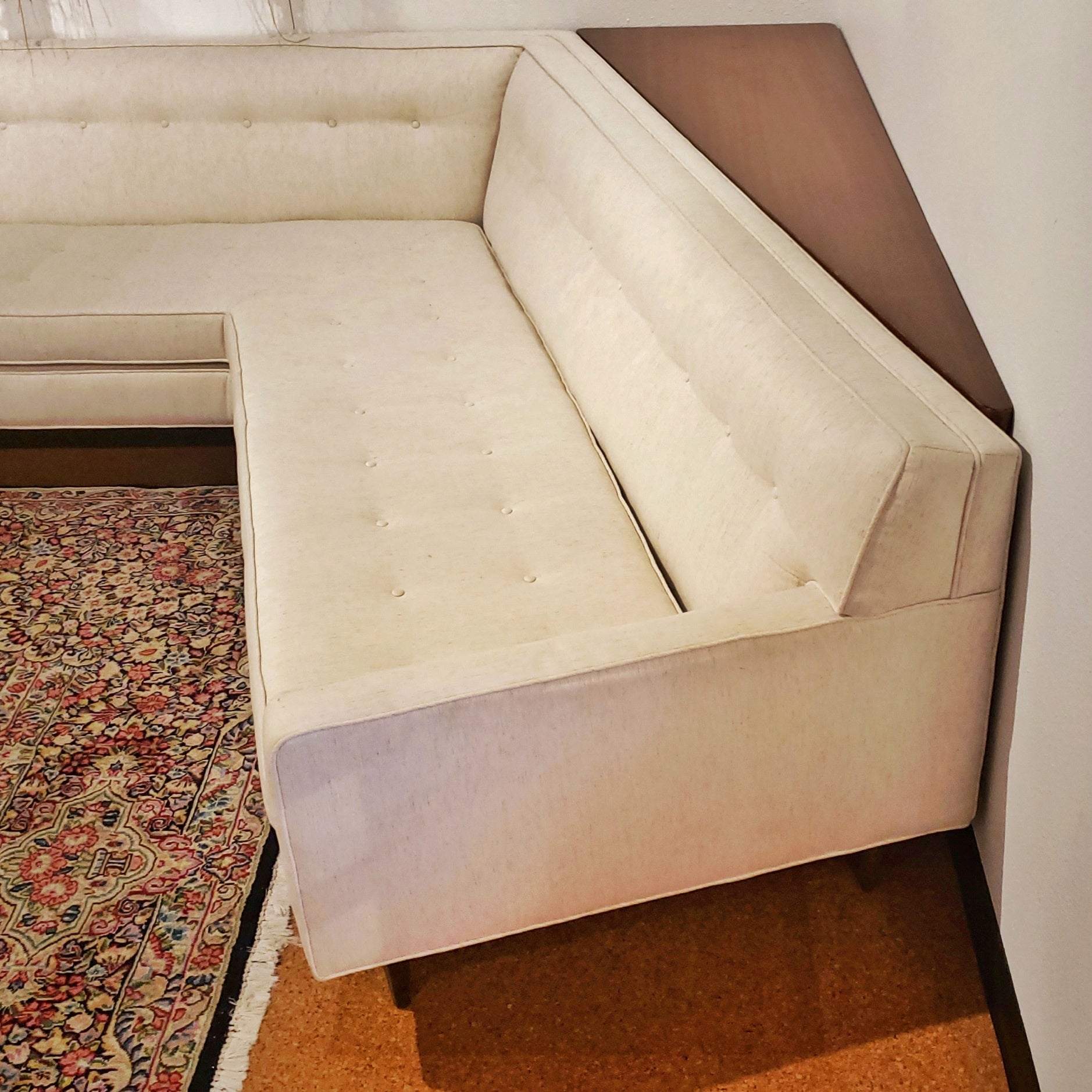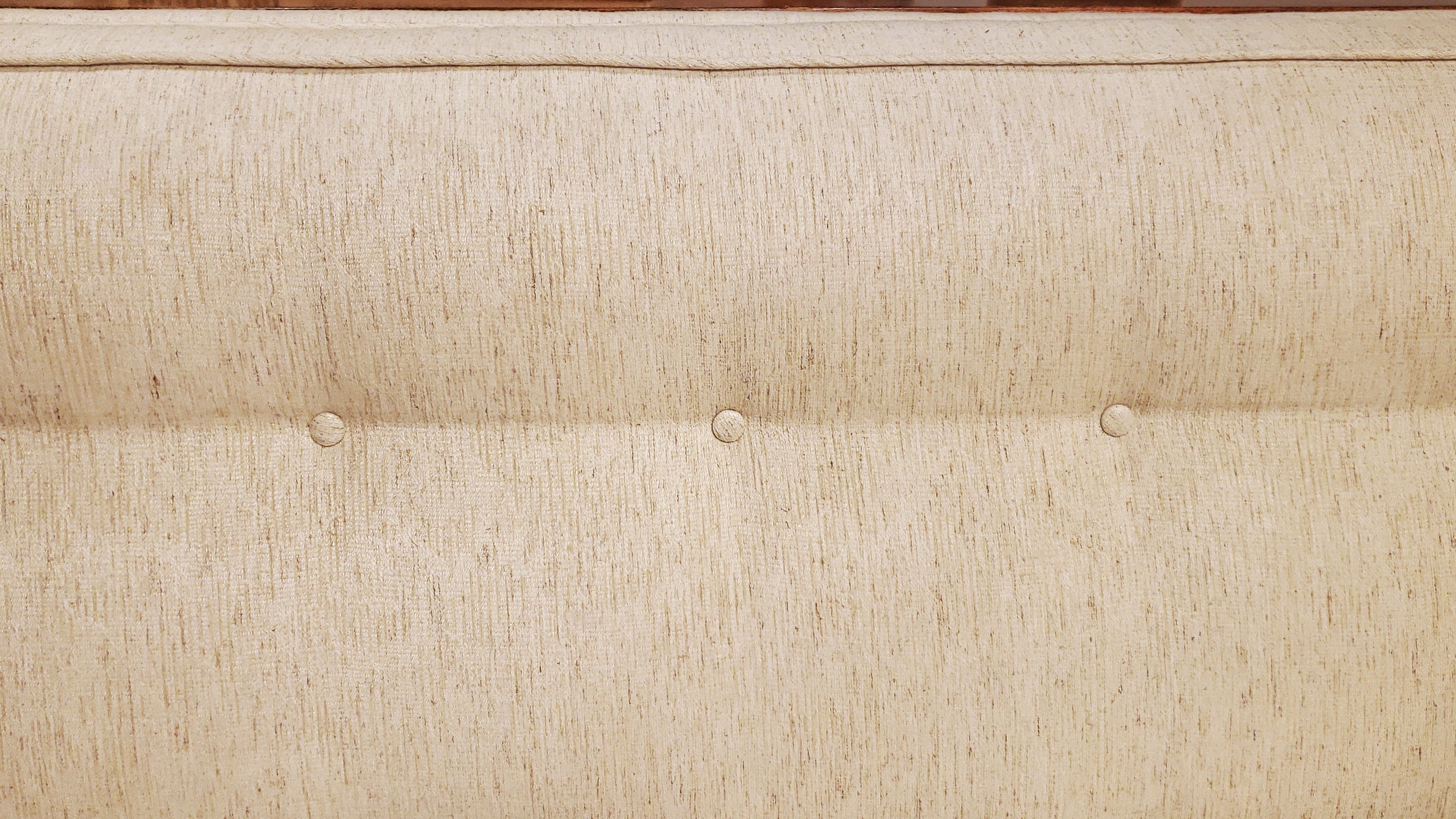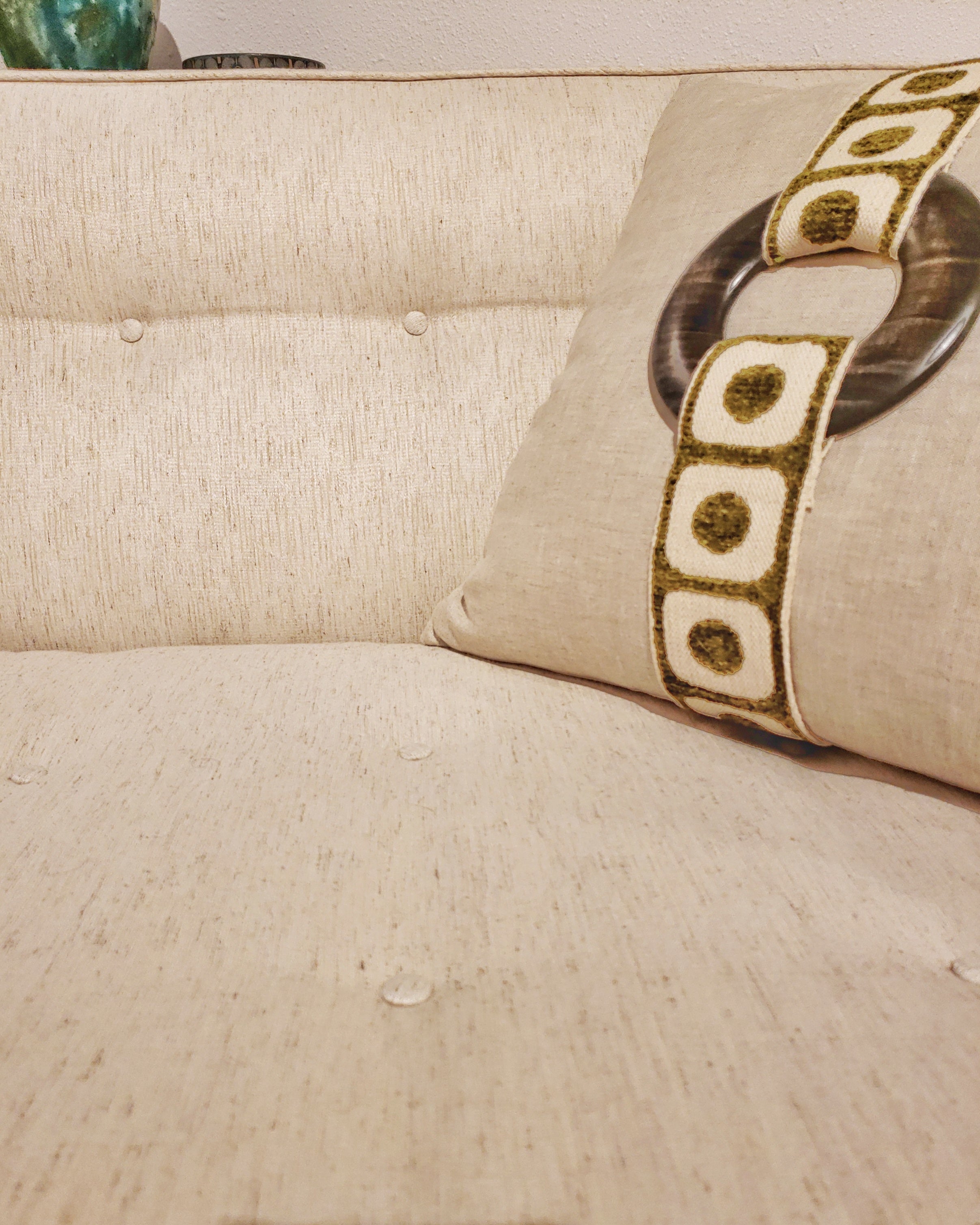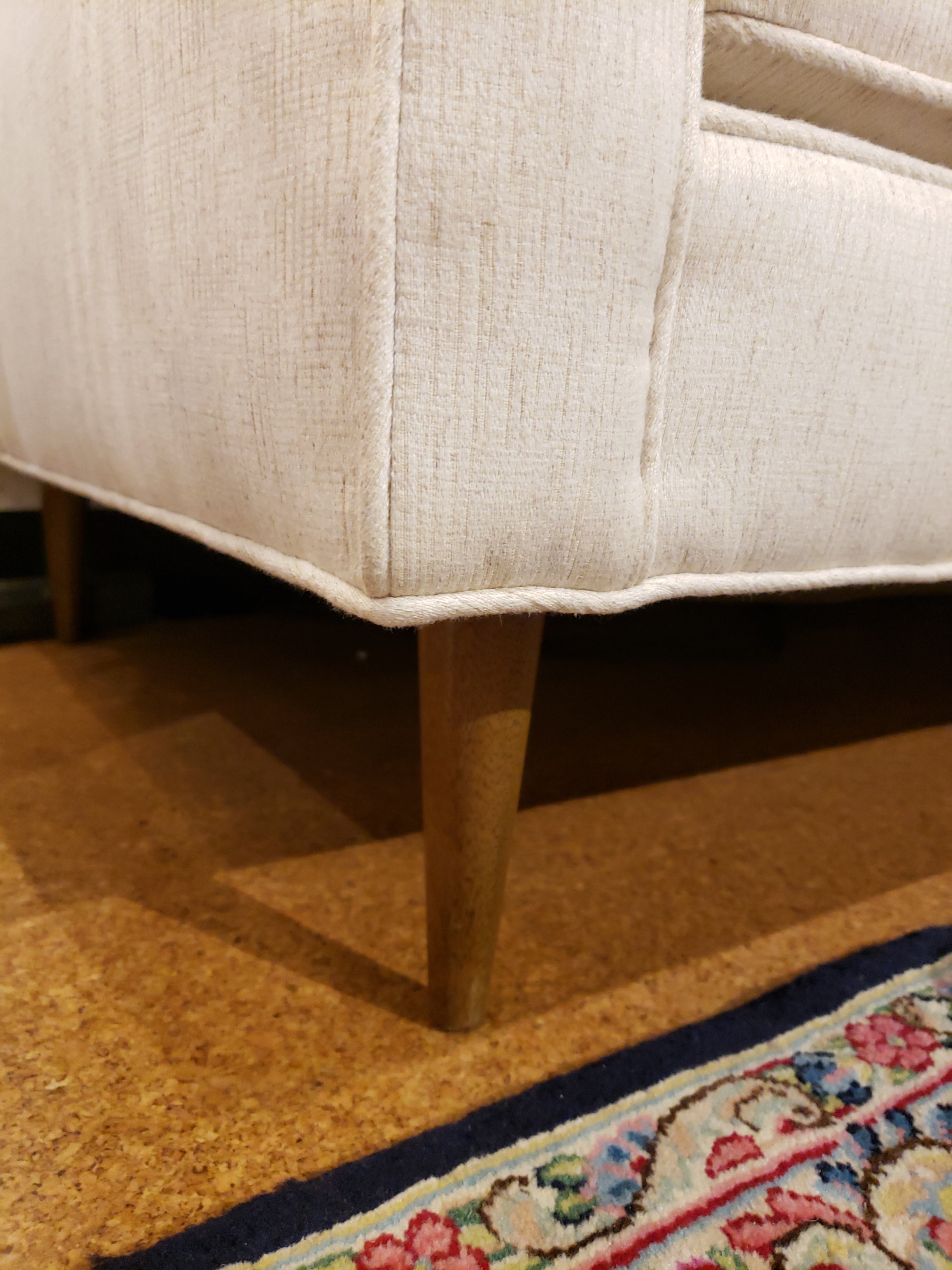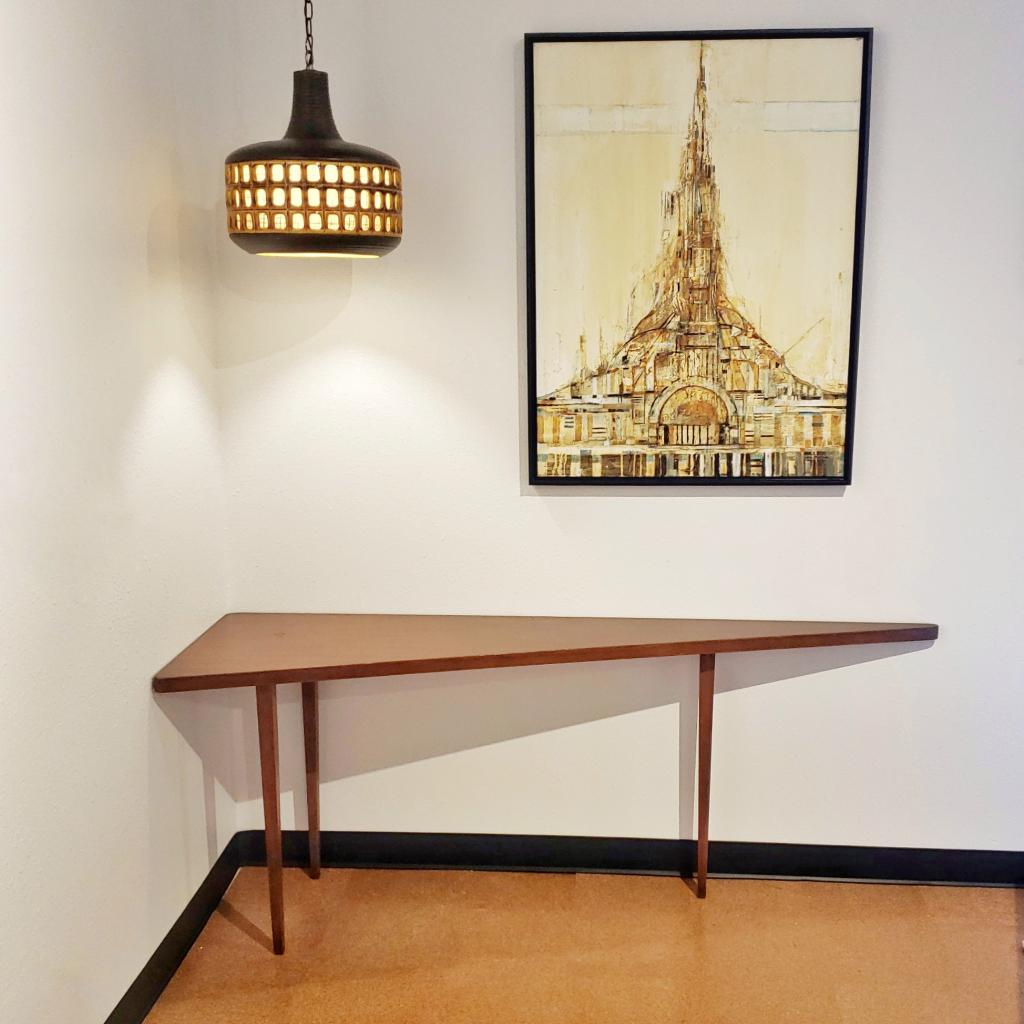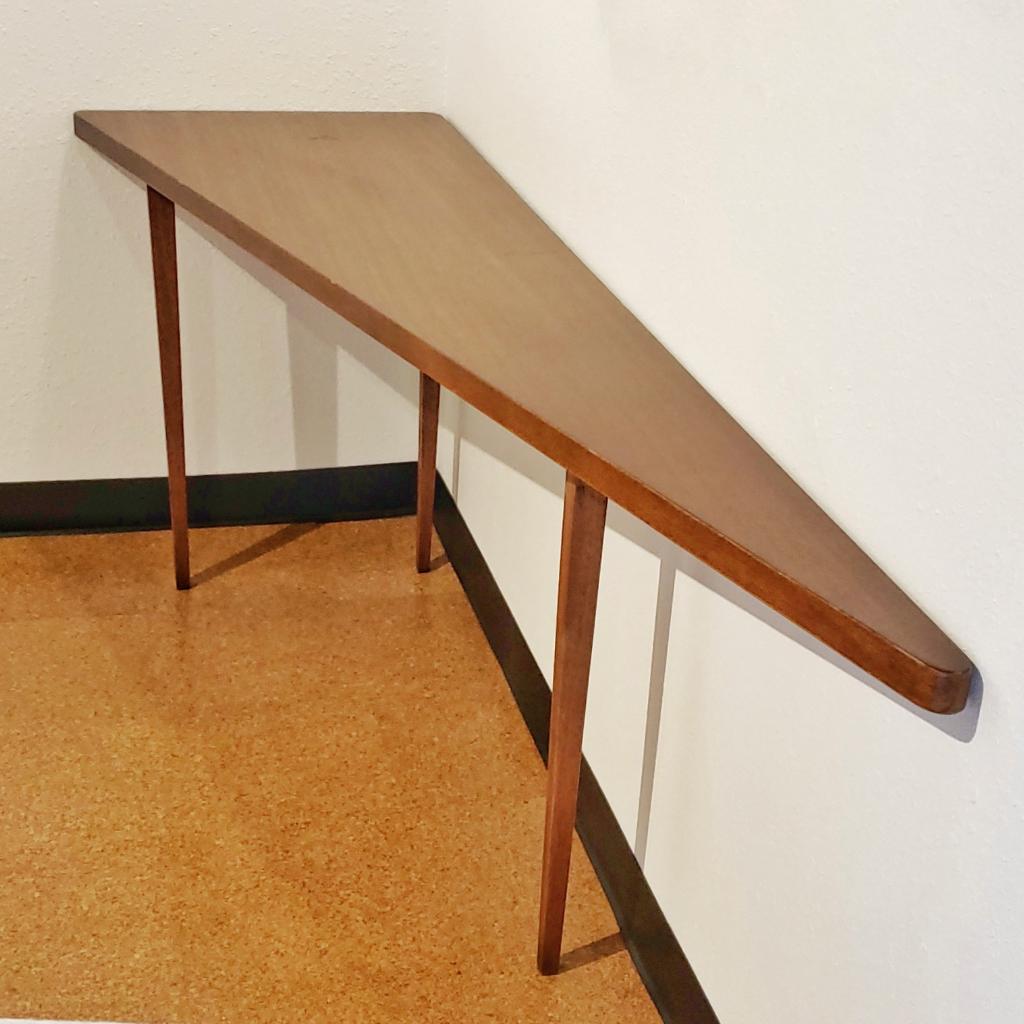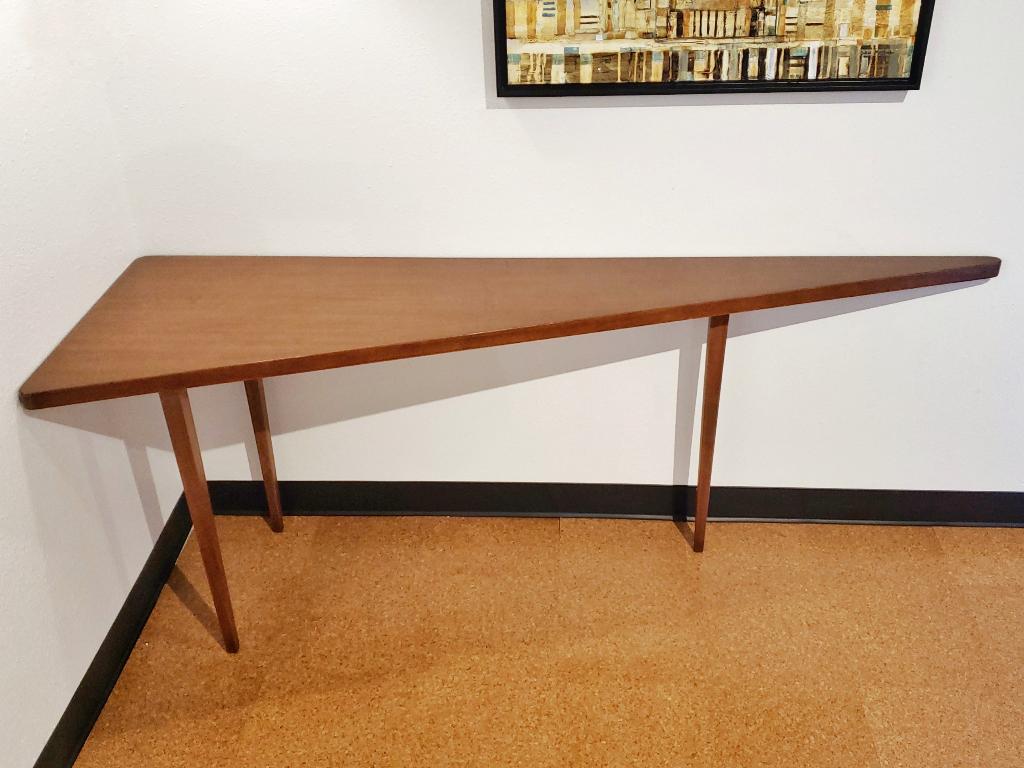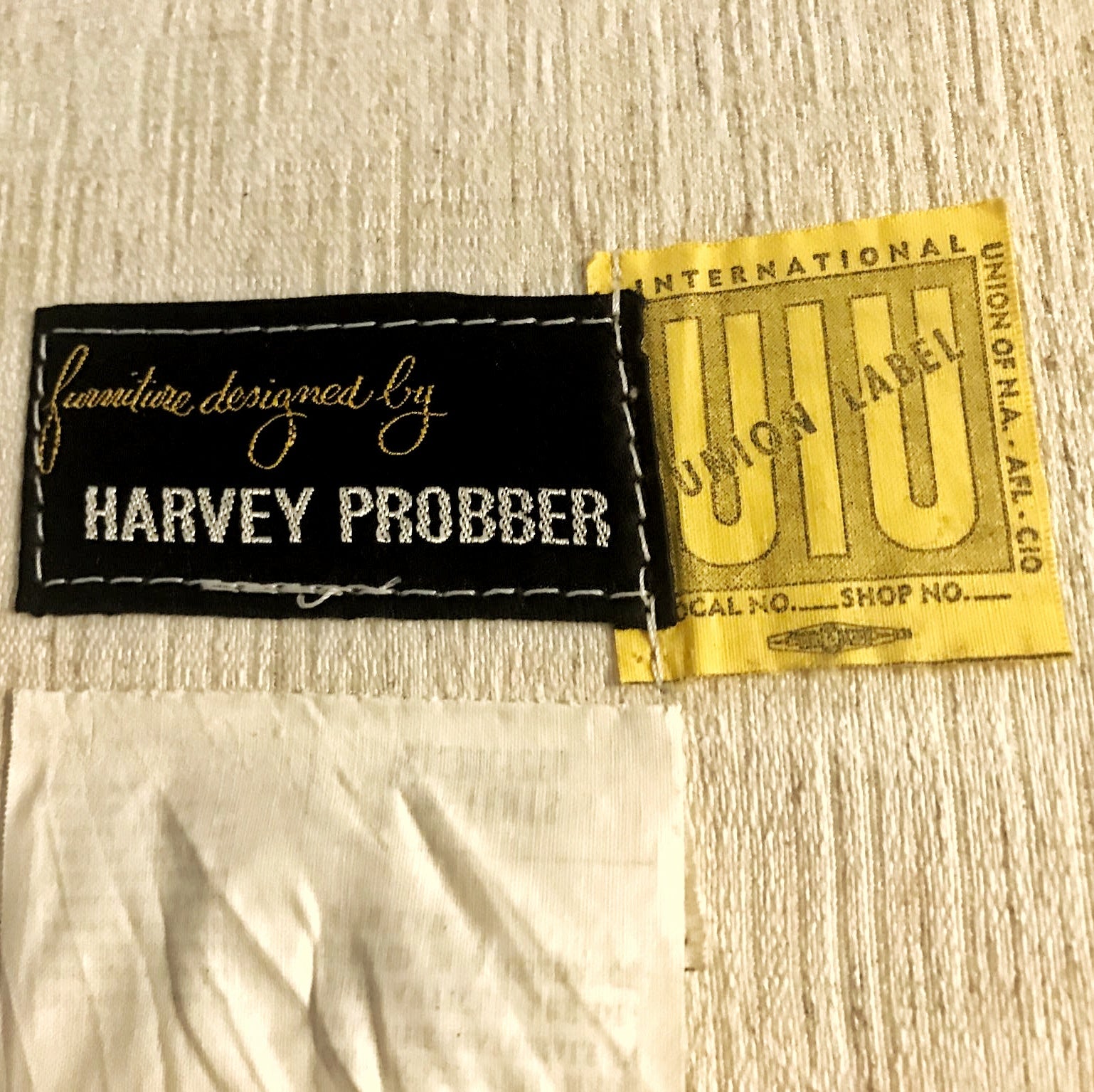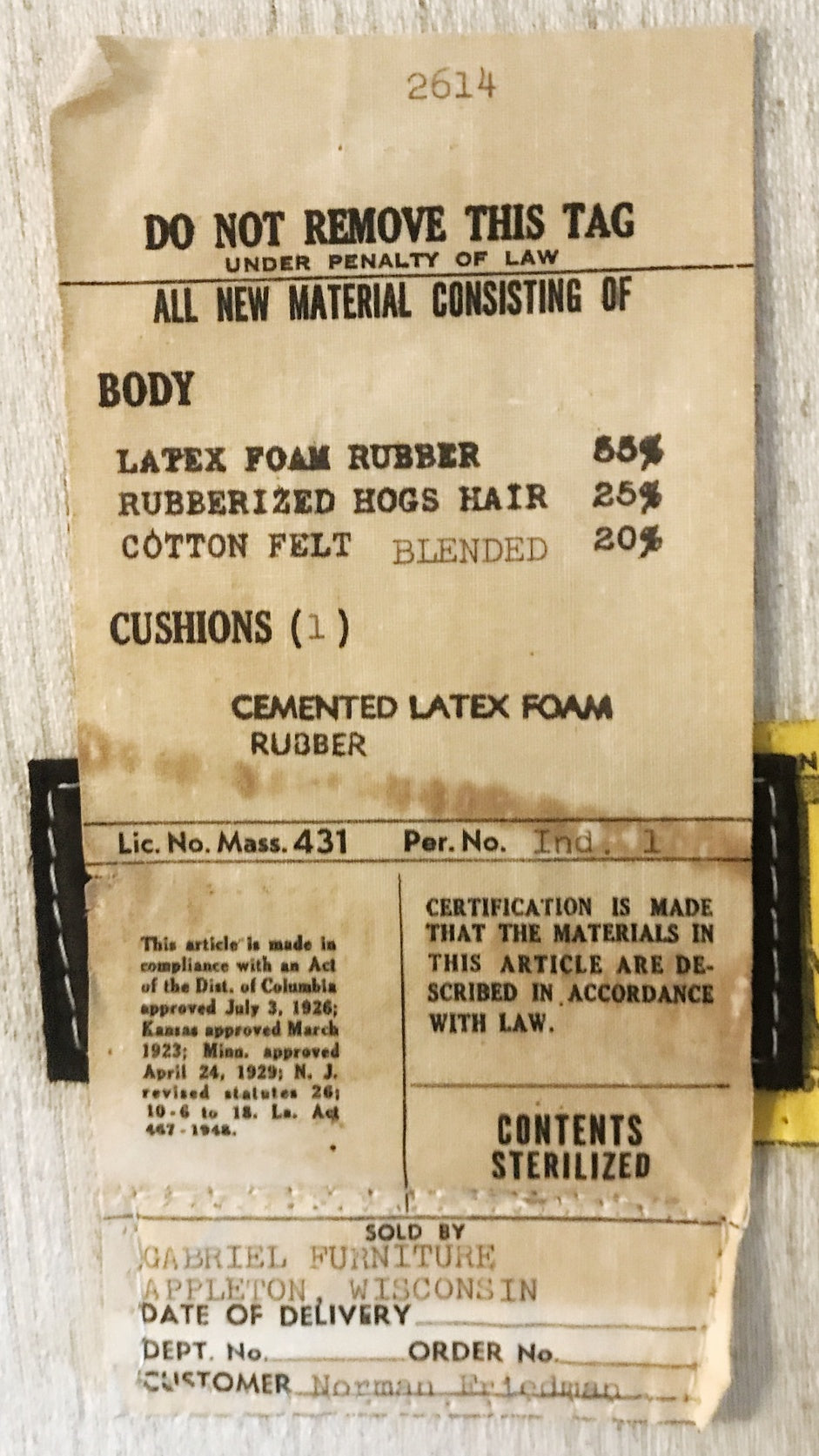 HARVEY PROBBER 'NUCLEAR SERT' SECTIONAL SOFA AND CONSOLE TABLE
CONTACT US HERE ABOUT THIS ITEM.
An original and fully restored 'Nuclear Sert' sectional sofa by Harvey Probber for HARVEY PROBBER, INC.  The set includes its original triangular, bleached-mahogany console table.
HARVEY PROBBER was a leading American furniture designer in the middle years of the last century.  He is credited with the invention of sectional (or, as he termed it, "modular") seating and was a pioneer of its application.  The concept stemmed from Probber's conviction that post-war Americans were ready for more flexibility in their homes and lifestyles.  His ideas were popularly embraced and widely adopted among his fellow designers.
Born in Brooklyn in 1922, Probber took an after-school job during high school in a used furniture store.  He was inspired to try his hand at sketching ideas for furniture and sold his first design for a sofa at the age of 16 for $10 (roughly $175 in today's money).  By the time he graduated, Probber was marketing his drawings to furniture companies in Manhattan.  In an era when top American designers typically boasted of advanced degrees in art and architecture, Probber's formal training was limited to a few evening classes at the Pratt Institute.  He learned furniture production concurrently, on the job at Trade Upholstery, a small manufacturer on West 17th St.  After wartime service in the Coast Guard and a brief stint as a lounge singer (!), Probber started his own business in 1945, HARVEY PROBBER, INC.
The 1940s saw the dawn of American Modernism, an era characterized by young designers with talent, initiative, and the willingness to take bold risks with new ideas.  Probber's work would always be tempered by his concern to strike an artful balance between design and ornament.  His pieces combined the new style's understated lines with delicate hardware, exotic woods, hand-rubbed finishes, and sumptuous upholstery fabrics—sometimes in surprisingly bright colors.  Such materials were largely abandoned by his more radical, Bauhaus-influenced contemporaries.  By the end of the decade Probber grew increasingly convinced that consumers were becoming tired of the academic purity exemplified by much of modern furniture; his designs, like those of Edward Wormley and Tommi Parzinger, were for customers who wanted up-to-date furnishings that whole-heartedly embraced elegance.  Never a household name in his lifetime, Probber's furniture is highly collectible today.  Probber was awarded several prestigious Roscoe design industry awards during his career.
HARVEY PROBBER, INC. was established in New York City in 1945 by its namesake—who rose to become one of America's preeminent designers within the decade.  In 1947, its production was moved to Grand Rapids, Michigan, then the center of the furniture manufacturing industry.  In 1948, anticipating the potential for an interior design boom, a showroom was opened on Fifth Avenue in Manhattan catering exclusively to designers.  By the mid 1950s, HARVEY PROBBER, INC., was among the country's most important makers of contemporary furniture.  Its customers appreciated the marriage of luxe finishes and clean, modern practicality embodied by its products.
It was Probber's interest in flexibility of function that led to his most significant design breakthrough:  the upholstered unit or "modular" furniture system.  HARVEY PROBBER christened its initial incarnation the 'Sert Group' (in homage to architect and city planner Jose Luís Sert).  It consisted of nineteen different elements—quadrants, half-circles, corner sections, and wedges—that could be rearranged into any number of seating configurations.  Probber next developed 'Nuclear' furniture, extending the concept to include variously shaped occasional tables with interchangeable pedestals.  Case goods were added to the modular mix in the 1960s—a single basic design was made available in a choice of finishes, legs, bases, heights, and hardware.  (Differences that were cosmetic rather than conceptual were naturally economical to produce—evidence of Probber's business acumen.)  The 'Nuclear Groups' as well as the HARVEY PROBBER 'sling' chair (1948) were chosen for MoMA's Good Design exhibition in 1951.
By the 1970s, HARVEY PROBBER, INC., had opened trade showrooms in major design centers across the country and had exchanged the residential furniture market for the larger and more lucrative contract (commercial) field.  During this period, Probber's work was awarded two "Best of Neocon" Gold Awards from the Resources Council of the Institute of Business Designers for the 'Houston Chair' (1977) and the 'Advent III Customization Program' (1981).  He never abandoned his interest in modular seating, however, and continued to explore variations of the concept.  HARVEY PROBBER closed its doors in 1986.
The Harvey Probber Design Archive signed an agreement with M2L in 2013 to reintroduce a selected group of designs in a licensed collection under the name "M2L BRAND for Harvey Probber."  The first line of products included a lounge chair, sofa, occasional table, bench, and desk from the 'Architectural Series' and the 'Deep Tuft' sectional sofa.
Fashion is a word invented by the avaricious to prey upon the insecure. – HARVEY PROBBER
Production Period – 1960-1969
Country of Origin – USA
Designer – HARVEY PROBBER (1922-2003)
Maker – HARVEY PROBBER, INC.
Attribution – MARKED
Condition – VERY GOOD (no defects; may show slight traces of use)
Height (in.) – 28.0
Seat Height (in.) – 16.0
Width (in.) - 132.0
Depth (in.) – 84.0