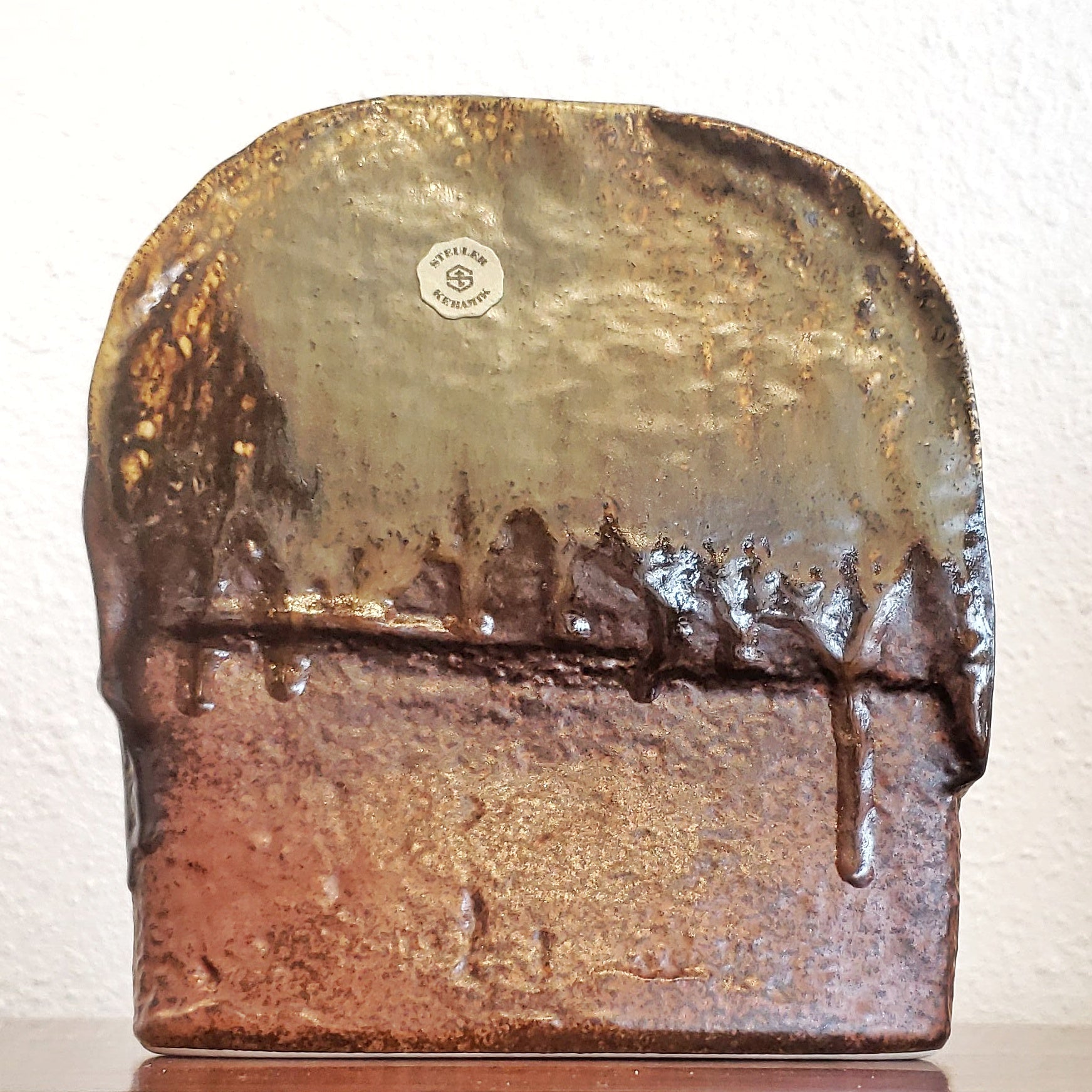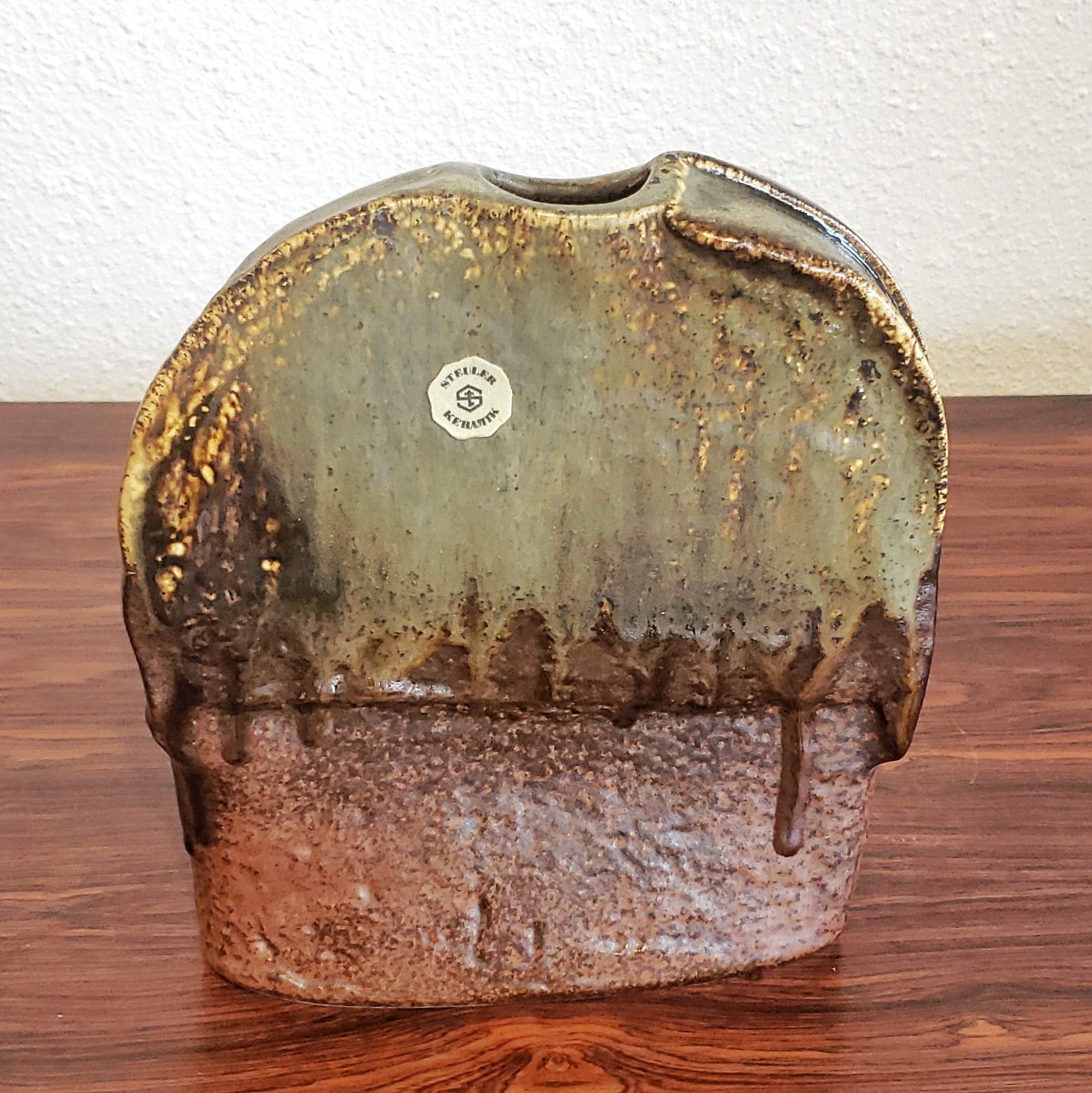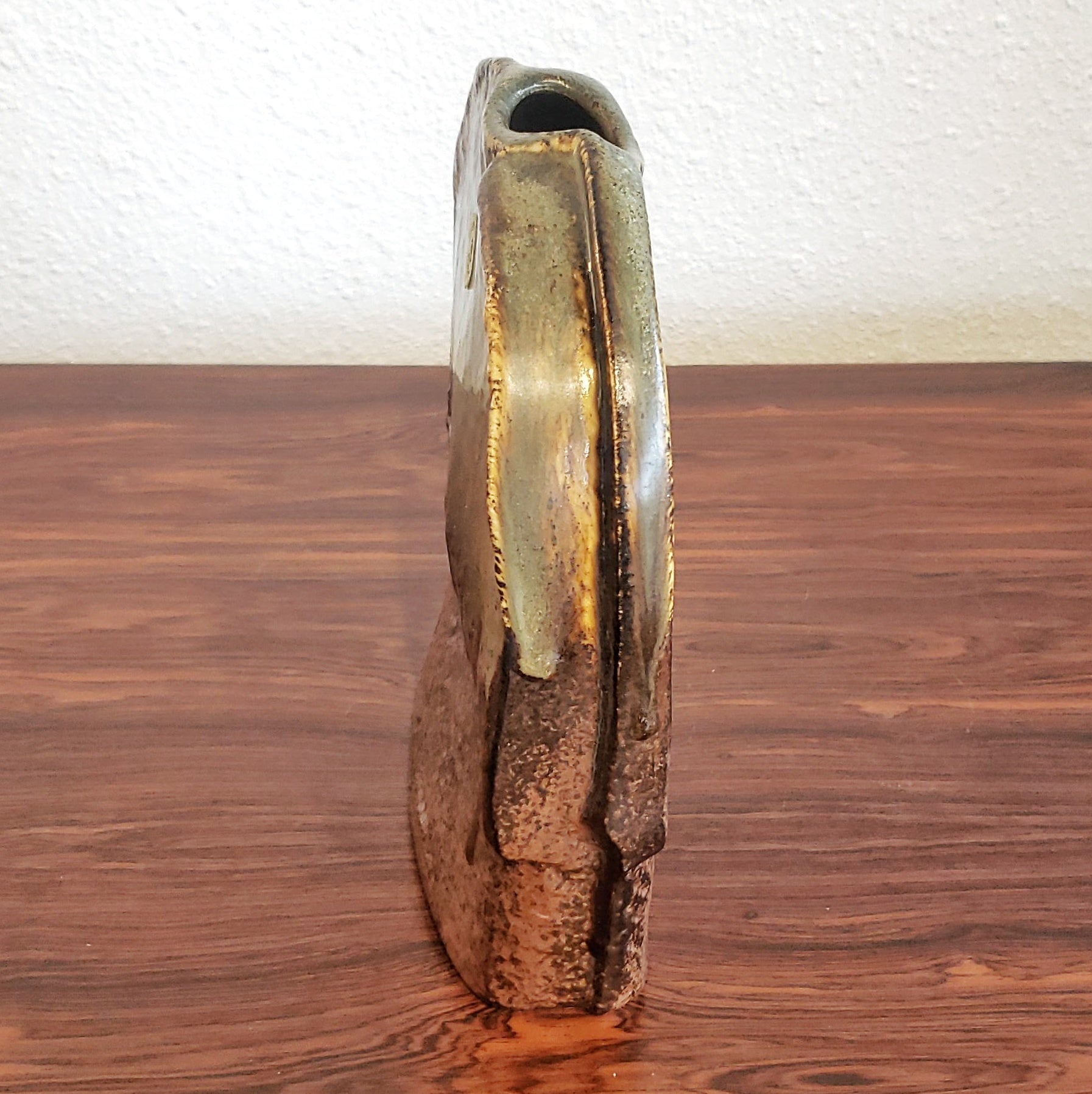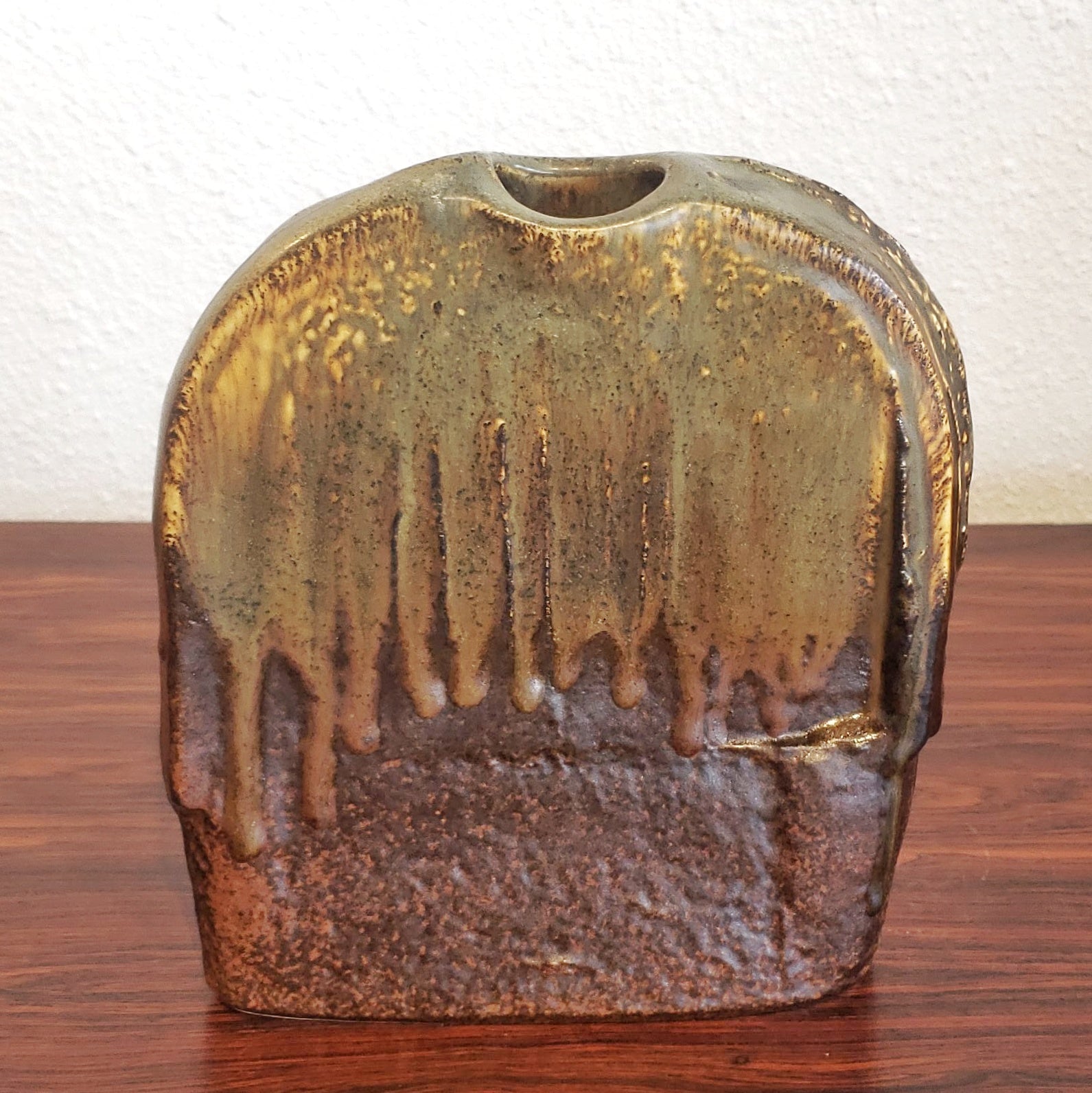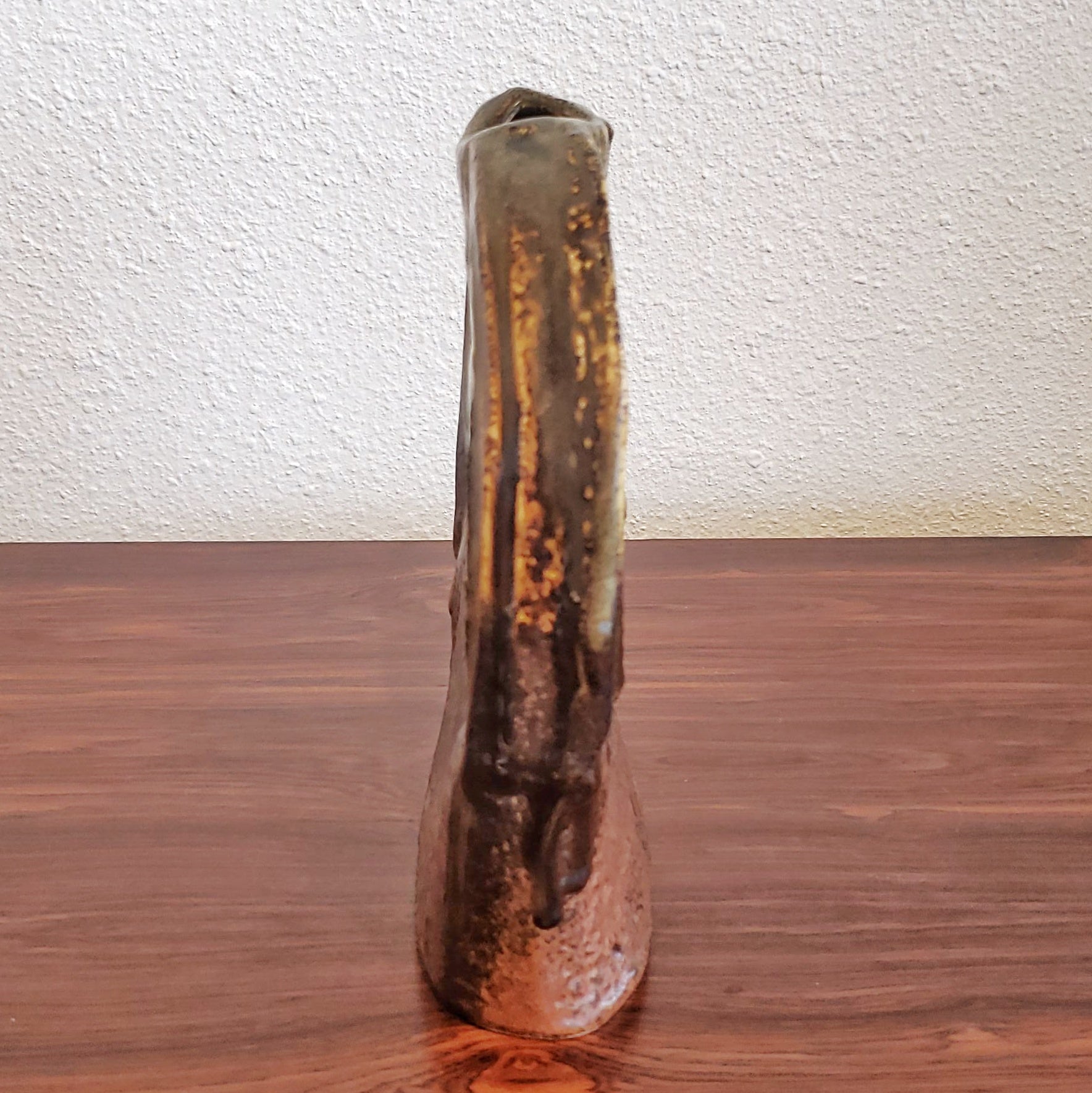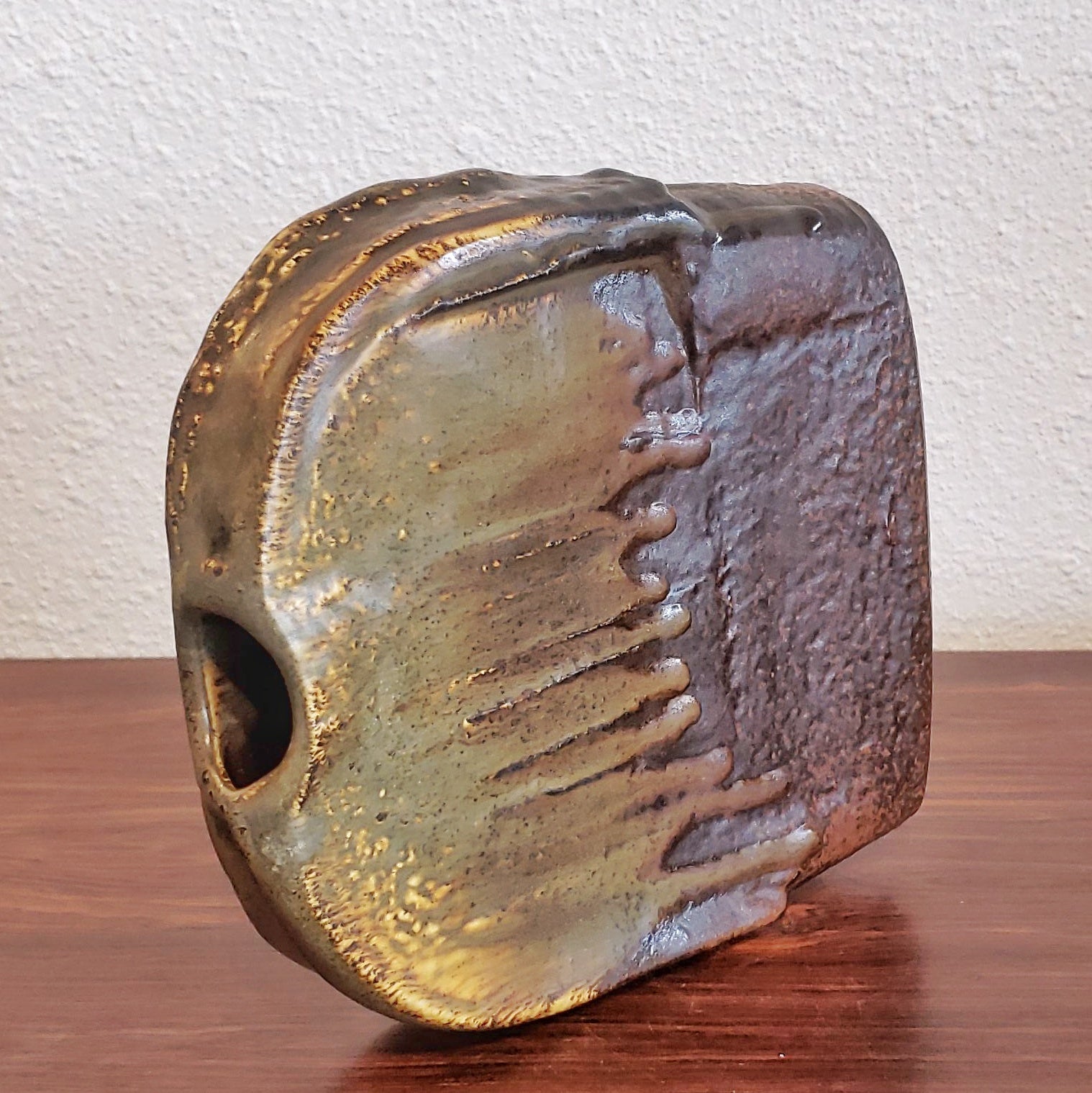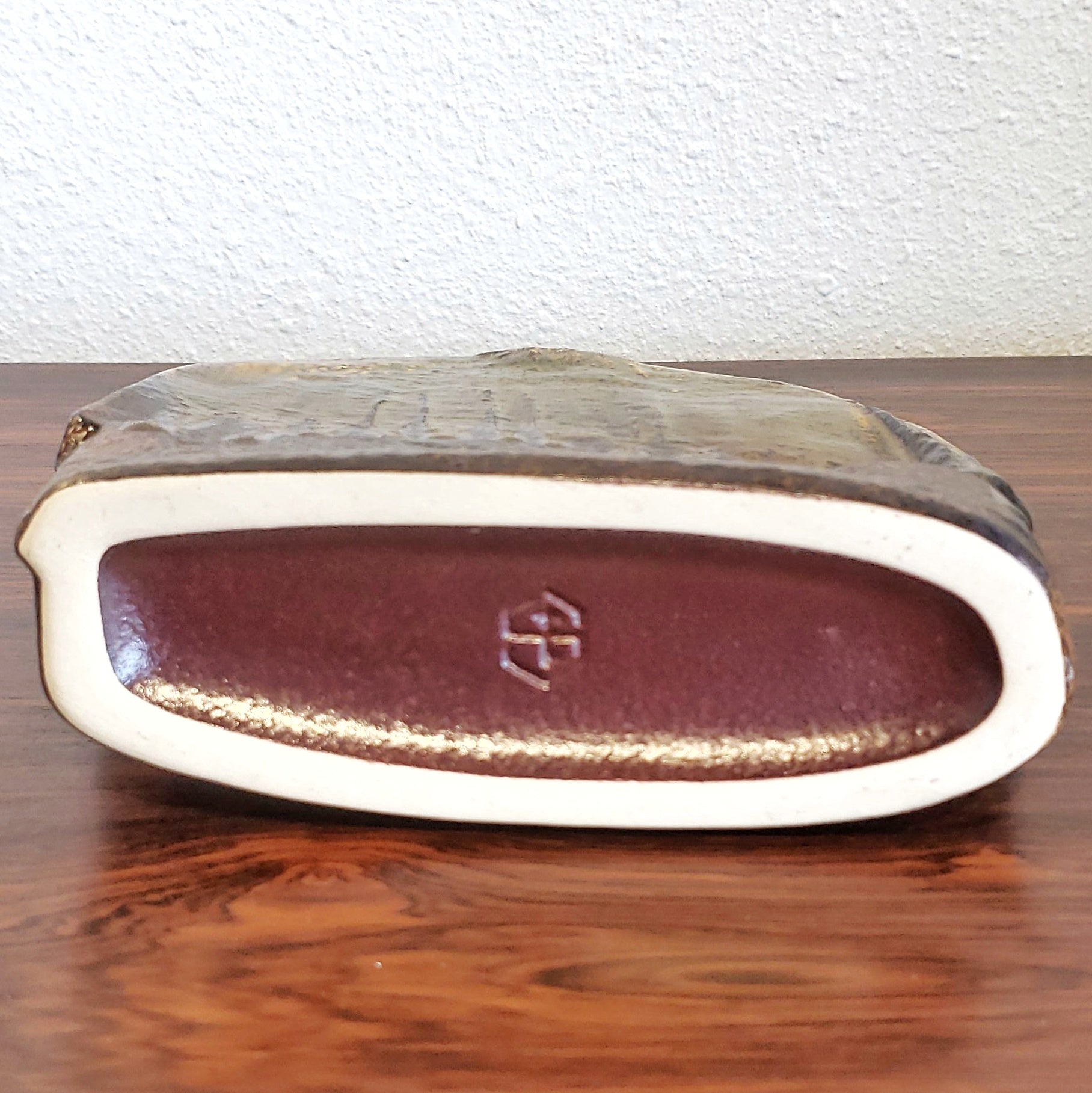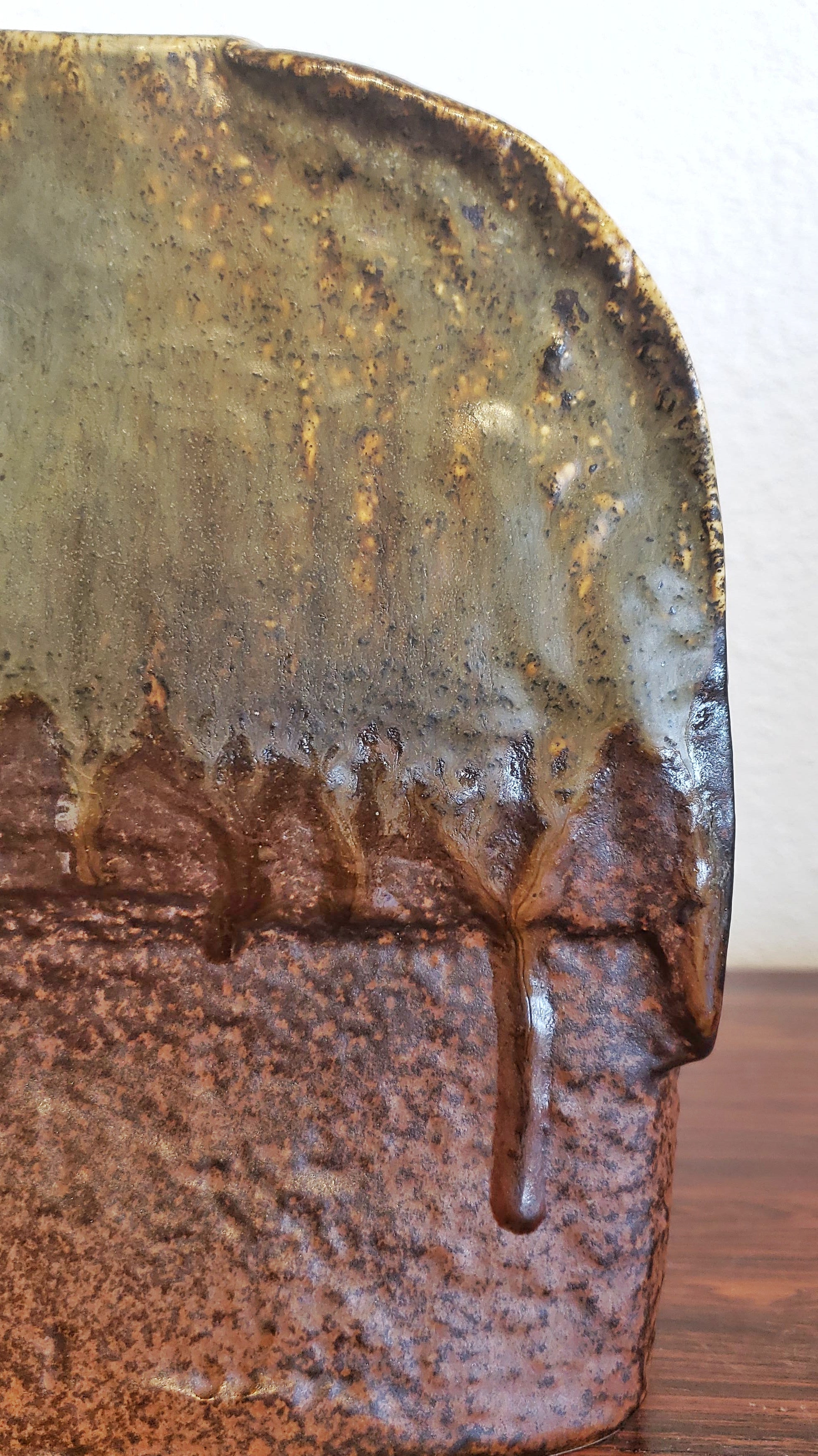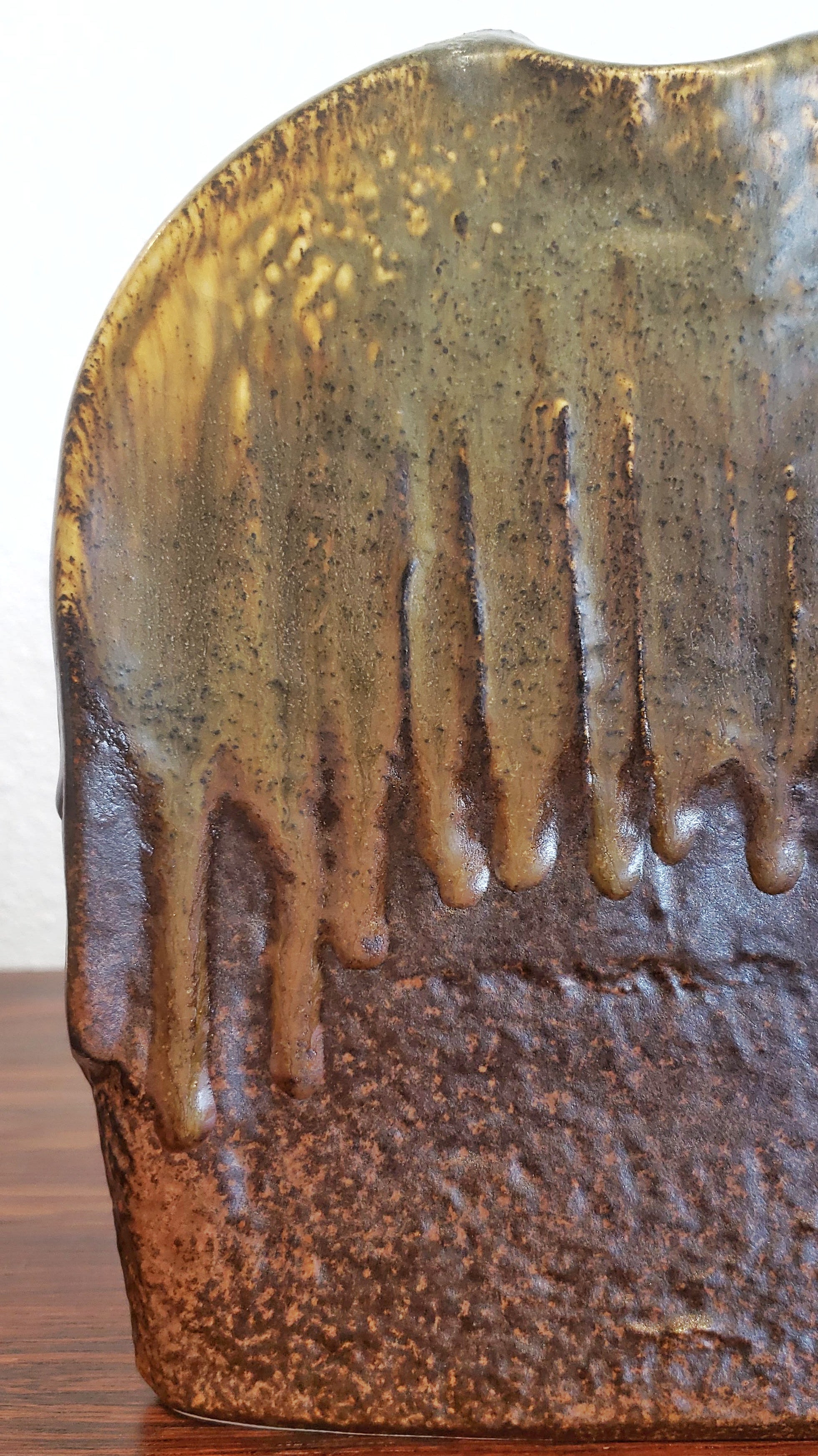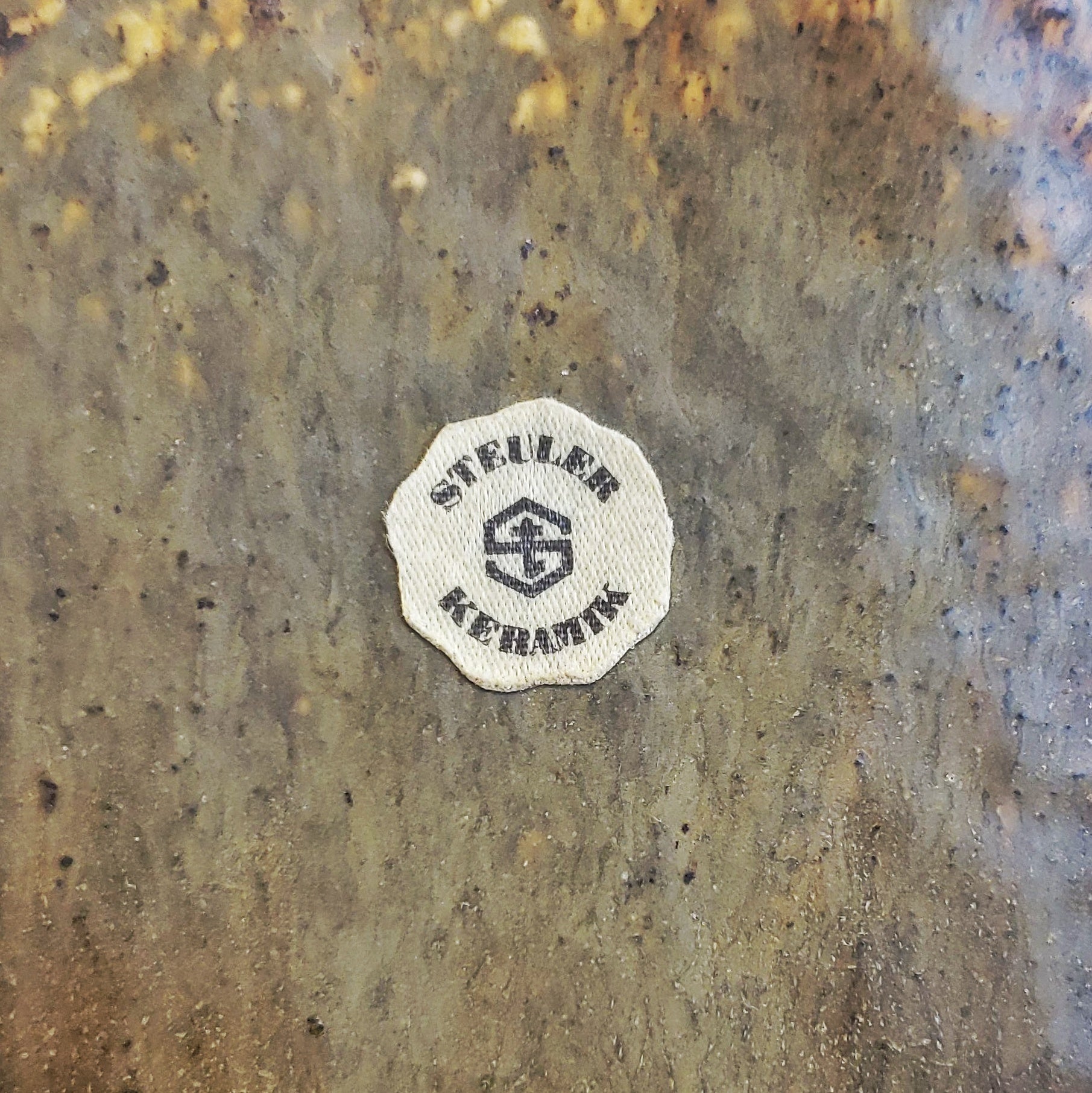 HEINER BALZER "OBJECT" SERIES VASE Nr. 910 FOR STEULER KERAMIK
CONTACT US HERE ABOUT THIS ITEM.
An organic art pottery vase designed by Heiner Balzer for Steuler Keramik as part of his 12 part 'Object Series'.  This is model 910 and it is marked underneath with the Steuler company logo and also retains the Steuler Keramik paper label.  A wide variety of earth tone glaze variations were used on these forms, giving each a quality of having been produced in an artist's pottery studio.  no two are exactly alike.
HEINER BALZER (1937- ) was born in Höhr-Grenzhausen in the Westerwald district of Rhineland-Palatinate, Germany to the famous master potter Elfriede Balzar-Kopp (1904-1983).  He ultimately completed a pottery apprenticeship in his mother's workshop from 1952 to 1954, before passing his journeyman's examination.  After taking a break to travel through Holland and Sweden, he returned to attend the State Ceramic Technical School in Höhr-Grenzhausen from 1956 to 1958, where he took a master class from Hubert Griemert, and passed his master craftsman examination in 1958 before returning to work again in his mother's workshop.  Even while he was still a student, he started to supply mold designs for Dümler & Breiden and Jasba ceramics in the neighboring towns of Ransbach-Baumbach.  In 1967 he set up his own workshop in Höhr-Grenzhausen, where he worked intensively on salt-glazed stoneware.  He has participated in numerous national and international exhibitions and has won several awards and honors.  In 1985 he supplied the mold designs for the sophisticated twelve-part series "Objects" to be produced by Steuler-Keramik u.a.  The very popular series was conceived as a group of vases that had the look and feel of artisanal studio pottery.
| | |
| --- | --- |
| Designer | HEINER BALZER |
| Manufacturer | STEULER KERAMIK |
| Design Period | 1980 to 1989 |
| Production Period | 1980 to 1989 |
| Country of Manufacture | Germany |
| Identifying Marks | This piece has an attribution mark |
| Style | Vintage, Modernist, Rustic |
| Detailed Condition | Excellent — This vintage piece is in near original condition. It may show minimal traces of use and/or have slight restorations. |
| Product Code | |
| Materials | Ceramic |
| Color | Brown, goldenrod, olive |
| Width | 7.0 inch |
| Depth | 2.3 inch |
| Height | 7.5 inch |