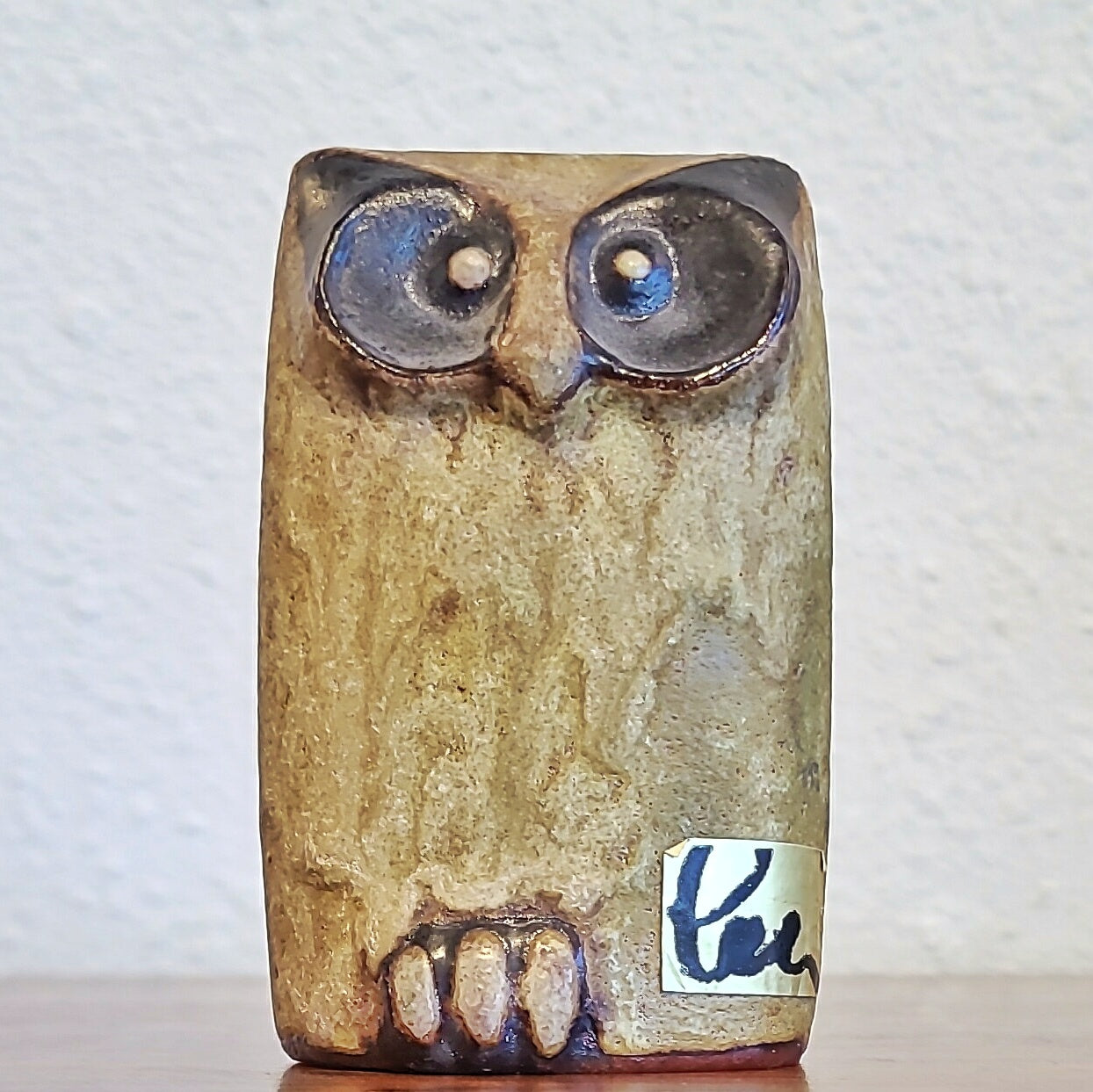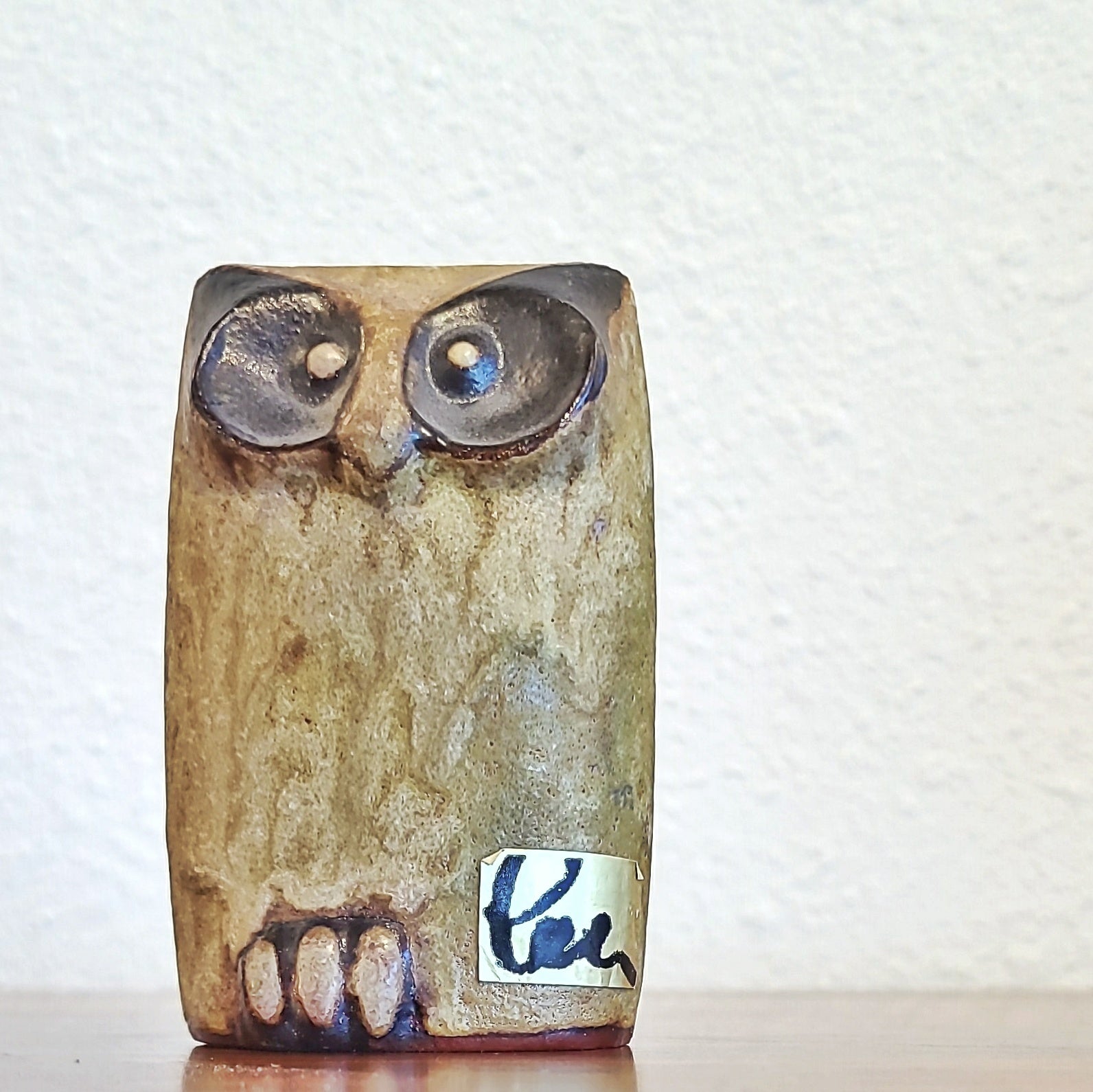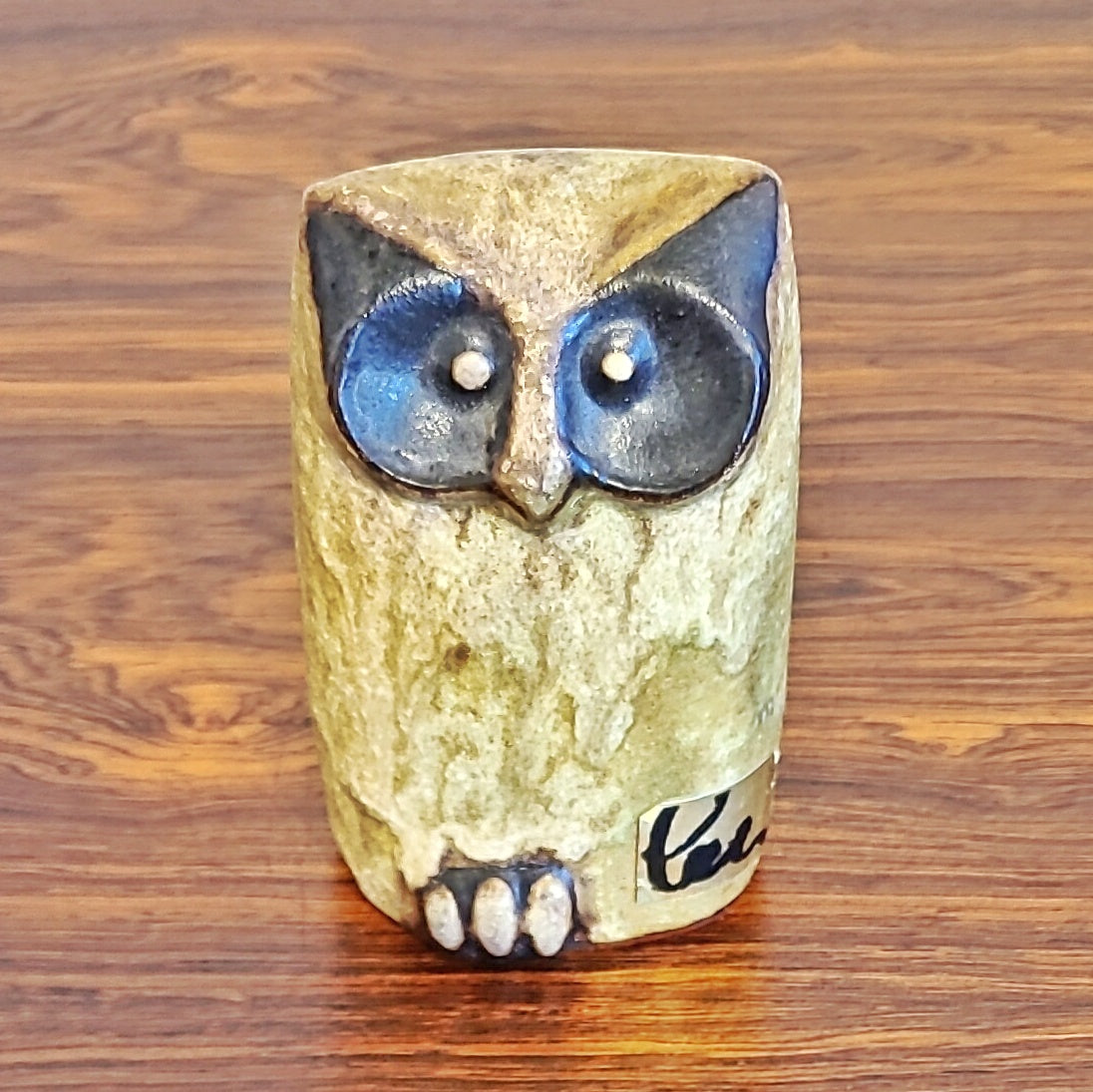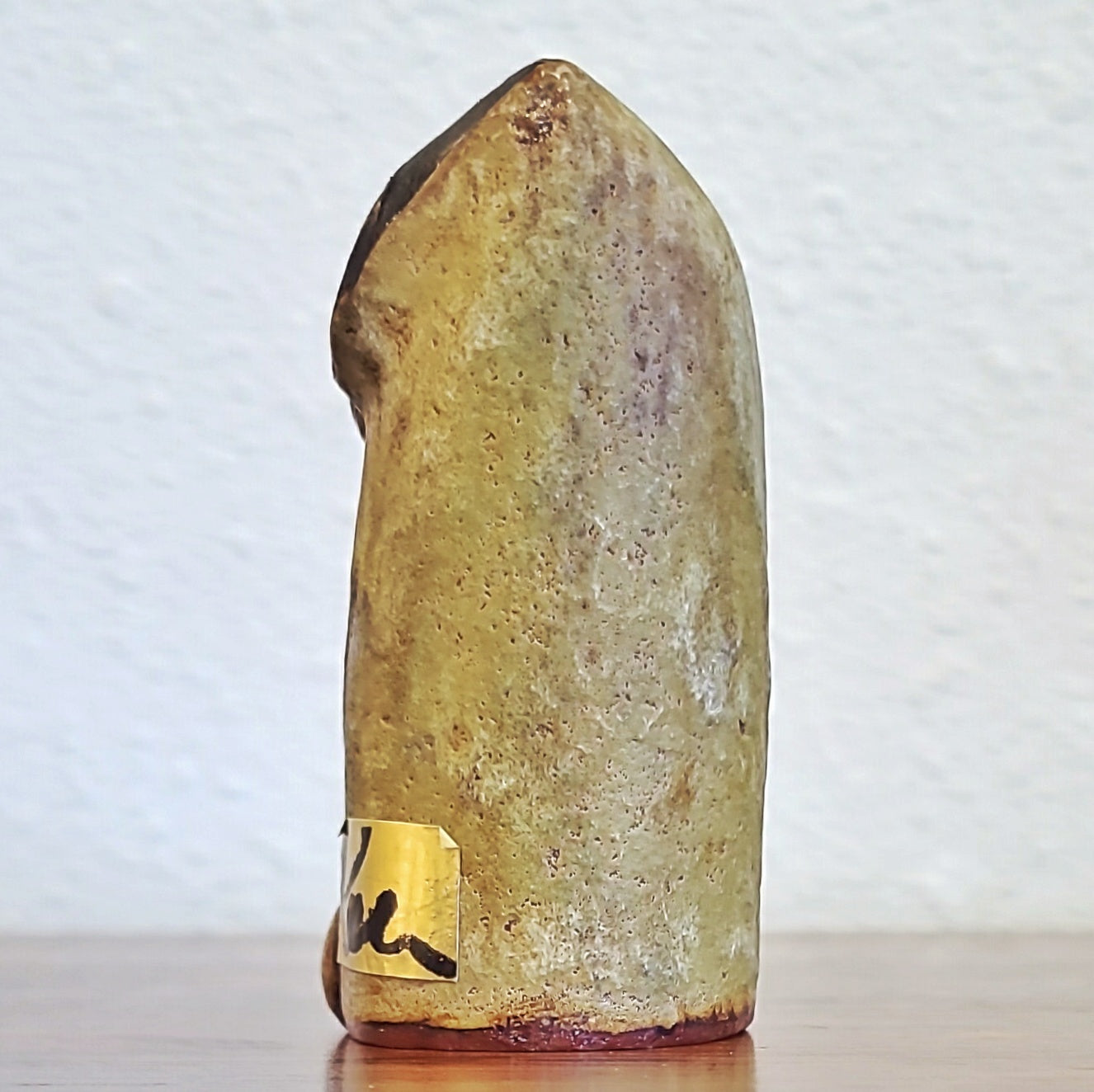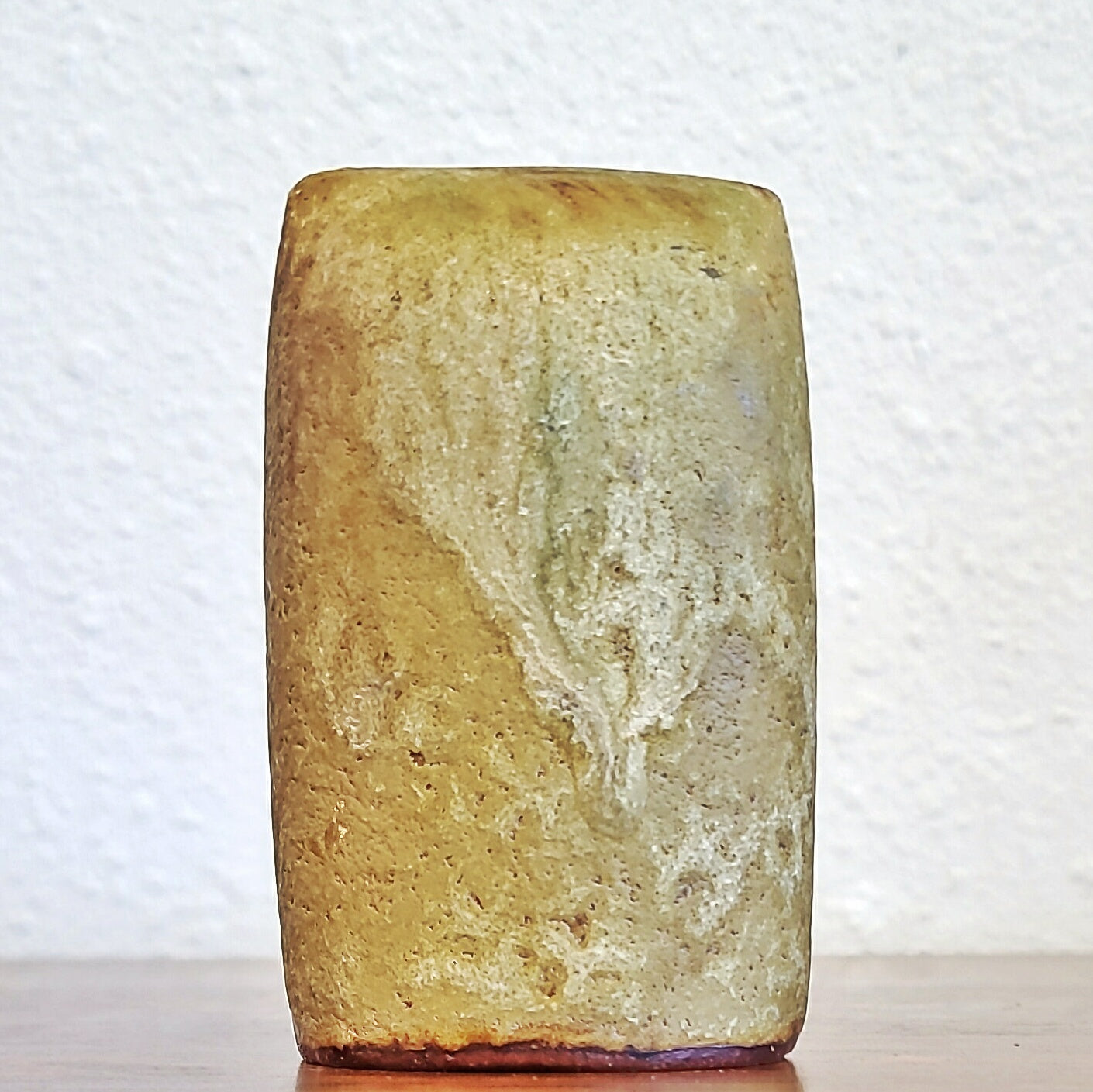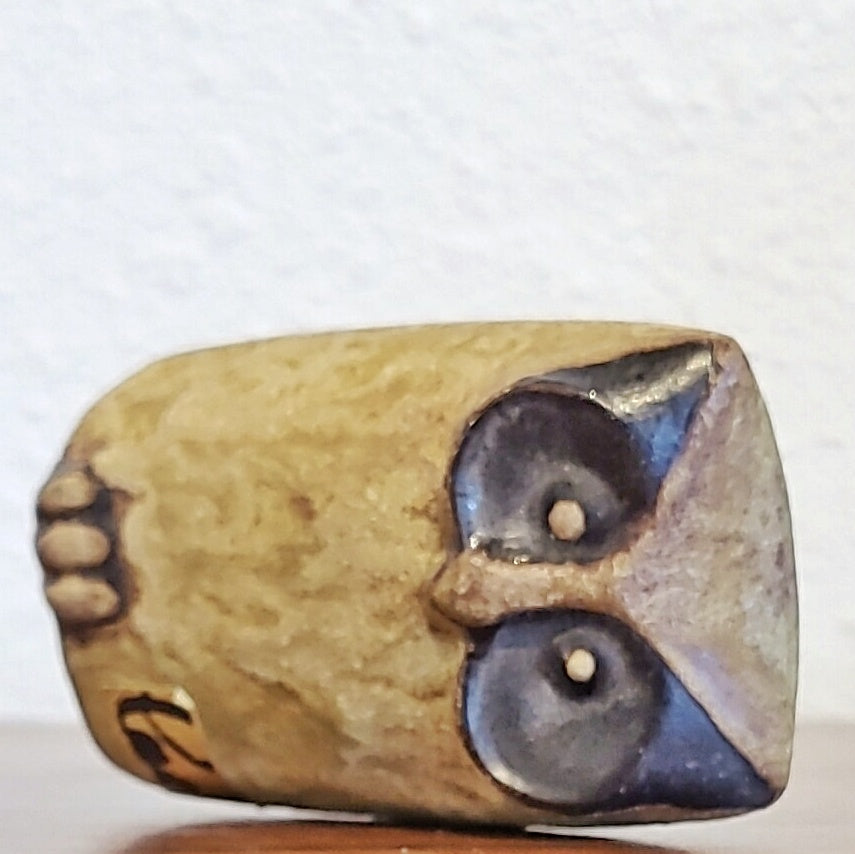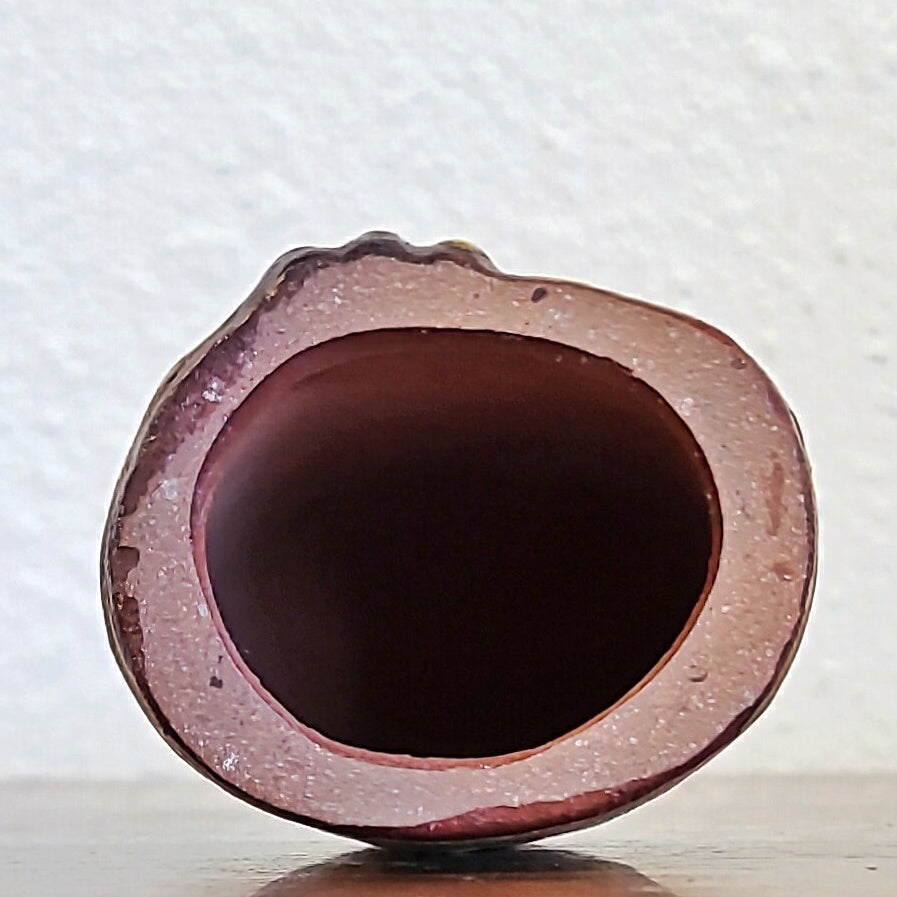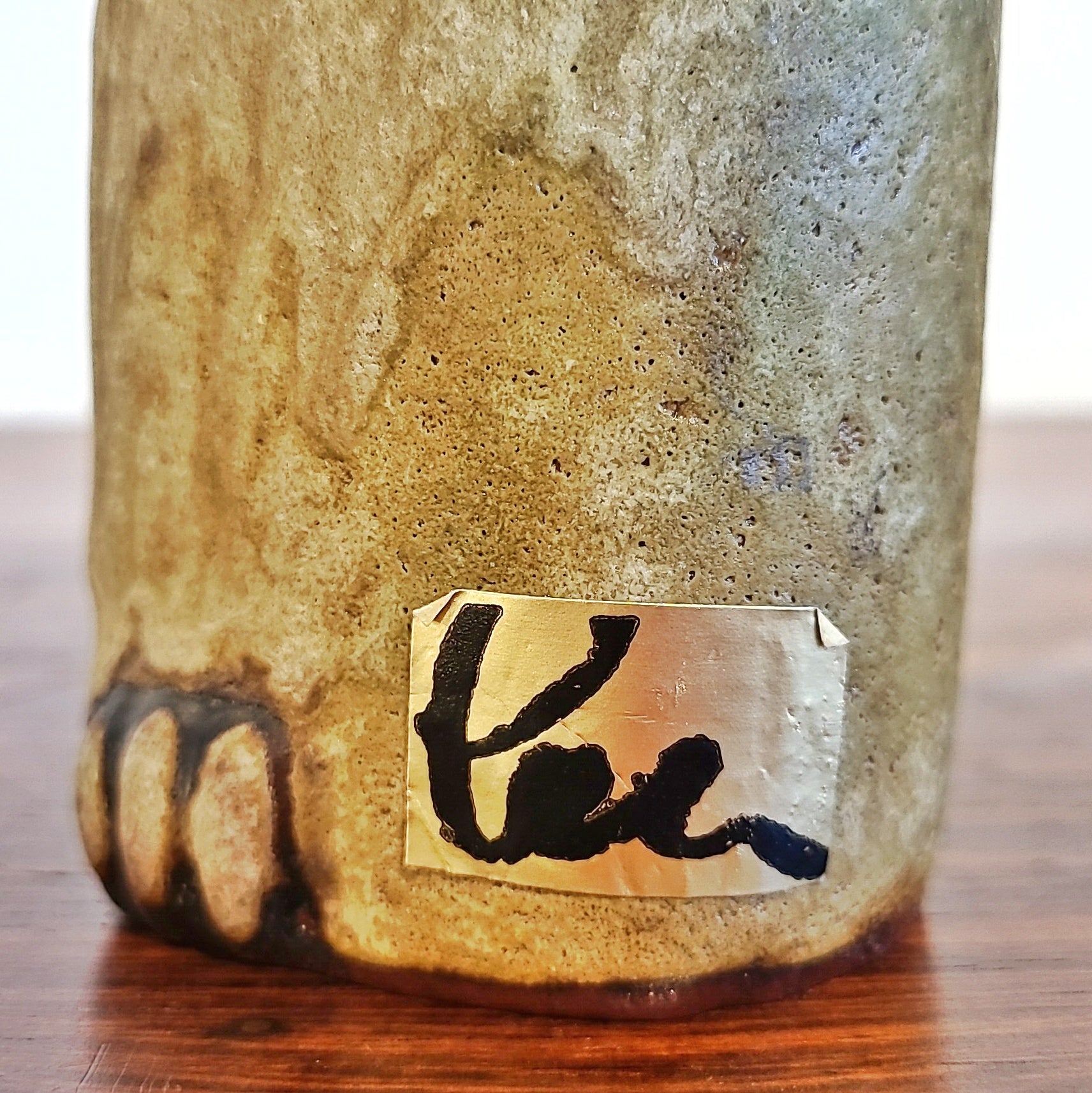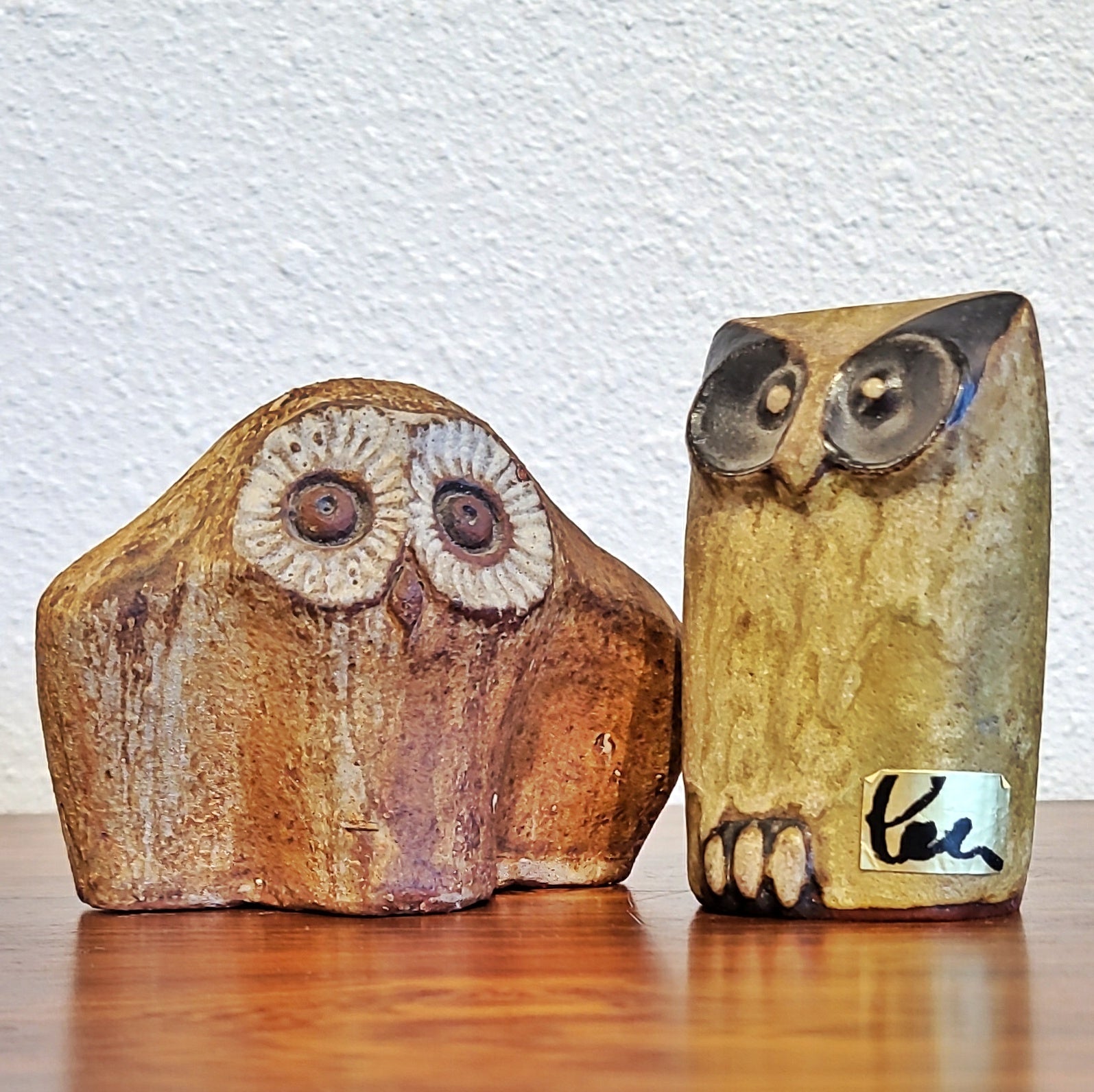 HELMUT SCHÄFFENACKER STUDIO POTTERY OWL/PAPERWEIGHT
CONTACT US HERE ABOUT THIS ITEM.
A petit studio pottery owl from the studio of Helmut Schäffenacker.
HELMUT FRIEDRICH SCHÄFFENACKER (1921-2010) was born on July 5, 1921, in Ulm, Germany, the son of the painter Otto Schäffenacker. He completed an apprenticeship with the sculptor Rudolf Pauschinger in Stuttgart. After completing his studies in painting and sculpture, he founded "Atelier Schäffenacker" in Ulm in 1948. There he painted and created sculptures made of wood and stone and began to work as a ceramist.
The number of his studio employees (including apprentices) rose from four in 1950 to ten in 1965. Schäffenacker's first designs were for everyday objects such as vases, ashtrays, and bowls. In the second half of the '50s, wall panels with relief decorations emerged, primarily with figurative motifs—mostly of highly stylized animals—and still lifes. His sculptures also frequently took animal form—owls, birds, and bulls. Later, the shapes of everyday objects would develope more and more sculpturally, and the motifs of the wall panels would become more abstract. Wall panels and plaques were produced in runs of between two and 500 copies and would usually stay in the collection for around two to three years. At first, Schäffenacker mostly sold his work locally and regionally. But in the mid-1950s he began to participate in the Frankfurt trade fairs, and his work began to show up in retail outlets farther afield, in various cities in Germany and in neighboring countries.
In 1960 he moved his workshop and family to Ulm-Böfingen, where he built a home and studio. There he worked with three kilns and at times as many as ten employees. Works were either unique or cast in the workshop in small series of no more than a hundred pieces from plaster negatives or with hollow plaster molds and finished by hand. His wall reliefs and plaques were executed almost exclusively using the "bridge technique," which prevents glazes from running together during the firing process. It consists of stamping a tile of soft clay with a mold to create patterns in relief. The ridges form compartments that could be filled with separate glazes. The motifs on the wall reliefs reflected the zeitgeists of the '50s, '60s, and '70s. His ceramics heavily influenced the aesthetics of ceramic production in all of West Germany during these years.
In addition to his ceramic work, Schäffenacker was a painter and sculptor. He carried out his work in various materials, preferably in stainless steel and bronze, stone, wood, and combinations of these materials. He decorated numerous public buildings, especially schools, with wall reliefs and designed, among other things, fountains and sculptures for public spaces. He also designed wall reliefs for private houses, including swimming pools.
Schäffenacker has received numerous national and international awards for his ceramic work. In a laudatory speech for the artist's 85th birthday, Justus Engelfried wrote: "The individual objects are outstanding works of German and international ceramic design. The variety and number of wall panels are unique in Germany. The entire ceramic work of the designer and artist Schäffenacker is probably even unparalleled worldwide."
Schäffenacker ended ceramics production in 1993 when he had the kilns of his studio dismantled. However, he continued to work and exhibit his work in other media well into the following decade. He died on August 19, 2010, at the age of 89.
IDENTIFICATION: In the 1950s, Schäffenacker worked predominantly with white clay; later, he formed his vases and bowls almost exclusively in red clay. The wall ceramics are usually embossed on the back: "Schäffenacker, Ulm/do., Made in Germany, handgeformt (hand-molded)". Vases, bowls, etc., are sometimes stamped with this stamp but are always provided with a number. Adhesive labels were also sometimes attached to the ceramics, in the 1950s with "Atelier Schäffenacker," and later with the letters "Sch" in black on a gold background.
DETAILS
Maker - Helmut Friedrich Schäffenacker
Production Period - 1960s
Designer - Helmut Friedrich Schäffenacker
Design Period - 1960s
Origin - Germany
Styles/Movements - Mid-Century Modern; Art Pottery; Figurative
Materials - Ceramic
Colors - Tan
Condition - Good vintage condition.
Dimensions - 6ʺ Diam. × 7.5ʺ H