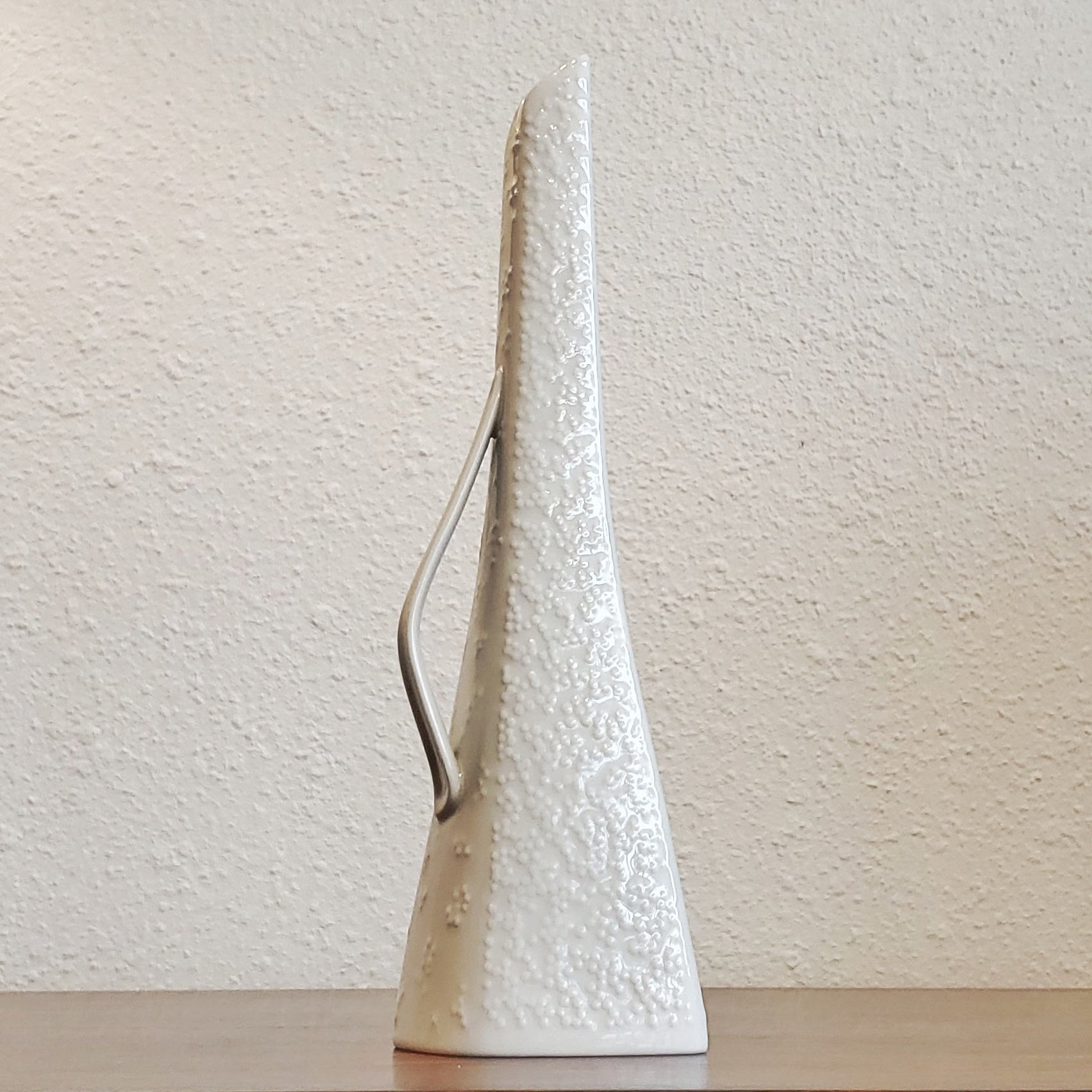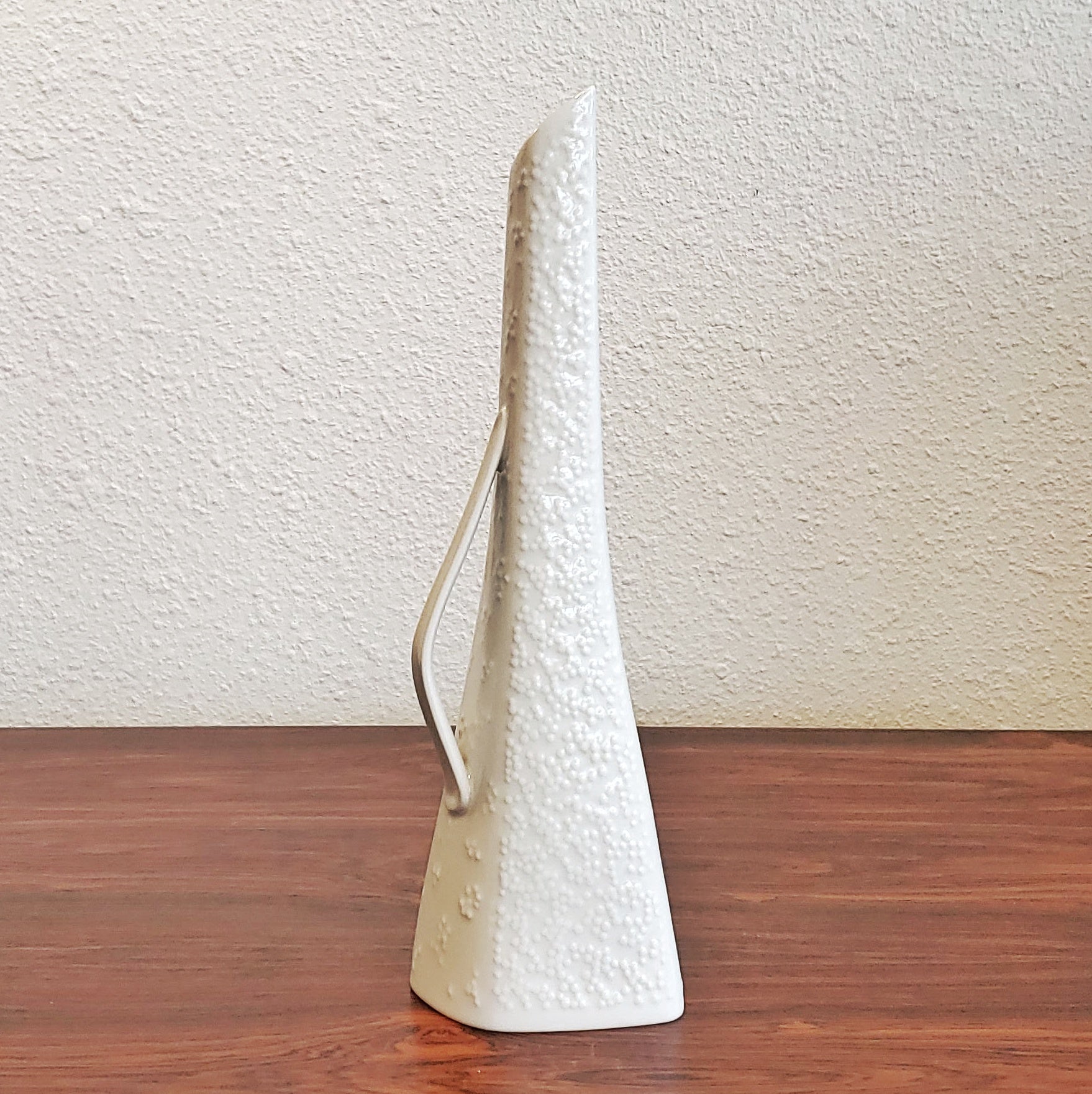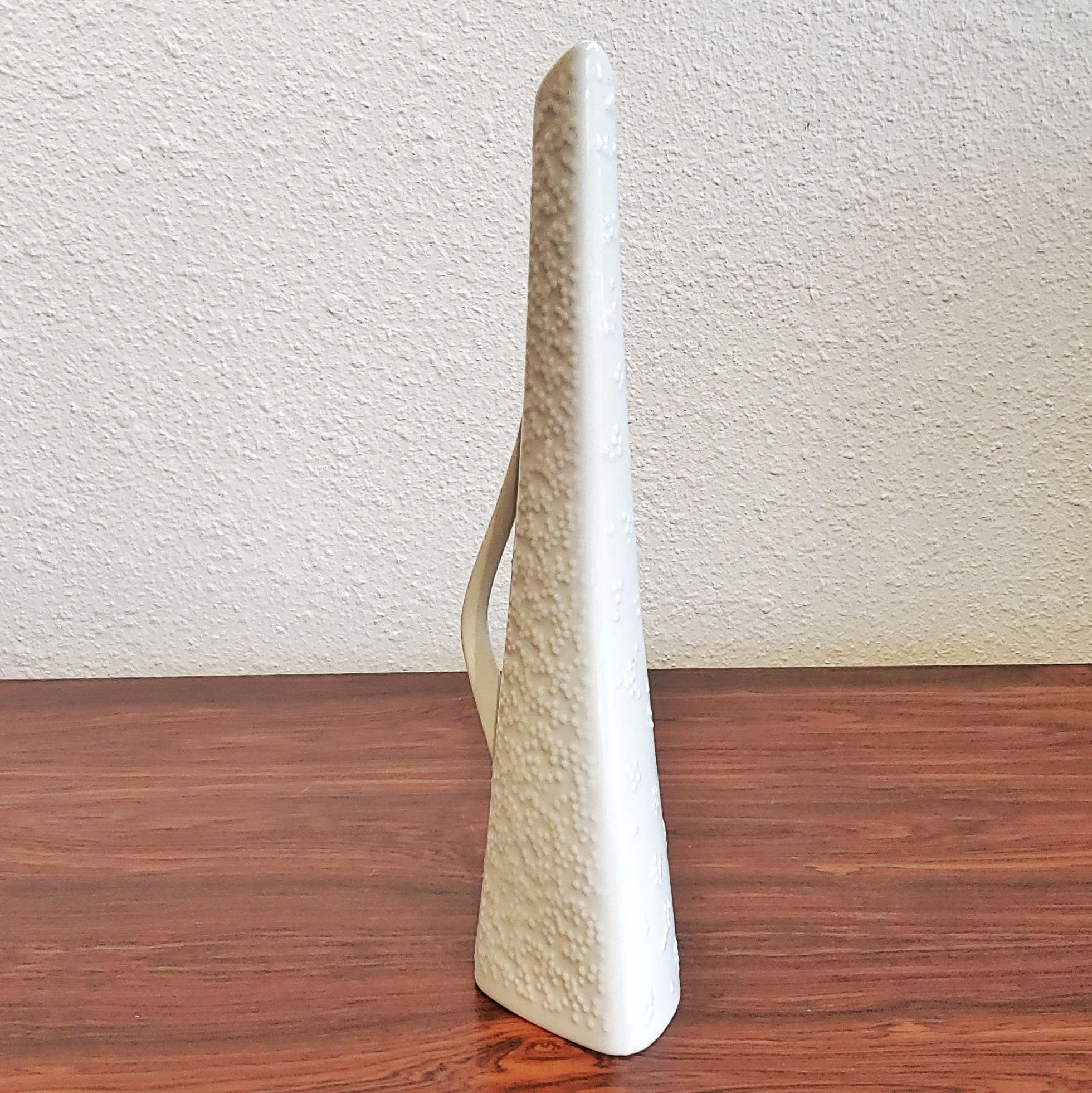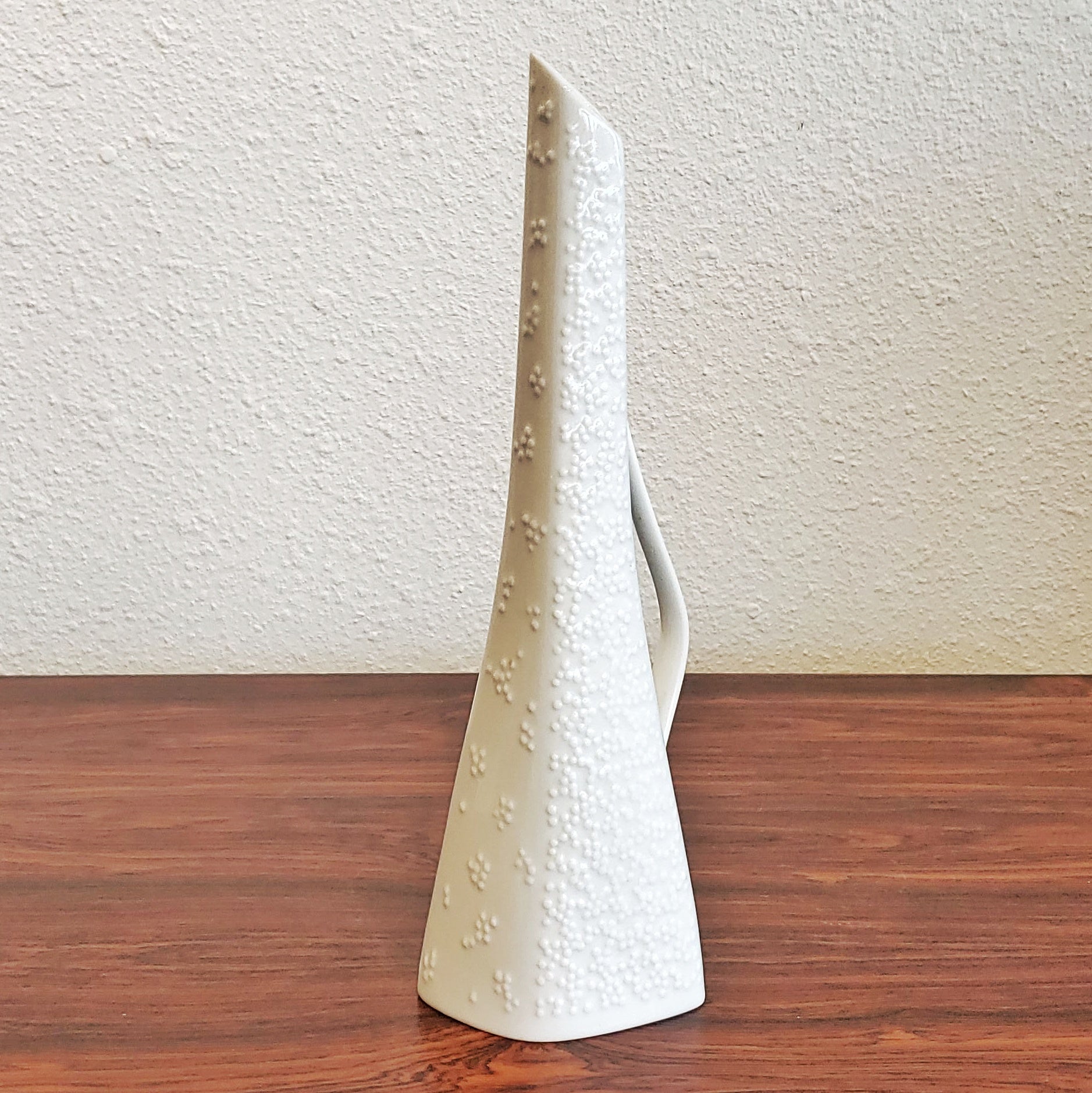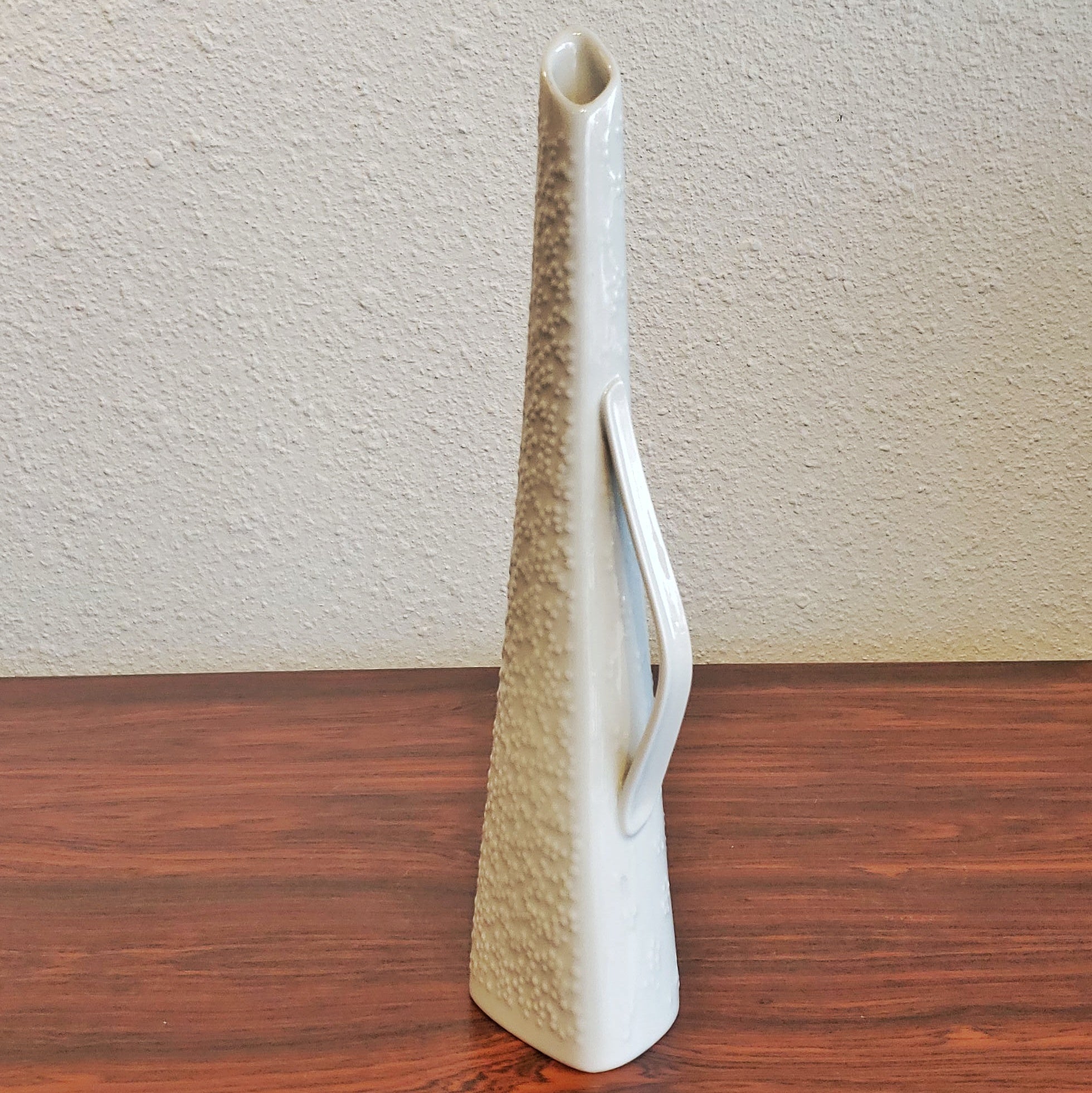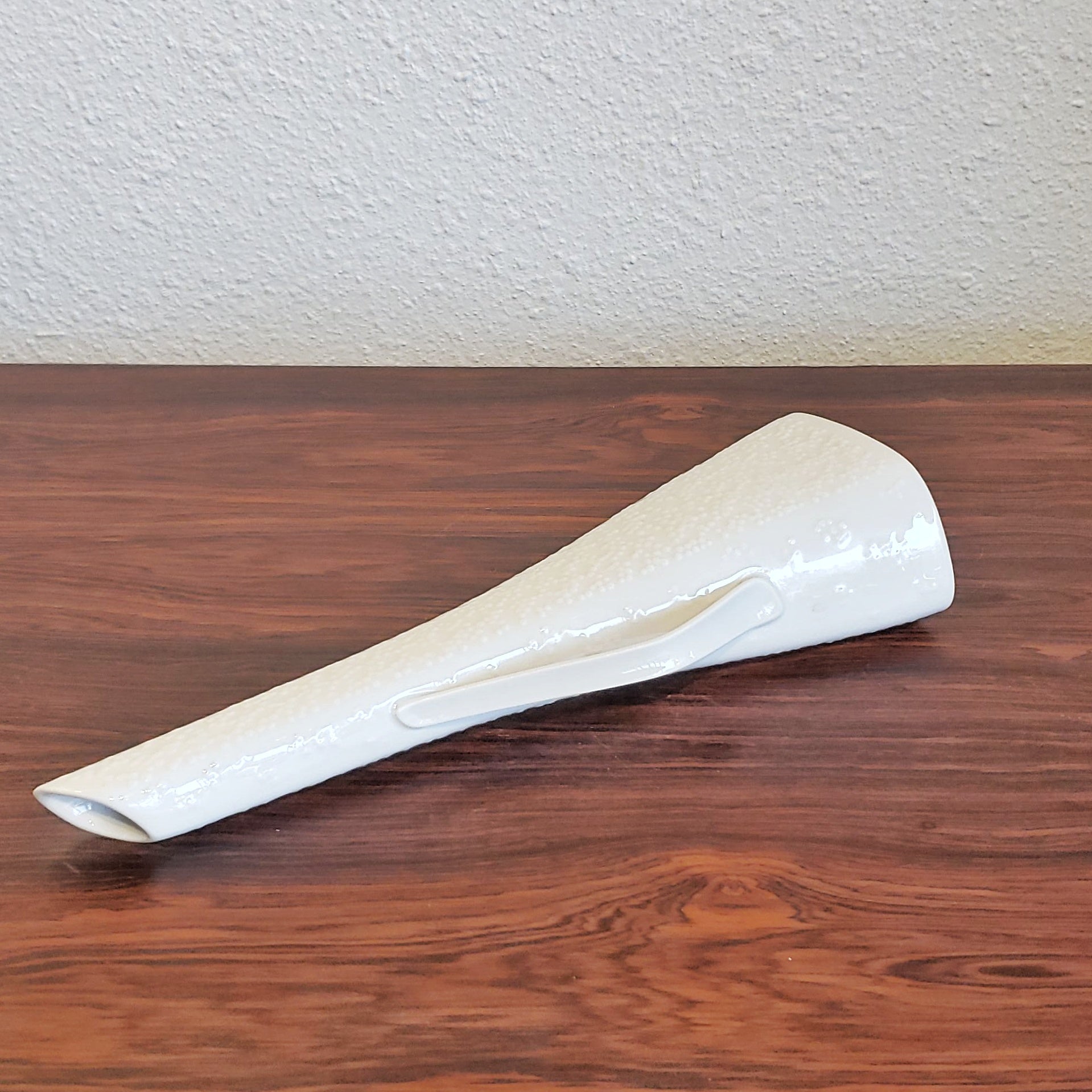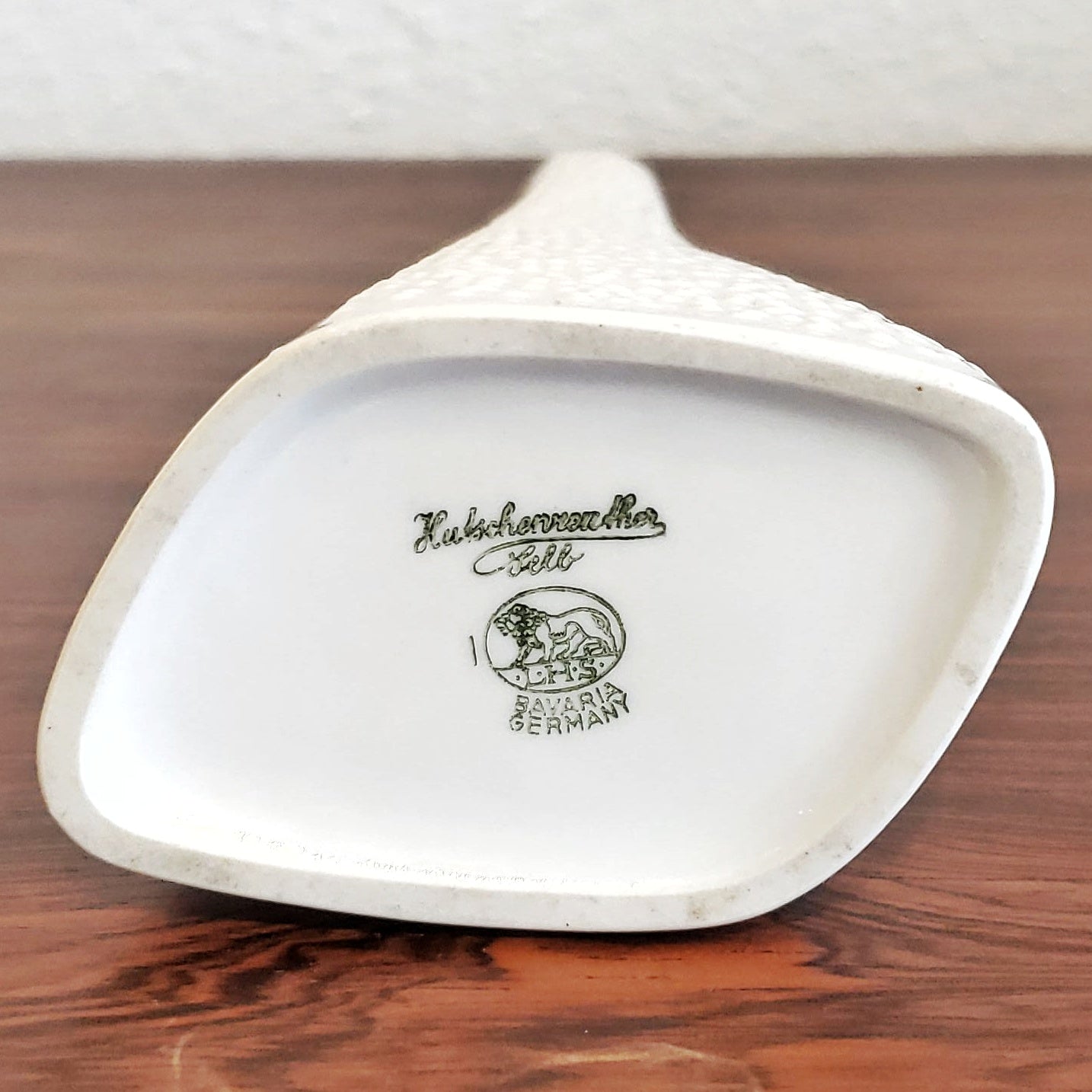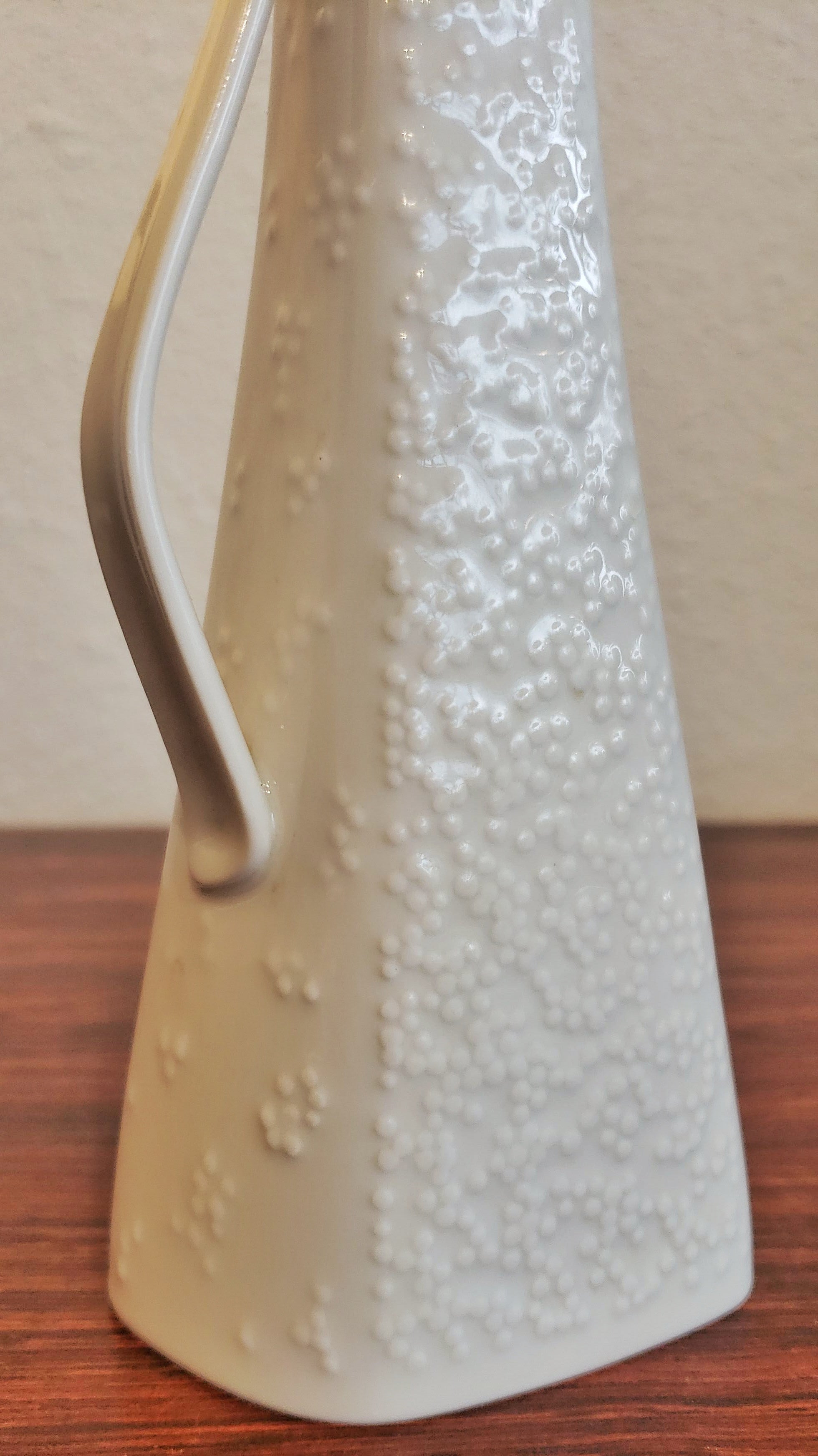 HANS ACHTZIGER FOR HUTSCHENREUTHER BUD VASE WITH HANDLE
CONTACT US HERE ABOUT THIS ITEM.
A graceful white porcelain ewer shaped bud vase with a gloss finish and raised micro dot details designed in 1956 by Hans Achtziger (1918-2003) for Hutschenreuther Porcelain of Bavaria.  The vase is marked on the bottom with Hutschenreuther's standard green production mark used from 1965-1967.

HANS ACHTZIGER (1918-2003) is one of the leading names in the German porcelain making industry.  Upon graduating from secondary school Hans completed an apprenticeship with Lorenz Hutschenreuther in Selb and then attended the State Technical College for the Porcelain Industry, also in Selb,  until 1939, but as soon as he received his certificate of departure he was immediately called up for labor service and then drafted into military service in January of 1940.  When he returned from captivity, he joined the Hutschenreuther Art Department in 1946 but interrupted his employment there in the same year in order to complete an apprenticeship as a sculptor at the Master School for Building and Artisans in Munich.  Economic difficulties resulting from the currency reform forced him to stop, and so he returned to L. Hutschenreuther's art department in 1948, where he applied his talents as a modeller until his retirement in 1981.  Besides creating numerous vessel shapes typical of the time, Hutschenreuther also created more than 20 tableware designs and around 150 porcelain figures all based on his designs.  in 1972 he was appointed Art Director and in 1980, after the retirement of Eduard Saalfrank, he took over the management of the Design Studio.  Even after he formally retired at the end of 1981, he remained with the company as a consultant.  During Hutchenreuther's "Op-Art" production period Achtziger conducted a porcelain workshop on modern design.  He passed away in 2003.

THE HUTSCHENREUTHER PORCELAIN FACTORY was founded as a porcelain painting factory in 1814 by Carolus Magnus Hutschenreuther (1794-1845) in Hohenberg an der Eger, Bavaria, Germany.  The 15th child of Johann Heinrich Hutschenreuther, a porcelain painter and owner of the Wallendorf Porcelain Manufactory in Lichte (Wallendorf), he earned his living in his father's factory selling porcelain items such as pipe-bowls and so-called Turkish cups in eastern Bavaria and especially in the spa towns of Bohemia.
In 1814, Hutschenreuther discovered deposits of kaolin, used to make fine white porcelain, near the River Eger, and decided to manufacture porcelain himself in Hohenberg where a relative of his, Ernst Ludwig Reuß, was chief forester. Reuß made space available to him in Hohenburg Castle, and he began painting porcelain there and learning to manufacture it. In 1816 he married Reuß' daughter Johanna.
On 10 September 1816, he applied for permission to establish a porcelain manufactory in Hohenburg, and after several unsuccessful attempts, the concession to set up a kiln was finally granted on 7 November 1822. By this time, he had acquired a disused alum works, Auf der Freundschaft (Friendship), on the site of the present-day Hutschenreuther factory.  Initially, Hutschenreuther appears to have personally mixed the raw materials and overseen the firing to guard the knowledge of his process. He was also probably responsible for most of the painting and shipping. Only after a second kiln and a larger watermill were constructed, and additional porcelain decorators were hired, did the company become successful with the added sale of white wares to free-lance decorators.
The  fortunes of the company took a positive turn when it was converted into an AG (a public limited company) in 1904, and subsequently began incorporating several existing enterprises into it.  To enhance the quality of his product, Carolus solicited artists, craftsmen, and sculptors from across the European continent. Primarily focusing on quality and design, Hutschenreuther grew into a competitive firm that produced dinnerware services ideal for fine dining.  By the time of its 125-year anniversary, they had more than 2300 employees, and had become one of the largest companies of its kind.
When C.M. Hutschenreuther died at Hohenberg on 10 November 1845, His widow Johanna and his sons Lorenz and Christian succeeded him as operators of the company.  A large part of the factory was destroyed by a fire in 1848, but it was rebuilt.  
In 1857 Lorenz Hutschenreuther left to establish his own competing porcelain factory in the neighboring town of Selb, and in 1902,  reorganized as a public limited company named Porzellanfabriken Lorenz Hutschenreuther AG Selb (Lorenz Hutschenreuther Porcelain Factories Company, Selb) or simply LHS.  Hutschenreuther of Selb continued to grow by buying the assets of competing factories throughout Germany, including the assets of such producers as:
Jaeger, Werner & Co., Selb (1906)
Altrohlau (1909)
Paul Mueller, Selb (1917)
Bauscher brothers, Weiden (1927)
Tirschenreuth porcelain factory (1927)
Königszelt porcelain factory, Königszelt (today Jaworzyna  Śląska), Silesia (1928)
It was after purchasing the art division of Paul Müller in 1917, that Hutschenreuther of Selb began producing figurines.  Hutschenreuther's managing director, Emil Mundel, was the driving force behind the acquisition of Müller's assets. After acquiring sculptors and skilled laborers, Hutschenreuther began soliciting designs for its sculptures and dinnerware from the Selb Technical School of Porcelain. By 1926, the art division of the company had won wide acclaim and its porcelain figurines were highly sought after.  Hutschenreuther produced many of its most famous patterns throughout the first half of the 20th century, including Racine (1900), Richelieu (1929), Blue Onion (1930) and Maple Leaf (1940).
Lorenz marketed his dinnerware services very aggressively, and Hutschenreuther in Selb ultimately became the more notable of the two factories as a result of its managers' business savvy. They became the first German firm to be able to compete with such companies as Haviland and Wedgewood.  At no point in its history did Lorenz establish a partnership with his family, and the two companies would remain fully independent and in open competition with each other for more than a century.
With the end of WWII, both competing Hutschenreuther factories had lost much. The Hohenberg factory lost all its plants located in the eastern part of Germany as well as the plants in the areas that fell to Poland and the CSSR.  The company was reduced by 80%.  The Selb factory also faced a barrage of war related restrictions and the loss of its mines in Fischern near Karlovy Vary, but by the mid 1950s, Hutschenreuther Hohenberg was able to expand its plants in Hohenberg and Arzberg to document more than 1100 employees, and  Hutschenreuther Selb quickly reached its old significance counting around 3,000 employees in its plants by the middle of the decade.  The art department, which was established in 1917, also played an important role in the 1950s. As shape and decor designers of this time produced many of the company's most notable creations.  The work of artists such as Hans Achtziger, Hildegard Gruinseiser, Christian Modrack and Rudolf Lunghard deserve special mention.
By 1969, the company expanded to include several more factories. During that same year, the assets of Carolus Magnus Hutschenreuther's 1814 company were purchased by Hutschenreuther of Selb. After more than a century of competition, the two companies became one. The newly united company continued producing porcelain figurines and fine bone chine. Today, the company uses the lion and circle as their trademark and continues to produce sculptures, ornaments, and dinnerware.
It was during 1969, that LHS purchased the assets and took over Carolus Magnus Hutschenreuther's 1814 company after over a century of competition. The new consolidated company continued to produce fine bone china and porcelain figurines.  In 1972, the company merged with Kahla AG, and in 2000, Hutschenreuther became part of the Rosenthal division of the Waterford Wedgwood Group, but retained the Hutschenreuther "lion insignia" which still stands as a symbol of excellence that continues to this day.
| | |
| --- | --- |
| Manufacturer | Hutschenreuther |
| Design Period | 1960 to 1969 |
| Year of Production | |
| Production Period | 1960 to 1969 |
| Country of Manufacture | Germany |
| Identifying Marks | This piece has an attribution mark |
| Style | Vintage, Mid-Century, Scandinavian Modern, Minimalist, Modernist |
| Detailed Condition | Excellent — This vintage piece is in near original condition. It may show minimal traces of use and/or have slight restorations. |
| Product Code | |
| Materials | Porcelain |
| Color | White |
| Width | 3.8 inch |
| Depth | 2.0 inch |
| Height | 10.3 inch |