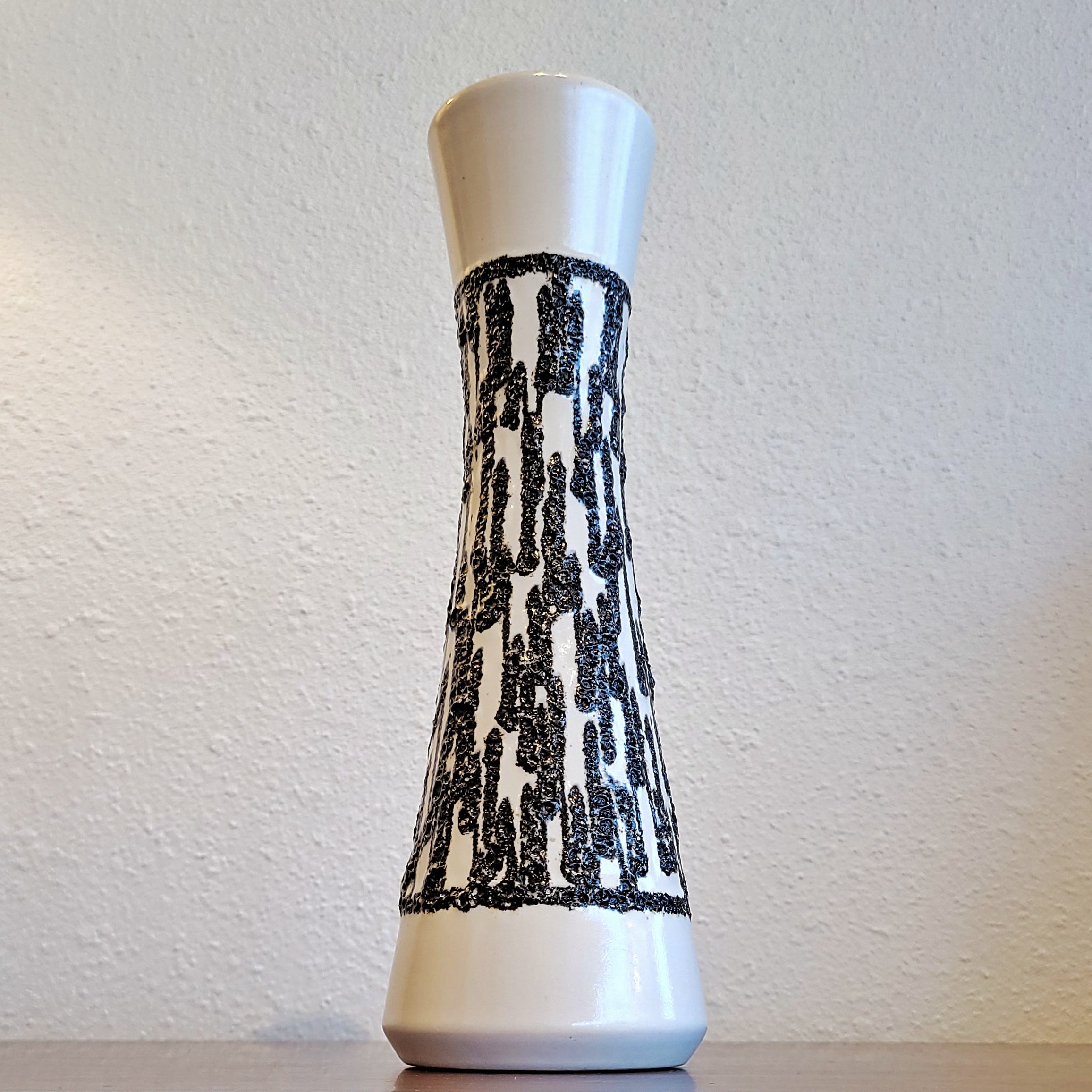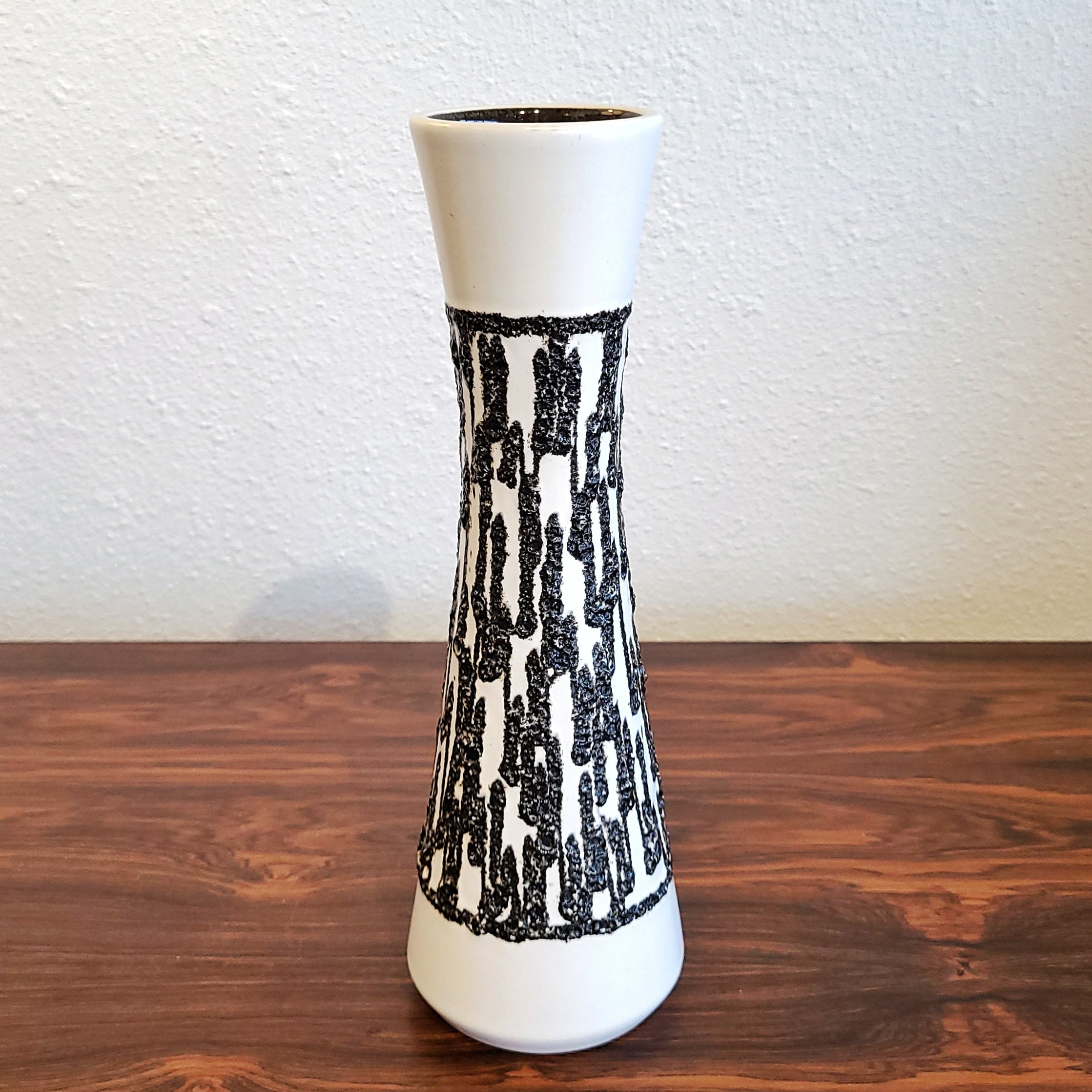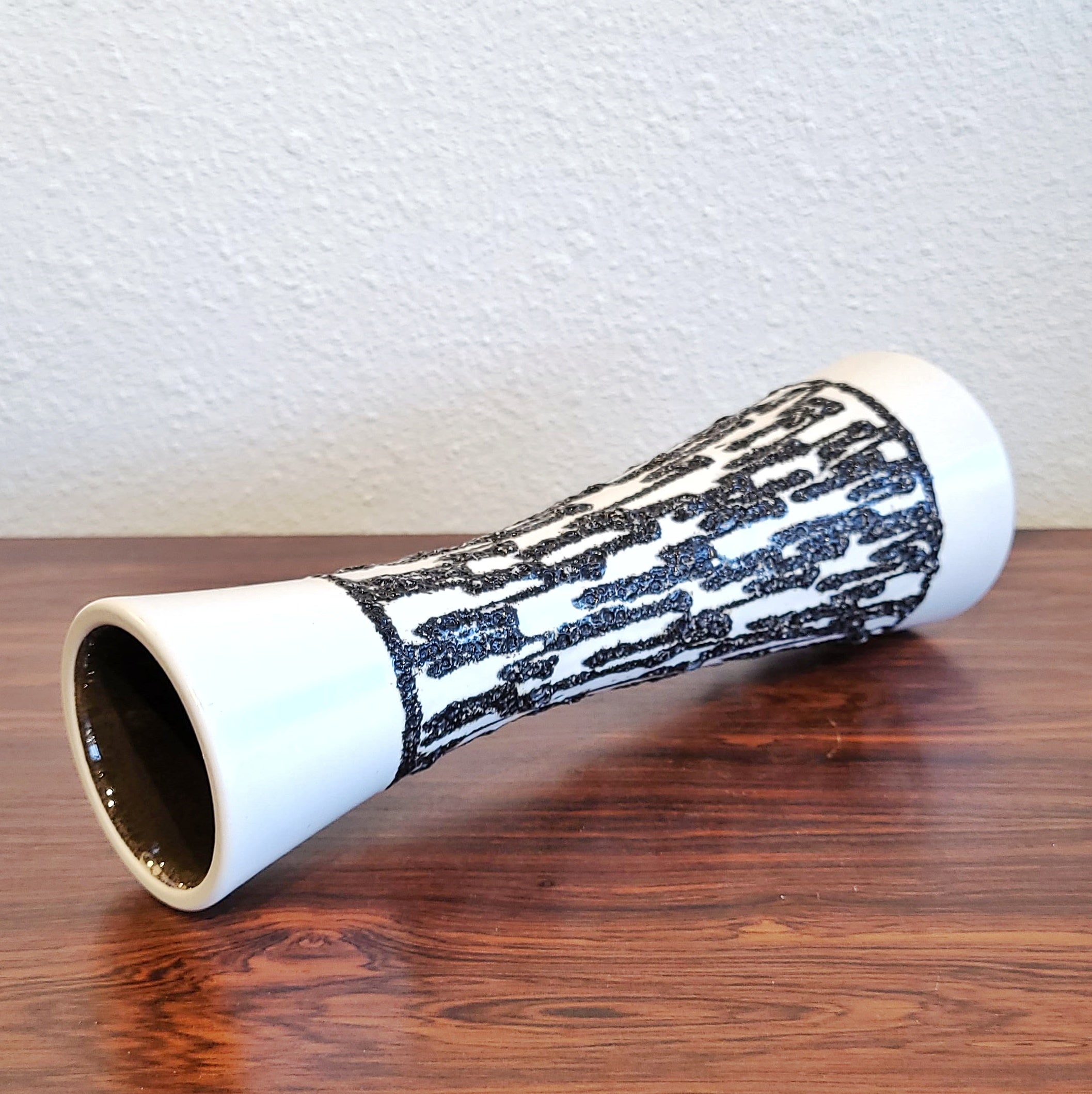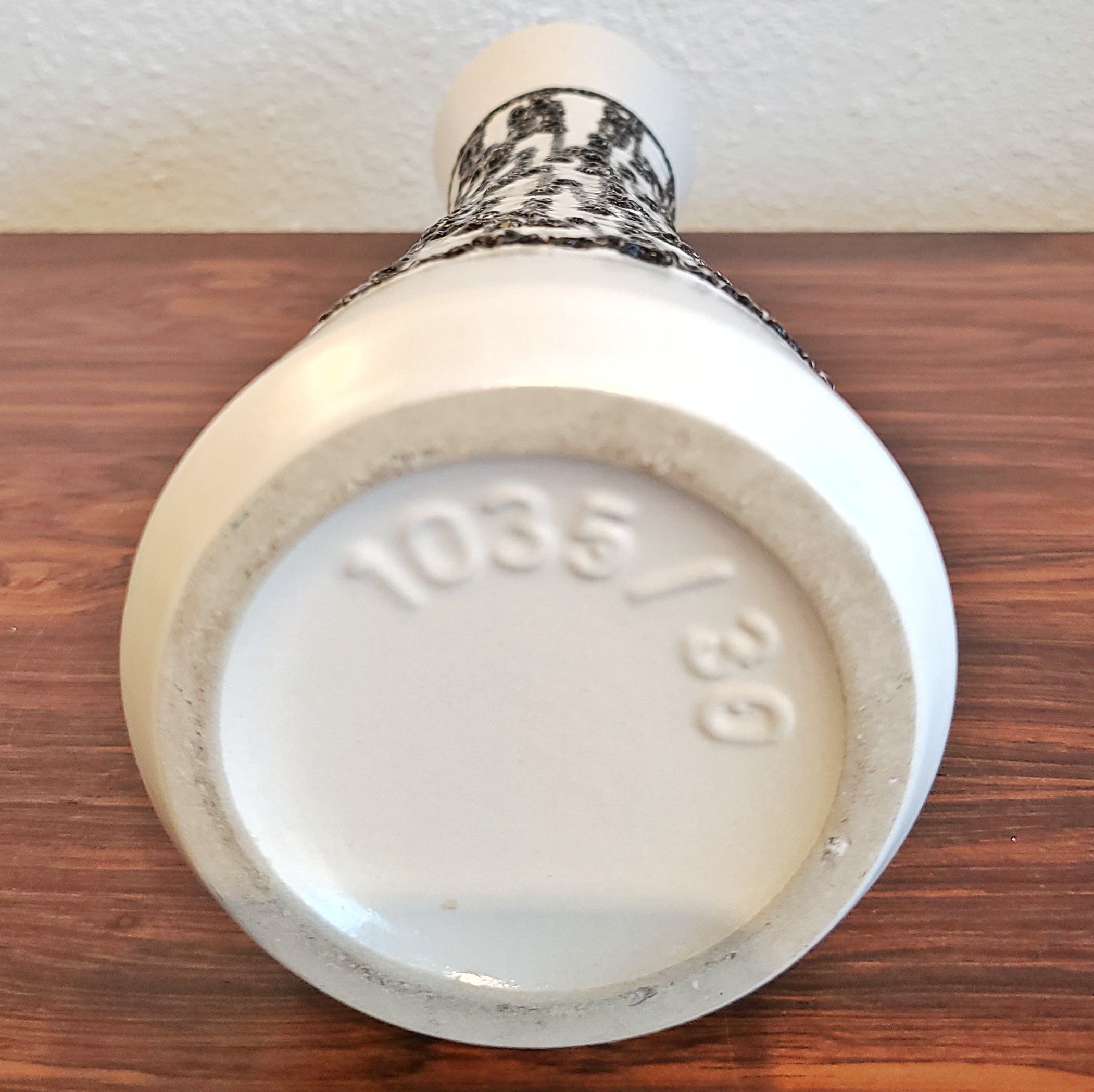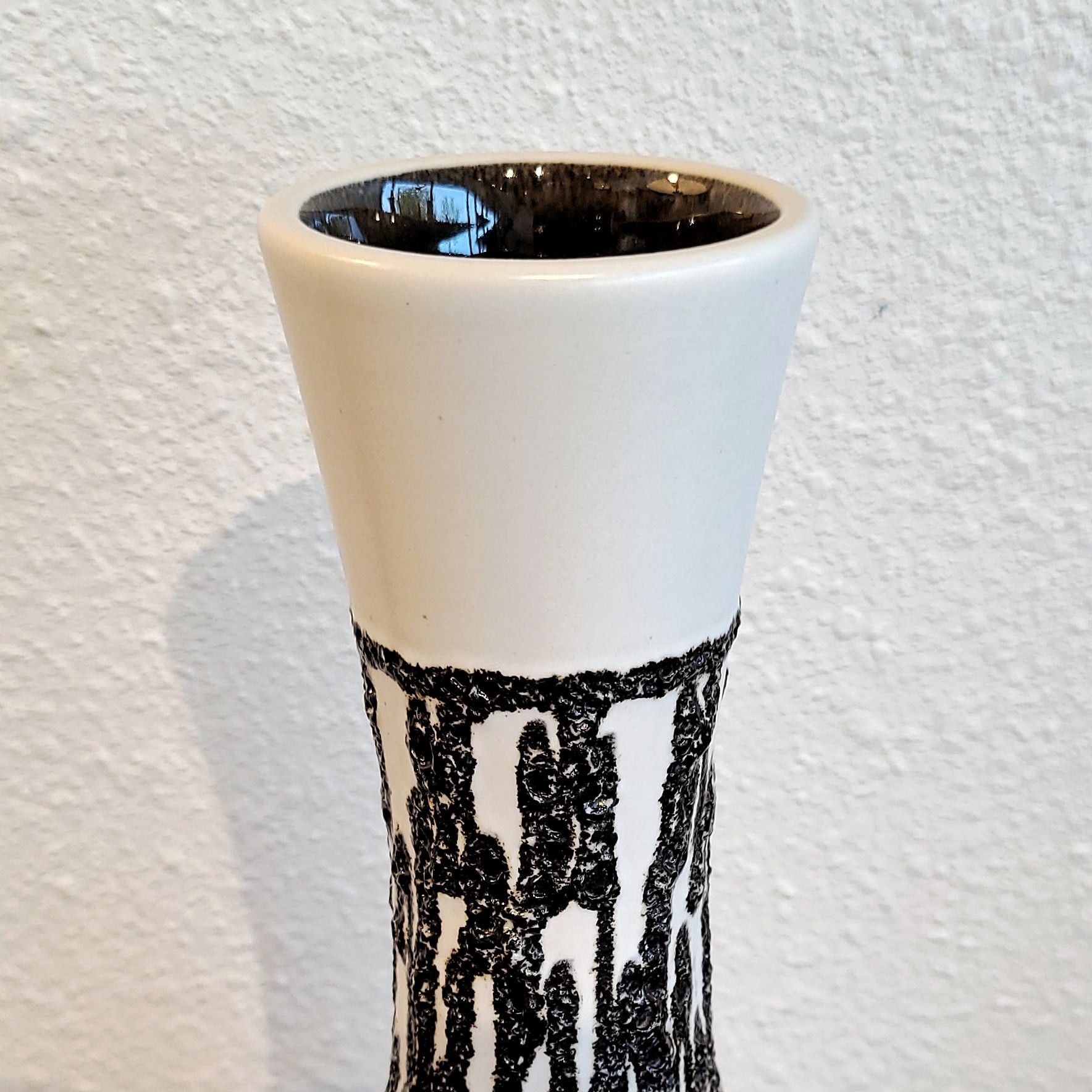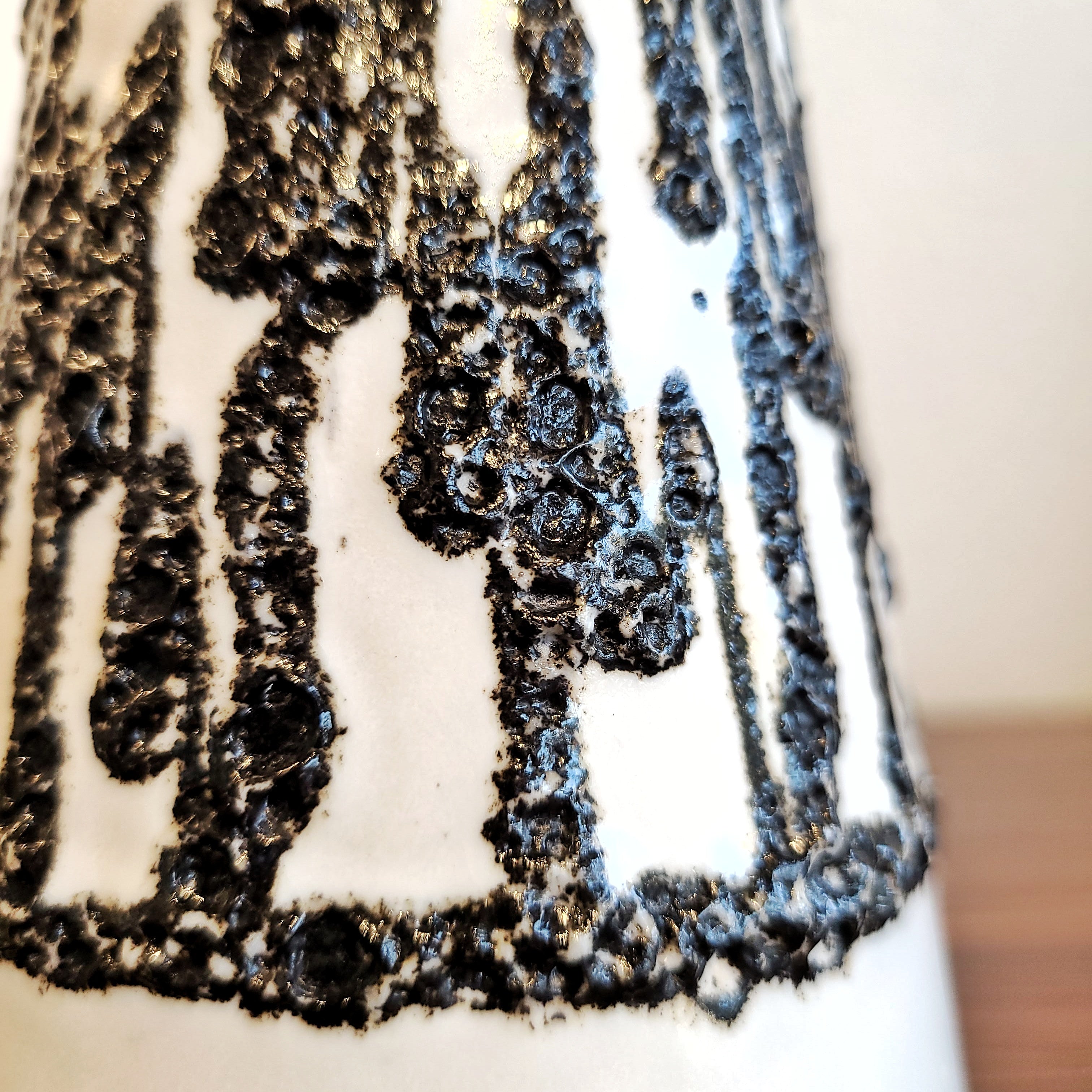 SLIM WAISTED ILKRA EDELKERAMIK VASE Nr. 1035/30
CONTACT US HERE ABOUT THIS ITEM.
An elegant slim waisted vase in white with a black interior and a decorative relief pattern in a black volcanic glaze from Ilkra Edel Keramik.  1960s
ILKRA KERAMIK (aka ILKRA EDEL KERAMIK) was founded by Jacob Leopold Knödgen in 1892 in Ransbach-Baumbach in the Rhineland as Erste Ransbacher Feinsteinzeug-Fabrik J.L. Knödgen.  Knödgen's father owned a vitrified clay factory in nearby Höhr, but his son chose to strike out on his own.  The initial production program included typical Westerwald products:  beer steins, wine jugs, and dishes.  After WWII, the range of decorative ceramics was greatly expanded, largely on the initiative of Knödgen's son Richard, who took over the company in 1936.  Around this time the company's name was shortened to JLKRA, an initialism of the company founder's name and its location —Jacob Leo Knögden, RAnsbach—or the more easily pronounced ILKRA.  (Both spellings are documented in business literature; the latter is generally preferred today.)  In the years leading up to 1955 and especially afterward, ILKRA ceramics were characterized by elaborate and colorful décors.  Designers of the period included Ernst Werner, Richard Knögden's son-in-law; Josef Koch; and Edmund Peter.  ILKRA was one of several companies that produced special pottery lines for Guido Riffarth, one of the most important German wholesalers of ceramics in the mid century.  Riffarth supplied vases and planters to almost all of the flower shops in the old federal territory; its products were offered under the labels Ri-Keramik and Riffrath-Keramik.
Upon Richard Knödgen's death in 1969, the company was left in the hands of his son Leo.  Sales of decorative ceramics were declining by the end of the '60s, and ILKRA switched to the exclusive production of planters in 1970.  The concern was sold to Römertopf Keramik GmbH & Co in 1995, who used its factory to manufacture ceramic kitchenware.  Römertopf remains in business to this day.
| | |
| --- | --- |
| Manufacturer | ILKRA EDEL KERAMIK |
| Design Period | 1960 to 1969 |
| Production Period | 1960 to 1969 |
| Country of Manufacture | Germany |
| Identifying Marks | This piece has been attributed based on archival documentation, such as vintage catalogs, designer records, or other literature sources |
| Style | Vintage, Mid-Century, Minimalist, Modernist |
| Detailed Condition | Excellent — This vintage piece is in near original condition. It may show minimal traces of use and/or have slight restorations. |
| Product Code | |
| Materials | Ceramic |
| Color | Black, white |
| Width | 3.8 inch |
| Depth | 3.8 inch |
| Height | 11.5 inch |