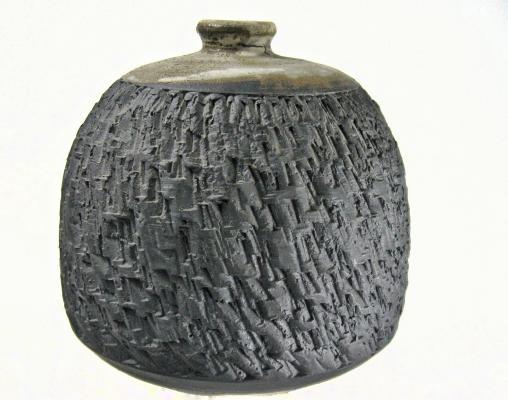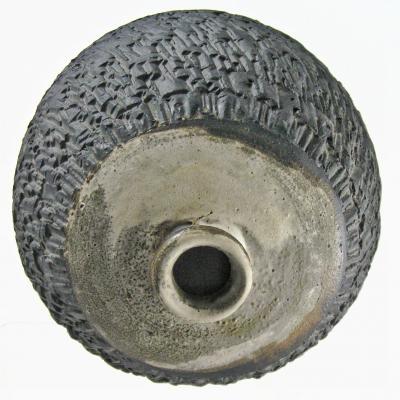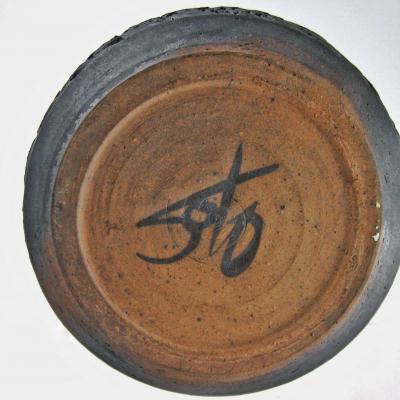 1970s ISHMAEL SOTO STONEWARE VESSEL
CONTACT US HERE ABOUT THIS ITEM.
This stoneware vessel was created by renowned Texas artist Ishmael Soto.  Masterfully thrown and altered, it features exciting tactile qualities.  Soto worked with a variety of materials since the early 1950s and consistently demonstrated a singular proficiency with all of them.  His ceramic pieces exhibit great variety and are much sought after.  This piece bears a hand-written signature on the base.
ISHMAEL SOTO was born in Austin, Texas, on February 28, 1932.  He received his Bachelor of Fine Arts from the University of Texas at Austin in 1958 and, in 1960, his Masters from the famed Cranbrook Academy of Art in Bloomfield Hills, Michigan.
From 1964 to 1968, Soto worked as a pottery instructor in at the San Antonio Art Institute in San Antonio, Texas.  From 1968 to 1974, he was an Assistant Professor of Art at the University of Texas at Austin, teaching concurrently at Austin's St. Edwards University.  From 1976 to 1977 Soto served as the Artist-in-Residence at the Alabama Coushatta Indian Reservation in Livingston, Texas.  Beginning in 1977 Soto presented numerous private workshops at various locations around the US including the Haystack Mountain School of Arts and Crafts in Deer Isle, Maine; the Penland School of Arts and Crafts in Penland, North Carolina; and the Arrowmont School of Arts and Crafts in Gatlinburg, Tennessee.  In 1986 he became an Adjunct Professor of Art at the Rio Grande Campus of Austin Community College.  There he taught beginning and advanced pottery classes as well as three-dimensional design and figure drawing.
Soto was the recipient of many awards for his pottery and sculpture.  He maintained his own studio production in the Texas municipalities of Austin, Westlake, and Blue from 1960 until his death in 2017 at age 84 following a long struggle with cancer.  His work is widely collected.
Production Period – 1970-1979
Country of Origin – USA
Designer – ISHMAEL SOTO (1932-2017)
Attribution – MARKED
Materials – STONEWARE
Colors – DARK GRAY
Condition – VERY GOOD (no defects; may show slight traces of use)
Height (cm) – 18.0
Diameter (cm) – 18.0