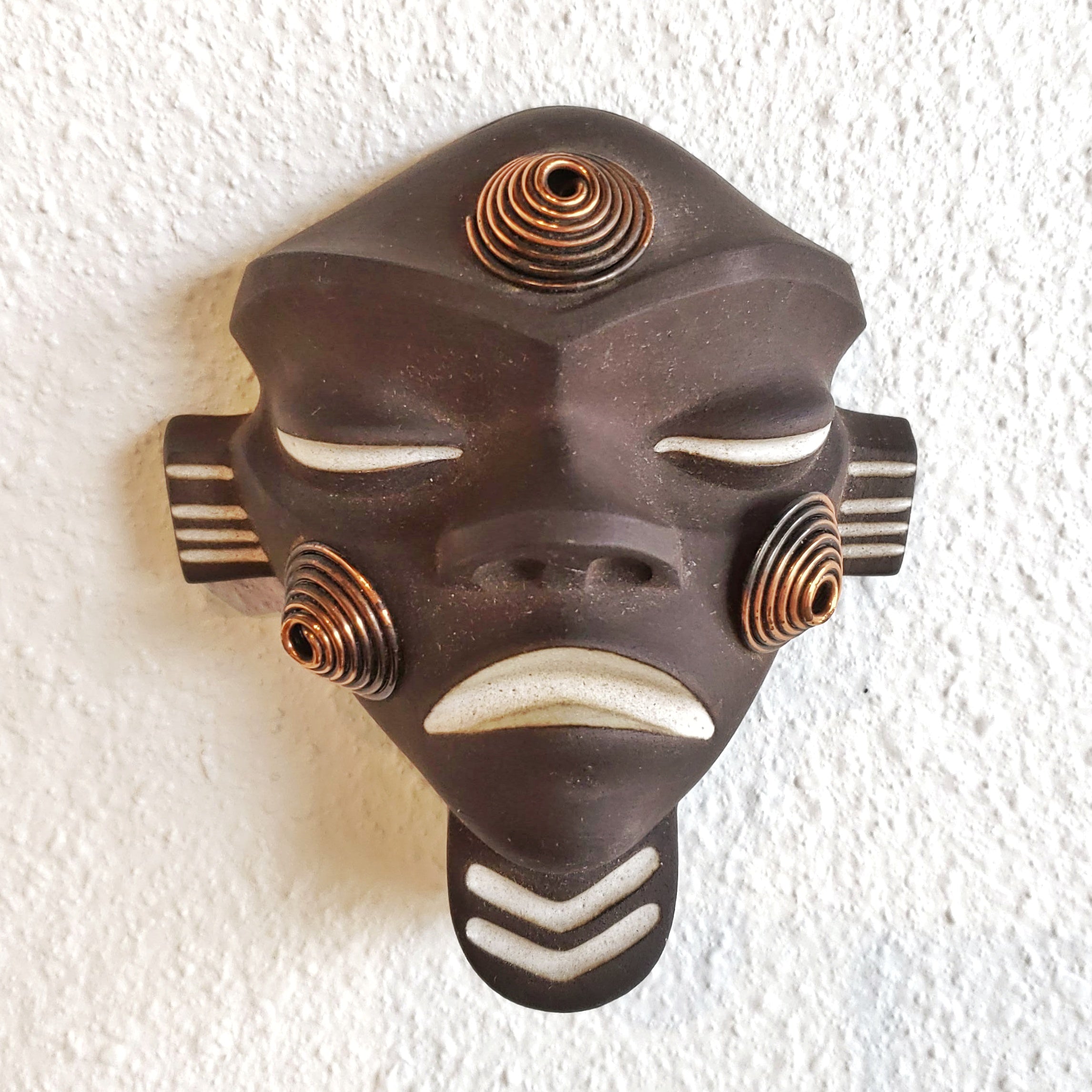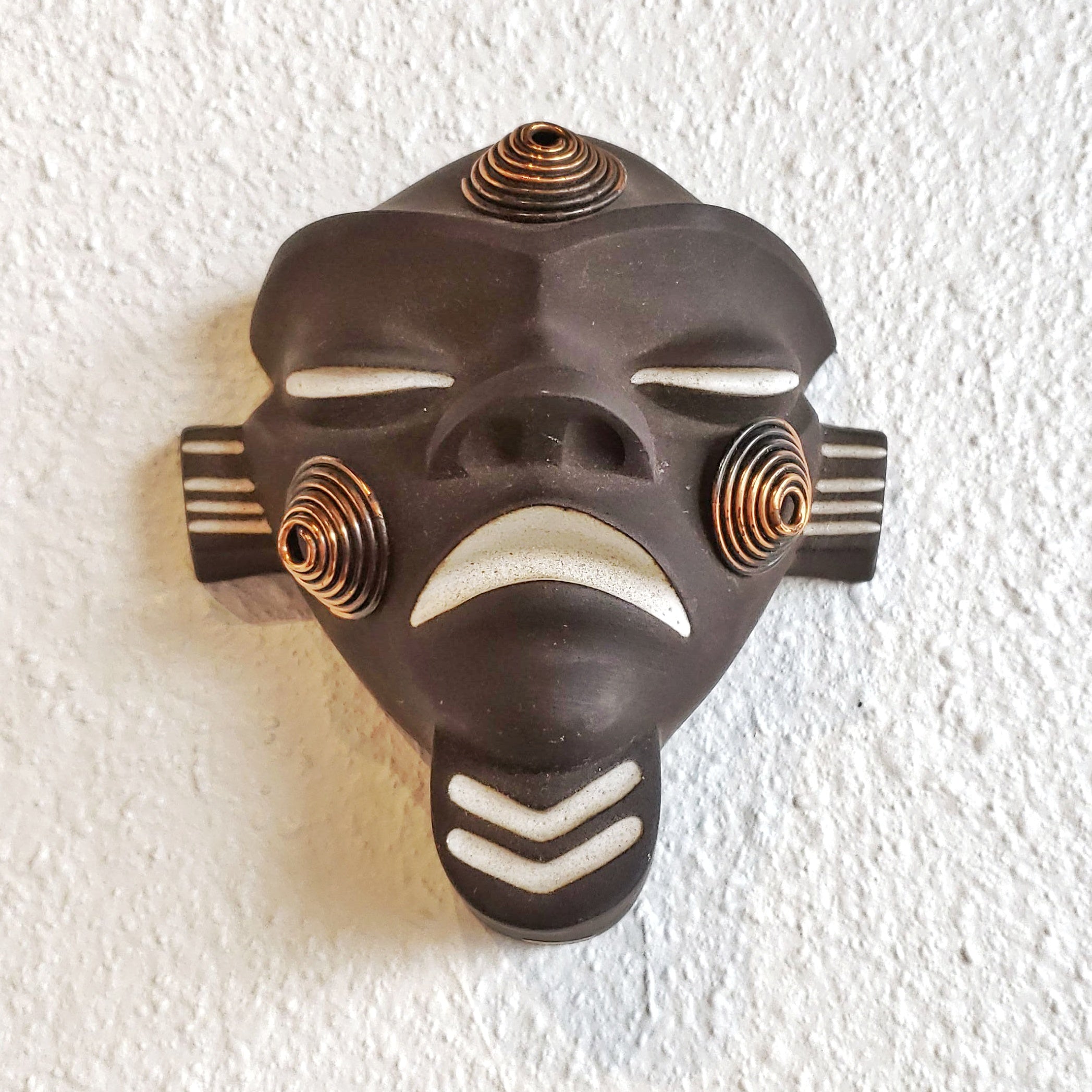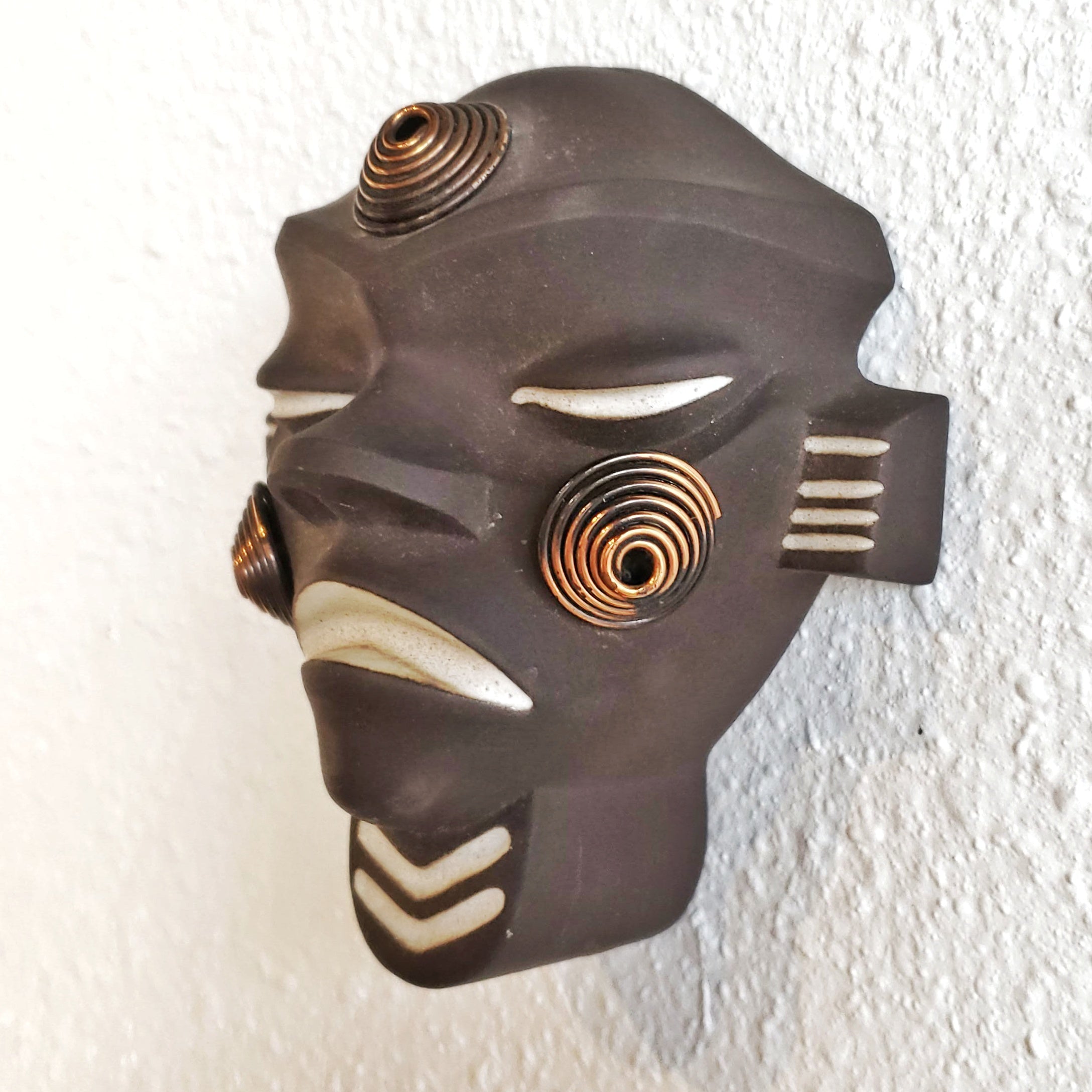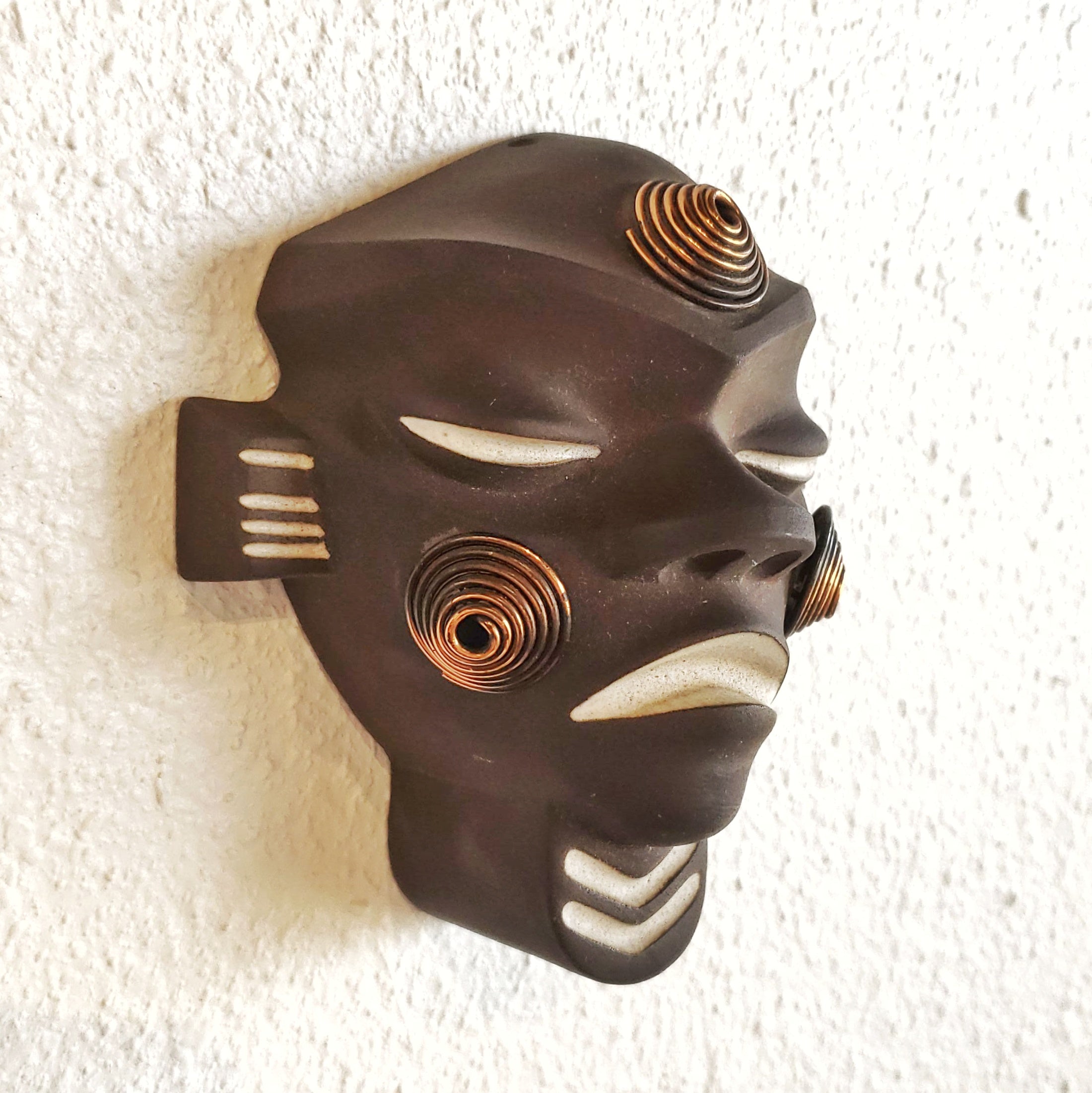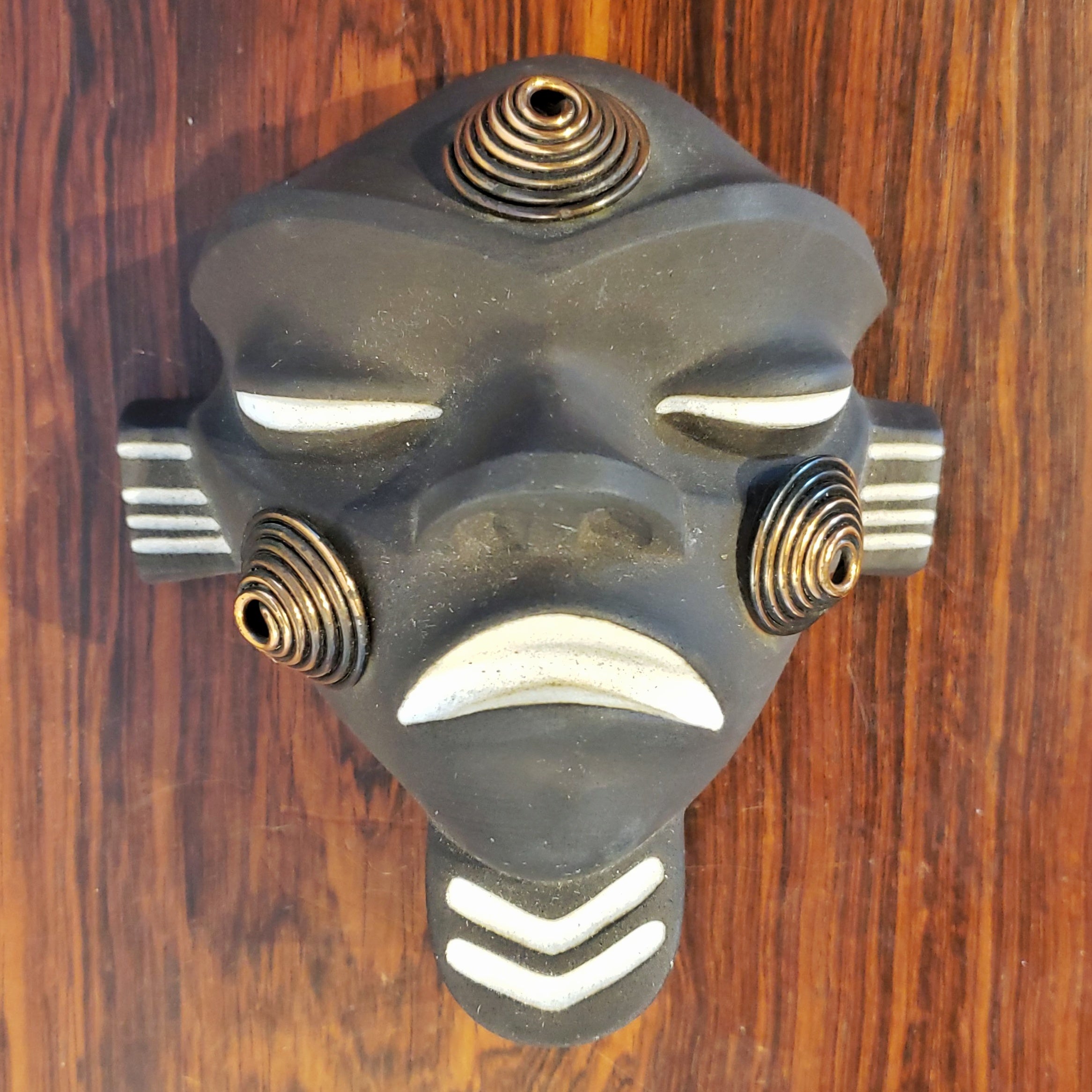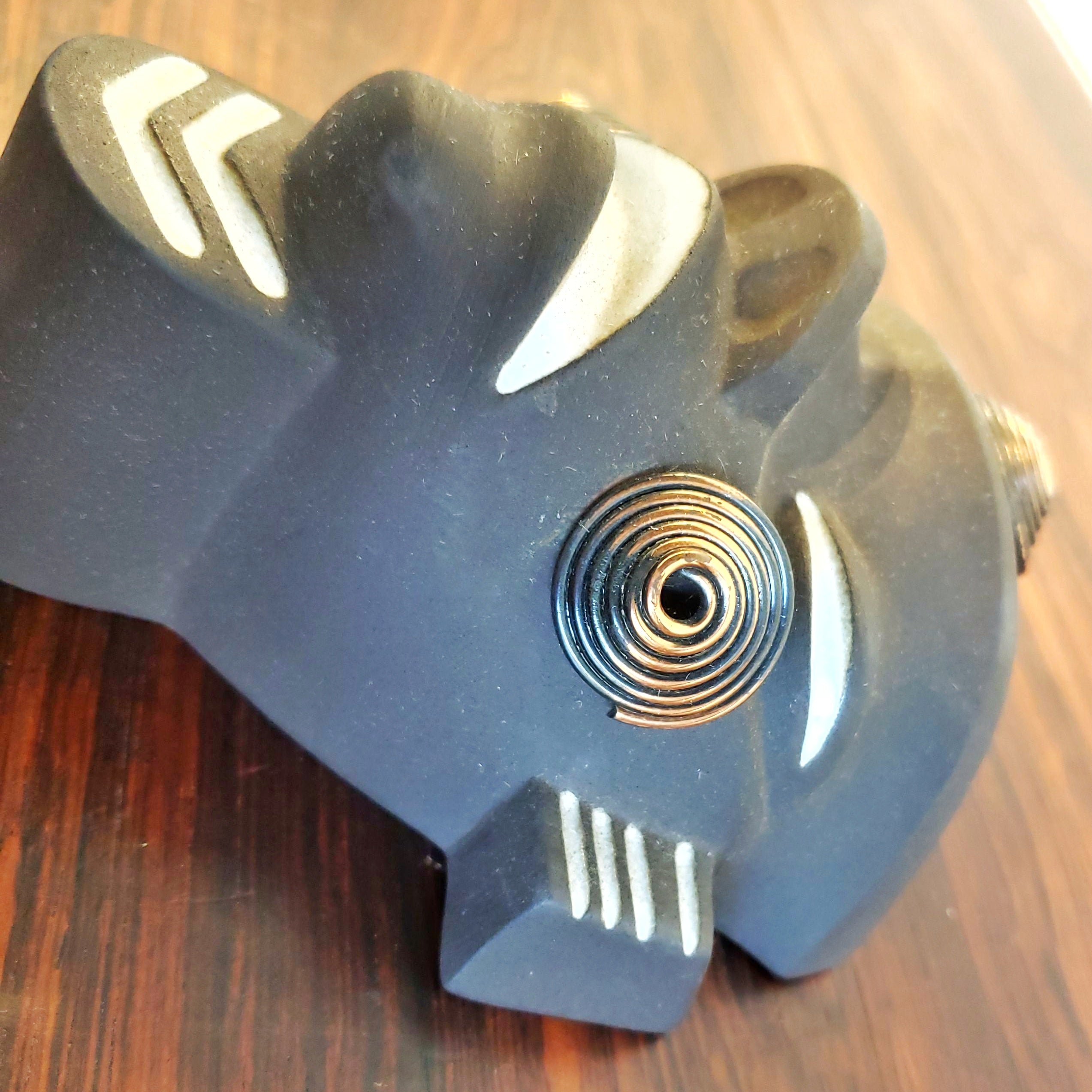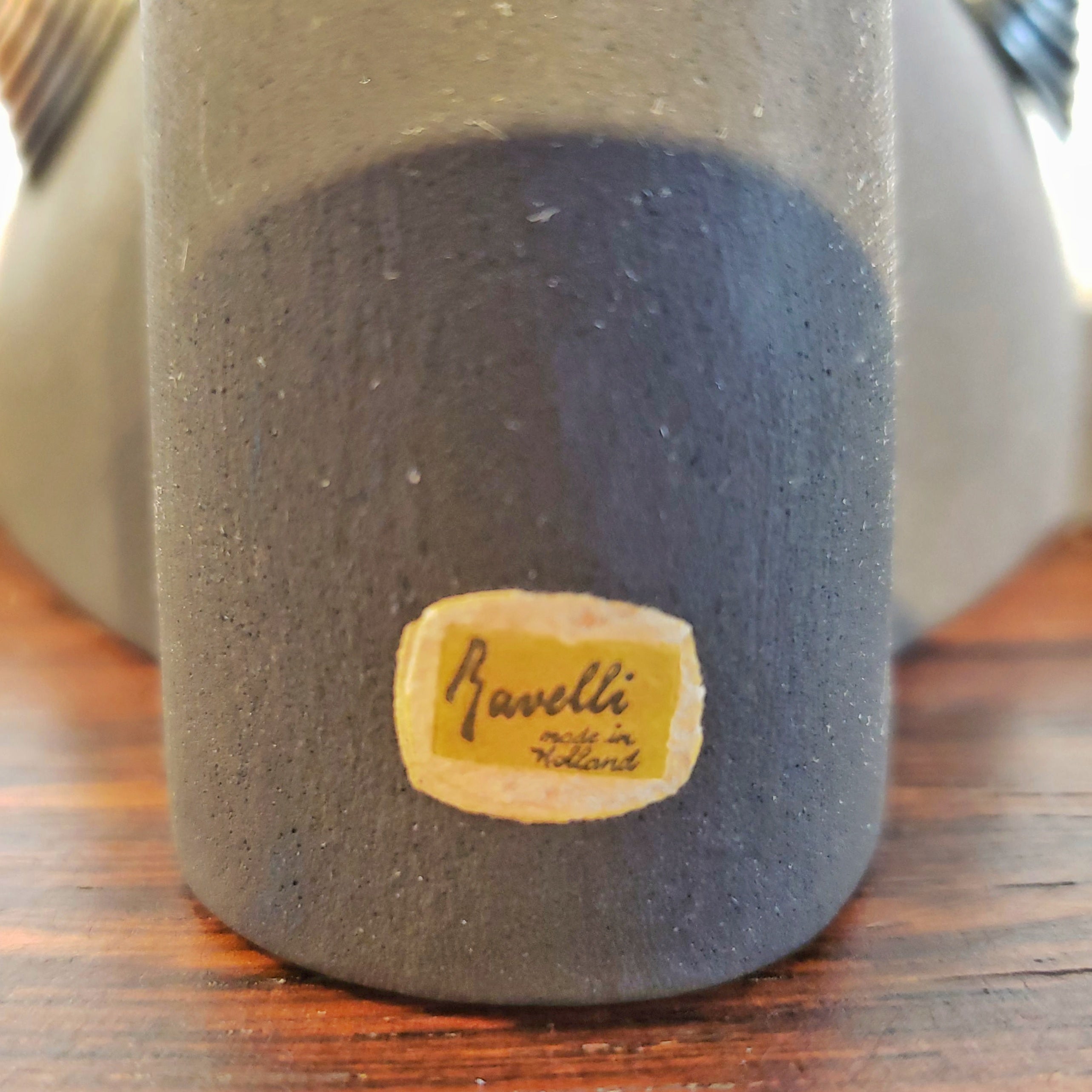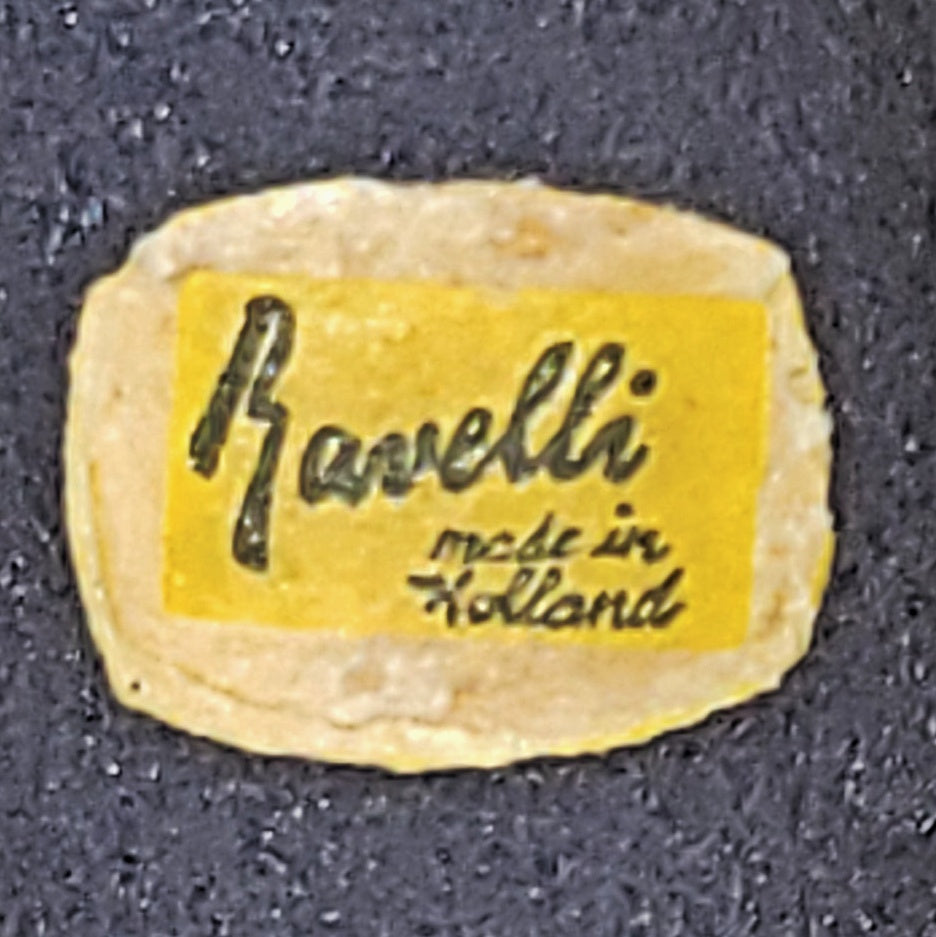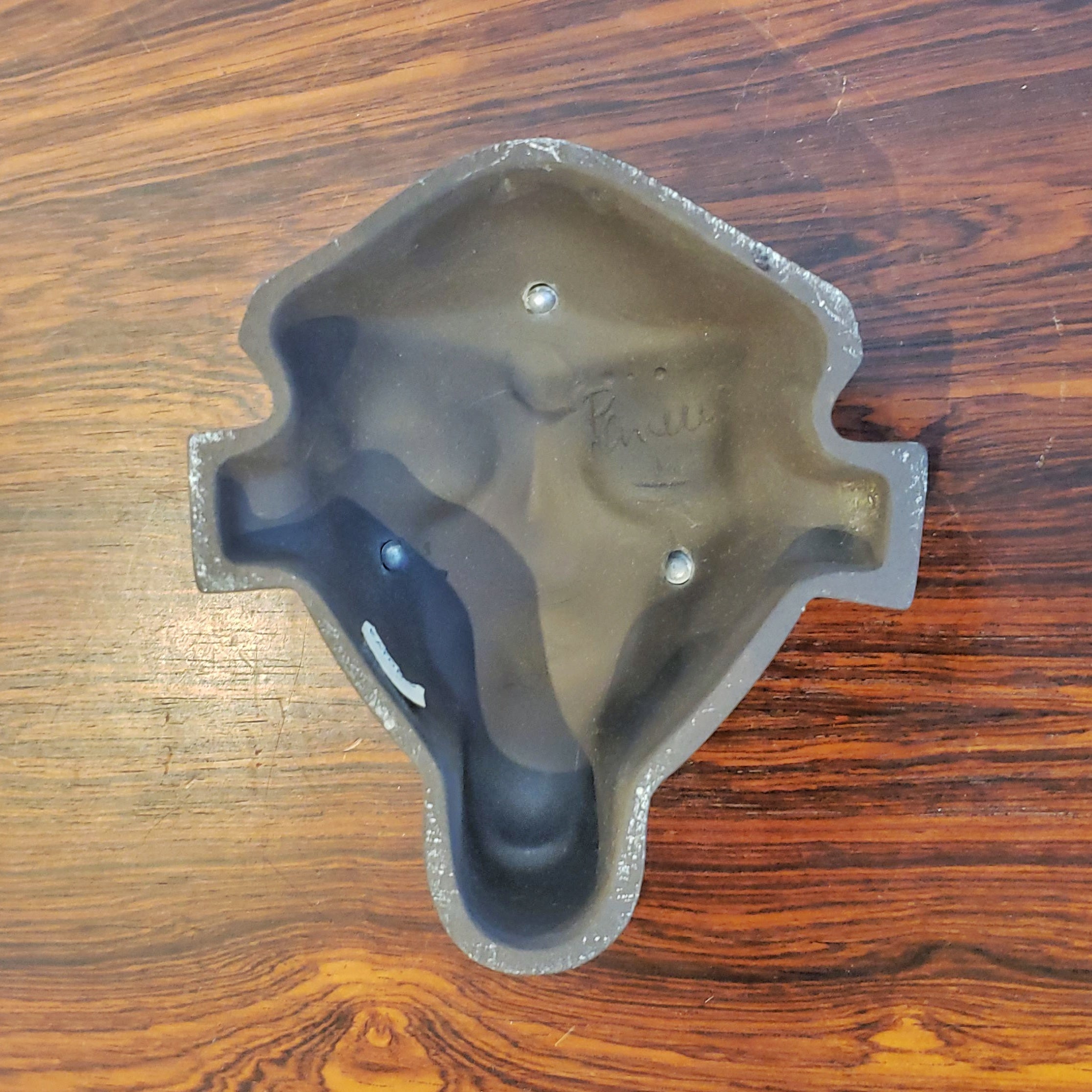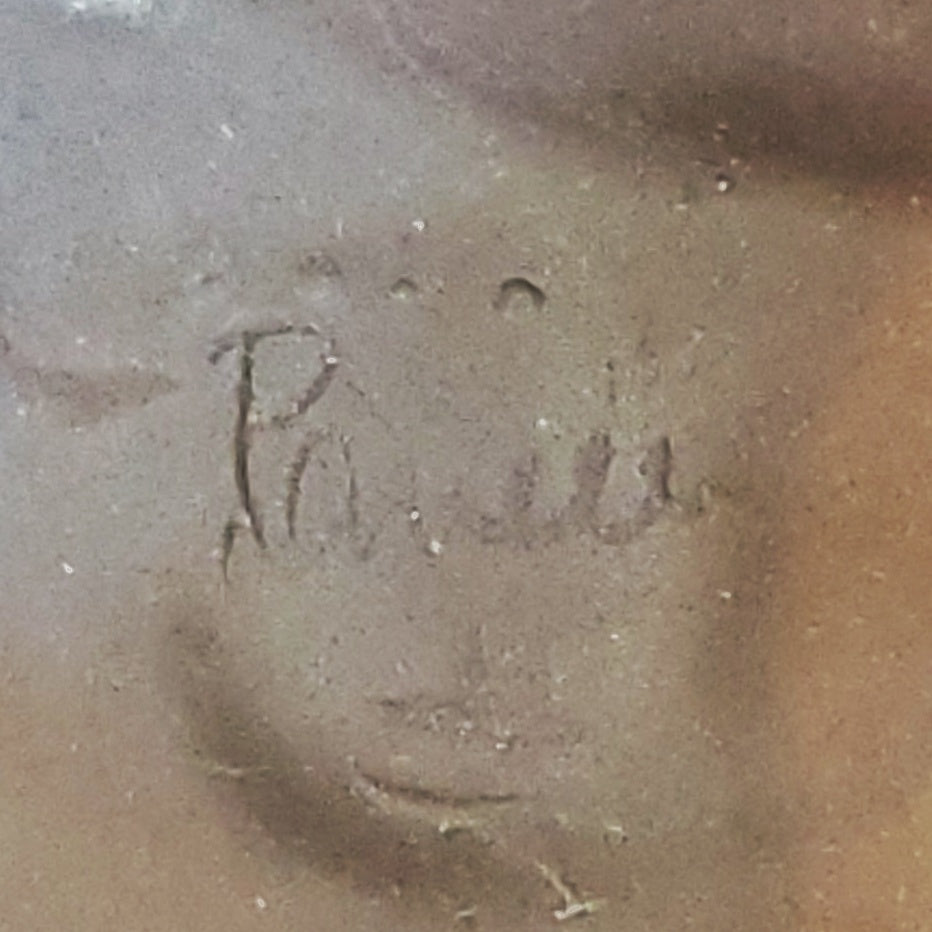 JAAP RAVELLI STYLIZED AFRICAN WALL HANGER c.1950s
CONTACT US HERE ABOUT THIS ITEM.
A very rare stylized native African wall hanger in unglazed dark brown clay with white detailing and coiled copper wire decorations by Dutch ceramicist Jaap Ravelli. These don't turn up very often, and this on is in excellent vintage condition. It retains its original label and is signed in the clay.

RAVELLI POTTERY (1947-1977) was founded by Jaap Ravelli in Valkenburg (ZH) shortly after the end of WWII. The ceramics produced there are without a doubt some of the most recognizable in Dutch ceramics history of the twentieth century. Ravelli's company was responsible for a large number of mostly serially produced articles which played a major role in defining the design aesthetic of the post-war Netherlands. He was born in 1916 in Princenhage, and In his youth spent a few years in the Dutch East Indies and a few years in Curaçao. After training at the National Institute for Art Teachers in Amsterdam and a year at the Royal Academy of Art in Amsterdam, Jaap, together with his brother Dick (1919-1980), took the first steps in the early 1940s in the field of ceramics. At the start, they bought tiles from the Oosthoek roof tile factory and painted them to sell out of a studio on the Breestraat in Leiden. During the war, a building was rented in which a peat furnace was built and used to fire their own pottery. The first products were made here between 1946 and 1947, after which the company moved to Valkenburg where the 'Potterie Ravelli' was born. Jaap became the driving artistic force, while Dick dealt with business operations in the background.

Shortly after the war, there was a great need for consumer goods. This led to a proliferation of companies that produced products of varying quality with varying success. Potterie Ravelli also initially focused on crockery and simple vases. Because both owners had no experience in the ceramic field, many things had to be discovered and further developed along the way. In retrospect, one could say that the fact that the company developed in a non-conformist, non-traditional way may have been one of the most important factors in their success. Pretty soon, the emphasis o production shifted to better floristry and gift items, often packed in wooden boxes. The black and white figurines of animal and human figures in particular testified to the very innovative character of Jaap Ravelli as an artist. The growing prosperity in the 1950s ensured a favorable climate where design and originality matched perfectly. Ravelli's products were especially met with great popularity abroad in places such as Germany, Australia, England and the United States. Potterie Ravelli's success in the 1950s did not go unnoticed. His original products were soon copied by other companies, but without ever approaching the quality of the originals. In the 1960s, the emphasis of production was more on vases and bowls, in particular the 'Incara' (a combination of Inca and Ra) and 'Birch Bark' pottery have left a lasting impression. A little later came the 'Sang de Boeuf' and turquoise glazes. Among the last successful products to emerge from the factory were the "Keramobiles", hanging containers intended for plants, but these were also quickly copied, leading Ravelli to instead have the planters made in plastic.

The boom of post-war ceramic production in the Netherlands gradually came to an end in the 1960s, mainly as a result of fierce competition from abroad. Potterie Ravelli also had a hard time and had to close its doors in 1977. What was left behind was a fascinating history of three decades in which he had played a very important role in the field of design and home furnishings. It is not without reason that the Ravelli pottery has been very popular among collectors for years.

After closing his business, Jaap Ravelli still continued to make mostly unique ceramics for a long time. He died on April 1, 2011, at the age of 94
| | |
| --- | --- |
| Designer | Jaap Ravelli |
| Manufacturer | POTTERIE RAVELLI |
| Design Period | 1950 to 1959 |
| Production Period | 1950 to 1959 |
| Country of Manufacture | Netherlands |
| Identifying Marks | This piece has an attribution mark |
| Style | Vintage, Mid-Century, Modernist |
| Detailed Condition | Excellent — This vintage piece is in near original condition. It may show minimal traces of use and/or have slight restorations. |
| Product Code | |
| Materials | Ceramic, Copper |
| Color | Brown, copper, white |
| Width | 4.5 inch |
| Depth | 2.5 inch |
| Height | 5.0 inch |