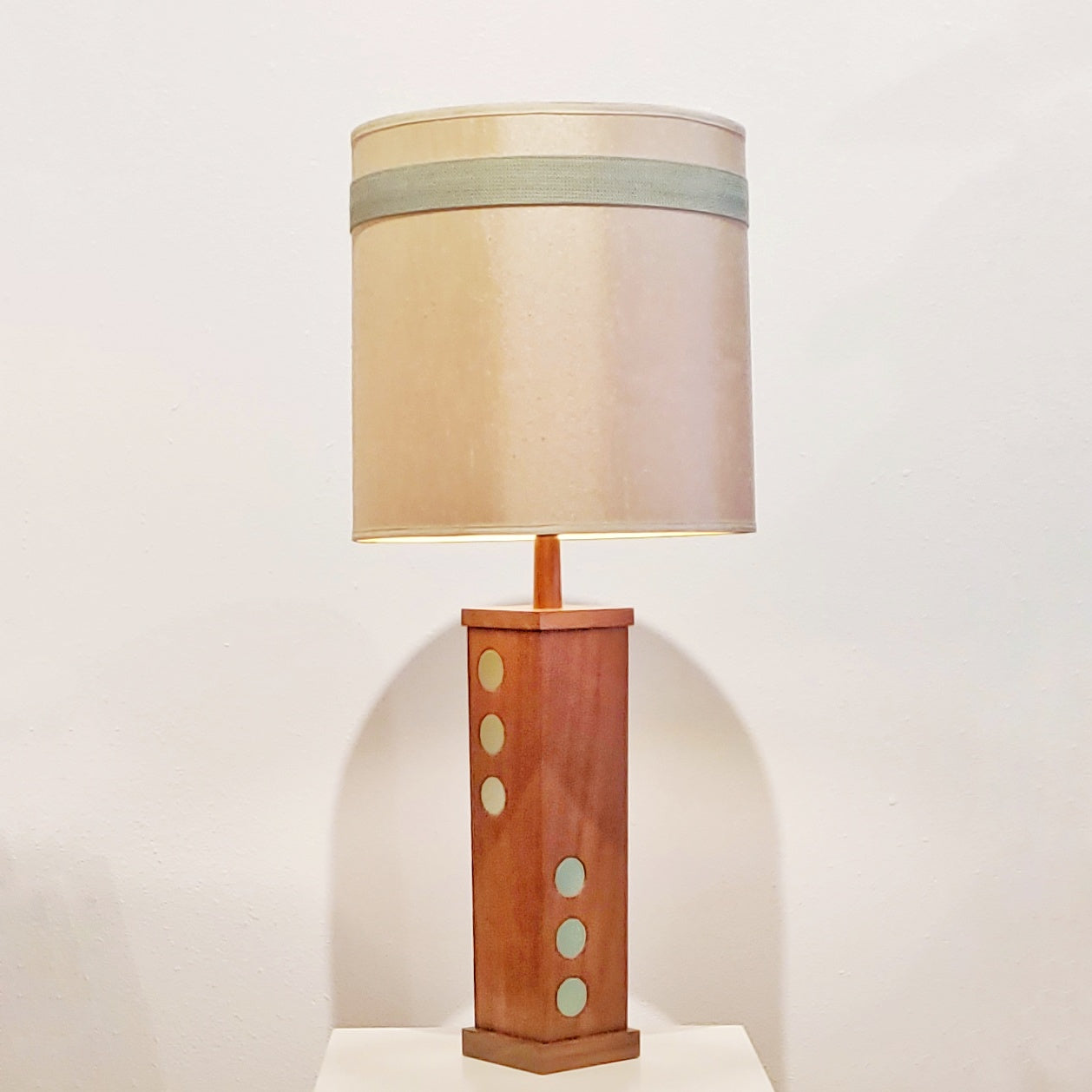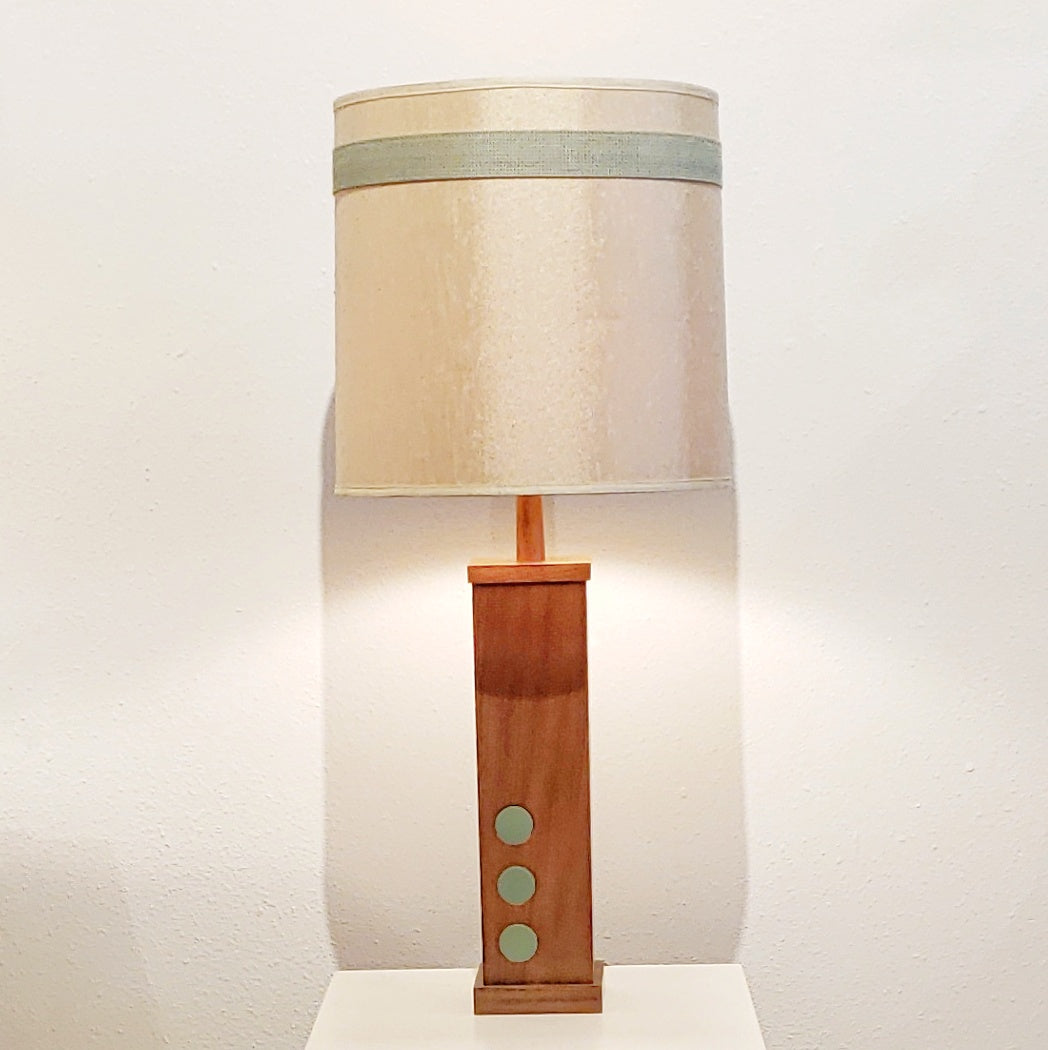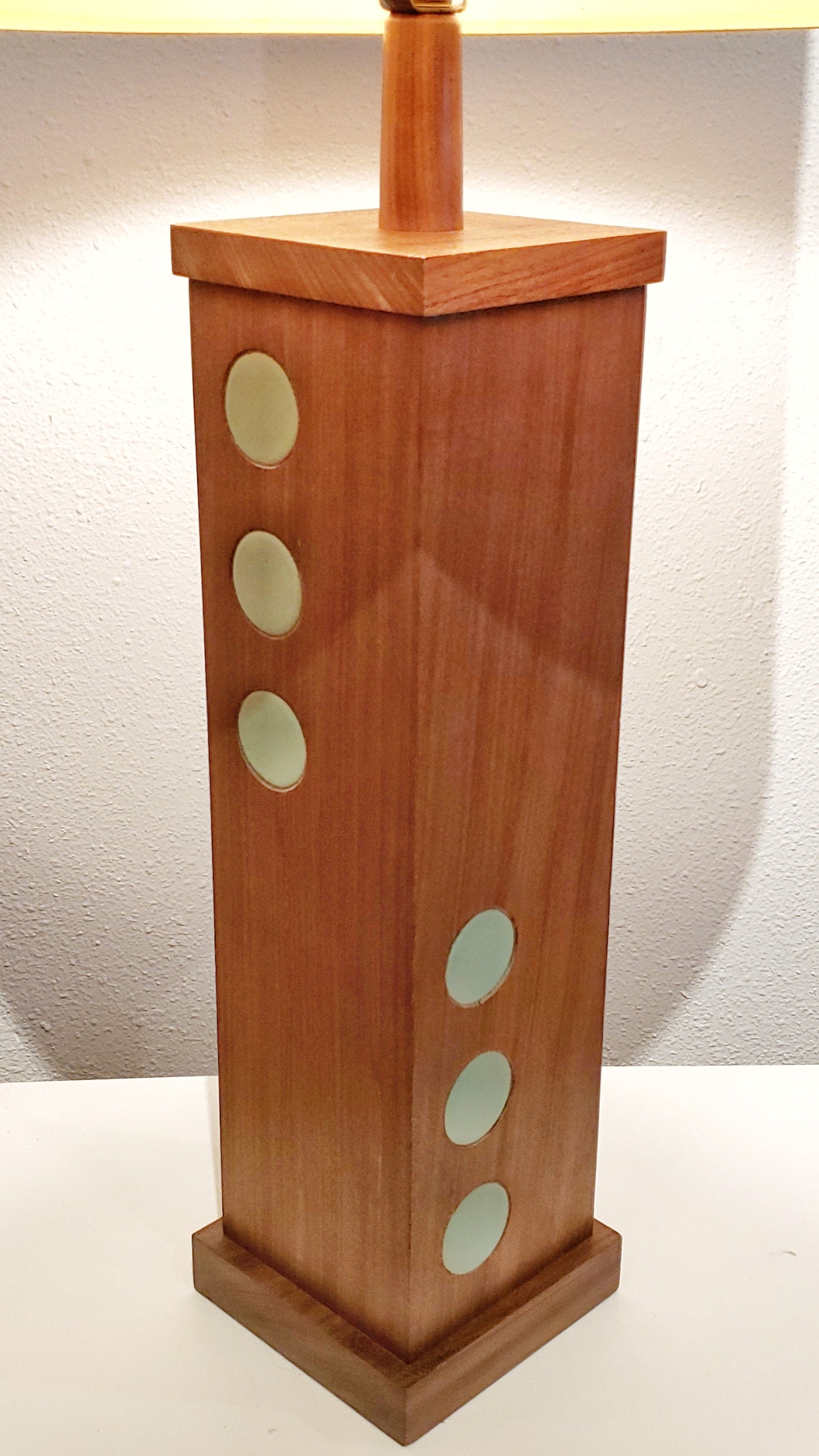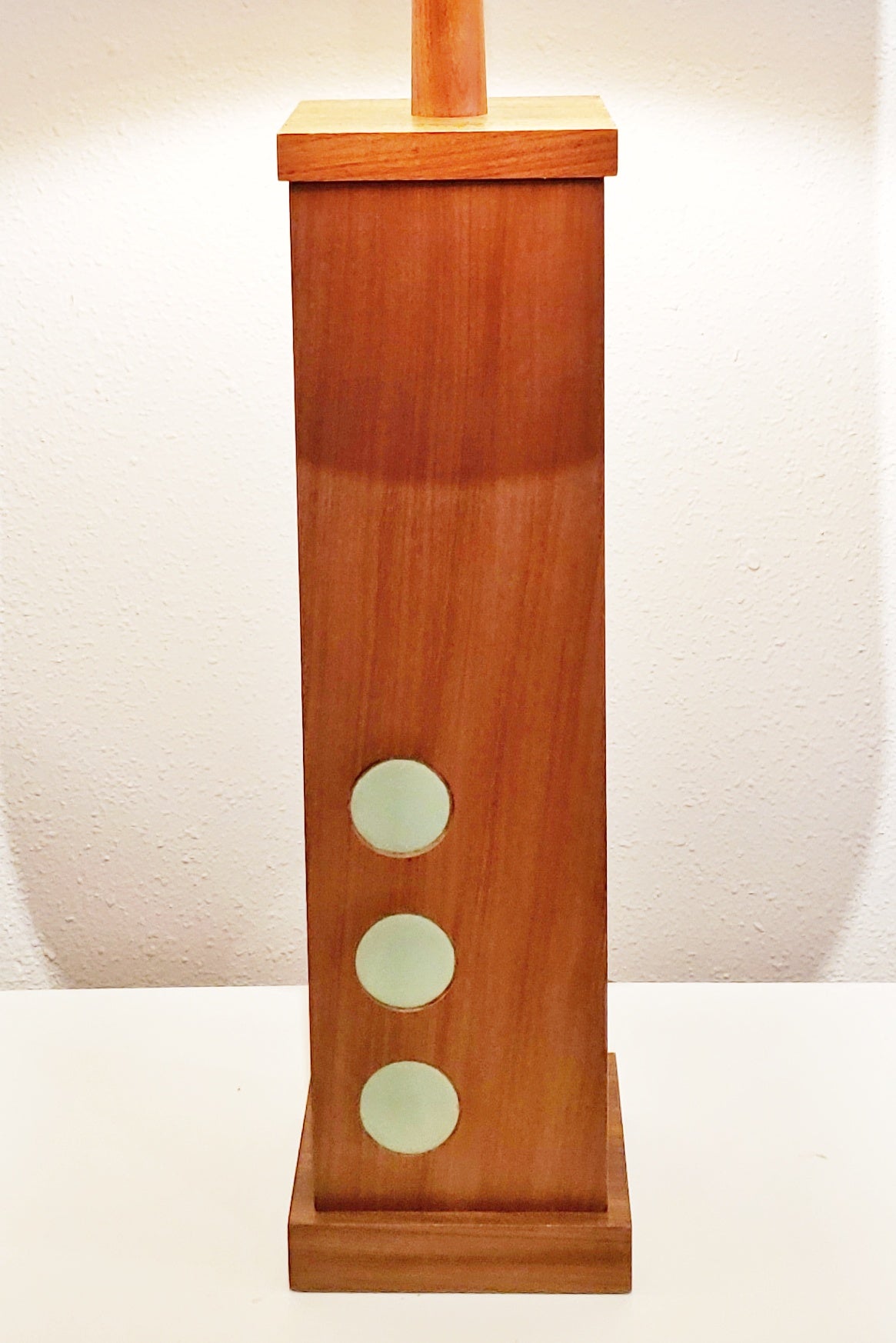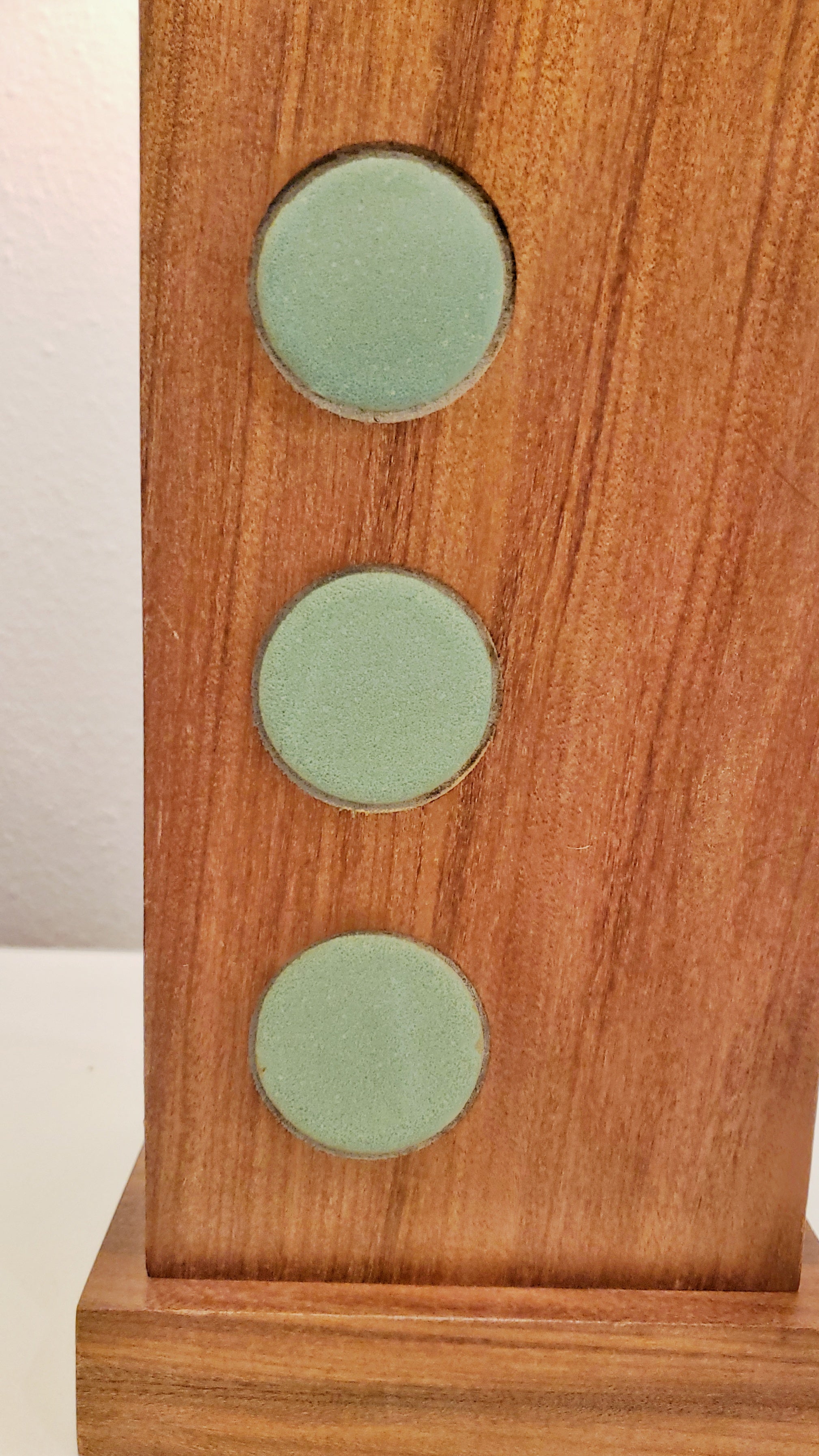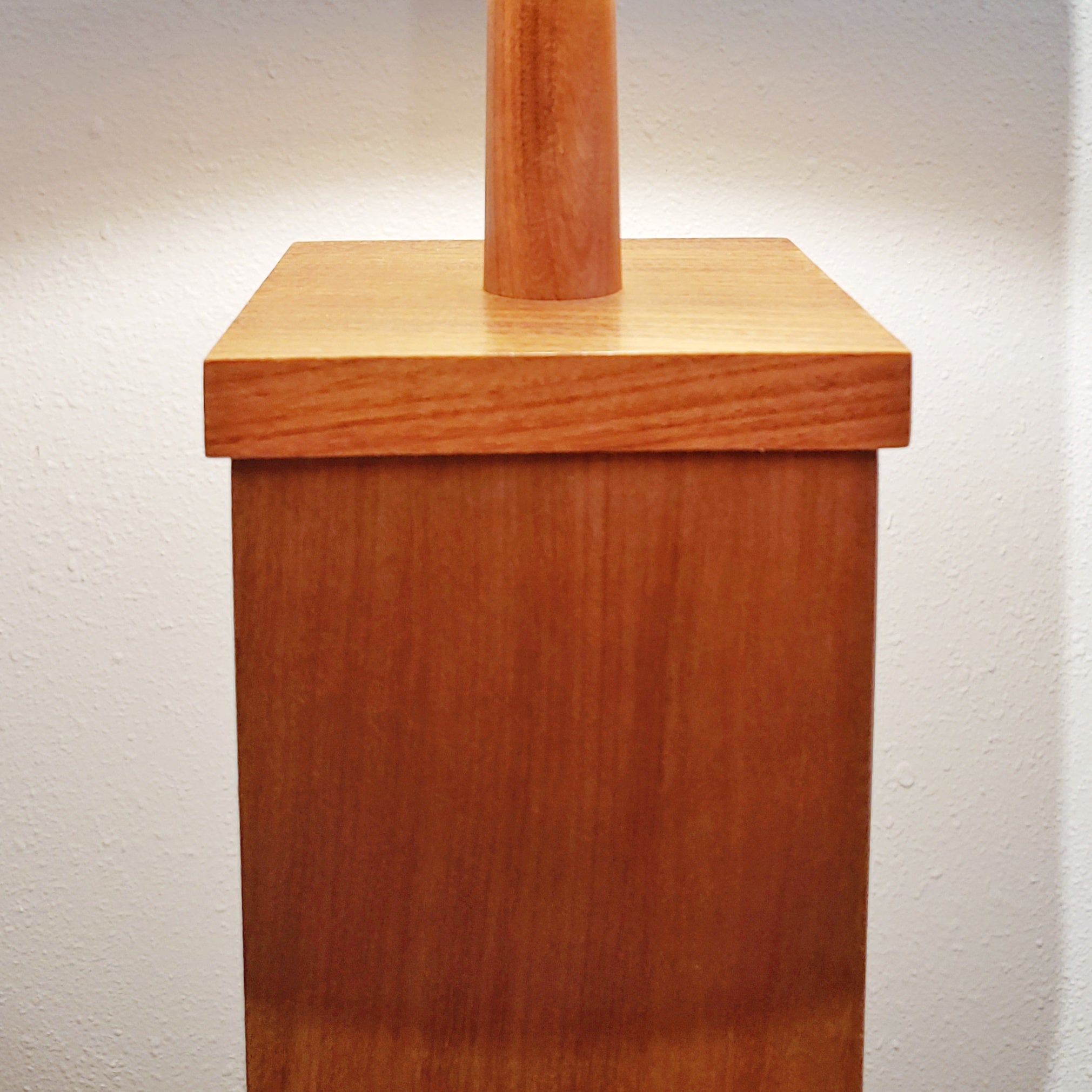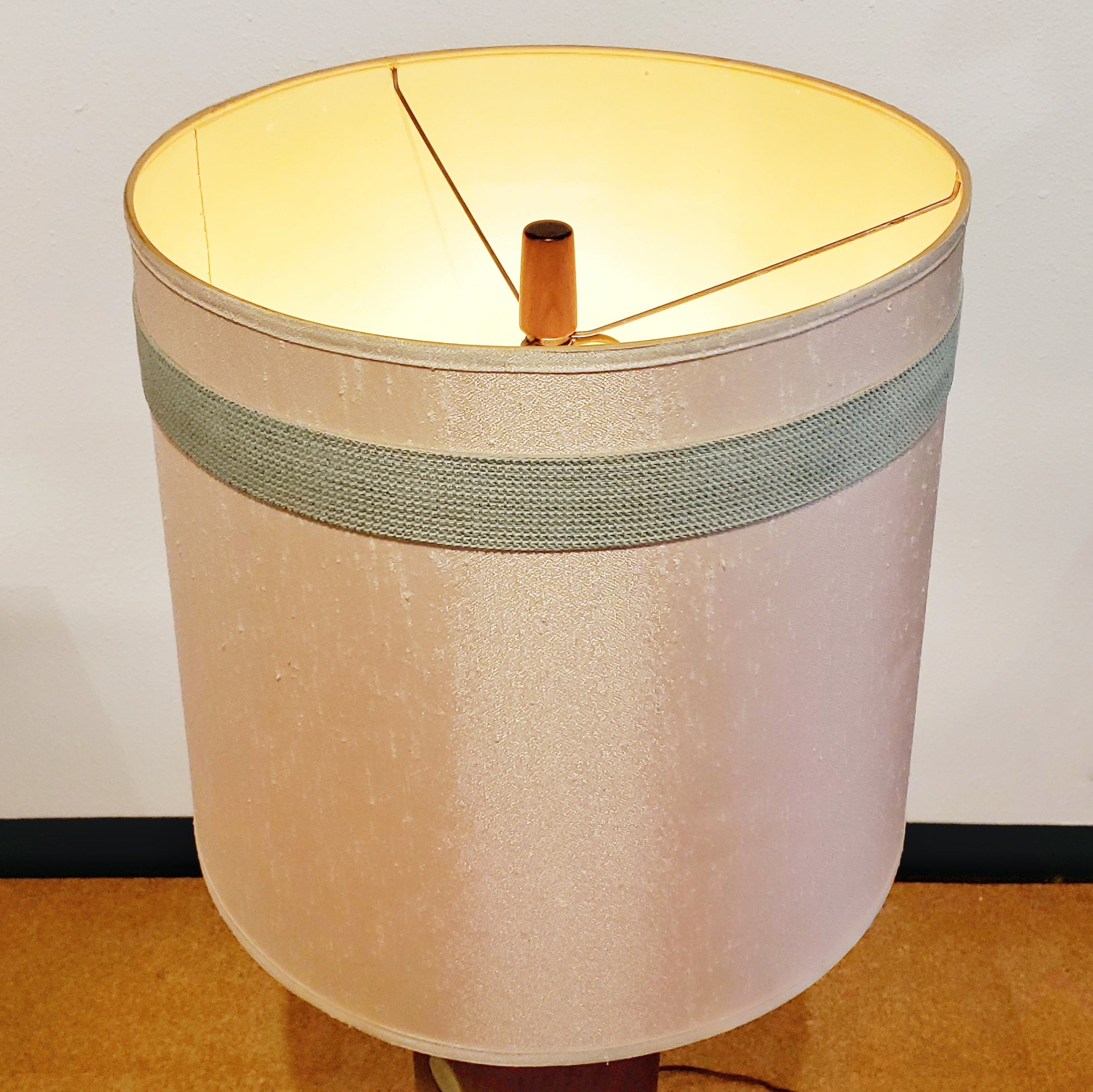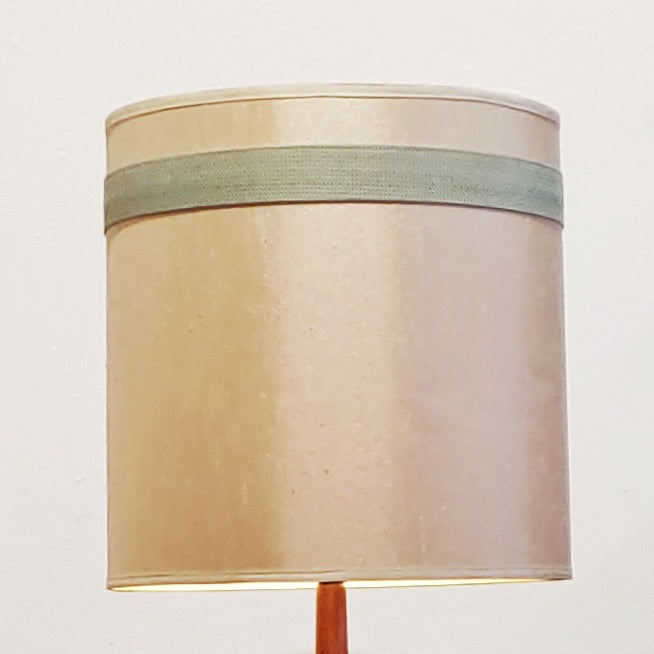 JANE & GORDON MARTZ TABLE LAMP FOR MARSHALL STUDIOS
CONTACT US HERE ABOUT THIS ITEM.
A rare, solid-walnut box table lamp, with a total of nine teal-colored tile insets, by Jane and Gordon Martz for MARSHALL STUDIOS.  Retaining its original shade.  Newly wired.  Mod.
JANE & GORDON MARTZ met as students at the New York State College of Ceramics in Alfred, New York.  In 1951 they joined MARSHALL STUDIOS in Veedersberg, Indiana, where, for 38 years, they designed and produced a wide variety of functional ceramic housewares including stoneware lamps, dishes, and tiles.  The Martzes' work has been recognized by MoMA in New York City where some of it is included in the permanent collection.
MARSHALL STUDIOS was founded in 1922 by Jessie "Muz" Marshall, who began her career painting lampshades by hand in her Indianapolis home.  Shades led to lamp bases and then to a small Indianapolis factory, where a line of turned wood lamps with painted shades was produced.  By the time her granddaughter, Jane Marshall, married Gordon Martz in 1951, MARSHALL STUDIOS was in the hands of Jane's parents, Nicholas and Grace Marshall, and had been moved to Veedersburg, Indiana (into a building originally built as a WPA project).  Her parents wanted Jane and her new husband to contribute their talents to the family enterprise, and the young couple joined the firm, bringing with them a passion for contemporary, hand-designed stoneware.  Their presence was transformative.  MARSHALL STUDIOS soon became a hotbed for the production of modern, hand-crafted lamps and accessories.
The Martzes understood the public's appreciation for the appearance of hand-made goods, but they held the firm belief that this "look" could be achieved under factory conditions.  They set out to devise a way to make this practical and profitable.  Their basic tactic was to create simple shapes in slip-cast ceramic that could be decorated in various ways using the techniques of potters rather than those of commercial production.  Decals and transfers, for example, common at most ceramic companies, were never used on a Martz product, and representational designs were rare.  Decorating at MARSHALL STUDIOS broke down into three simple methods that could be used singly or in combination.  There was the incision of designs into freshly glazed pieces before firing; the full immersion of pieces in base colors followed by dipping them into other glazes to varying depths for a layered effect; and the brushing of glaze lightly or loosely on to pieces while they rotated on a vertical lathe.  These techniques could be learned by almost anyone—making their application look professional was a skill the Martzes had to work hard to impart.
With the simple, European good looks based on the Bauhaus principles the Martzes had studied at University, MARSHALL STUDIOS products set themselves apart from the flashy, kitschy "modern" designs available from other companies.  They quickly found a following.  The watershed product for MARSHALL was the Martz No. 101, an exquisitely simple teardrop shape in matte black.  The Scandinavian-inspired lamp was so pure in design that it came to the attention of Edgar Kaufmann, Jr. (whose father had commissioned Fallingwater from Frank Lloyd Wright).  He invited the Martzes to include their lamp in the 1953 Good Design Exhibition at MoMA that he was supervising.
The success of No. 101 launched three and a half decades of commercial and artistic growth for the Martzes.  By the mid-1950s they were turning out their signature designs in profusion.  Still making everything including lampshades in-house, their company evolved into a complex operation.  In an age before computers kept track of orders, scheduling, and inventory, MARSHALL STUDIOS offered dozens of lamp styles in dozens of colors and with dozens of decoration options.  It nevertheless became famous for fulfilling huge orders without error.  But in the 70s and 80s—as the popularity of modernist design waned and the dominance of big-box stores rose—MARSHALL STUDIOS mostly faded from public view.  They closed their doors in 1989.
Production Period – 1960-1969
Country of Origin – USA
Designer – JANE & GORDON MARTZ
Maker – MARSHALL STUDIOS
Materials – WALNUT, CERAMIC
Condition – VERY GOOD (no defects; may show slight traces of use)
Plug – N. AMERICAN
Height (in.) – 38.5
Diameter (in.) – 17.0