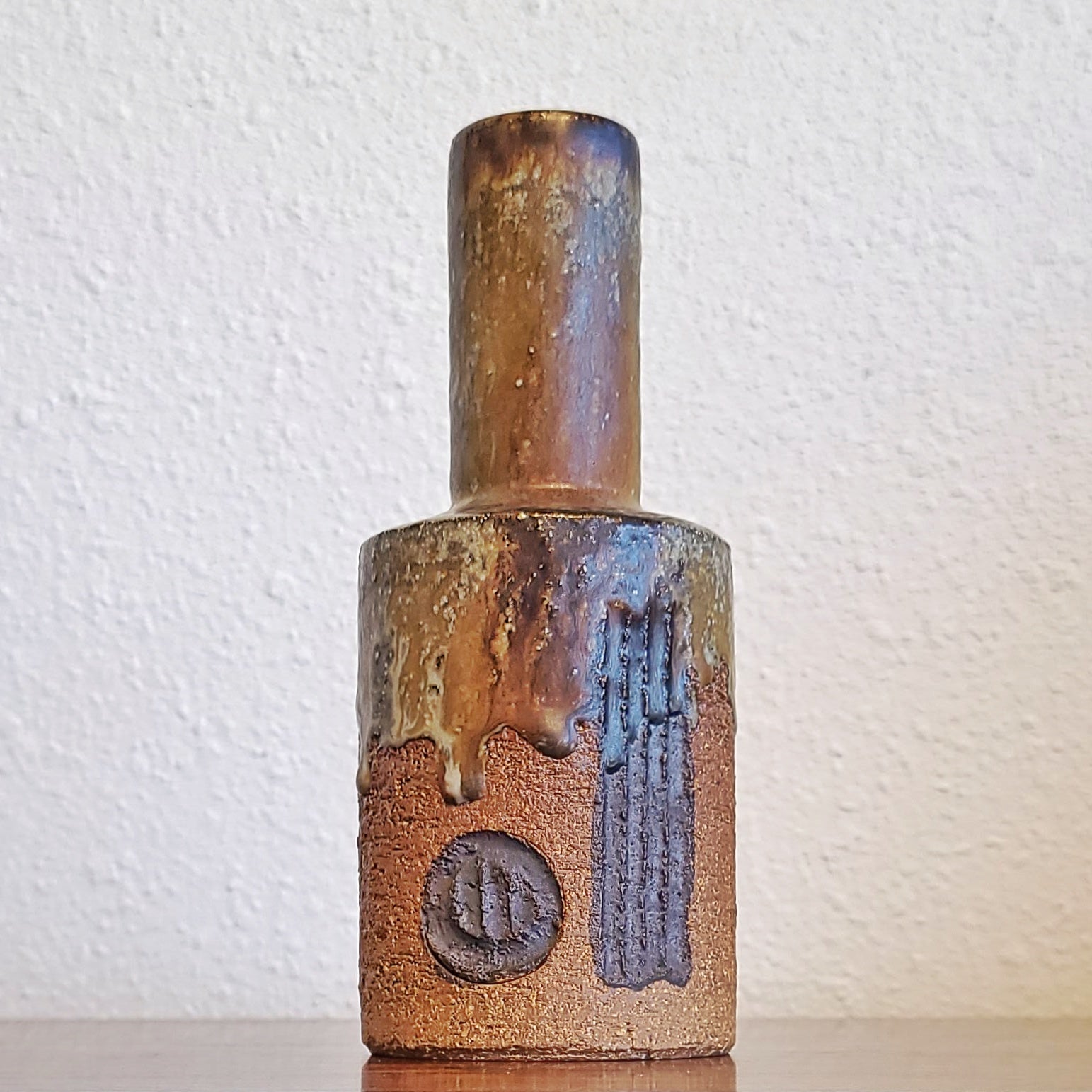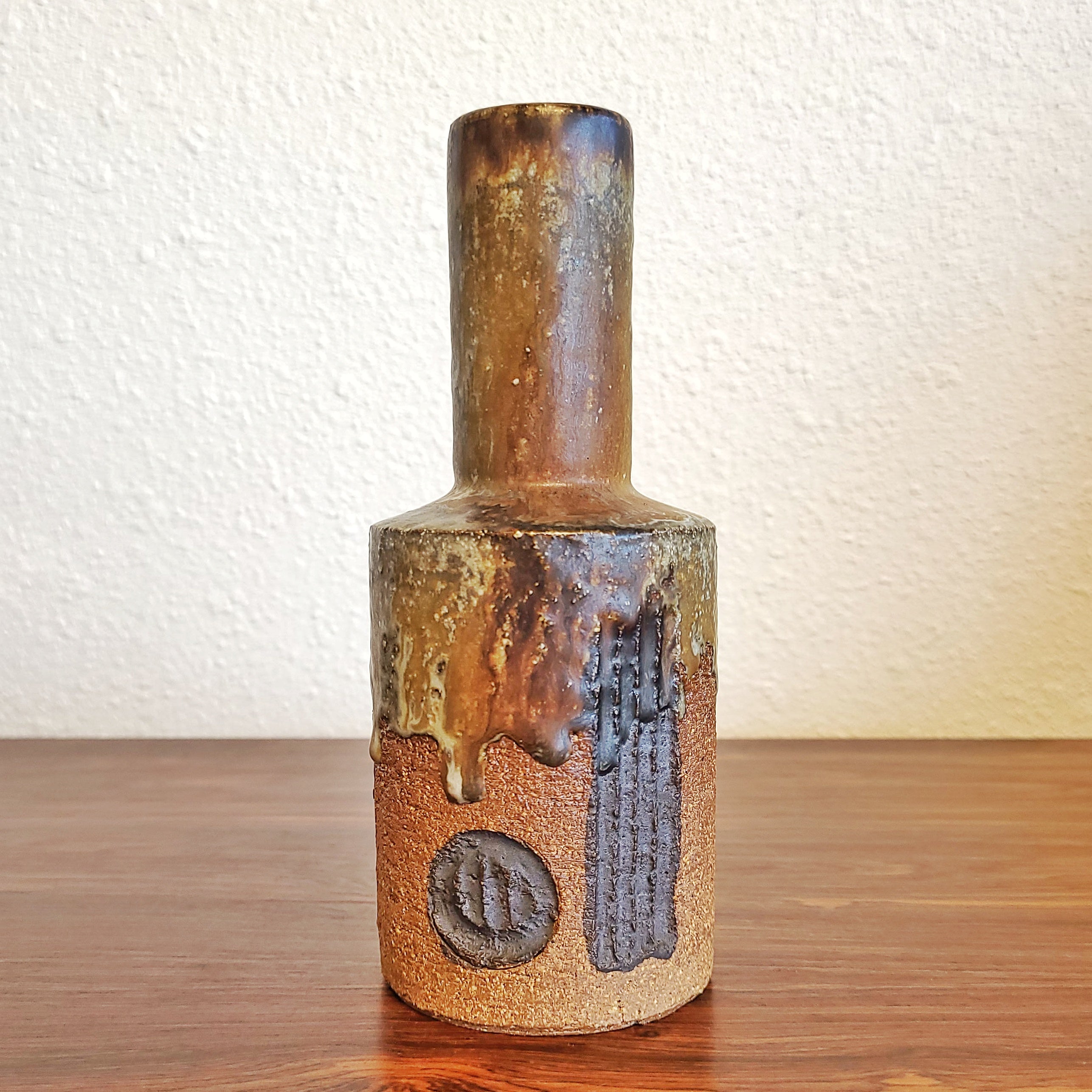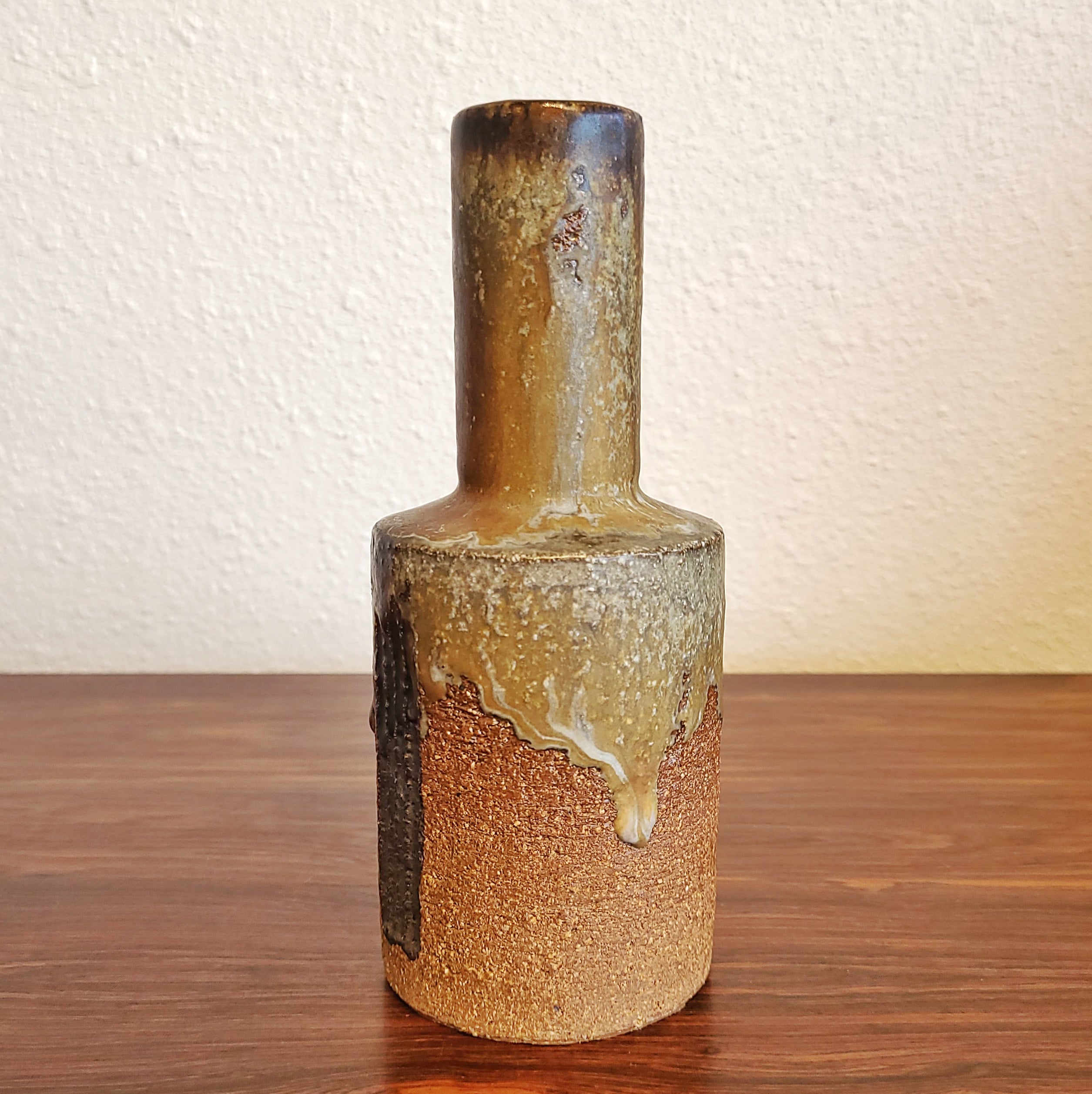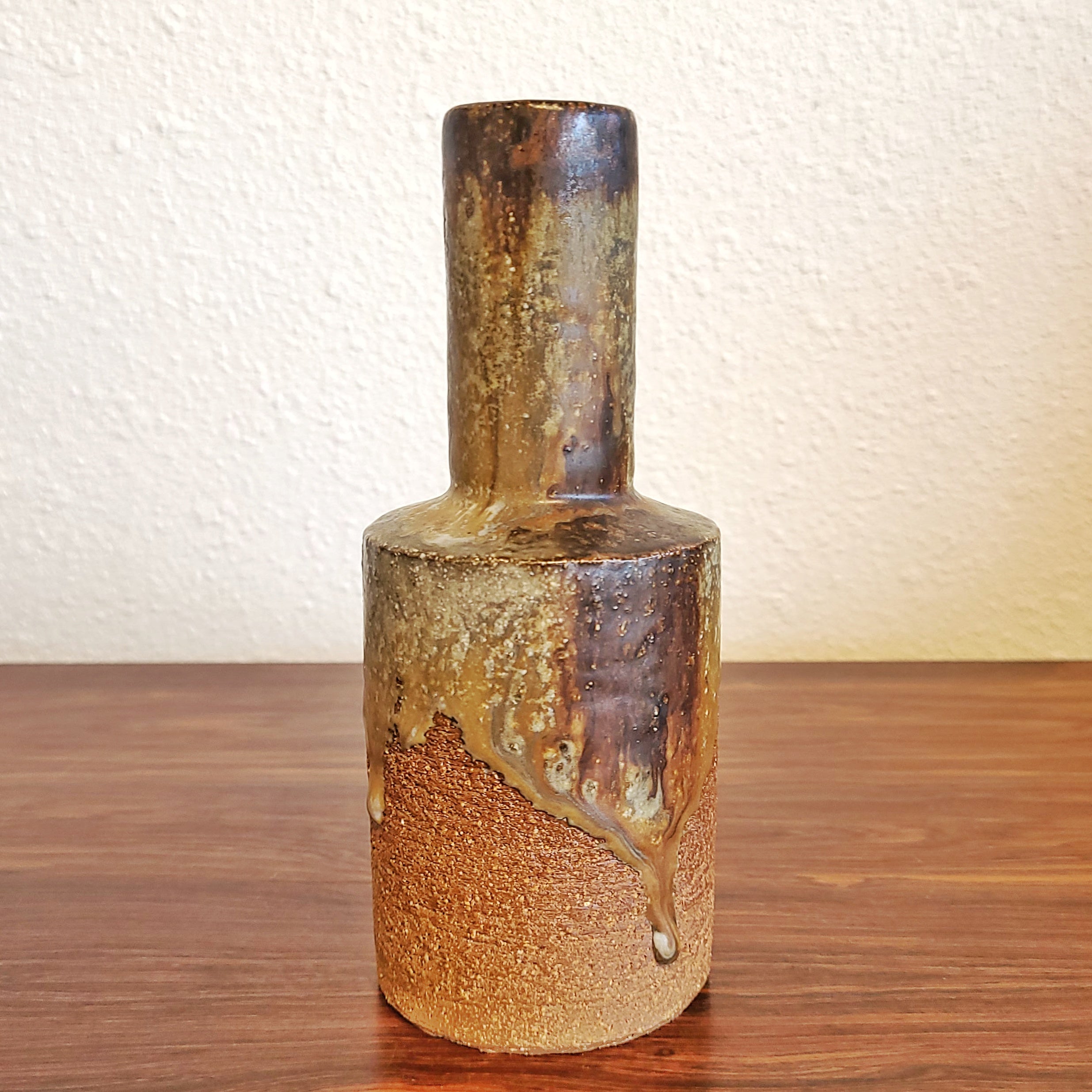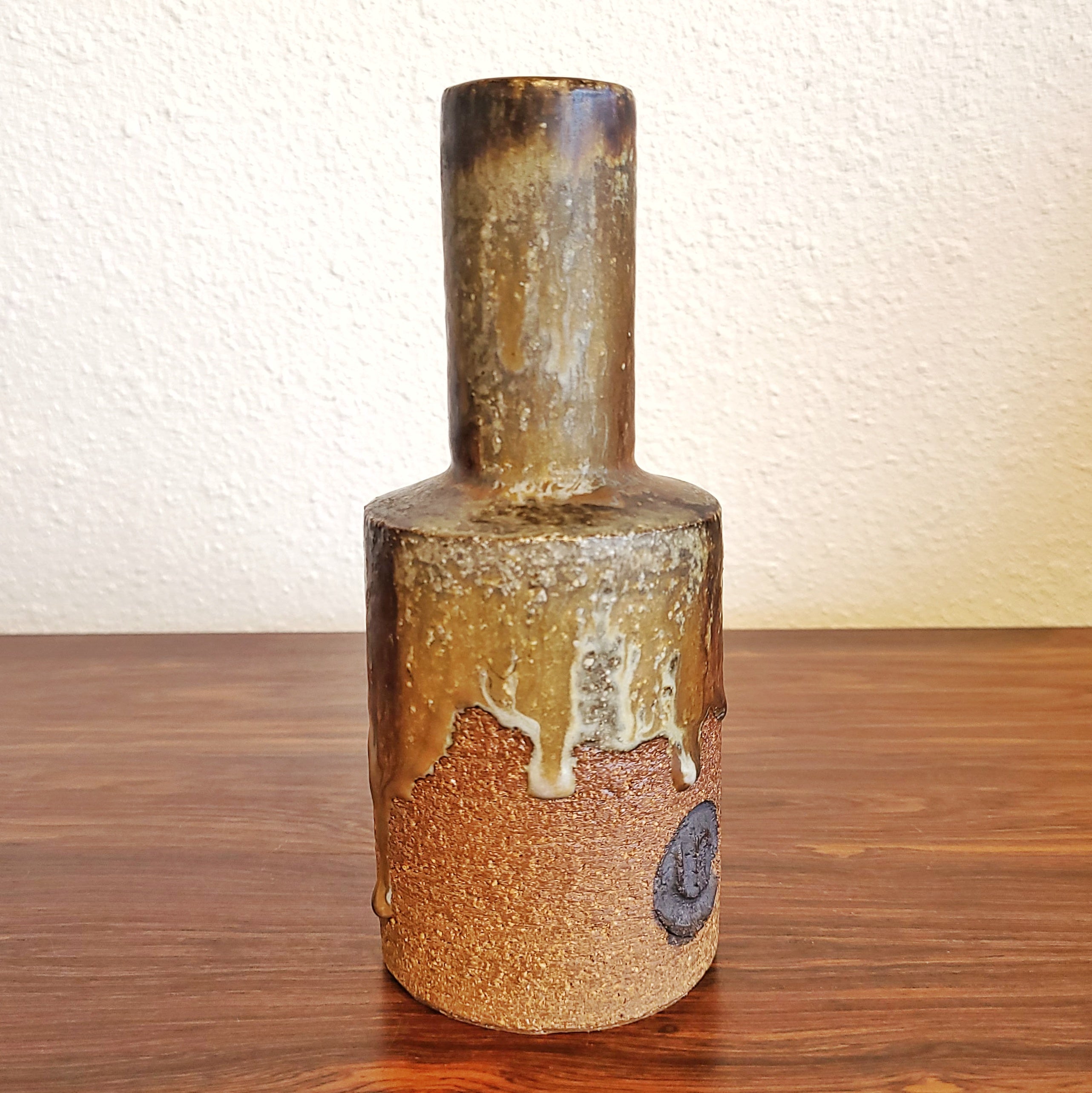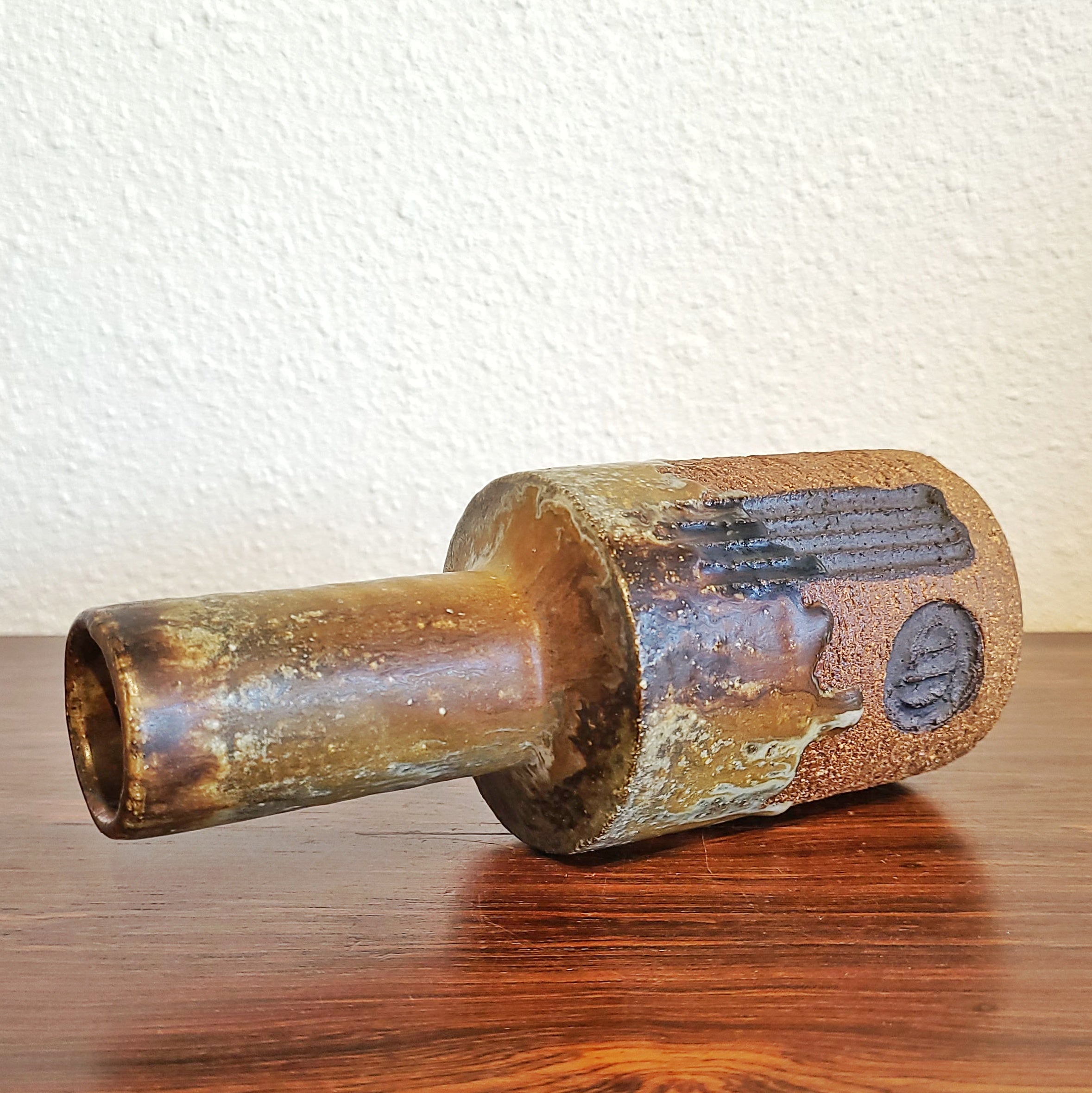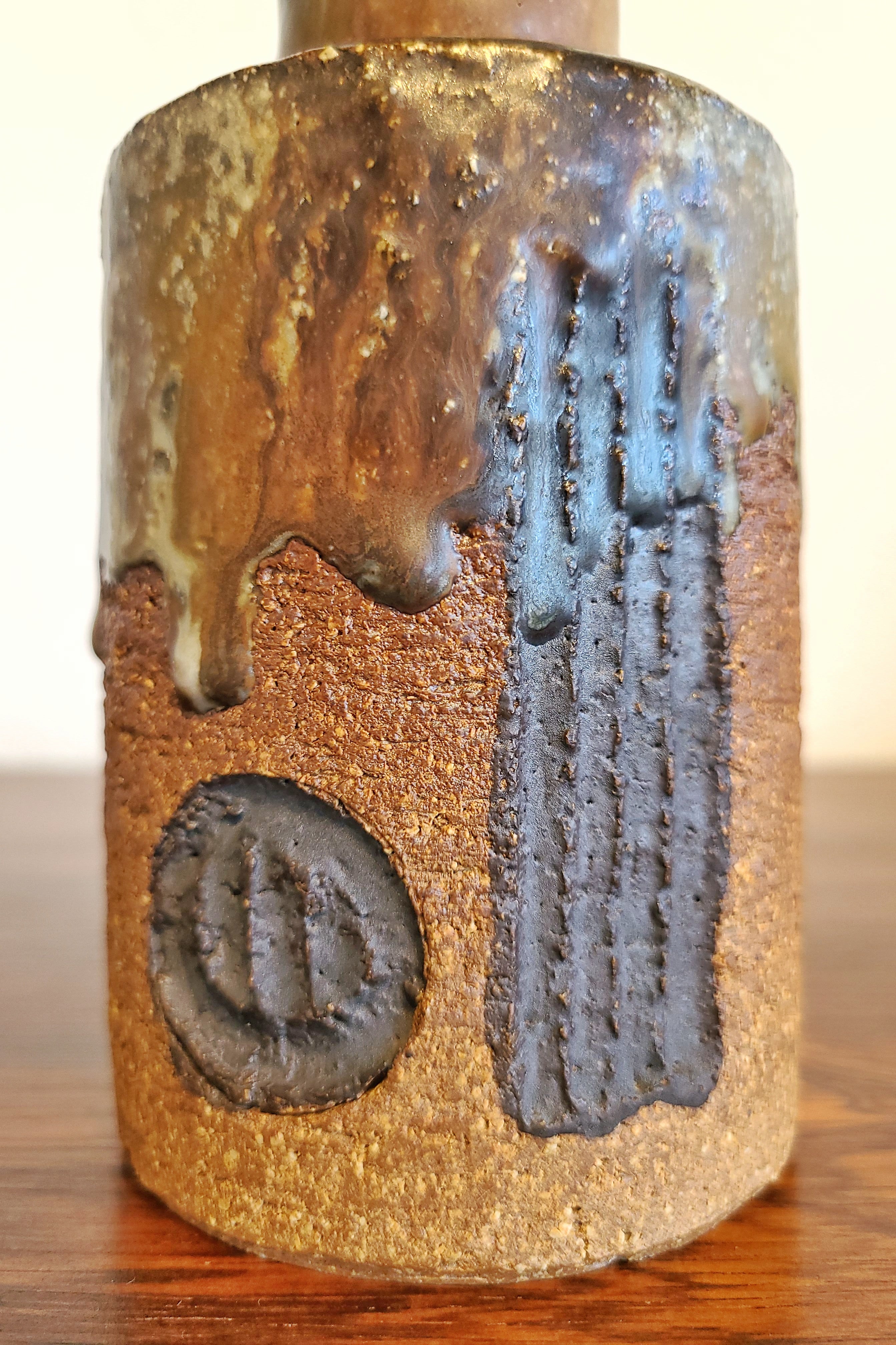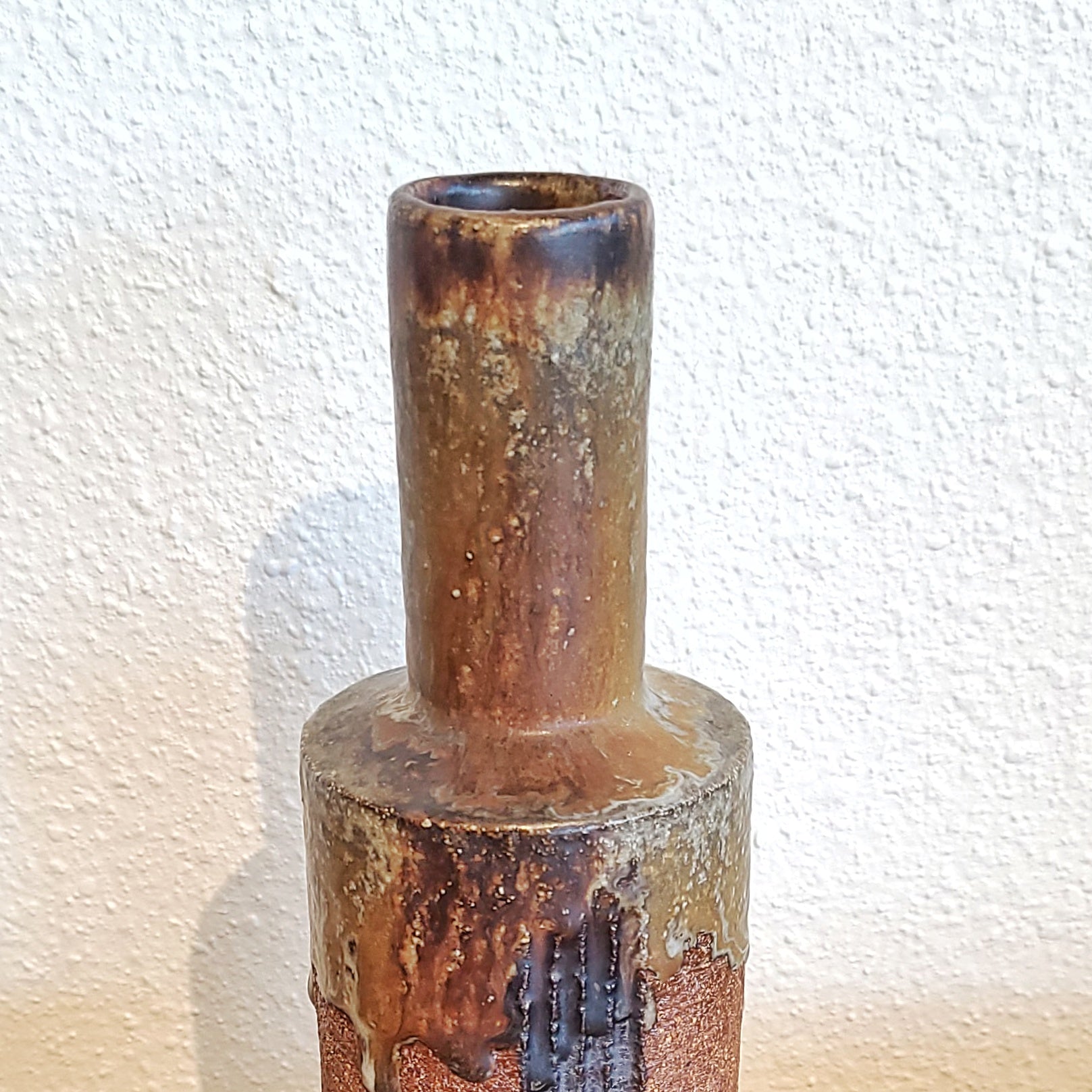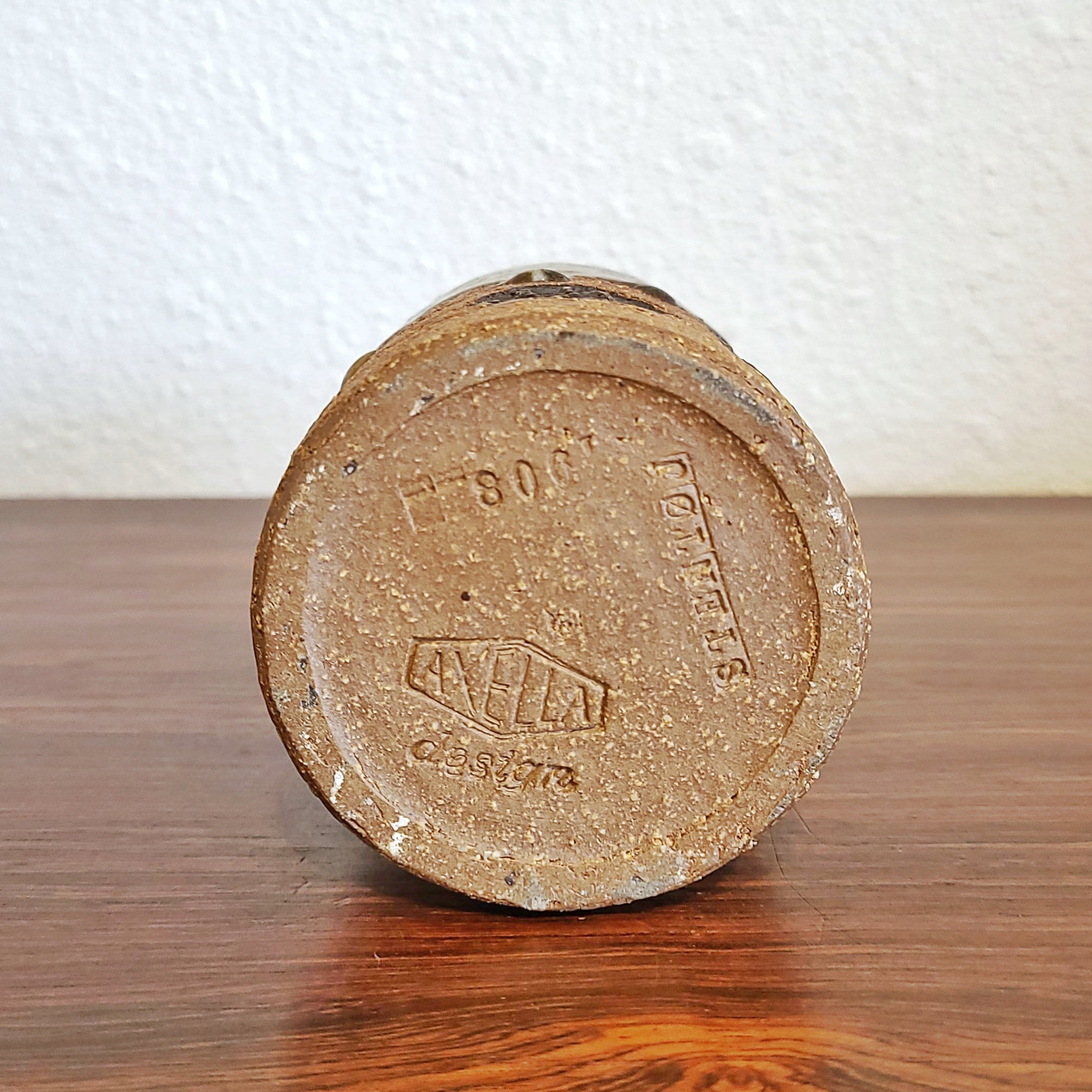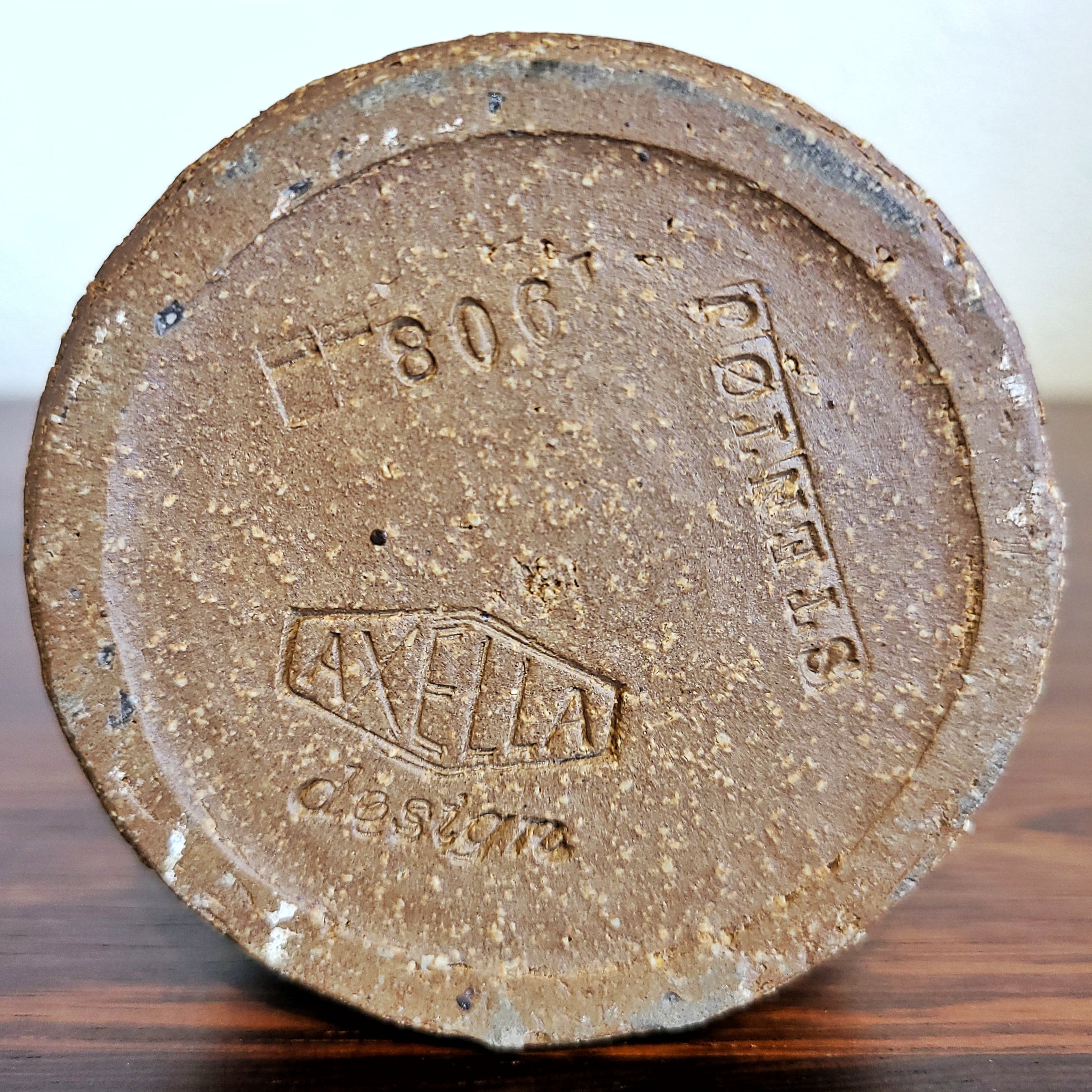 JETTE HELLERØE STONEWARE VASE FOR AXELLA DESIGN, DENMARK 1960s
CONTACT US HERE ABOUT THIS ITEM.
A beautiful Danish Modern chamotte stoneware bottle vase created by Jette Hellerøe for Axella Design in the 1970s.  The abstract geometric design carved into the clay is selectively glazed in a matte black wash.  the red chamotte stoneware body is topped with an earth tone mix of thick flowing glazes in shades of dark and medium brown, olive green and white that flow down over the neck and shoulder of the vase while leaving the course stoneware clay body exposed where the glaze flow ends in thik lava like drips.

JETTE HELLERØE (b.1940) was the daughter of the Danish ceramicist Einer Hellerøe, who founded his own studio called Haslev Keramik in 1940 in the town of Haslev in the southern part of Sjælland/Zealand.  Jette herself became a professional potter after receiving her degree from the Copenhagen School of Fine Arts in 1960.  Before, during and after completing her degree, Jette worked at her father's factory where she also produced work under her own name.
a Danish ceramicist and the most famous pottery maker that worked for Axella Design. She also worked for BR (Brothers Rasmussen) Pottery Denmark and had her own pottery.  Jette worked at Haslev Keramik until 1972, and then moved to Lønstrup (northern Jutland in Denmark) with her husband Flemming Schouboe where they set up their own pottery and shop. Flemming helped with the production, especially handling the firing processes and the glazing, but did not create work under his own name.  This studio operated up  until 2001.
Jette is perhaps best known for the work she produced for Axella Keramik and BR (Brothers Rasmussen) Keramik.  BR Keramik was a wholesaler who had a number of ceramicists produce work for them, which they released under the BR brand.  Axella Design was founded by the ceramicist Aksel Larsen around 1970 in the town of Norresundby (Near Aarhus) Denmark. In the late 1970s the name was changed to Axella Keramik, and then later back to Axella Design.  Jens Jensen, and Jette Hellerøe both worked there for a period , but the majority of the work that you will come across from Axella,is the work of Jette Helleroe.  She produced a stunning series of pendant light shades, lamps, and vases for the company.
Axella's production was all stoneware (stentoj) and is virtually all clearly stamped with an impressed mark. Pieces are often found with a foil label still present. Many pieces also have a stamped number – which is very likely the shape or form number.  The company closed in 1987.
| | |
| --- | --- |
| Designer | Jette Helleroe |
| Design Period | 1970 to 1979 |
| Production Period | Unknown |
| Country of Manufacture | Denmark |
| Identifying Marks | This piece has an attribution mark |
| Style | Vintage, Mid-Century, Scandinavian Modern, Hand-Crafted, Modernist, Rustic |
| Detailed Condition | Excellent — This vintage piece is in near original condition. It may show minimal traces of use and/or have slight restorations. |
| Product Code | |
| Materials | Stoneware |
| Color | Brown, olive, white |
| Width | 3.0 inch |
| Depth | 3.0 inch |
| Height | 7.5 inch |