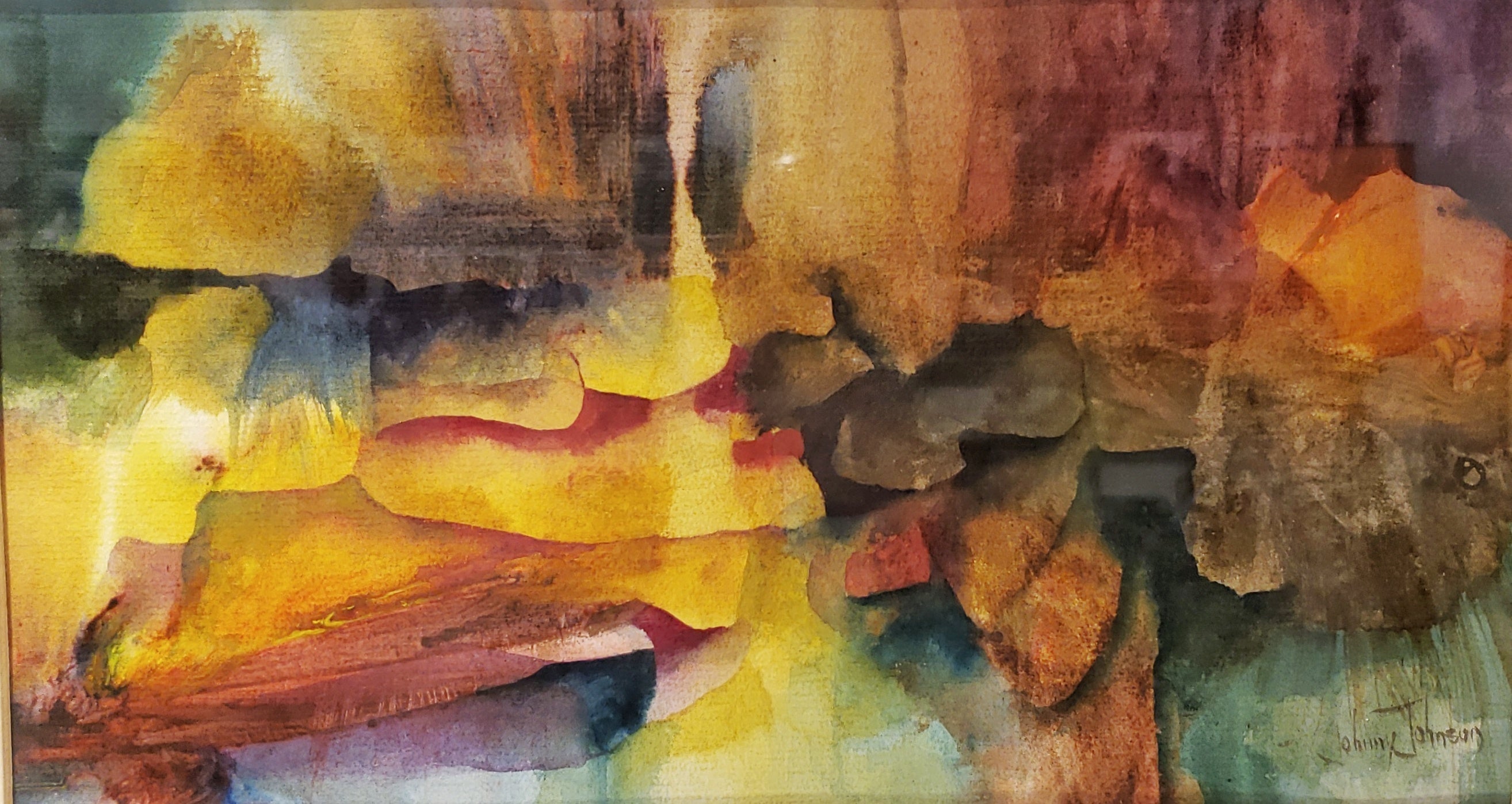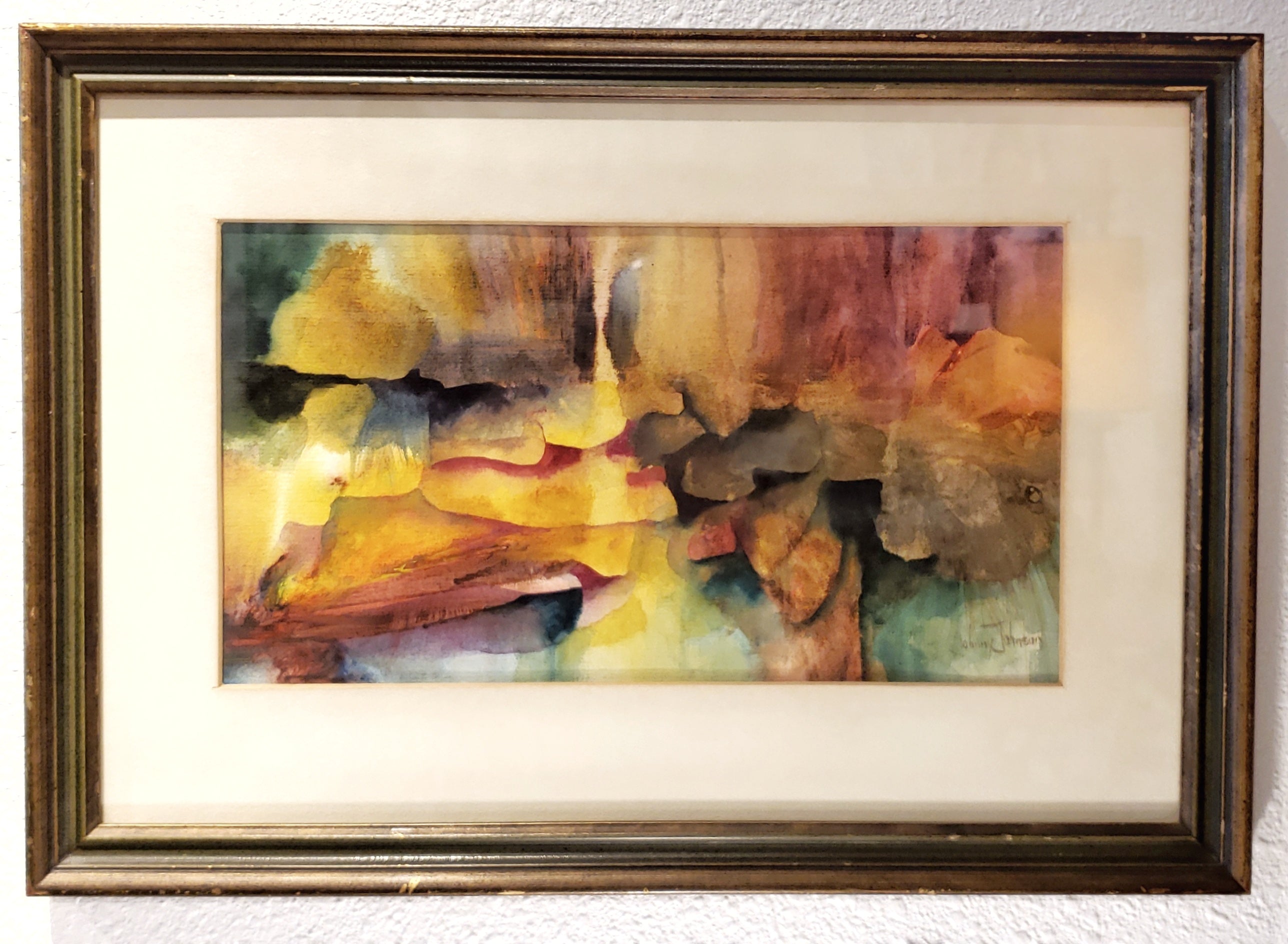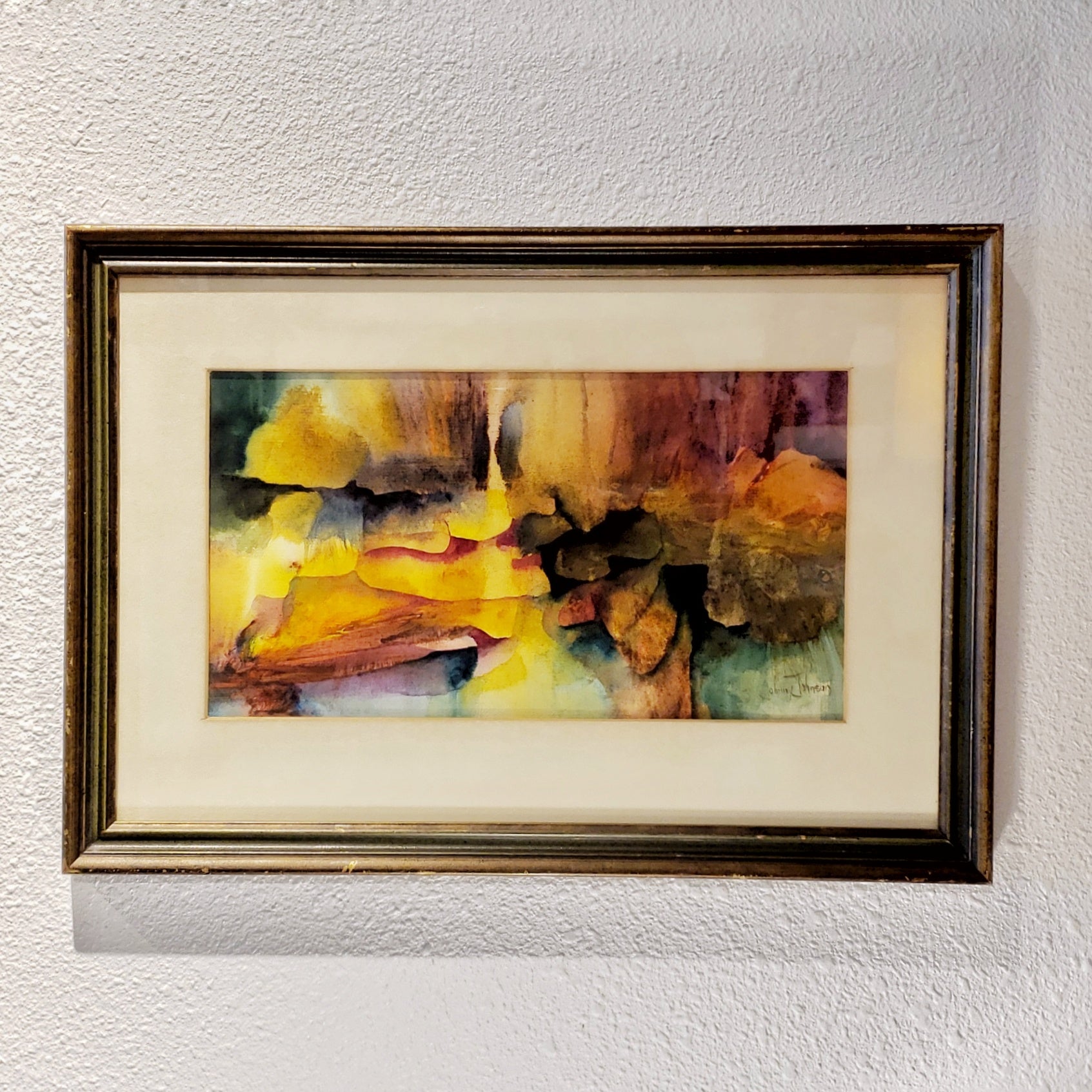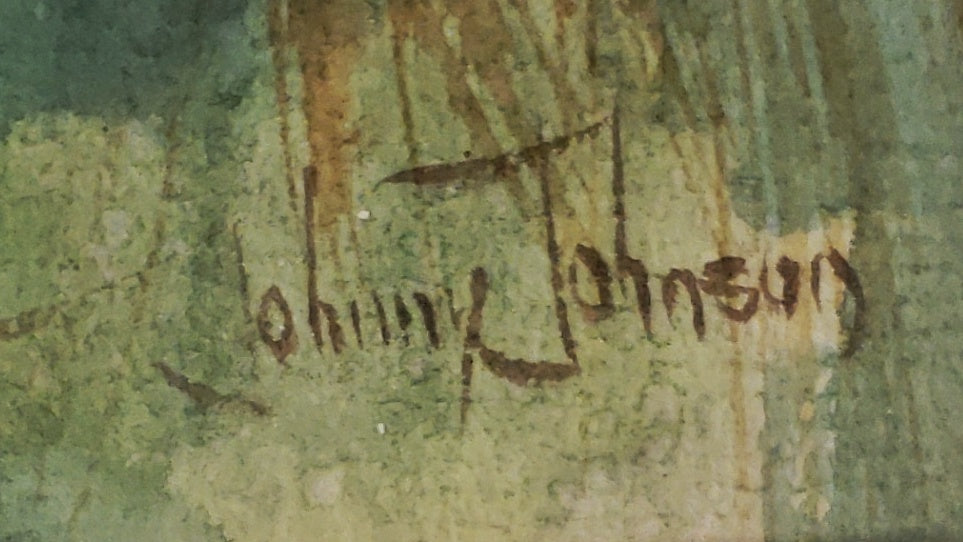 JOHNNY JOHNSON "DARK HOLLOWS"
CONTACT US HERE ABOUT THIS ITEM.
Abstract acrylic on board inspired by the vistas of northern Virginia's Shenandoah National Park by Johnny Johnson in the artist's original matting and frame.  The diluted paint has been applied like delicate watercolor.  Signed lower right and inscribed by Johnson on the backer board with a personal note of dedication to the original recipient/owner that includes the presumed title of the piece, "Dark Hollows."
JOHNNY P. JOHNSON was born in Hendersonville, NC, in 1936.  His gift for drawing became apparent early on.  Sitting in church pews beside his mother at the age of three, he would outline figures in the air.  As a young boy he purchased ten-cent pads of typing paper and sketched for hours seated at a card table.  His parents were usually obliged to pay for borrowed books at the end of the school year because he had filled the margins with his drawings.  Johnson gives credit to school teachers who encouraged him along the way:  a Mrs. Hughes and a Miss Hawkins in elementary; a Mrs. Avent in high school.  As well as art, his younger years were filled with sports and music.
Johnson obtained a degree in art education from Virginia State and a Masters in Fine Arts from Howard, the historically black federally chartered private university in Washington, DC. Further study was undertaken at the Corcoran School.  In 1959 he moved to Fredericksburg, Virginia, to teach art at Walker-Grant, the city's first publicly supported black high school.  During a 30-year career he worked throughout the city's public school system and taught at several local colleges.  The affection his former students hold for him is remarkable.  In 1961 he met and married Jean Blackstock a fellow teacher.  Johnson was very much involved in the civil rights movement and was a member of the NAACP and served as president of the regional Council on Human Relations.  He was the first black teacher at Fredericksburg's Mary Washington College.  Johnson was named Virginia's Teacher of the Year in 1977 and has received the Governor's Lifetime Achievement Award as well as numerous prizes for his art.
It's amazing that a man so devoted to family, students, and community could find time for art, but Johnson has always been prolific; it is no exaggeration to say that he has produced more than 5,000 pieces since the early '60s.  Johnson says of his work, "My inspiration comes from my love of people and our natural environment," and, further, "I enjoy the challenge of forcing the viewer to look at the work from many different perspectives."  His art generally revolves around three themes:  Family, as expressed through many Mother and Child and Father and Son images; Nature, particularly landscape; and Social Commentary, with emphases on sports and the disadvantaged.
Johnson has exhibited his work internationally—in the US, France, and Jamaica.  His paintings hang in many corporate, diplomatic, and private collections and have been included in the US State Department's Art in Embassies program in three African countries:  Benin, Eritrea, and Ghana.  (Established by John F. Kennedy in 1963, the program curates temporary and permanent exhibitions for the representational spaces of all U.S. chanceries, annexes, consulates, and embassy residences worldwide.)  Johnson continues to teach and mentor artists of all ages in his adopted home town of Fredericksburg, Virginia.
I always wanted to be both a teacher and an artist. – JOHNNY P. JOHNSON
Production Period – 1965-1974
Country of Origin – USA
Artist – JOHNNY P. JOHNSON (b. 1936)
Attribution – SIGNED
Medium – OIL ON BOARD
Colors – MULTICOLOR
Condition – VERY GOOD (no defects; may show slight traces of use)
Height (in.) – 13.0
Width (in.) – 18.5
Depth (in.) – 1.0