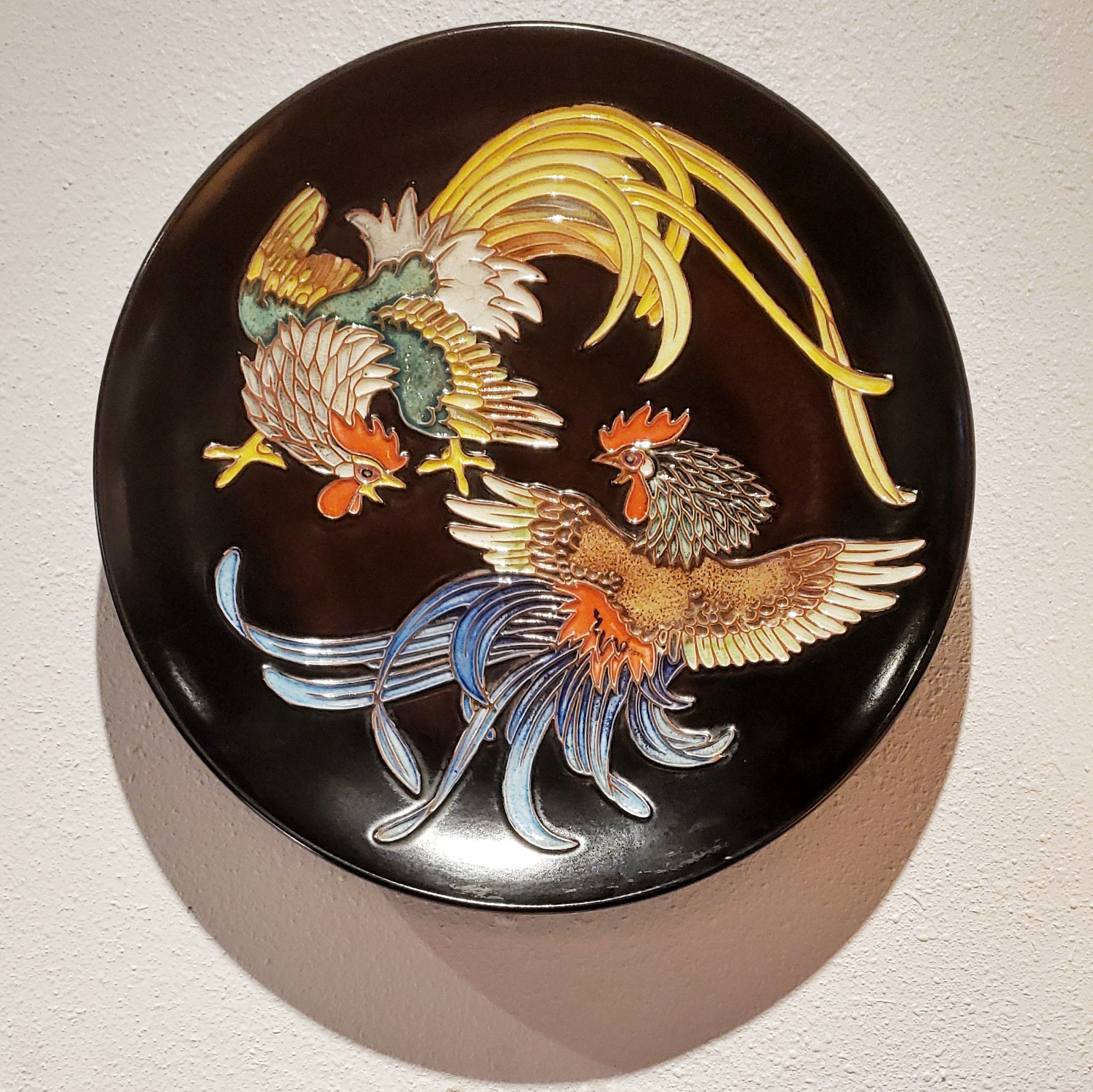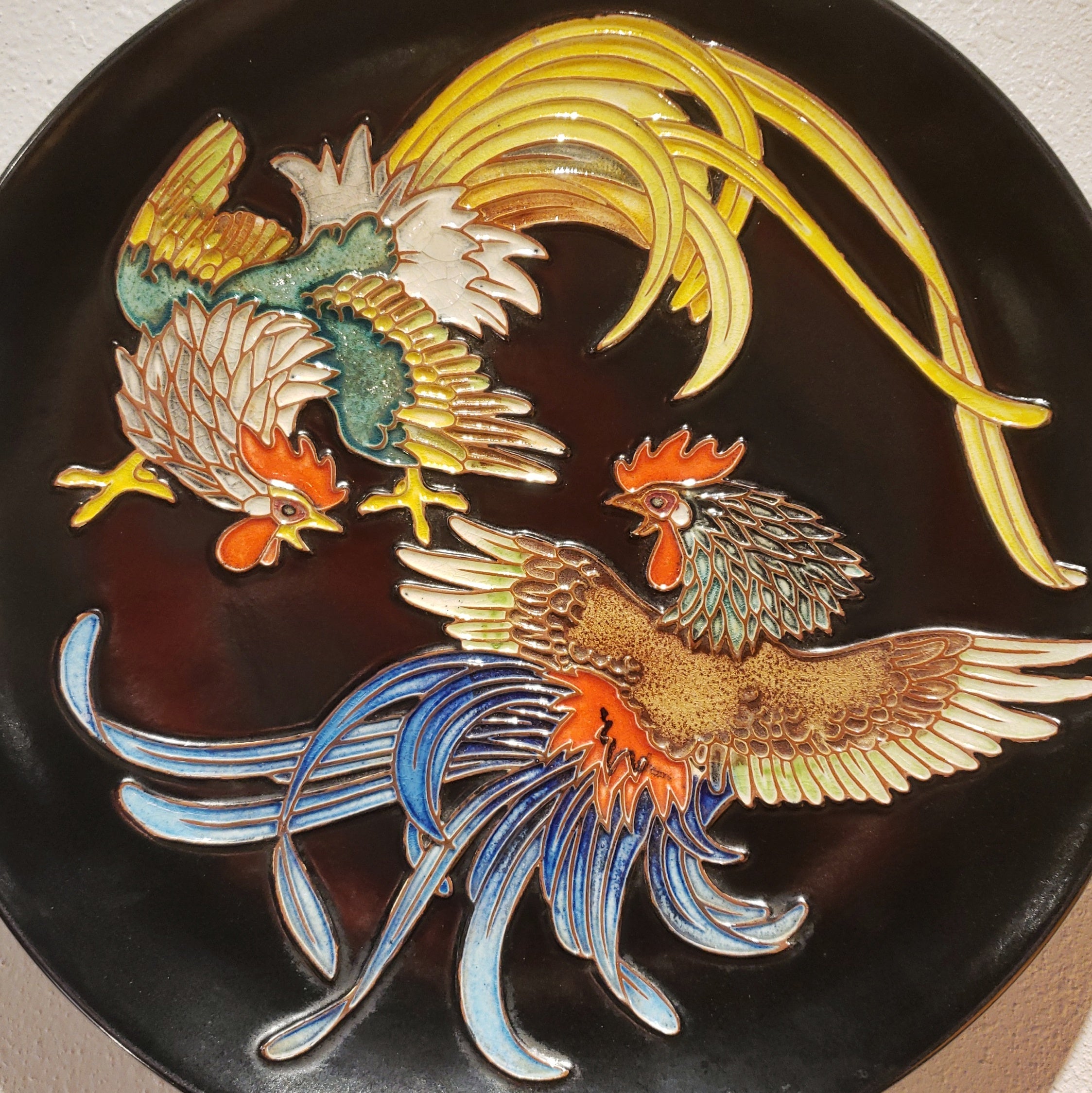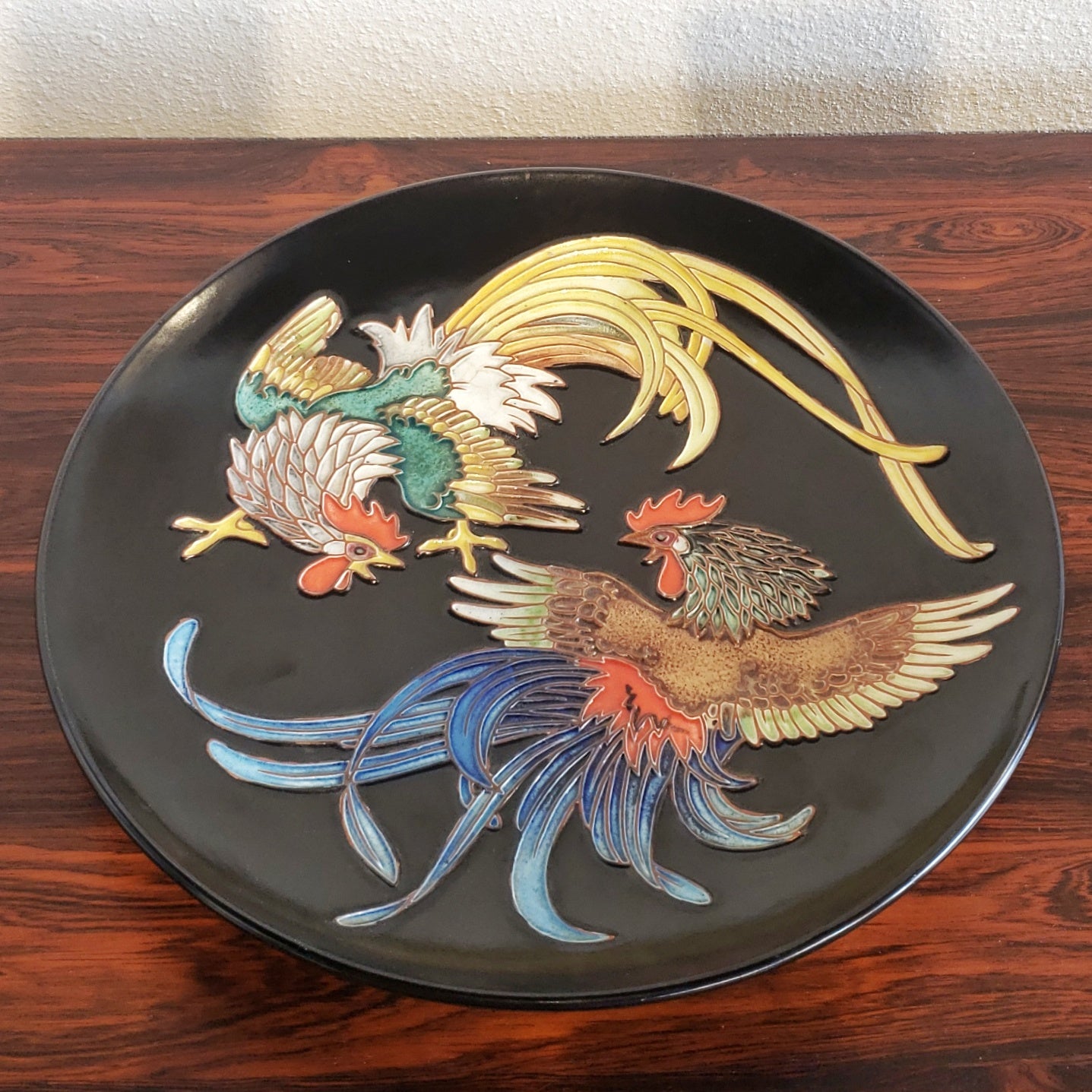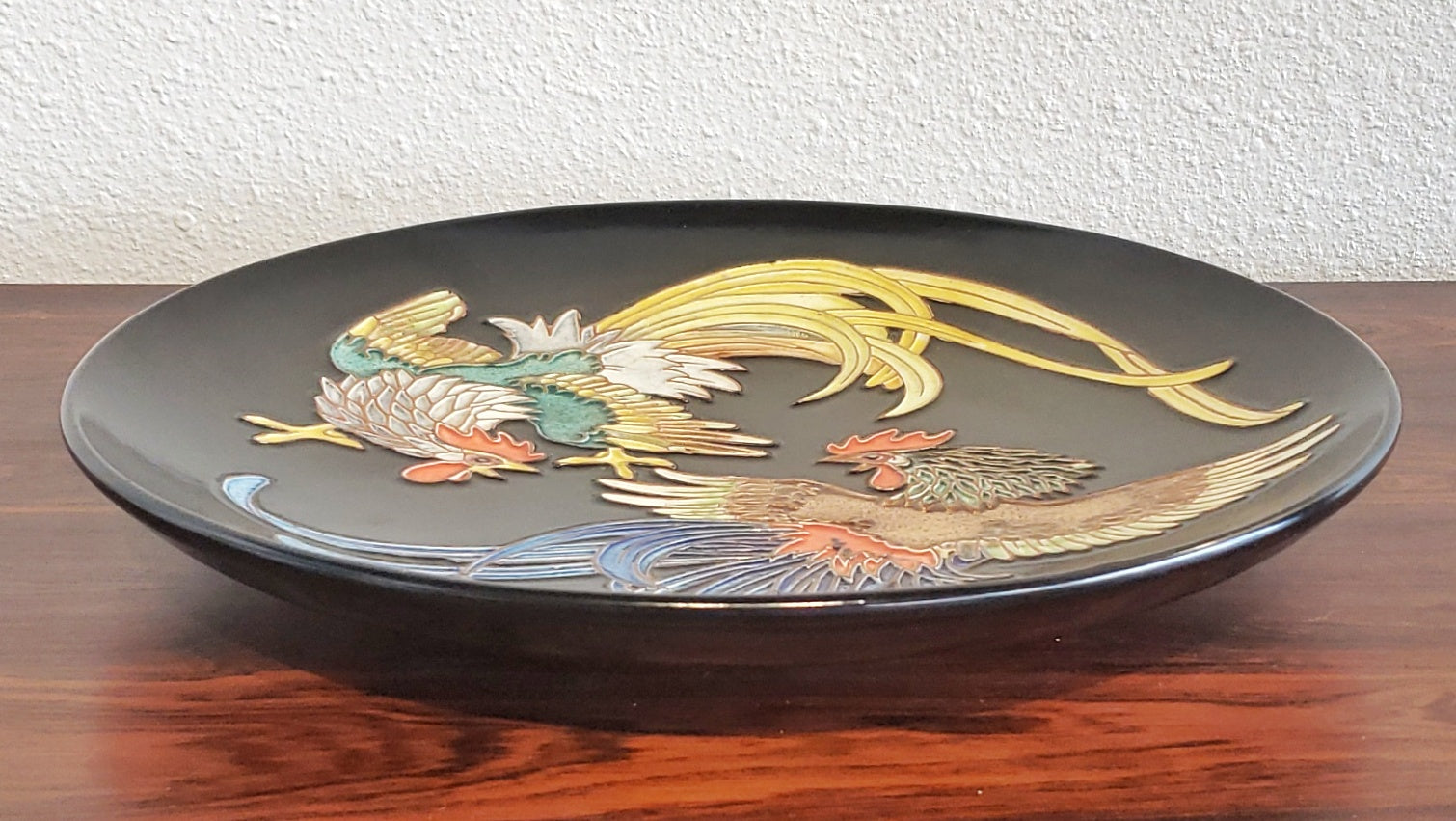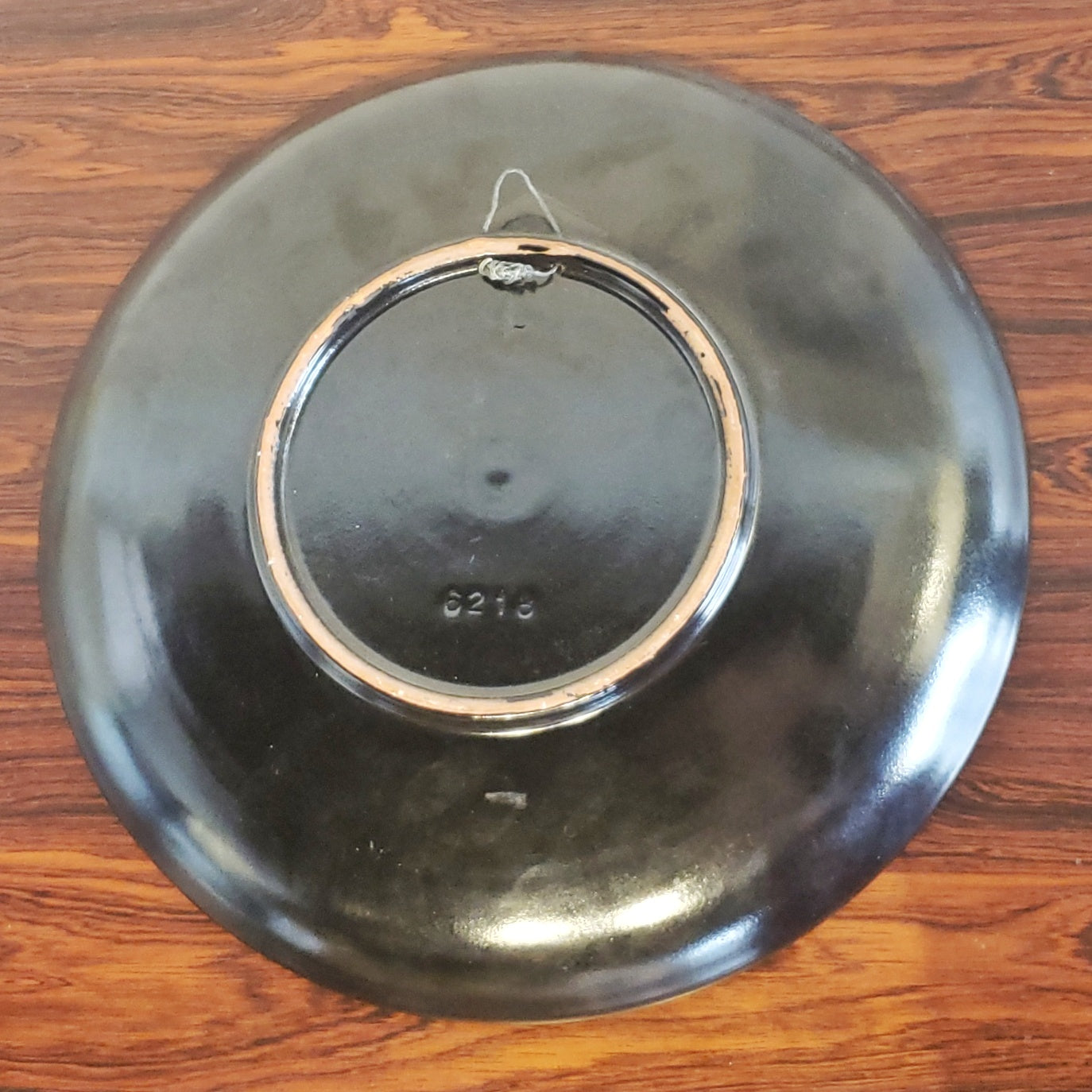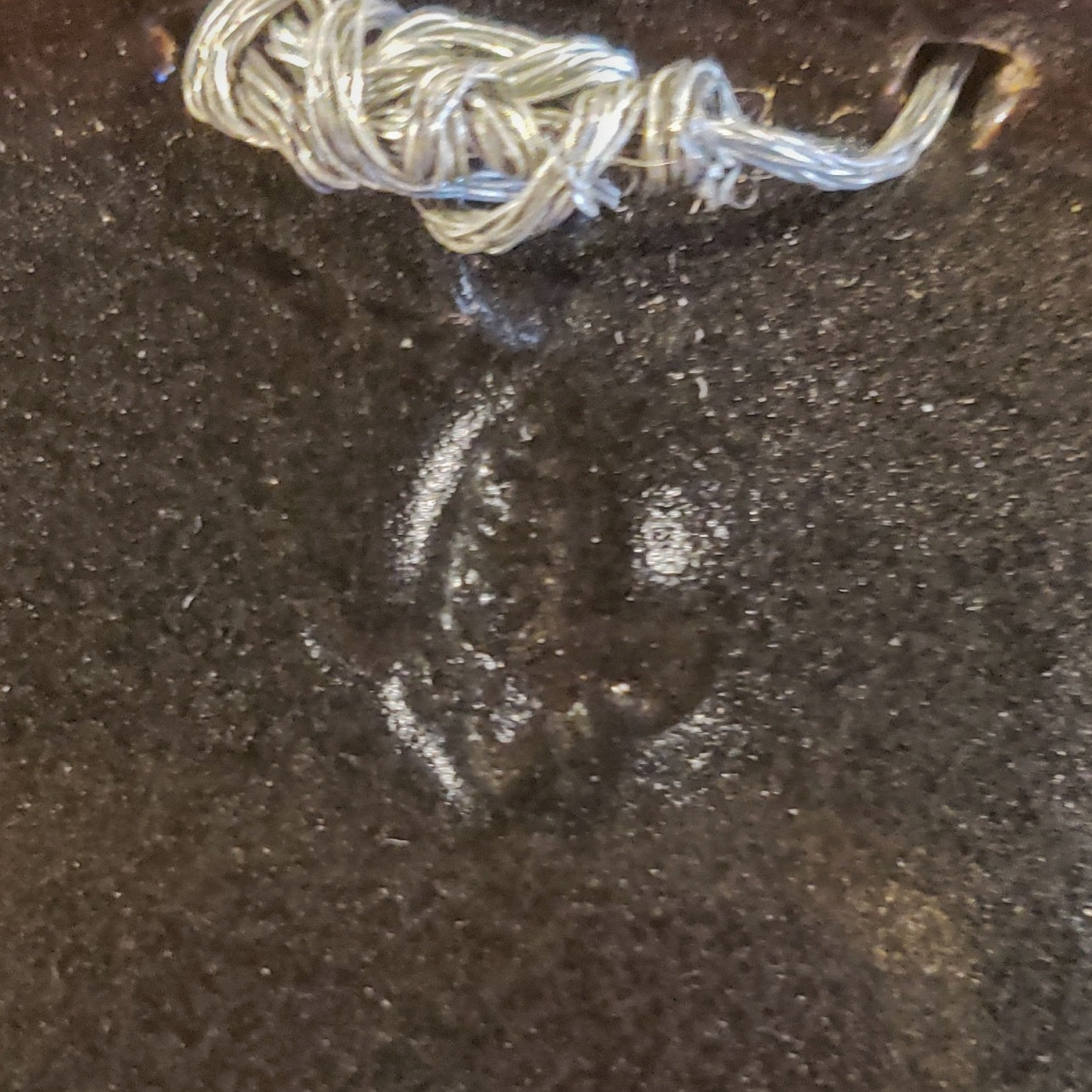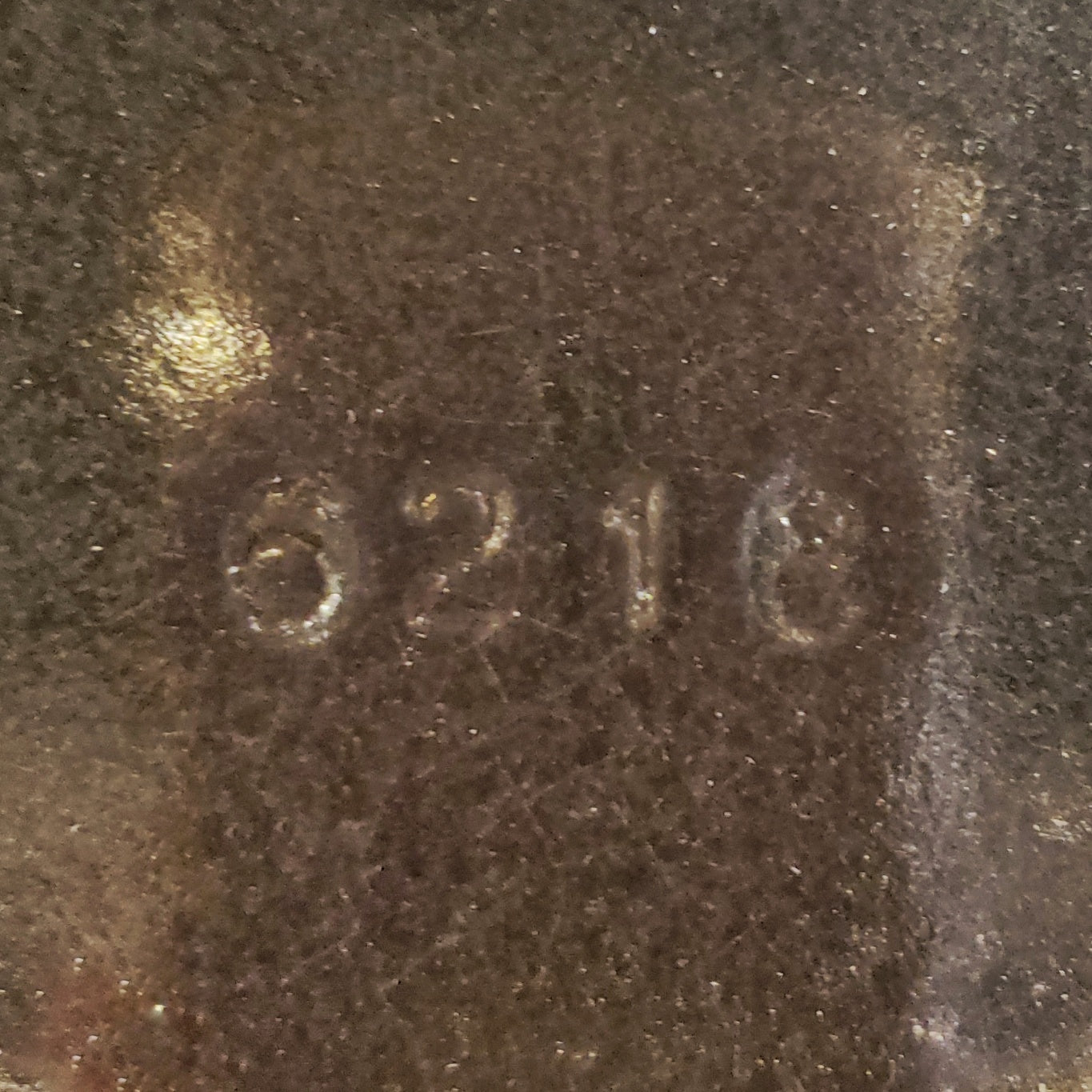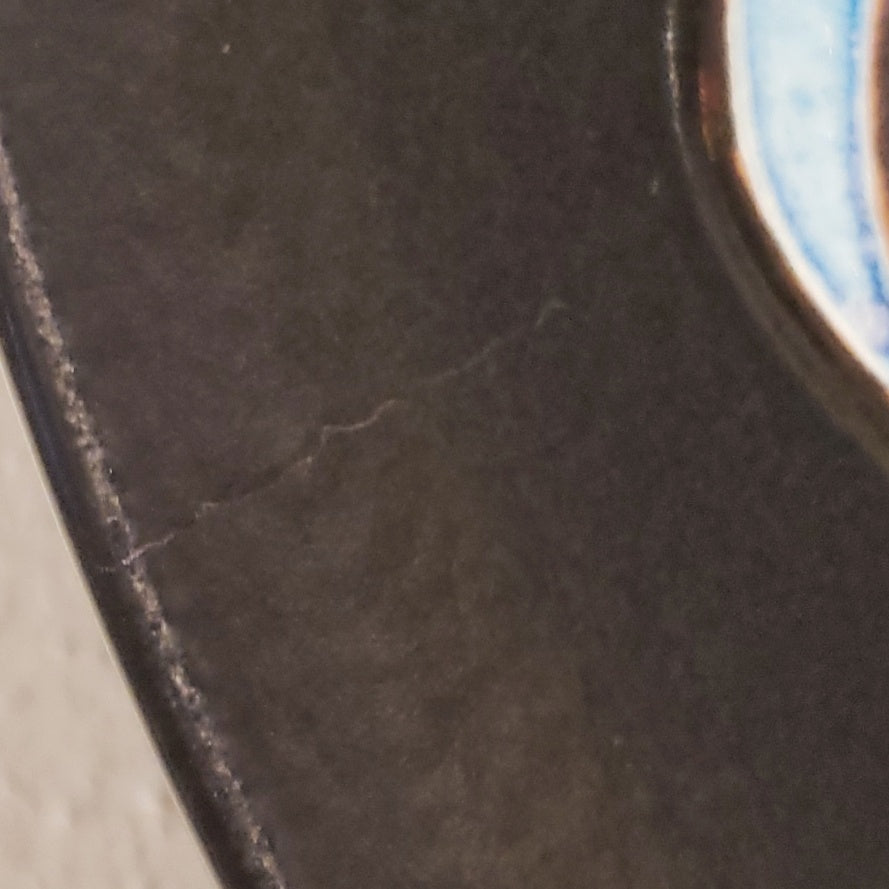 KARL-HEINZ FEISST 'FIGHTING COCKS' WALL PLATE 6218 FOR KARLSRUHE MAJOLICA
CONTACT US HERE ABOUT THIS ITEM.
A very colorful wall plate depicting a pair of fighting roosters, designed by Karl-Heinz Feisst for the Majolika factory in Karlsruhe, Germany.  The colors are vibrant and the subject is presented in relief on a satin-black background, enhancing the boldness of the design.  An outstanding example of Feisst's work.  The plate has a small, nearly invisible, hairline crack at the rim which neither detracts from the beauty of the object nor threatens its stability [see photos].
KARL-HEINZ FEISST was born in the district of Karlsruhe in what is today the state Baden-Württemberg in southwest Germany.  He joined MAJOLIKA KARLSRUHE in 1940 as a ceramic painter's apprentice, passing its skilled worker's training test in 1942.  In 1950 he began working as an independent ceramicist and teacher, but continued to supply independent designs, mostly pictorial tiles with modernist animal and plant motifs, to the Karlsruhe factory.  Some of his most notable designs in later years included intriguing abstract/experimental motifs that represented quite a departure from his earlier naturalistic efforts.
MAJOLIKA KARLSRUHE (more formally, Staatliche Majolika Manufaktur Karlsruhe) was organized at Karlsruhe in southwest Germany in 1901 when Grand Duke Friedrich I agreed to build a ceramics factory at the behest of German pictorial artists Wilhelm Süs and Hans Thoma.  Their goal was to revive the so-called "majolica" or faience technique, where opaque, tin-based glazes were applied to earthenware to serve as the basis for colored decoration.  (The tin glaze used in majolica is actually a lead glaze that has been rendered white and opaque by the addition of tin oxide.  In the production process, unglazed articles are first fired in a kiln and then dipped in the tin glaze, which is allowed to dry.  Designs are then painted on the glaze, which sets them off and preserves them during a second, high-temperature firing.)  Towards the end of the decade, a signature style of majolica had developed:  compositions, often including cherubim, on a blue background.
The pottery passed through various hands in the following years, at one time being occupied by Villeroy & Boch, with the premises being owned by the state of Baden.  (In 1927 the word 'Staatliche' was added to the name to indicate state ownership.)  Despite the specificity of its name, MAJOLIKA KARSLRUHE produced a wide range of artisan ceramics and was one of Germany's leading producers of ceramics generally.  The quality of production was excellent. Top designers prior to WWII included Ludwig König and Max Läuger.
The factory was badly damaged by bombs in 1944 and did not return to the full-time production of decorative goods until the 1950's, when business resumed much as in pre-war days, with both company-employed and freelance designers.  One of the foremost post-war designers was Friedegart Glatzle, who joined MAJOLIKA KARLSRUHE in 1951, and who over the next 30 years produced a huge range of designs.  Other designers of note during this period included luminaries Eva Fritz-Lindner and Werner Meschede.  To this day the company provides artists with their own studio space and commissions work from them.  Product examples can be seen at the Badisches Landesmuseum in Karlsruhe.
Most MAJOLIKA KARLSRUHE pieces bear the company's name and symbol—the arms of Baden above a double-joined 'M' for Majolika-Manufaktur.  Items are made with a red-orange clay and are marked with a form number.
Design Period – 1950-1959
Country of Origin – WEST GERMANY
Designer – KARL-HEINZ FEISST (b. 1925)
Maker – MAJOLIKA KARLSRUHE
Attribution – MARKED
Materials – CERAMIC
Colors – MULTICOLOR
Condition – VERY GOOD (no defects; may show slight traces of use)
Additional Condition Details – small, hairline crack at the rim as shown.
Diameter (cm) – 34.0
Depth (cm) – 4.5