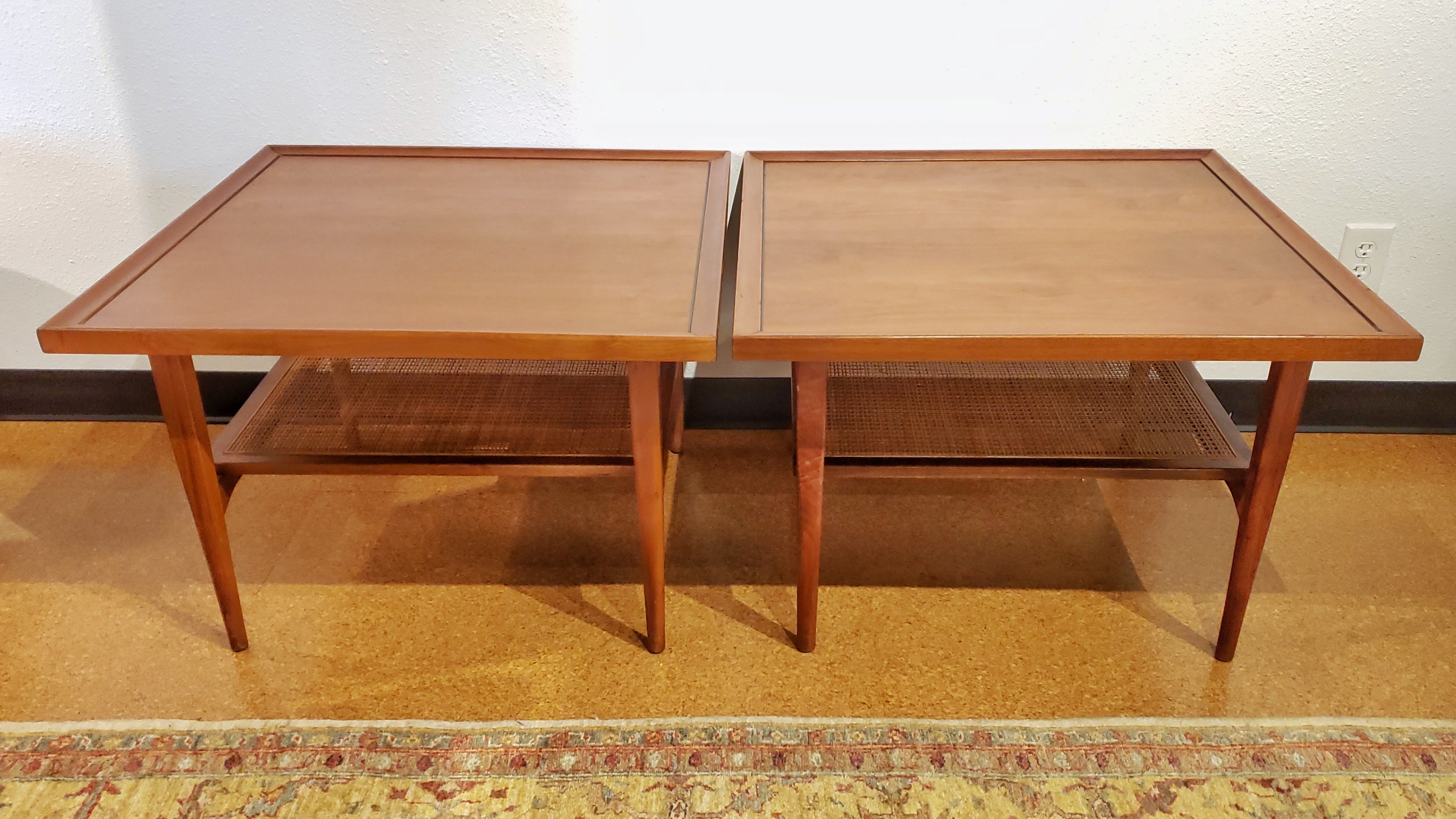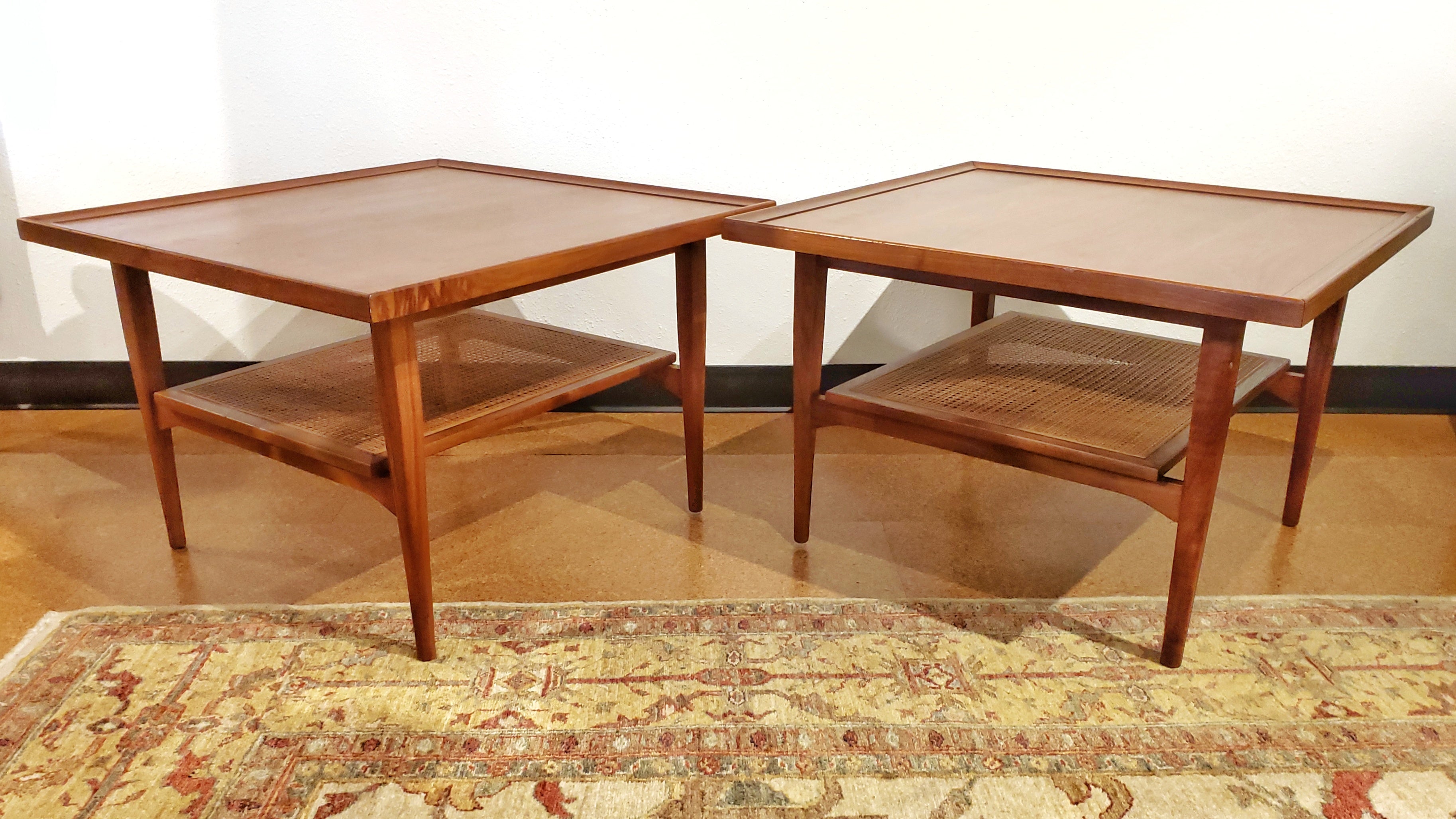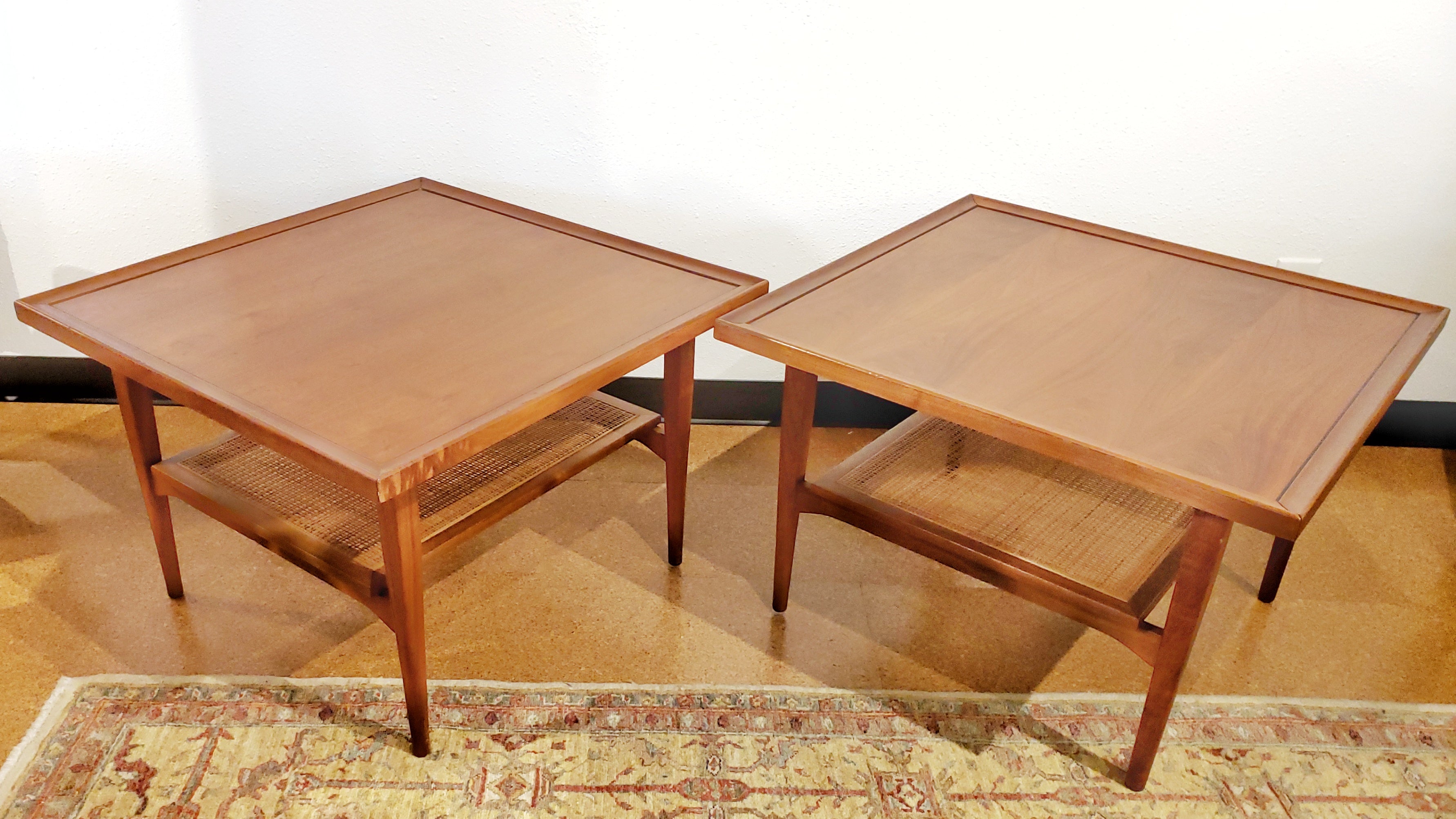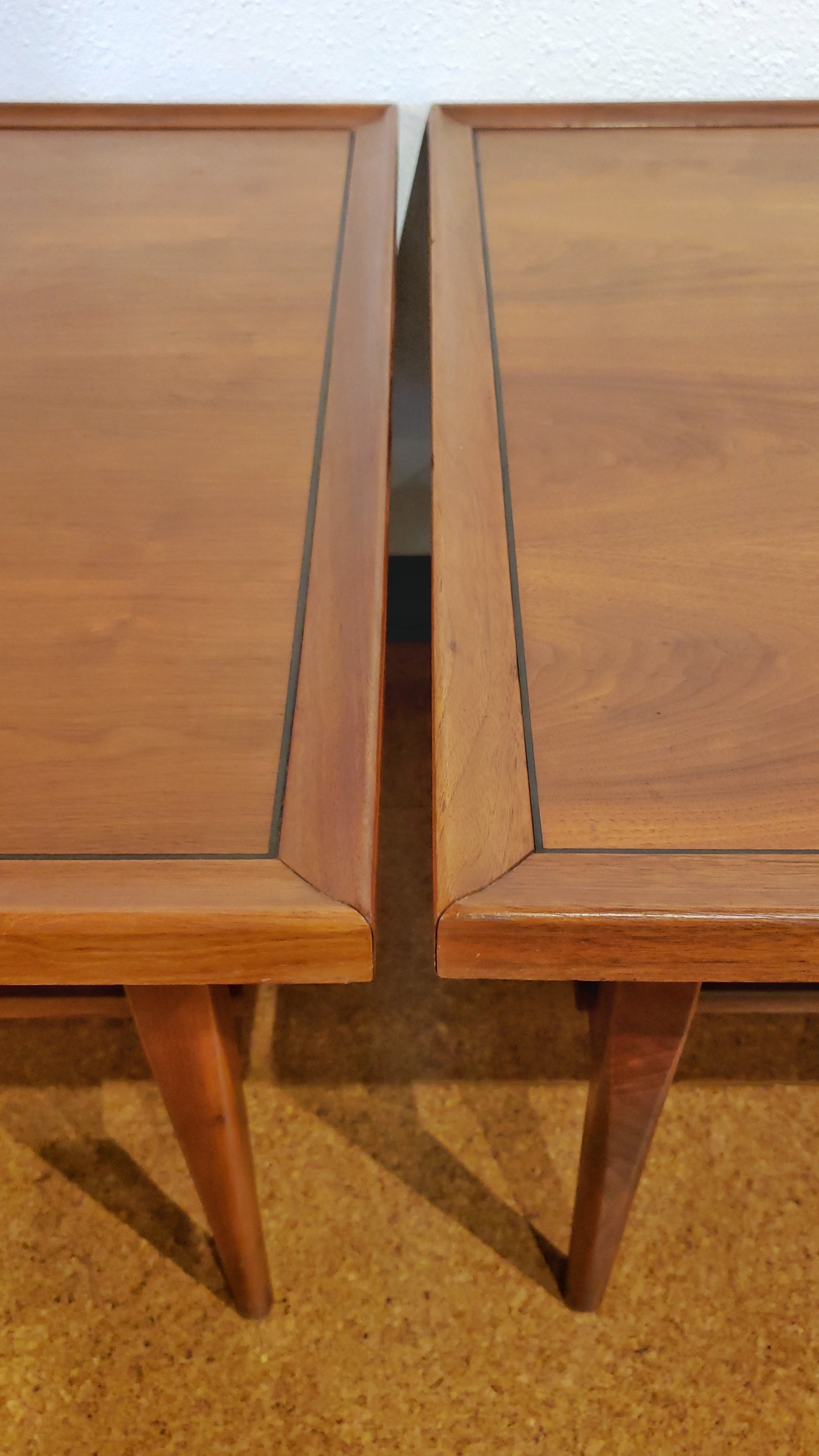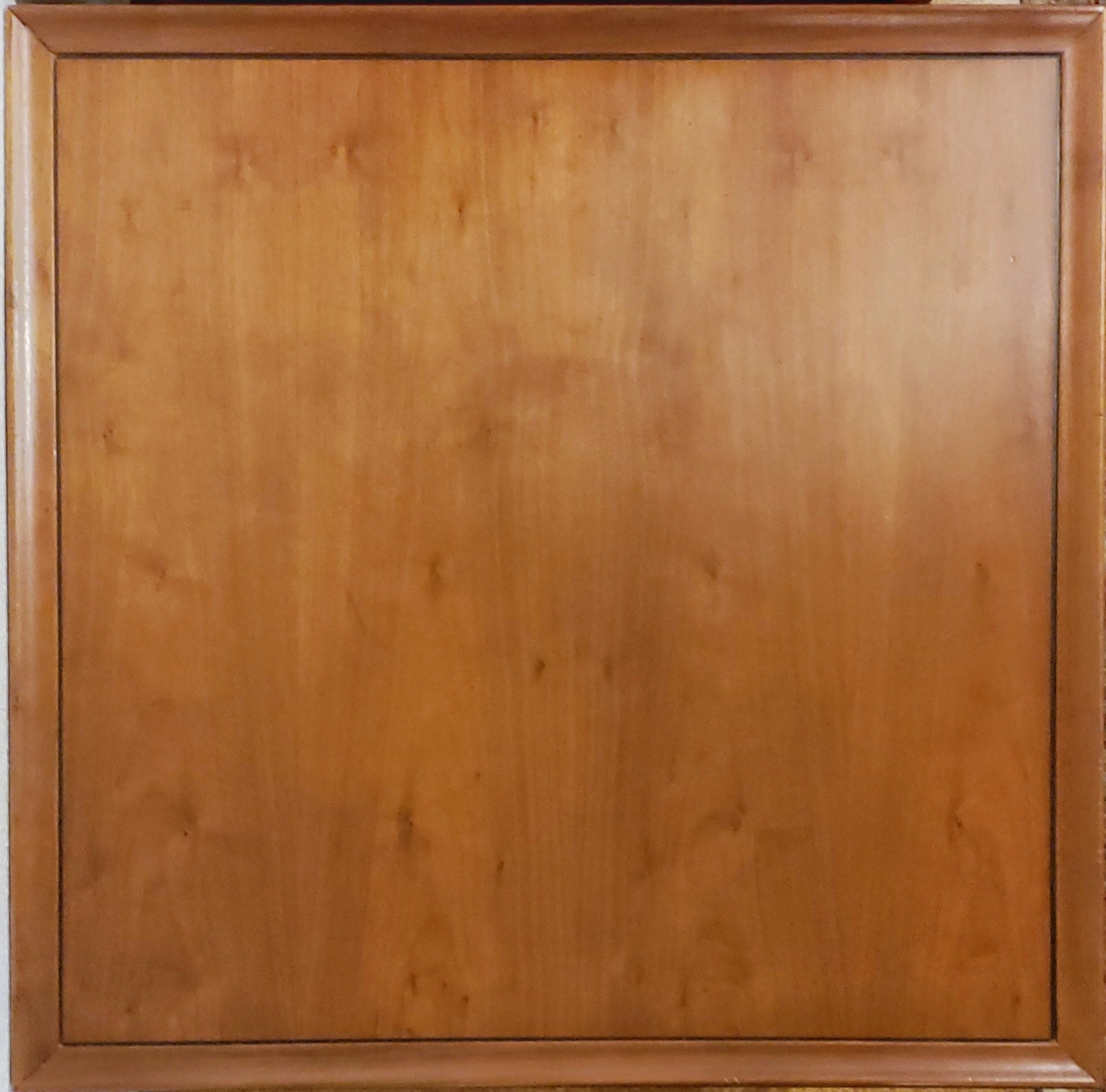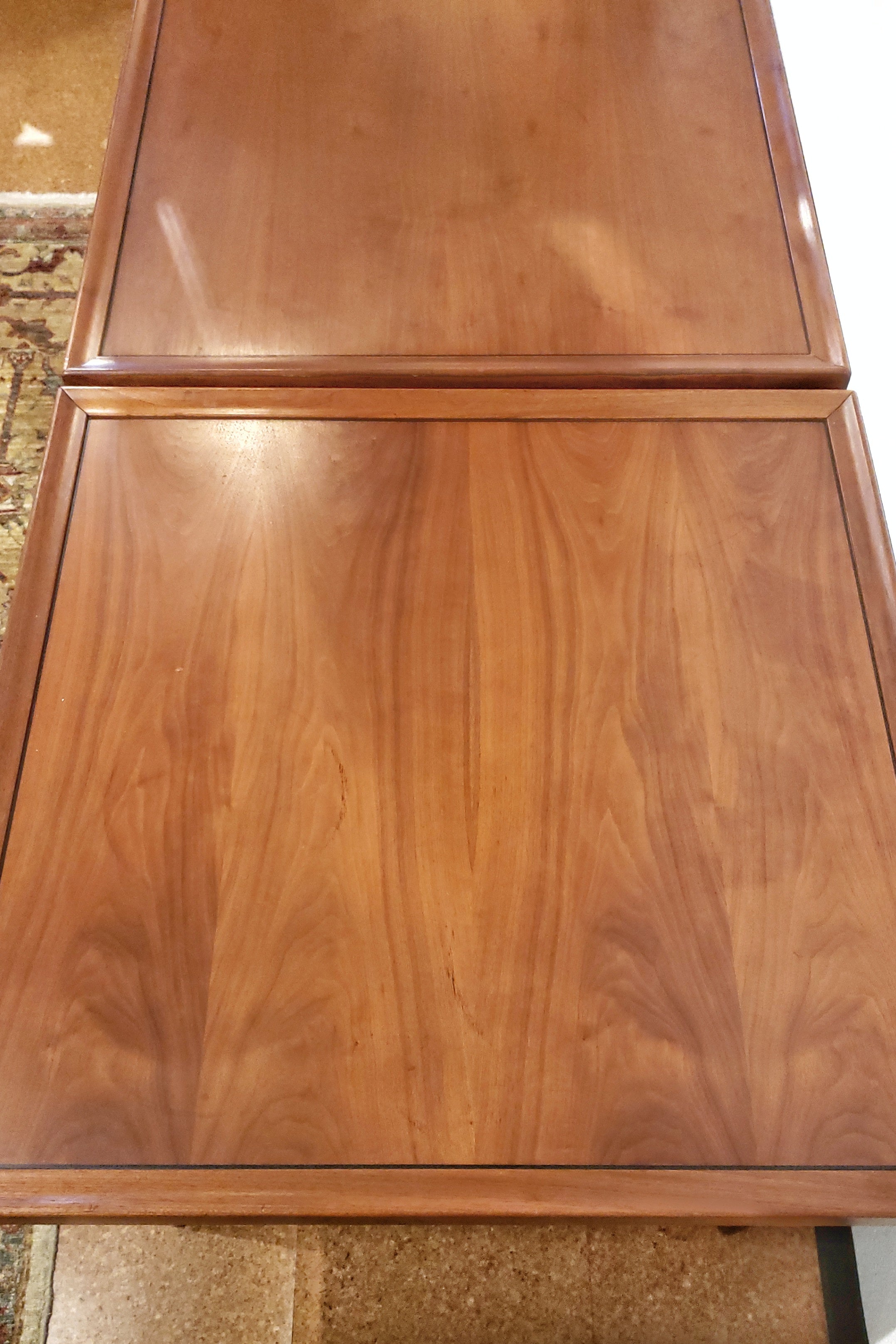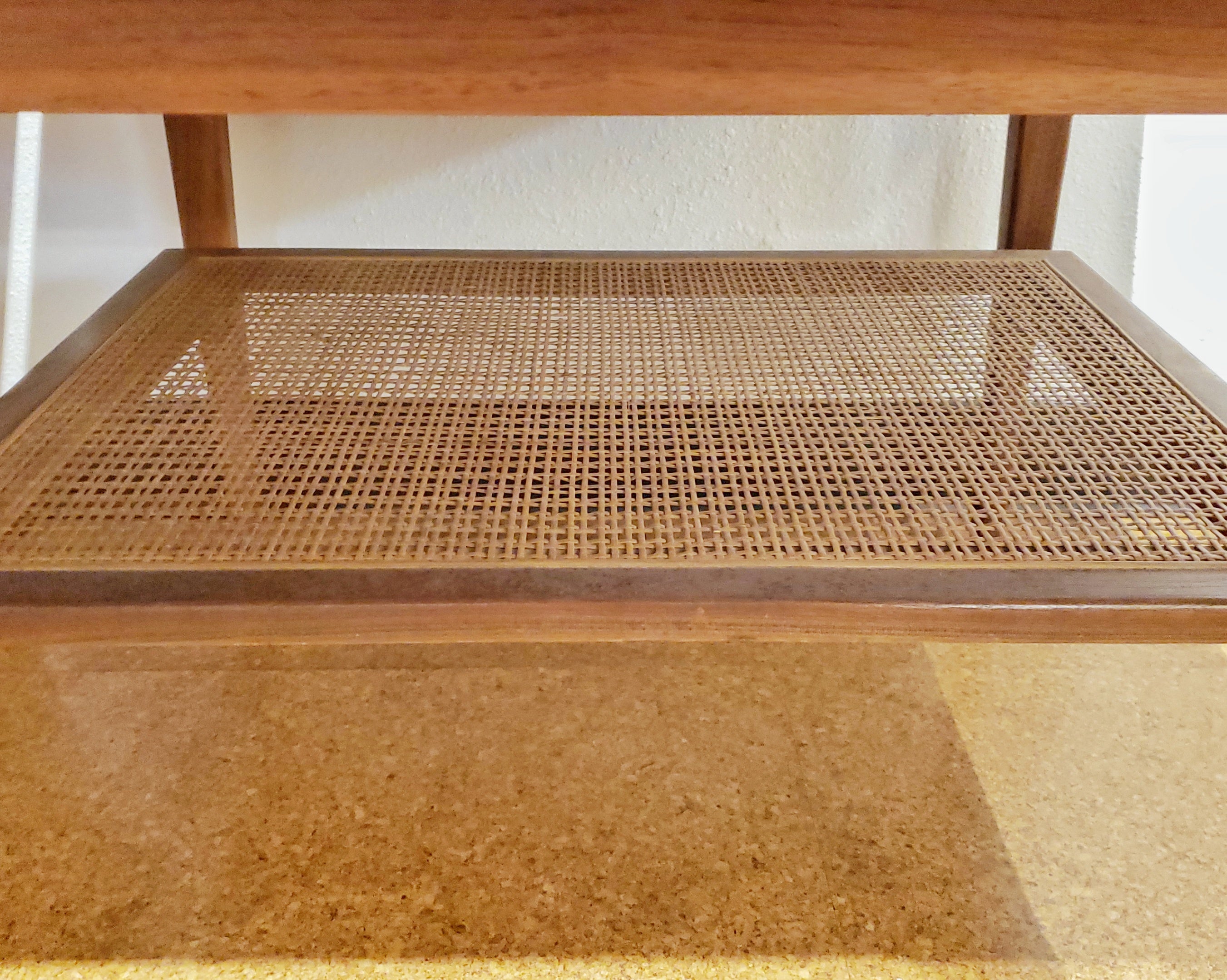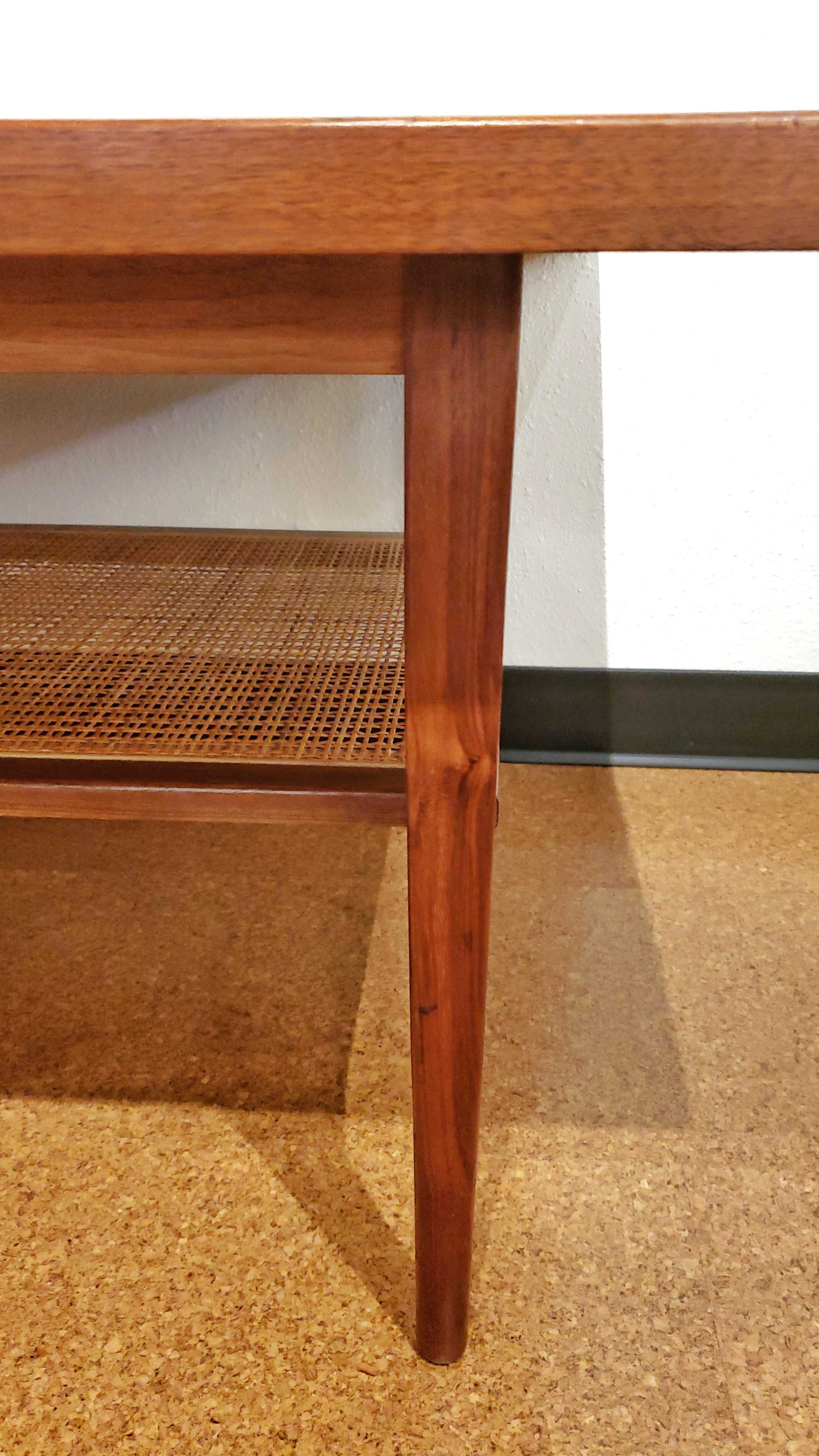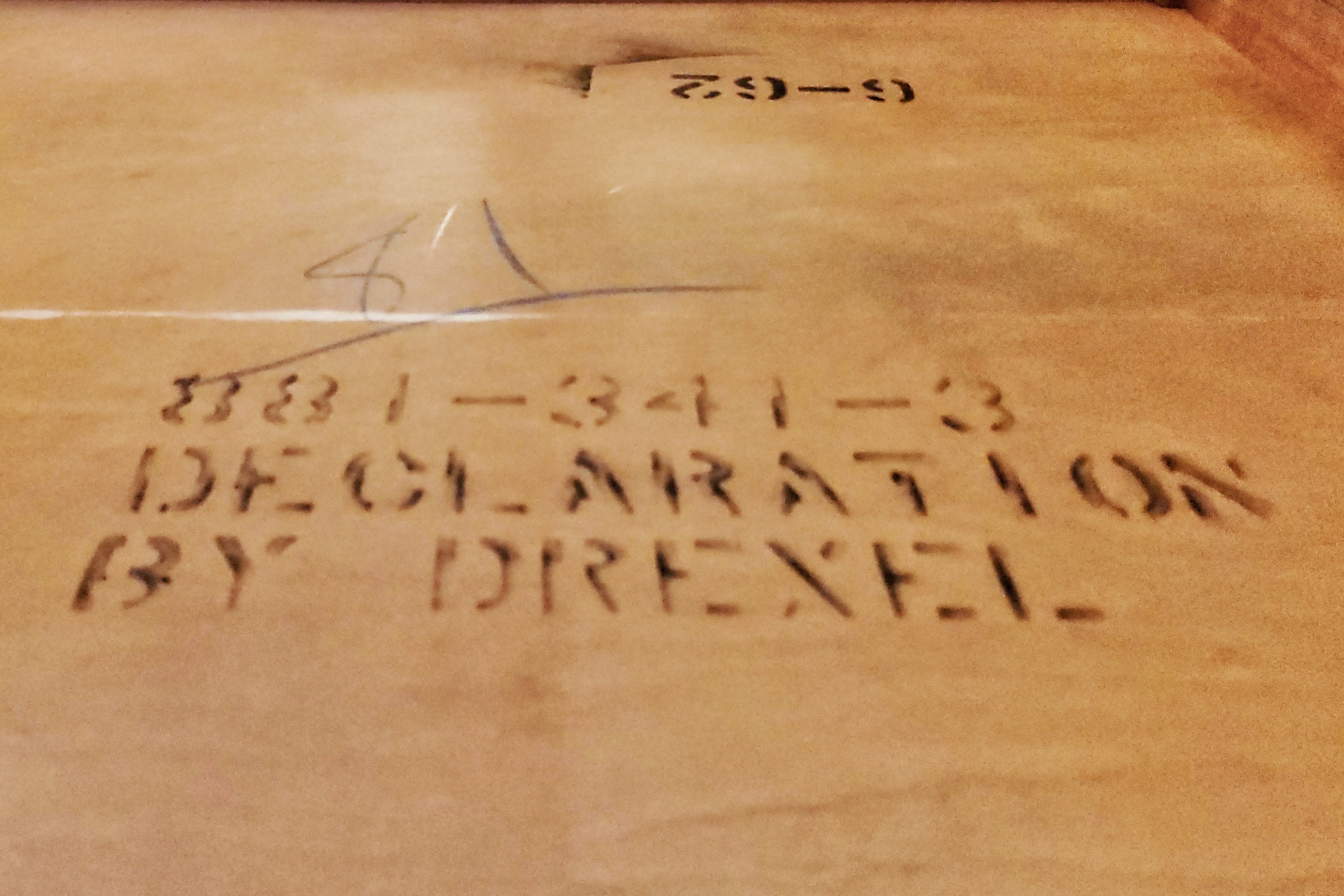 KIPP STEWART & STEWART MACDOUGALL 'DECLARATION' END TABLES FOR DREXEL
CONTACT US HERE ABOUT THIS ITEM.
A pair of oversized end/corner tables designed in the late 1950's by Kipp Stewart and Stewart McDougall for DREXEL's 'Declaration' line of modern domestic furnishings.  All 'Declaration' pieces are constructed of natural walnut.  These tables feature a lower shelf of basket-woven split cane.  [Offered here as a pair; we might be persuaded to part with them individually.]
KIPP STEWART & STEWART MACDOUGALL both emerged from the California modernist movement of the mid 20th century.  They pooled their talents in the late 1950s to design a line of modern domestic furnishings in natural walnut for the DREXEL Furniture Company—'Declaraton'.  At the time DREXEL, who pioneered the concept of partnering with freelancers to conceptualize new and innovative designs, was the quintessential furniture manufacturer in the US.  The 'Declaration' line was introduced to the public in 1960 and immediately hailed as an important contribution to American design.  Several items were chosen by the US Government Design Committee to be displayed at the Brussels World's Fair in 1958.  These pieces are considered classics of the genre today.
KIPP STEWART is a celebrated American architect, designer, and painter.  He was born in Pittsburgh in 1928 and sent off at a young age to live with distant relatives in California.  Destiny sealed a future in design for Stewart at age 15 when, while hitchhiking to school in Los Angeles one day, he fell in love with the pencilled industrial drawings that were displayed in a storefront window on Melrose Avenue.  He refused a track and field scholarship at USC in order to enroll at the Chouinard Art Institute in the late 1940s.  In addition to furniture design, Stewart's passion for the arts has led to notable works in painting, photography, and architecture.  The Ventana Inn in Big Sur is his most widely-known architectural project.  Stewart's landscape paintings have been exhibited in museums and galleries in major cities, including MoMA.  He still paints today.
STEWART MACDOUGALL was born in 1927 in Pasadena.  He attributes his fascination with design to growing up in house built by prominent architect brothers Charles S. and Henry M. Greene.  MacDougall overcame early learning disabilities while attending Miss Orton's Classical School for Girls, which was run by his mother.  After a brief stint in the Navy, he attended the Chouinard Art Institute.  He then went to work for Victor Gruen Associates where the principal designer, architect Rudolf Baumfeld, a student of Le Courbusier's, became his mentor.  This association cemented MacDougall's design aesthetic.  A striving for simple line without fussiness is clearly apparent throughout his work, whether in furniture, sailboats, golf equipment, or sculpture.  MacDougall's time is currently split between Montecito, California, and Nantucket with his wife of many years, his lifetime muse.
DREXEL was incorporated in 1903 in Drexel, North Carolina.  Sam Huffman, one of its six initial founders, managed the enterprise until his death in 1935.  His son, Robert O. Huffman, then took the helm.  By 1950, DREXEL Enterprises had grown from a small factory into a leader in American furniture manufacturing, employing 2,300 workers and acquiring other furniture companies along the way.  Industrial and hospitality furniture lines were added in the 1960s.  DREXEL was purchased in 1968 and became DREXEL Heritage Furnishings, Inc.  It continued to add styles and lines and, in 1986, became part of Masco Corporation, one of the country's largest furniture manufacturers.  DREXEL is now based in High Point, North Carolina, and operates eleven factories in the Carolinas.  It remains one of the nation's leading residential furniture manufacturers, producing wooden and upholstered furniture under several brand names.
Design Period – 1950-1959
Country of Origin – USA
Designer – KIPP STEWART & STEWART MACDOUGALL
Maker – DREXEL
Attribution – MARKED
Materials – WALNUT, CANE
Condition – VERY GOOD (no defects; may show slight traces of use)
Height (in.) – 20.5
Width (in.) – 30.0
Depth (in.) – 30.0