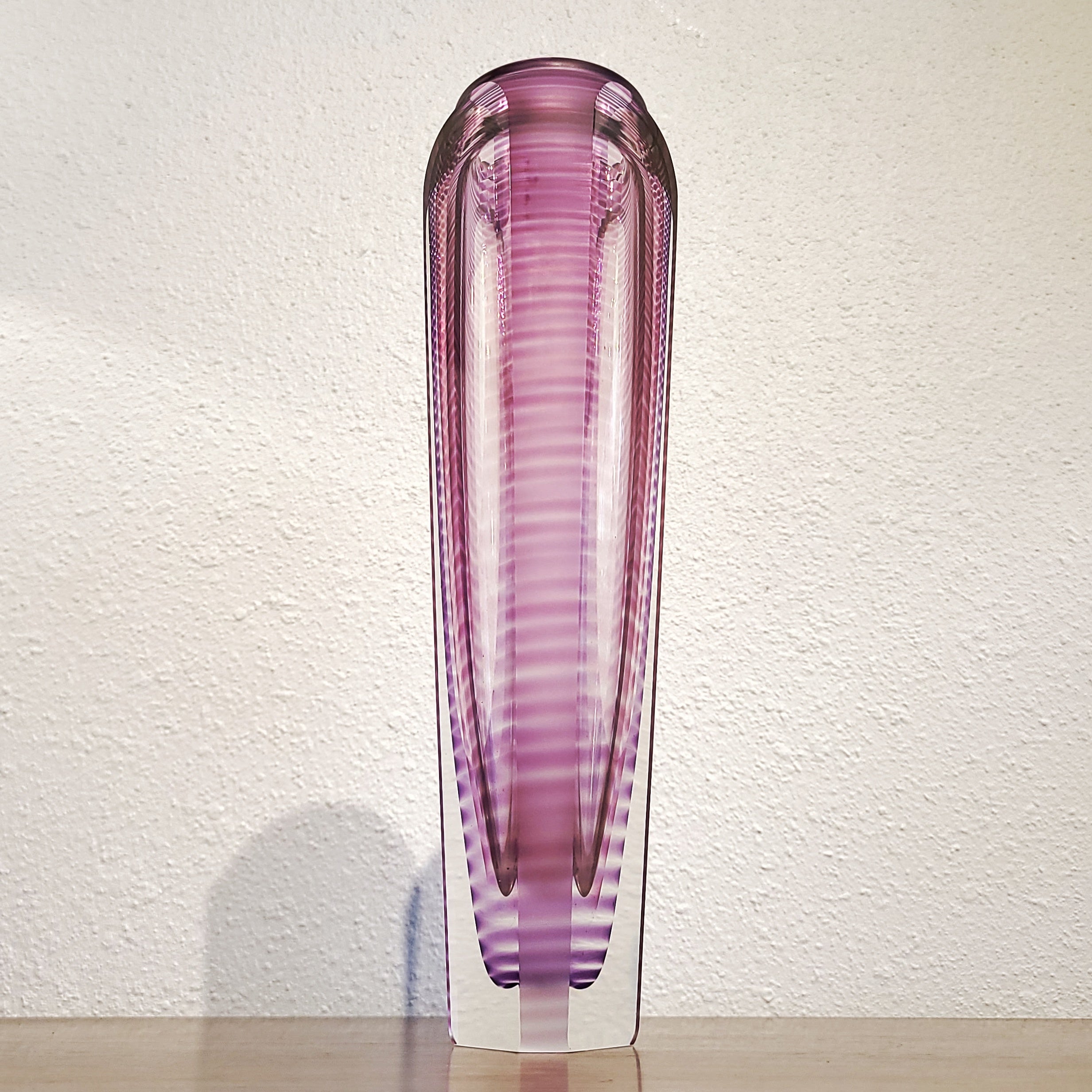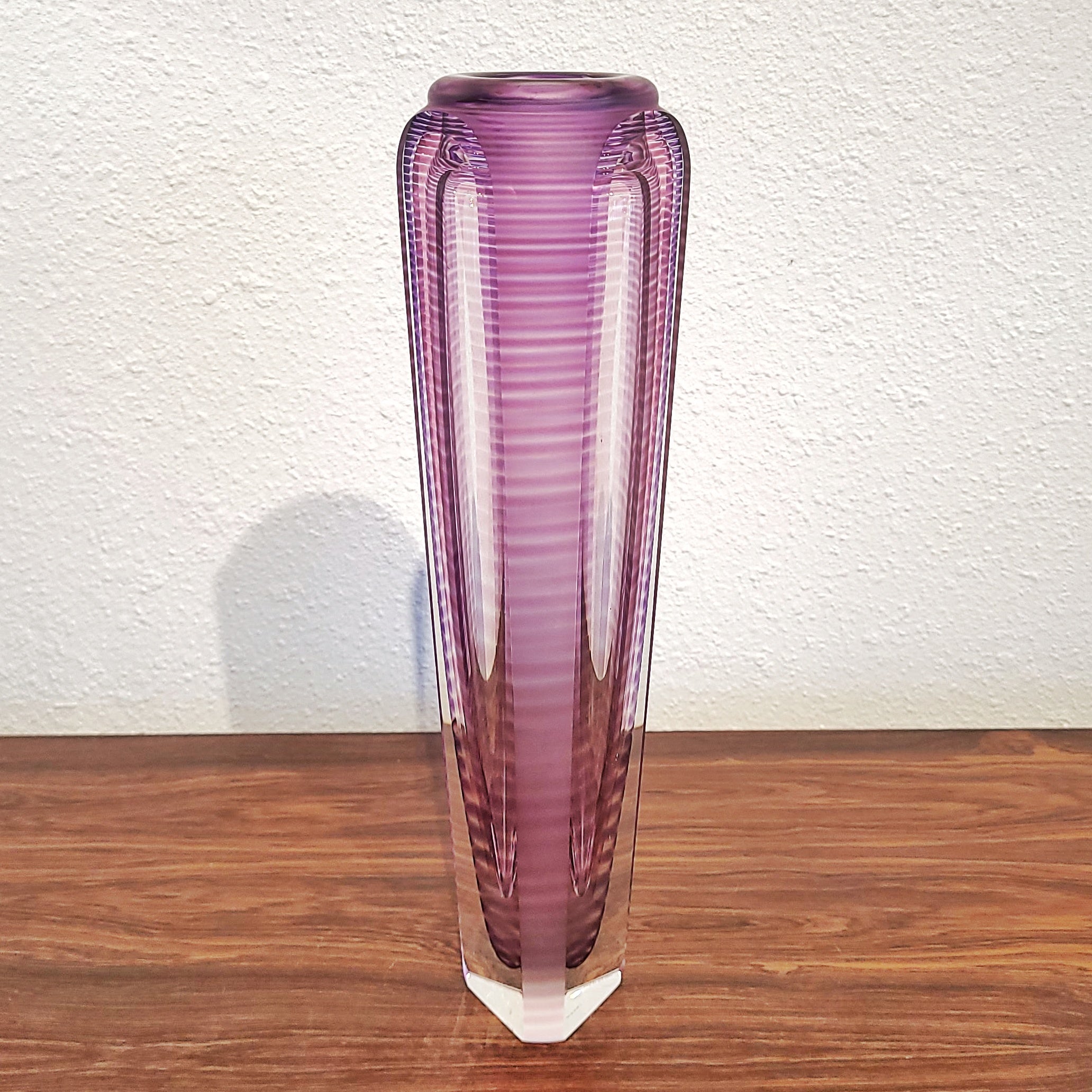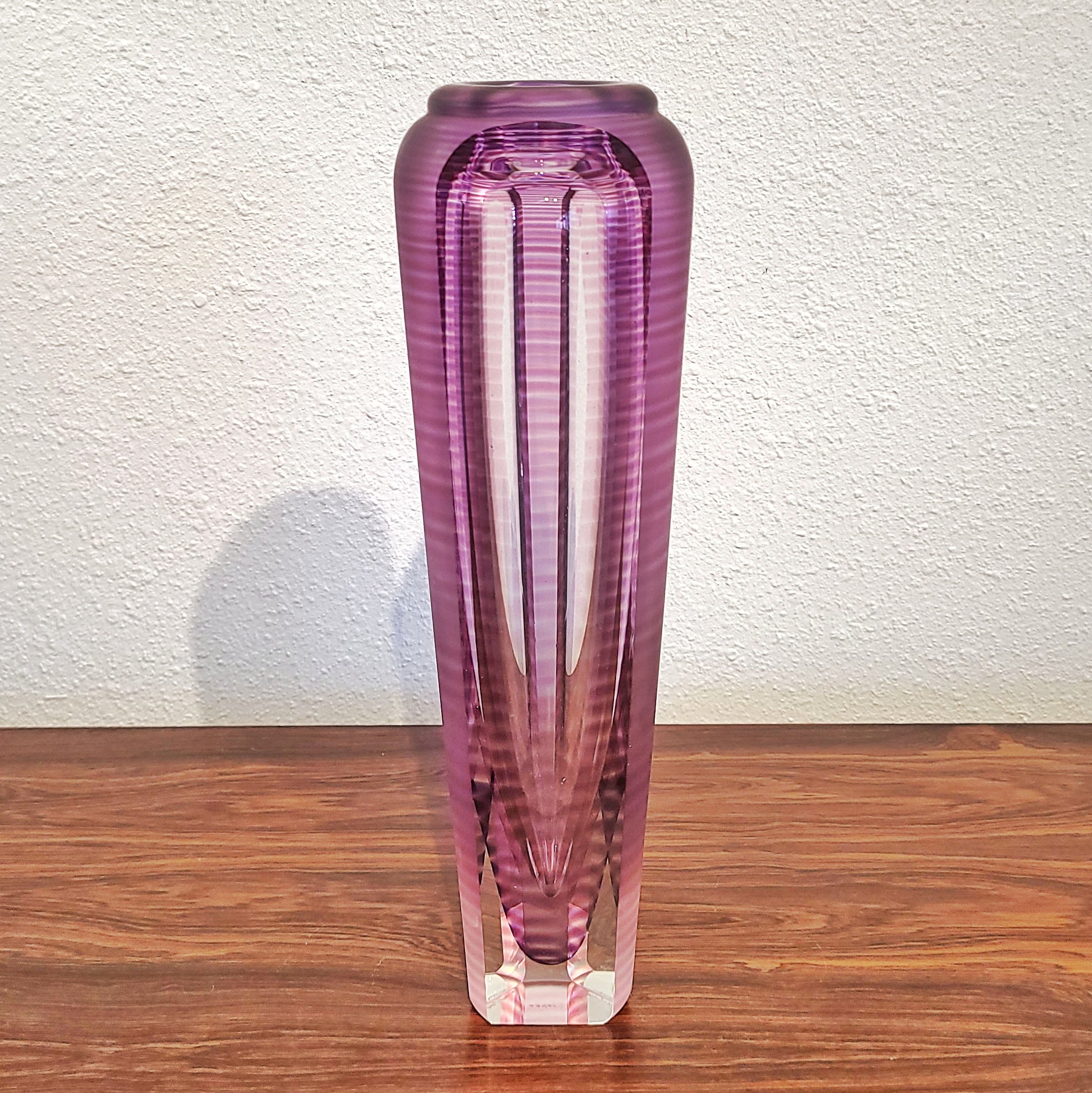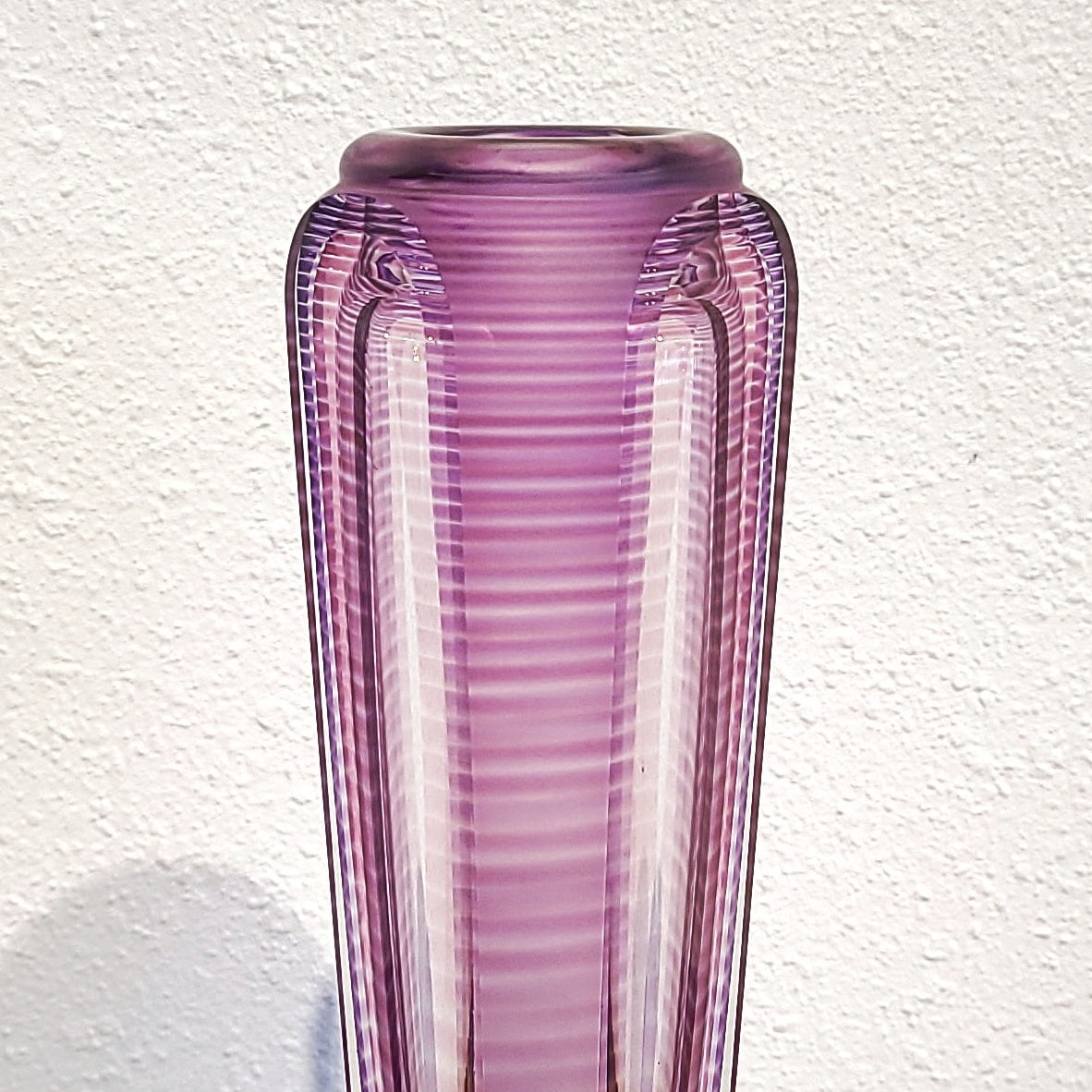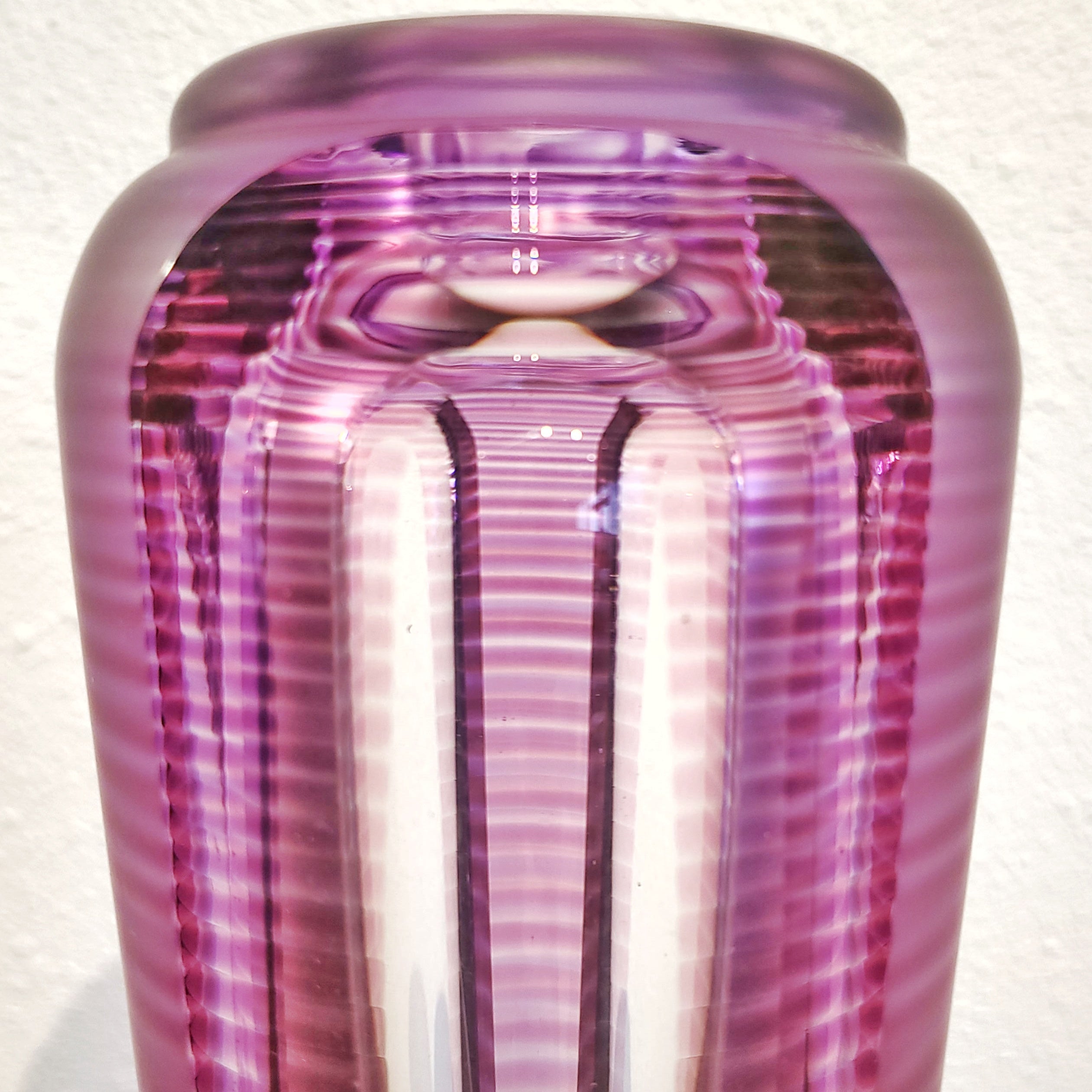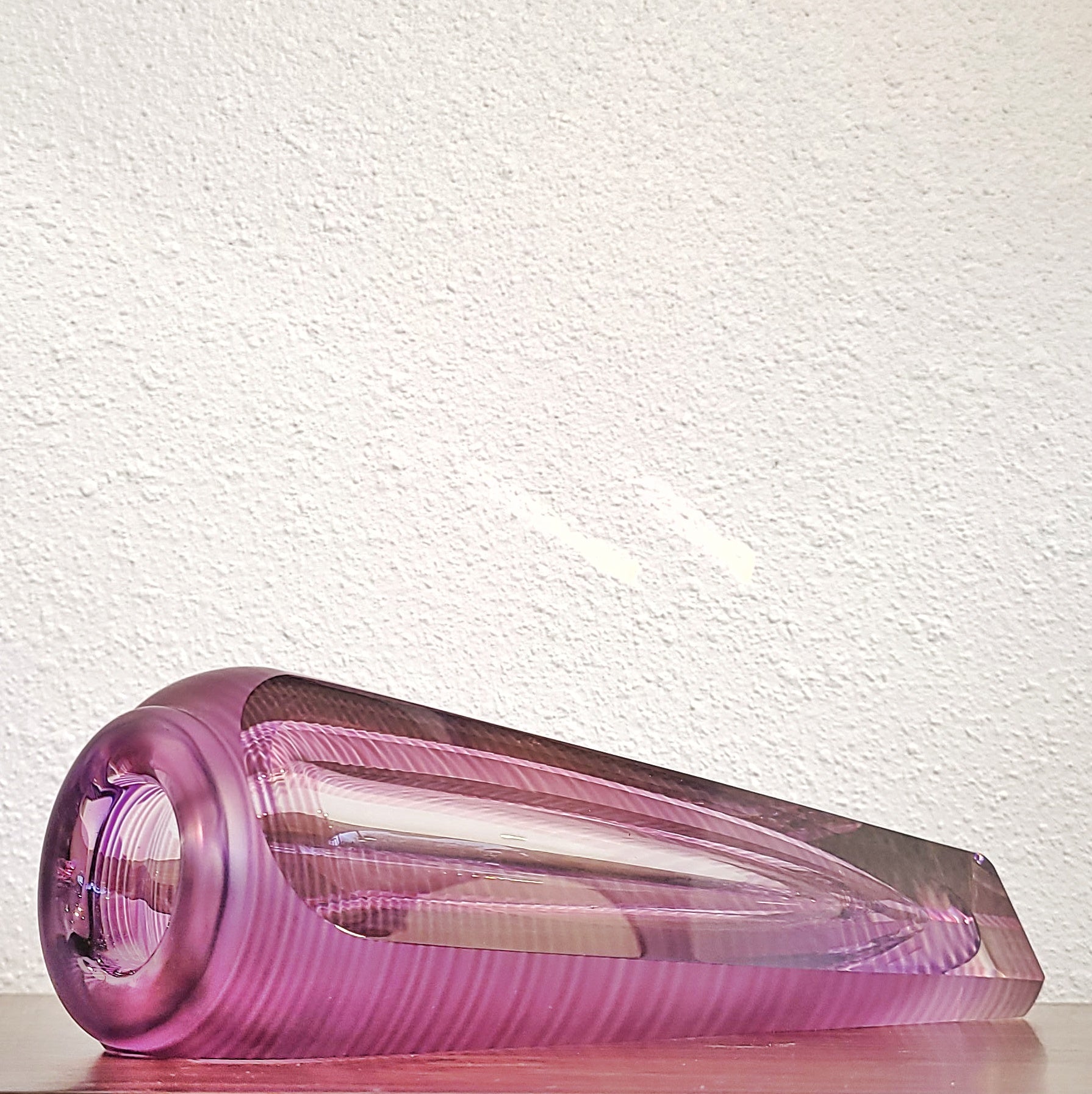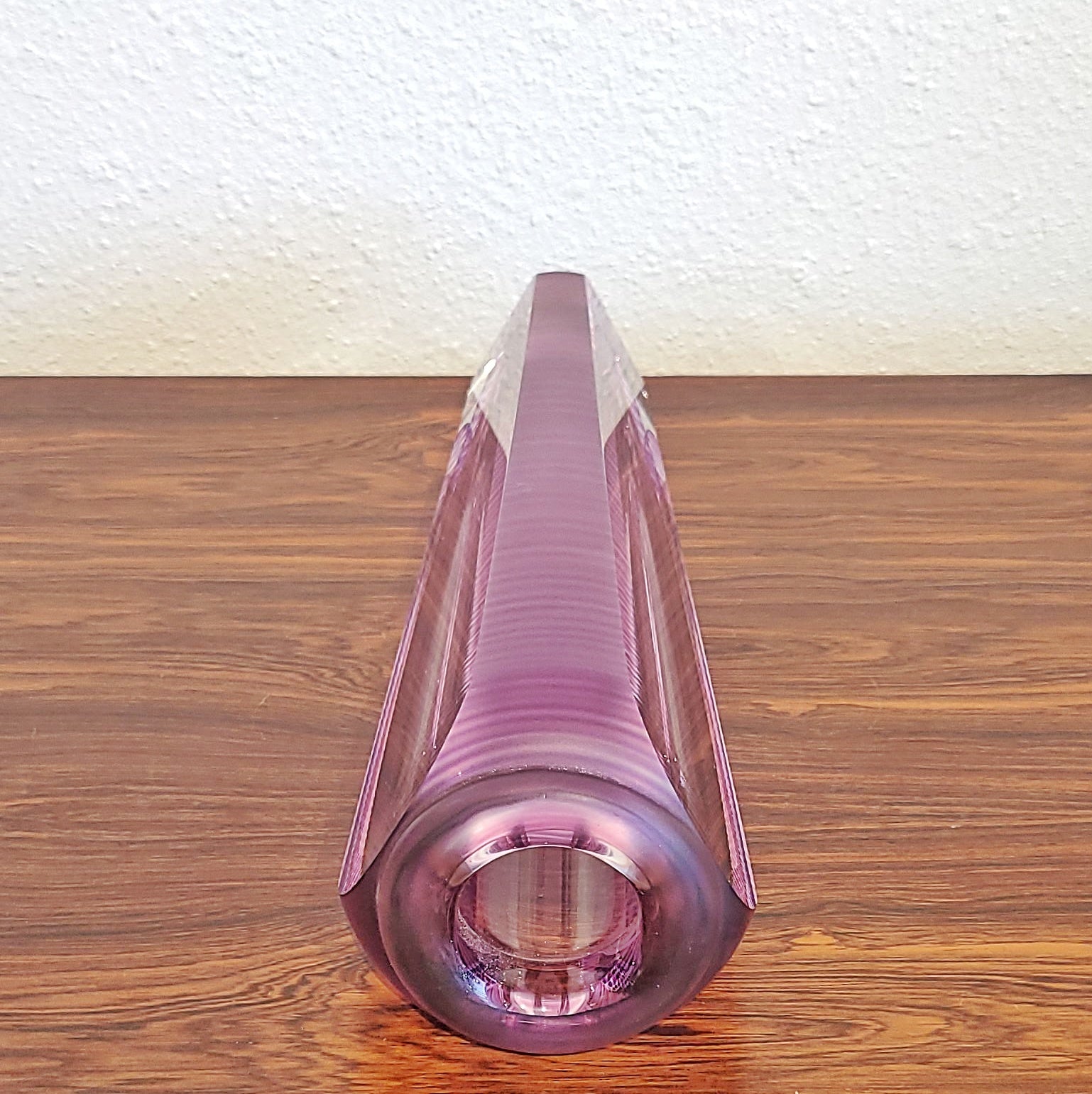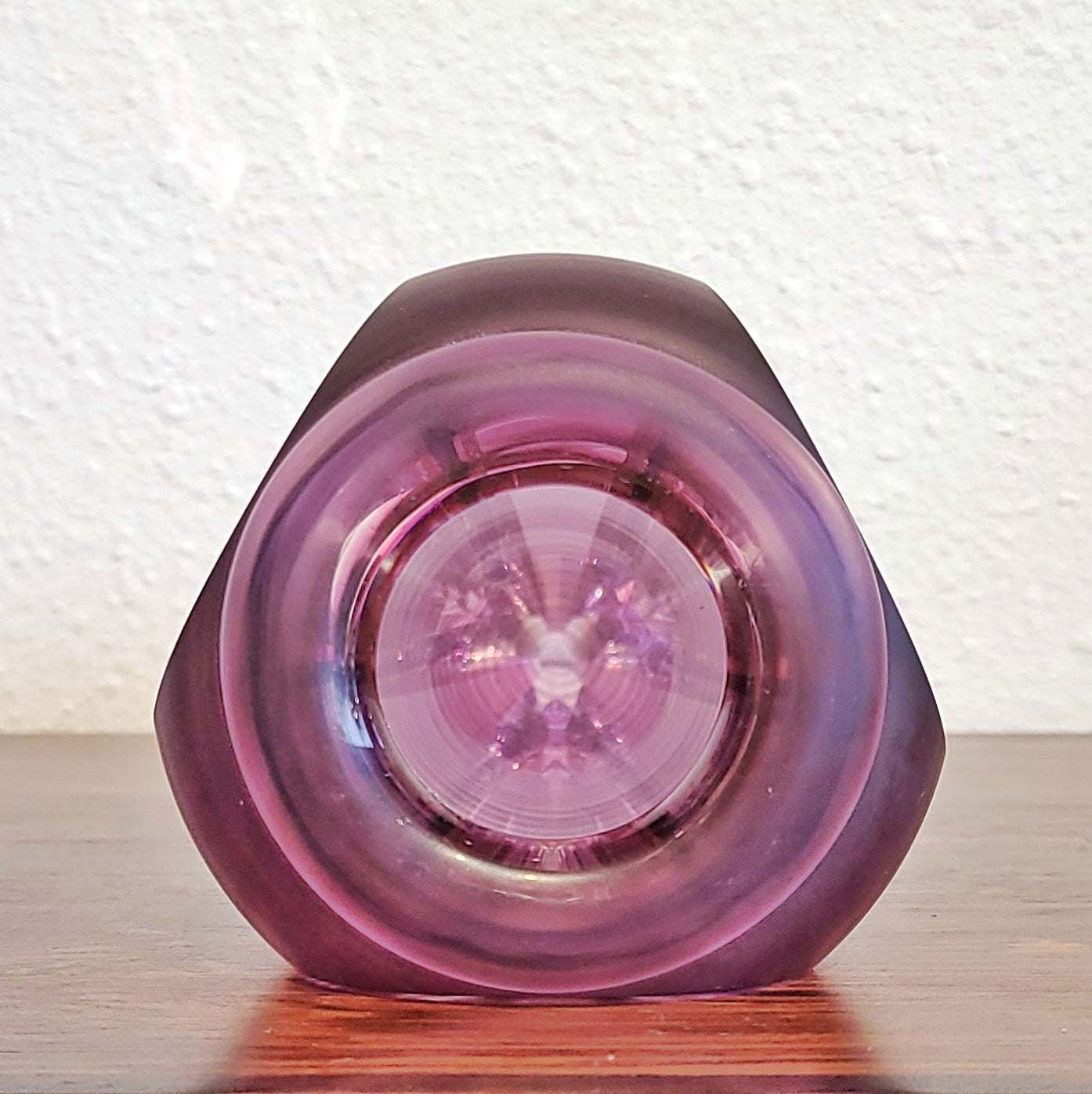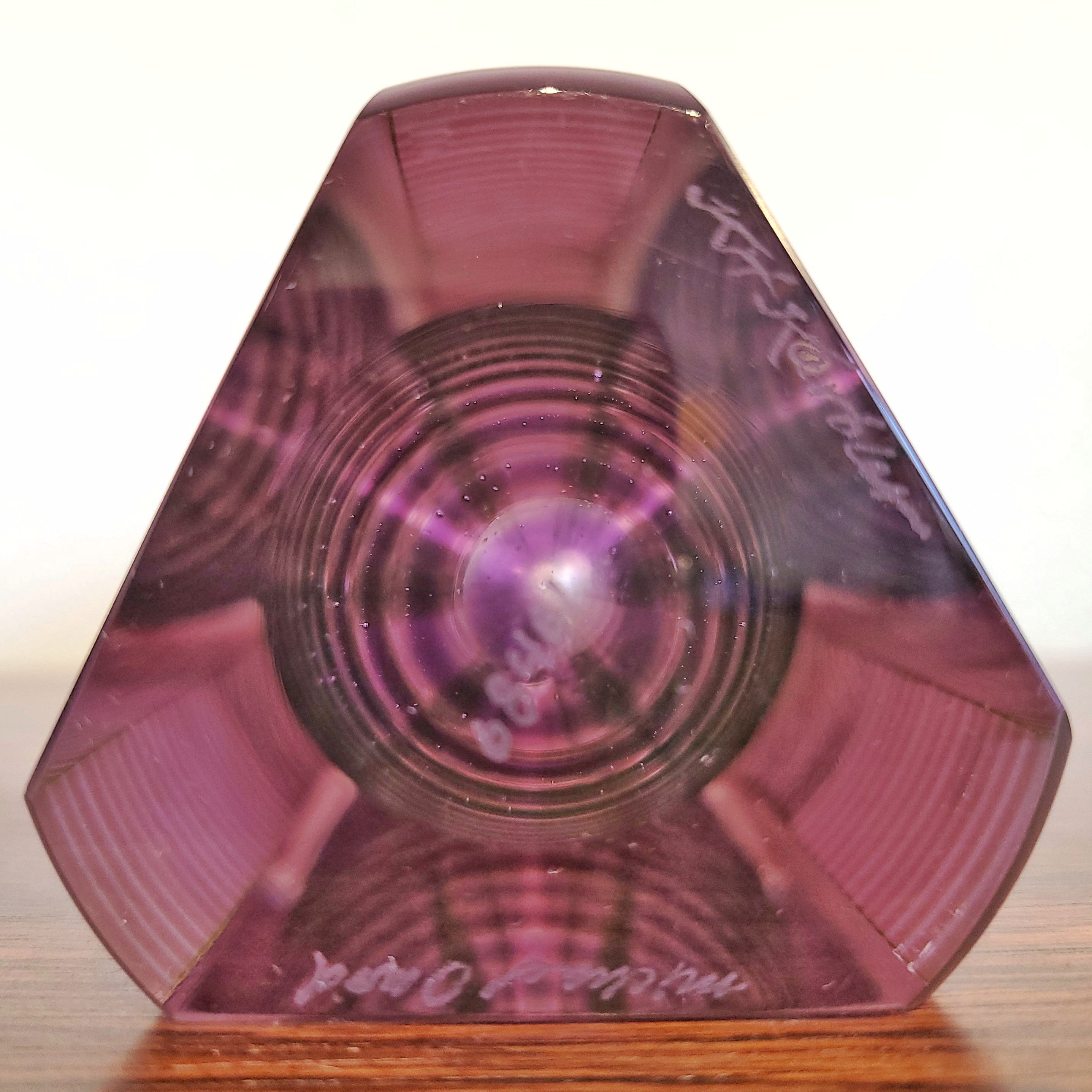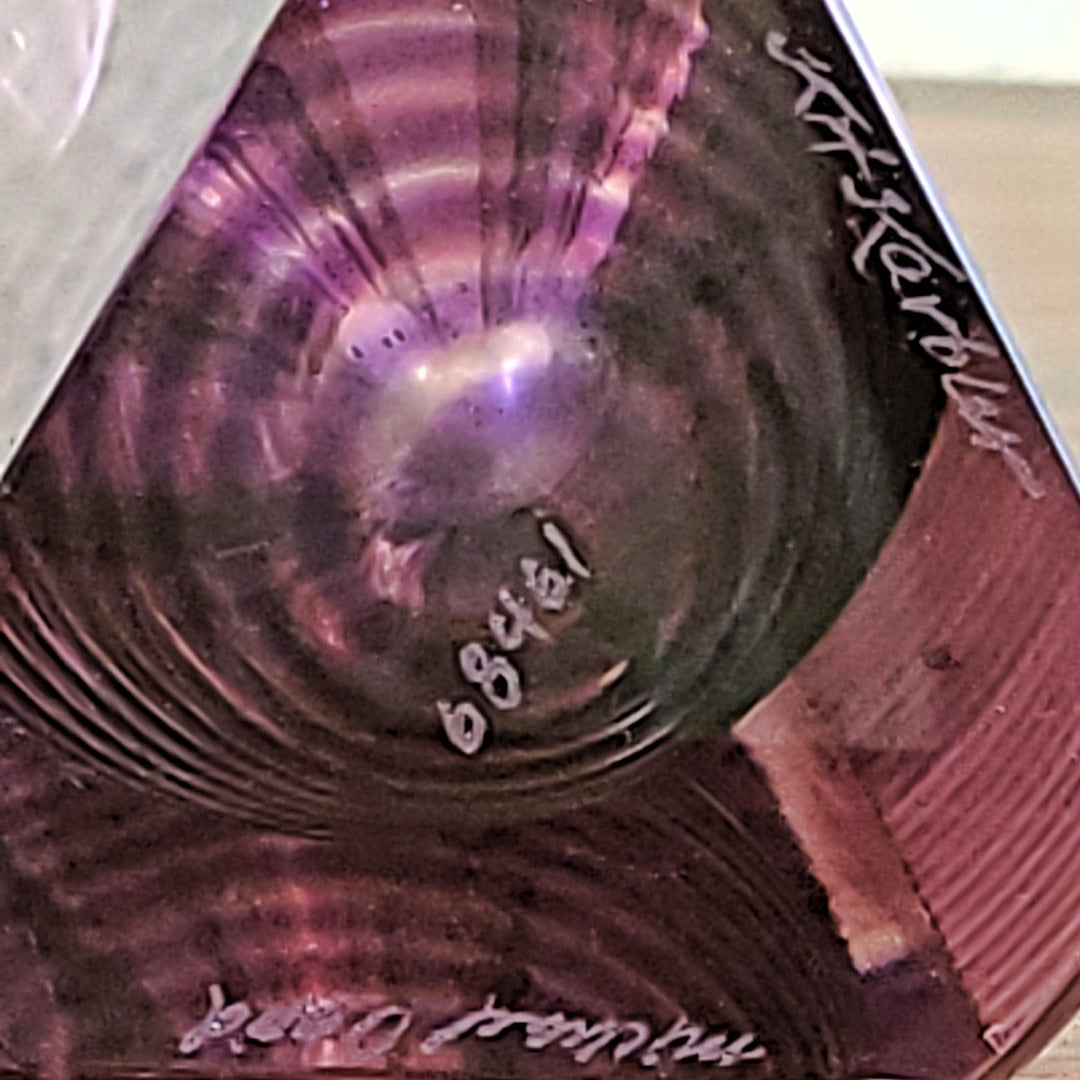 KIT KARBLER & MICHAEL DAVID CRYSTAL VASE FOR BLAKE STREET GLASS
CONTACT US HERE ABOUT THIS ITEM.
A tall (13.5") reverse tapered vetro a fili crystal vase with regular horizontal glass cane in transparent violet.  Cased in scavo crystal, three sides have been sliced away to reveal the inner prismatic dimensionality of the vase.  The signatures of both artists are engraved on the bottom along with the item number 68461.
KIT KARBLER & MICHAEL DAVID are known for their innovative handblown prismatic forms utilizing techniques of layering, threading, slicing and polishing. Kit received his Bachelors degree in Fine Art from Ohio University and continued his graduate studies in Glass and Design at UCLA where he studied with the internationally renowned glass artist Richard Marquis. Kit currently teaches at the University of Denver.
Michael studied Glass and Art at the University of Colorado, Goddard College and Cornell university. Kit and Michael have been honored by numerous corporate commissions including: the American Bar Association, the Colorado Business Council for the Arts, Georgia Institute of Technology, Denver Grand Prix, Oppenheimer Investments Services, Quark, Inc, Mountain Bell Corp., Dupont, US West, UPS, Xerox, ITT, TransCanada Pipelines, and IBM. They also have works in the permanent collections of the Corning Museum of Glass, Colorado Springs Fine Art Center, Denver Art Museum, the Royal Ontario Museum, and the Kjarvalsstadir Museum, Reykjavik, Iceland. Their work can also be found at numerous galleries throughout the United States and the world.
The two set out to make works that were different from others from the very beginning. Their process of cutting and faceting the pieces helped them to stand out from other glass artists and helped them gain numerous awards and recognition over the years.  Kit Karbler and Michael David often toy with concepts of function vs. sculpture. A perfectly formed bowl, plate or vase will have sides cut away denying it of any functionality. The viewer is left with only an object possessing a sense of human history. The areas which have been cut away reveal layers of color immersed in clear crystal. The concept of history is also pushed by the use of acid etching to the surface. This muted surface contrasts the highly polished cut edges causing them to appear fresh. In some of Kit's and Michael's larger sculptural works they incorporate pieces of stone and metal. Each piece they create is a collaborative effort, signed by both artists, dated and numbered. They have been working together since 1980 when they established their Denver studio, Blake Street Glass.

"The primary purpose of my work is not to simply allow you to hold objects, but to hold your imagination and light. The techniques that have been perfected over the years combined with hours of preparations produce a visual experience that leave a lasting impression."~ Kit Karbler
| | |
| --- | --- |
| Designer | KIT KARBLER & MICHAEL DAVID |
| Design Period | 1980 to 1989 |
| Production Period | Unknown |
| Country of Manufacture | United States |
| Identifying Marks | This piece has an attribution mark |
| Style | Hand-Crafted, Minimalist, Modernist |
| Detailed Condition | Excellent — This vintage piece is in near original condition. It may show minimal traces of use and/or have slight restorations. |
| Product Code | |
| Materials | Crystal, Hand-Blown Glass, Frosted Glass, Mouth-Blown Glass, Colored Glass, Lead Crystal |
| Color | Plum |
| Width | 3.5 inch |
| Depth | 3.5 inch |
| Height | 13.8 inch |