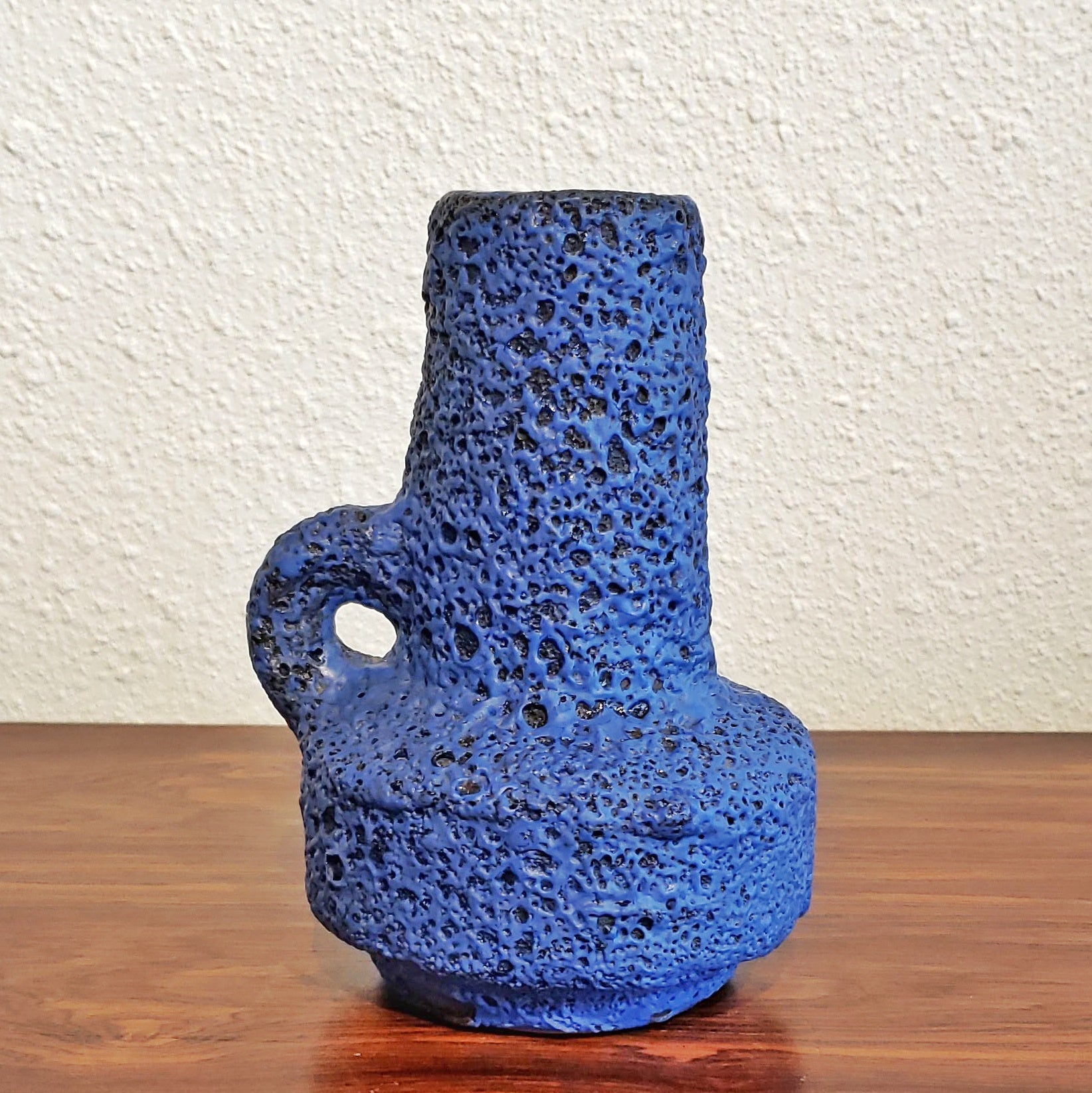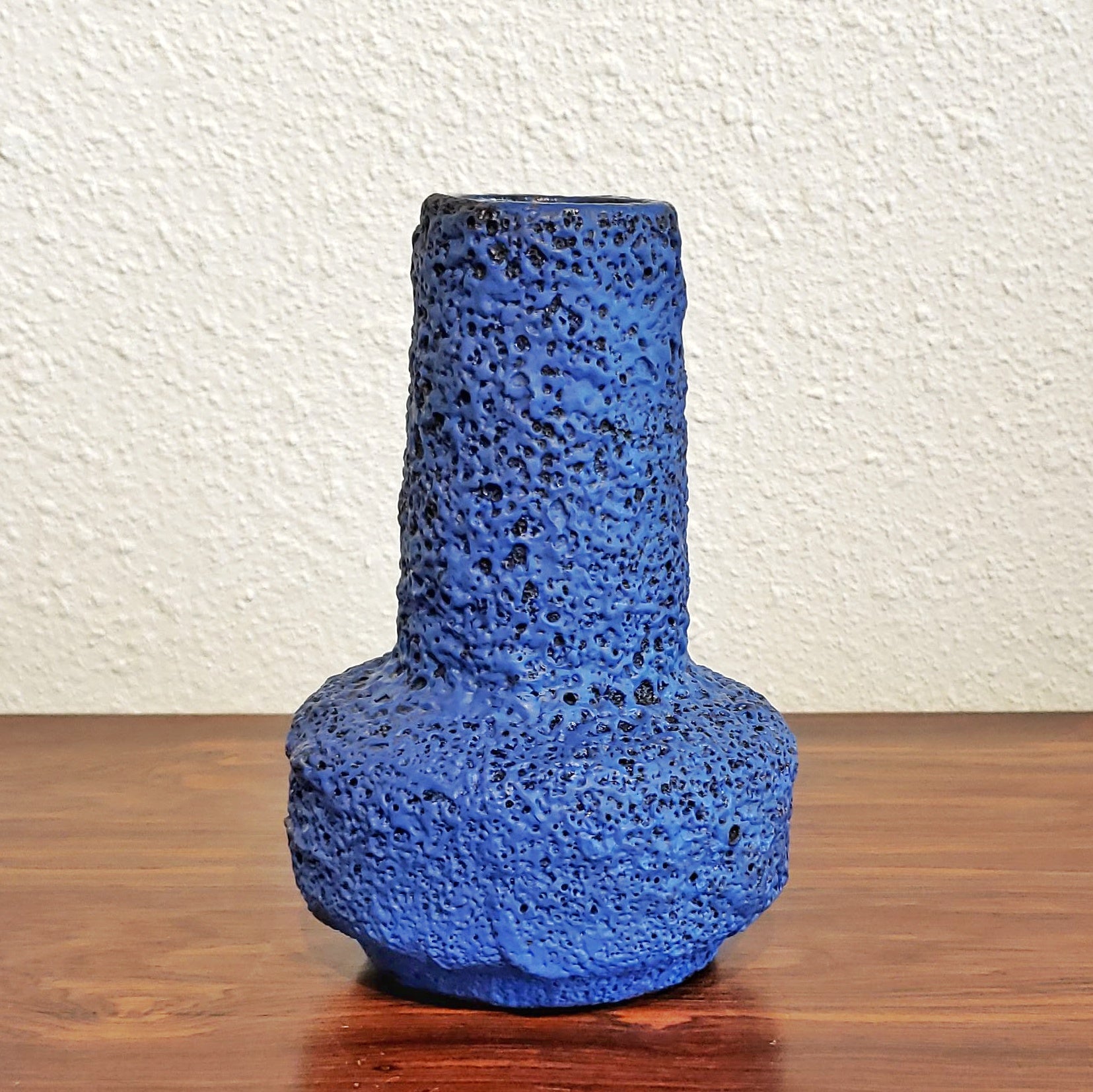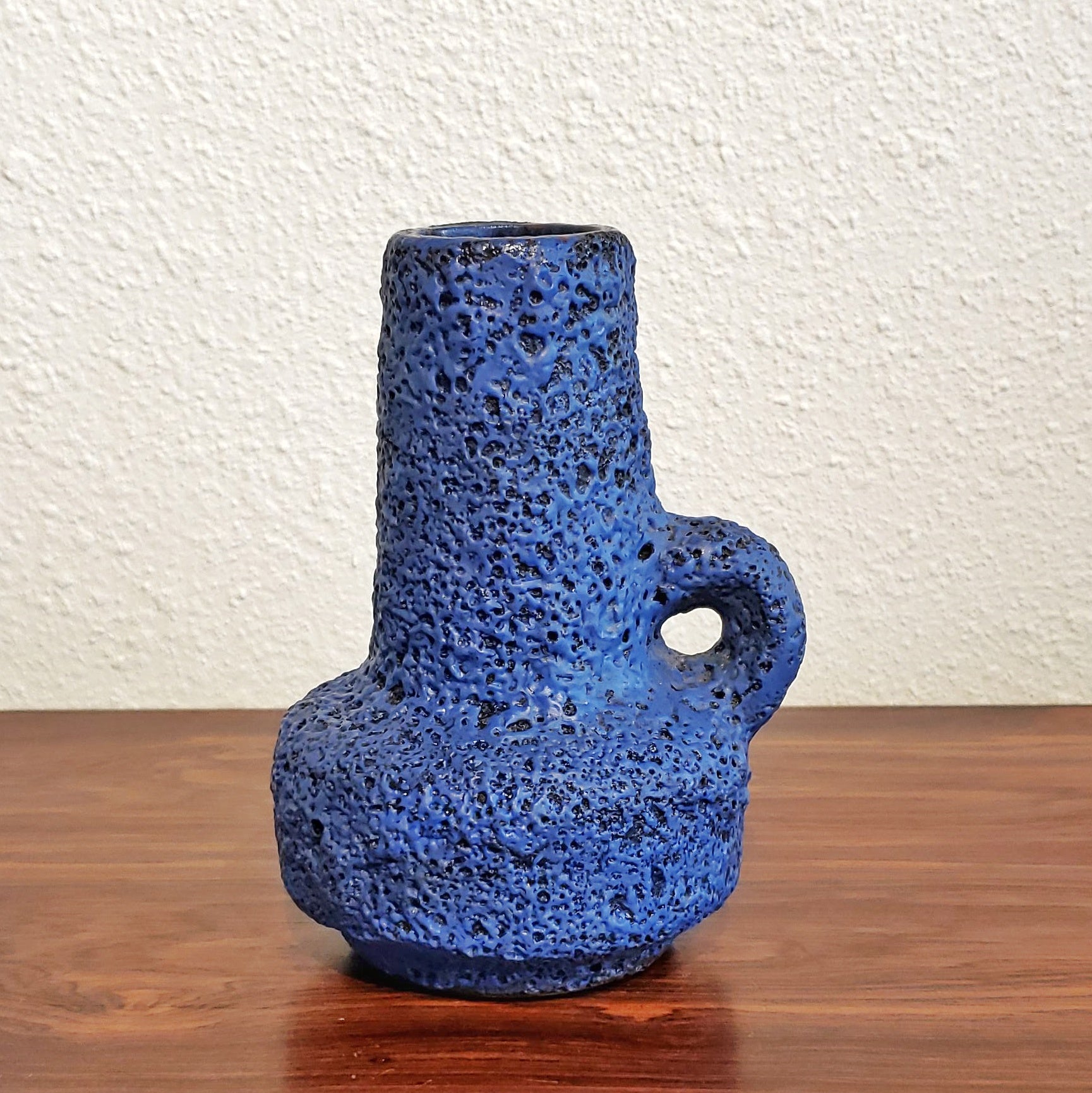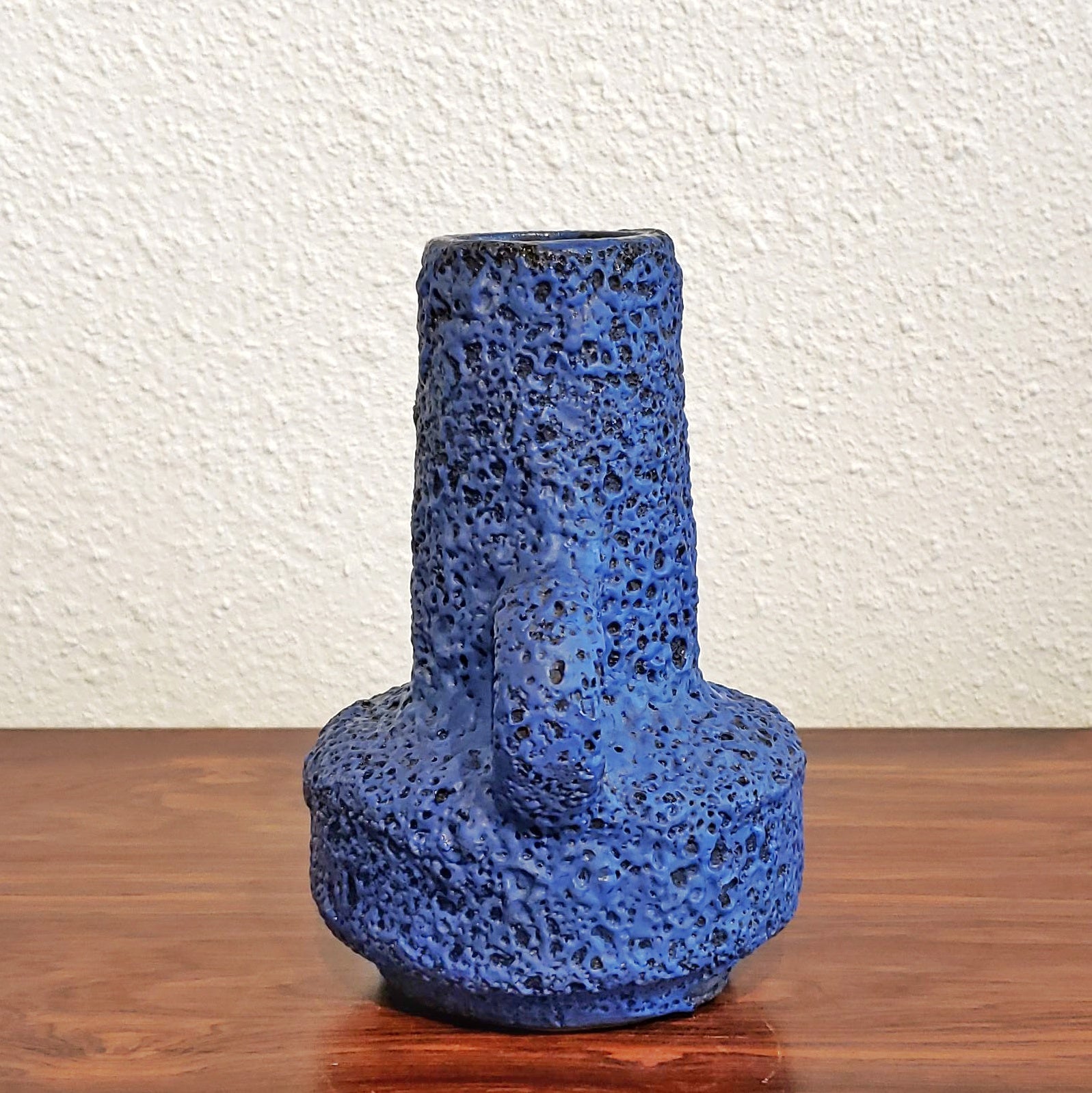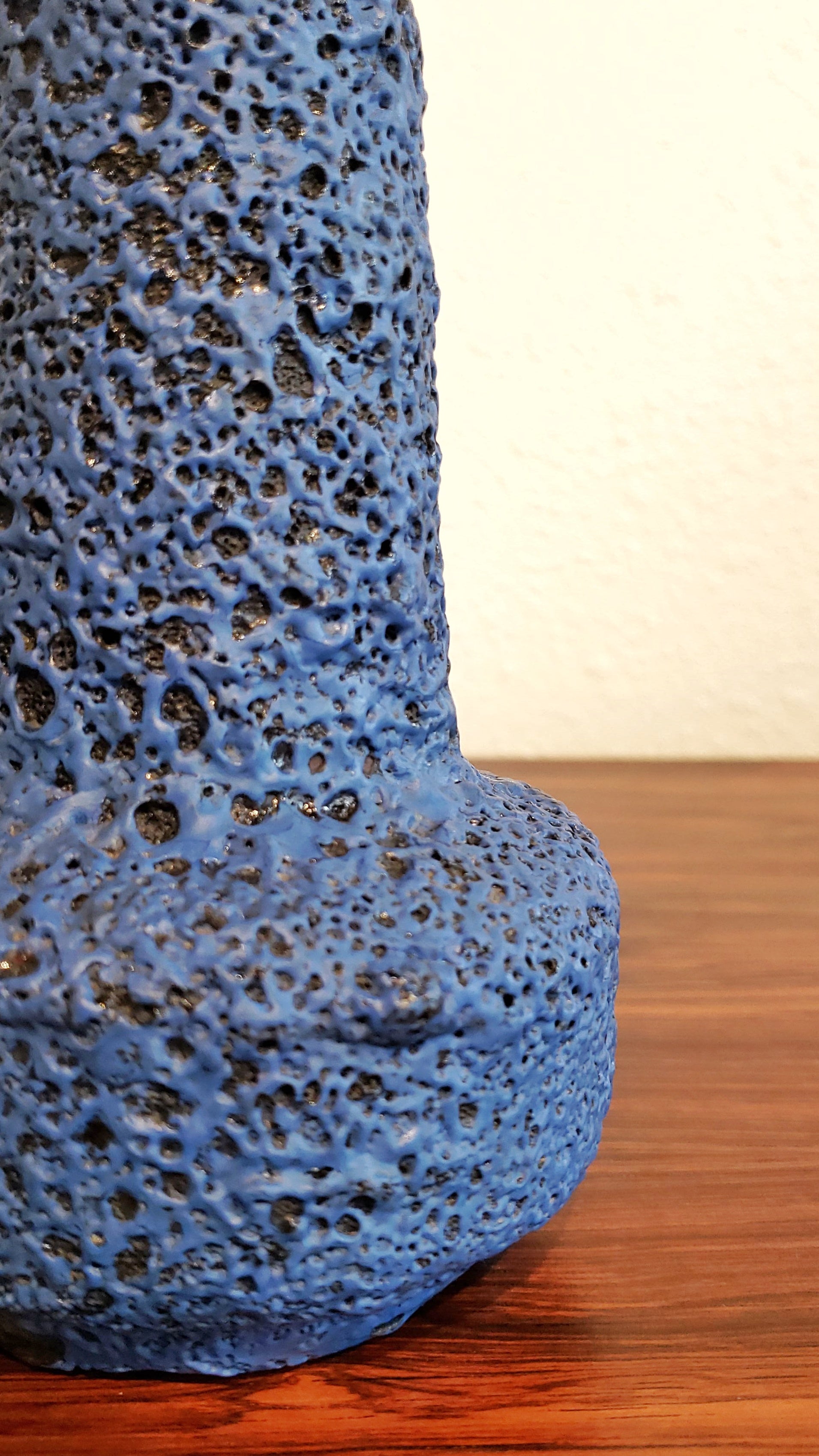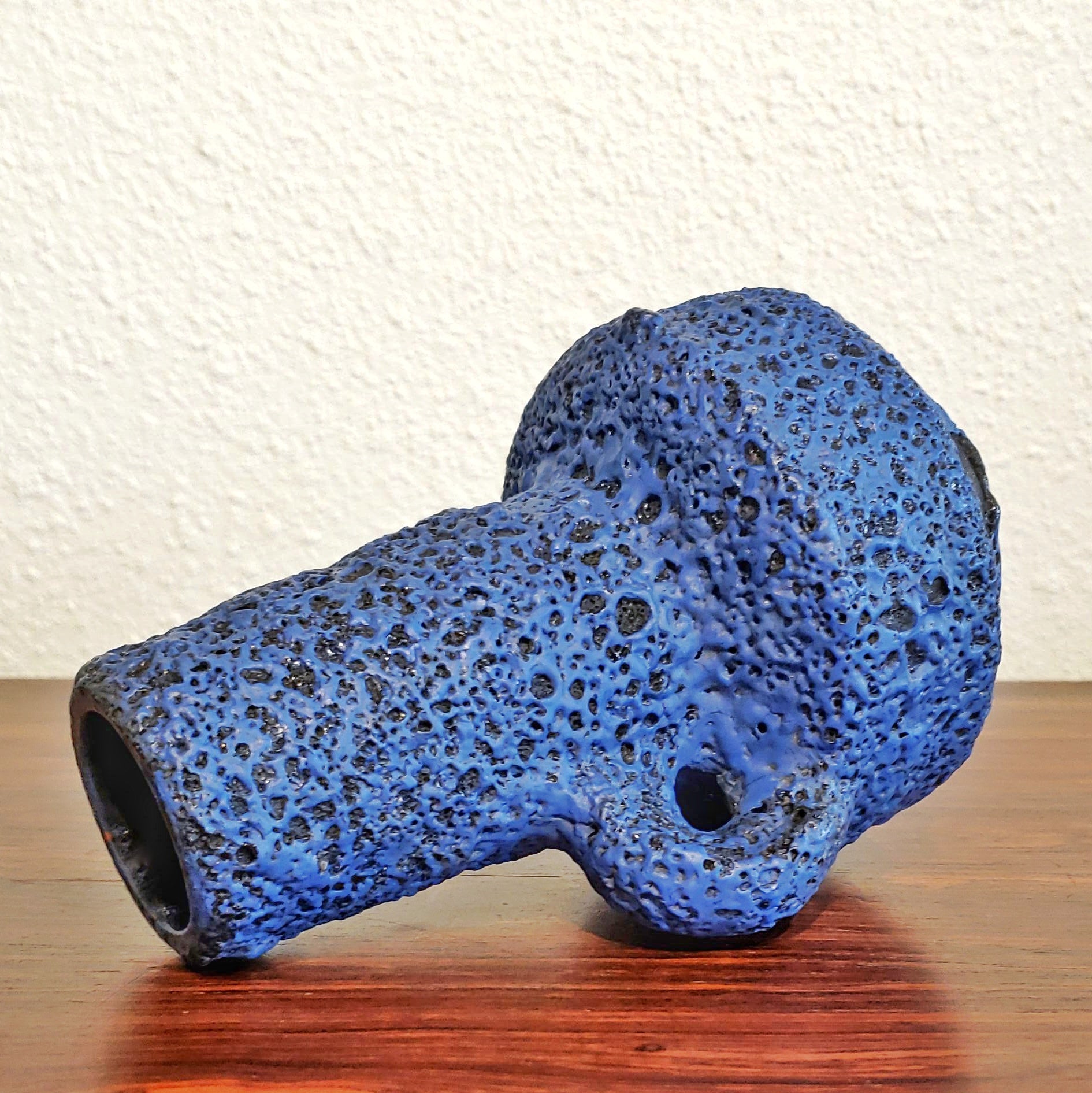 KREUTZ KERAMIK VASE 219 WITH A BLACK AND BLUE VOLCANIC GLAZE
CONTACT US HERE ABOUT THIS ITEM.
A nice Kreutz cabinet vase nr. 209 with an all over black and Klein blue pumice like volcanic glaze.
KREUTZ KERAMIK was most likely founded by Helmut Kreutz in 1958, and established in Haiger Langenaubach. Kreutz vases often cause confusion in determining their exact origin because the company might have provided their products to other companies to be sold under those labels. There are indications that Kreutz has done work for ´Montanus´and for ´Marzi & Remy´. ´Gerlach Keramik' and the wholesale trade firm ´Riffarth´ also bought vases from Kreutz to label and sell as their own products, thus causing no small amount of confusion among collectors, however, Kreutz products are often distinctive in the ways their glazes were applied and also through the consistent use of red clay. Sometimes the shape number was applied at the bottom.  
Kreutz vases, marked as such, usually have two paper stickers on them, one prominently present , saying ´Kreutz Keramik´ and a second sticker somewhere on the edge near the bottom saying 'Handarbeit'.  A trained eye is usually able to distinguish Kreutz products from those of their competitors. 

Kreutz was very well known for their volcanic or 'foam' glazes which are a type of glaze to which organic substances have been added causing the release of oxygen during the firing process.  This process results in the formation bubbles in the glaze giving the surface the appearance of volcanic eruptions.  Most commonly this effect is achieved by the addition of silicon carbide, which releases carbon dioxide when fired.
| | |
| --- | --- |
| Design Period | 1970 to 1979 |
| Production Period | Unknown |
| Country of Manufacture | Germany |
| Style | Vintage, Mid-Century, Hand-Crafted, Modernist, Brutalist, Rustic |
| Detailed Condition | Excellent — This vintage piece is in near original condition. It may show minimal traces of use and/or have slight restorations. |
| Product Code | |
| Materials | Ceramic |
| Color | Azure |
| Width | 4.0 inch |
| Depth | 4.0 inch |
| Height | 6.0 inch |