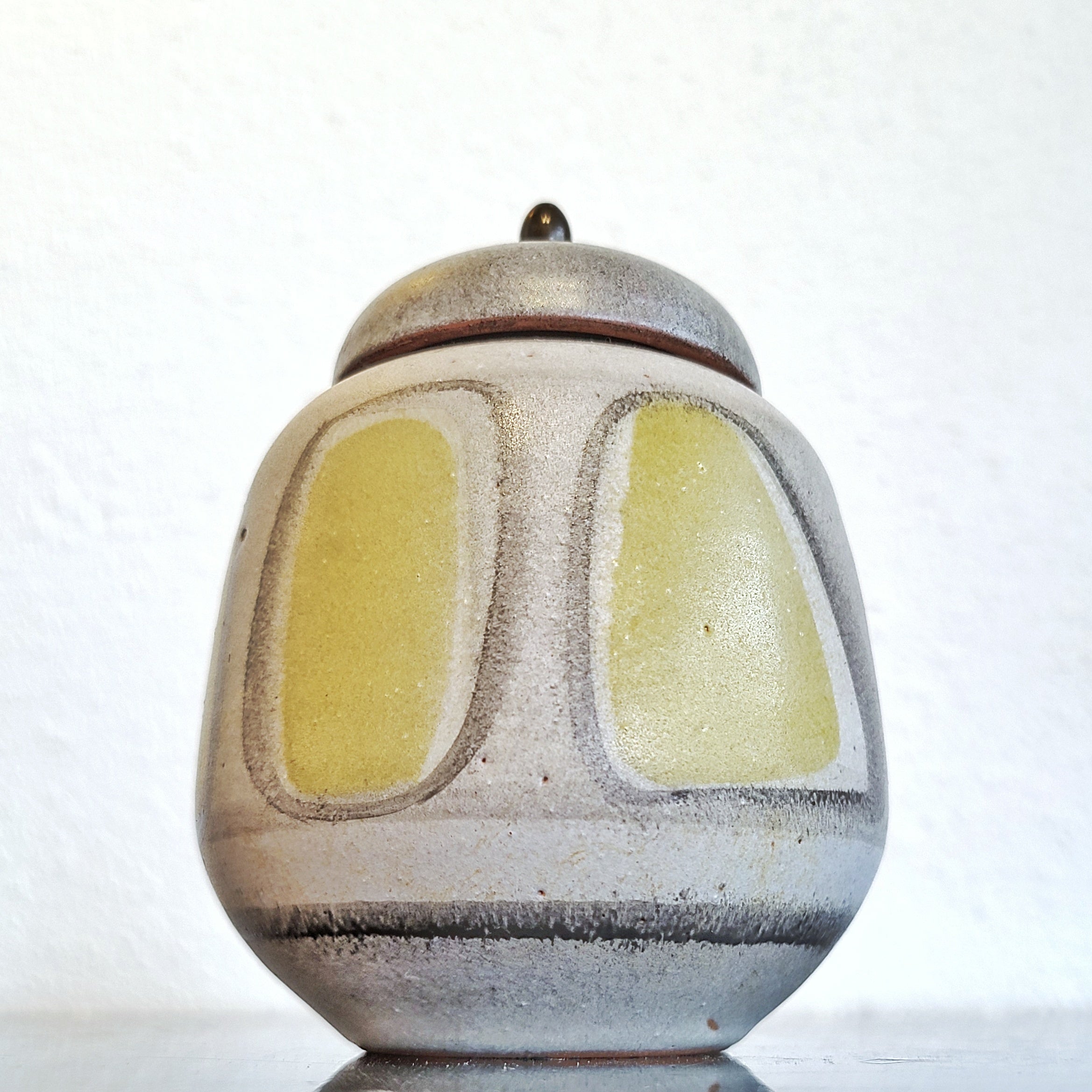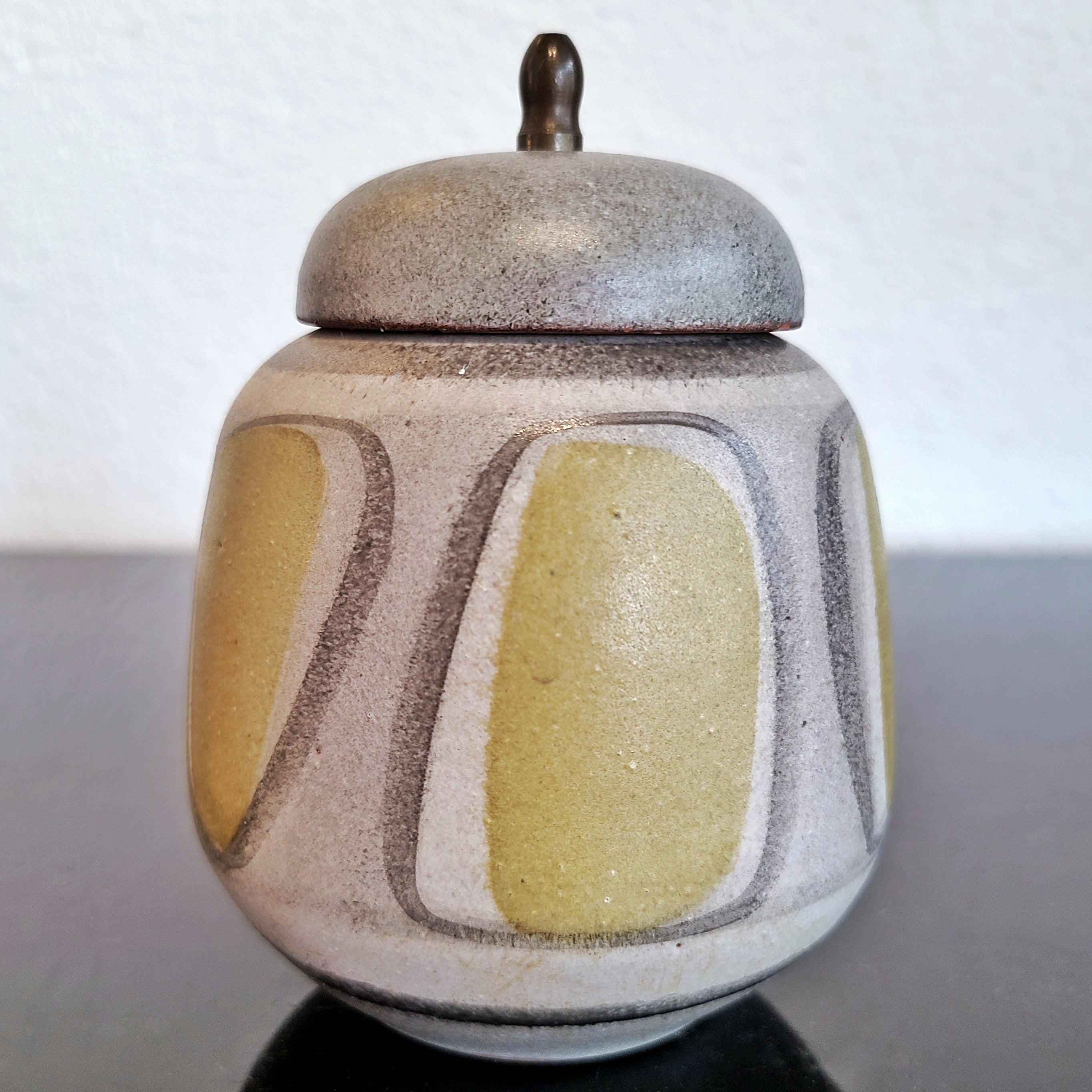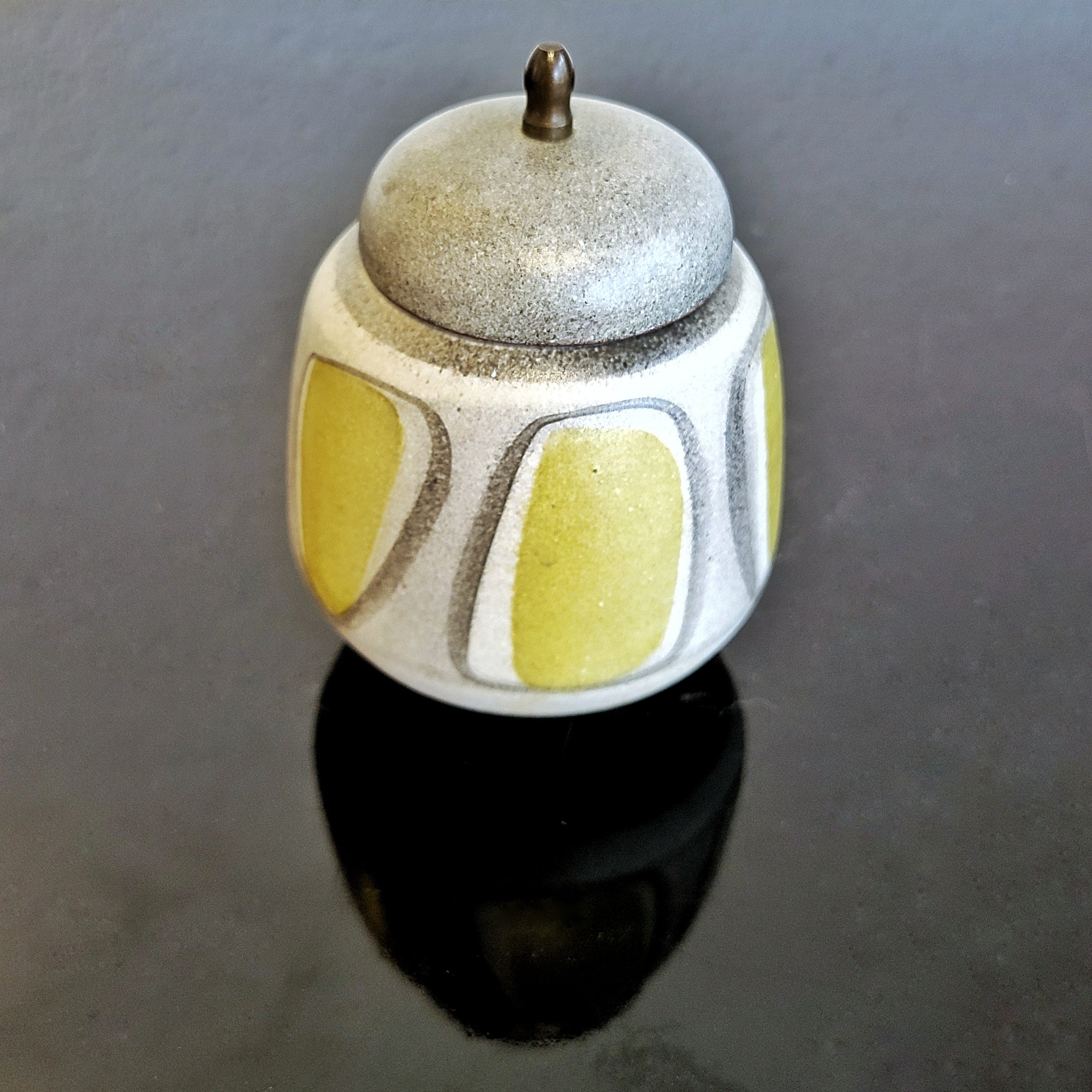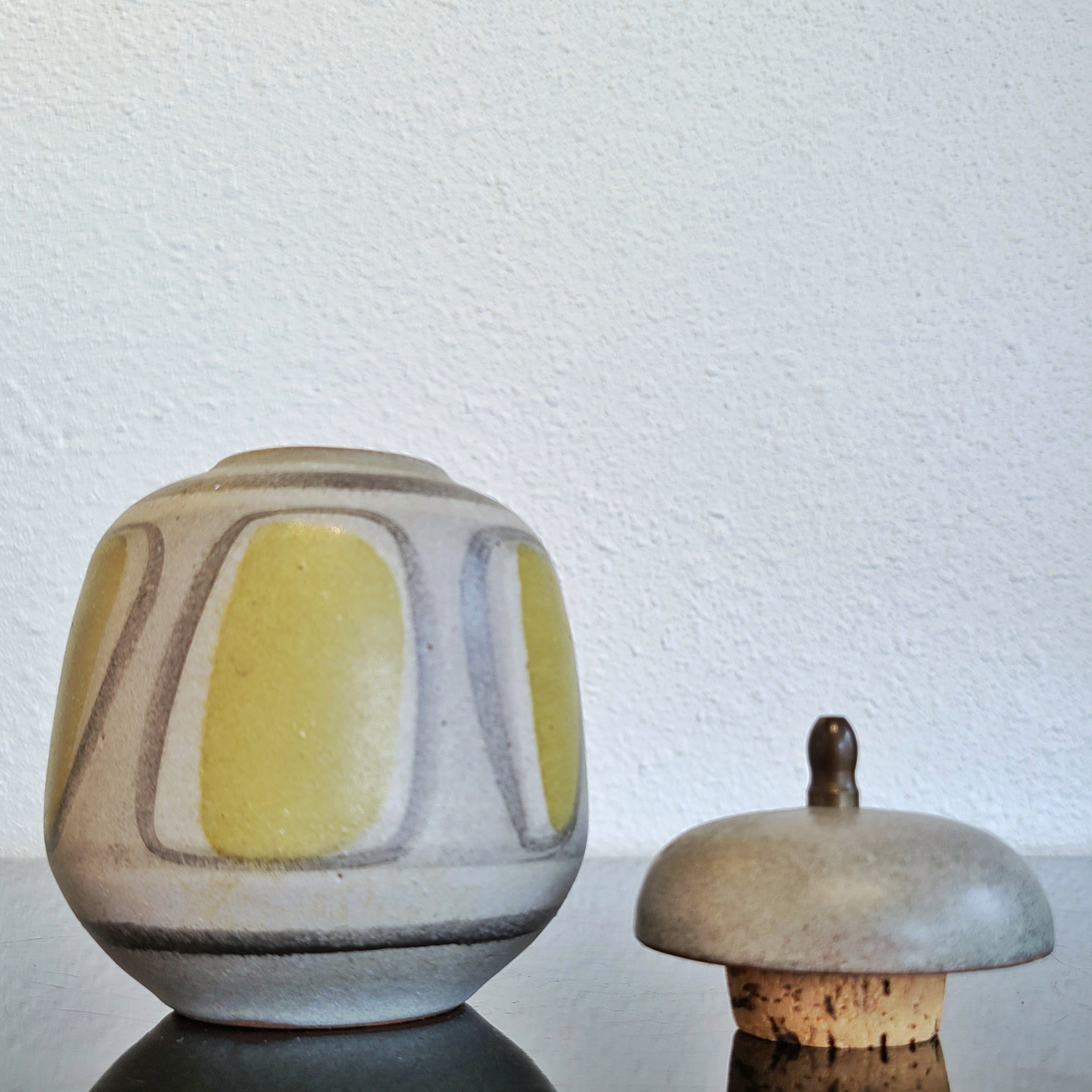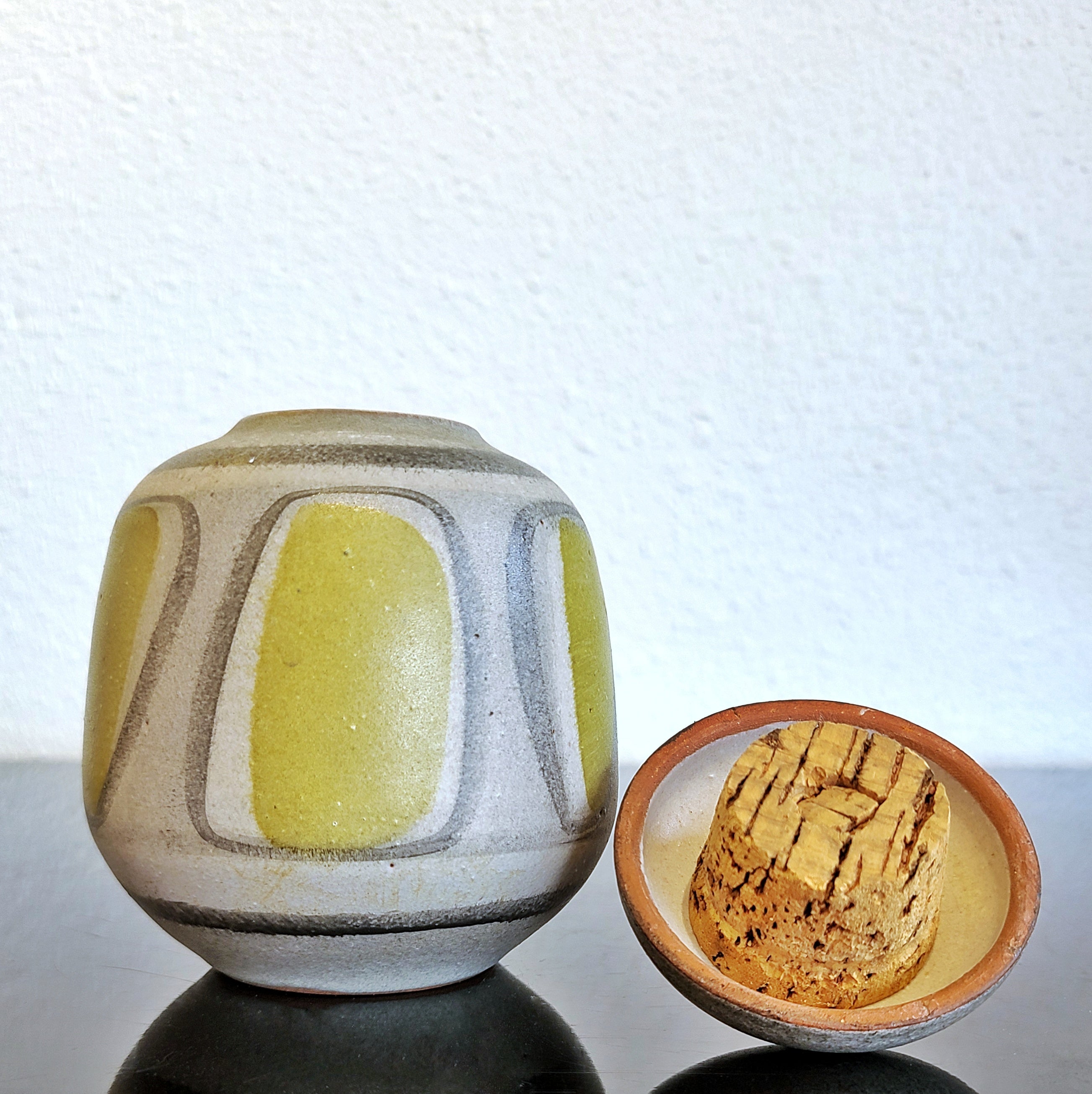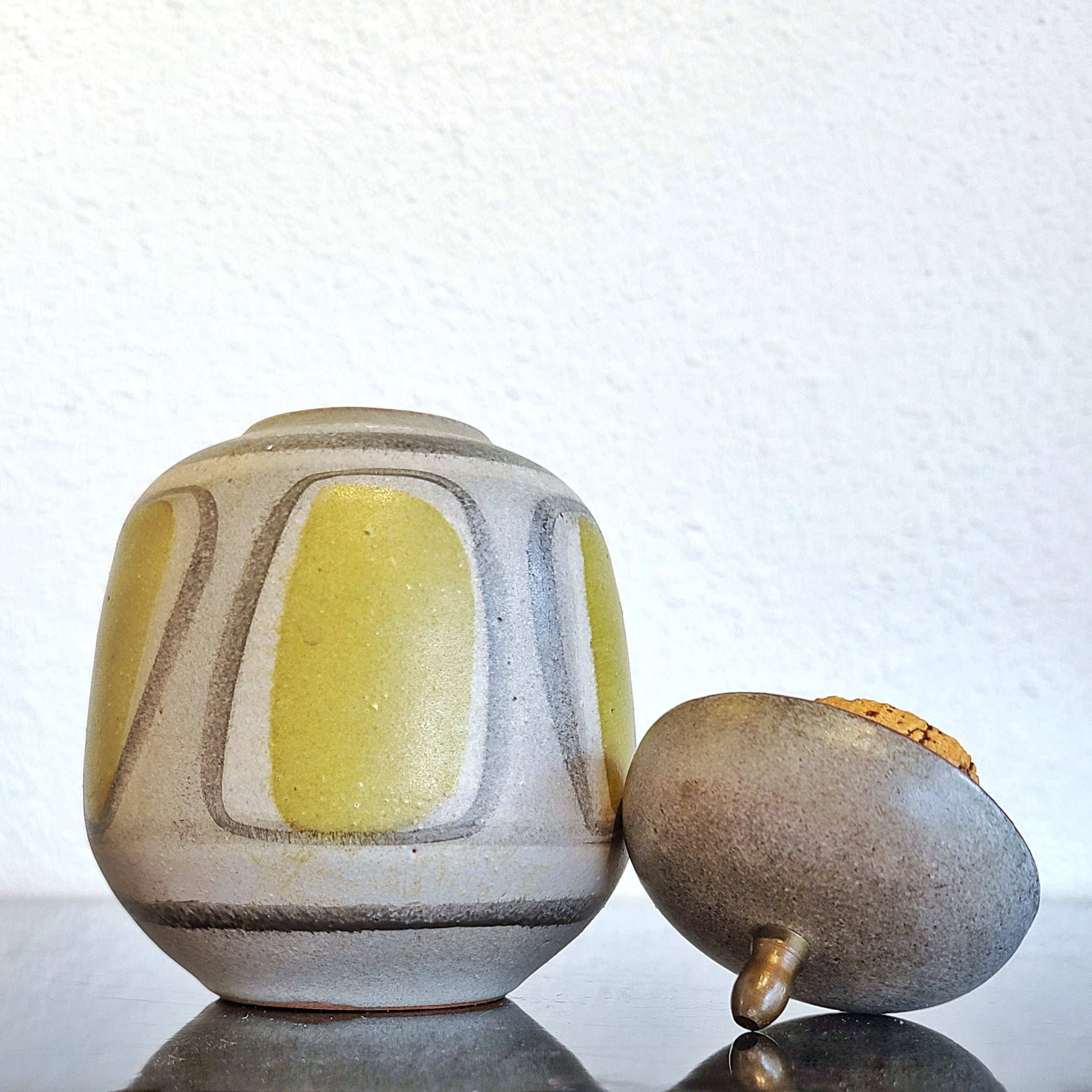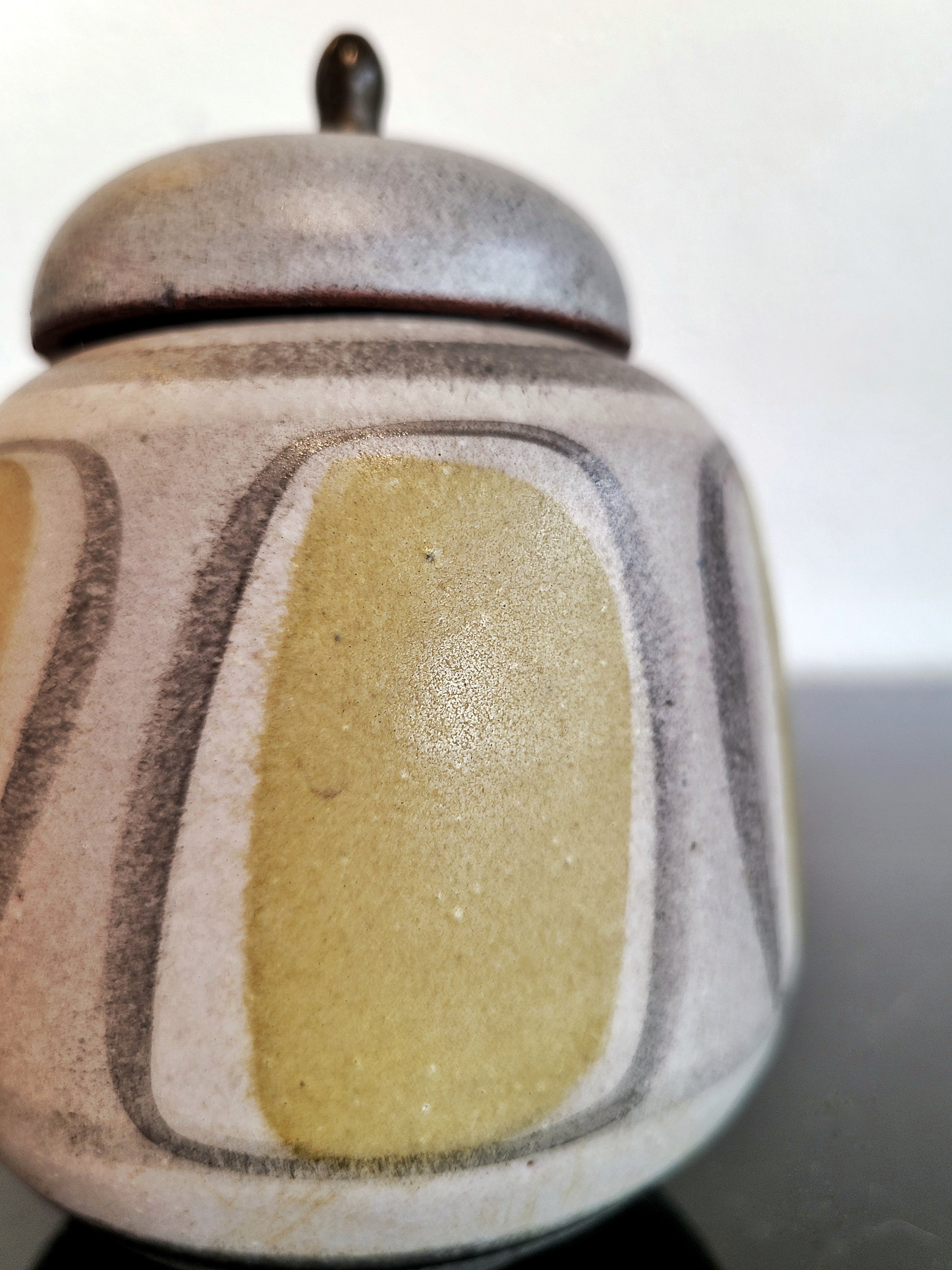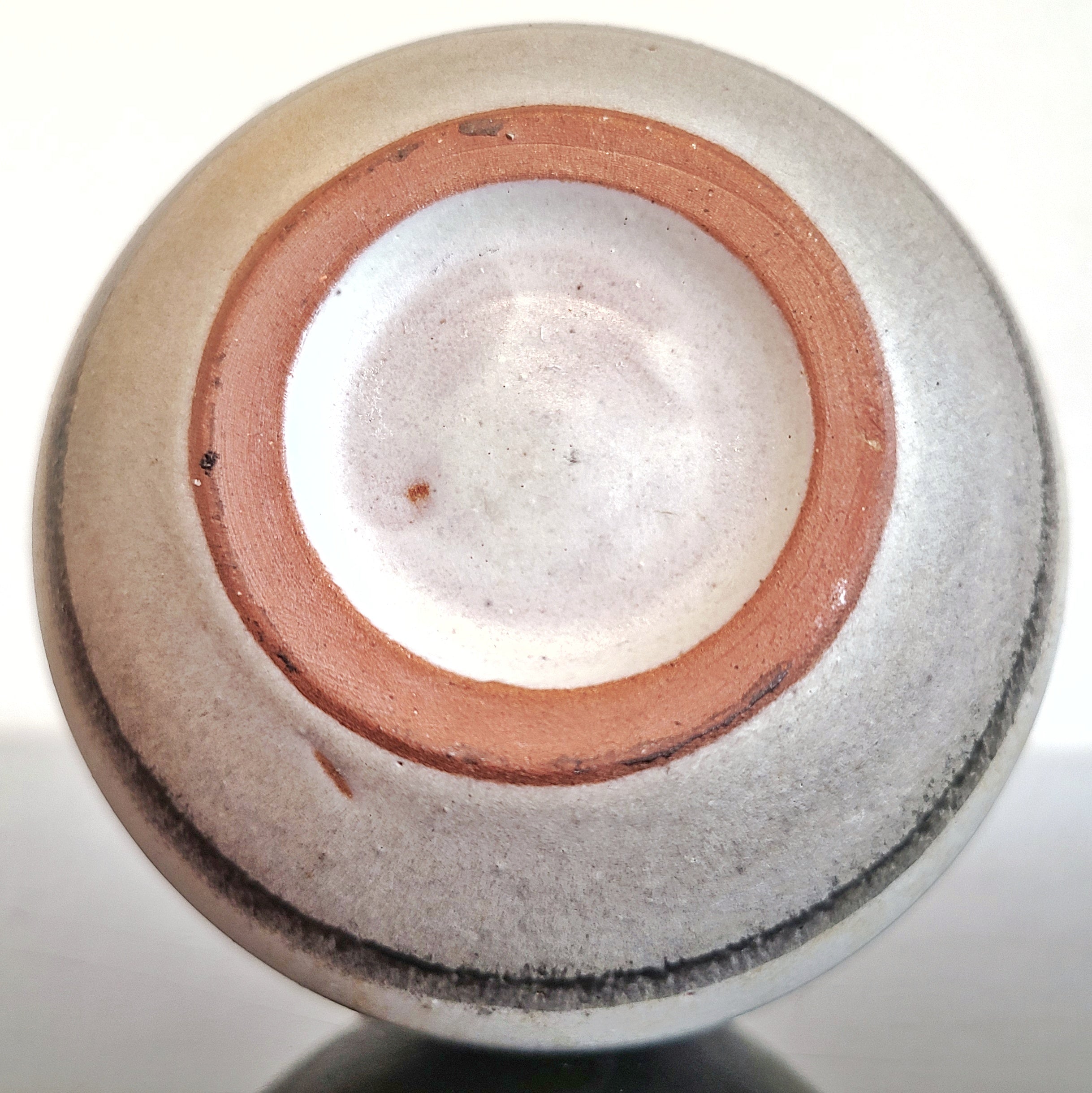 RARE CLÄRE ZANGE TEA CADDY FOR KRÖSSELBACH
CONTACT US HERE ABOUT THIS ITEM.
A rare ceramic tea caddy designed in the 1950s by Cläre Zange for KRÖSSELBACH.
---
KERAMIKWERKSTATT KRÖSSELBACH was established in 1946, in the southwest of Germany, downstream of the small town of Eberbach on the east bank of the Neckar river, by mother and daughter Carla and Gisela Schließler, on the site of what had once been the family's summer home, in cooperation with master potter Michael Fischler. Gisela (aka Giselle, b. 1924), whose formal sculptural training at the Academy of Fine Arts in Karlsruhe was cut short in 1942 with the privations of WWII, had been experimenting with clay in a small shed on the property. When Fischler heard of a pottery wheel that Gisela had received as a gift, he applied with the family for work as a potter. (Fischler was a refugee from Silesia, one of millions of ethnic Germans who fled or were expelled from various Eastern and Central European countries during the late stages of WWII and the post-war period.) Carla arranged for a small workshop to be constructed, with an integrated apartment for the Fischler family. The raw material for the pottery was obtained from a nearby clay pit and was wet processed using a drum mill.
Apart from Michael Fischler, the workshop retained several employees skilled in handicrafts or painting in the late '40s. Their talents were often applied in contrasting ways. Carla Schließler was an entrepreneur, not a ceramicist, and these first artisans were given unusual latitude to realize their own ideas—as long as the output was sellable. Fischler's ceramics were painted with engobe and transparently glazed in the Silesian manner; one employee painted Chinese/Japanese motifs on purchased dishes; another explored faience techniques for traditional floral decorations. Happily the arrival of Cläre Zange at KRÖSSELBACH in 1948 signaled a transition to a more coherent formal and decorative language.
Having completed her studies as a graphic artist in Leipzig and Mainz, Zange, who initially enlisted as a trainee, quickly produced colorful, modern décors for the existing range of vessels. Carla Schließler was impressed by her talents and supported the tender bonds that were developing between Zange and her son Otto. In 1950 Otto and Cläre were married; son Alfred was born in 1951. Carla, who at first had taken care of sales, began to hand the responsibility off to son Otto, who travelled throughout Germany, establishing business relationships with decorative arts shops, furniture stores, and lighting specialists. Daughter Gisela ran the workshop and saw to the training of apprentice potters; daughter-in-law Cläre did the same for painters. Husband Gustav Schließler, a retired teacher, monitored the finances and used his pension to stabilize the financial situation in the early years. But Carla Schließler, however, was always the heart and driving force of the business. During these years, as many as 25 people at a time were working or apprenticing at KRÖSSELBACH. Fischler resigned in 1951 and emigrated to the USA. The day after he left, the young journeyman potter Karl-Heinz Löffler from Erbach im Odenwald applied to replace him. Löffler would remain with with the pottery for 11 years.
The talented Löffler took up Cläre Schließler's impulses and ran with them. Their creative collaboration was extremely fruitful and positioned the workshop aMing the inner circle of the ceramic avant-garde of the '50s and '60s. KRÖSSELBACH began exhibiting at the Frankfurt Trade Fair as early as 1953. Löffler experimented with a very coarse clay colored with manganese oxide that fired black-brown—a clay often associated with Danish or Scandinavian pottery and known as mangan-ton in German. This clay began to dominate production of decorative vessels, and by 1960 it completely replaced the smooth clay that had been previously used. Forms and décors were adapted for use with the new material. Gisela developed softer, more sweeping shapes and Cläre Schließler drew constructivist shapes comprised of truncated cylinders, cones, and spheres, using luminous turquoise alkali glazes over light engobe. In a short time, a completely new collection was on display at the Frankfurt Trade Fair.
When Carla Schließler died in 1962, son Otto took over management of the business, and the workshop was rechristened Krösselbacher Faience, Otto & Gisela Schließler. That same year, the Cretan potter Konstantin Zachariou succeeded Löffler and gave shape to his own vision. His forms would serve as the mainstay for KRÖSSELBACH through the early '80s.
In 1967, Alfred Schließler (grandson and nephew, respectively, of two of the original founders) began his pottery apprenticeship in a home workshop. He successfully completed his training with a master's examination and graduation from the technical school for ceramic design in Höhr-Grenzhausen in 1975. After two and half years as a modeler at Pentik Studio in Posio in the north of of Finland, he returned to the family business in 1977 and took over the training of all apprentices. (The potters were relieved of having to turn with gloves on when Alfred reintroduced a smooth clay!) Gisela developed a new, mostly bulbous formal language at this point. Edges and other details of the existing shapes were softened and refined.
In 1982 the company's sales peaked. The year also saw its most successful participation in the Frankfurt Trade Fair. This proved a turning point. Sales via intermediaries would fall precipitously over the next 15 years. The company's finalienable exhibition in Frankfurt was in 1996. Afterwards, pottery markets became the workshop's economic basis. In the changing environment, KRÖSSELBACH tested and implemented new design ideas. The aesthetic was shaped by impressions of Scandinavia, and Tapio Wirkkala and Aino Aalto were among its muses. Concurrently, a very fine earthenware input based on native clay was developed. Fired at 1070°C, it had very similar water-absorption properties to stoneware, and a like density.
In 1986, Gisela Schließler relinquished her share of the business to nephew Alfred and retired to her own studio, which had been set up in 1977. There she dedicated herself to stoneware and porcelain. Brother Otto and sister-in-law Cläre withdrew from active participation the following year. Hanna Born, who had trained at the Muthesius University in Kiel, specializing in industrial design, married Alfred Schließler in 1986. From then on the couple ran KRÖSSELBACH together—on their own beginning in 2000.
---
Identification: Item bases are usually marked with a distinctive "K"—distinctive in that the upright is typically separated from the rest of the letter. The mark is almost always small and deeply incised by hand. Items without the mark may have had paper labels attached instead. Sometimes the "K" is painted on (thought to be typical of pieces from the '70s or '80s).
---
DETAILS
Maker – KRÖSSELBACH
Production Period/Year – 1950s
Designer – CLÄRE SANGE
Design Period/Year – 1950s
Origin – WEST GERMANY
Styles/Movements – ABSTRACT; MID-CENTURY MODERN
Materials – CERAMIC, CORK, METAL
Colors – LIGHT GRAY, DOVE GRAY, YELLOW
Condition – Excellent vintage condition. Wear consistent with age and use.
Dimensions – 3 ½" DIAM. × 5" H