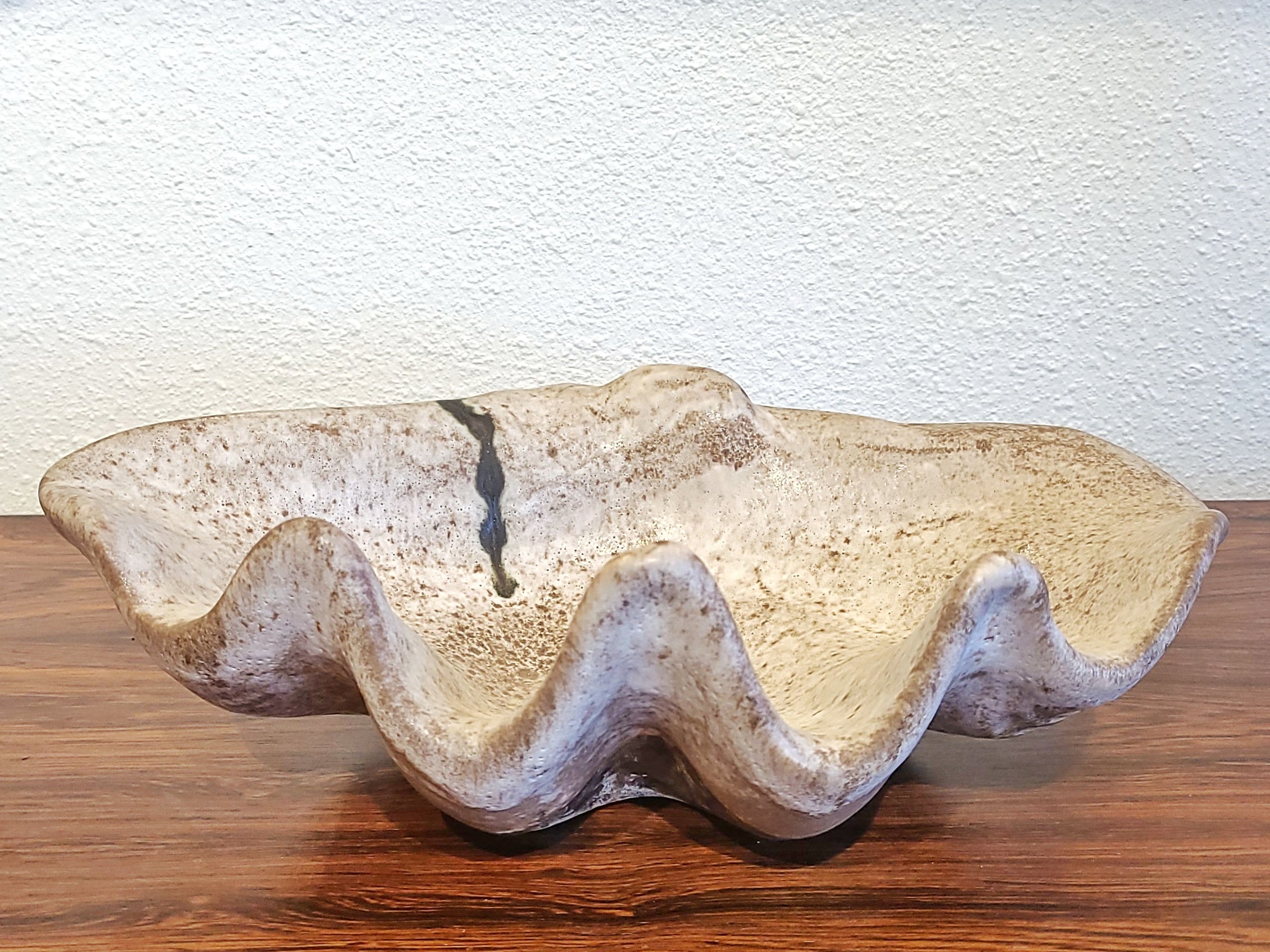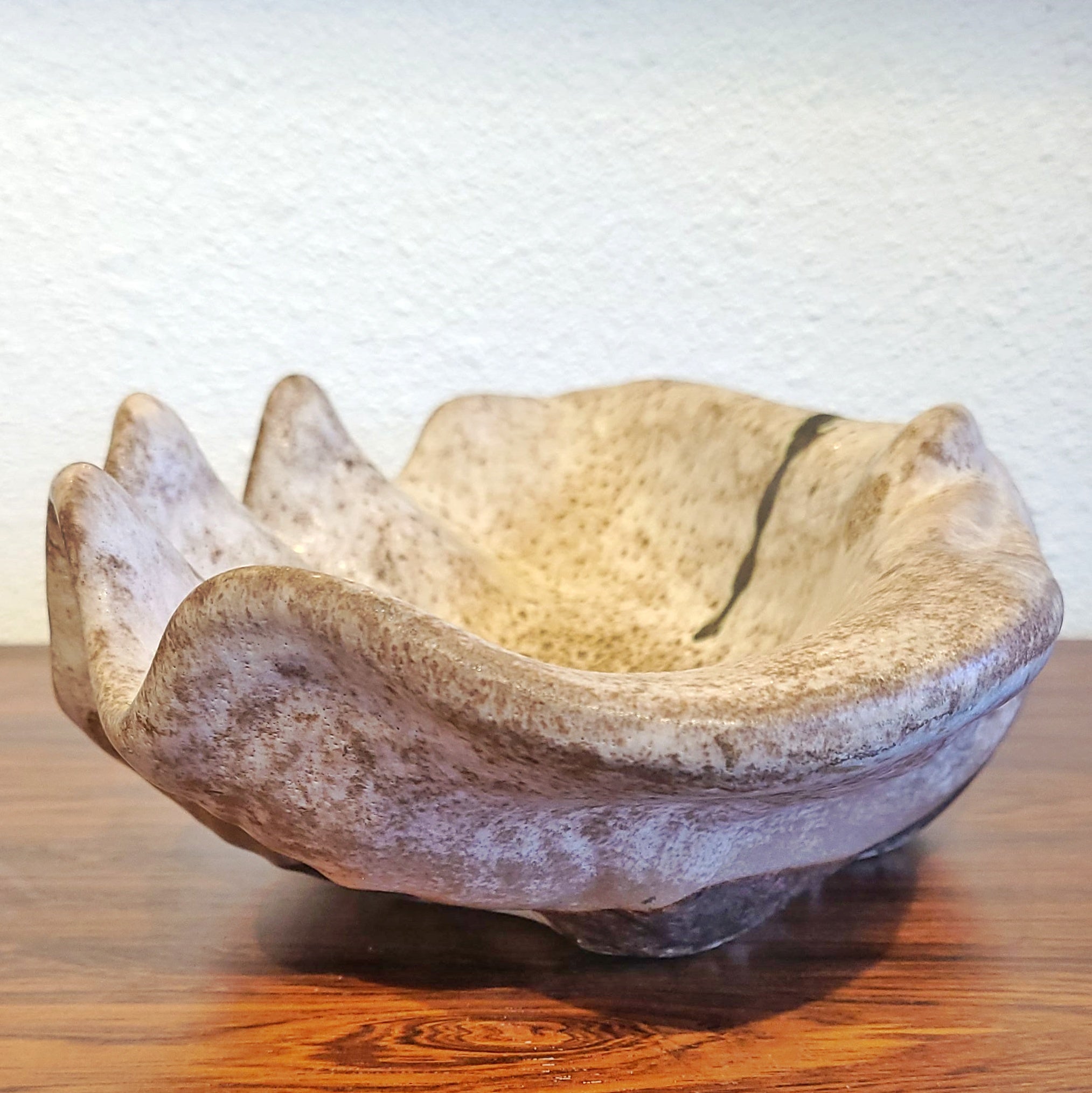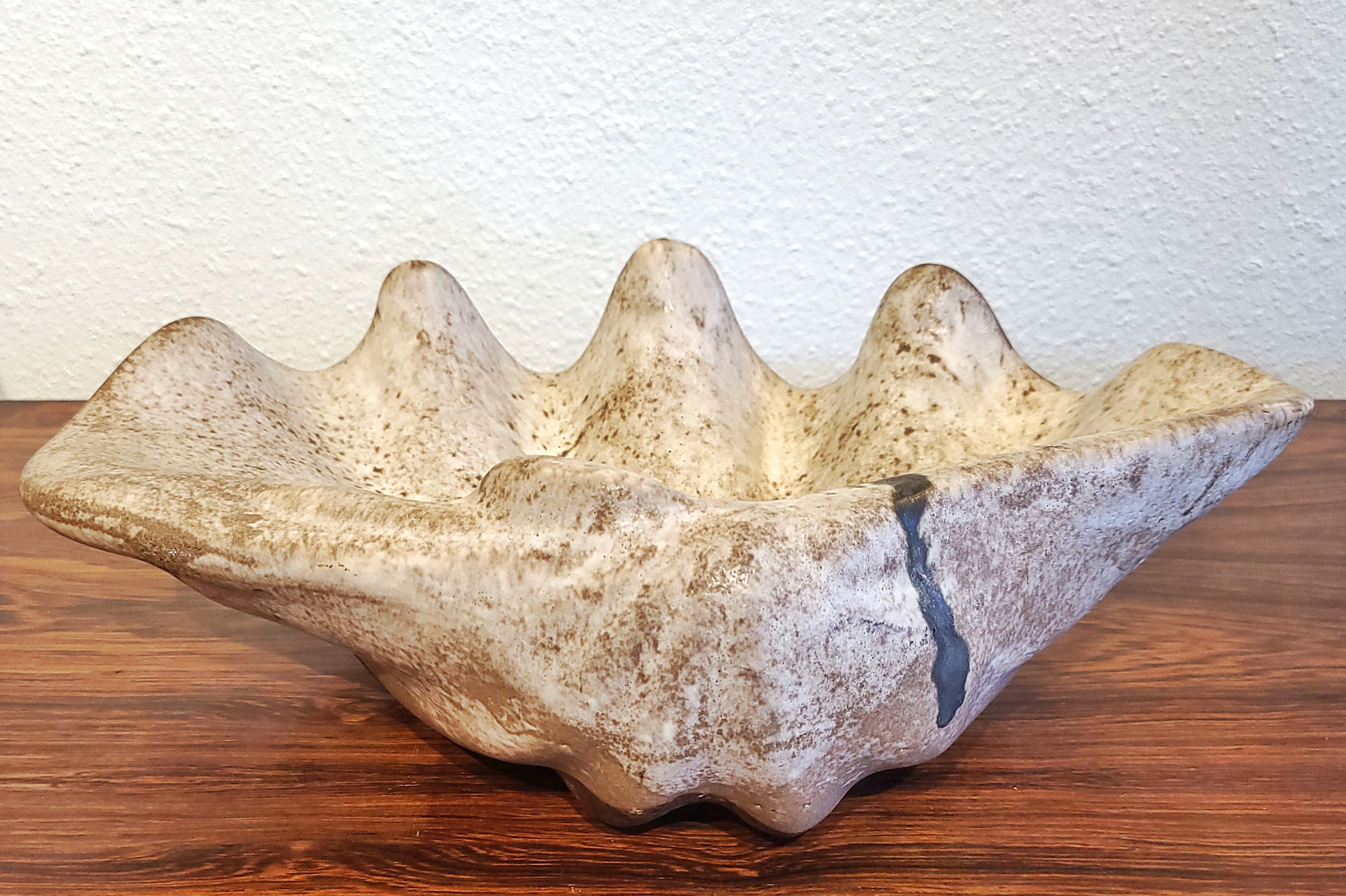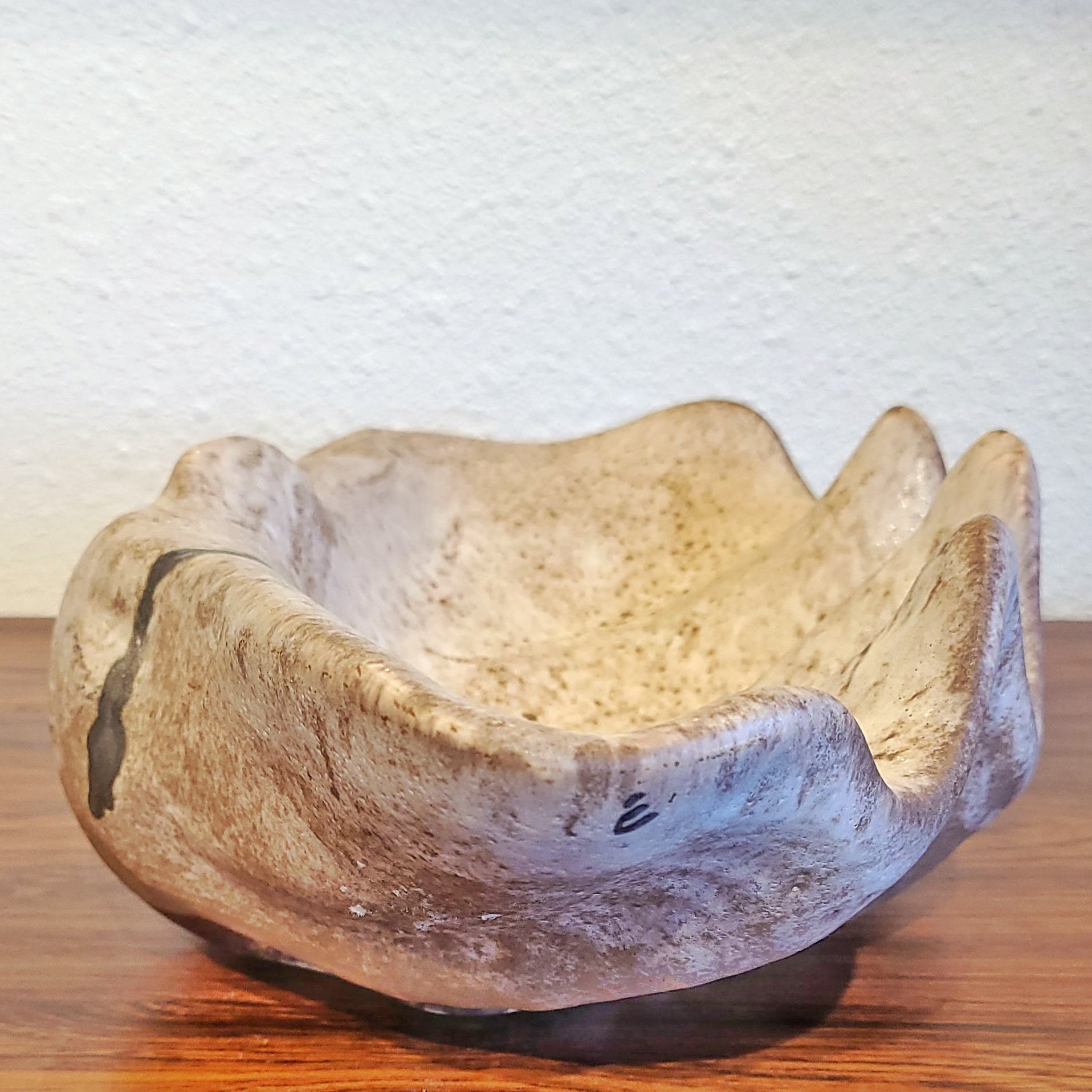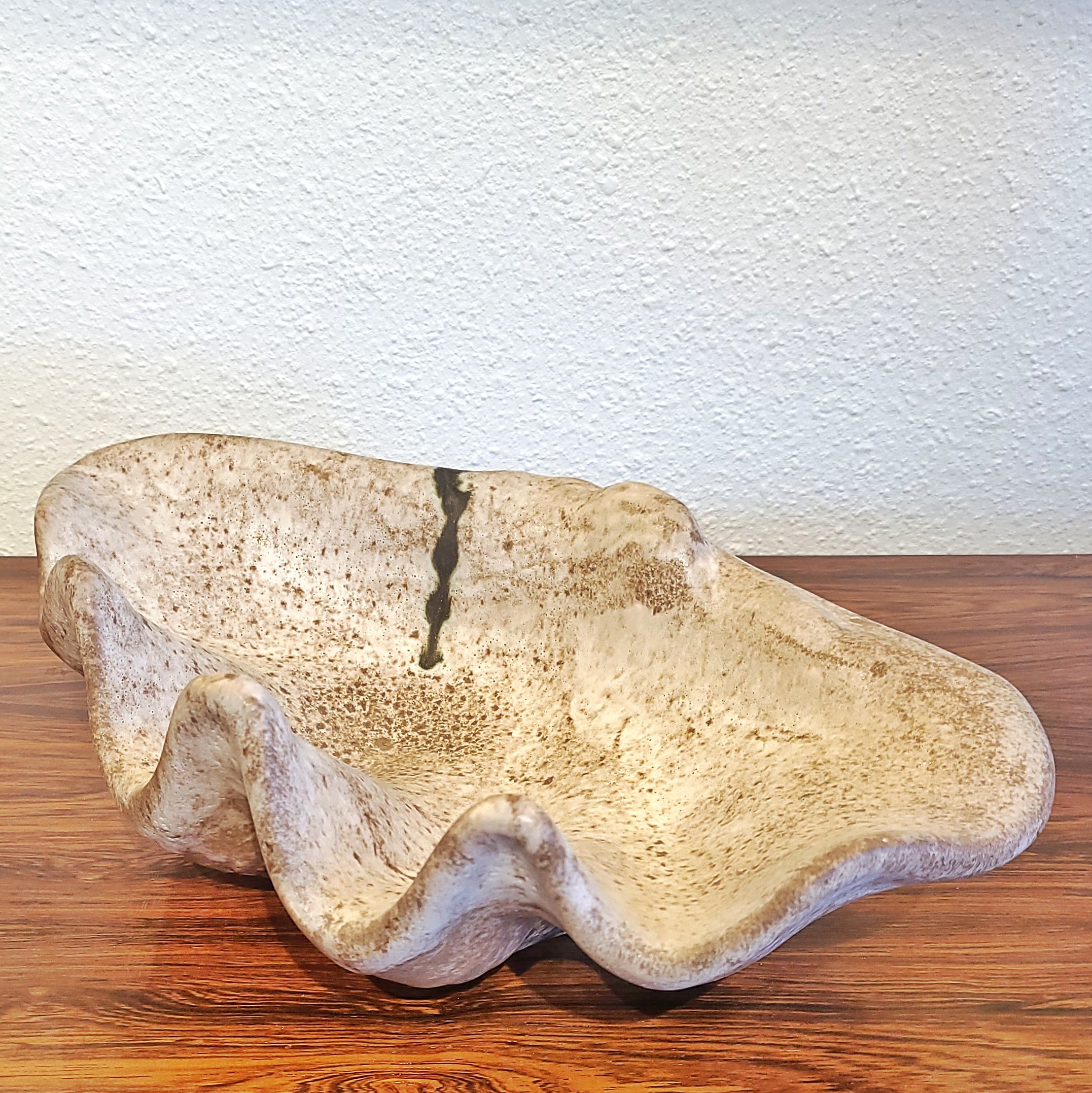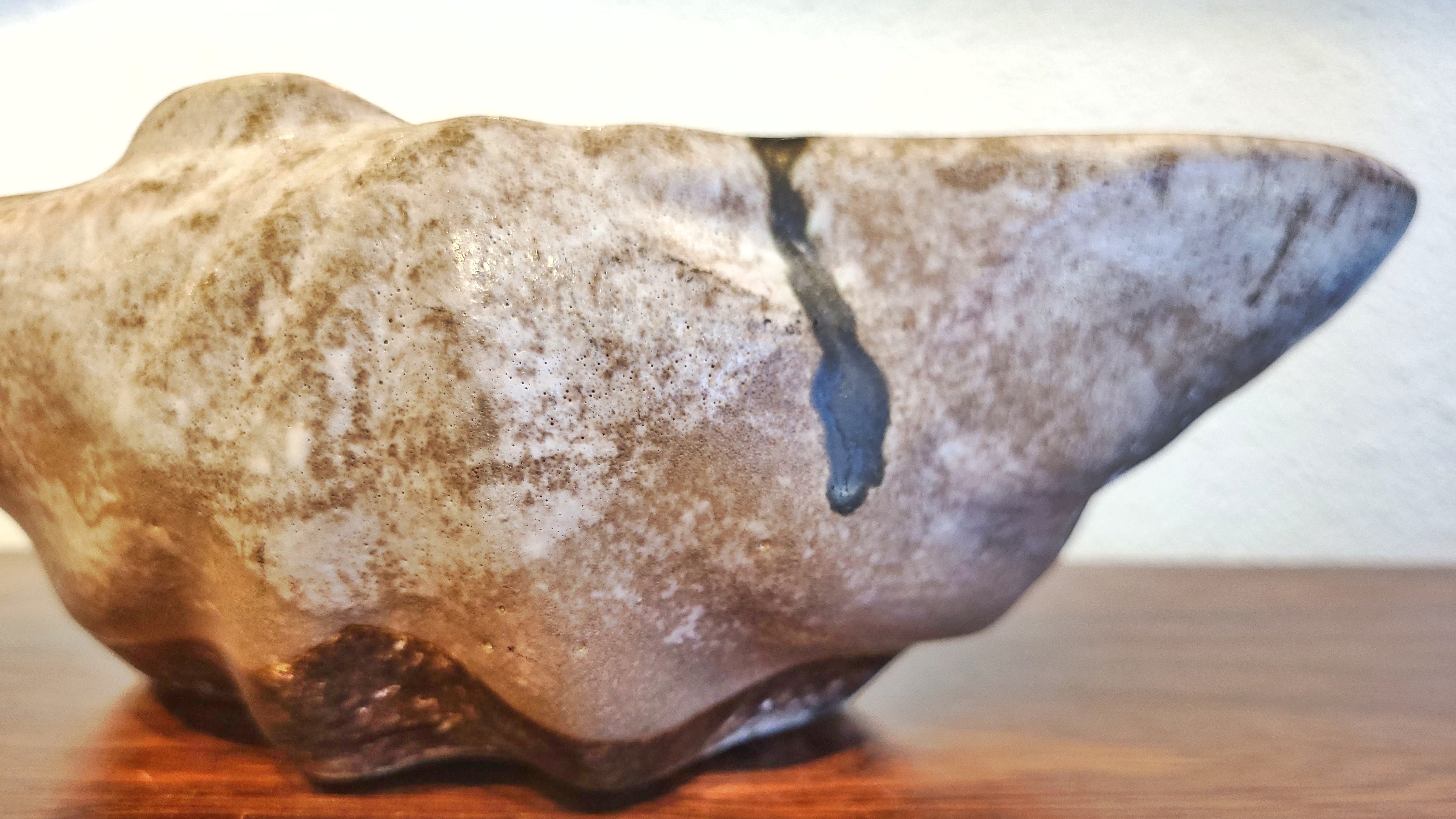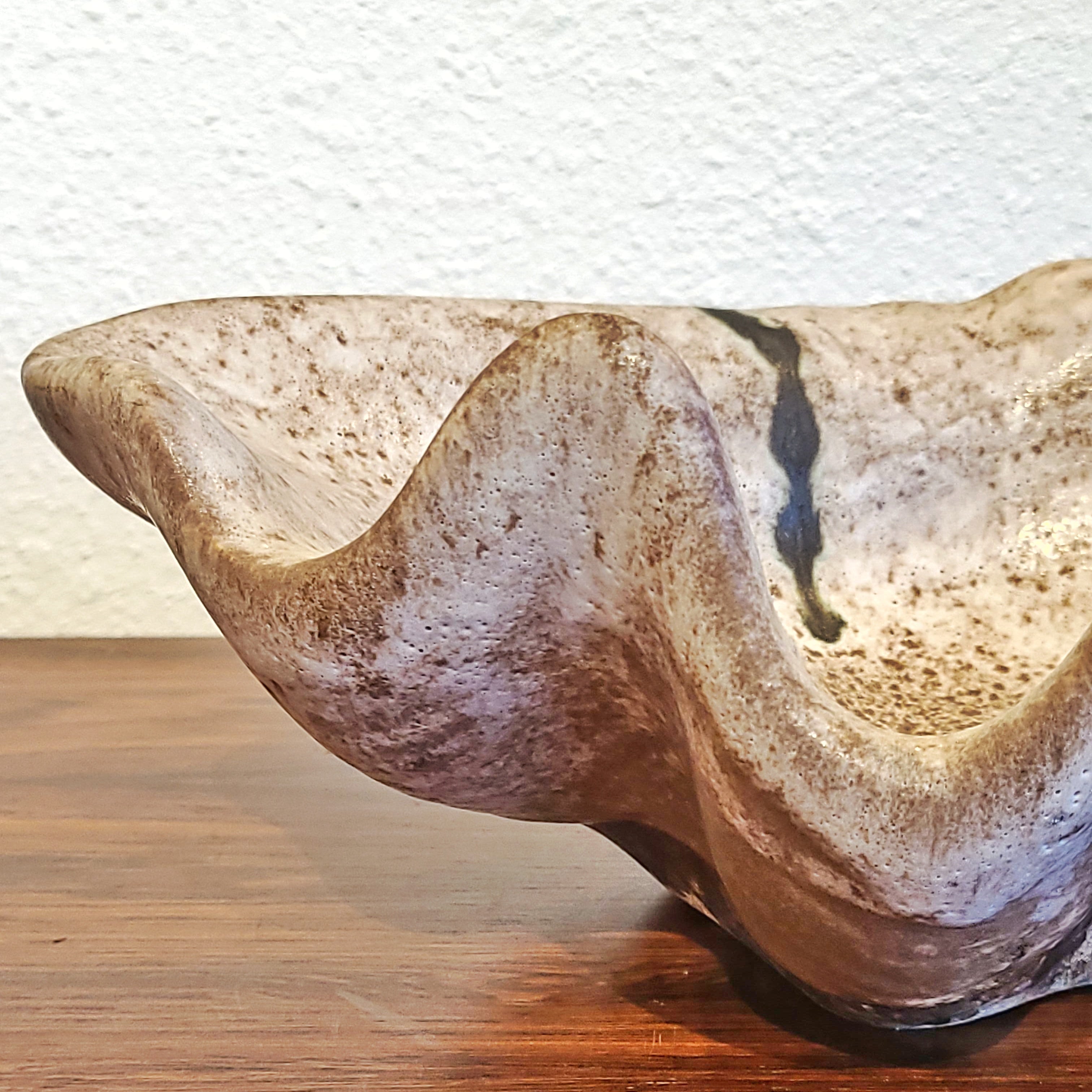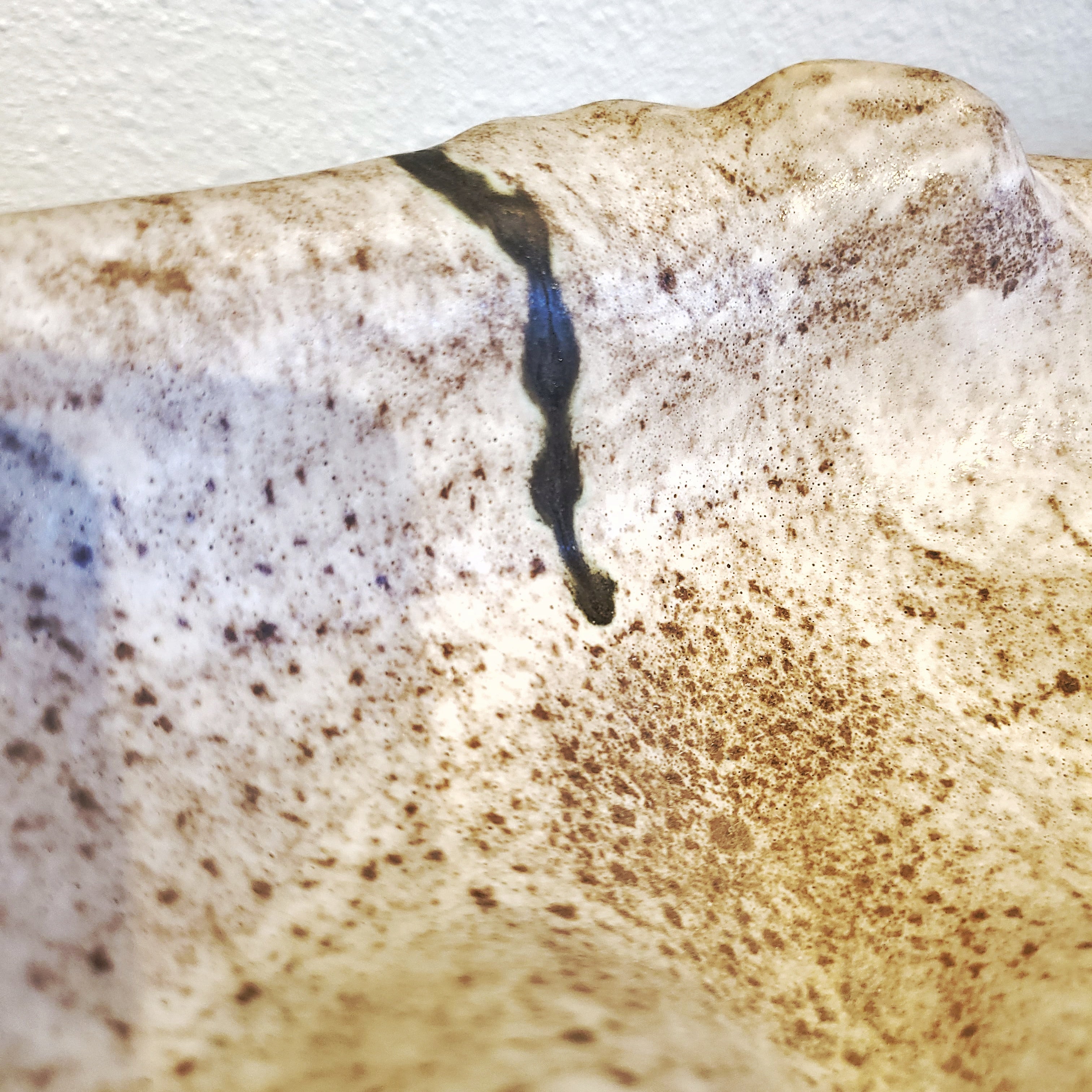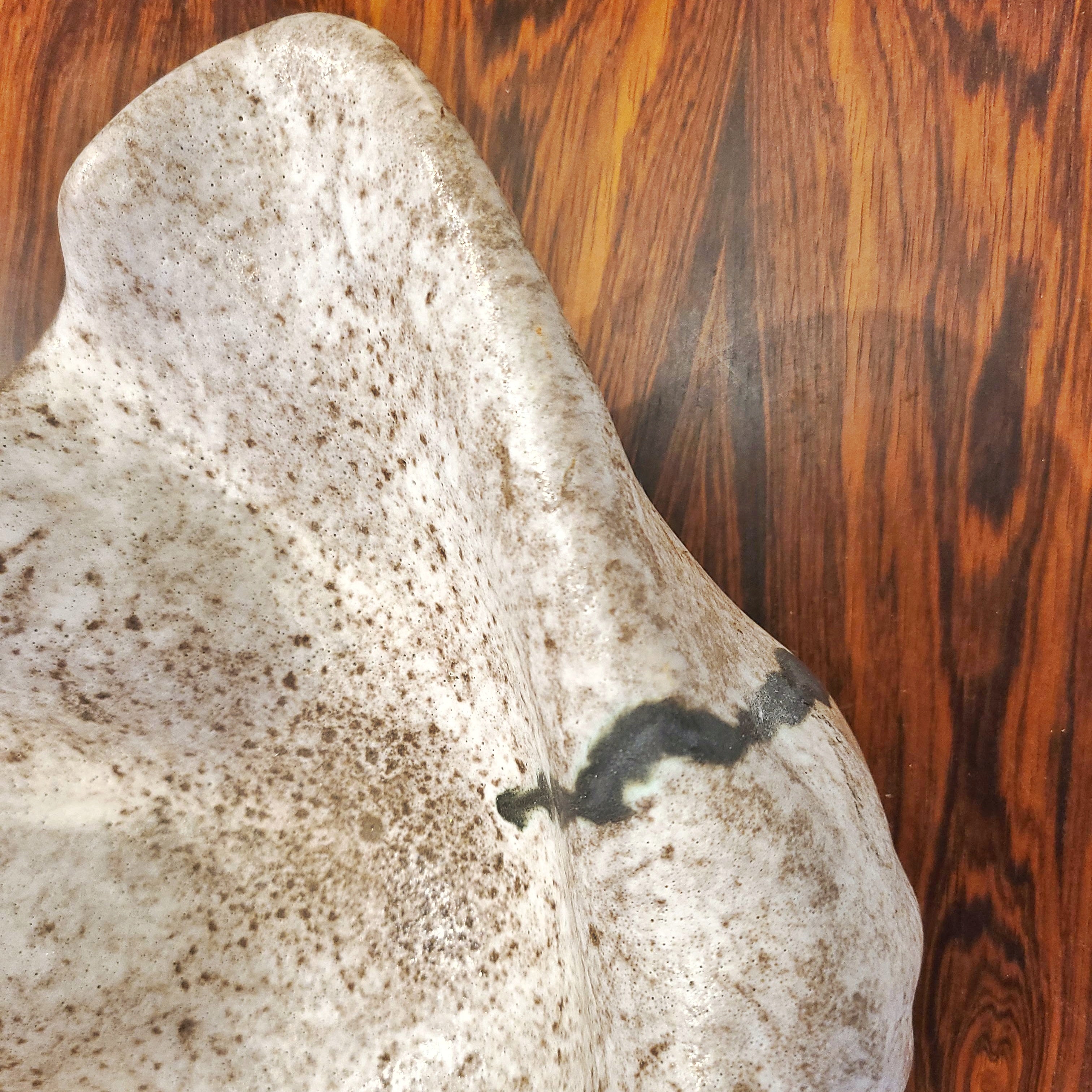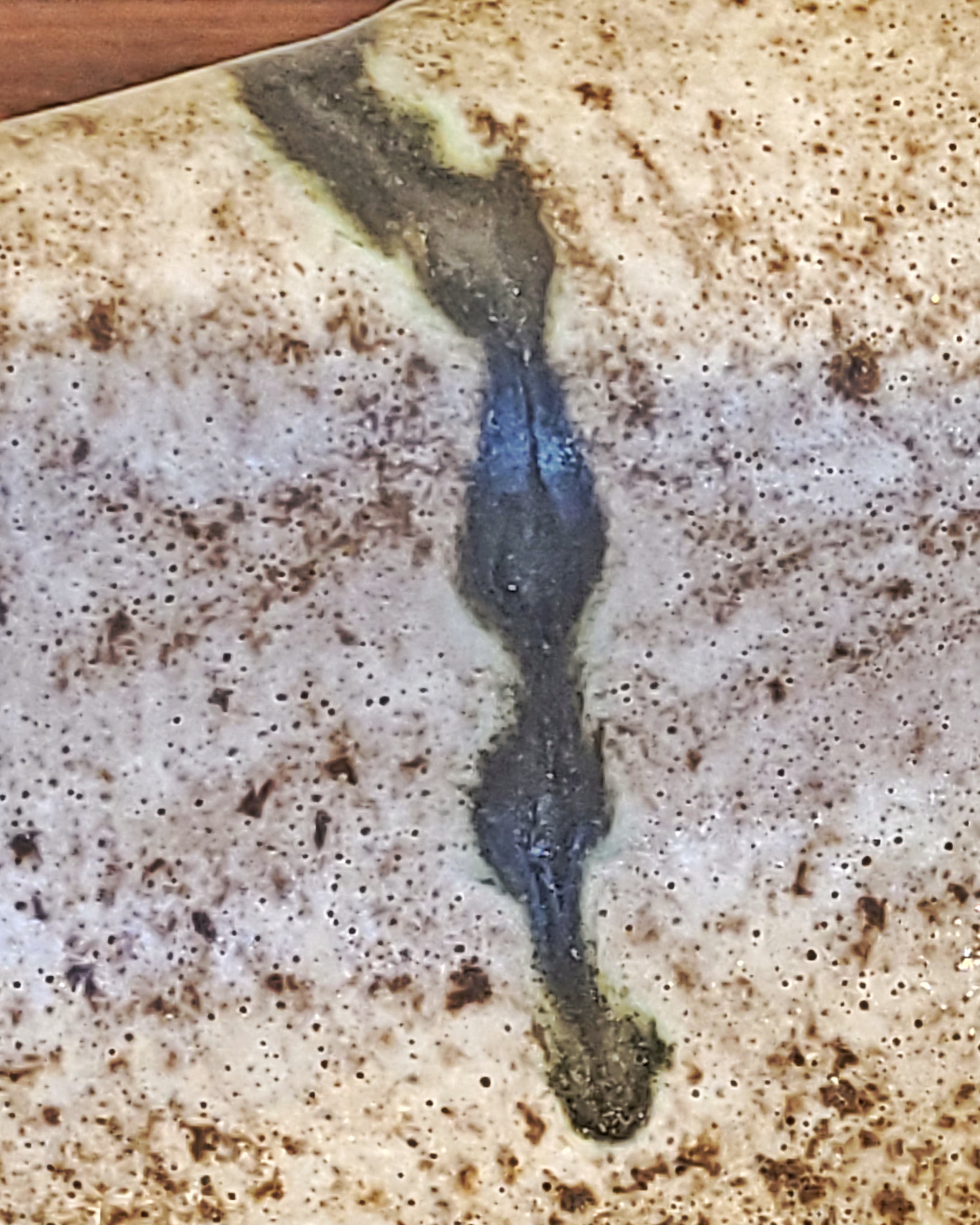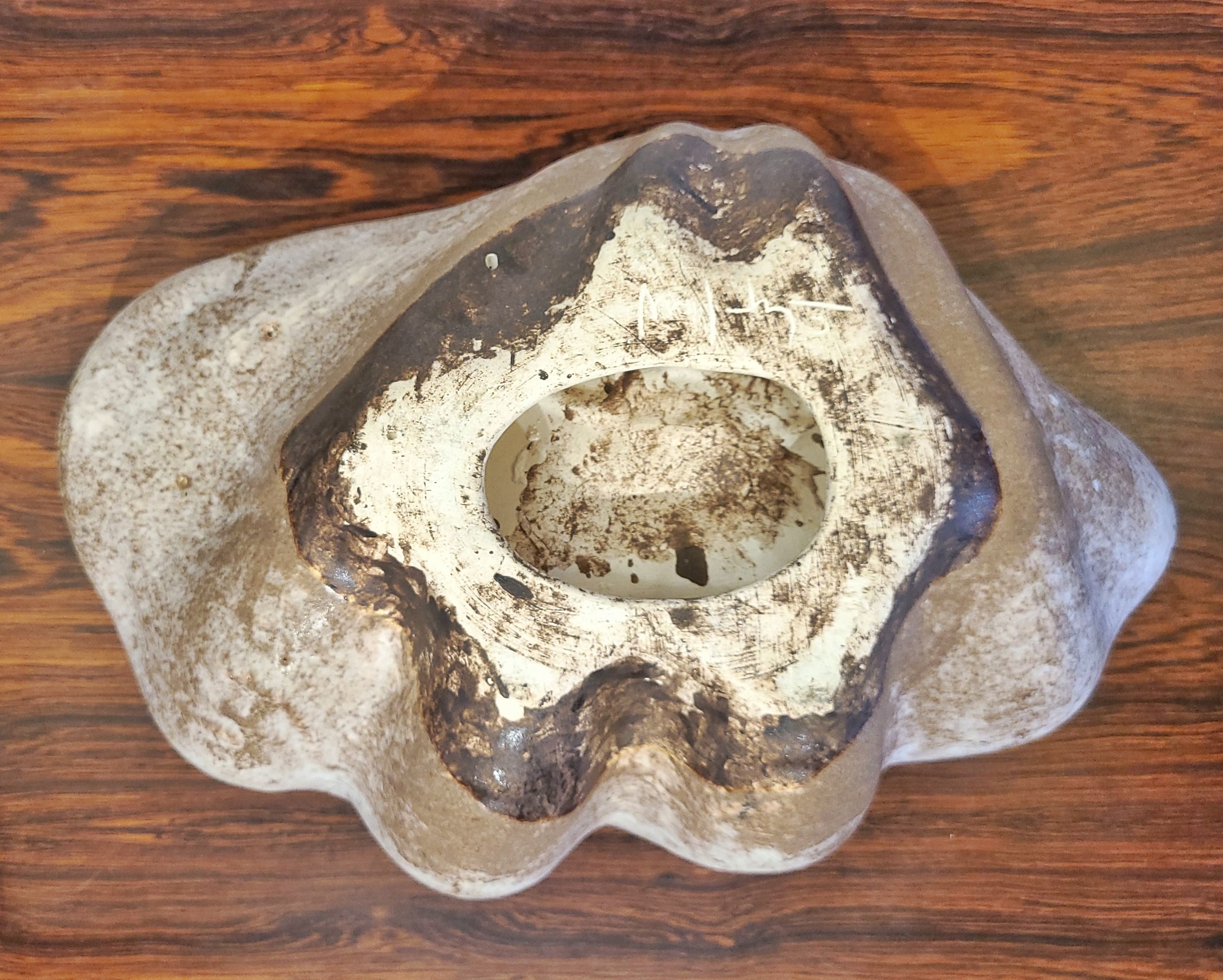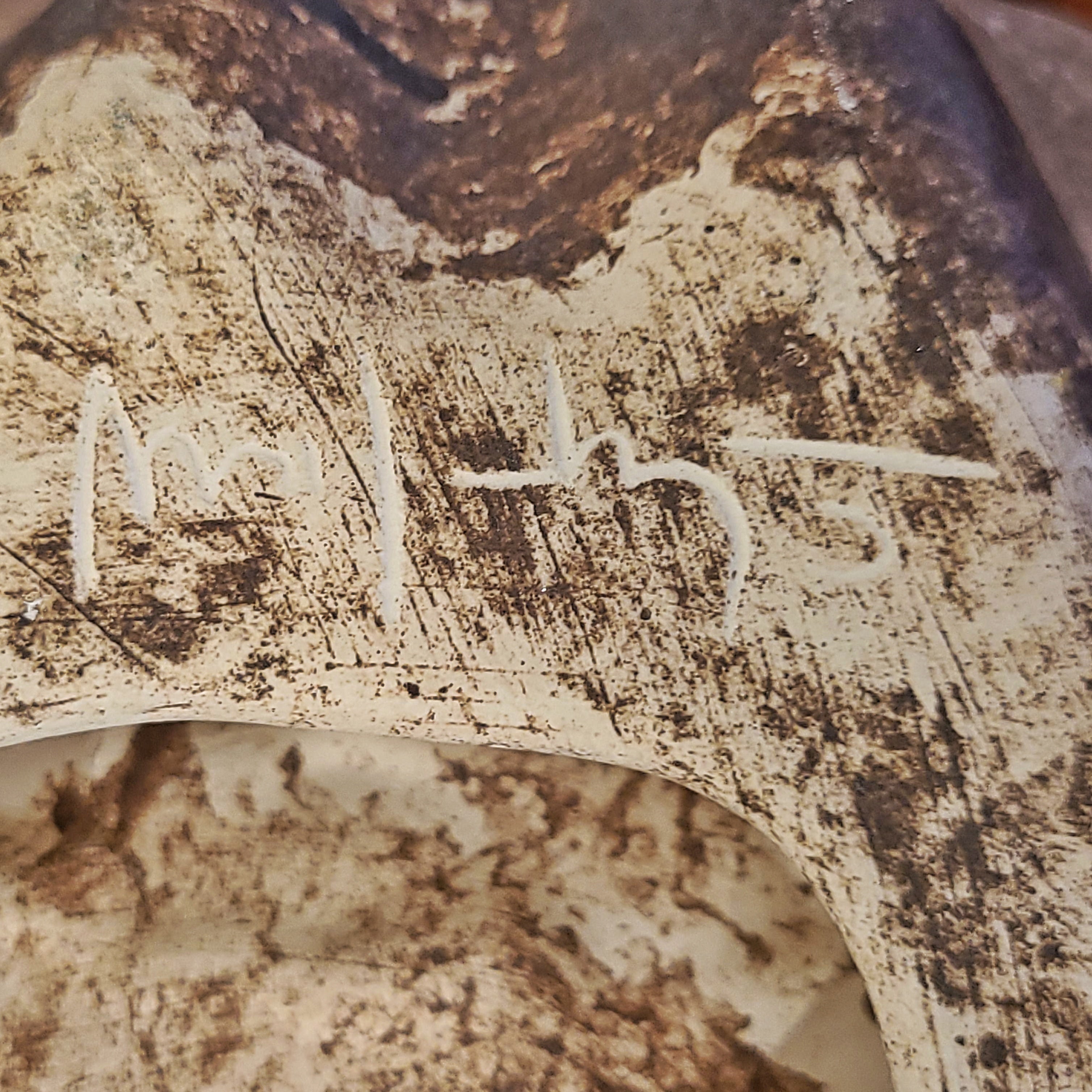 LARGE VINTAGE MCCARTY POTTERY NUTMEG CLAMSHELL
CONTACT US HERE ABOUT THIS ITEM.
A studio pottery clamshell bowl from McCarty's Pottery of Marigold, Mississippi.  The classic nutmeg glaze is accented with the McCarty's signature black Mississippi River mark.  The bowl is suitable for use as a food-safe serving dish or as a decorative piece of pottery to display on a table or shelf.  It is signed on the bottom.
LEE & ERMA 'PUP' RONE MCCARTY (1923-2015 & 1923-2009 RESPECTIVELY) were born 111 miles apart in the state of Mississippi, Lee in Merigold and Pup in Ethel, in 1923.  Lee served during World War II and then met Pup at Delta State College. At that time, he planned to go into a career of science utilizing his expertise in Chemistry and Physics. After they married, they studied at Ole Miss where Lee began to blend his knowledge of science with his love of the arts. He was interested in jewelry making, and oddly enough, Pup was the one who first wanted to take pottery classes. She made him go with her so she wouldn't be by herself with all the football players taking an 'easy' elective night class. After graduate studies at Columbia University, they returned to Oxford where Lee taught at a high school run by the university. before becoming full-time freelance artists. William Faulkner allowed them to dig the clay for their first pieces from a ravine behind his home, Rowan Oak.
It was the early 1950s, and Lee's mother was ill, so in 1954 they decided to return to Merigold instead of setting off for The Cranbrook Academy of Art in California. They already had a small kiln and a kick wheel and when "Aunt Margaret" Smith offered them "Uncle Albert's" old mule barn, McCarty's Pottery was born. They moved into the loft and set up shop below.  To make ends meet in those early years, Lee taught students science at the high school in Shelby while Pup kept shop during the day. They would work late into the night throwing pots or fashioning jewelry, and as Lee says, "sweated in the summer and froze in the winter." With Lee's knowledge of chemistry and Pup's artistic eye, the McCartys set about creating their unique glazes and colors.  Aunt Margaret proceeded to bring every garden club in the Delta by to see the exquisite pottery and unique jewelry and enameled pieces being made. The space formerly overlooked by the hayloft is now a lush Mondrian-inspired Garden filled with vegetable and ornamental plants. McCarty vases, handcrafted seashells, and wind chimes are visible among the greenery, bamboo, flowers, and birdbaths.  McCarty clay comes from the couple's land near Macon. The pottery is thrown on a Soldner pottery wheel the couple bought in 1949 and is fired in an electric local reduction kiln without pollutants, lead, or gas. The glazes have unique names such as matte nutmeg, tea, and waterbottom. The pieces include vases, plates, bowls, wind chimes, angels, and an assortment of animals, including birds, rabbits, cats, pigs, hippopotamuses, and fish. Lee McCarty has said that he and Pup tried to employ the colors of the Mississippi Delta in their work.  By the early 1960s, they had shown in several museums and exhibits around the country, including Brooks Memorial Art Gallery in Memphis, the Denver Museum of Art, the Birmingham Art Gallery, The America House in New York, and The Museum of Fine Arts in Houston. In 1960, they won first prize in the National Show at the Delgado Museum in New Orleans - the winning exhibit was a highly textured stoneware bottle fired in their original nutmeg glaze. Also in 1960, they designed the accessories for the Pace Setter House featured in House Beautiful, and then again in 1962.
During the 1960s the McCartys developed a variety of glazes but gradually narrowed the range to jade, cobalt blue, and Pup's favorite signature glaze, nutmeg. By the 1970's they had a number of select authorized dealers and had opened a gallery in Monteagle, Tennessee.  Throughout the 1970s and 1980s, the McCartys continued to concentrate on their craft and on expanding their internationally known gardens. McCarty's Pottery truly became a destination when Lee opened the Gallery Restaurant which serves lunch and hosts special events. People still shop in the morning, eat a wonderful lunch, and walk it off with a stroll in the gardens, sometimes narrated by Lee himself.  In 1991, the Samuel P. Harn Museum of Art at the University of Florida in Gainesville held a retrospective called "Mud Magic: the Mississippi Pottery of Lee & Pup McCarty." In 1996, the Mississippi Institute of Arts and Letters awarded them the Lifetime Achievement Award and at the same time the University of Mississippi Museum of Art held a large retrospective called "Masters of Merigold: 40 Years of McCarty Pottery."
The pottery is known worldwide. The McCarty's work has been shown at the Smithsonian Museum, the Hamlin Museum in Germany, and the Paris offices of the United Nations Educational, Scientific, and Cultural Organization as well as in Japan, at the Samuel P. Horn Museum at the University of Florida, and at the Lauren Rogers Museum in Laurel, Mississippi.  Describing their work, art historian Lisa Howorth observes, "A McCarty piece . . . seems to suggest all the rawness and earthliness and endurance of Mississippi."
In 1998, the McCarty's godsons, Jamie and Stephen Smith returned home to Merigold and joined the family business. In the way things always seem to come full circle in the Delta, Jamie and Stephen are the great-nephews of Aunt Margaret and Uncle Albert Smith, who helped raise Lee who in turn helped raise them. As a child, Jamie had a natural talent for pottery which Lee and Pup encouraged. By the age of five, Jamie was throwing on Lee's wheel and creating his own unique pieces.  Over the years, Jamie continued his pursuit of pottery first as a hobby and then as an artist with Lee and Pup's guidance. Since Pup McCarty's death on 8 February 2009 and Lee McCarty's passing on 7 September 2015, Stephen and Jamie have carried on the McCarty Pottery tradition.  While Jamie focuses on the creative aspects of the studio, Stephen handles the many different facets involved with the business and the Gallery Restaurant.
Details

Dimensions

13.5ʺW × 8.5ʺD × 4.25ʺH
Styles

Folk Art
Organic Modern
Rustic

Period

1960s
Place of Origin

United States of America
Item Type

Vintage, Antique or Pre-owned
Materials

Stoneware
Condition

Very Good Condition, Original Condition Unaltered, No Imperfections
Color

Tan
Condition Notes

Excellent Vintage Condition. Naturally Distressed Finish.