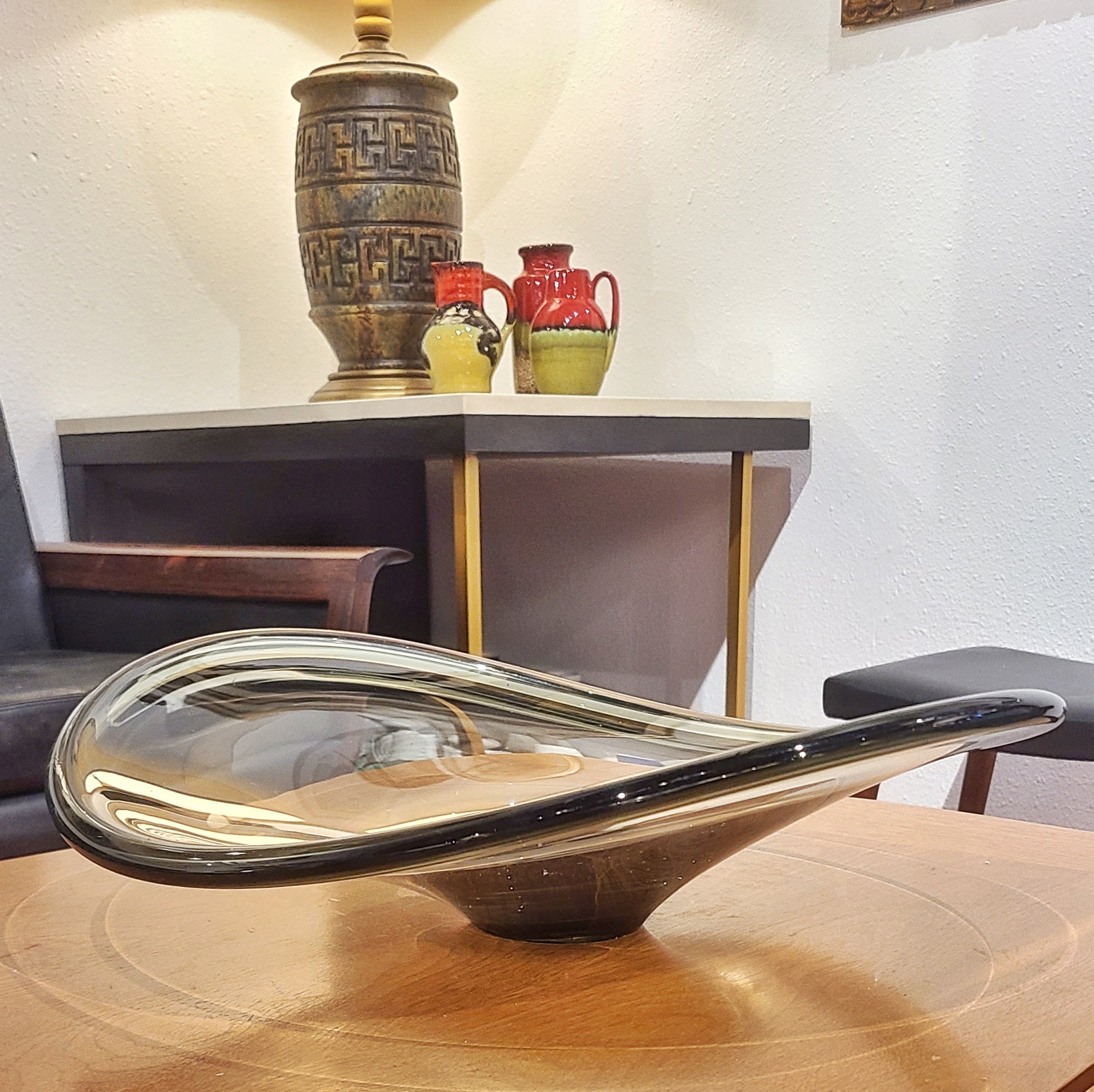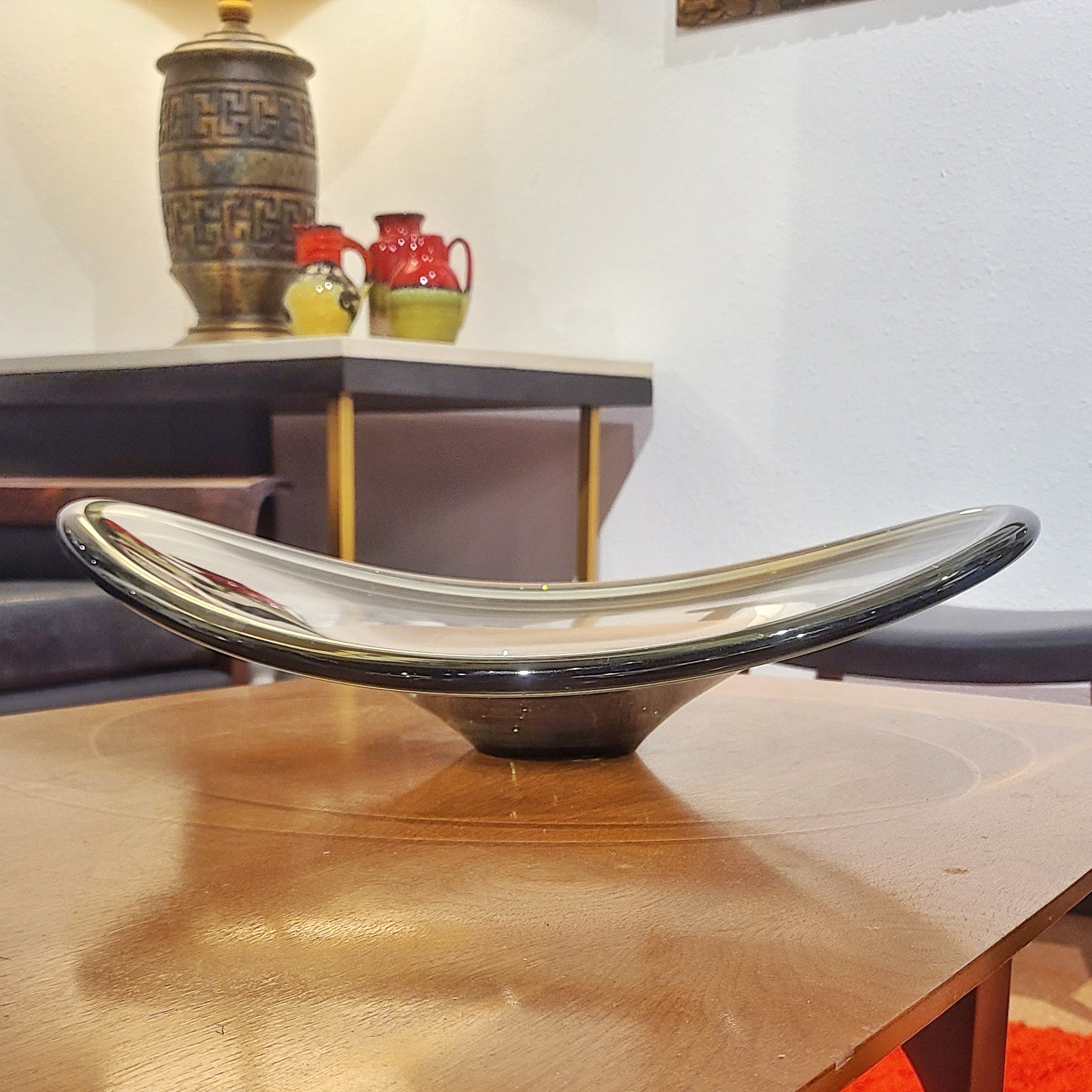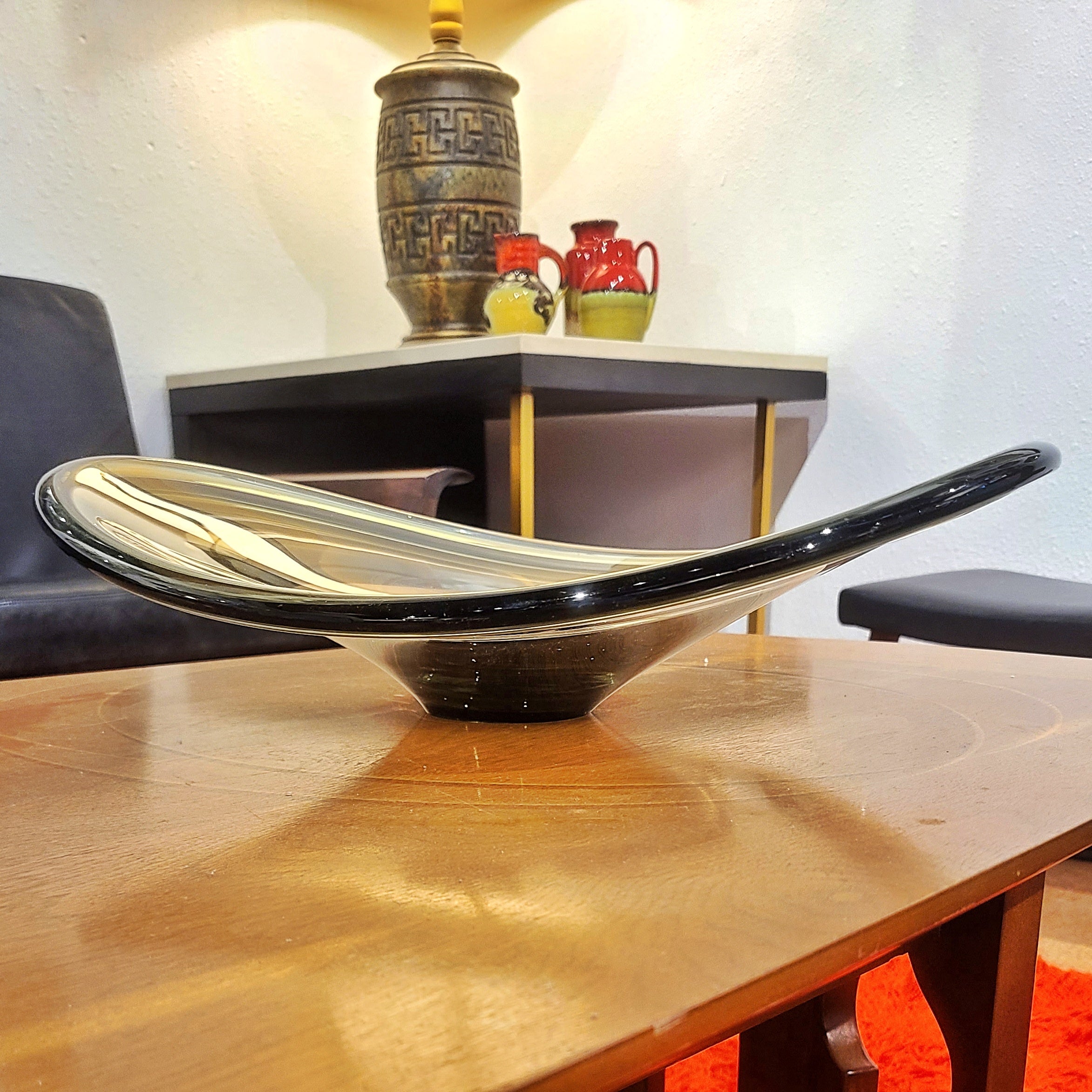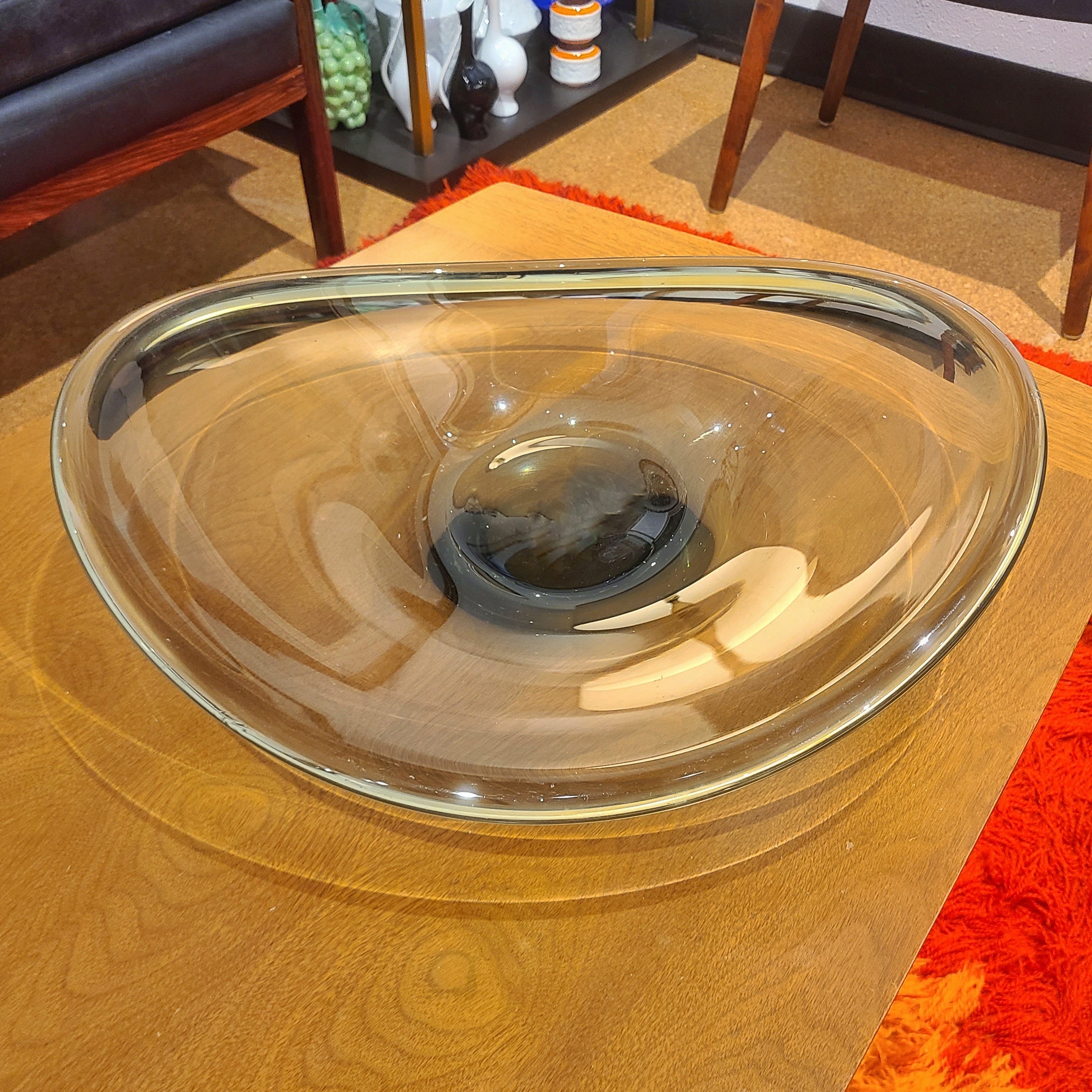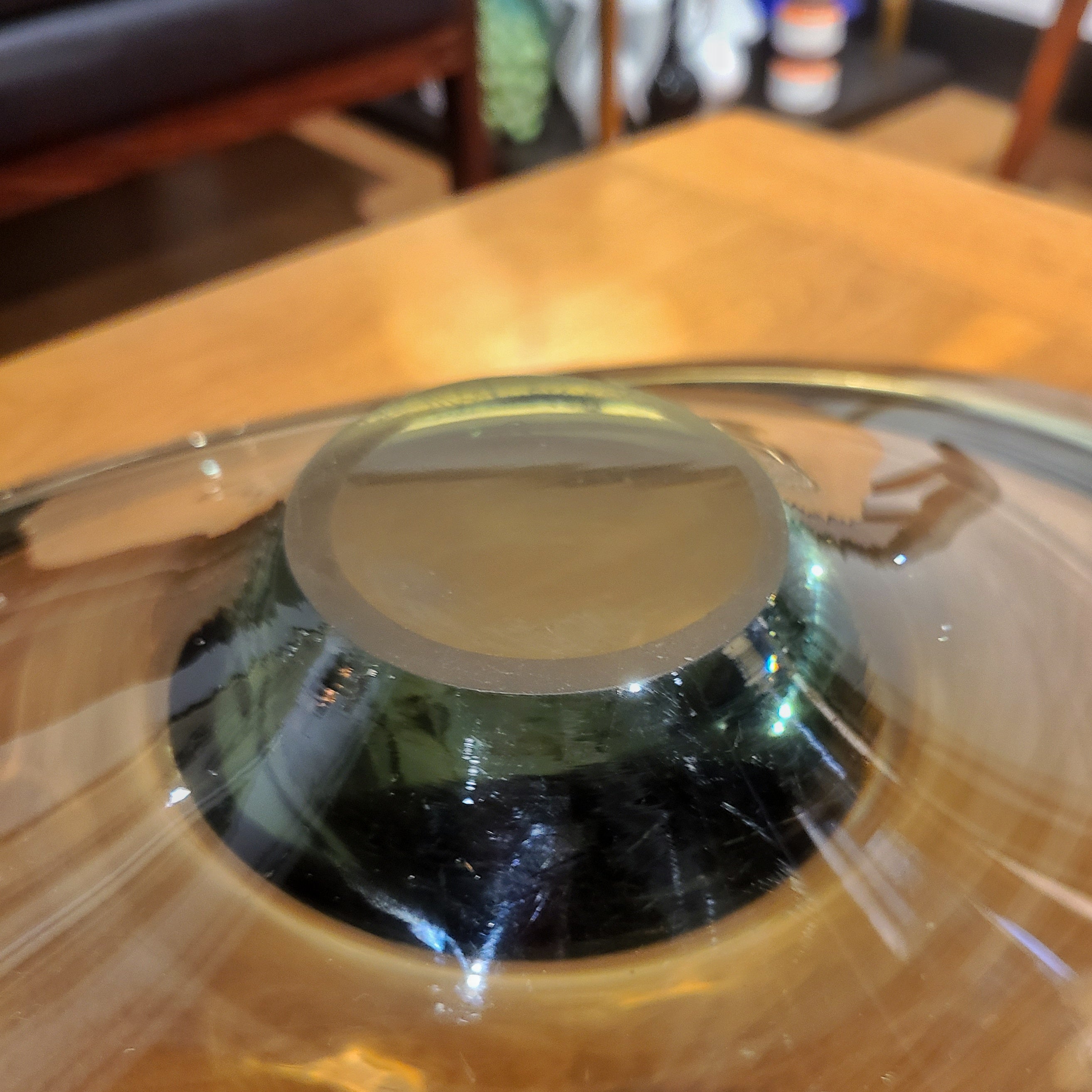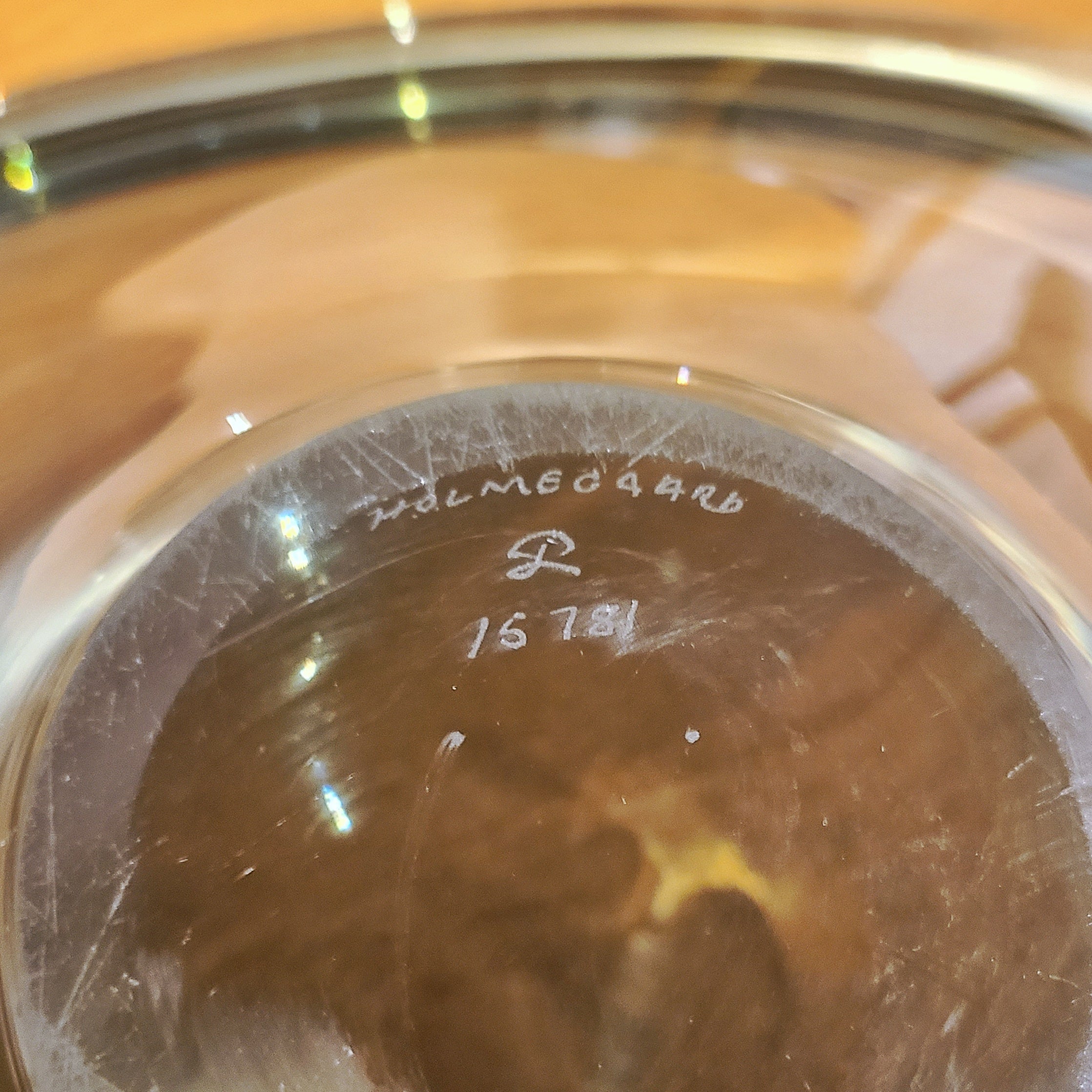 MASSIVE 'SELANDIA' CENTERPIECE BOWL BY PER LÜTKEN FOR HOLMEGAARD (c. 1957)
CONTACT US HERE ABOUT THIS ITEM.
A prodigious (40 cm), smoked-glass, 'Selandia' series centerpiece dish designed by Per Lütken for the HOLMEGAARD GLASSWORKS of Denmark in the spring of 1957. Just under 16" across, this is by far the largest of these bowls we have ever seen. Fashioned by hand, its shape was created with the help of gravity as the glass blower carefully turned, raised, and lowered the molten glass. The softness of the glass heated to 1400 degrees Celsius seems somehow still perceptible in its current, cooled condition. An ideal gift for the glass enthusiast and an item destined for heirloom status in any family. Excellent vintage condition showing only the lightest of superficial scratches, consistent with age and use.
PER LÜTKEN was the unsurpassed master of mid-century Danish glass and one of the HOLMEGAARD GLASSWORKS's most advanced designers. He worked there from 1942 until his death in 1998. Lütken was responsible for more than 3,000 glass designs. Many of his ranges have become classics and are synonymous with the quality that HOLMEGAARD is famous for.
He was known for his perfectionism and made great demands on the glass blowers who brought his work to life. If they complained that his designs were too difficult to produce in glass, Lütken's response was always, "Well, who said things were supposed to be easy?"
In Lütken's opinion, drinking glasses should have a certain natural weight and ooze craftsmanship. Based on this philosophy, he created thick, lip-friendly vessels with soft curves in the No. 5 (1970), Ship's Glass (1971), Idéelle (1978), and Charlotte Amalie (1981) ranges. Early creations include the Provence bowl (1955) and the Selandia dish (1957).
Well, who said things were supposed to be easy? – PER LÜTKEN
DETAILS
Maker – HOLMEGAARD GLASSWORKS
Production Period/Year – 1960s
Designer – PER LÜTKEN (1916—1998)
Design Period/Year – 1957
Origin – DENMARK
Styles/Movements – MID-CENTURY MODERN
Materials – GLASS
Colors – LIGHT GRAY
Condition – Excellent vintage condition; no damage. May show some signs of previous use.
Dimensions – 16" W × 14 ¼" D × 4 ¼" H