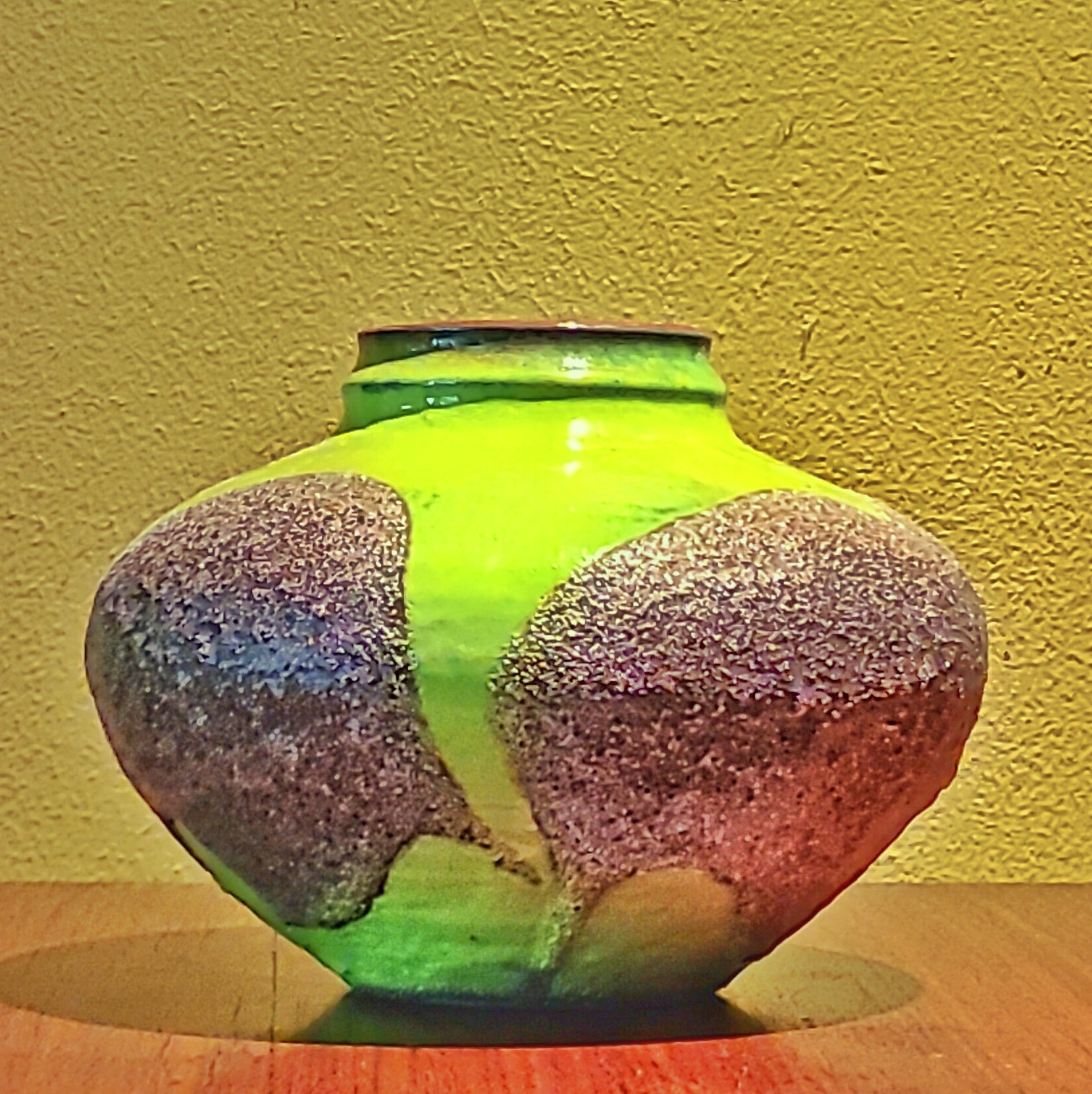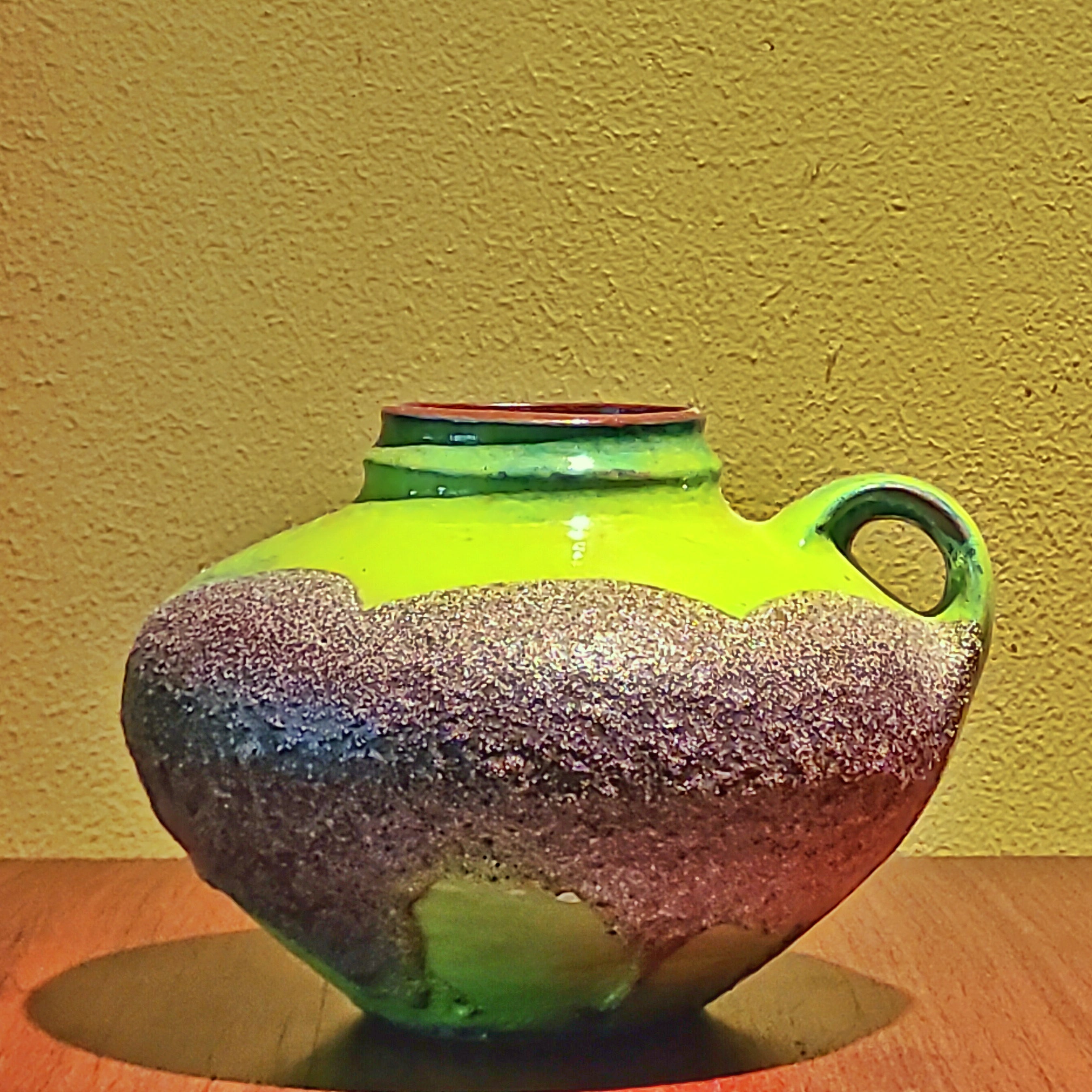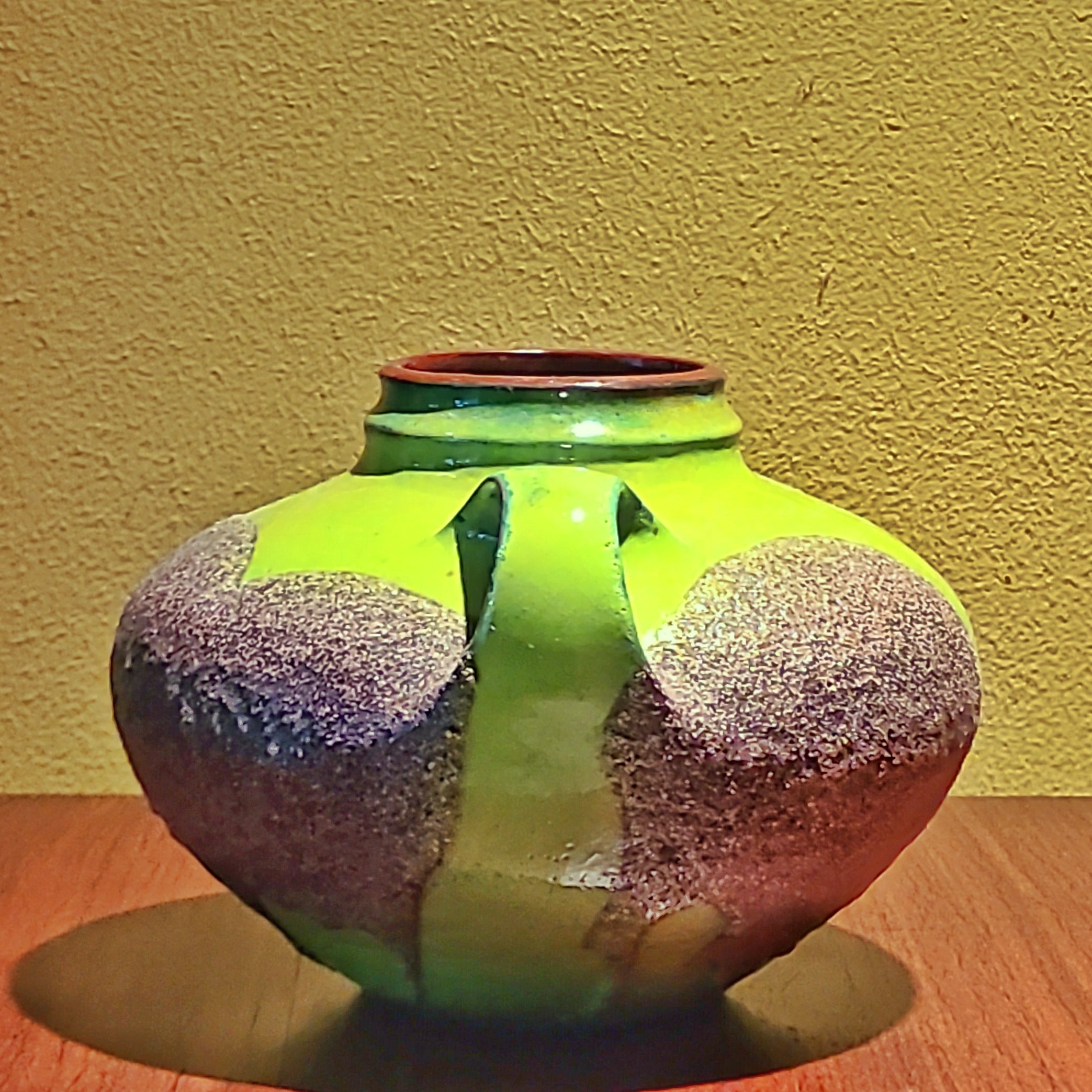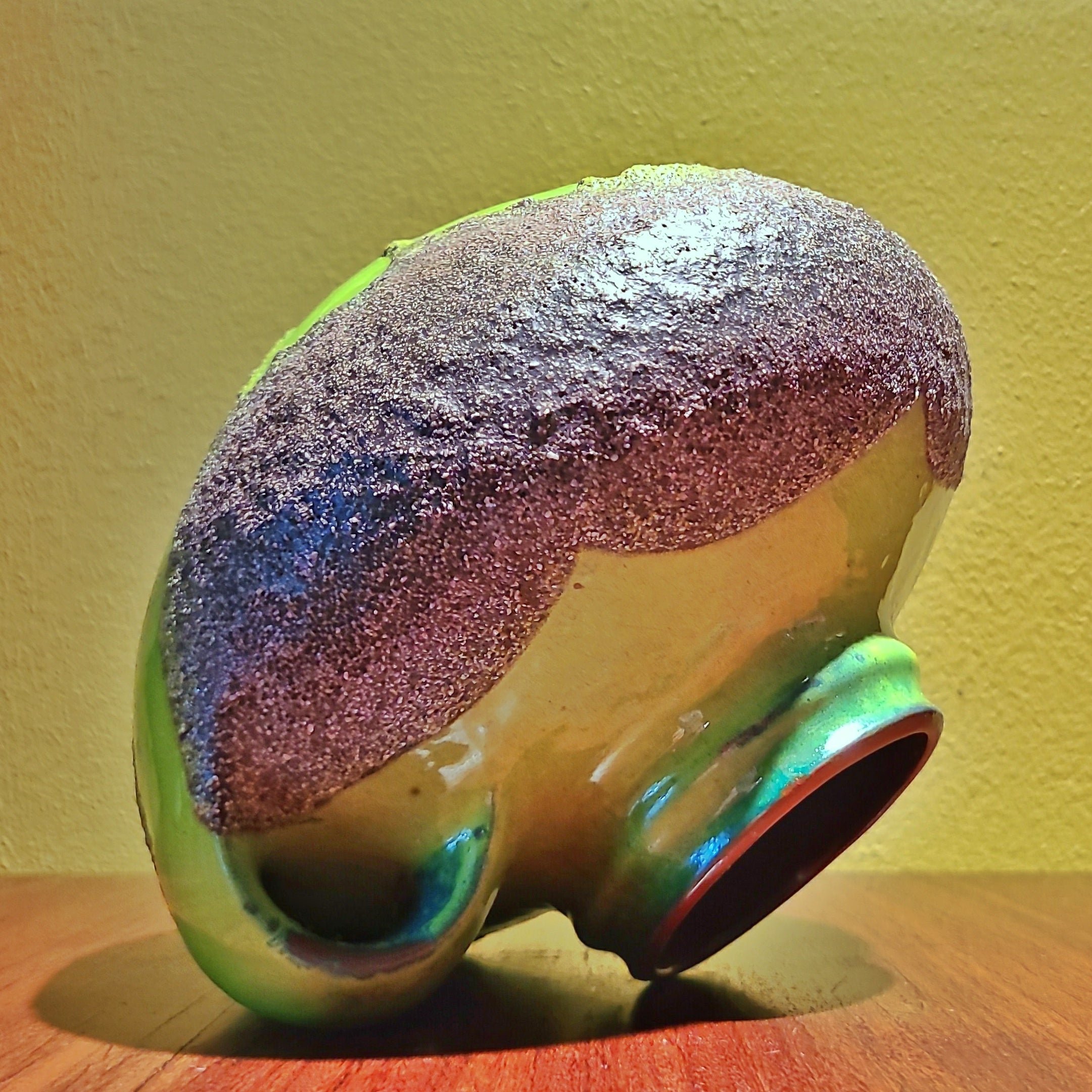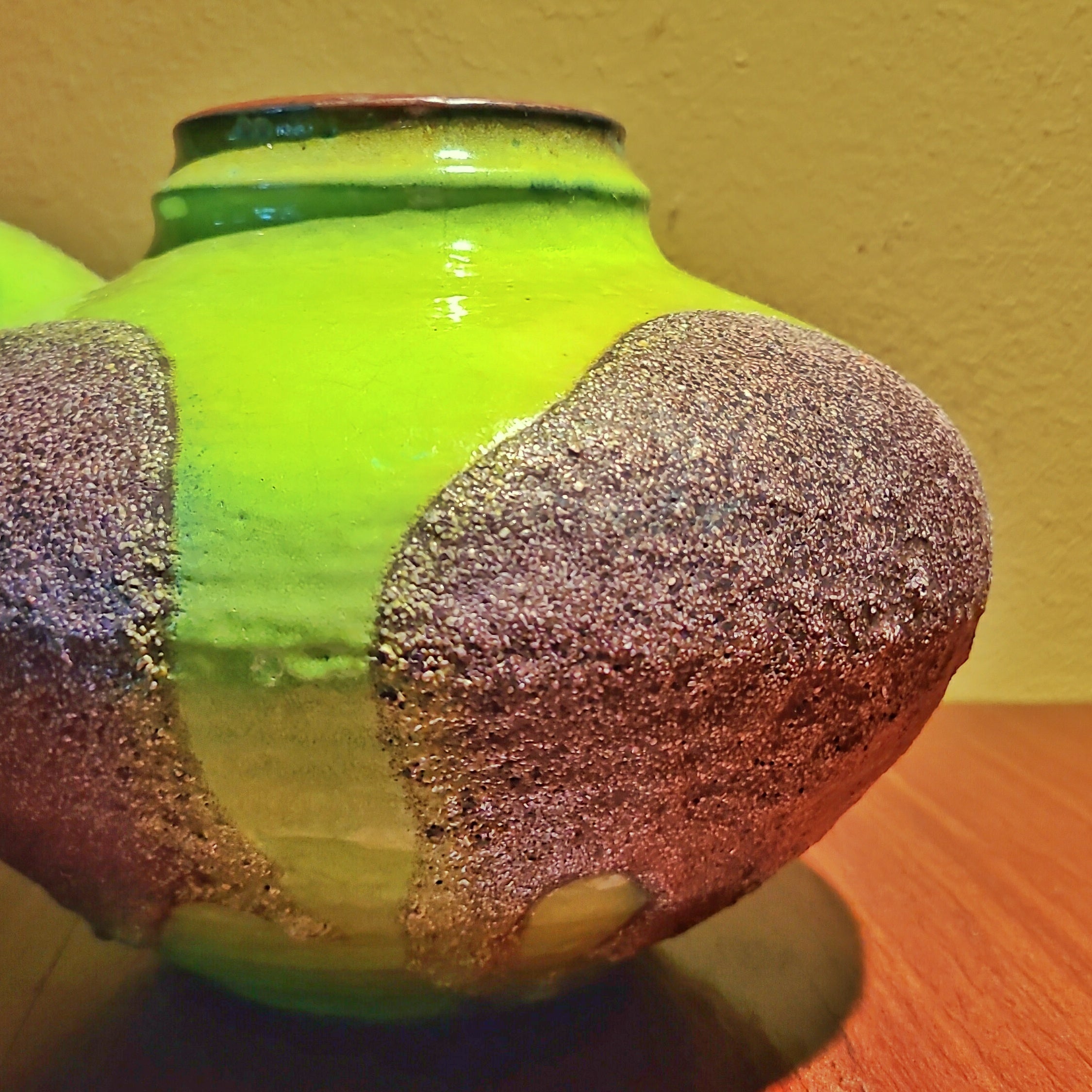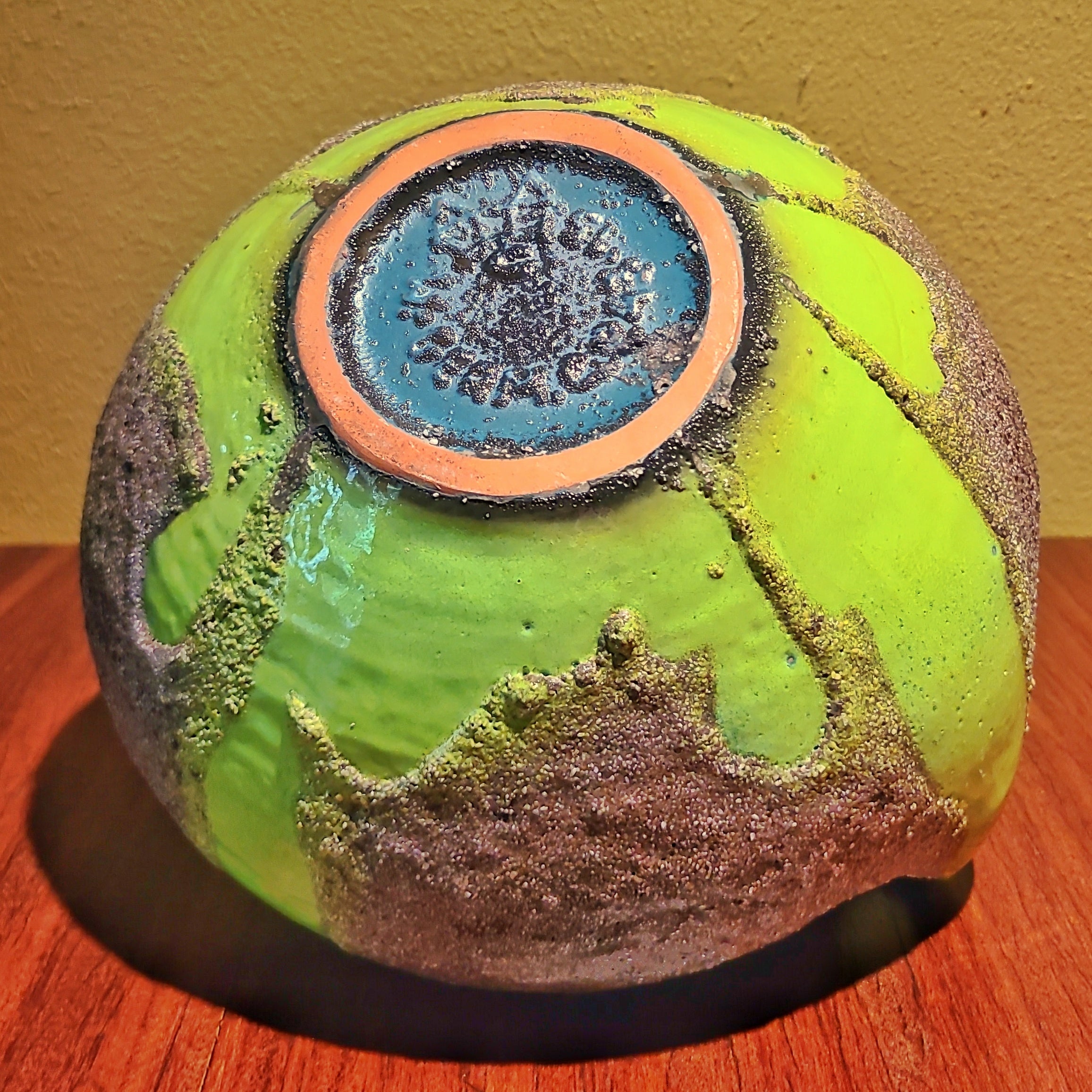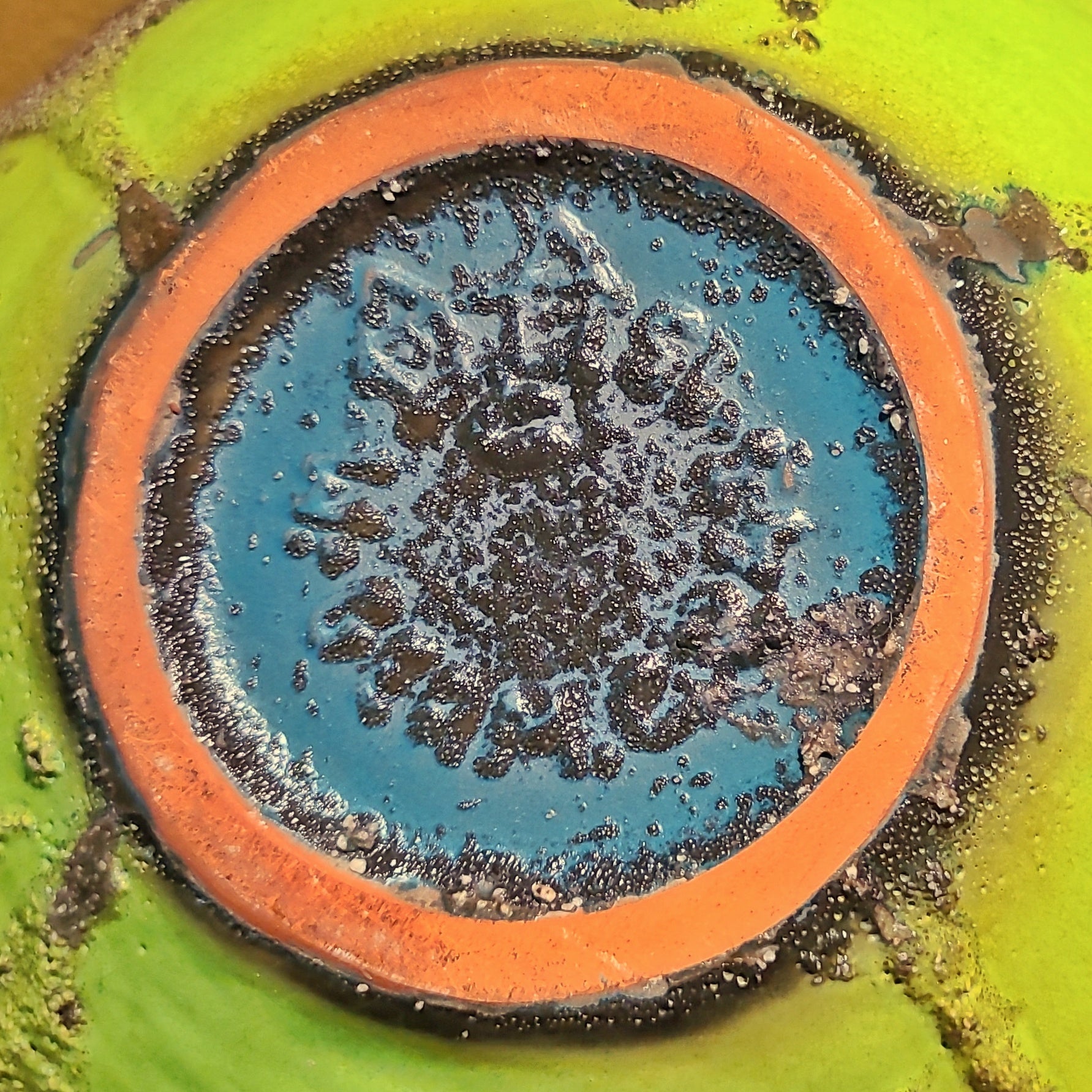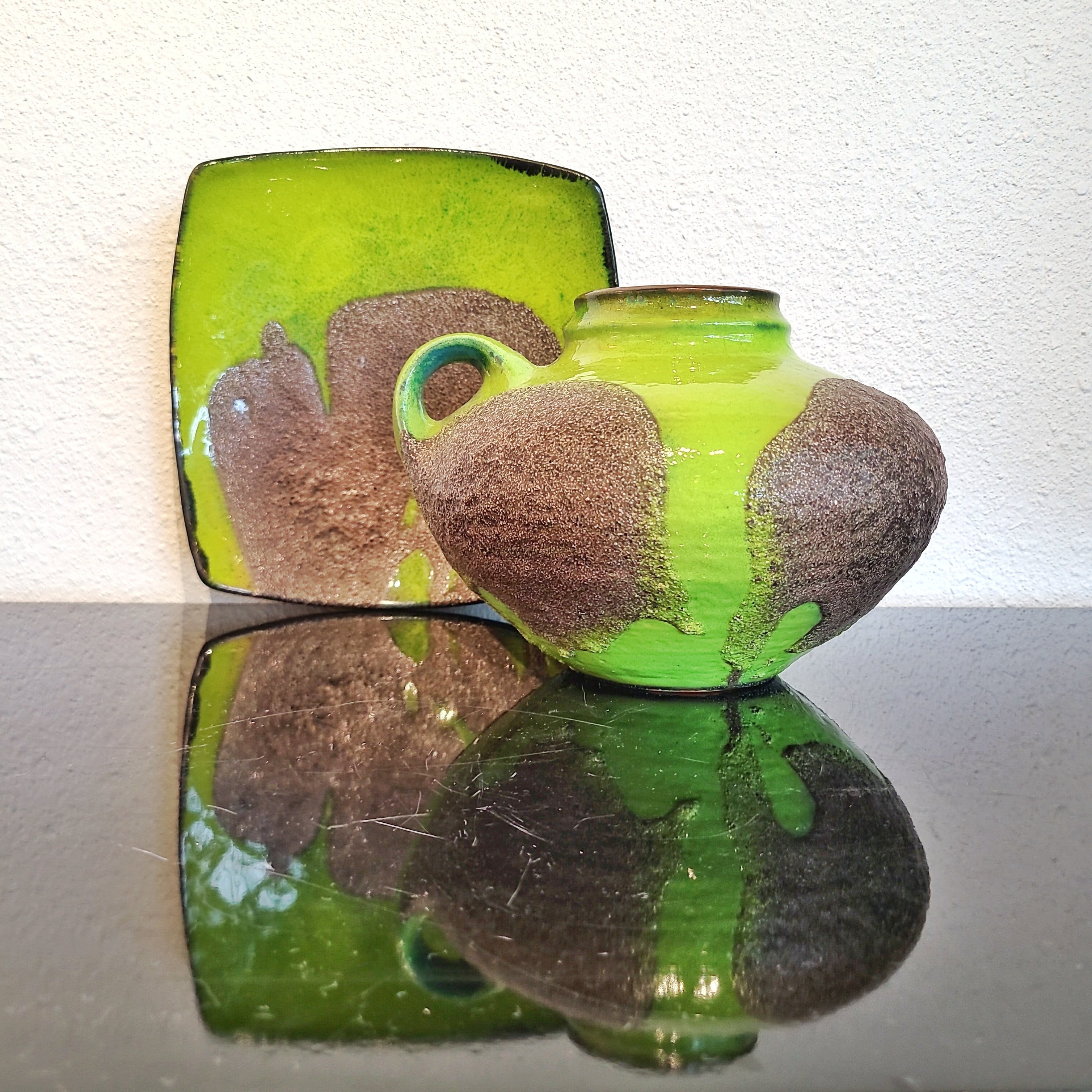 LIME GREEN CARSTENS 'ATELIER' JUG VASE Nr. C243/15
CONTACT US HERE ABOUT THIS ITEM.
A vibrant lime-green CARSTENS jug vase from its famous Atelier line with a volcanic fat-lava overlay. The bright green was fired on top of a teal underglaze (seen clearly on the base) that peeks through in spots—and then partly painted over, in contrasting brownish-gray, with a curdled fat lava that was allowed to flow down the sides. Designed by Gerda Heuckeroth in the early 1960s. Model C243/15.
CARSTENS TÖNNIESHOF was founded in 1946 by Ernst Carstens and his son Christian. The family (which included Ernst's brother, Christian's namesake) had a generations-long history of manufacturing porcelain and other ceramics throughout Germany. All of its businesses, however, had collapsed by the end of WWII. Most of the factories that survived were expropriated by the GDR—having wound up on the communist side of the line when the country was divided following the war. Father and son built the new Tönnieshof factory on a farm of that name in the town of Fredelsloh, just across the West German border in Lower Saxony. Very little is recorded about its earliest production, which began in 1947 and concentrated on tableware. The first known decorative pieces date from the early '50s. Ernst's wife Trude Carstens served as artistic director for CARSTENS TÖNNIESHOF until her death in 1965.
Early CARSTENS products had simple forms and were decorated with discrete colors. More advanced décors, with organic patterns and elements of gold, were developed by Trude Carstens in the mid 1950s. Examples of this type are Utrecht and Graz. Forms with geometric, molded patterns were also introduced toward the end of the decade, the Carmen relief series from 1958 being representative.
CARSTENS was very successful for many years and produced an enormous variety of shapes and glazes. Much of its output remains sought after by enthusiasts and collectors today. Like most of the major ceramics companies of the day, CARSTENS would apply multiple decoration techniques to the same forms, creating extensive product ranges. In addition to its own branded pottery, CARSTENS manufactured ceramics for the Austrian firm Goldscheider. By 1953, around 400 workers were employed. When Ernst Carstens died in 1954, leadership passed to son Christian. Under his guidance the firm maintained its dynamic position in the vanguard of the West German ceramics industry.
The celebrated Heinz Siery began to work at CARSTENS in 1959. His form designs, with their harmonious, "golden-ratio" proportions, were ubiquitous in the company's early '60s production and, indeed, throughout its remaining history. Of special note is the original Atelier series, designed by Siery (forms) with Gerda Heuckeroth (décors) and released in 1962. The two are together responsible for some of CARSTENS' most desirable creations.
During a stint with CARSTENS in 1963, Helmut Scholtis (listed as "von Scholtis" in much of the literature) created the very popular Ankara décor. An outstanding example of "wax resist" technique, it was applied to a broad array of forms and can be found in a variety of color and shape permutations. Ankara remained in continuous production until 1969.
In 1967 Dieter Peter and Rudolph Christman created several advanced, eccentric forms and paired them with sophisticated "fat lava" glazes for the higher-end Luxus series. It was followed in 1968 by Gerda Heuckeroth's Boutique series. These two lines were created to be sold in large department stores and comprised some of CARSTENS' most labor-intensive and costly items to produce.
CARSTEN's production was eventually expanded to Austria and overseas to Brazil, Chile, Argentina, and Australia. It may well have topped out at close to 10,000 units daily in total. By the mid 1970s, however, the profitability of the ceramics industry was being undercut by cheap imports and lagging public interest. CARSTENS went bankrupt in 1977 and was taken over by employees for a time under the name Kiel Atelier; operations continued until 1984.
Primary Designers: Trude Carstens (1946–mid 60s); Heinz Siery (1959–1967); Gerda Heuckeroth (1962–1964); Dieter Peter (early 70s); Rudolph Christman (1967–1968); Helmut Scholtis (1960s)
GERDA HEUCKEROTH began her career with an apprenticeship under ceramist Siegfried Möller, after which she studied at the School of Applied Arts in Bremen. She showed her first pieces at the Grassi Museum in Leipzig in 1939. Within two years she was appointed artistic director at Carstens-Uffrect KG in Neuhaldensleben, and she soon took over management of the group's Hubbe branch. (The Carstens-Uffrecht factory would be nationalized by the GDR with the division of Germany and operate as VEB Haldensleben up until reunification.) During WWII, Heuckeroth set up a workshop in her home in a suburban district of Hamburg.
Following the war, she worked for various firms—among them Grünstadt, Villeroy & Boch, and the Koninkliijk Plateelbakkerij Zuid Holland in Gouda—as a designer of both forms and décors. Heuckeroth became the artistic director of Ruscha Keramik in 1959 when Hanns Welling left the company. She succeeded him again in 1962 as the senior designer for Ceramano. In 1964 she moved to CARSTENS TÖNNIESHOF to head its Atelier department, where she produced a great number of outstanding designs. Along with much of her early work, these have become highly sought-after by a new generation of collectors. Eventually retiring from the industry, Heuckeroth returned to freelancing out of her Hamburg studio. Her work has received numerous awards and prizes over the years at both national and international exhibitions.
DETAILS
Maker – CARSTENS TÖNNIESHOF
Production Period/Year – 1960s
Designer – GERDA HEUCKEROTH
Design Period/Year – 1960s
Origin – GERMANY
Styles/Movements – MID-CENTURY MODERN
Materials – CERAMIC
Colors – LIME GREEN, TAUPE
Condition – Very good vintage condition. Wear is commensurate with age and use. The glaze shows an inch-long hairline; it is visible to the naked eye (see last photo) but does not impact the ceramic body.
Dimensions – 8 ½" DIAM. × 6 ¼" H