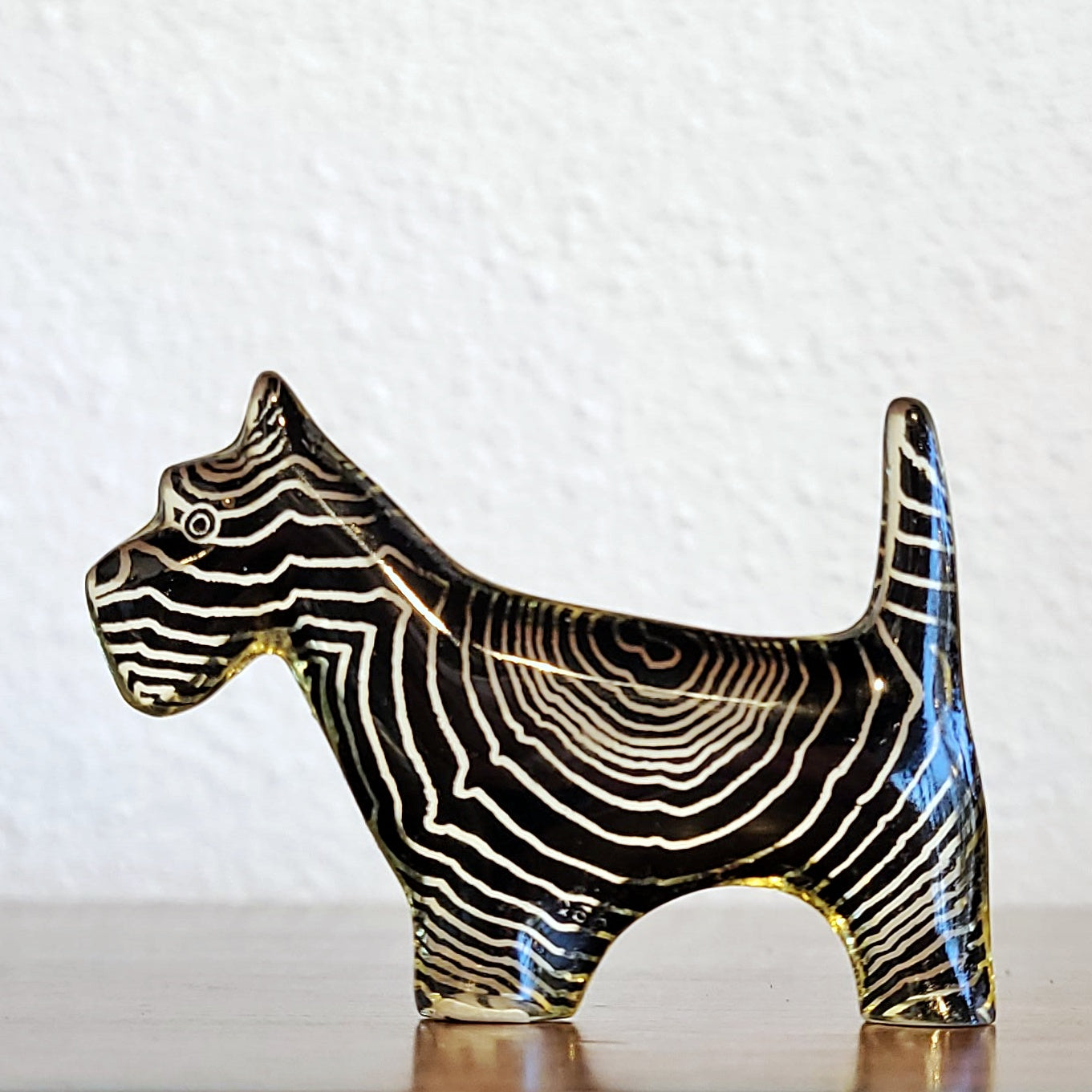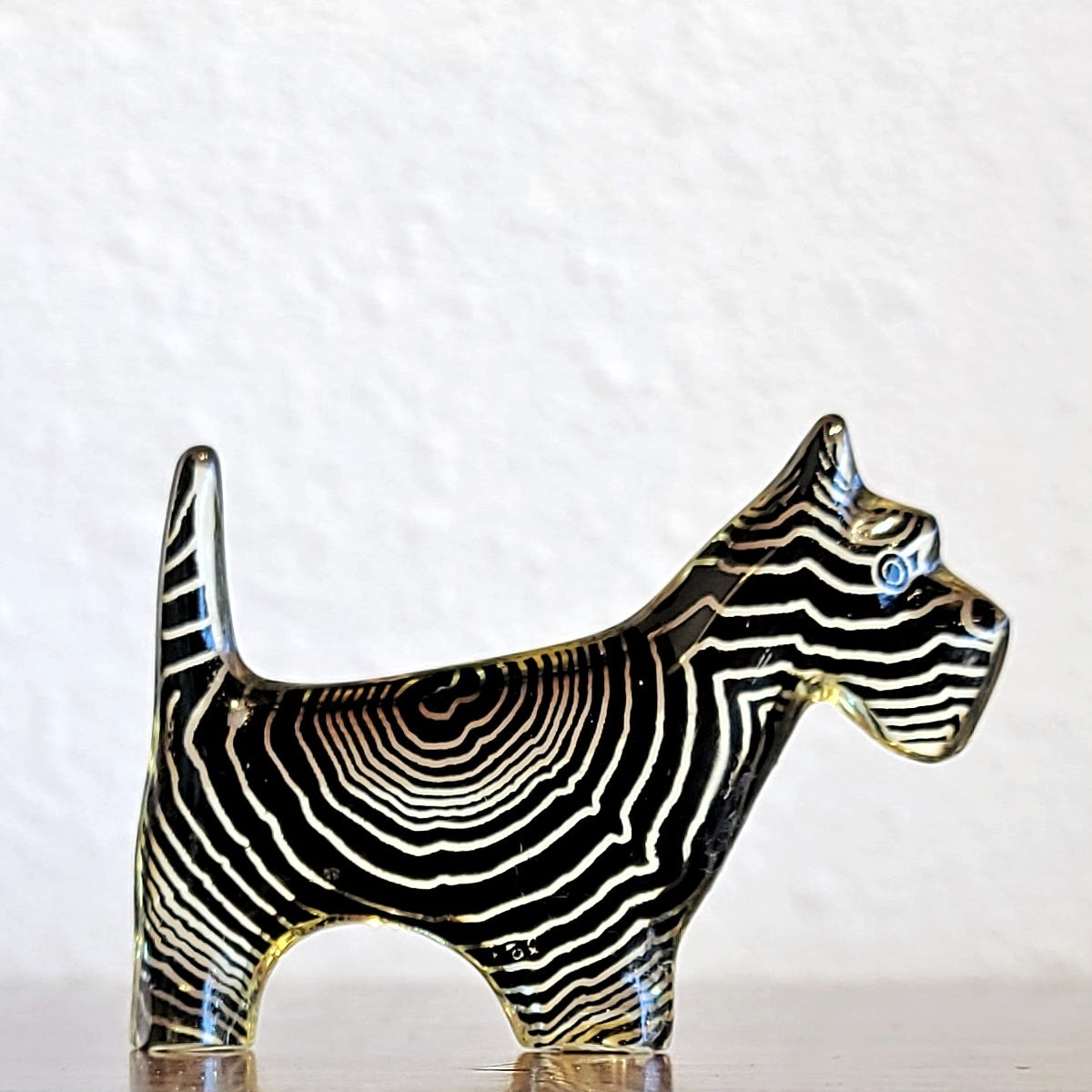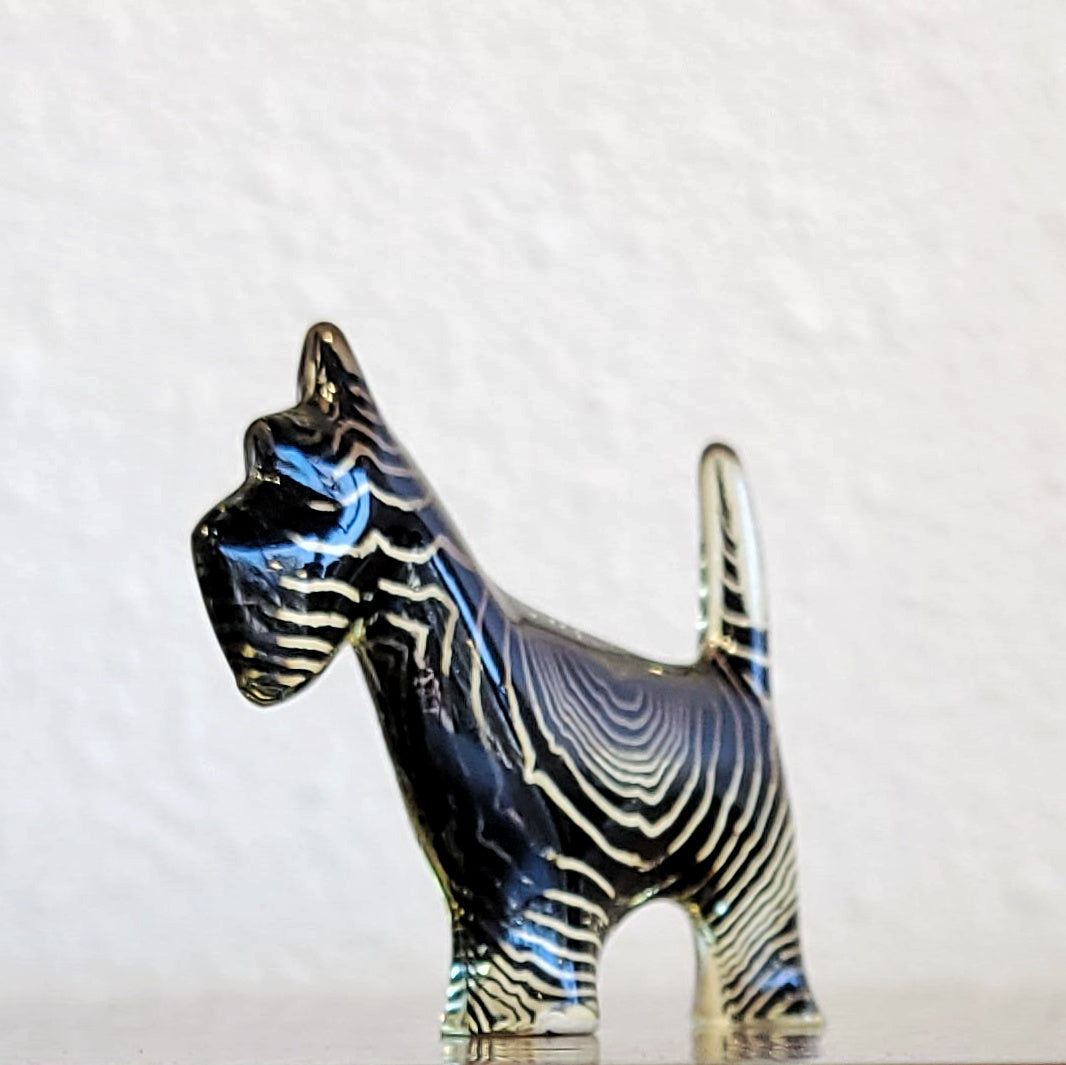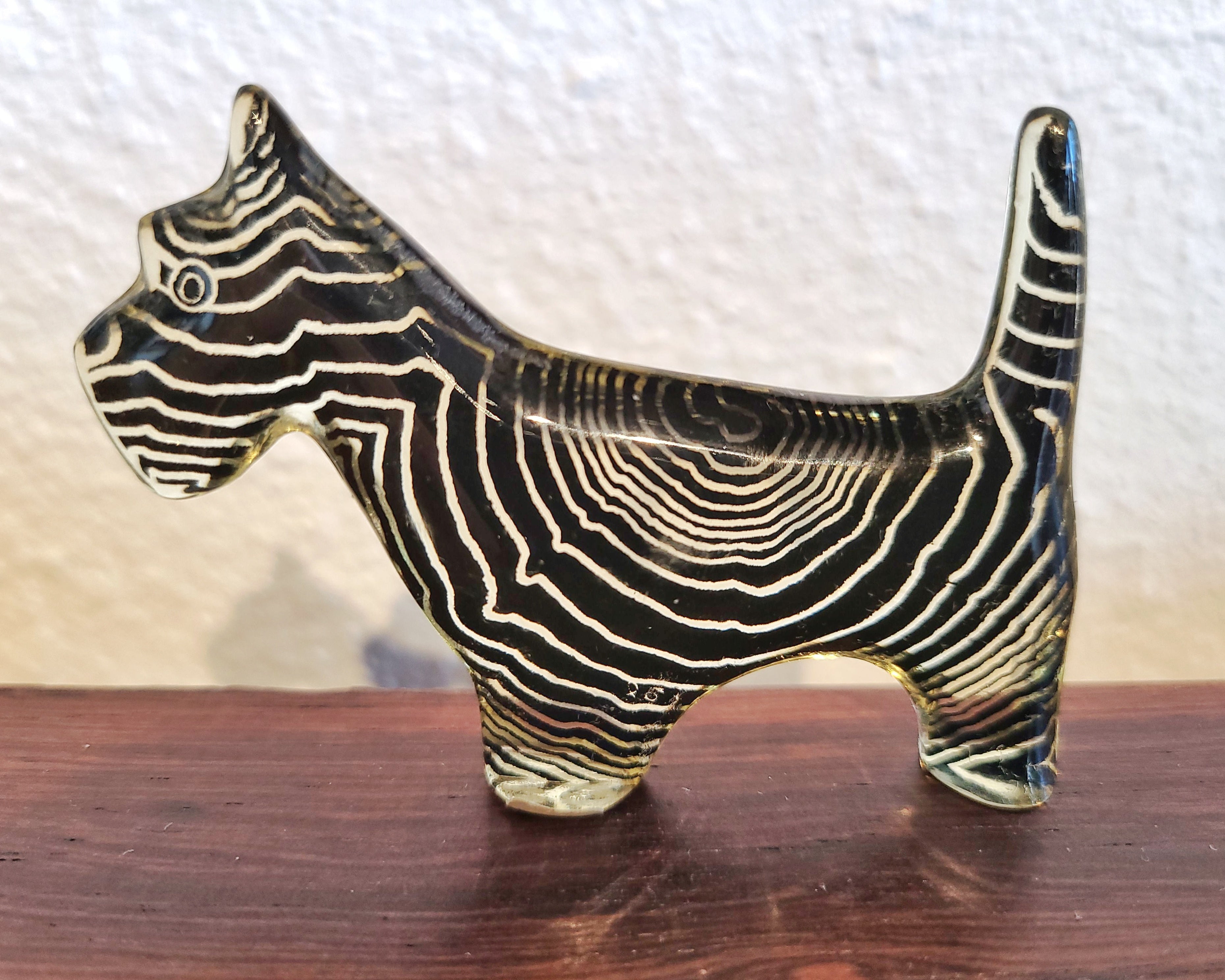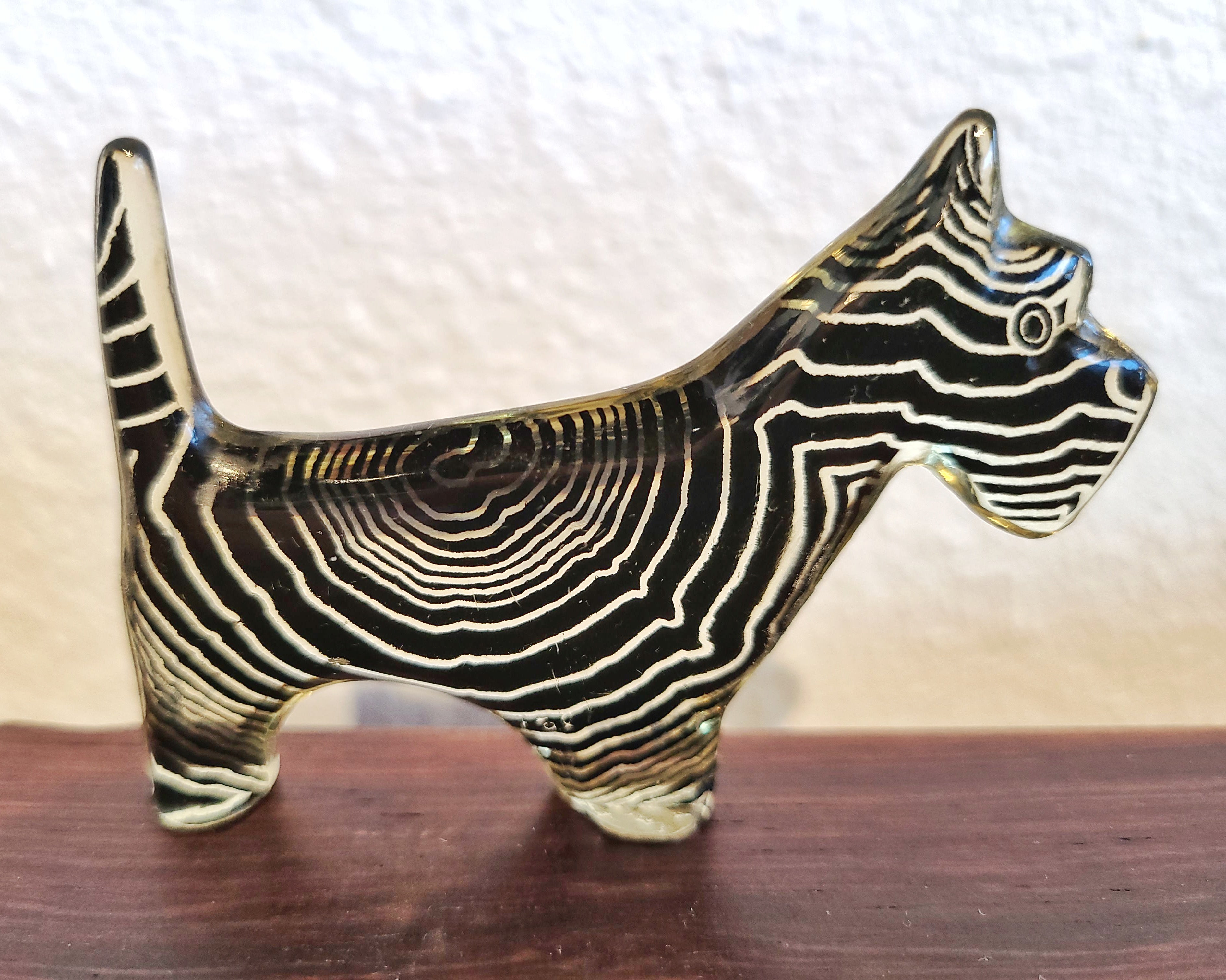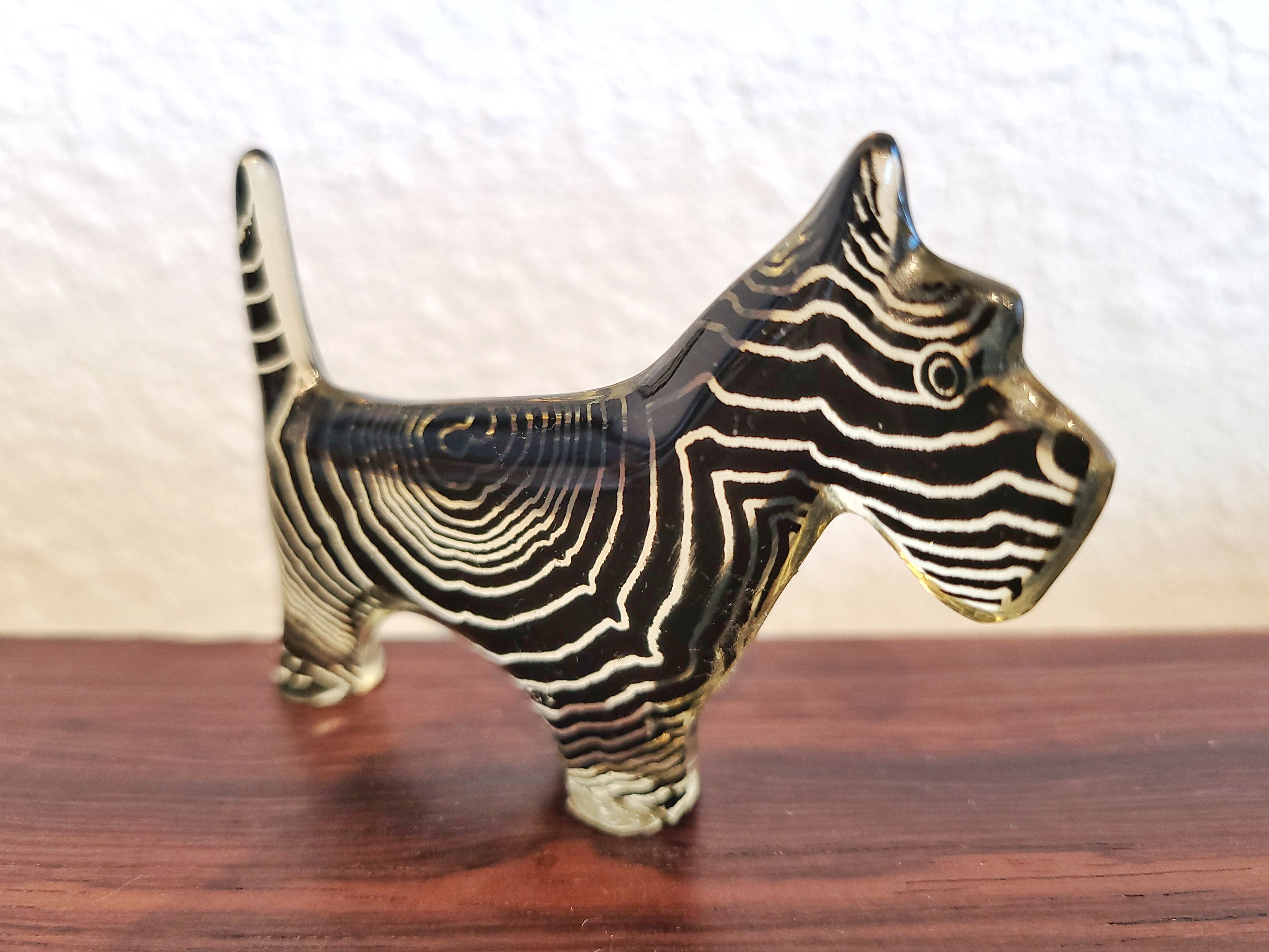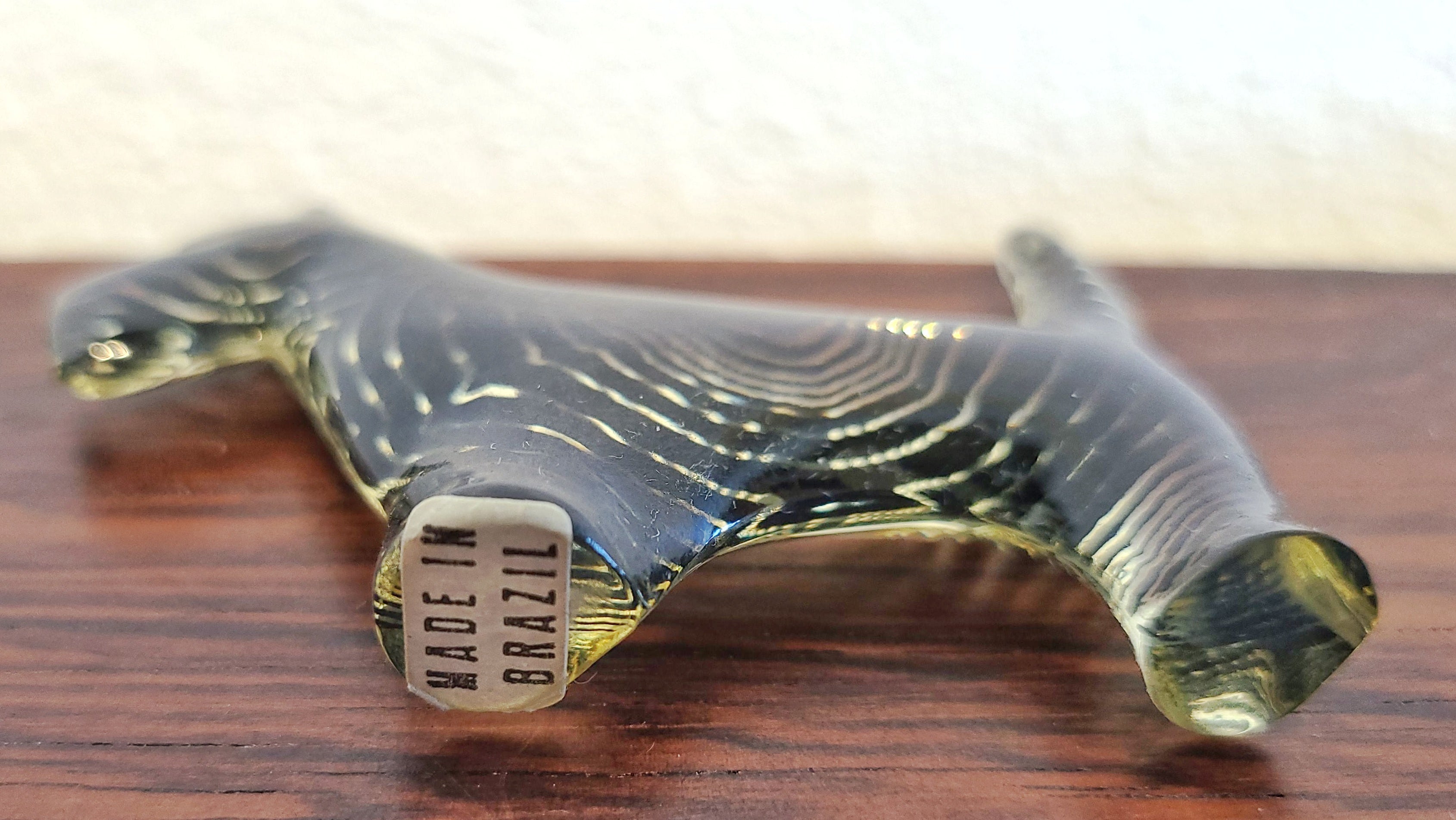 OP ART SCOTTISH TERRIER BY ABRAHAM PALATNIK FOR SILON (BRAZIL)
CONTACT US HERE ABOUT THIS ITEM.
A rare Lucite Op Art Scottish Terrier designed and produced in the middle to late 60s by artist Abraham Palatnik for his Brazilian art object company Silon.

ABRAHAM PALATNIK (1928–2020) was a Brazilian abstract artist and inventor. He was born into a family of Russian Jews, who emigrated from Ukraine to Natal, an agrarian city in the northeastern corner of Brazil, in 1919.  In 1932  Palatnik's family moved to Mandatory Palestine (now the state of Israel) where he completed his elementary and secondary schooling.  From 1942 to 1945, Palatnik studied mechanics and physics with an emphasis on internal combustion engines at the Montefiori Technical School in Tel Aviv, while also honing his natural artistic skills in painting and sketching under the tutelage of local Israeli artists, including the painter, Aharon Avni and the sculptor Moshe Sternschuss, later taking art classes at the Municipal Art Institute of Tel Aviv, where he produced landscape paintings, portraits and still-life works.  By 1948, having developed great skills in fine art painting, Palatnik returned to his homeland of Brazil, and settled in Rio de Janeiro where he would spend most of his adult life.
Shortly After his return to Brazil, Palatnik accepted an invitation to visit Dr. Nise de Silveira's groundbreaking occupational therapy classroom for schizophrenic patients at the Pedro II Psychiatric Hospital, and in 1949, Palatnik, along with Ivan Serpa, Mário Pedrosa, and Almir Mavignier, began working with doctors at the Engenho de Dentro Psychiatric Hospital in a suburb of Rio de Jainero on a program through which patients created artworks. The abstract forms that resulted from this collaboration helped spur an interest in abstraction in Brazil that would ultimately result in the formation of Grupo Frente, a Brazilian art movement of the 50s and 60s for which Palatnik is most often associated.  He was among the first Brazilian artists to take up a style called Concretism, which envisioned formalist geometric abstraction as a pure style of art-making that referred to nothing other than itself. Formed by artist Ivan Serpa, Grupo Frente also included some of Brazil's most important artists of all time, including Hélio Oiticica, Lygia Pape, and Lygia Clark.
Having been amazed at the abilities of the doctor's artistically untrained patients, Palatnik soon understood that artistic abilities were sometimes intrinsic capabilities and completely subconscious.  "When I saw the artistic output of some of the inmates, my preconceived notions were shattered. I knew how to handle paint and brushes, I felt secure in my knowledge and, suddenly, I met these people, who had never had any kind of training, producing works using complex and profound language...Image and language were melded together. The decisive elements of figure and color were not ruled by scholarly criteria of composition, but rather by codes related to powerful forces originating in the subconscious." The powerful impression made by this and several successive visits demolished his ideas and convictions in relation to art.  Upon embracing this revelation in the late 1940s, Palatnik had reached the conclusion that the artist's work is to order the chaos of perception, and that perception was linked to intuition. Without it, nature would be no more than chaos.   He abandoned the convictions of his fine arts training to focus instead on experiments in abstraction using light and technology to create movement.
Over the next two years, using his training in mechanics, Palatnik set out to reinvent painting by relying on a technological apparatus to create kaleidoscopic images on a screen using moving multicolored lights as paint.  Composed of lights and industrial materials such as metal, fabric, and wood and positioned somewhere between painting and sculpture, he created his first 'Aparelhos Cinecromáticos' (Kinechromatic Devices).  These objects seemed to make lush abstractions lurch into motion when activated. Mário Pedrosa, a preeminent Brazilian art critic of the era, described the works as an attempt to reinvent the Constructivist style of Laszlo Moholy-Nagy's art, writing that the sculptures were like "frescoes of light destined to animate buildings or walls with the plastic dynamism of artificial light according to the artist's will and inspiration."   Aparelhos Cinecromáticos made its debut at the 1st São Paulo Biennial in 1951, but it was not well-received. Relegated to a side room, it was excluded from the catalog and not included in the grand prize competition due to the inability of the judges to categorize it. However, a visiting international jury "considered it to be an important manifestation of modern art." His light installation went on to garner critical success and was called "the true art of the future."  the term Kinechromatic refers to a form of art in which the image, particularly in reference to the color perceived by the viewer, changes due to some form of movement.  It was coined in 1951 by the prominent art critic Mario Pedrosa in an article in 'Tribuna da Imprensa' to refer to Palatnik's entry at the São Paulo Biennial.  During the height of Grupo Frente's activity, Palatnik's work was shown in eight of the ten São Paulo Biennials staged between 1951 and 1961, as well as at the 1964 Venice Biennale in Italy. His work is now held in the collections of various notable museums, including MoMA, the Museu de Arte Moderna de São Paulo, and the Museu de Arte Moderna do Rio de Janeiro.
Palatnik went on to create more moving sculptures with his Objetos Cinéticos series, which comprised metal rods, wire and brightly colored wooden discs that were moved about by motors and electromagnets.  In all cases, the shape and color observed were changed by the devices for a stationary observer.  Frank Popper, the eminent art historian, among others, commented on Palatnik's "luminous mobiles" and their 'aesthetic of motion.'  These early works also included abstract paintings on glass and compositions based on magnetic fields, to name only a handful of Palatnik's ongoing investigations into art, technology, and perception itself.   In 1954, along with his brother, Aminadav, they opened the Arte Viva, a modern furniture factory that remained open into the next decade and produced a number of modern models that are still highly sought after on the secondary collectibles market.  But perhaps Palatnik's most well-known works are his series of Lucite animals created by the duo's art object company, Silon.
After the "Kinechromatic Devices," Palatnik moved on to making his "Progression Reliefs" series, which featured pieces of wood and cardboard that are rearranged to form abstractions. Inspired by Palatnik's experience with furniture production, they underscore the artist's interest in design, which also extended to the creation of machines themselves, including one that can split open coconuts.
His later works reflected an interest in the aspect of layering. From the 1970s, Palatnik made paintings that he would then cut up and compile, creating multi-layered, geometric patterns in the process.  He always maintained control over the entire production of his pieces, which denotes less of an artisanal view of technology than it does an availability to experiment and take on production challenges. Instead of the fascination of some contemporary art for new media, the artist has focused since the outset of his career on the possibilities of machines and their processes, evoking a specific art-technology relationship.  His later series of progressions and reliefs in assorted materials, like wood, duplex cardboard and acrylic, also betray his interest in kinetic and optical effects, achieved through meticulous craftsmanship. The result is abstract compositions marked by rhythmic patterns reminiscent of irregular movement—although his famed 'W' series incorporated laser cuts made by a specialized company. Palatnik still arranged each of his pieces by hand, after cutting and painting them to complete his pictures.  Claiming, "my role as an artist is to discipline the chaos regarding information," Abraham Palatnik organized the patterns in technology and nature into art.  He was one of the pioneers of the Kinetic and Op Art movements, a branch of fine arts that explores the visual effects of physical movements and optical illusions and is considered the founder of the technological art movement in Brazil for his early use of mechanical systems and light.
Palatnik is widely considered one of the most important Latin American abstract artists for his visually striking arrangements of geometric forms.  But in the United States and Europe, his work historically has not been widely exhibited, though this has recently begun to change. One of his works from the 1950s, acquired by New York's Museum of Modern Art as a gift from Patricia Phelps de Cisneros in 2008, was part of a survey exhibition on the subject that was part of the museum's reopening shows. In his home country of Brazil, however, Palatnik has been the subject of multiple important retrospectives that have been held across the country since 1999, the most recent of which came in 2017 at the Centro Cultural Banco do Brasil Rio de Janeiro.  Two works by Palatnik are in the collection of the Museum of Modern Art, and in 2013, a Palatnik work Sequencia Visual S-51 sold at Christie's New York for $785,000 ($1,091,000 in current dollar terms).
His art has gone on to be influential for a number of artists working with technology. In 1997, he was asked by Eduardo Kac, a much younger Brazilian artist who has made pioneering digital art, about this interest in machinery. Palatnik told him, "Technology, in the context of human evolution, acquires meaning and becomes evident to the extent that it allows the senses a conscious access to the mechanics of the natural forces."  Today, Palatnik's early works are considered important early experiments with art and technology that paved the way for future uses of machinery by artists. But, because the machinery for them is delicate, the "Kinechromatic Devices" have rarely been exhibited outside of Palatnik's studio.
Abraham Palatnik died from COVID-19 on May 9, 2020 at the age of 92 in his beloved Rio de Janeiro.
| | |
| --- | --- |
| Designer | Abraham Palatnik |
| Manufacturer | SILON |
| Design Period | 1960 to 1969 |
| Production Period | 1960 to 1969 |
| Identifying Marks | This piece has been attributed based on archival documentation, such as vintage catalogs, designer records, or other literature sources |
| Style | Vintage, Mid-Century, Minimalist, Modernist, Space Age |
| Detailed Condition | Excellent — This vintage piece is in near original condition. It may show minimal traces of use and/or have slight restorations. |
| Product Code | |
| Materials | Lucite |
| Color | Clear, black |
| Width | 3.0 inch |
| Depth | 0.3 inch |
| Height | 2.3 inch |