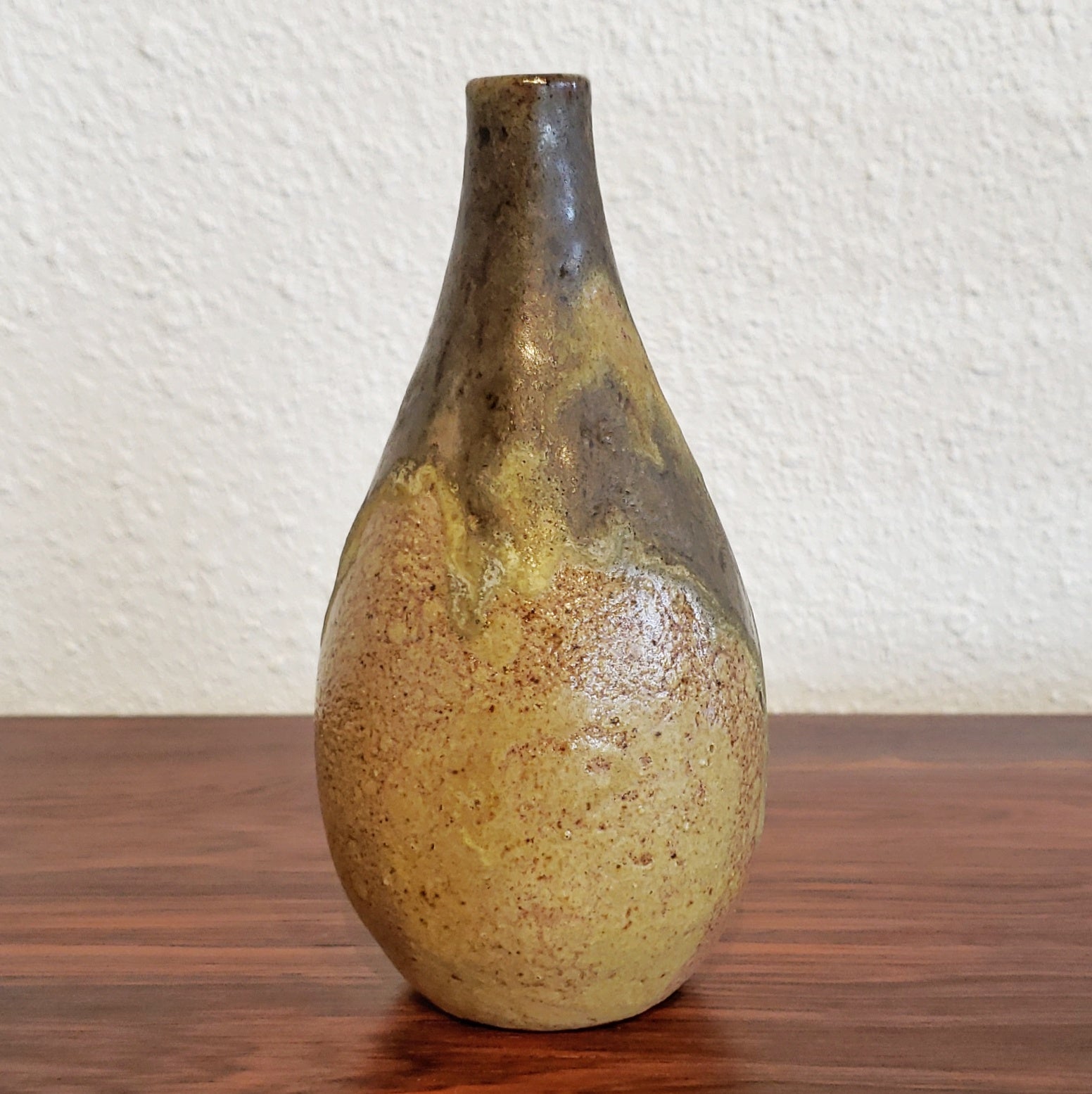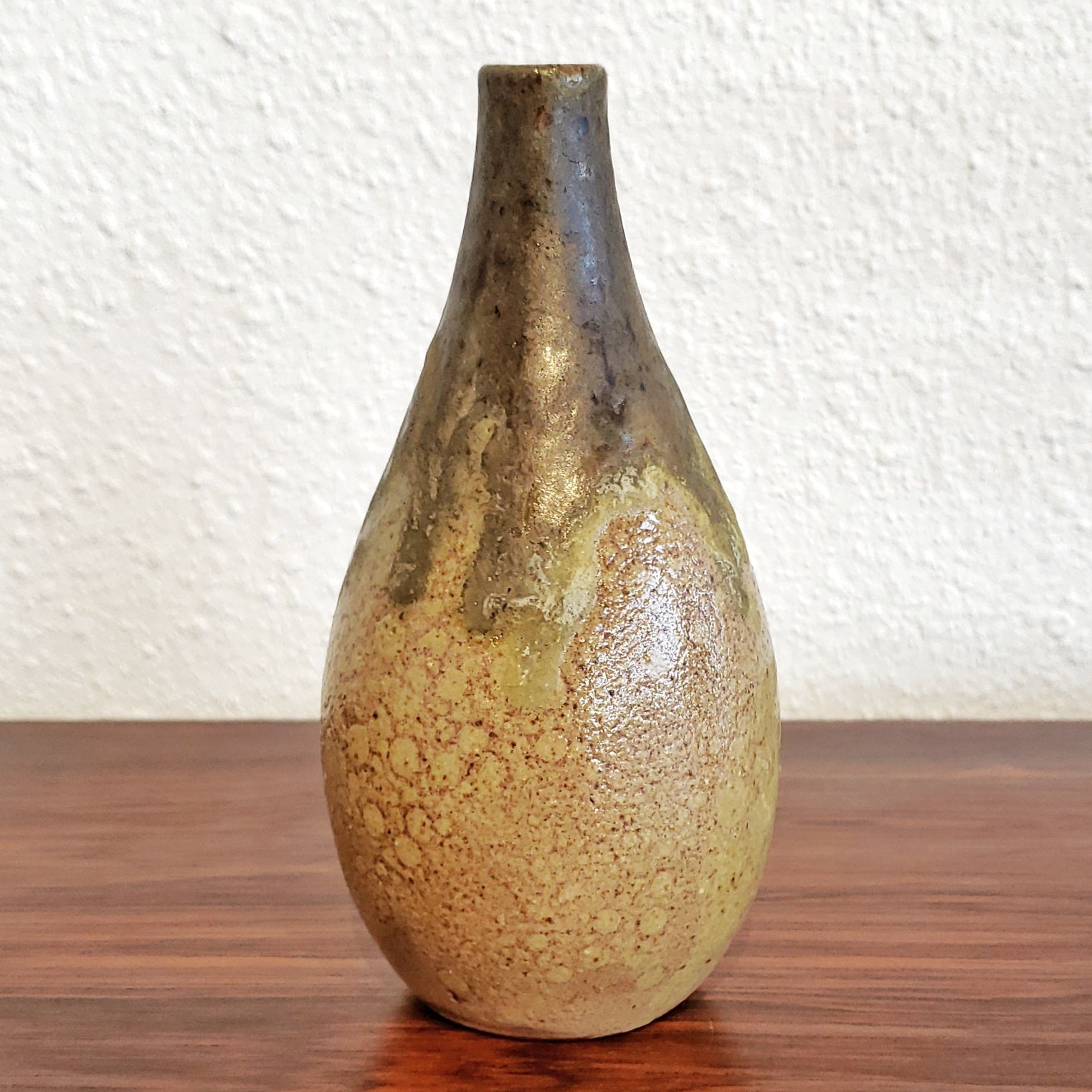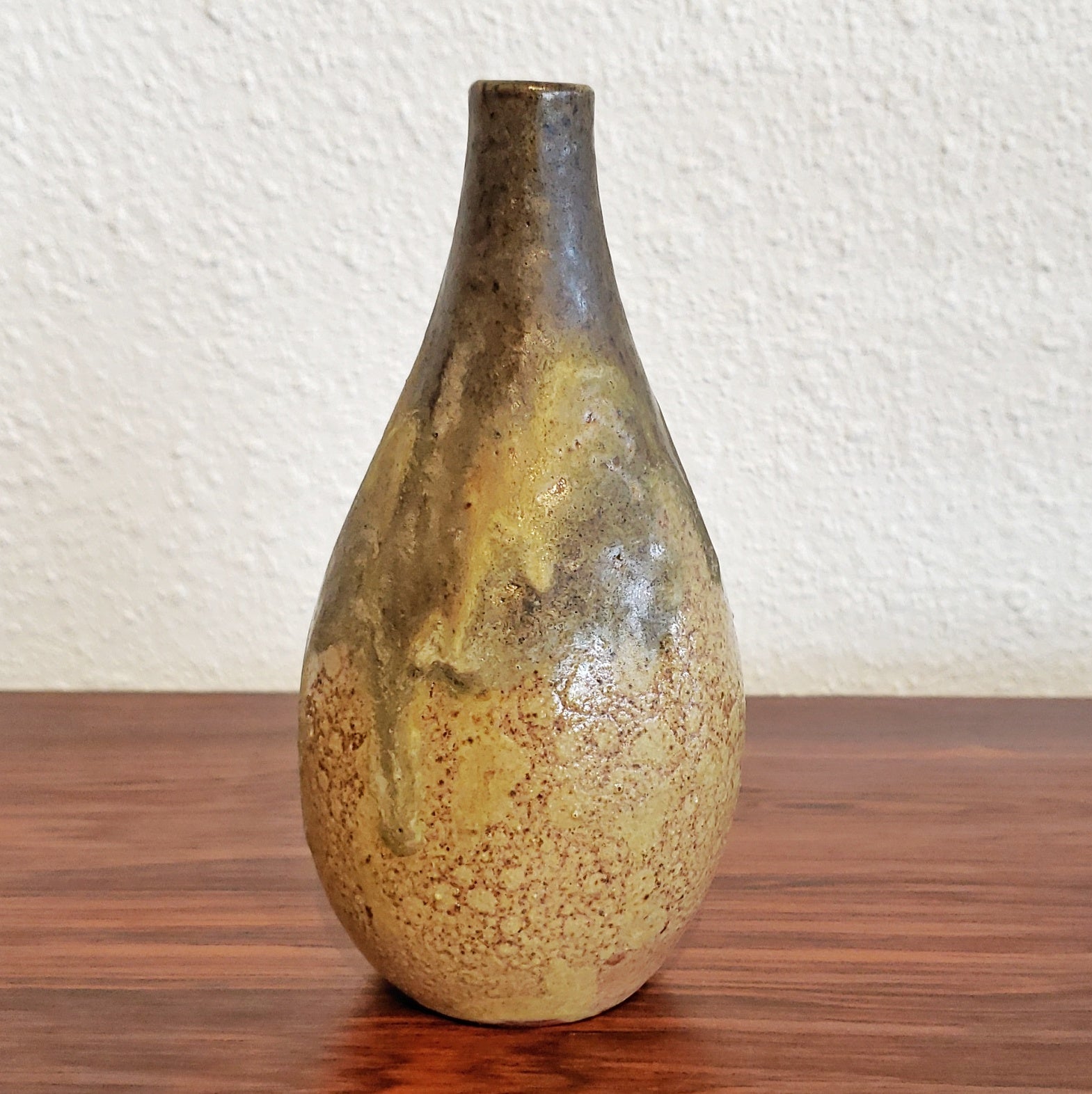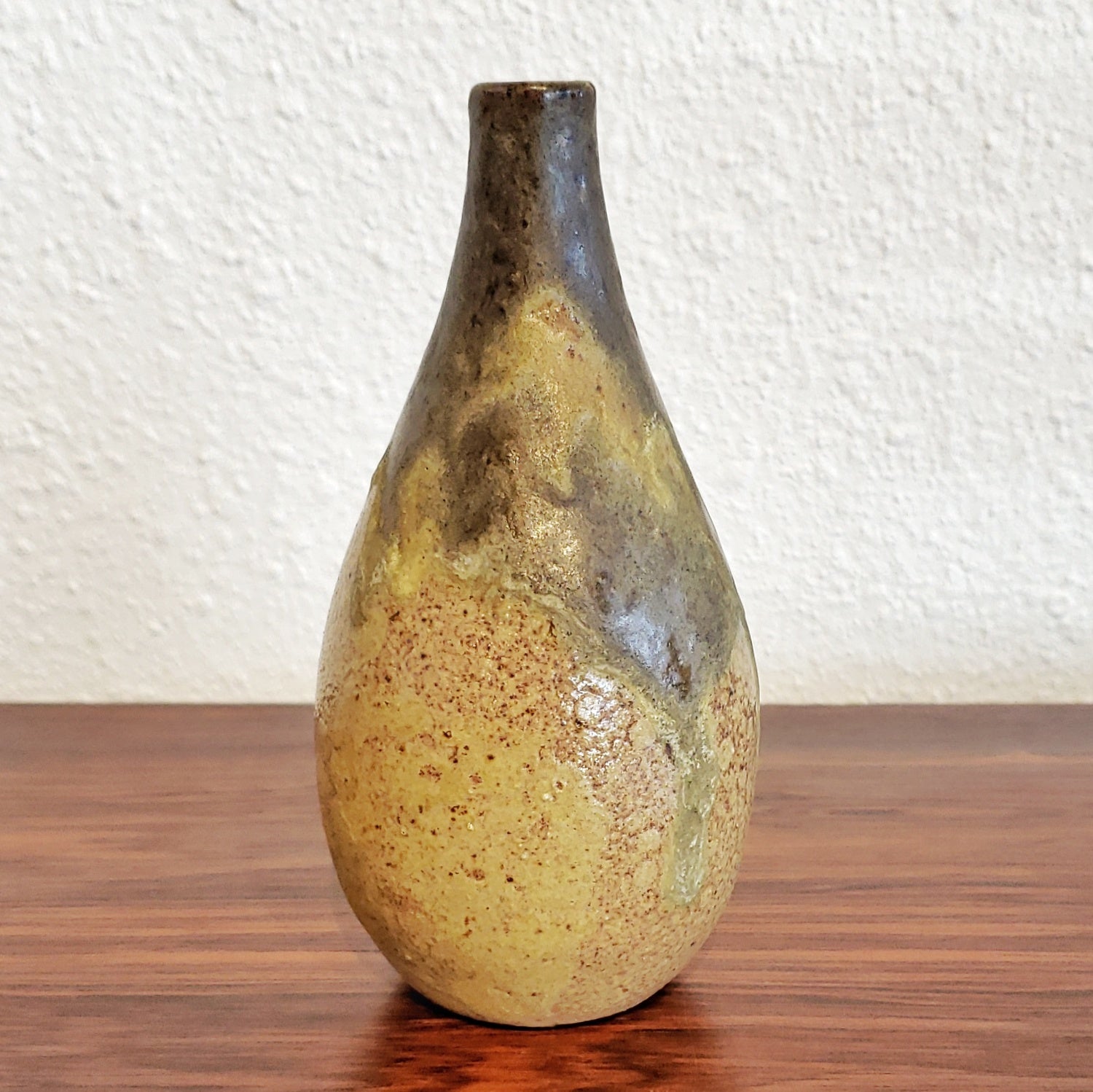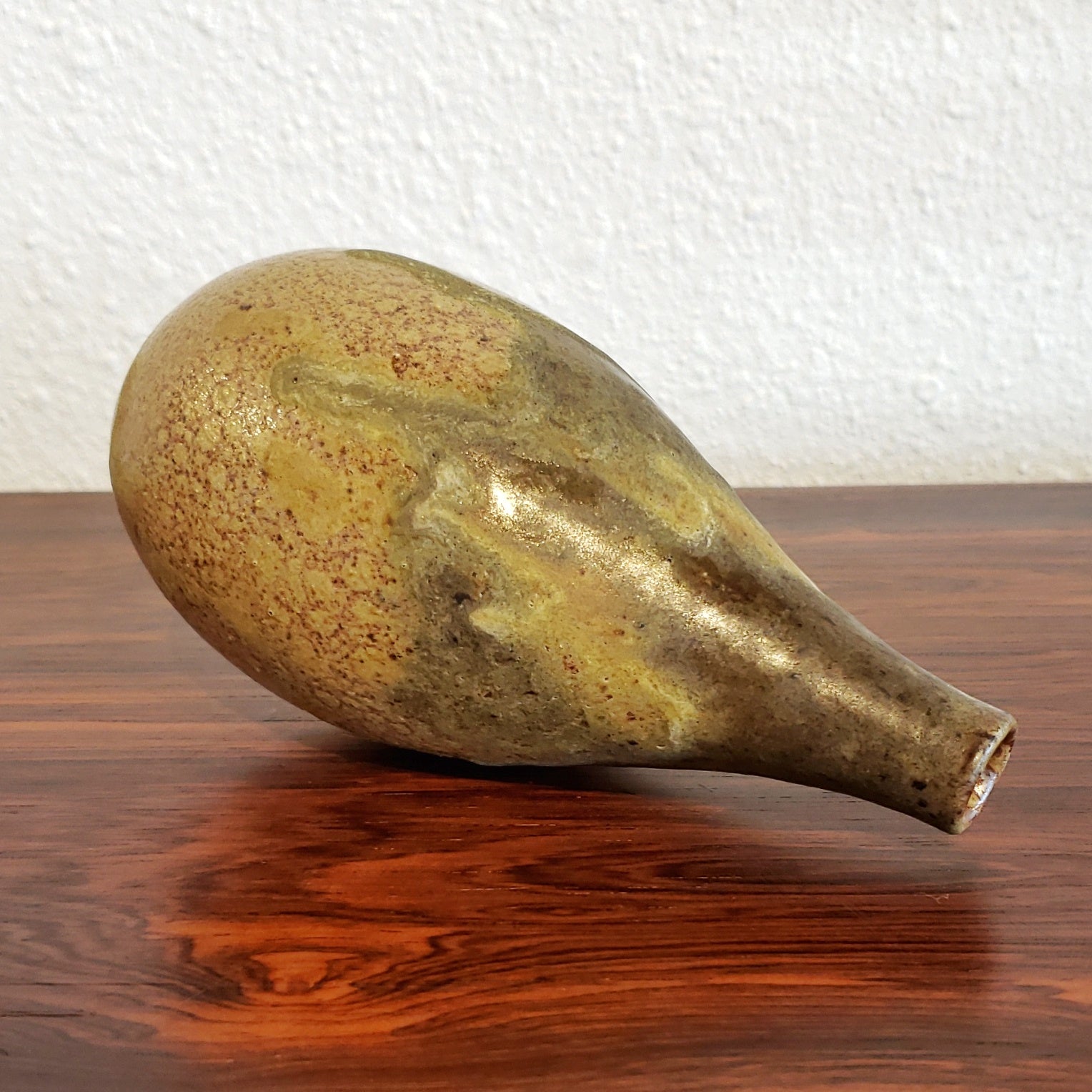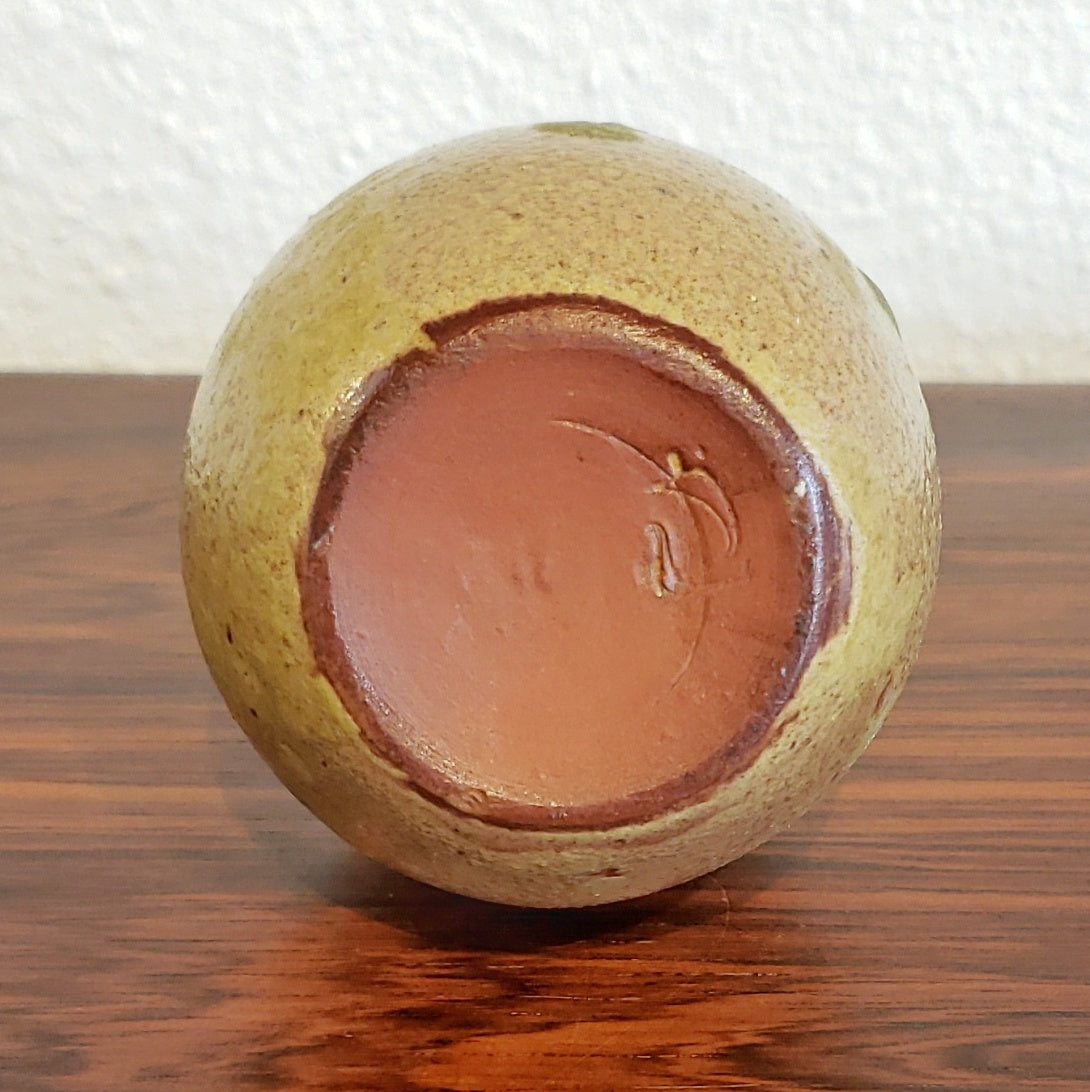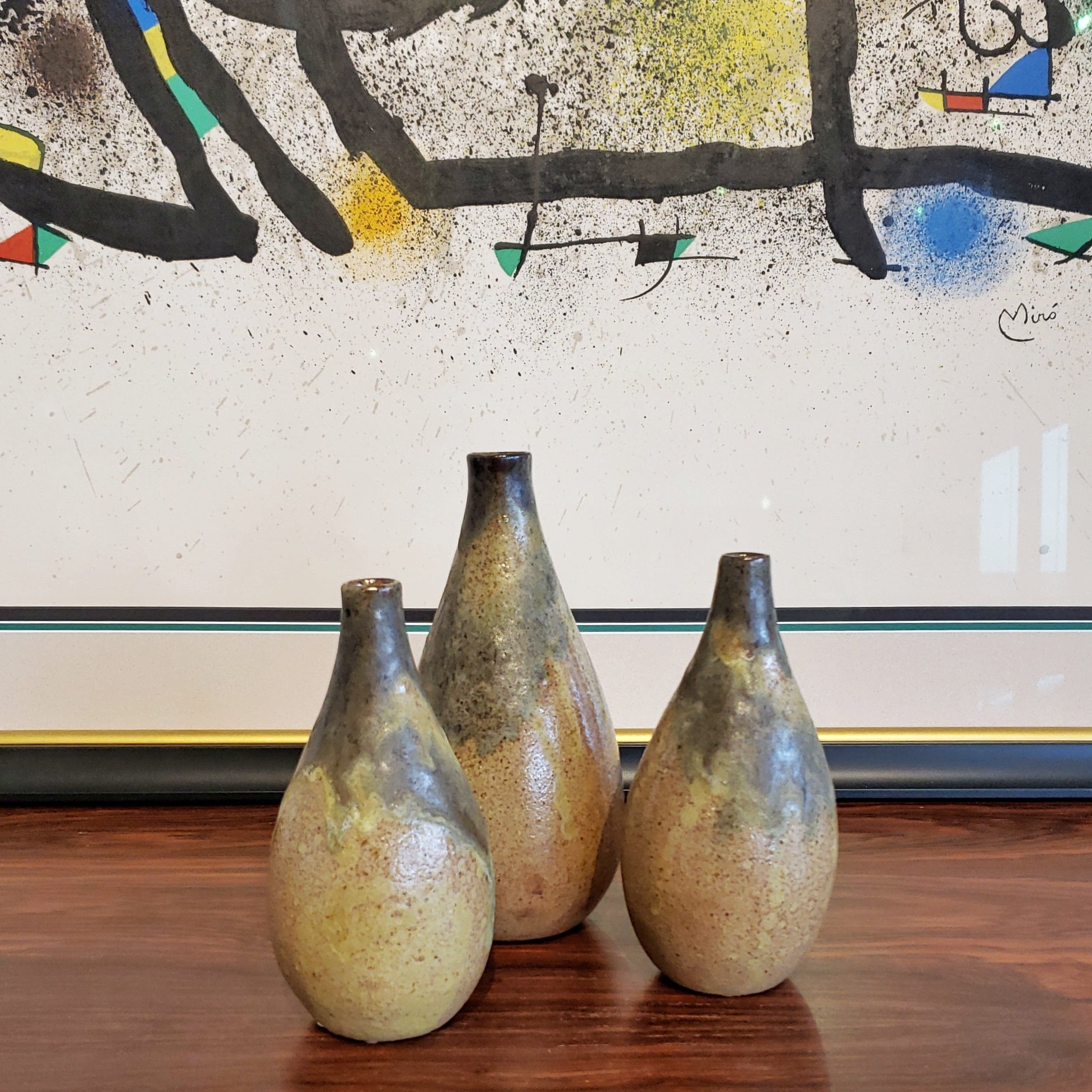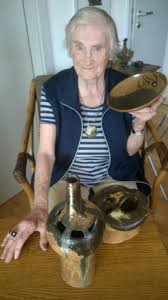 1970s LUISE DUNCKER FLENSBURG STUDIO BUD VASE (14 cm)
CONTACT US HERE ABOUT THIS ITEM.
A stylish, pint-size, teardrop bud vase, hand thrown by West German master art potter Luise Duncker in her Flensburg studio. Hand-decorated with dyed slip in a very typical color way. Her studio mark is impressed on the base.
LUISE DUNCKER is an internationally recognized German studio potter who produced consumer ceramics—vases, bowls, wall plates—in a very individual style. She was born in the Mecklenburg region of northern Germany in 1928. She showed an early talent for drawing and modeling.  Unfortunately, securing education in Germany in the wake of WWII was a hit-and-miss proposal for much of the populace:  the high school Duncker attended was shut down when the financial resources of the parents ran out. "Sometimes I regret that I did not graduate from high school," she has reported, "but I've always been happy with my job." Duncker finally completed training as a potter in the the university town of Göttingen in Lower Saxony, and in 1961 she passed her master's examination before the Chamber of Skilled Crafts in Flensburg—a town near the German-Danish border where she had settled. She established a good reputation there and in 1982 was able to rent a small shop and studio on Rote Straße (Red Street), the town's famous pedestrian shopping mecca. She managed to live comfortably off sales of her work, thanks in large measure to orders received at the biannual trade fairs in Frankfurt.
Now retired, Duncker remained an institution in Flensburg for many years. In 2015, she moved from her home on Waitzstraße, where she had had a second workshop, into an Assisted Living facility in the deconsecrated Monastery of the Holy Spirit, having abandoned the potter's wheel some years prior. Duncker trained many apprentices during her career, some who have gone on to become successful potters in their own rights.
Duncker's hallmarks were a unique scribing technique and a special slip method that she used to apply dyed clay to leather-hard pieces before moving them to the kiln. The most commonly found Duncker items are brown-on-brown, a particularly popular look in the 1970s. She bristles somewhat at the term "art," but her ceramics as well as numerous drawings—mainly nudes and portraits—attest to a great talent.
Production Period – 1970-1979
Country of Origin – WEST GERMANY
Designer – LUISE DUNCKER (b. 1928)
Attribution – MARKED
Materials – CERAMIC
Condition – VERY GOOD (no defects; may show slight traces of use)
Height (cm) – 14.0
Diameter (cm) – 6.0