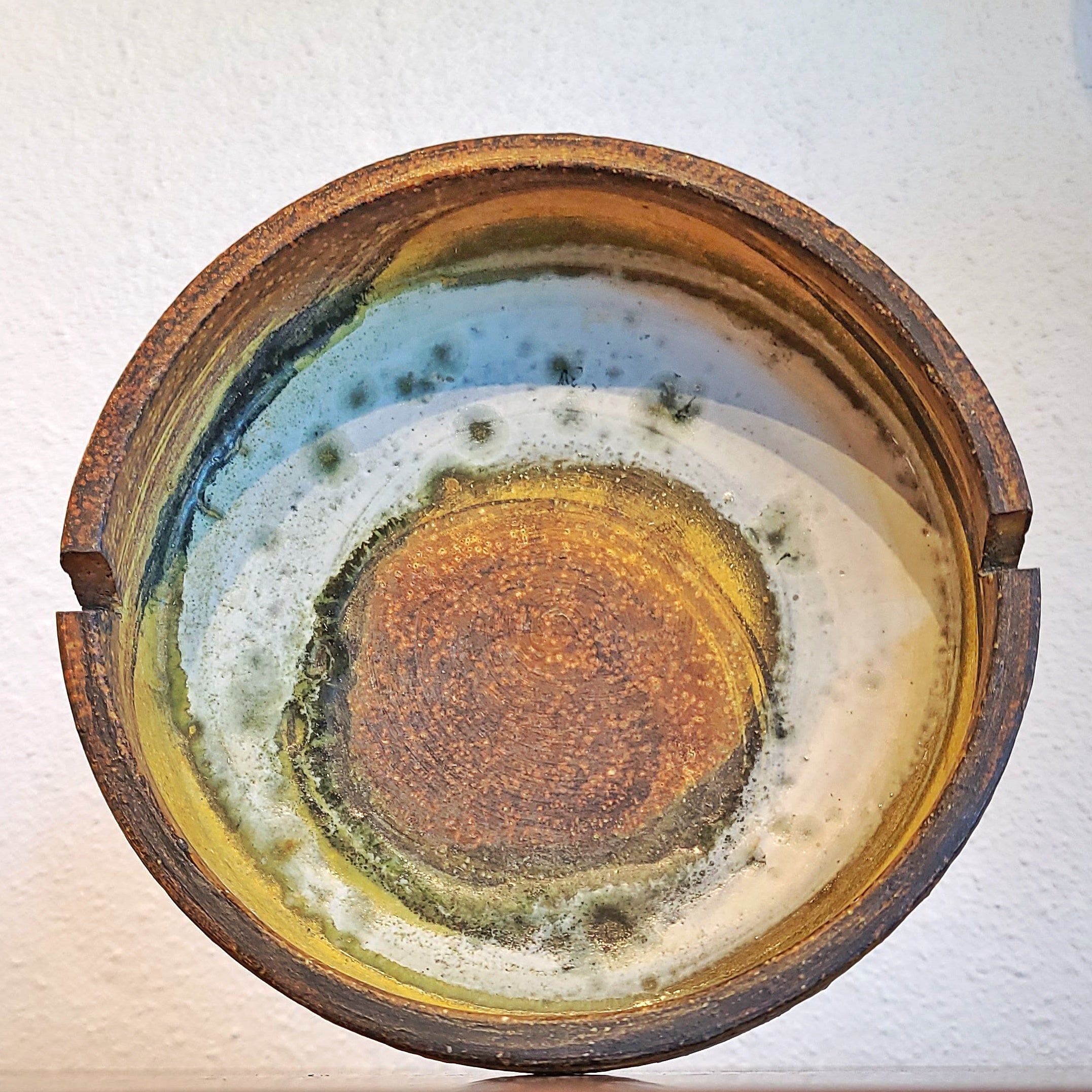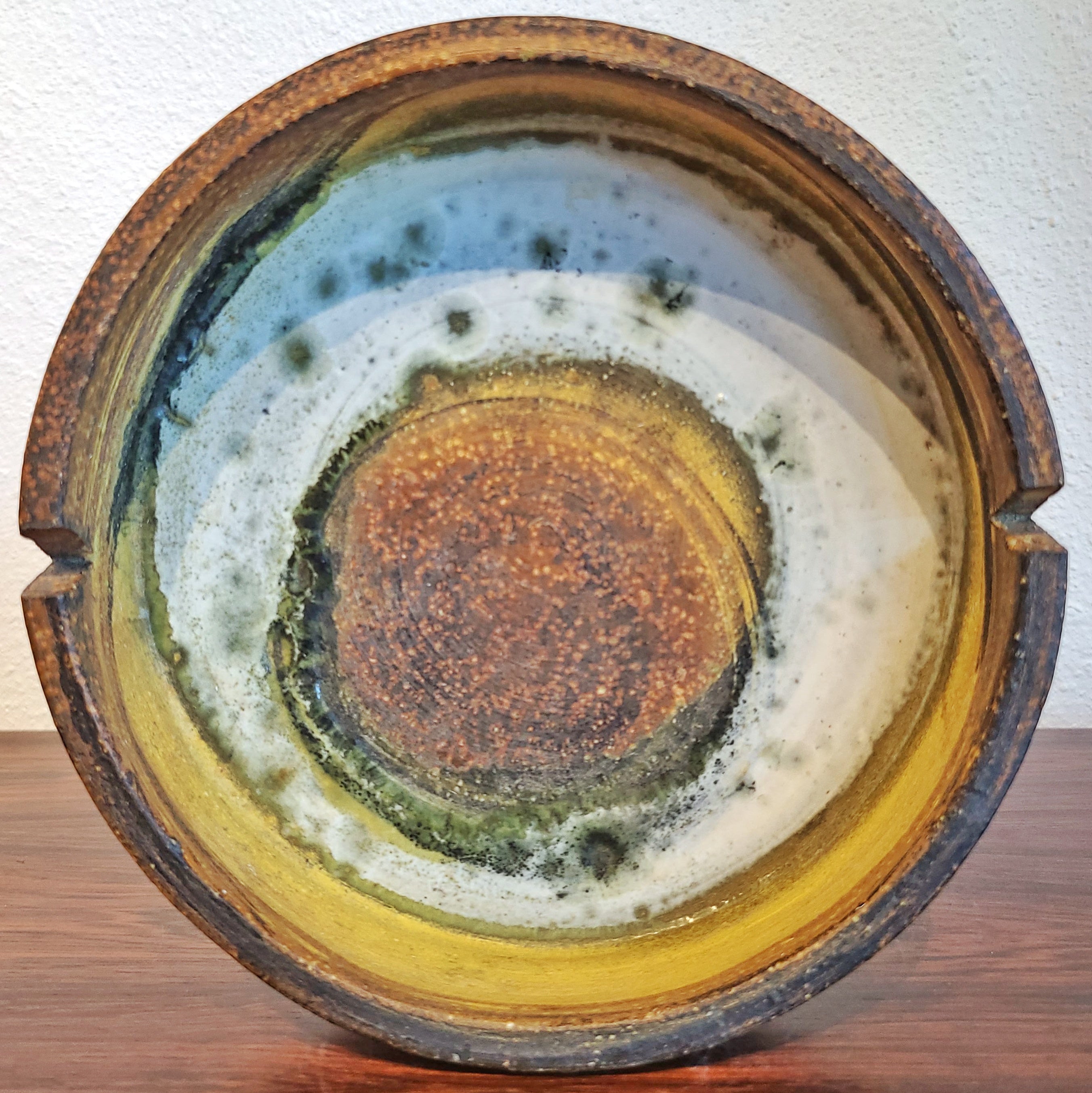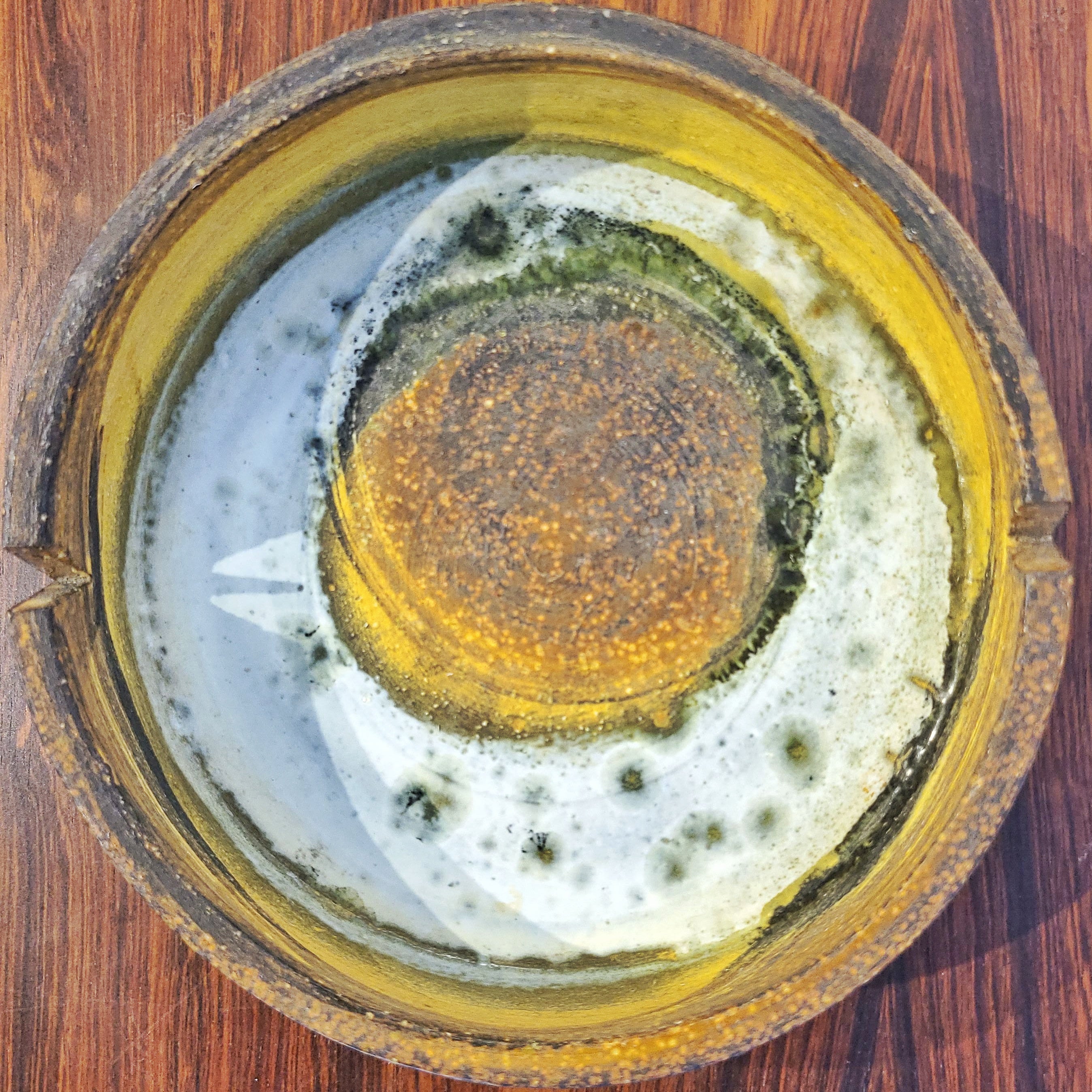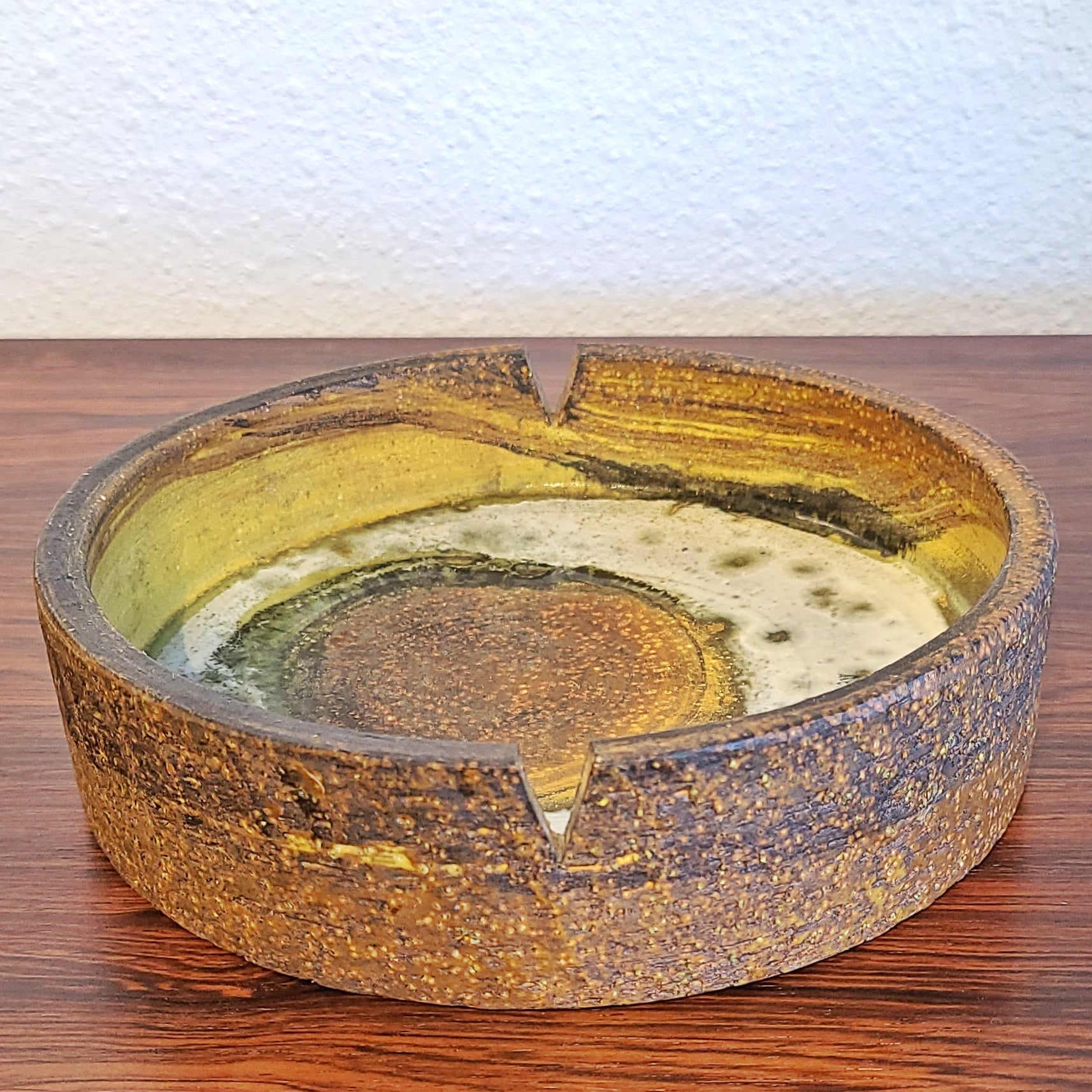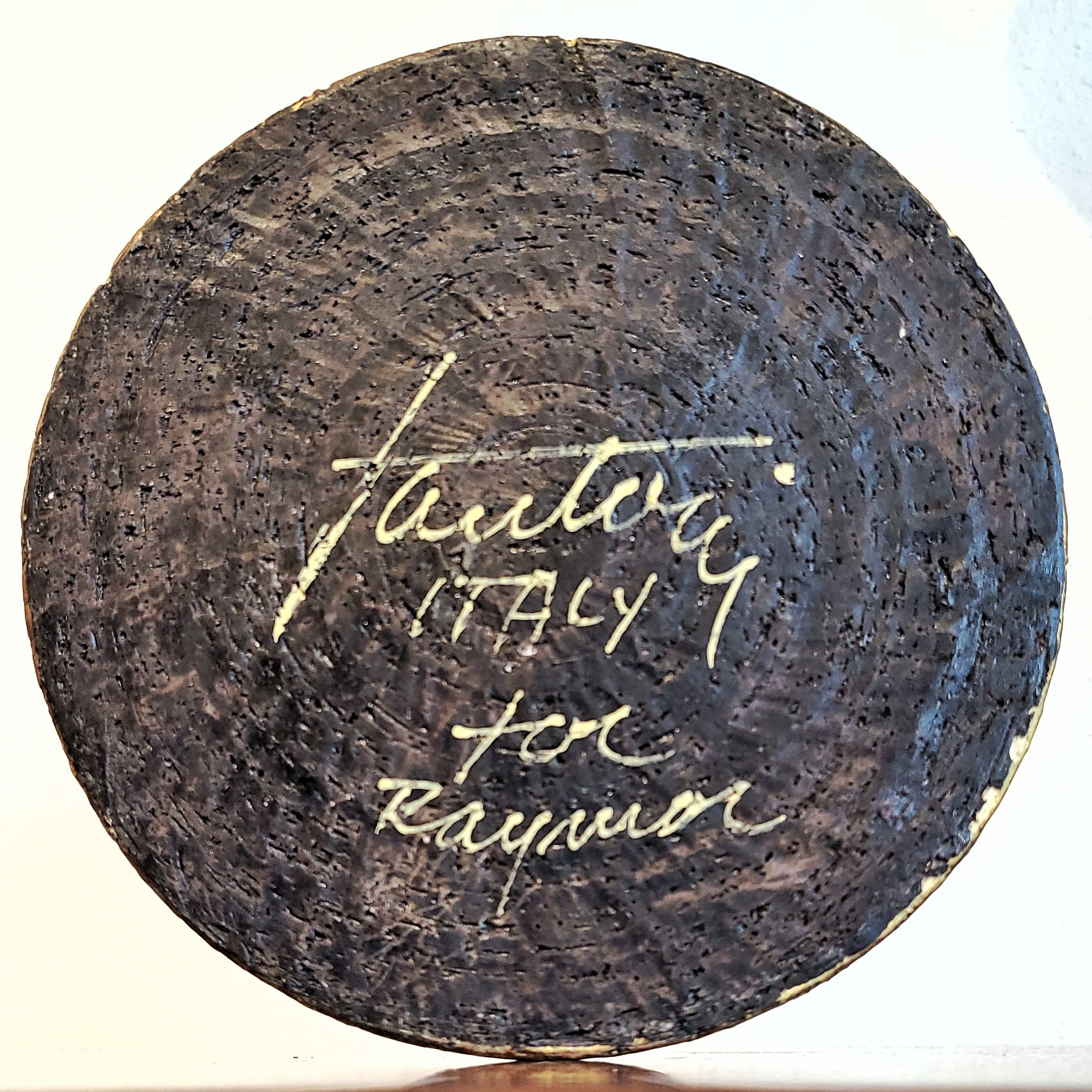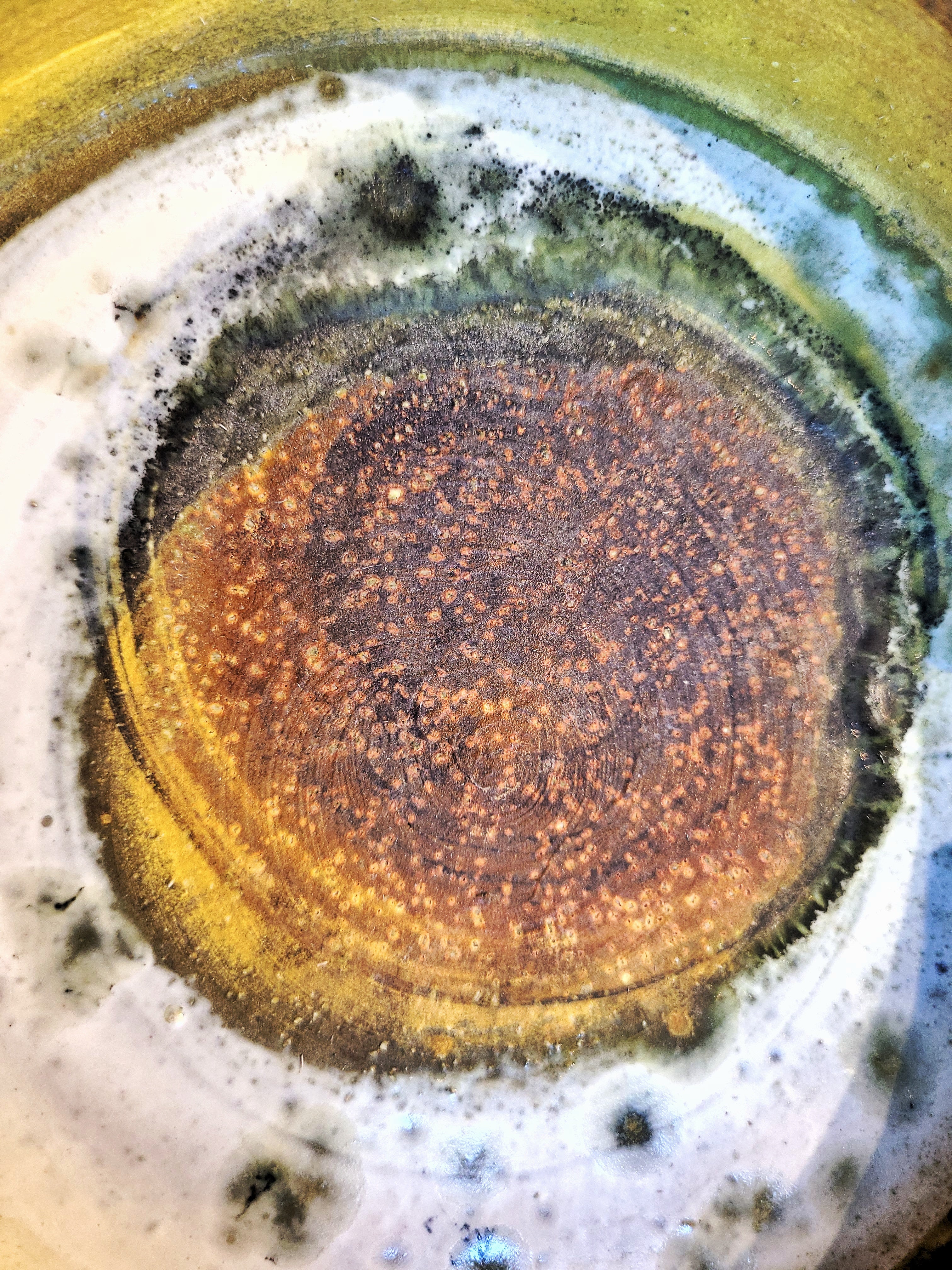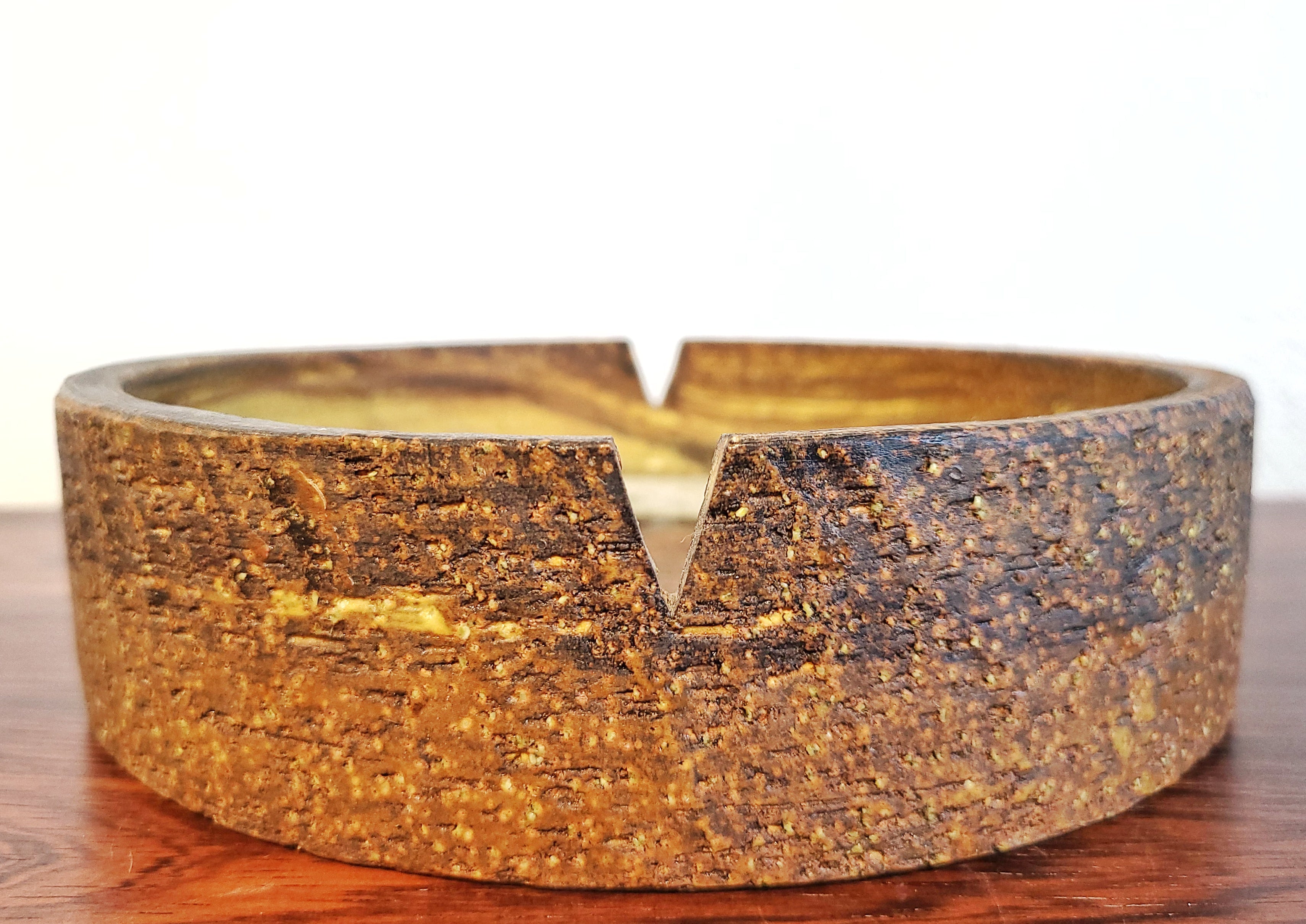 UNUSED MARCELLO FANTONI ASHTRAY FOR RAYMOR (ITALY)
CONTACT US HERE ABOUT THIS ITEM.
A beautiful abstract discus form ashtray or bowl, made from a wonderfully textural chamotte clay and produced in the studio of Marcello Fantoni for distribution in the United States by Raymor.  This item appears to have never been used and remains in excellent vintage condition.  We think it would be perfect as a vide-poche at the main entry of any modern home.
MARCELLO FANTONI was born in Florence in 1915.  He began his studies at the Instituto d'Arte Porta Romana in Florence at the age of twelve under the great ceramicist Carlo Guerrini, then the creative director of the famed Cantagalli Factory.  Fantoni's training in the arts included sculpture classes with Libero Andreotti and Bruno Innocenti and instruction in figure drawing with the painter Gianni Vagnetti; he finally graduated from the institute as a maestro in 1934.  Upon completing a stint as the art director of a ceramics factory in Perugia, he opened the Fantoni Ceramic Studio in Florence in 1936 where he produced both serial and one-of-a-kind pieces, the latter including sculptures and furnishings.  In 1937 his work was shown in the Florence National Arts and Crafts Exhibit.  Its decoration—with painted figures and African and marine motifs—and its rustic forms captured a great deal of attention.  By the onset of World War II at the decade's end, Fantoni's integration of decidedly Modernist elements with ancient Italian pottery techniques had brought him artistic and commercial success, at home and abroad.
In the initial years after the War (during which he had participated in the Italian resistance) Fantoni worked for the 500-year-old Maiolica factory in Deruta, Umbria, renowned for its signature tin-glazed pottery.  In the 1950's he refocused on his studio in Florence, dedicating himself to larger sculptural pieces and working together with collaborators.  Fantoni's post-war work, with its technical mastery and wholly unique abstract style, helped push ceramics into the sphere of the serious. It raised the profile of Italian ceramics laying the groundwork for their lasting prestige.  Fantoni drew from varied influences—Primitivism, Novecento style, Cubism, and Abstract Expressionism—experimenting with materials and forms alike.  Marcello Fantoni produced unique, often experimental, 'studio' works himself, and designed numerous 'ranges' that translated the essentials of his experiments into pieces that could be put into serial production.  A special emphasis on ancient Etruscan techniques, glazes, and colors heightened the timelessness of much of his work.  In addition to clay, he frequently worked in metals to great effect.  Every Fantoni piece was ultimately rendered unique by his hand-painting of it.  No two items are ever alike.  His painting style remains one of the most identifiable qualities of his creations.  
In 1970 Fantoni founded the International School of Ceramic Art, dedicated to teaching ceramic arts and experimentation.  Many of his students and employees have gone on to become noteworthy artisans and artists. Fantoni maintained great versatility throughout his career and completed large-scale projects for public and private buildings.  When he died in Florence in 2011 at the age of 95, his obituary in the Italian newspaper La Nazione hailed him "the master of beauty."
The following museums hold works by Fantoni:  MoMA New York, Metropolitan Museum of Art of New York, Brooklyn Museum, Museum of Fine Art of Boston, Victoria and Albert Museum of London, Royal Scottish Museum of Edinburg, Museums of Modern Art of Tokyo and Kyoto, International Museum of Ceramics in Faenza, National Bargello Museum and Gabinetto Disegni e Stampe of the Uffizi in Florence.
If done with passion, it becomes fashion. – MARCELLO FANTONI
Details

Dimensions

7ʺW × 7ʺD × 2ʺH
Styles

Abstract
Italian
Mid-Century Modern

Designer

Marcello Fantonii
Period

1950s
Place of Origin

Italy
Item Type

Vintage, Antique or Pre-owned
Materials

Earthenware
Condition

Very Good Condition, Original Condition Unaltered, No Imperfections
Color

Burnt Umber
Condition Notes

Excellent Vintage Condition