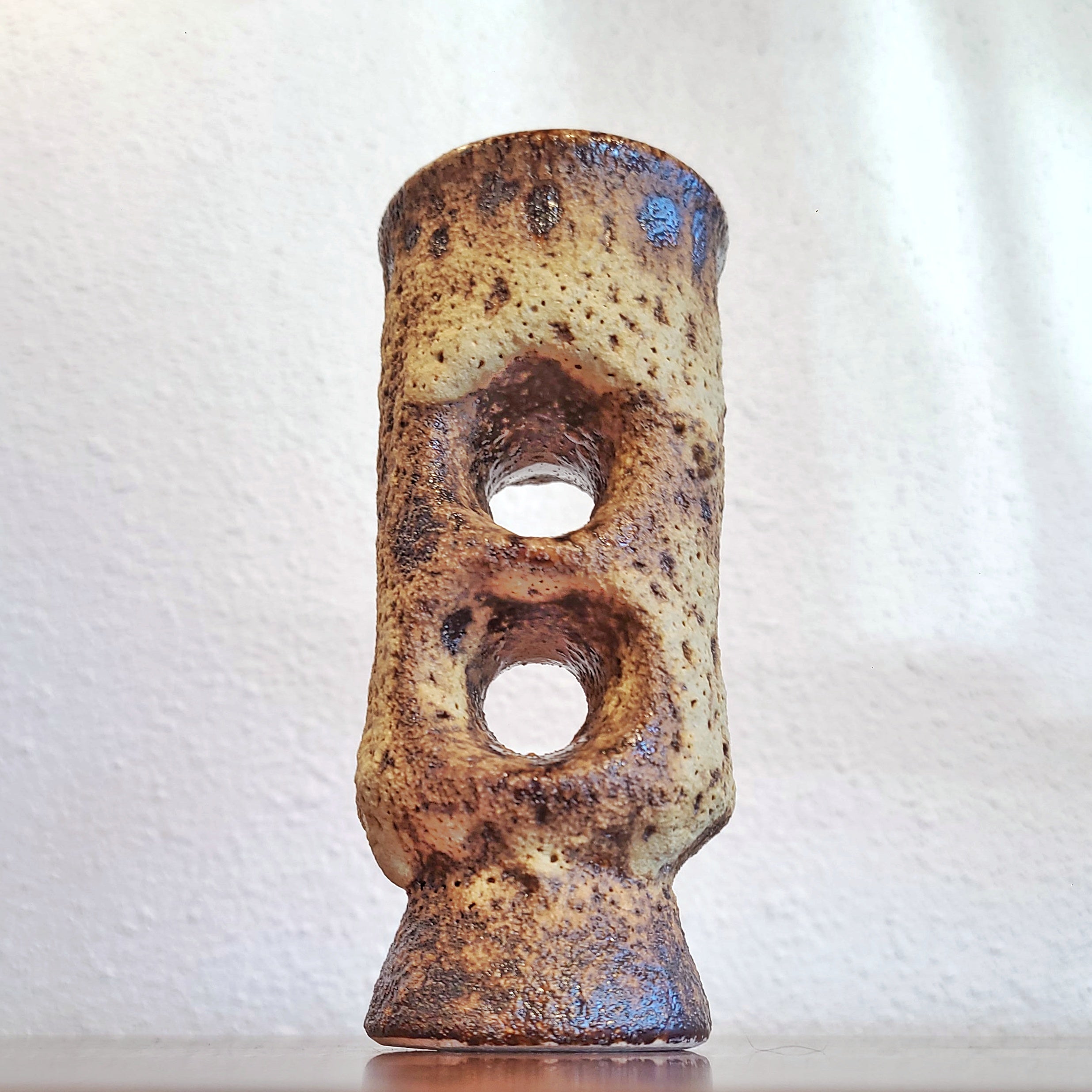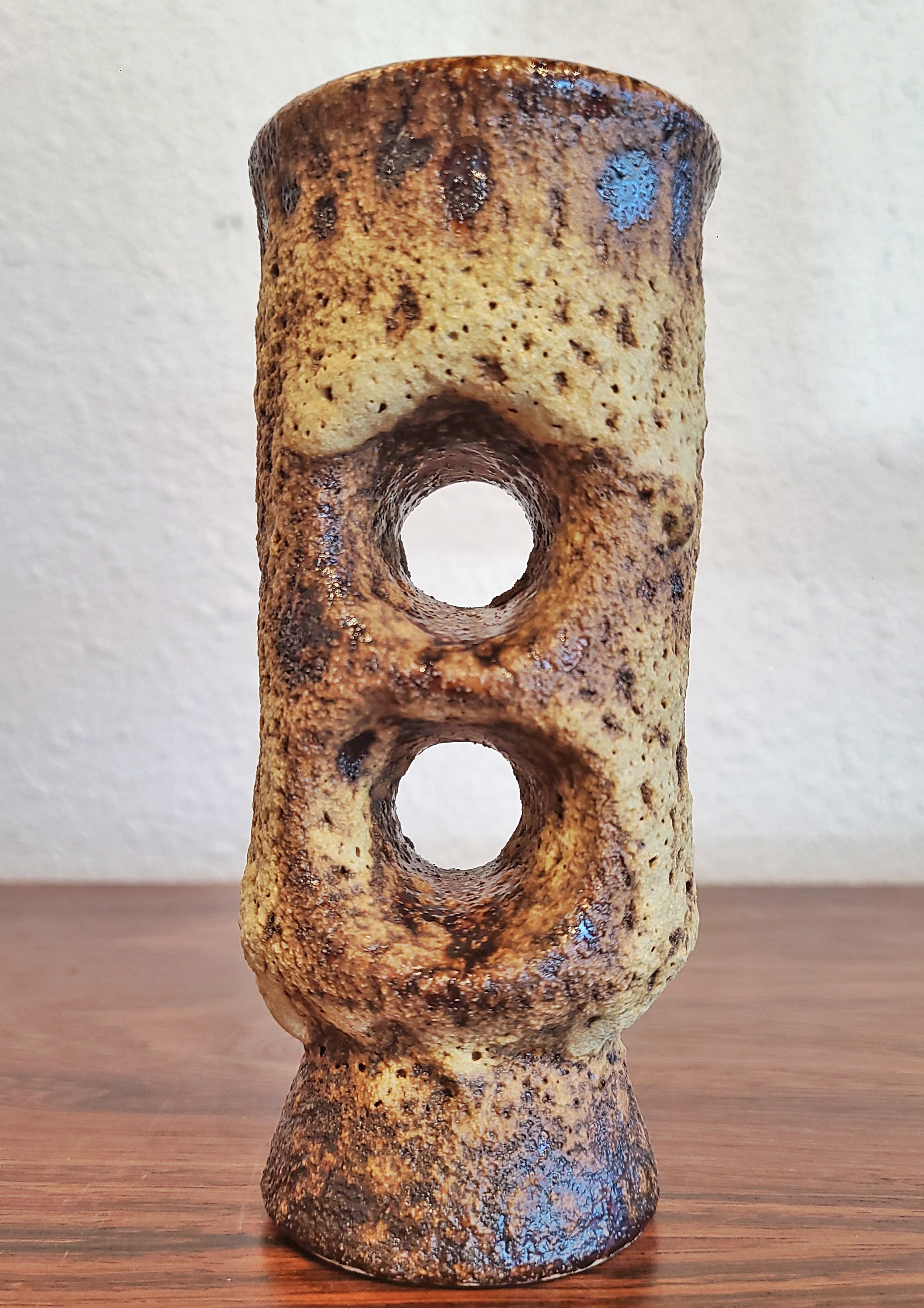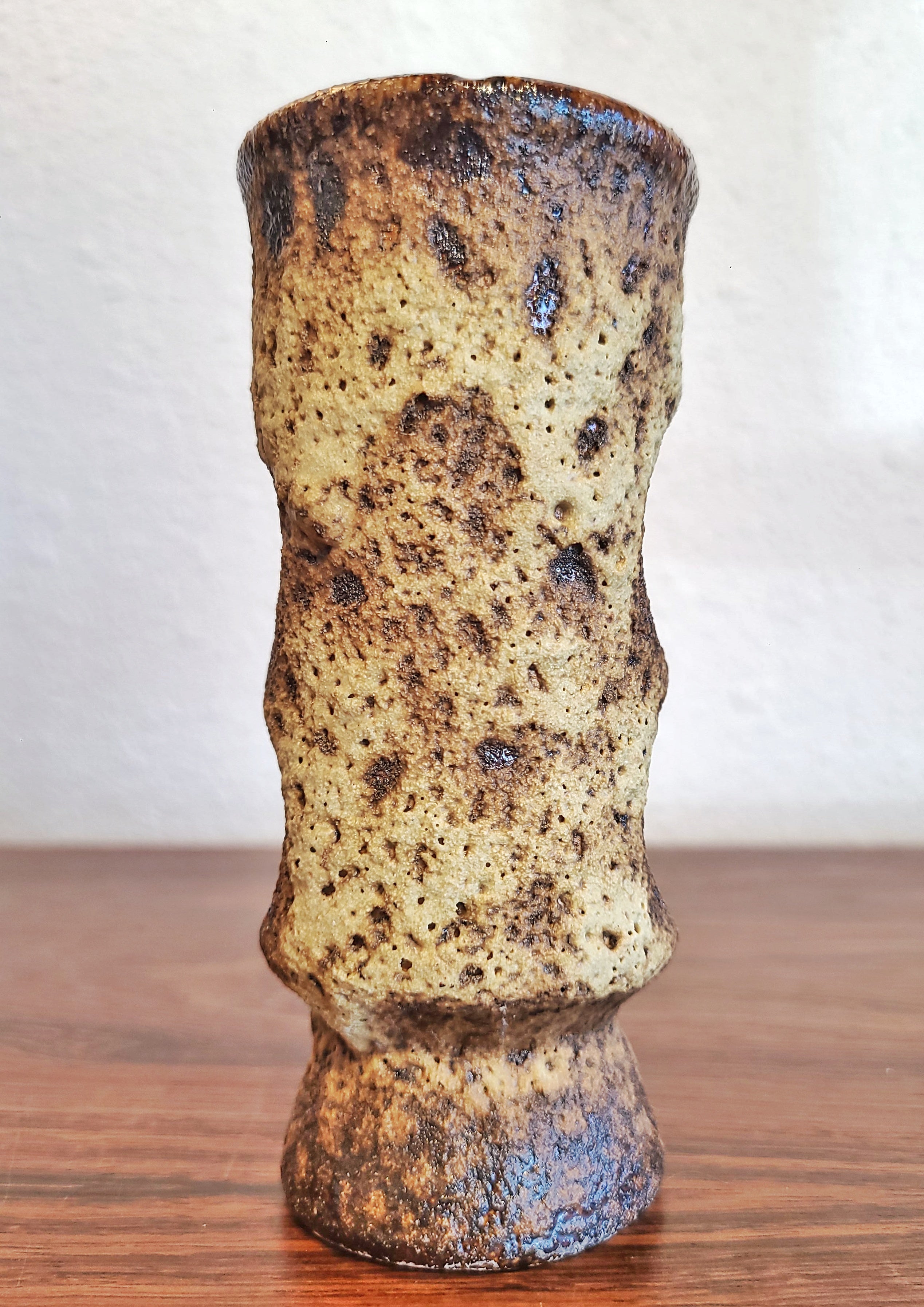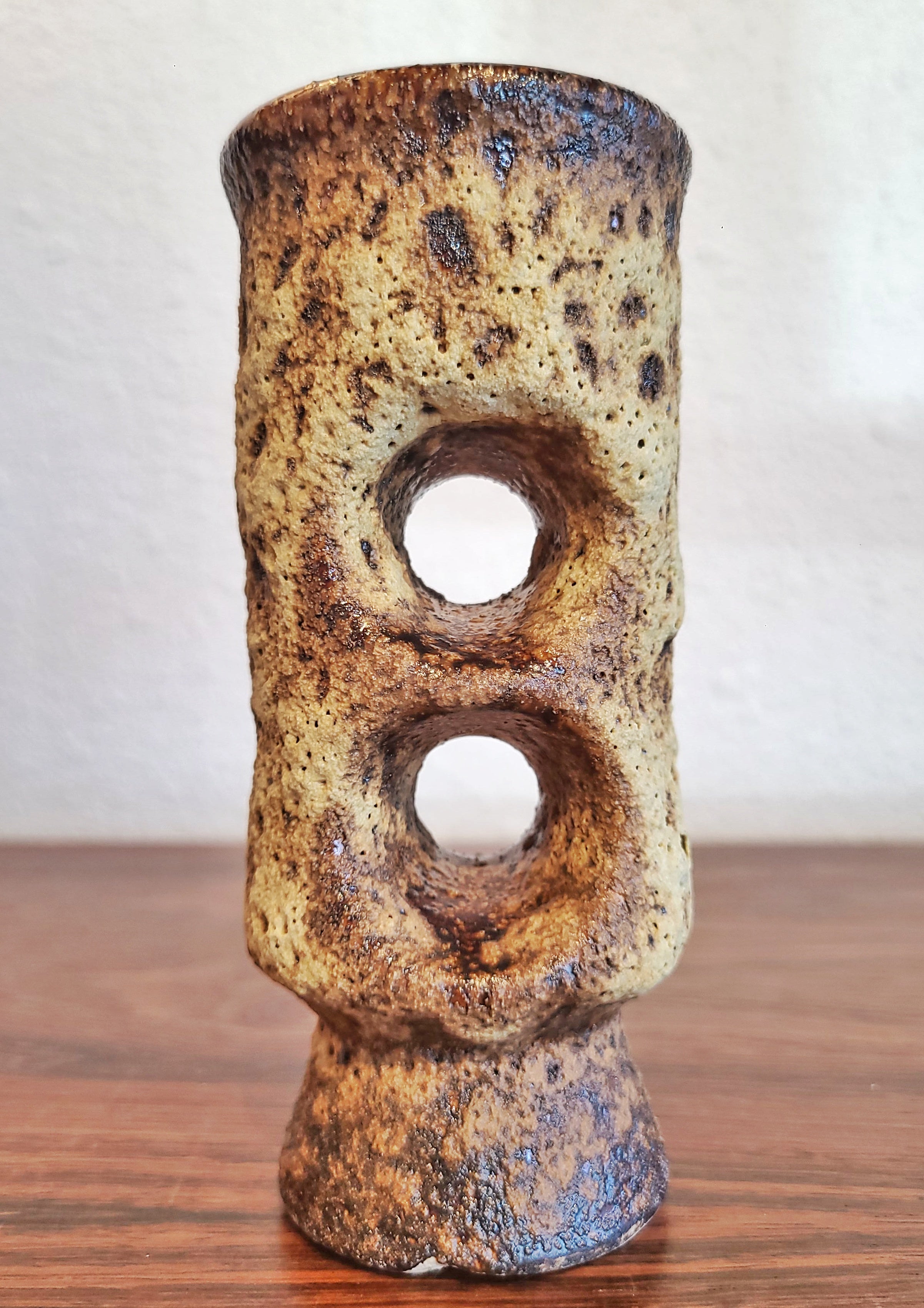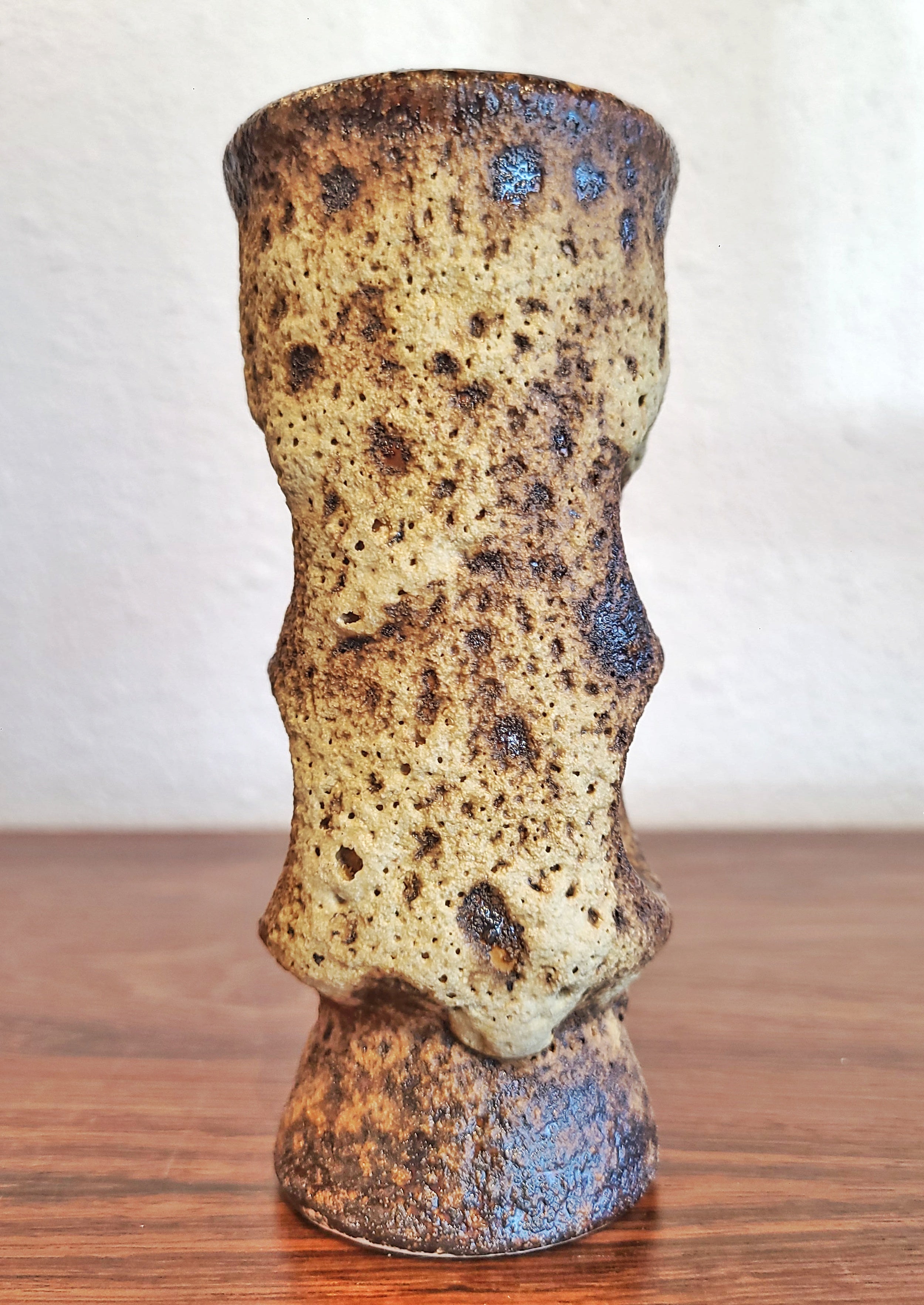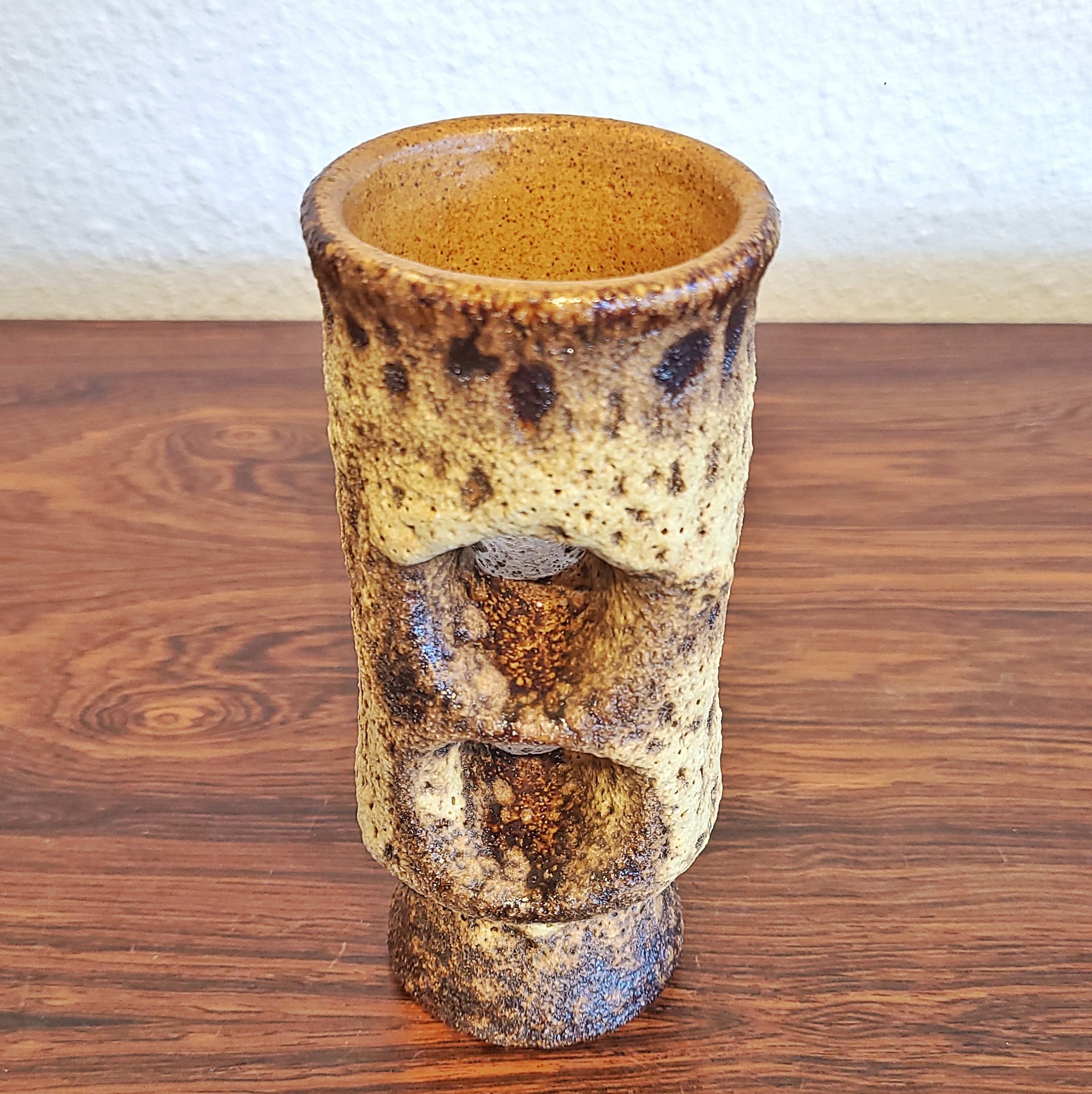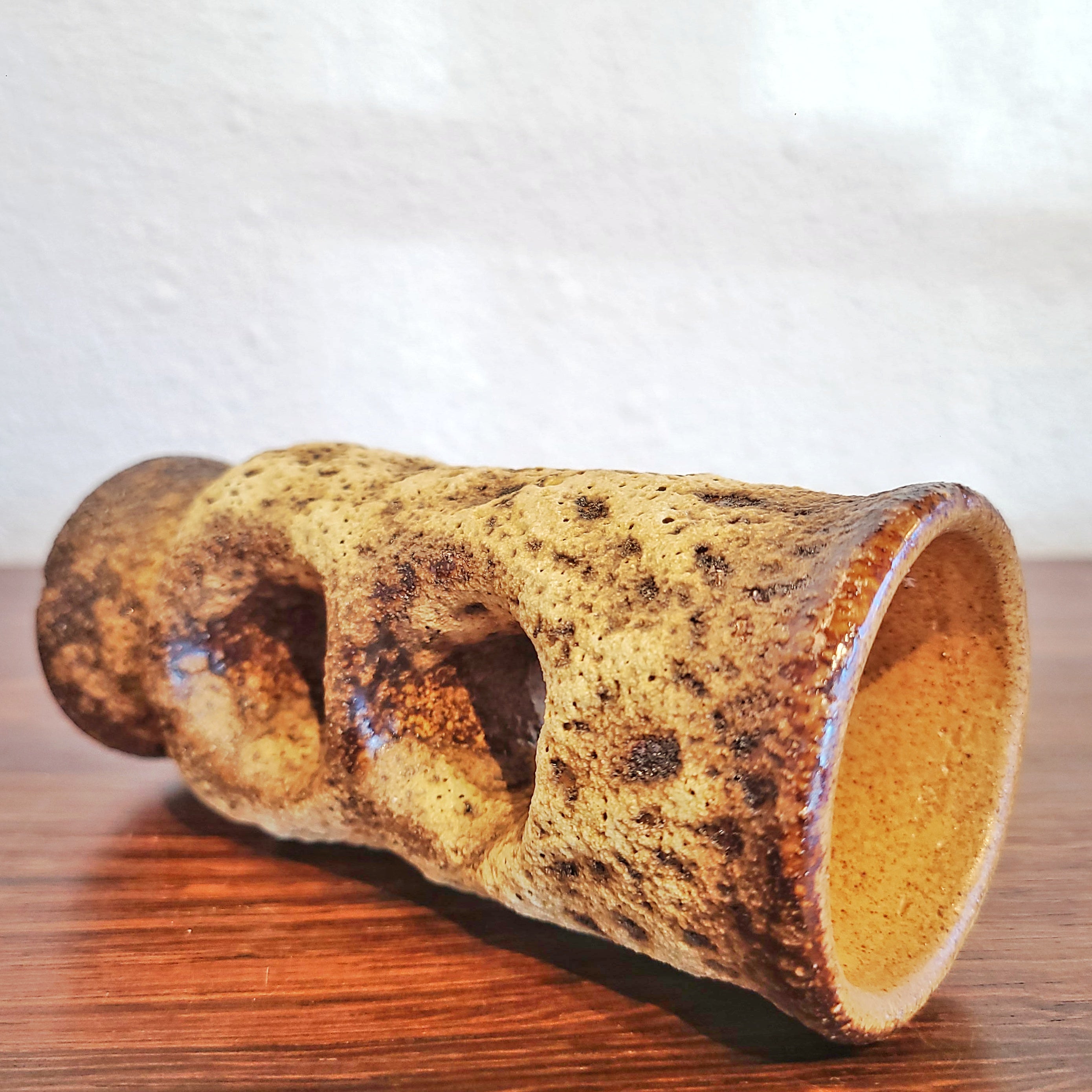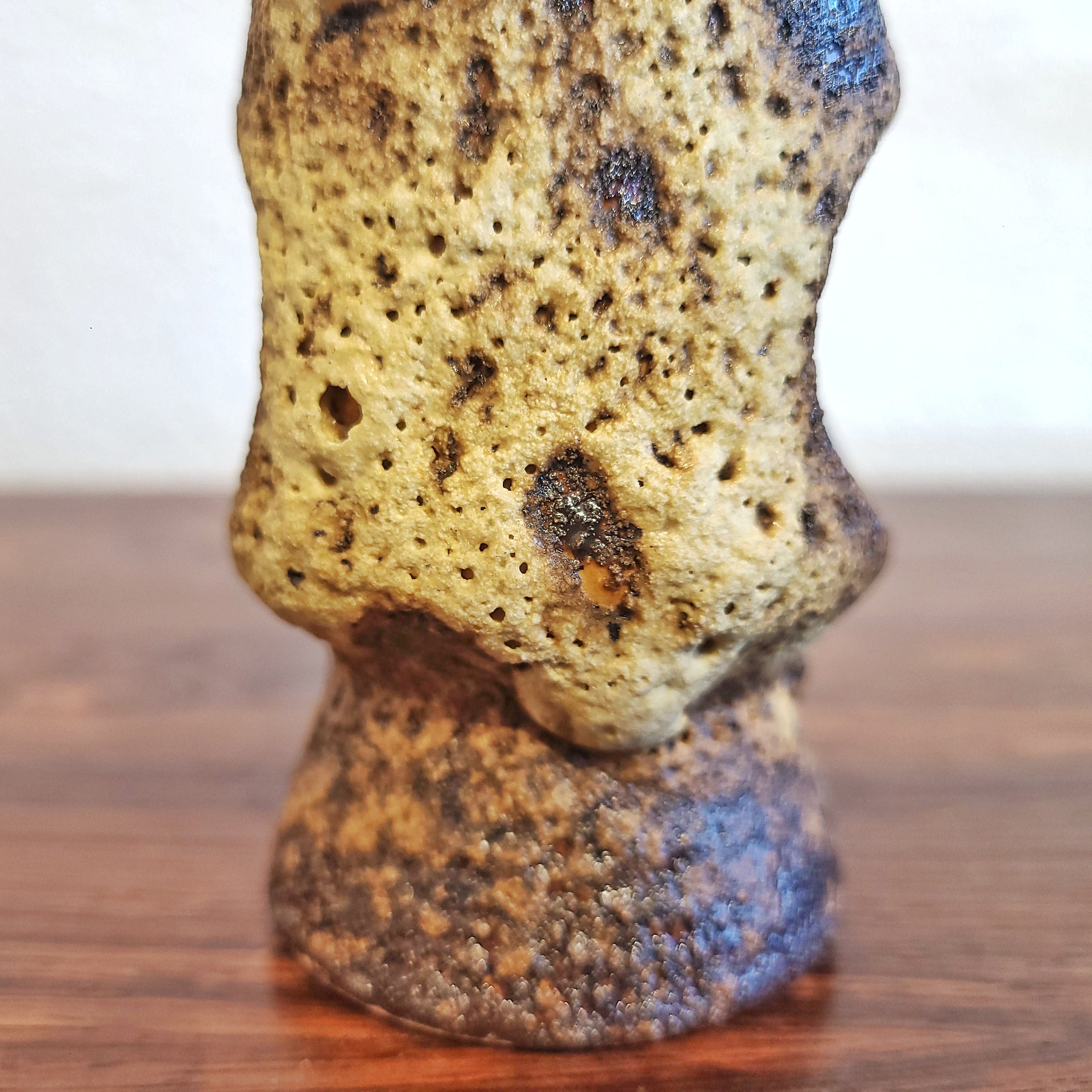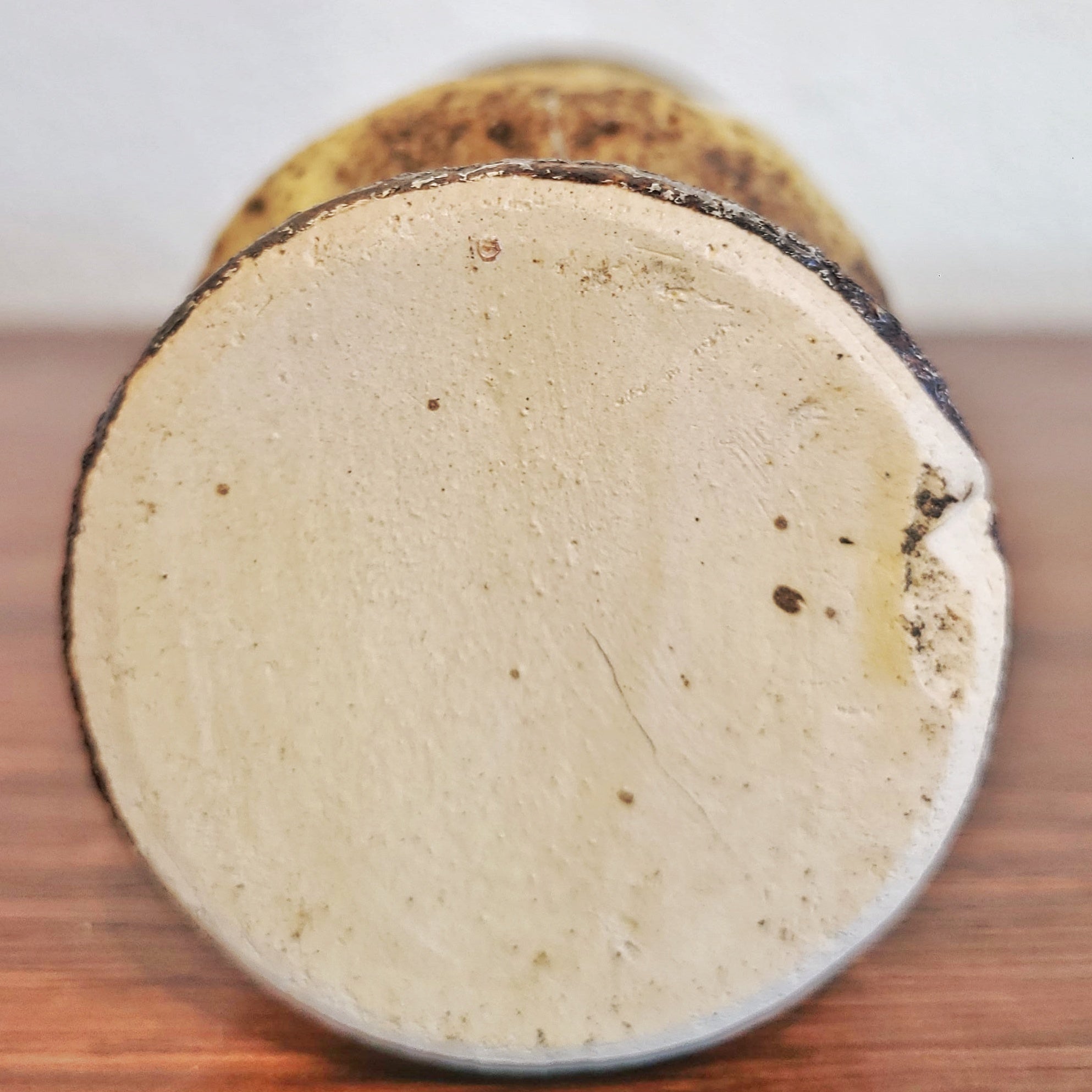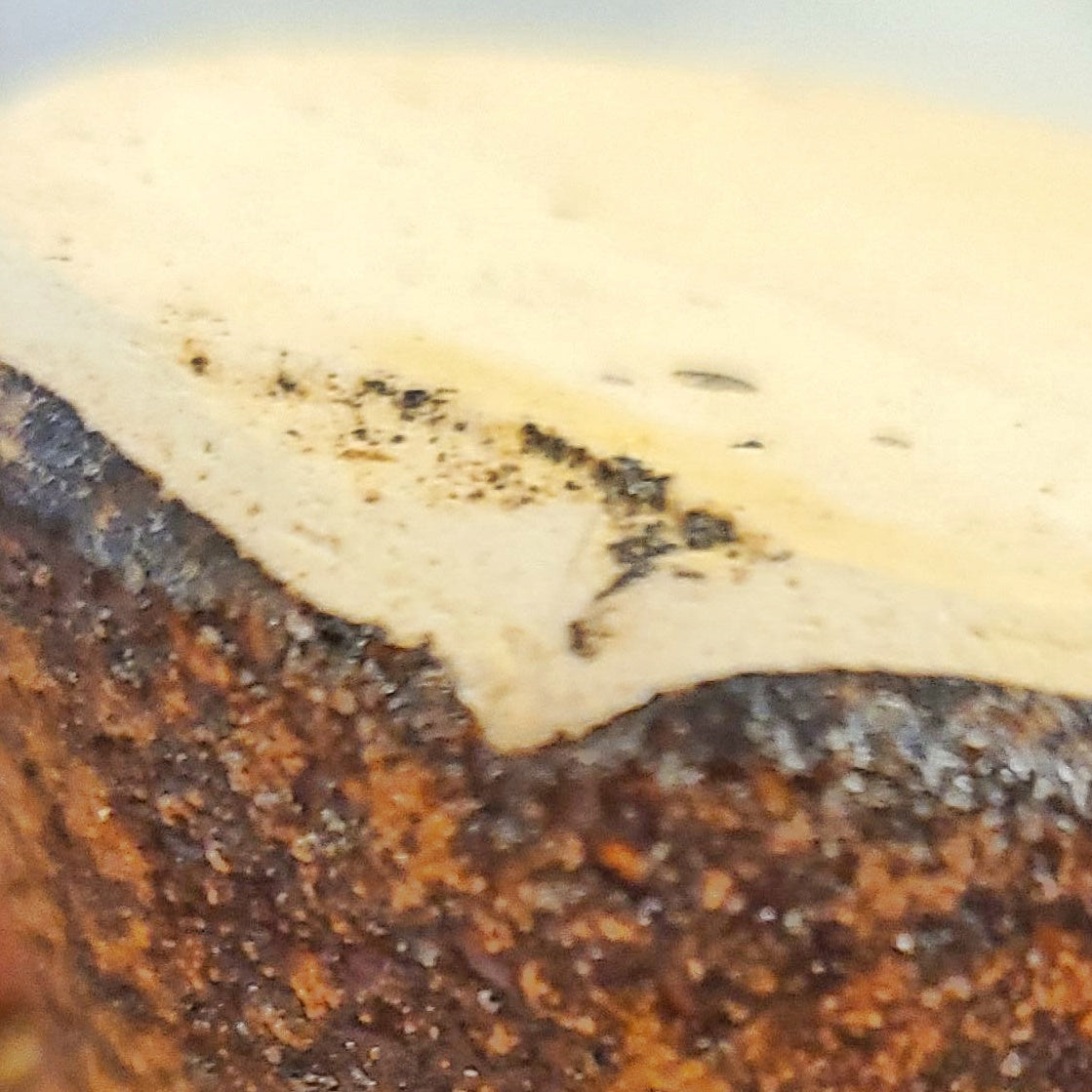 MARIUS VAN WOERDEN VASE Nr. RG 16 FOR VEST KERAMIEK (DUTCH)
CONTACT US HERE ABOUT THIS ITEM.
A striking double hole vase designed in the 1970s by Marius van Woerden for Vest Keramiek.  it is covered in van Woerden's thick and flowing volcanic lava glaze in shades of brown and white.  The interior is a speckled tan color.  There is a divot on the foot ring that is an artifact of the production process.

MARIUS VAN WOERDEN was born in 1942 in Rijswijk in the Netherlands. His interest in pottery began When he was a teenager.  He would often spend some of his free time at De Steenuil Pottery, across the street from where he lived.  But it was in 1961 when he was conscripted into the Dutch army, that evening classes were organized by military staff to keep the soldiers occupied. One of the activities was pottery, taught by Frans Slot from the nearby town of Epe. Frans Slot taught Marius how to turn clay at the potter's wheel, and how to make and use different types of glazes. Marius felt that he left the army more as an accomplished potter than as a well-trained soldier. When his military service was finally over, he started working for Groeneveldt Pottery where he was one of five turners making large vases and floor lamps, including items for the Hilton hotel chain. Next, he went to Ravelli Pottery where large vases, sometimes 75 centimeters (30 inches) high, became his specialty. Using up to 30 kilograms (65 pounds) of clay.  After working a short time at Zaalberg Pottery, he left in 1964 to establish his own pottery in the village of Monster. Van Woerden Pottery began in a small building rented from a horticultural company.  His brother Hugo (b. 1946), who had been working part-time at De Steenuil Pottery, joined him as the business manager. They used red Dutch earthenware and identified their pieces with a white oblong sticker with the name Van Woerden printed in black script. Looking for a distributor, they found a wholesaler in Rotterdam called De Mooij. But the orders soon increased so much that a larger building was needed. In 1965, Marius and Hugo moved to Gouda, the heart of the Dutch pottery industry. Here, Marius and Hugo started experimenting with glazes. One way of creating special effects with glazes is to lower the oxygen level in the kiln. This process, called reduction, was often risky and dangerous when it was done incorrectly. Since the use of large amounts of electricity was not allowed during the day, it was necessary to do these experiments at night. In 1973, Marius and Hugo again realized that their building was too small, so they moved into a much larger building that had formerly been a furniture factory.  It was at this time that they changed the company name to Vest Keramiek.  (Vest is the Dutch word for the protective wall that surrounded medieval cities. Marius' pottery was on a street called Vest that was located where the old city wall was.).
The Vest sticker is a small vertical rectangle in shades of brown that looks like an ancient scroll. It shows a castle-like building with two turrets that is actually one of Gouda's medieval city gates. The label reads Vest Keramiek, Gouda – Holland. They primarily used earth-colored glazes, popular in the Netherlands in the 1970s. Marius would make many models on the wheel from which some would be selected for mass production using molds. Sometimes these shapes, such as a flowerpot that looked like a teapot, were quite strange. Vest Keramiek's products were not marked, although some have a stamped or handwritten letter and number code, such as C7, NG.24, J.2, and BK 4. The letters refer to particular shapes (for example, C stands for a cylindrical form) and the numbers refer to the object's size in centimeters. The earthenware body was no longer red, but white, and was imported from Germany. Typically, the interior glaze is a yellowish-brown color. It was perfect as a waterproof coating since it did not craze. The exterior glazes are usually lava-like, often in matt brown and white, or sometimes muted blue, purple, or red. Only a few of the glazes were glossy. Bright colors were not used since much of this ware was made for florists. The outer perimeter of the base was usually beveled by grinding. A mold line is often visible across the bottom. You can find vases with original felt pads on the base and if you are lucky, a maker's sticker. Vest Keramiek was in operation until 1984 when the brothers and their families emigrated to Canada, settling in Norwich, Ontario, where Marius and Hugo established their new pottery, Castle Ceramics, in an abandoned vinegar factory.
Details

Dimensions

2.5ʺW × 2.5ʺD × 5.75ʺH
Styles

Abstract

Brutalist
Modern
Period

1970s
Place of Origin

Netherlands
Item Type

Vintage, Antique or Pre-owned
Materials

Ceramic
Condition

Very Good Condition, Original Condition Unaltered, No Imperfections
Color

Khaki
Condition Notes

Excellent Vintage Condition